Another week, another three wins for Manchester City, including the first trophy of the Pep Guardiola revolution. Arsenal lost all three games this week and the end appears anon for Arsene Wenger after 22 years, the last decade or so of which have left fans intermittently apoplectic with rage (including moi). Liverpool and Tottenham continued their recent upsurge while Chelsea continued to struggle. United came back to beat Crystal Palace in extra time Monday to leap Liverpool back into second, with the unlikely Matic provided the injury time winner.
Italy had a disrupted weekend after the tragic death of Davide Astori at 31 years old. However, Napoli lost 4-2 at home to Roma Saturday while Juve won 1-0 at Lazio, meaning if Juve wins its game in hand, they will finally take over first place in the table (by two points). In France, PSG kept up their winning ways, without crocked Neymar, beating Troyes 2-0, maintain their 14-point lead over Monaca, who won 2-1 over Bordeaux. In the Bundesliga, Bayern won 4-0 to maintain their 20-point lead at the top, with Schalke (1-0 win over Hertha) in second, Dortmund in third a further point back and RB Leipzig, on a poor run of form, down to sixth. Finally, in La Liga, Barca sit eight points up after a huge 1-0 win over Atletico Madrid. Real is another seven points back, with Valencia a point behind Real. It is a big eight points to fifth, where Valencia reside.
On to the numbers, with some nibbles from around the sports world …
---
Match Week 29 By the Numbers
1 of 8 – Newcastle had only one loss in last eight league games before a visit to Liverpool Saturday. The Reds won 2-0 to add a second in 9. The Reds are hot and, coupled with Chelsea's 1-0 loss to Man City Sunday, now find themselves in second, a mere 18 points behind Manchester City.
4 – Lewis Dunk of Brighton almost added to his record number of own goals in the first five minutes Sunday afternoon against Arsenal. Two minutes later, he gave Brighton a one nil lead. The goal meant 11 straight without a clean sheet for Arsenal, their worst streak in 16 years, with the 41 conceded by Cech the worst of his career. The Gunners lost 2-1 to probably put the final nail in the coffin of Wenger's fate.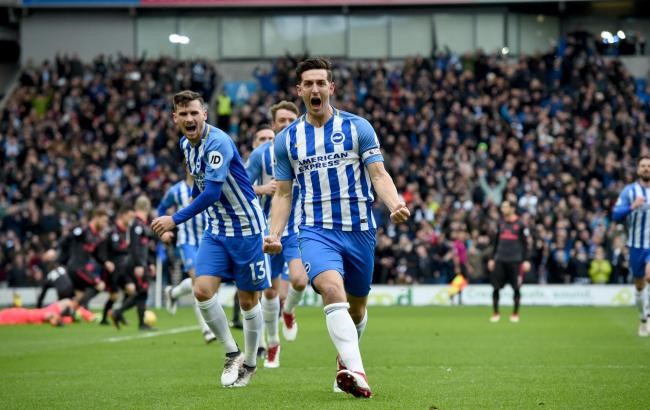 Dunk celebrates the opener in yet another road loss for Arsenal Sunday.
---
4-1 – Swansea kept their hot streak going with a 4-1 win over West Ham, moving from the bottom three all the way to 13th place, with Crystal Palace falling down into the bottom three. West Ham is tied on points (30) with Swansea after the loss, though one goal differential worse.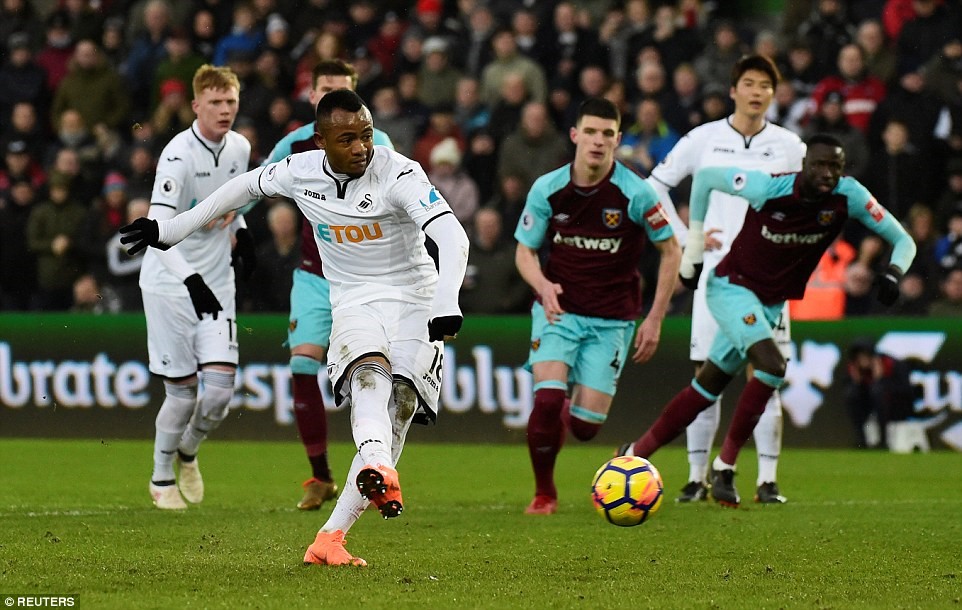 Brothers Unite, as Jordan Ayew converted the penalty won by his brother Andre in the 4-1 rout.
---
4.38 – Central Florida linebacker Shaquem Griffin ran a time of 4.38 seconds in the 40-yard dash Sunday at the NFL scouting combine in Indianapolis, the fastest time for a linebacker in more than a decade. On Saturday, he did 20 repetitions of 225 pounds in the bench press, using a prosthetic on his left arm to attach to the bar.
5 – Wins for Arsenal in their past 17 matches in all competitions. In the other 12, they have 4 draws and 8 losses. They have lost four in a row for the first time since 2002 and five of the last six. The way they are playing, the results and the inability to finish the chances they do muster reminds of a midtable team, which they are close to becoming. The only good news is that Wenger might finally be sacked at the end of the season.
9-1 – The margin by which Man City have outscored Arsenal in three matches this season. That included the 3-0 drubbing Sunday in the League Cup Final and another 3-0 win, with a missed Arsenal penalty, Thursday evening. Wenger out appears to finally be gaining steam among internal forces within the club (yes, this is a purposeful repeat of items above). City made it the perfect week, with a 1-0 victory over Chelsea Sunday.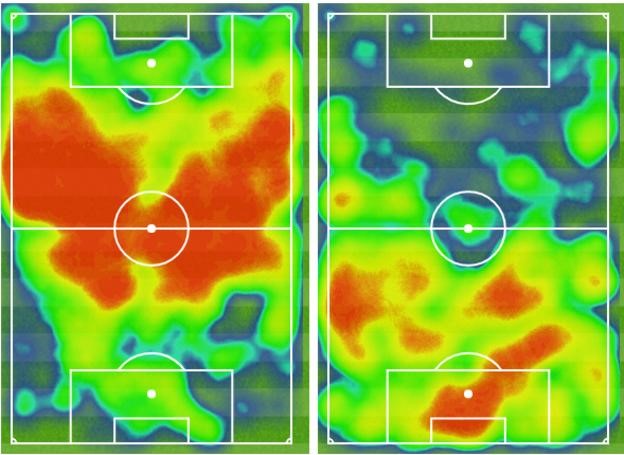 A sad indictment of Chelsea's negative tactics Sunday, with most of their possession in their own half (right image) versus City (left).
---
14 – The number of points Harry Kane's 24 strikes accounted for this season, the most of any player in the league, as of last Monday. Salah is second on 13 with his 23 goals (though you could add three more points Saturday), Raheem Sterling is third (11 points from 15), Lukaku a surprise fourth (8 from 13) and Aguero adding 7 points from 21 goals.
19.6 – The percent chance that the Phoenix Suns will get the number one pick in the upcoming NBA draft, ahead of Sacramento (16.8%), Atlanta (14.2%), Memphis (14.2%) and Orlando (9.3 percent). The race to the bottom has heated up, with the new commissioner less than amused by the strategic losing, already having fined Mark Cuban $600,000 for his "tanking" comments.
32 – It just feels like Salah should be on here every week until he goes cold, which doesn't seem to be in the offing anytime soon. He scored his 32nd goal of the season Saturday, in Liverpool's relatively straightforward 2-0 win over Newcastle, with Mane adding his 14th.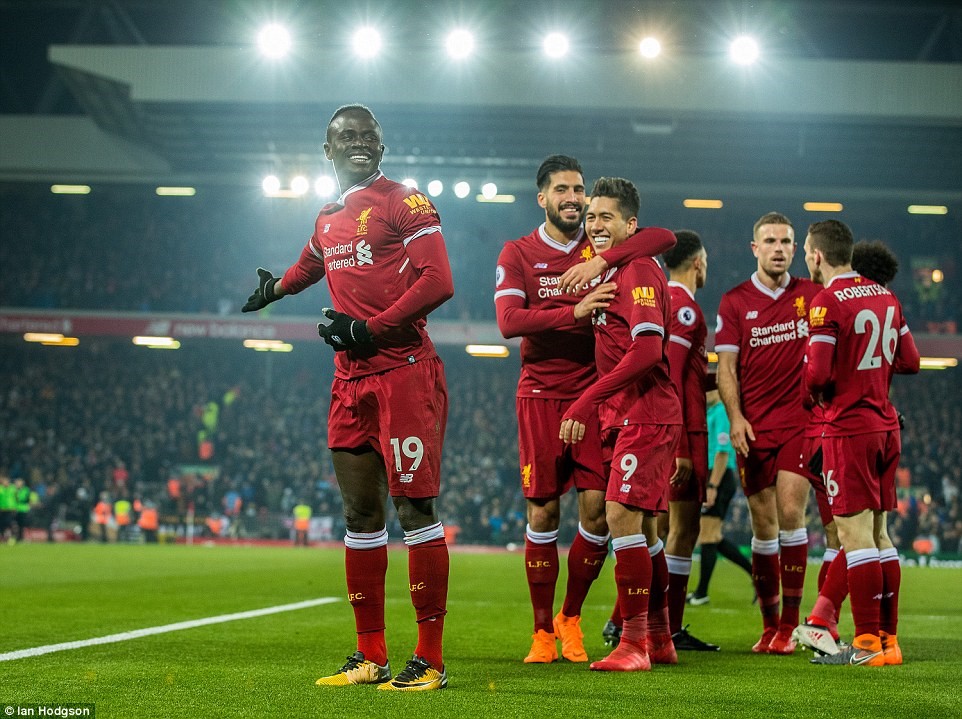 Mane celebrates his 14th of the season in the Kop, while his teammates confab in the background.
---
36 – Years since Brighton beat Arsenal, the last victory coming way back in September 1982. That slump is over, as Brighton scored two in the first 24 minutes and held on for a 2-1 win that was Arsenal's eighth loss in 2018 alone.
53 – Sean Dyche gave a history lesson at halftime of Burnley's game against Everton trailing 1-0. He reminded them they had gone 53 long matches since last winning from a halftime deficit. This history lesson struck a cord as the Clarets came back to equalize and then win it in the 80th minute.
Chris Wood scored the winner surrounded by Everton defenders as Burnley hit the magic 40 points that essentially guarantees survival for another season.
75-66 – Michigan beat Purdue 75-66 in the Big 10 Championship Game to become the first team to repeat as champions since 2011. On a nine-game winning streak and with the best defensive numbers in their 11 years under coach John Beilein, one wouldn't be surprised if they went on another run in the tourney this season.
77 – Oops, he did it again. On his 300th appearance, captain Troy Deeney proved the difference with a 77th minute winner as Watford beat hapless West Brom 1-0, possibly leaving the losers on the brink of appointing their third manager of the season after another abject display. Deeney scored the late winner against Everton last week as well, for those who missed my previous post.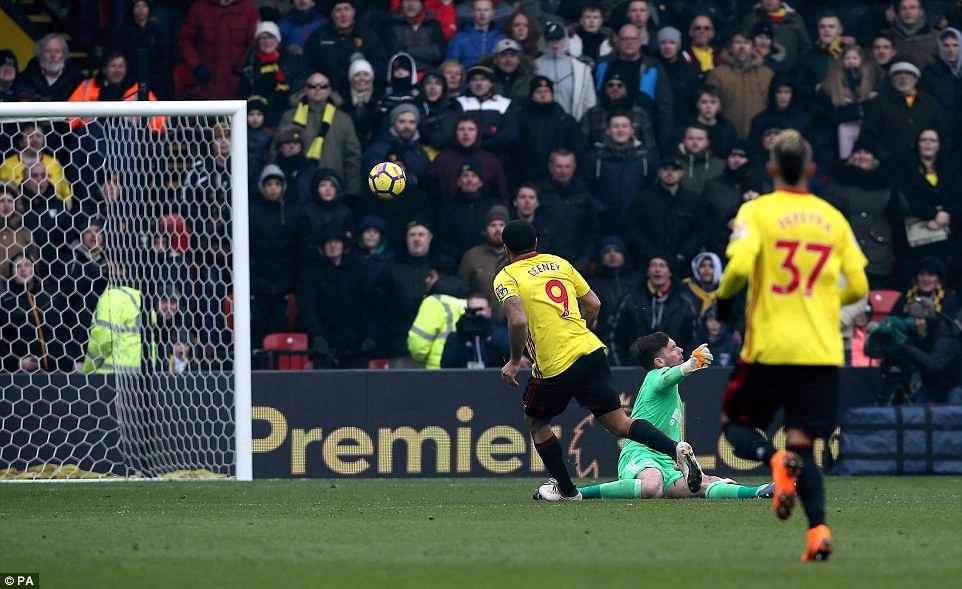 Deeney lobbed Foster to send the Watford supporters into a frenzy.
---
91st – Minute winner for Nemanja Matic, on a stunner of a goal, as United claimed all three points after trailing 2-0 to Crystal Palace early in the second half. Chris Smalling had halved that deficit with a header before Lukaku, back to fine form in recent weeks, equalized. Palace missed a chance to exit the relegation zone a day after reentering it while United pushed past Liverpool back into second.
97th – Minute equalizer for Riyad Mahrez, back from his self-imposed exile for a few weeks now, as Leicester got another late goal to secure points, this time in a 1-1 draw with Bournemouth.
125 – Phil Michelson hit that number of bogey-free rounds in his career Saturday, with a 65 in the WGC-Mexico Championship. A day later, after a one-hole playoff win over hot Justin Thomas (who has 8 wins in 33 starts), he secured his first tournament in almost five years, the last coming in the summer of 2013 in the British Open. It was his 48th victory overall.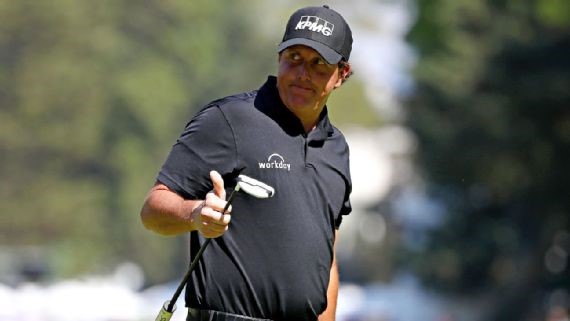 Lefty had to overcome a hole in eagle for Thomas from 121 yards on the 18th Sunday, to finish the tournament with a 64-62.
---
300 – Ronaldo became the fastest in La Liga to that benchmark of goals, beating out Messi in 48 fewer matches (286 to 334). He scored his 301st later in the 3-1 win over Getafe, taking his tally to 16 goals in 21 La Liga games this season after a very, very slow start. Real are kicking into a higher gear of late, even with the 1-0 midweek loss to Espanyol, and look set to see off a Neymar-less PSG Tuesday, though the league is well beyond them at this point.  
300 – Another player hit that mark this week, though in this case for career goals, as the oft-injured Robin Van Persie found the net to help Feyenoord beat Wilhelm II to reach the final of the KNVB Cup Wednesday evening. I wonder if he ever regrets the move from the Emirates to Old Trafford … ha, ha, ha.
Van Persie celebrates another milestone, the gray peppering his pompadour.
600 – While Ronaldo won the La Liga race to 300 and leads Messi in Champions League goals, Lionel passed another impressive milestone Sunday – hitting the 600 career goal mark! If he can stay healthy the next few years, he still won't surpass the sometimes contested but still insane total of 1,281 in 1,363 Pele managed (counting unofficial friendlies and tour games) in his stellar career.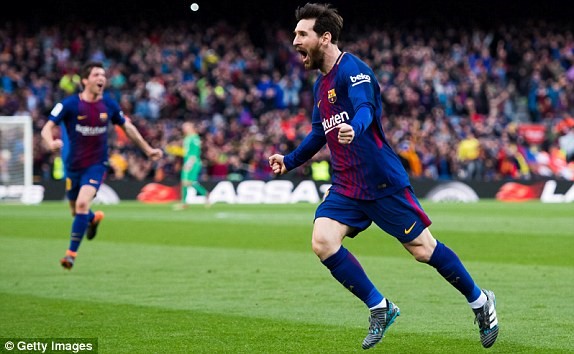 Messi celebrates six centuries of goals as he led Barca to a 1-0 victory over Atletico Madrid and an eight-point lead at the top of La Liga.
---
2001 – Oklahoma State beat Kansas 82-62 Saturday to become the first team to sweep the regular season series in 17 years. Kansas won't be too upset, though, having already secured their record-breaking 14th Big 12 title in a row under Bill Self. The Jayhawks, like several top teams, do look vulnerable in the NCAA tournament though.
$1,000,000 – The amount Neymar will pocket from Nike if he wins the Ballon d'Or. It looks unlikely this year, as he is currently sidelined for at least 6 to 8 weeks after having surgery on his foot, though leading Brazil to the World Cup this summer could alter that picture.
---
Check back in at the same bat time, same bat channel next week for the subsequent round of fixtures …