Manchester City won their first trophy of a season that could bring three, though the quadruple was eliminated with their loss in the FA Cup last weekend. Arsenal continued to show that they will never recover past glory until Wenger is gone, somehow losing the second leg in the Europa League to a Swedish side they cruised past on the road in the first leg before anotherl poor display against the Top 6. Meanwhile, United beat Chelsea 2-1 while Tottenham stole 2 points late against Crystal Palace to move above the Blues and into fourth place. Liverpool continued their flood of goals with a 4-1 win over West Ham, making it over 100 in all comps this season.
At the bottom of the table, Stoke City fell to 19th, with a 1-1 draw at Leicester, West Brom were beaten 2-1 by Huddersfield to move seven points from safety and Swansea were crushed 4-1 by Brighton to settle into 18th, even on points with Crystal and Southampton (though with the worst goal difference of the trio).
The Winter Olympics also wrapped up Sunday, with Norway the big winner with a record haul of 39 medals, matching the Canadian record of 14 golds and earning a medal in 12 of 13 cross-country skiing events, including gold in the last event of the games. Germany came in second with 31, matching Norway's total of 14 golds, while Canada garnered 29. The U.S. was a somewhat disappointing fourth with 23 (25 was the bottom target and 37 the goal), and the Netherlands were fifth with 20. However, there were some great stories, with a smattering included below.
Back to football, Bayern settled for a 0-0 draw with Hertha Saturday, but stretched their lead to 20 points over Dortmund. PSG has a more pedestrian 11-point lead over Monaco, though they have a game in hand to stretch that even further. In Italy, Juve-Atalanta was postponed with Napoli smashing Cagliari 5-0 to stretch their lead to four points. And in Spain, Real has righted the ship, with a 4-0 win over Alaves, moving back into third place, though still a startling 14 points behind Barca, who crushed Girona 6-1. On that note, it might be time to start taking seriously the possibility Barca could complete their own version of the "invincible," as they are still undefeated in the league with 13 matches to play!
And, in case you've been fully immersed in the Olympics or simply decided to sleep through a miserable winter week, the Champions League was back at it this week, with Bayern barreling over a 10-man Besiktas 5-0, Chelsea drawing 1-1 with Barca at Stamford Bridge, Sevilla and United playing out a stale 0-0 draw that probably fits Mourinho's plans well and Shaktar Donetsk surprising Roma 2-1.
On to the numbers, with some nibbles from around the sports world …
---
Match Week 28 By the Numbers
Never – A US men's curling squad had never won a gold at the Winter Olympics, their best performance a Bronze in 2006, and never beaten Canada. Skip John Shuster was on that team but had a veritable nightmare batting cleanup over the past 2 1/2 Olympics. That all changed with a win over Canada, followed by four more (including a second over Canada) culminating in win over Sweden last Friday night to capture that first gold.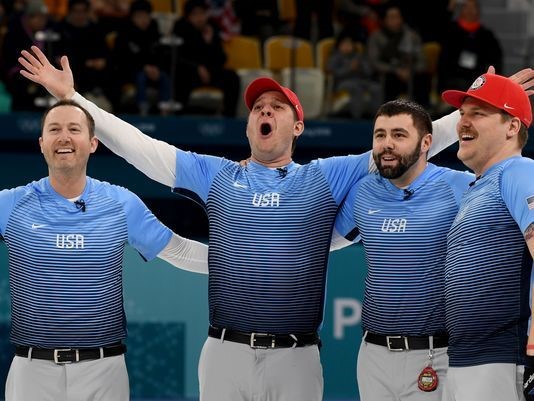 The curling team went from zeroes to heroes in less than a week. Now those are athletes … another big mac, anyone?
---
1 – Ester Ledecka of the Czech Republic became the first woman ever to win gold in two different sports at the Winter Olympics, the surprise winner of the Super G last week and then taking the gold in her primary sport, Parallel Giant Slalom, Saturday.
1 – Jessie Diggins and Kikkan Randall came from behind to win a surprise cross-country gold medal in last Wednesday night's team sprint freestyle, ending one of the United States' longest-running Olympic droughts with a dramatic upset. They were the first American women to ever win any medal in cross-country skiing and only the second all-time, with Bill Koch's silver in 1976 the only other podium for the U.S. in a sport dominated by the Norwegians, Dutch and Germans (and Russians in the past).
1-1 – Stoke were on their way to a much needed three points when their keeper Jack Butland scored one of the ugliest own goals you'll ever see to allow Leicester to gather a home point. It left the Potters in the relegation zone.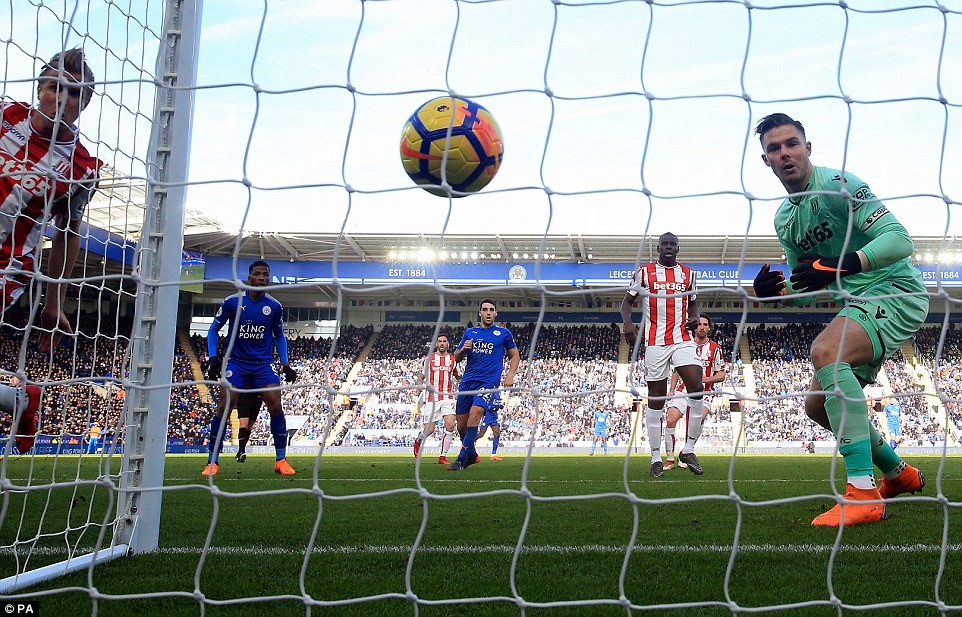 Oops, he done did it again.
---
2 – Foul throws in the Watford-Everton match Saturday, more likely in a schoolboy game. Watford won the game 1-0 continuing Everton's dreadful away form, with one win in their last 22! Troy Deeney proved the difference with his 79th minute winner. One day later, Serge Aurier did the Toffees one better by having three throws ruled illegal for the most inauspicious of hat tricks.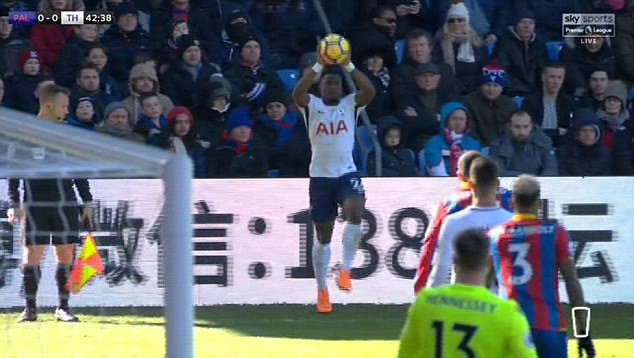 Aurier appears to think he is shooting a three, the foul here for lifting his left foot.
---
2-1 – Lukaku first scored, on a beautiful team goal, and then sent in a perfect cross to Lingard for his 14th goal of the season as United came back from a 1-0 deficit to beat Chelsea 2-1. The win pushed United back in second while Chelsea fell outside the Top 4. As has become a pattern this season, a late equalizer by Morata was incorrectly deemed offsides.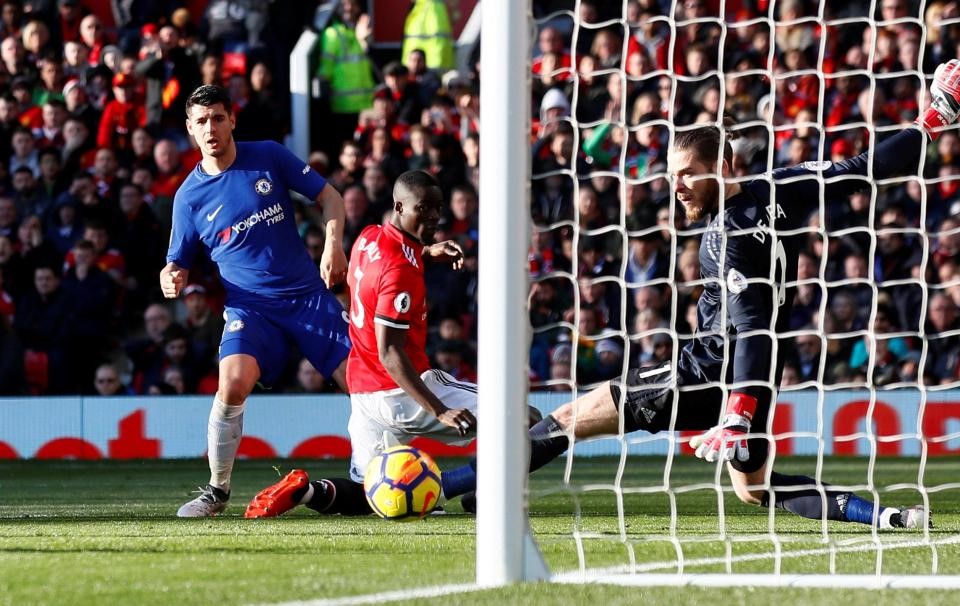 The calls for VAR only grow stronger with every wrongly overruled goal and poor penalty call.
---
2-2 – Newcastle blew a 2-0 lead to settle for a 2-2 draw, after ex-Toon Dan Gosling hit an 89th minute equalizer, keeping them from moving into the Top 10. They instead settled into 15th and must continue staving off relegation doubts.
3 – Goals in 31 seconds as Canada took a 2-1 lead over the Czech Republic in the Bronze medal hockey match. Canada ultimately won 6-4, with a disallowed goal by the Czechs hurting a valiant comeback.
3-0 – It is February, so one cannot blame Arsenal if they thought they were in the Round of 16 in the Champions League, where they consistently collapse, rather than a cup final, but they played just as bad as a team can, with Mustafi's defensive frailties helping City score their first two and then Chambers, once a promising young defender, helping Silva to the third as the Gunners played one of their most pathetic games in a season of pathetic games. Pep won his first silverware in England and Wenger made it 0-22 in a competition that was probably their only realistic chance of silverware this season. At least they might finish in fifth, if Chelsea keep losing. Is that a trophy now?
5 – Moir/Virtue set the record for most medals in skating history, winning their second Gold in ice dance, eight years after their first, beside two team medals and a silver four years ago. They had to beat back the challenge of the sublime French couple Gabriella Papadakis and Guillaume Cizeron, who scored the highest free skate total ever, though a costume mishap in the short program probably cost them gold.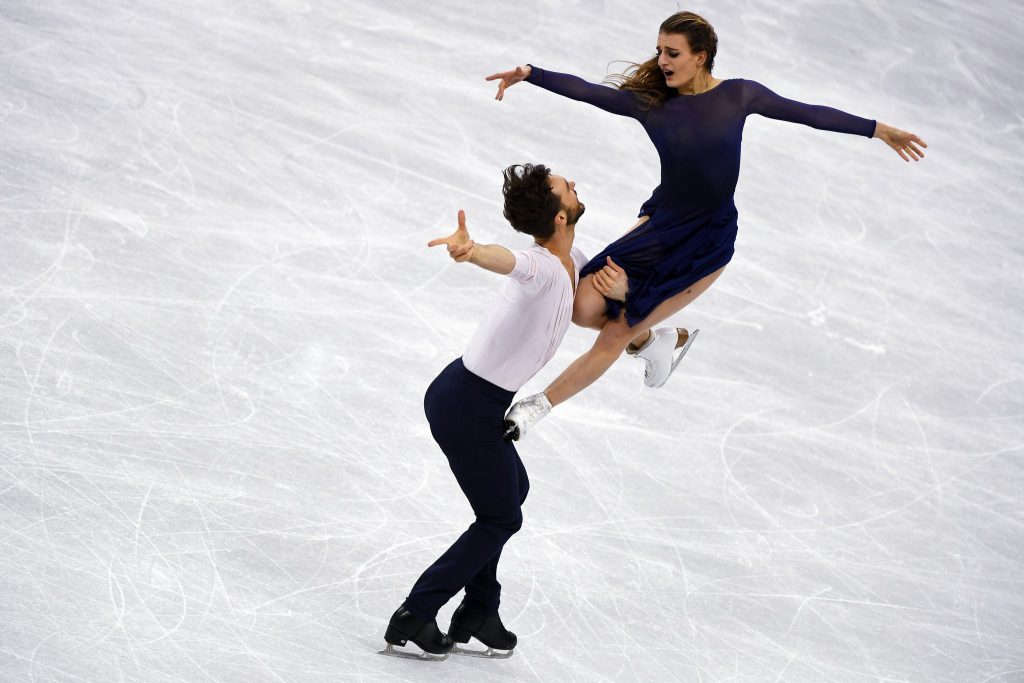 Moir/Virtue were excellent, but Papadakis/Cizeron are revolutionizing the sport, even in defeat.
---
7 – Snowboard medals for the US in these winter games, after Kyle Mack took silver in Men's Big Air. It was one of the few bright spots in an Olympics to forget for the Americans overall.
9 – Lionel Messi makes the list twice this week (see below), here for scoring his first goal against Chelsea in his 9th attempt. It took him 729 minutes in total, but his first was huge, knotting the game at one after Willian put on a man-of-the-match performance, including the opener in the 62nd minute. Chelsea really should have scored more, but missed some good opportunities and were ultimately made to pay. They will be the underdog in the second leg at Nou Camp, as they will need to score, but have done it there before …
24 – I'm a huge Winter Olympics fan, as you might have guessed, but that was not the case across America, as viewership was down 24 percent from Sochi four years ago. NBC points out that counting NBCSN, that is really just a 15 percent decline, but it does have execs concerned, as they spent 12 billion to gain exclusive rights of the event through 2032.
26 – 198-million-pound Neymar has 26 goals in all competitions for PSG, helping his side to a 14-point lead at the top of Ligue Un. However, they are down 3-1 after the first leg of their Round of 16 Champions League clash with Real Madrid and it is likely he will miss the second leg at home next week after he sprained his right ankle and broke his fifth metatarsal against Marseille Sunday.
34 – Point halftime deficit for Drexel before they came back for an 85-82 comeback win over Delaware that became the largest in the history of NCAA Division I men's basketball. They began the second half on an 18-4 run, then a 17-4 run after Delaware had pushed it back to 16 midway through the half. Star Tramaine Isabell finished with 29 points, 12 rebounds and 9 assists – scoring or assisting on 38 Drexel points after halftime. He scored 27 of his 29 points in the final 22:30 of the game
36 – Last week Messi made this list for the inauspicious achievement of most shots that rattled off the bar, but is back with a more impressive record this week, having scored against his 36th team in La Liga, after scoring in Barca's 6-1 win over Girona. There are only three teams he has faced he hasn't found the net against – Cadiz (now in the second division), Real Murcia (now in third division) and Xerez (now in the fourth division). The obvious conclusion is to just let Messi score against you … if you want to stay up!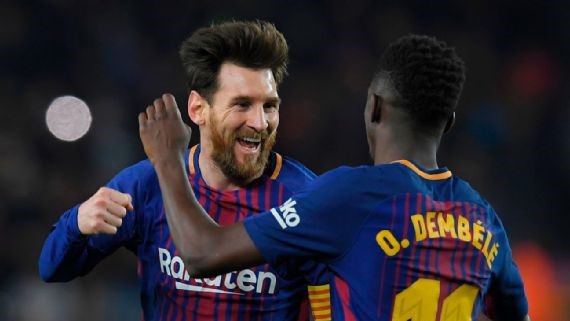 Messi celebrates yet another goal with Dembele, recently back from injury.
---
38 – Years since a Swede won an Alpine medal, until 35-year-old Andre Myhrer became the surprise winner of the Men's slalom.
40 – James Harden of the Houston Rockets has had 9 games reaching that plateau this season, three more than any other player, as he stakes his claim for the MVP. His Rockets have won 12 straight, after a 14-game winning streak earlier in the season, and are currently ranked #1 by ESPN, above the Warriors.
59 – Bayern Munich has won that number of the last 62 when Thomas Muller scores, with draws in the other three. He was struggling under Carlo Ancelotti, but has been rejuvenated by Jupp Heynckes, including two goals in the 5-0 win over Besiktas in the Champions League first leg last week. A true talisman!

Müller opened the floodgates with the first goal against 10-man Besiktas right before halftime.
---
66-1 – Heading into the Olympic Men's Hockey competition, those were the odds of Germany winning the gold. They were 55 seconds from pulling their own miracle on ice when Russia knotted it up short handed. Germany has been 3-0 in extra time during the tournament, but Russia took advantage of an OT penalty on the Bavarians to win 4-3 and tie Canada for the most hockey golds (9 apiece). It was their first win since the Unified team of 92.
88 – Crystal Palace thought they had a valuable point against a Top Six opponent as they held Spurs out for 88 minutes. And then Harry Kane, who outscored Messi last calendar year, stepped up and headed home his 24th league goal of the season to give Tottenham the 1-0 win. That victory pushed them above Chelsea and into fourth place.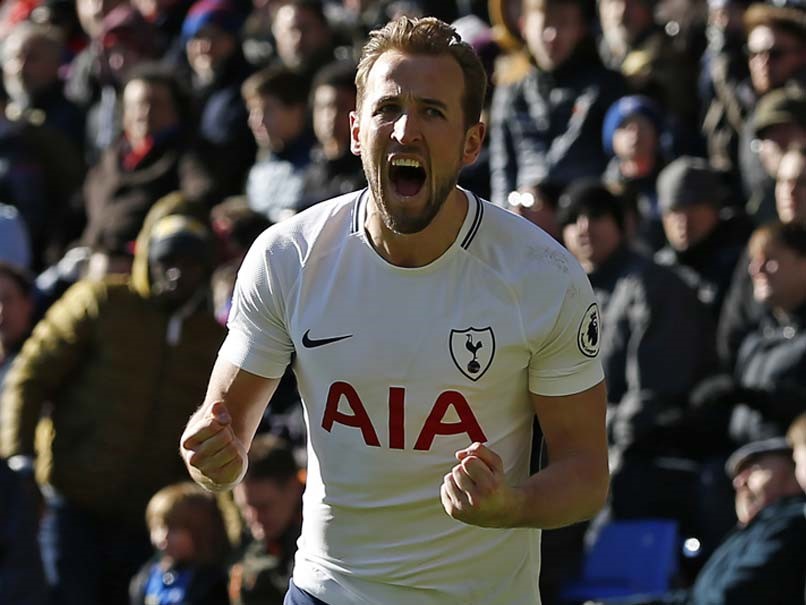 Kane is staking his claim as the best striker in England, and one of the best in the world.
---
100 – Liverpool hit 100 goals this season with their 4-1 smack down of West Ham, with Salah collecting his 31st goal in all comps, Firmino his third "no look" goal and 22nd overall of the season and a suddenly hot Mane his 13th. The match was tight for a period, put the Reds ran rampant in the second half.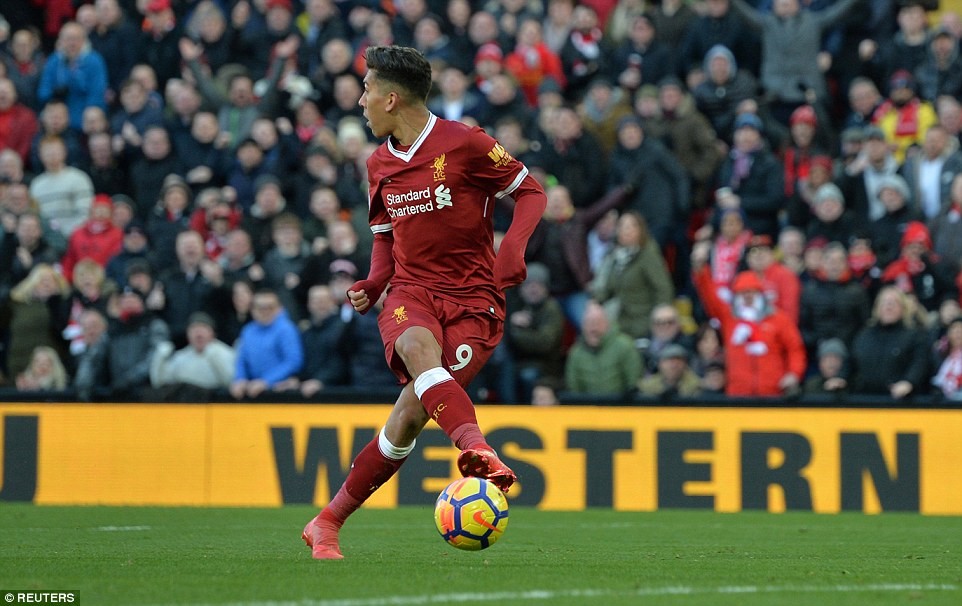 Look over there!
---
147 – Amateur snooker player Sean Maddocks managed that break at 15 years and 90 days, breaking the record of legendary champion and enfant (and adult) terrible Ronnie O'Sullivan from 1991.
1952 – The last man to win back to back gold medals in Men's figure skating was Duck Button 66 years ago. Yuzuru Hanyu from Japan matched him with his second gold in a row.
1998 – the last time the U.S. won the women's hockey gold, with Canada taking the past four, including coming back from a 2-0 deficit with 3:26 to go against the U.S. to win in Sochi four years ago. The Americans turned the tables, coming back from a 2-1 deficit late in the third period and then winning the shootout in the sixth round with a brilliant penalty from Jocelyne Lamoureux-Davidson and then excellent save from their 20-year-old goalkeeper Rooney to seal it.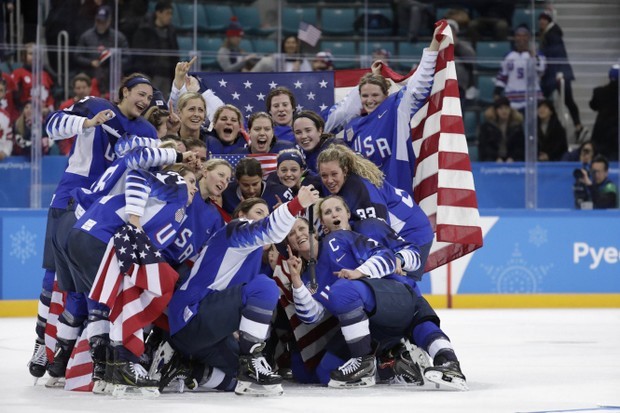 The U.S. hockey team celebrates Gold.
---
Check back in at the same bat time, same bat channel next week for the subsequent round of fixtures …