Match Week 6 saw the usual suspects reasserting themselves, with City, United, Liverpool, Chelsea, Arsenal and Tottenham all winning. Even Everton got back to winning ways in the league 2-1 over Bournemouth, Burnley and Huddersfield shared the spoils, Watford scored late to beat Swansea 2-1 and Brighton & Hove Albion knocked off Newcastle 1-0. The Manchester sides top the table in first and second on 16 points each while Chelsea and Tottenham/Newcastle round out the Top Four. Crystal, Bournemouth and West Ham sit in the relegation zone after Round 6, though the latter only on goal difference. 
---
Everything you need to know about this past weekend, by the numbers
0 – This item will continue to top this list until Crystal Palace either earns a point or scores a goal. After six games, they have done neither, after a 5-0 drubbing by City. Crystal was actually in with several chances in the first half, but failed to convert any of them, conceded right before halftime and were then run off the park in the second half. They are now only the third team in the history of English Football to go six league matches without a goal, joining Halifax Town (1990-91 in the fourth tier) and Burnley (1997-98 in the third). 
Number 1 – Antonio Conte has accumulated the most points (247) in the top 5 leagues of Europe, and three titles, in his last 100 matches (heading into the weekend). His successor at Juve, Massimiliano Allegri, is in second with 238 points (and two titles himself). Not surprisingly, Carlo Ancelotti and Pep Guardiola are in third and fourth, both working with a dominant Bayern during that spell. Diego Simeone, maybe more surprisingly, is in fifth and the oft-maligned Arsene Wenger is next (197, 59 wins), ahead of Pochettino (197, 57 wins), Mourinho (188) and Klopp (171). Hmm …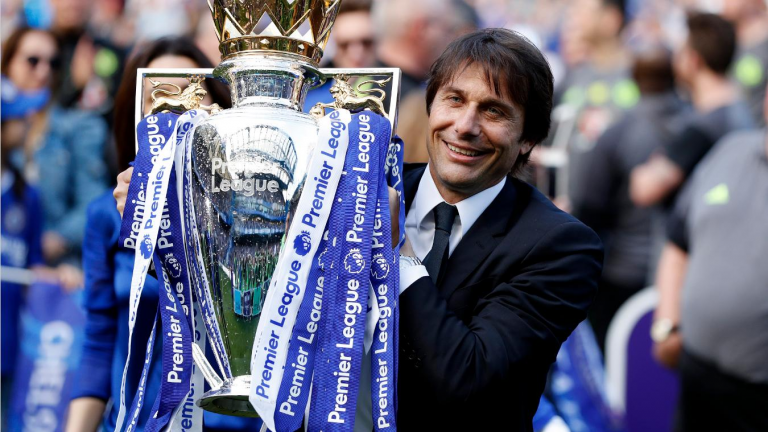 He's got (another) big trophy.
1-0 – Newcastle had won three on the bounce when they faced up against Brighton Sunday, in the only action that day. Unfortunately for the Toons, they were held scoreless and ultimately lost 1-0. Oddly, in all Newcastle's games, one of the sides has kept a clean sheet, with Newcastle accomplishing the feat three times and Brighton, Tottenham and Huddersfield doing the same to them in losses. Newcastle sit comfortably in 10th place at the moment, but might be troubled to have been beaten 1-0 by the newly promoted sides they have faced this term. 
2 – Oumar Niasse was on the double, as Everton came from behind to win 2-1 over Bournemouth. It was their second win on the bounce, after a midweek 3-0 victory over Championship side Sunderland in the Caribou Cup, following a run of four losses, and no goals, in all comps, and a longer streak of six without a win (with two 1-1 draws beginning the slump). 
3 – Huddersfield continued their strong defending with a 0-0 draw at Burnley. The newbies have conceded only three goals in six, only bettered by the two Manchester sides (two apiece), with the point good for eighth in the league, after Round 6 of the season.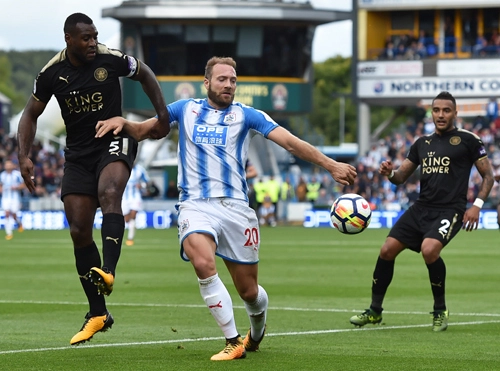 D-Fence! Not a bad strategy for newly promoted Huddersfield.
3 – Raheem Sterling continued his strong start to the season with his third league goal in three appearances, making Gooners like me wonder if we should have taken the Sterling-Sanchez+Cash swap that might, or might not, have been on offer at the end of the transfer window. Sanchez, by the way, has a goal and assist across six competitive appearances for Arsenal this season (two off the bench) and 0-0 in four appearances in the league. To be fair, he essentially assisted Lacazette's first with an excellent free kick and was lively throughout the game Monday.
3-0-1 – Arsenal have bounced back from their 4-0 drubbing by Liverpool by going undefeated in their last five, beating Bournemouth 3-0, Cologne 3-1, drawing 0-0 at Chelsea, beating Doncaster 1-0 in the Caribou Cup and finishing it off with a 2-0 victory over West Brom at the start of a busy week with three games in six days. With a run of winnable fixtures on the horizon, the side could well right the ship for another Top 4 run. 
3-2 – West Ham had won three of the last four home games against Spurs and 14 times since the start of the rebranded Premier League. That trend was finally put to rest, at least for a season, with a 3-2 victory for Tottenham, who had to hold on after forging a 3-0 lead, with a red card and two Hammers goals making them sweat out the result until the final whistle. West Ham will feel aggrieved, as they had an excellent penalty shout in extra time when Andy Carroll was pushed aside from what looked like a free header. Nonetheless, the three points moved the Spurs back into the Top 4.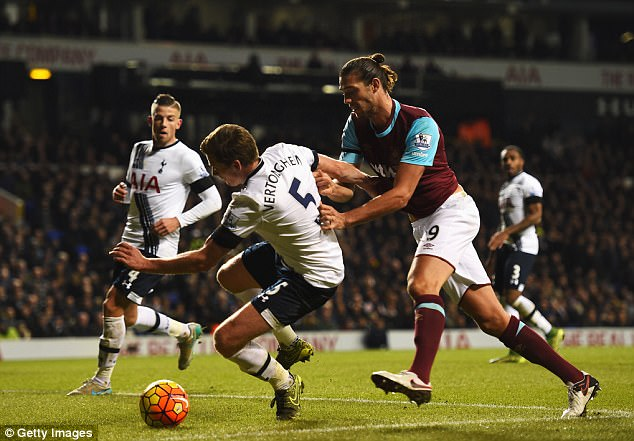 West Ham loses. Again.
4 – Goals for Shinji Okazaki in all comps, having started the season in fine form for Leicester with three goals in the league and a goal and assist in the Caribou Cup 2-0 victory over Liverpool. He has two goals and an assist this week against Liverpool, pulling one back for Leicester right before halftime in a Saturday game that was ultimately won by Liverpool 3-2. 
Top 6 (or 7) – After six rounds of fixtures, order has more or less been restores, with the expected Top 6 taking up the Top 7 positions, with Watford the only interloper, a point ahead of Arsenal. City and United stand equal on points at the top, Chelsea is three points back, Tottenham a further two and Arsenal six from the top. Everton, predicted by some to sneak into the Top 6 (or even Top 4 by a few ambitious pundits), currently sit in 14th, three points from 18th.
6-2 Six goals and two assists for Morata in his first six games in England, as he finally scored with something other than his head, for all three in his first Chelsea hat trick as they stormed past Stoke 4-0.  
6 in 3 – Goals for James Vardy against Liverpool. His goal Saturday brought Leicester back to 3-2, minutes after Liverpool had taken a 3-1 lead (in the 70th minute). It was Vardy's fifth league goal in the young season. He should have made it six from the spot, but was saved (see below).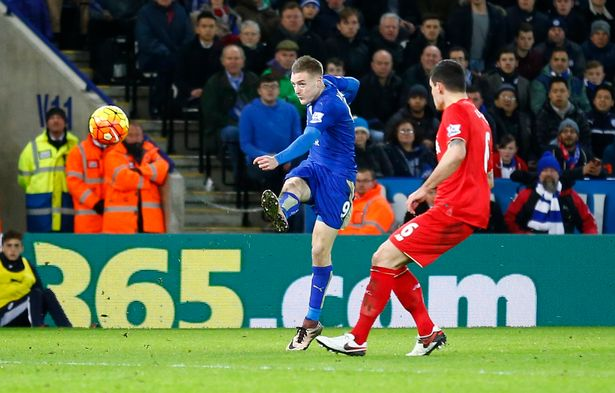 All the man does is score. A lot.
6-6 – Lukaku keeps up his impressive early form with his sixth goal in 6th league appearance, scoring the winner for United against Southampton, on an Ashley Williams cross. For the second time in three matches, Lukaku collected his own rebound off a save to put the ball in the back of the net. 
11 – Points for Watford after a late winner for Richardison against Swansea in a 2-1 victory. That was good enough for sixth place in the league. Three wins and two draws, with a solitary loss, after six, is not a bad return for a side that finished last season in 17th place, six points from the drop.
11-0 – Wenger's home record against Tony Pulis' sides after the 2-0 victory Monday. The game included Arsenal's 100th penalty, only bettered by two sides in EPL history. Pulis has fared a little better when facing Wenger at his various homes (West Brom, Crystal Palace and Stoke), but Wenger continues to have his number at the Emirates (and Highbury before it).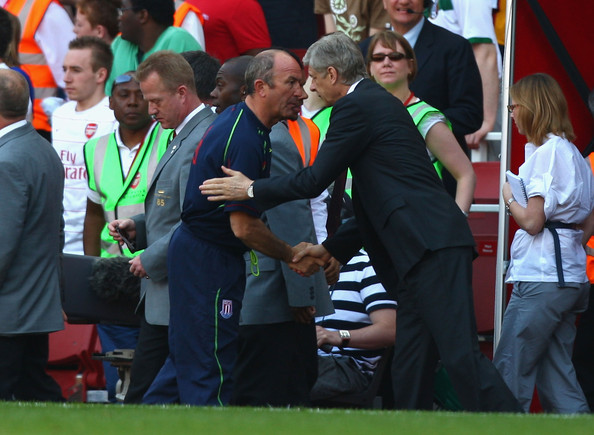 Ownage.
12 – Penalties won by Jamie Vardy in the past two seasons plus 6 games, six more than the next closest player over that span. Mignolet earned a Yellow card on the foul in the box that gave the Englishman his lucky dozen, but the goalkeeper made amends by saving Vardy's attempt to beat him with power over placement. A successful conversion might well have cost Liverpool points again, but they held on from there, even as a handed ball by Can seconds later almost sent Vardy back for a second attempt.
24 – Goals for Manchester City in their last six games. City are undefeated this season in all competitions, with just the 1-1 draw with Everton marring their otherwise perfect record through eight games. The scoreline over the last six matches is 24-2, with only three goals conceded all season. Clearly the team to beat at the moment, though United are even on points (16) and only four away on goal different (19 to 15). 
30 – Assists for Coutinho at Liverpool after his sublime cross was expertly headed home by Salah. He is the only Brazilian to hit 30 assists in EPL history and the goal he later scored on Saturday from a free kick means he has more goals outside the box than any other player in the league since he joined the Reds.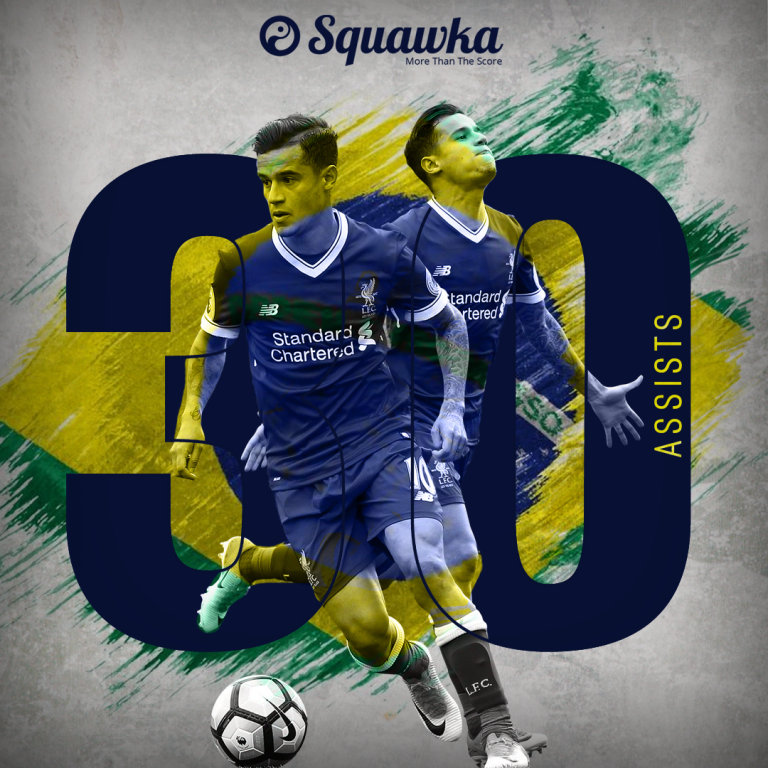 Philippe likes to share.
48 – Goals for Aguero in his last 53 league games. He now stands one behind tying the all-time City goal record, in a 5-0 second half coast over hapless Crystal Palace. He waited until almost the 80th minute to score in Saturday's fixture, with City already ahead 3-0. Sane, who had the first right before halftime, sent in a perfect cross the Argentine headed home without even jumping, alongside another assist for the suddenly rampant winger. 
87 – Moving outside the EPL, Luis Suarez has now scored 87 goals in his first 100 La Liga games, proving good money on his 75 million pound move from Liverpool. Not quite the 111 Ronaldo managed, but Suarez is now close to passing several Barca legends. He has 124 in all competitions alongside 52 assists. Could Coutinho soon follow him to the Blaugrana? Reports out of Spain claim Liverpool might be open to the sale in January. Hard to believe given how he has contributed in their past two matches, but you never know …
633 – League appearances for Gareth Barry, vying his trade with West Brom these days. The side lost to Arsenal Monday, as previously mentioned, but impressive endurance for the midfielder, who surpassed Ryan Giggs' iron man achievement. Barry also holds the more dubious record of most cautions, at 121 (a lead of 21 over Lee Bowyer in second).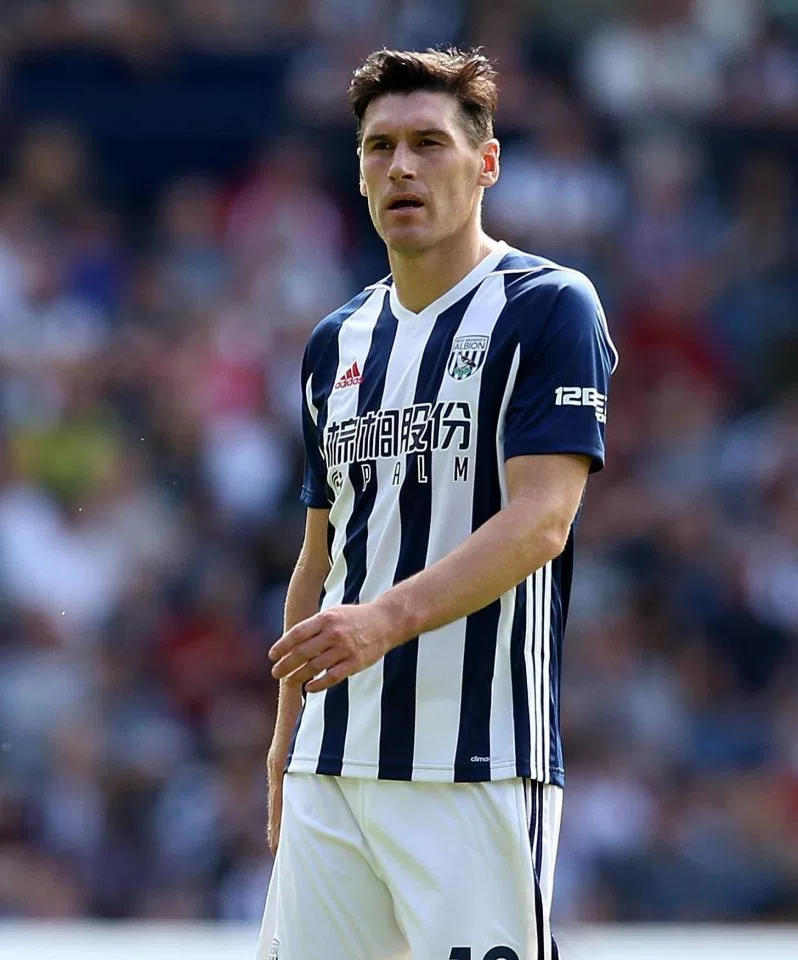 Premiership Iron Man.
---
Stay tuned, I'll be back on the same bat channel after the next round of matches.