Manchester City took a huge step toward wrapping up their third Premier League title in the last seven seasons, though first under Pep Guardiola and first in four seasons. Their 2-1 win over United in the Manchester Derby solidified their 11-point lead at the top of the table, while those below Man U fell further back, with Arsenal settling for a 1-1 draw with Southampton, Chelsea falling 1-0 at West Ham and Liverpool ruing a number of missed chances to put the game away before settling for a 1-1 draw with Everton. Tottenham did keep pace with City, crushing Stoke 5-1, but are an astounding 18 points behind the leaders. Lower down the table, Swansea beat a reeling West Brom 1-0, Crystal Palace shared the spoils with Bournemouth 2-2 and Newcastle lost 3-2 to a suddenly resurgent Leicester City.
In Spain, Real, Valencia, Atletico and Barcelona all won, leaving Barca five points clear of Valencia, six of Atletico and 8 of Real. In Germany, Bayern Munich beat Koln 1-0, Schalke triumphed 3-2 over FC Augsburg, while Leipzig managed a 1-1 draw at Wolfsburg with 10 men – leaving Bayern 9 points clear at the top. The more competitive than usual Serie A stayed incredibly close with Inter Milan in first, a point over Napoli and two over Juventus. Inter and Juve played out a disappointing 0-0 draw, as did Napoli and Fiorentina and Roma and Chievo. Finally, in France, PSG bounced back from their first league loss of the season, to beat LOSC 3-1, Monaco knocked back Troyes 3-2 and Lyon won at Amiens SC 2-1.  
On to the numbers, with a few nibbles from around the sports world …
---
Match Week 16, by the numbers
1- Dallas Cowboys' tight end Jason Witten had one catch against the Redskins last week, for a touchdown. His one catch against the Giants Sunday? A touchdown. He might be slowing down his productivity as his career winds down, but two huge catches in two weeks for one of the greatest of all times at his position kept the Cowboys slim playoff hopes alive in the 30-10 win over the Giants. 
The Cowboys have been a much better team with Sean Lee in the lineup, including the 30-10 victory Sunday.
1-0 — Swansea earned only their third win of the campaign, beating a struggling West Brom 1-0 at the Liberty Stadium. Wilfred Bony was the hero, with a 77th minute winner. It was his second goal in 9 appearances for Swans, three coming off the bench. The win move Swansea back above Crystal Palace, who drew 2-2 with Bournemouth. 
1-0 — West Ham's Marko Arnautovic finally started to pay the side back for his huge transfer fee by scoring the winner in the 6th minute against Chelsea. The Hammers held on for the victory, even as Chelsea bossed possession (70%) and outshot the hosts 19-5 (though only two of those shots were on target). Conte ceded the title race after the loss, as the Blues fell 14 points behind City. They now have to worry about staying in the Top 4, as the race for the Champions League places begins to heat up, as the snow blankets England.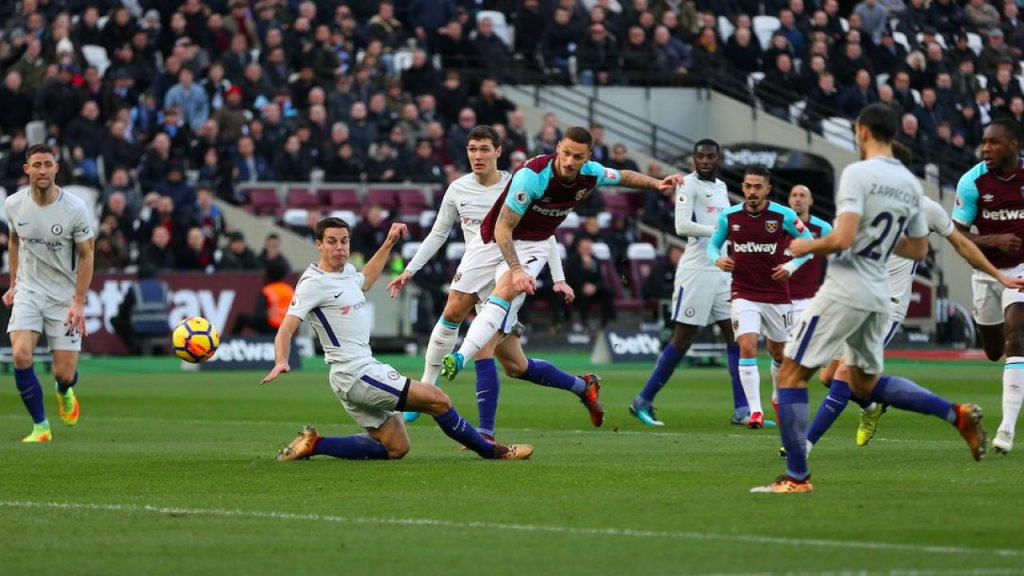 West Ham stunned the Champions 1-0, with Arnautovic the hero.
1-1 — Liverpool will rue their missed chances as they dominated Everton for most of the Meyerside Derby at Anfield before a sloppy (though soft) foul by Lovgren gave Rooney the opportunity to equalize from the spot. He did so and the Toffees remain undefeated since Allardyce was named manager (even as he wasn't on the sideline for two of those victories). 
2 – Goals in his last two games for City defender Otamendi, who has improved dramatically this season. It was a poor clearance by Lukaku that left him free in front of goal, making no mistake from six yards out. The goal proved the winner in the 2-1 victory over United.   
2-0 — Huddersfield beat Brighton 2-0 Saturday in a matchup of two of the three newly promoted side. The victory pushed the home side to 12th place in the league, with Brighton in 13th.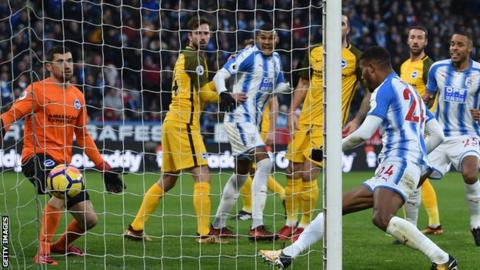 Steve Mounie bundles home to help Huddersfield on the way to three needed points.
2-1 — Manchester City's streak of 20 games without a loss to start a season finally ended Wednesday, as they lost 2-1 to Shakhtar Donetsk, with a heavily altered starting 11, though they won the more important match of the week in the Manchester Derby.
3 — Toronto got their revenge for losing the MLS Cup to the Seattle Sounders last season by winning 2-0 Saturday, to give them their first Cup, on top of the Supporter's Shield they won for the best regular season record in the league, in the process becoming the first team in MLS history to win three major domestic trophies (they also won the 2017 Canadian Championship). Toronto outshot Seattle 22 to 7 and 11 to 1 in shots on goal. They became only the eighth team to pull off the double, while setting the all-time record for points in a season, winning the league by 12 points. 
3-2 — Leicester City recovered from a 4th minute deficit to Newcastle, courtesy of a Joselu goal, to ultimately win 3-2, with the help of an 86th minute own goal from Ayoze Perez. After a decent start to the season, Benitez and Newcastle are down to 15th place, only two points above the bottom three. Leicester City are now up to eighth, seven points out of the top four.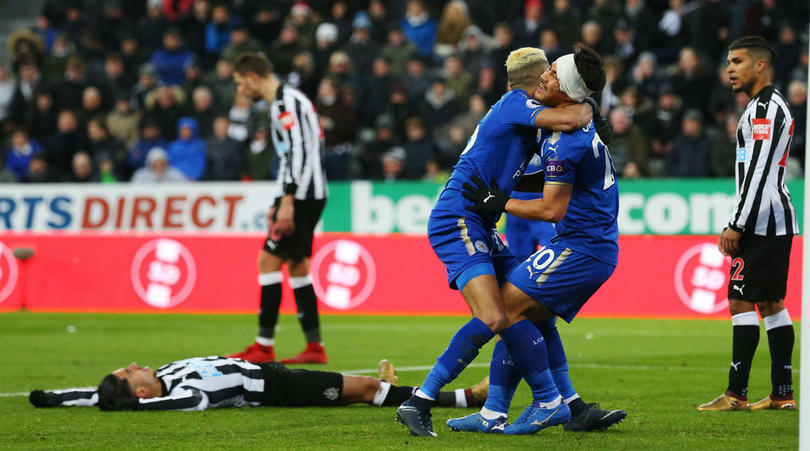 Pérez and Newcastle stunned by late home loss to Leicester.
5 — Ballons d'Or for Cristiano Ronaldo, who hit the quintuplet on Thursday (2008, 13, 14, 16 and 17) equalizing Messi's haul as he led Real to their first domestic European double in 59 years. He also became the first player to score in all six group stage games in the Champions League, stretching his record of European goals with 9 more in those six games. He only had two league goals for the season, on 68 shots, but added two more Saturday as Real ran rampant 5-0 over Sevilla. 
5-1 — Tottenham stopped the recent rot with a 5-1 victory over Stoke, who have nosedived down the table to 15th, as they drew within two points of the top four. Harry Kane had a double, Son Heung-min scored the second and Eriksen the last. Stoke have won only one of their last six league fixtures, with two draws and three losses. With four points separating third from seventh place in the table, this is shaping up as a real battle for the Top 4 (with Burnley the interloper in the mix at the moment, staying within sniffing distance with a 1-0 victory over a 10-man Watford). 
4 in 4 – Charlie Austin goals in his last four starts, and 8 in his last 11 going back to last season. He scored early against Arsenal after a Per Mertesacker errant pass and then inability to recover. It was the fourth goal from a defensive mistake by Arsenal in two games after a stretch where they looked more solid defensively. They ultimately settled for a 1-1 draw with the Gunners, who have stumbled mightily since their big North London Derby victory.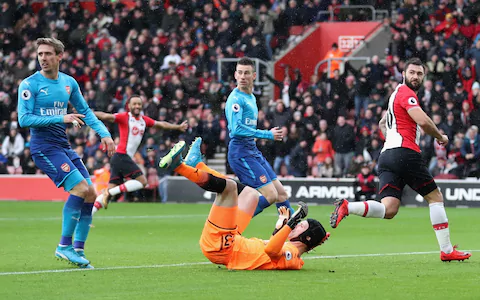 Austin scores early as Arsenal's defense fumbles on the road yet again.
4 in 13 — Giroud was Johnny on the Spot as he returned to super-sub form, earning a point for Arsenal with his 88th minute equalizer at Southampton. The draw means Arsenal are 2-2-4 on the road this season, with their only victories in eight tries coming against Everton and Burnley. As we count down the days (or is it years?) until the end of the Wenger era, the inconsistency of his side on the road is yet another indictment of a manager who has simply stayed on too long.
10-38 — Thank God GM Jerry Reese and head coach Ben McAdoo are finally gone, cried many New York Giants fans last Monday. But they may want to look toward the record books, as his replacement, Steve Spagnuolo has a career record as head coach of 10-38. Make that 10-39 … though at least Eli got started on a new starting streak (currently at 1).
10+100+1 — The San Diego Charger's Keenan Allen has three straight games with at least 10 catches, 100 yards receiving and 1 touchdown, the first time that has ever occurred in the history of the NFL. His hot play, together with Philip River's run and a much-improved defense has led the Chargers to 7-6 and a legitimate chance to win the AFC West, after a 30-13 dismantling of the Redskins, who are now officially eliminated from the playoffs for the third time in the last four years.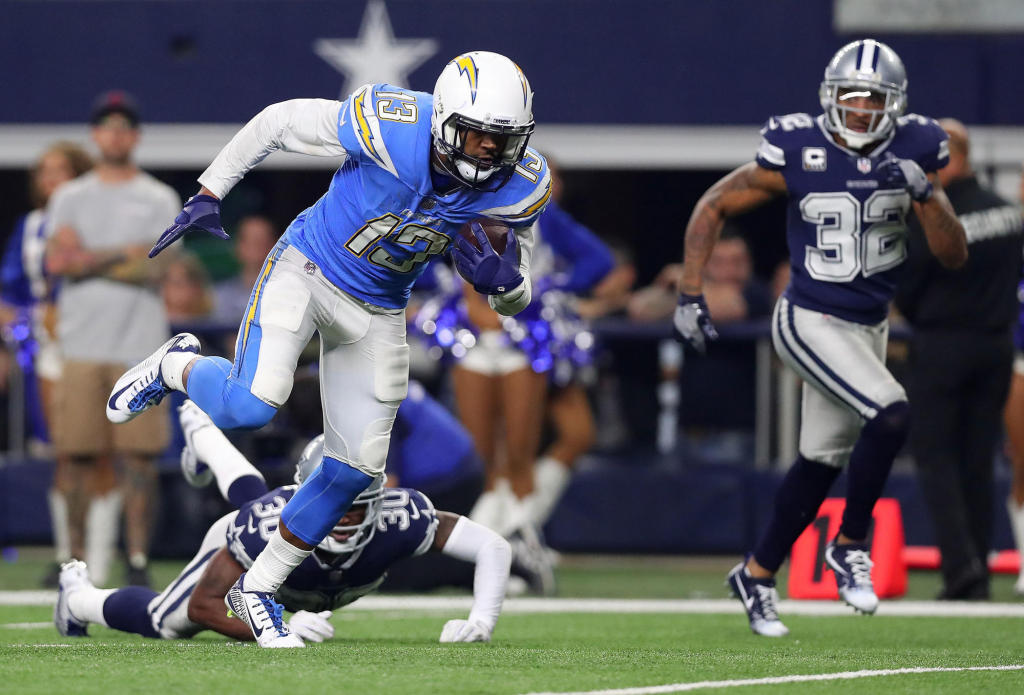 Keenan Allen has overcome injuries to become Los Angeles' top receiver.
11 — Winter Olympic medals stripped from Russia so far, on the back of an investigation that has left the entire team out of the 2018 Pyeongchang games. Individual athletes who can prove they aren't doping, which sounds a little like a Turing problem, can compete under a neutral, international flag. Many Russian athletes are also banned from next summer's Olympics, even as they get ready to host the World Cup.
14 — Straight wins for Man City in the league, a new Premier League record (and equaling the all-time English League record), as they all but sealed the league title before Christmas with a 2-1 victory over a United side that were absolutely terrible on set pieces. A week after a fortuitous win over Arsenal, United seem like they will simply be playing for the Top 4, barring an absolute collapse by the Citizens, who are currently 11 points clear at the top. 
+20*2 — There are reasons teams across the Major League Baseball are vying for the services of Japanese phenom Shohei Ohtani. He is 20 percent higher than the league average in both ERA and on-base-plus-slugging. 22 can already move on though, including Boston and New York, as he whittled his list down to eight teams that are mostly in smaller markets. Ultimately, the Angels moved into contention by signing him.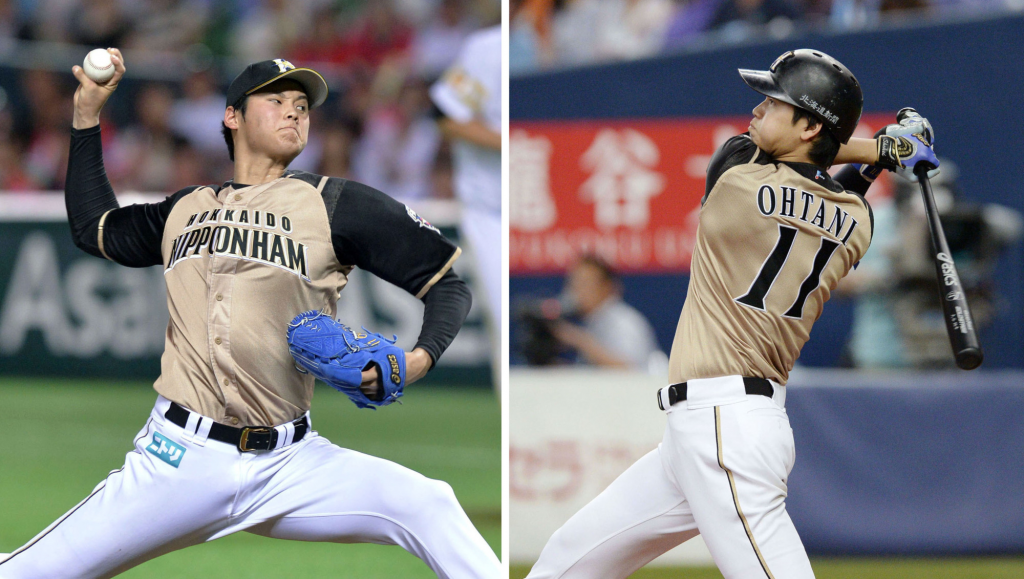 The next Babe Ruth?
25 — Jesus remains undefeated at City with 21 wins and 4 draws in his 25 Premier League appearances, a record by some distance. 
66 — Giveaways by Alexis Sánchez in the last two games alone. He came up with the late assist for Giroud that earned the Gunners a point, but was otherwise terrible. His tendency to give the ball away is becoming a real problem and it might be time for Arsenal to cut their losses on a player that looks ready to go. If they can get Lemar in the winter, get a little back for a player whose running down his time with Arsenal with a lack of class or drive.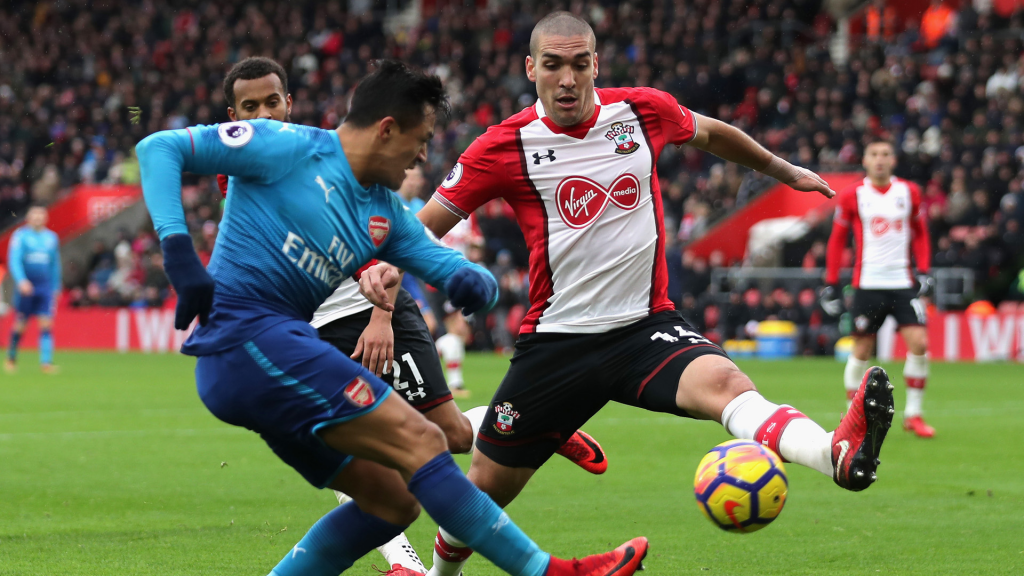 Sánchez has struggled to replicate his form of the past three seasons with Arsenal as his contract runs down.
500*3 — Ben Roethlisberger became the first quarterback ever to record three 500-yard games as the Pittsburgh Steelers came back to beat the Baltimore Ravens 39-38. Big Ben's 44 completions (on 66 attempts) was the most since Drew Bledsoe had 45 in a 1994 win over the Vikings. The win was his 39th game-drive, the most since he began his career in 2004. The Ravens loss was good news for a number of teams still vying for a wild card berth in the AFC, including the Chargers and Buffalo who drew even at 7-6, though Baltimore currently has the tie breaker over both. 
2007 — Back to the Ballon d'Or, for a moment — the last time the duopoly of Messi and Ronaldo didn't win the coveted award. That year belonged to Kaka, another Galactico. Next year could see a change, if Harry Kane or Neymar can find sufficient glory in Europe. Or maybe even Kevin De Bruyne if Man City finally lift the UCL crown. 
---
Check back in at the same bat time, same bat channel next week for the subsequent round of fixtures …