Match Week 2 of the EPL season is now in the books. United impressed with its second 4-0 win in a row, City eked out a draw in the final ten minutes of the game, Liverpool bounced back from their opening week draw, Chelsea rebounded as well with a late winner to beat Tottenham 2-1 and Arsenal was, well, Arsenal and lost 1-0 to Stoke.
---
Everything you need to know this past weekend, by the numbers …
The number that tell us the story of the week …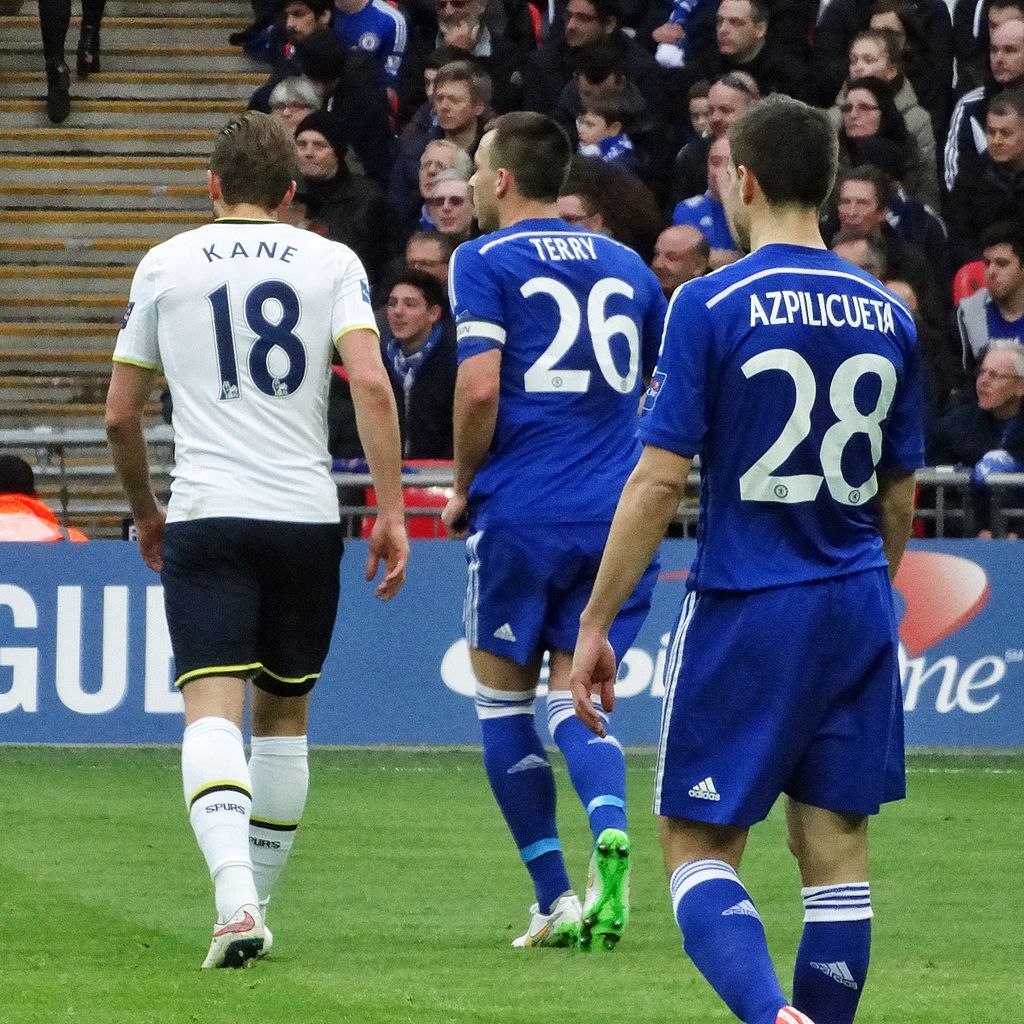 Not the start Spurs were looking for. Photo credit: @cfcunofficial.
0-1 – Tottenham's home record in the league after their 2-1 loss to Chelsea, with Alonso scoring his second late on to steal two points. The Spurs were undefeated at home all of last season (19-0). Wembley curse coming …
1-10 – The statistic that should give Spurs fans pause is they have won only 1 in 10 games at Wembley in their history, though most others were in cup competitions, obviously. 
1-0 – West Brom have taken maximum points with two 1-0 victory (over Bournemouth & Burnley). Tony Pulis might be dull, he might be predictable, but he does find ways to keep his teams out of relegation and generally near the middle of the pack. West Brom is one of only three teams to have six points from their first two games, alongside United and the surprising Huddersfield. Burnley, on the other hand, could not follow-up their surprise victory over Chelsea in Match Day 1.
2 – Goals for Alonso against Spurs. Last season, he had 6 in 30 appearance. And those were the only two shots on goal for Chelsea all match. 
2-2 – Mane continued his hot scoring record with Liverpool, capitalizing on a Crystal Palace error to make it two goals in two games this season. Keeping him healthy and on the pitch could be crucial to their Top 4 ambitions. 
3-2 – West Ham were down a man and two goals, but fought back to draw even, only to blow the lead in extra time at Southampton. 
3:42 – How long it took United to turn a 1-0 lead over Swansea into a 4-0 romp, all starting in the 80th minute, as Swansea chased the game by removing a central defender.
4-3, 2-2 – Lukaku has an impressive 4 goals in 3 competitive matches for United, doing a wonderful job of helping the side forget the loss of their top scorer from last season. And Pogba and Martial have each have two goals in those two games, to hush some of the critics from last season.  
5 – Heading into the game at Anfield, Christian Benteke had scored more goals as an opposing player at Anfield (5) than the 4 he managed in his forgettable season with the Reds. However, largely starved of service by an awful Palace, Benteke missed his one good chance in the 55th minute. Liverpool held on for a 1-0 win. To wit, it was 18 shots to 3 for the Reds, with only a few excellent saves from Hennessy keeping the score line down (8 saves in total). 
7/28 – Losses and goals conceded by Arsenal on the road last season, the worst among the Top 6. They continued the trend with their 1-0 loss at Stoke Saturday. 
8-0 – United's combined margin of victory in their opening two games. Last season, it was the inability to score that ultimately cost them the traditional route to the Champions League. But the hype should be tempered by the reality those victories came over Swansea and West Ham, who both flirted with relegation last season. 
10 of 11 – Arsenal had won 10 of last 11 in all comps, since switching the defense to a back 3, and 6 straight, before the loss to Stoke Saturday. 
11 – The number of red cards West Ham have accumulated since Slaven Bilic took over in 2015. Saturday, it was new signing Arnautovic who, like the Bush Administration after 9/11, figured revenge against anyone would do and added his name to that list. 
Lucky 13? – Manchester City were undefeated at home in their last 12 heading into their matchup with Everton. After going down a goal, they lost Kyle Walker just before halftime after two dubious yellows. But Raheem Sterling came good in the 82nd minute to save the day and push the streak to 13. Even with 10 men, they dominated the second half and might feel aggrieved not to take all three points, though Everton were impressive and might themselves be hard down by only earning a point.
18 months – the prolonged battle to get Berahino out of West Brom seems to have undermined his confidence, as he's gone that stretch without a solitary goal. However, he provided the assist to Jese's winner against Arsenal. 
27 – Liverpool have conceded 27 set piece goals since Klopp took over in 2015. Only Watford and Crystal Palace have let in more in that stretch. They got their first clean sheet of the season Saturday, bossing 72 percent of possession and only conceding two corners. 
28 – How long Aaron Ramsey went without a goal before scoring in the season ending victory over Everton, the FA Cup Final and Leicester last week. With three good chances missed, though one with an excellent block save from Butland, Ramsey's streak came to an end on a particularly inopportune afternoon for Arsenal. 

Ramsey goal streak: over. Photo credit: Ronnie Macdonald (Flickr).
77 – Percent possession for Arsenal in that 1-0 defeat. They also outshot the home side 18 (6) to 11 (4). However, they somehow garnered 11 fouls to Stoke's 6. Adding that to a questionable offsides call on the potential equalizer and four penalty claims that went unheeded, this was one of the most one-sided refereeing jobs in recent memory. 
90-91 – Ex-United midfielder Darren Fletcher starts for West Brom (with a sub in the other game) before his move to Stoke, who were supposed to be getting younger. He put in a strong effort in their victory and together with the other new signings – Jese (the goal scorer), Bruno Martins Indi (off the bench) and Zouma (from Chelsea). Ironically, Stoke now have more Champions League winners in their side than any other team in England, though one should mention that most of them never got off the bench in those Finals.

"Youth" movement. Photo credit: Stoke City FC.
99 – Goals for Olivier Giroud with Arsenal. Had a good chance to make it a century, but sent his header wide in extra time, after 4 missed chances by Welbeck and 3 by Ramsey. 
200 – Total league goals for Wayne Rooney, who is already the lead scorer for United and England and now joins Alan Shearer as the only two to have ever doubled a century in the league. Rumours of his career death appear to have been greatly exaggerated.  
441 – Minutes Everton went without conceding a goal in all compeitions this season, until Raheem Sterling equalized in the 82nd minute of the 1-1 draw.