The festive season continued with yet another win for Man City (4-0 over Bournemouth), while Liverpool, Arsenal and Chelsea all settled for draws. Tottenham moved back to fifth place with a 3-0 win over Burnley. In Spain, Real Madrid essentially fell out of the title race, and must now start to worry a little about the Top 4, after losing 3-0 to Barcelona at the Bernebau. The loss left them 14 points behind Barca after 19 games. Valencia also lost, to Villareal 1-0, leaving them 11 points back, with Atletico Madrid the closest at 9 points down after 17 games. Bayern continues to dominate the Bundesliga, leading Schalke by 11 points and Dortmund by 13. In Serie A, Napoli again leads the league after a 3-2 win over Sampdoria, while Juve stayed a point back with a 1-0 victory over Roma and Inter fell five back with a 1-0 loss at Sassuolo. That other team in Milan, you know the one that spent a fortune to get back to the top, are languishing in 11th, 16 points out of third place. Finally, in France, PSG lead Ligue Un by nine points over Monaco, who continue to impress after all the top end talent they gave up last summer, and Lyon.
On to the numbers, with a few nibbles from around the sports world …
---
Match Week 19 By the Numbers
-19 – The composite approval rating of the just-passed GOP tax cut bill, which appears to keep none of its three promises of simplicity, neutrality (in budget terms for the uninitiated), and fairness. 33 percent support the bill while 52 percent oppose it, making it even more unpopular than the tax hikes by Clinton and Bush. Luckily, the GOP only serves corporate and wealthy donor interests and sort of hates democracy in any case, so no biggie.
0-0 – Chelsea were held to a 0-0 draw from a suddenly resolute Everton, who are still undefeated after 7 games under "Big Sam." Chelsea have only been held scoreless four times in all competitions this season heading into the Saturday encounter – a 0-0 draw with Arsenal in September, a 1-0 loss to City at the end of that month, a 3-0 loss to Roma in the Champions League and the surprise 1-0 loss to West Ham a fortnight ago. Chelsea had 25 shots, with 8 on target, while Everton failed to register a single shot on target all night, though the absence of talisman Wayne Rooney probably played a part.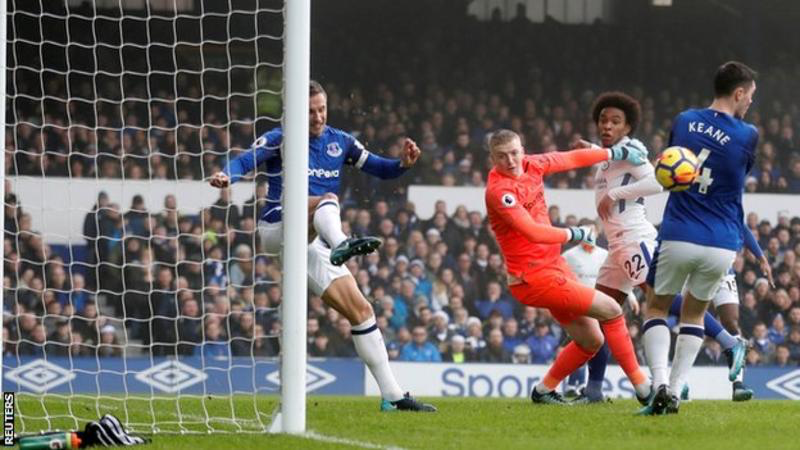 Jagielka cleared off the line twice in quick succession to save a point for Everton.
---
0-7 – With the Bengals eliminated from the playoffs and Marvin Lewis expected to leave at the end of the season, that will be his playoff record over his 15-year career with the team. The organization stuck with their man even as the statisticians should have warned them that a Quarterback-Coach combo has five years to come good on their partnership. Each of Bill Belichick, Mike McCarthy, Sean Payton, Mike Tomlin, John Harbaugh and Pete Carroll did so, leaving Lewis as the only of the seven coaches hired before 2010 not to raise the Super Bowl trophy. In fact, going further back, 27 of the 31 coaches to win at least one Super Bowl did so within five years of taking over the reins at that team. Hmm, maybe some owners should keep that in mind, with coaches like Garrett (almost 8 seasons), Rivera (7), Pagano (6) and Arians (6) and Andy Reid (6) all failing to win the big one yet.  
#1 – Blake Bortles is leading the league in passer rating, Total QBR, yards per attempt and touchdowns … for December (heading into the game Sunday). This is the same guy who threw 51 interceptions to 69 touchdown passes in his first three seasons in the league. The same guy who got benched by Chad Henne in training camp and was close to getting cut before the season began. The same guy who was ranked 27th in passer rating and 21st in Total QBR over the first three months of this season. Well, continue this play through the final game of the regular season and to at least one playoff victory and he might put the Jags in a tricky position …
1-0 – Brighton beat Watford Saturday to lift themselves to 12th place, as they continue to outpace expectations at the halfway point of their return to the top division. Even with the loss, Watford sit in 10th on 22 points. Watford are one of the worst home teams in the league (17th place), but are 8th on the road, four points above Arsenal at the halfway point. Brighton are better at home, 9th in the league, but not bad on the road at 13th.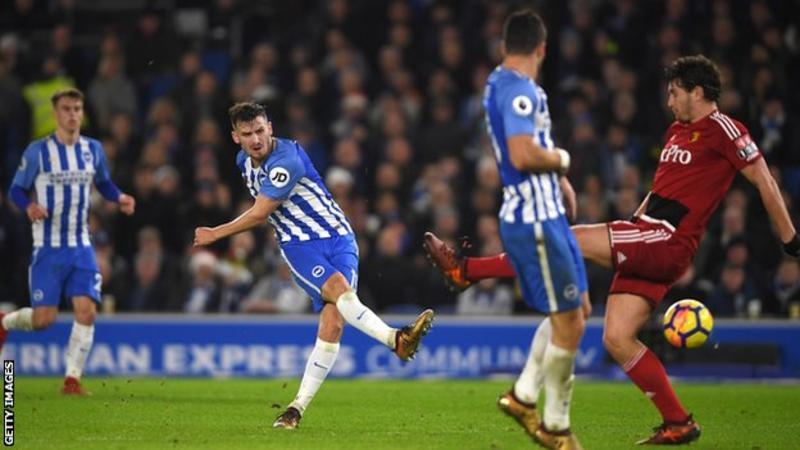 Pascal Gross proved the difference, with only their second goal in seven games.
---
1-1 – Swansea and Crystal Palace played out a 1-1 draw that does little for either side, though it does keep Crystal above the drop zone in 16th, while Swansea remain at the cellar of the table, with just 3 wins and 4 draws from their first 19. The Swans look the most likely to go down this season, particularly after sacking the miracle worker from last term, Paul Clement, Thursday. 
1 in 10 – Newcastle finally got a victory, after losing eight and drawing one in their last nine. The win came at West Ham, who were playing well under new manager David Moyes, winning two of their last three before the loss Saturday. Newcastle fell behind 1-0, had to survive a missed Hammers penalty and a late drive for the equalizer to win 3-2. The victory pushed Newcastle to 15th, on 18 points, two places above the Hammers in 17th (a mere point from the relegation zone). 
3 – Goals concede by Burnley in their first nine home games in the league, though they lost two of those games 1-0. Add three more after 10, as Tottenham beat them handily 3-0 on Saturday. Burnley did have a goal disallowed and Tottenham opened the scoring with a pretty soft penalty on Dele Ali, but the Spurs could easily have scored 6 or 7.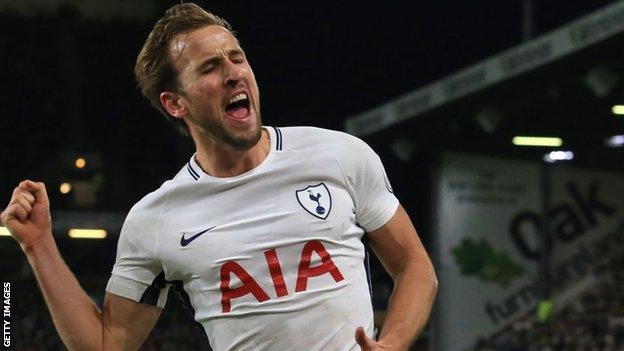 Kane celebrates after his seventh hat trick this season in 70s disco style.
---
3-1 – A day after he claimed he maybe should get the sack, Mark Hughes' Stoke City were celebrating a 3-1 win over fellow strugglers West Bromwich that might very well have save the Welshman's job, at least for the moment. Stoke are up to 14th, while the sacking of Pulis has done little to help the Baggies' fortunes, as they currently sit in 19th place, on a haul of 14 points for their first half efforts. 
3 – Harry Kane might be at the top of the Golden Boot table, tied with Salah on 15 league goals this season, but Man City is tops in representatives in the top 10, with three. Agüero and Sterling are joint leaders of the club (at 12) with Gabriel Jesus chipping in another 8. United's Lukaku is in fifth on 10, Chelsea's Morata and Jamie Vardy are tied for 7th at 9, and Lacazette rounds out the Top 10 with 8 for Arsenal. The disappointing Alexis Sanchez doesn't even make the top 20, with 5 goals (and 1 more in the Europa league). 
3 for 27 – Call it a blip, but that was the Golden State Warrior's three-point shooting performance Saturday night in a 96-81 loss to the Denver Nuggets that ended an 11-game winning streak. It was also a season-low for points. Don't count on many more shooting nights like this from the best three-point shooting team in NBA history.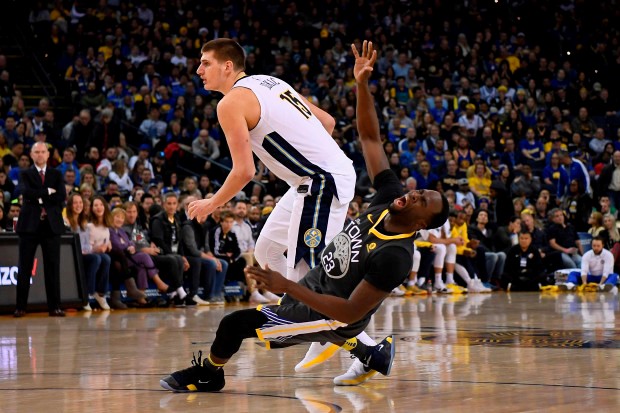 To add injury to insult, Draymond Green was elbowed in the face Saturday.
---
4-0 – Manchester City just keep on scoring, putting four past Bournemouth in a breeze victory that sent the Cherries into the relegation zone. Raheem Sterling has been particularly potent this term, with 16 goals and 4 assists, including 3 goals and 2 assists in his last three. Sergio Agüero was on the double in the win, taking his Etihad tally to 100 as his career with City might well be entering its final five months. Bournemouth, on the other hand, are now winless in seven league matches and Eddie Howe must be starting to feel the pressure as so many around him have fallen in recent months.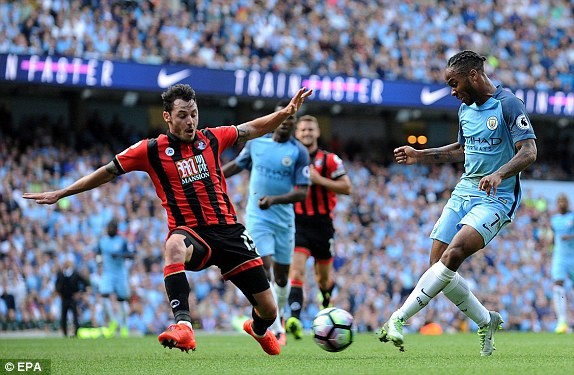 Sterling continued the best scoring form of his career with the third against Bournemouth.
---
6 – Charlie Austin started the season in tepid form, scoring once in his first 10 appearances. Since then, he has scored five in his last 7 games, including Saturday, in a 1-1 draw with Huddersfield. Austin has been rather parsimonious with his shots, with 27 in 16 games, thus scoring at a strike rate of 22.2 percent.
7 – New NHL franchise the Las Vegas Golden Knights have won all seven home games against playoff-bound teams so far this season, continuing to outstrip expectations in a big way. Some are blaming the "Vegas Flu," where Sin City provides too many diversions for visiting teams, who take their eye off the puck. In the past, "Roxy Flu" was said to beset visitors in Vancouver thanks to their iconic club or "Philadelphia Flu" for the punchier than most Flyers of that era.
8 – City have the top three players in assists at the halfway point of the season, with De Bruyne, Sane and Silva all tied at 8. Aaron Ramsey for Arsenal is fourth on 6, having missed the past few games with yet another injury. 11 are tied at 5 assists, including the out of favor Mkhitarayan, who collected all 5 in his first 4 games.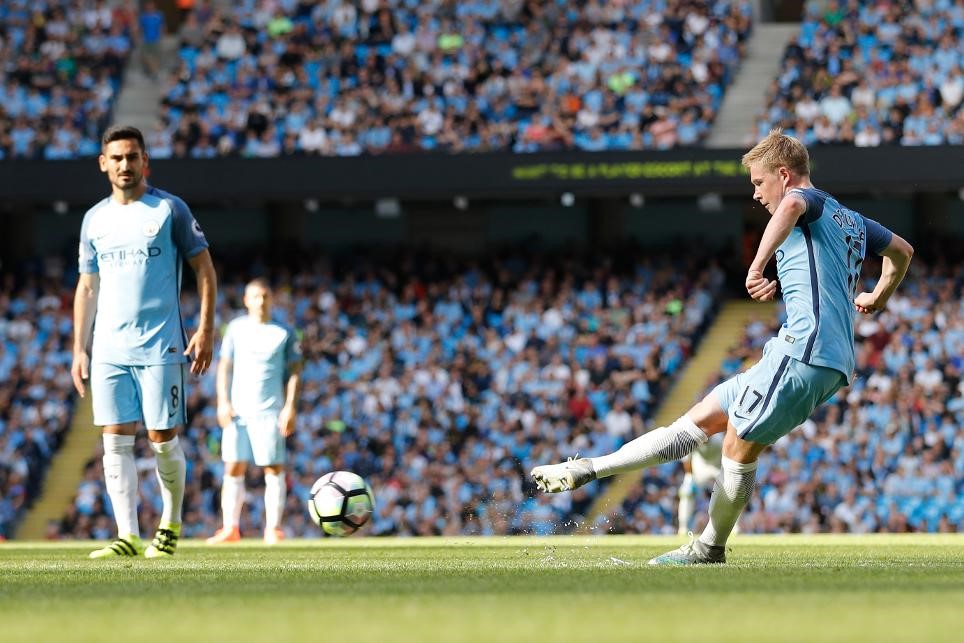 De Bruyne is staking his claim as the best player in the Premier League this season.
---
8.7% – Celtic sophomore Jaylen Brown has held players he defends to 8.7% below their typical average and 36.8% overall. He is third on the Celtics in minutes played (31.3/game), second in scoring (14.7 points/game) and second in three-point shooting percent (41.5%). Not bad for a 20-year-old who was struggling to keep his place last season. But with the mammoth Irving trade and injury to Hayward, a lot has been put on his young shoulders, and he has more than held his weight.
9 – The Buffalo Bills haul of second half points over their last five games. They added three of that tally Sunday in a 37-16 loss to the New England Patriots, after a 13-13 halftime score that included yet another blown call from the replay team in New York that would have given them the lead. They clearly do not like teams from their host state, as they have already blown three (or arguably four) against the Jets and now added the Bills to their "miss" list. The win for the Patriots made them the first team ever to win 12 or more games in eight straight seasons. Just call me when Brady retires; I've had enough …
13 – Point gap between Manchester City and Manchester United at the top is the largest at Christmas in Premier League history. It looked to be remaining stuck at 11 until Leicester, down a man and a goal in the 94th minute, found an equalizer with the last kick of the weekend. Marc Albrighton sent in a perfect cross from 40 or so yards out and MaGuire met it at the far post, as Smalling was left on his heels, clipping it across goal past De Gea.

De Gea beaten on the far post to give Leicester a point in the last second.
---
13 – Liverpool are undefeated in their last 13, with 8 wins and 5 draws, the latest of the latter coming in a scintillating game Friday night, when Arsenal came back from 2-0 down to score three in five minutes to take a 3-2 lead. only to allow the equalizer on some truly poor defending (starting with unlucky Sanchez, who fell at exactly the wrong time in the buildup to that goal). 
20-20 – Trae Young became the first player in two decades to register 20 points and 20 assists in an NCAA basketball game, as the Oklahoma Sooners cruised past Northwestern State 105-68 Tuesday night to move to 9-1. Young leads Division I in points (28.5/game) and assists (10.2/game) at present and also tied the all-time records for assists in a game (22), with Sherman Douglas, Avery Johnson and Tony Fairley.
36 – After a hat trick against Burnley on Saturday, Harry Kane is even with Alan Shearer on 36 league goals for the calendar year (though he did it in 7 less games). He will have a chance to make the record his own on Tuesday against Southampton. The threesome made it seven for the calendar year!
42 – The one blip in a City season to remember so far is that they have missed the most big chances this season, at 42, topping Arsenal (33), Liverpool (30), Crystal Palace (28) and Tottenham (26). Arsenal have suffered the most for their profligacy in front of goal at the top of the table, while Crystal could be a lot safer if they had converted a few more of those chances.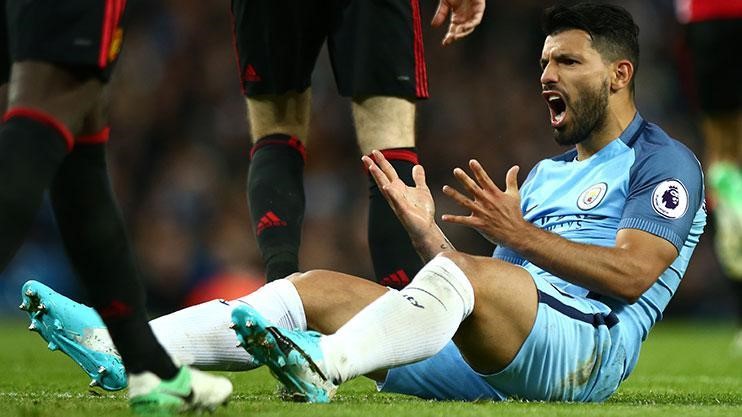 Agüero has still been prolific in a more limited role this season, but missed a few sitters.
---
42 – Years since an NFL team has sent two running backs to the Pro Bowl, yawn. It probably the least interesting of all the all-star games, the New Orleans Saints will be represented by both Mark Ingram and Alvin Kamara. The two are on pace to become the first running back duo to both surpass 1,500 yards from scrimmage in one season. The last duo to accomplish the feat were Jim Otis and Terry Metcalf in 1975.
50 – James Vardy hit his 50th league goal for the opener in the 2-2 draw with Manchester United Saturday. His run was extraordinary, as was the perfectly weighted pass from Mahrez that allowed him to run past the United defense and slot across past a stretched De Gea. United will feel like two points ceded after playing a man up for 20 or so minutes after taking the lead 2-1 on a Juan Mata brace. But chance after chance to put the game away went wanting and they were made to pay with the last kick of the game. Vardy will be forever remembered for leading the line in the improbable Leicester run to the title two seasons back, but he continues to score goals and contribute to a side that is reborn since Shakespeare went the way of his namesake earlier this season.
50*2 – James Harden became the first player since Kobe Bryant to score 50 or more points in back to back games, though the Houston Rockets lost both of them, ending a 14-game win streak (and Chris Paul's undefeated start to life in Texas). Kobe had four in a row in March 2007, making it more than a decade since a player matched that record. And only five have done it since the ABA-NBA merger, including Harden, Kobe, Iverson, Antawn Jamison (seriously?) and the great Knick Bernard King. He is only the second to ever record losses in two straight 50-point performances, joining Wilt Chamberlain, who did it in three straight games on three occasions.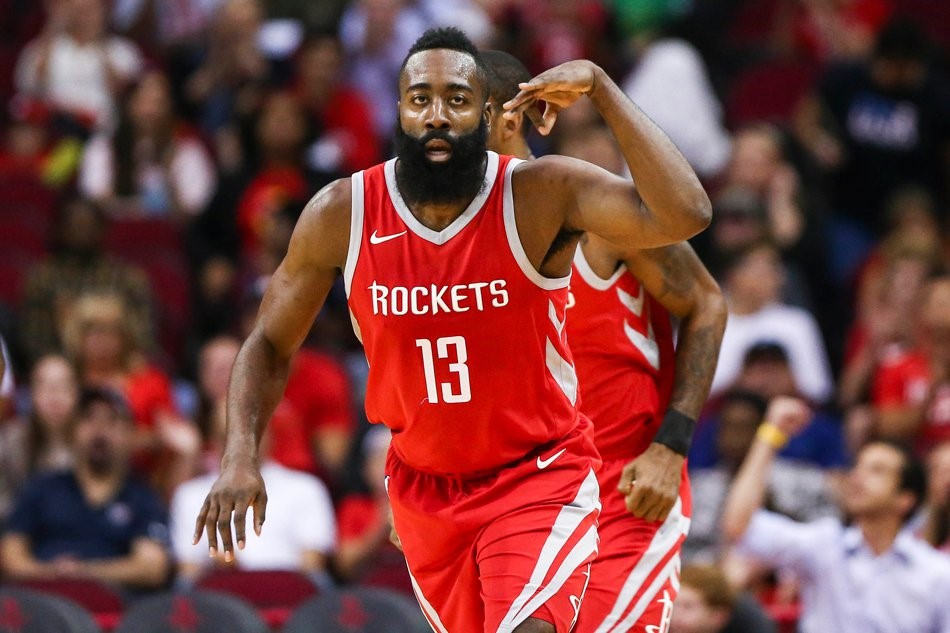 With the addition of Chris Paul, Harden is staking his claim as the best scorer in the league.
---
With the addition of Chris Paul, Harden is staking his claim as the best scorer in the league
50-3 – Lane Kiffin's Florida Atlantic beat Akron by that score in the Cheribundi Tart Cherry Boca Raton Bowl (try to say that quickly 5 times). It finished a successful 11-win season for the previously maligned head coach, a FBS record for the team, winning the Conference USA championship and making their first bowl appearance since 2008. Kiffin is also the leading tweeter in college football, for whatever that is worth …
60 – Man City have scored 60 goals in their 19 games, topping the scoring chart. Second, 19 behind, is Liverpool, followed by United (39), Arsenal (34) and Tottenham (34). Man City also lead the league in completed passes (13,768), followed by Arsenal (11.970), Liverpool (11,203), Tottenham (10,737) and Chelsea (10,658). 
79-75 – Wofford stunned North Carolina on Wednesday, arguably the biggest upset of the season so far, surpassing Grambling's stunning "own goal" win over Georgia Tech at the beginning of the month. The Terriers led for the entire second half, holding off a late Tarheel's run to upset the reigning National Champions in Chapel Hill!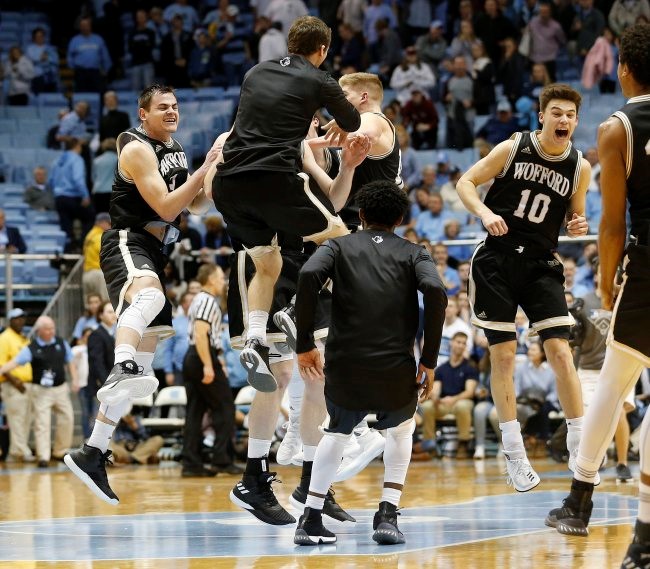 Wofford go crazy after the win of their careers.
---
97.9 – QB Rating of Dallas Cowboys quarterback Dak Prescott when Ekeziel Elliott was playing, versus 76.6 without him. He had 16 touchdowns and 4 interceptions with his number one running back, versus 5 and 7 without him and posts 227 versus 191 yards per game. Sunday, the Cowboys had not only Elliott back on offense but their talisman on defense, Sean Lee (see last week's post). Elliott's return did little in one of the worst games the Cowboys played all season, losing 21-12, as the Seahawks had more penalty than offensive yards. Prescott was 21 of 34 for 182 yards with no touchdowns and two interceptions. Elliott did have 97 yards on 24 carries but one of the best kickers statistically in league history, Dan Bailey, missed his last two field goal attempts, essentially killing the game. And three turnovers by the Cowboys led directly to 21 points for the Seahawks. The Cowboys are out of the playoffs and one wonders if Garrett will survive another subpar season.
277 – Call it the "Gronk Effect," if you like, what is clear is the New England Patriots are substantially more potent when he is on the field. The team have 277 catches, 3,429 yards, 400 targets and 0.69 first downs per target, versus 72 catches, 771 yards, 100 targets and 0.32 first downs per target. Could "sweep the leg" be making a comeback in an NFL town near you anytime soon?
1,607 – In an odd statistical outlier, defender Nicolas Otamendi leads the EPL in passes at 1,607. The oft-maligned Granit Xhaka is second on 1,577, followed by City's Fernandinho, Silva and De Bruyne. Call me crazy, but might Guardiola's possession-based approach be paying dividends …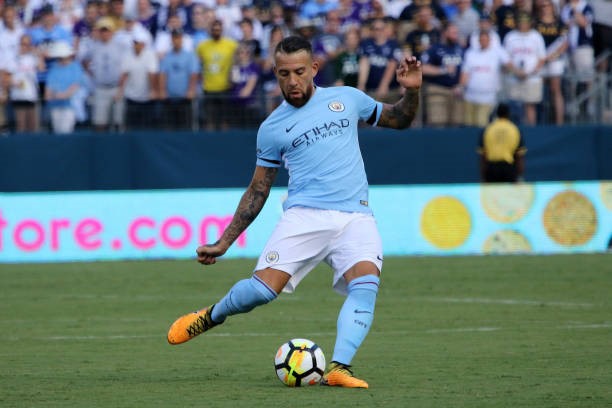 Not the guy you would have guessed to lead the league in passes.
---
2003 – The Los Angeles Rams have clinched their first division title since 2003 Sunday, with a 27-23 victory over the Tennessee Titans, who moved into sixth place with the Buffalo Bills loss. The Chargers, Ravens and Bills still have a chance though they must win their games Week 17 and hope for some help.
---
Check back in at the same bat time, same bat channel next week for the subsequent round of fixtures …