Manchester City all but wrapped up the Premier League title before Christmas with three league wins in 7 days, including victories over United and Tottenham. Arsenal finally bounced back after two straight road draws, though it was a less than stellar 1-0 victory over a reeling Newcastle. Chelsea made it two on the bounce after their shock 1-0 loss at West Ham last weekend, sweeping past Huddersfield 3-1 and then beating a Southampton side on a run of big scalpings 1-0. United bounced back from their Derby loss to win their two games this week, with a resurgent Lukaku scoring in both. And Tottenham's slump and big loss to City saw them fall from fourth all the way to seventh, a point behind a Burnley side that still won't go away. 
Around the world of sports, Real Madrid became the first team ever to win the Club World Cup in consecutive years while most of the same sides continue to lead their respective domestic leagues: Barca in Spain (with the latest iteration of El Classico next weekend), Bayern in Germany (11 points clear of Schalke and 13 of Dortmund) and PSG in France (a 9-point lead over Monaco as they sit one game from the halfway point). Napoli did rise back to first in Serie A, one point above Juve and two above Inter, with Roma only four points from the summit. 
On to the numbers, with a few nibbles from around the sports world …
---
Match Week 17-18, by the numbers
0-3 – Crystal Palace finally scored a goal for the first time in nine away matches in the league. In fact, they made it three, routing the previously hot Leicester City 3-0. Their record over that stretch is 1-2-6, tied for worst away points total with Stoke, Newcastle and Swansea (5 points from half the away fixtures of the season). At the opposite end of the away form table is, of course, Manchester City, who are 9-0 on the road. Arsenal sit middle of the pack on 9 points from 9 away matches, the main reason they sit a point out of the Top 4 at present. The three points moved Crystal all the way up to 14th place in the table!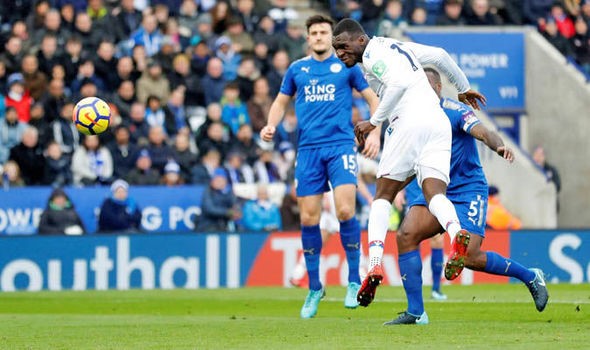 Benteke heads home for Crystal, as they end away drought in style.
---
4-0 – Liverpool cruised at Bournemouth, winning 4-0 to sneak back into the Top 4, after two disappointing draws in a row, 1-1 against Everton last weekend and then 0-0 at Anfield against West Brom midweek. The Reds have now scored 20 in their last 6, even with the 0-0 draw and are at least the second most exciting attacking side in England, possibly behind only City (though Liverpool at their best might just pip them). 
4-1 – In setting the all-time record for a winning streak in English Football at 16, Man City not only eviscerated Tottenham but really the title chase, as they pushed their lead to 14 points over United, who did cut it back to 11 Sunday. But does anyone believe City will even drop 11 points the rest of the way? Gundogan opened the scoring in the 14th minute, De Bruyne, in an imperious performance, made it 2-0 on 70 minutes and then Raheem Sterling, who missed a number of clear scoring chances, had a late brace to continue his streak of scoring in the last 10 minutes of games. 
5-1-0 – Everton are undefeated since Sam Allardyce was named their new manager on November 29, winning five and drawing 1-1 at Anfield. In their two games this week, they beat Newcastle 1-0 (on a Rooney goal) and then took down bottom-dwelling Swansea 3-1 Monday (with Rooney scoring from the spot after Calvert-Lewin had equalized and Sigurdsson given the Toffees the lead). The win pushed Everton back up to 10th, after flirting with the relegation zone for well over a month.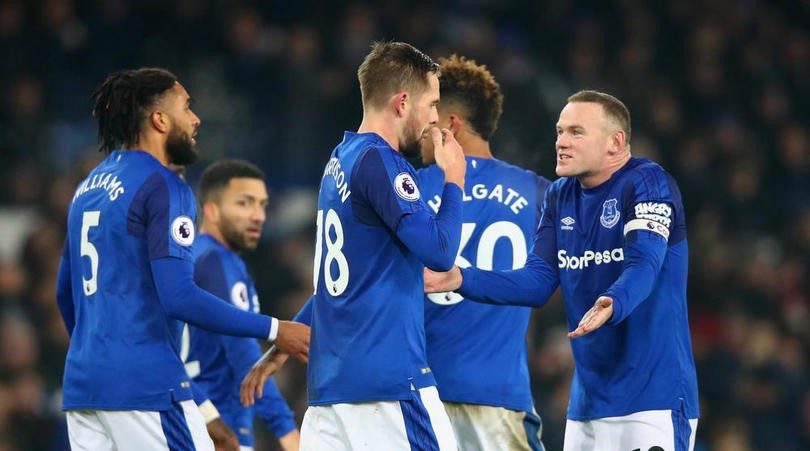 Rooney and Everton have been on a run after an awful stretch.
---
7-2 – The Cowboys record with linebacker Sean Lee in the lineup, allowing 18 points per game and 3.9 yards per carry versus 1-4 without him, giving up 29.8 points and 4.8 yards per carry. The Cowboys beat the Raiders 20-17 Sunday night, despite two interceptions and an off-night by Dak Prescott. The victory raised the Cowboys odds of making the playoffs to 15.9 percent (an increase of 5.4%) while eliminating the Raiders from playoff contention a season after a breakout year. 
8 of 12 (and maybe 9) – In fact, the NFL playoffs are shaping up to be rather surprising with two games to play, as right now 8 of the 12 from last season will be sitting it out. If Atlanta lose Monday, it could even go to 9, though there are still possibilities for a few sides that were in last season. It would be one of the biggest one-year turnarounds in league history, with the LA Rams the pick of the litter for teams doing a quick and unlikely turnaround. In fact, three teams are currently in a position to go from worst to first in their division, including the Rams, Eagles and the Jags. The most parity-oriented league in professional sports is upping the ante this season. 
8 of 13 – Arsenal have been known for many years for their beautiful football (and choking down the stretch, of course), but that has not been the case of late, at least if we look at their goal totals. After a 5-2 thrashing of Everton on October 22, they have score one or fewer goals in 8 of their last 13 matches, with most of those coming outside the league (a 2-1 victory over Norwich in the League Cup and a 6-0 cruise past BATE). Since their last outburst, in a 5-0 victory over Huddersfield on 11/29, they have averaged under a goal a game, losing 3-1 to United, drawing 1-1 with Southampton, drawing nil-nil with West Ham and sneaking by Newcastle 1-0 Saturday.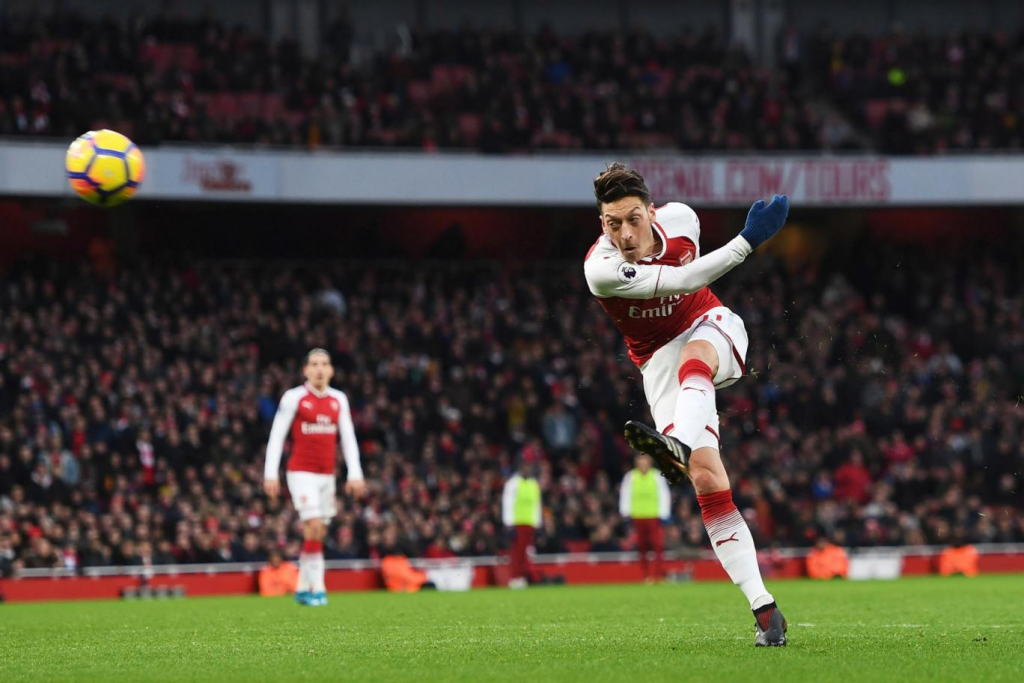 Ozil proved the difference with a sublime volley.
---
10 – Quarters without a touchdown for the 6-8 Arizona Cardinals, who seem all but assured of missing out on the playoffs after a 20-15 loss to the Redskins Sunday. The loss pushed coach Arians to reinstate Drew Stanton as the starting QB, benching Blaine Gabbert. 
10 – Coutinho opened the scoring in Liverpool's 4-0 thrashing of Bournemouth with a lovely weaving run. That makes it 10 goals in all comps for Liverpool's #10. Will he still be there in February? Still an open question, at least if we believe the Spanish papers (though that might be like reading the White House daily briefings like received wisdom).
16-0 – Houston Rockets record when Chris Paul has played. Maybe the pundits saying he and Harden couldn't play together, after a sample of less than one game were a little quick to the trigger? The Rockets currently have the best record in the NBA, sitting 1.5 games above the Warriors.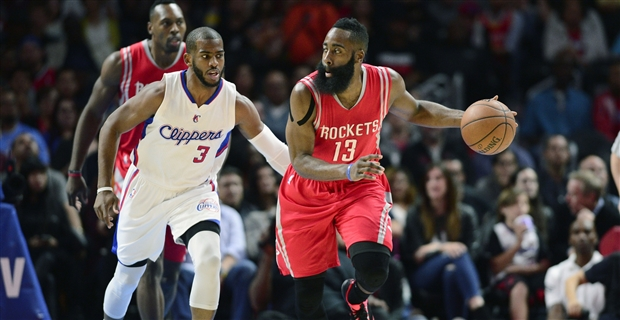 The good ol' days for the Clippers are over, as Houston has mounted an early challenge to the Warriors hegemony out West.
---
16 – Goals conceded in last 6 matches by Newcastle, who might be giving their fans vertigo as they slide down the table into the relegation zone. They did hold Arsenal to a solitary goal in their loss Saturday, but now sit in 18th, on 15 points after 18 matches. Winter transfer activity, anyone? 
20 – Mo Salah just keeps on scoring, adding the third in Liverpool's thumping of Bournemouth 3-0. With that 14th league goal, which leads the division, he hit his 20th in all competitions, the first time anyone at Liverpool has hit that mark since the almost magical 2013-14 season. 
24-16 – Victory for the Buffalo Bills over the Miami Dolphins moves then above the Ravens and into the sixth playoff spot in the AFC. If they can win out they would end the longest playoff-less streak in the NFL, dating back to 1999. 
39 – Goals conceded by Stoke City in their first 18 league games, seven more than any other side (West Ham are second at 32). The leaky defense together with an average haul of 19 goals means that Stoke are poised a solitary point above relegation, with, not surprisingly, the worst goal difference (-20) in the league. They have won only twice over their last 11 and lost three on the bounce, including a 5-1 trouncing by Tottenham, a 1-0 loss to Burnley and a 3-0 home loss to West Ham. One wonders how much patience the board has left with Mark Hughes, after a relatively successful first four seasons in charge of a side that used to be known for a boring, but defensively-stout style under Tony Pulis.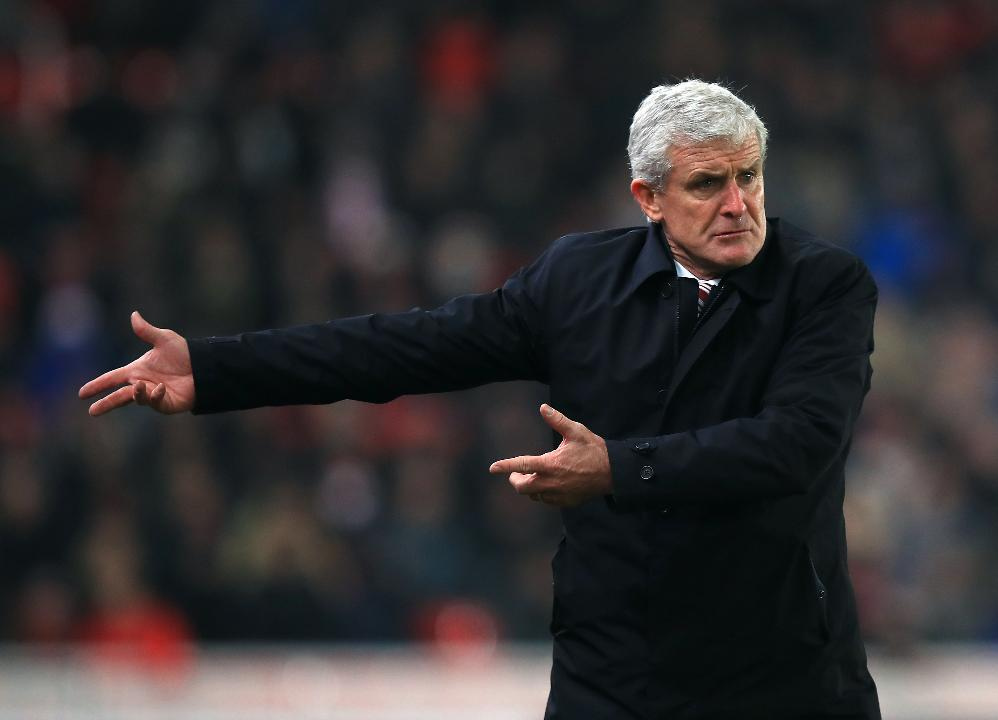 Mark Hughes seems the likeliest manager to be next to get the sack.
---
Check back in at the same bat time, same bat channel next week for the subsequent round of fixtures …