Liverpool completed an impressive couple of weeks with a 3-0 win over Bournemouth Saturday, but it was Manchester City celebrating the loudest Sunday, as a shock 1-0 defeat of United by West Brom sealed it for the Citizens, a day after their 3-1 victory over a previously hot Tottenham. Spurs are now looking in the rearview mirror at Chelsea, whose 3-2 win over Southampton moved them within 7 points of fourth, though with only 5 games to play each. Arsenal ended their seven-game unbeaten streak, continuing their horrific record away from home as they blew a 1-0 lead and lost to a suddenly ascendant Newcastle 2-1.
Burnley's 2-1 victory over Leicester City all but secured European football for the Sean Dyche-led side, as they sit nine points above Leicester with five matches to go on the season, a truly impressive result for a manager who might be getting a closer look from big clubs around Europe soon. In fact, they are only two points behind Arsenal with five to play! Meanwhile, Newcastle is 10th, only a point below an awful Everton in ninth. Benítez must be congratulated for what he has done with a side whose 11 starters Sunday cost less than Aubameyang alone.
At the bottom of the table, if we are to believe 40 is indeed the magic number, no one from position 11 down in the table is completely safe, though one assumes Bournemouth (on 38 points) and Watford (on 37) are probably now clear of relegation troubles. Southampton will rue their blown two goal lead against Chelsea as they fell five points from 17th. Crystal Palace and Huddersfield secured huge victories, Swansea got what could be a very important point via a Jordan Ayew 71st minute equalizer against a stolid Everton and West Ham and Stoke shared the spoils 1-1 Monday, though the result helped the Hammers much more than the Potters.
In the Champions League, Barcelona were stunned by Roma a year after their own miracle comeback against PSG, Man City was unable to overcome their first leg deficit to Liverpool, losing the second leg 2-1 at home and Bayern snuck through 2-1 on aggregate after a 0-0 Home second leg. The biggest surprise almost came 23 hours after the Roma miracle, as Juve equalized the tie at 3-3 in the 60th minute only to fall to a late penalty in extra time.
Juve did move a step closer to the Serie A title, as Napoli drew 0-0 at Milan while the Turin side beat Sampdoria 3-0, moving six points clear. Bayern remain 20 points clear at that top after they won 4-1 at Augsburg and Schalke beat Dortmund 2-0. The loss left Dortmund in fourth, four points above Leipzig with six to play, with Bayer Leverkusen in third (on 51 points as well). In France, PSG humiliated Monaco 7-1 to wrap up Ligue Un and take step two toward a possible treble that will still feel disappointing after the early Champions League exit. Finally, in La Liga, Barcelona set the record for consecutive league games unbeaten as they beat Valencia 2-1, while Atletico kept pace with a 3-0 victory over Levante. Barcelona have won 25 of their 32 league games this season, with 7 draws. Real won 2-1 Sunday to essentially secure their spot in the Top 4.
The NHL and NBA playoffs started this past week as well. In the NBA, the higher seed won in all but one Game 1 – where the Cavs fell to the Pacers – but the Heat did tie up the series with the Sixers 1-1 after winning Monday night. In the NHL, the Capitals are in trouble once again, after blowing a two-goal lead in the 3rd period on the way to a Game 1 OT loss, then doing essentially the same thing in Game 2. Two-time defending champs Pittsburgh were knotted at 1-1 before cruising past the Flyers 5-1 in Game 3 Sunday. In the other series, the Devils pulled to 1-2 with Tampa Bay after winning Game 3 5-2 Monday, Toronto won its first home game 4-2 to do the same versus the Bruins, as did the Avalanche versus Nashville and the Wild over the Jets (6-2). The Golden Knights, however, beats the Kings 3-2 to take a 3-0 series lead as did the Sharks over the Ducks (8-1!).
On to the numbers, with a few nibbles from around the sports world …
---
Match Week 33-4 By the Numbers
0 – Arsenal are the only side in the top four flights of English football to secure no points away from home in 2018. The losses include 2-1 to Newcastle Sunday, 2-1 at Brighton, 1-0 to Spurs, 2-1 to Bournemouth, 3-1 to Swansea and 4-2 to Nottingham Forest in the FA Cup. Since beating Newcastle in the reverse fixture on December 16, in fact, Newcastle has moved from the bottom three to top 10 while Arsenal have gone 6-6-3, essentially ending any chance of finishing in the Top 4 (with seventh now a distinct possibility).
0-0 – Sevilla has not been an easy team to get by either in the Europa League, which they've won 5 of the last 11 years including 3 in a row before United won last season, or Champions League of late and this was also true for Bayern who held on for a 2-1 aggregate win after a nervy 0-0 draw at home in the second leg.
0.5 – How many seconds were left when Khris Middleton of the Milwaukee Bucks launched an improbable game tying trey, to send their Game 1 series into OT.  In overtime, both Bledsoe and Giannis Antetokounmpo fouled out as the Celtics held for a 113-107 win.
0-1 – LeBron James is in a 1-0 hole in the first round for the first time in his career after the Cavs ceded home court advantage by losing Game 1 to the Pacers 98-80. James did register his 20th playoff triple double, but the Pacers outclassed Cleveland in almost every other facet. It ended a 21-game first round win streak for LBJ teams.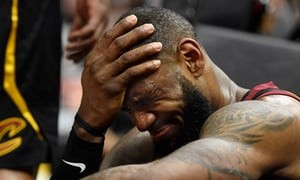 LeBron's 24 points, 12 assists and 10 rebounds were not enough as the Cavs fell.
---
0-1-9 – Watford's record in last 10 away from home after an injury time winner from Huddersfield, who moved seven points clear of the relegation zone with the win. Watford has yet to win a single game away from home all season while Huddersfield ended six matches without a win.
1.45 – ERA of Bartolo Colon, who turns 45 next month, after he made it to the eighth with a perfect game before a walk and single ended his night. His Rangers did win the game in extra innings 3-1 over the Astros. Colon is with his 9th team in the last 11 years.
2.08 – Remember that preseason that had people thinking Shohei Ohtani might be a bust? Well, he's 2-0 in two starts with that ERA, 18 Ks, 2 walks, a 0.46 WHIP and only 4 hits allowed in 13 innings of work. At the plate, he is hitting .367/.424/.767 with 3 dingers and 11 RBIs in only 30 at bats. He has helped the Angels to a 13-3 start and a 2.5 game lead in the AL West.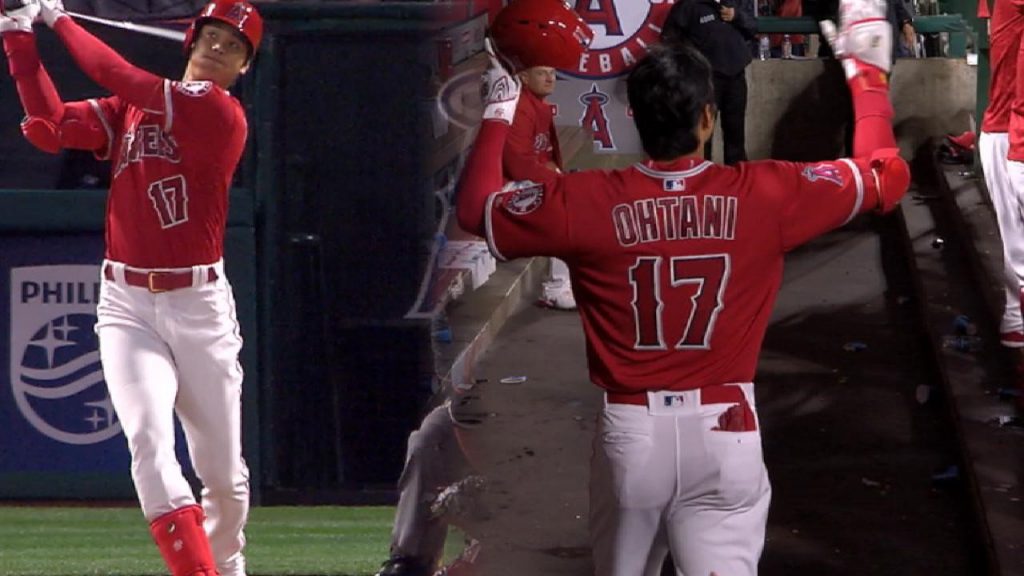 Shohei Ohtani's first MLB homer.
---
3 – Losses on the bounce for Man City after they were beaten 2-1 by Liverpool in the second leg of their quarterfinal Champions League matchup, on the back of losing the first leg 3-0 and blowing a 2-0 lead against United last Saturday when they had a chance to sew up the league title. They did bounce back to beat Tottenham 3-1 Saturday and were shocked to become title winners 24 hours later when West Brom shocked United. 
3-0 – Barcelona blew a 4-1 first leg home win in the Champions league Tuesday, reversing their insane 6-1 victory to overcome a 4-0 first leg lead against PSG last season. The double is still on for the Catalan club, but this was a surprise result, even as the first leg score flattered them. They have now gone out at the quarterfinal stage three years in a row, after winning the trophy in 2015. It was only their second loss in their last 49 matches!
3-2 – it wasn't easy, but Crystal Palace held on for a 3-2 win over Brighton after 2-0 and 3-1 leads early. It was their first home win since January 13, while Brighton has to look all the way back to November for their last road victory.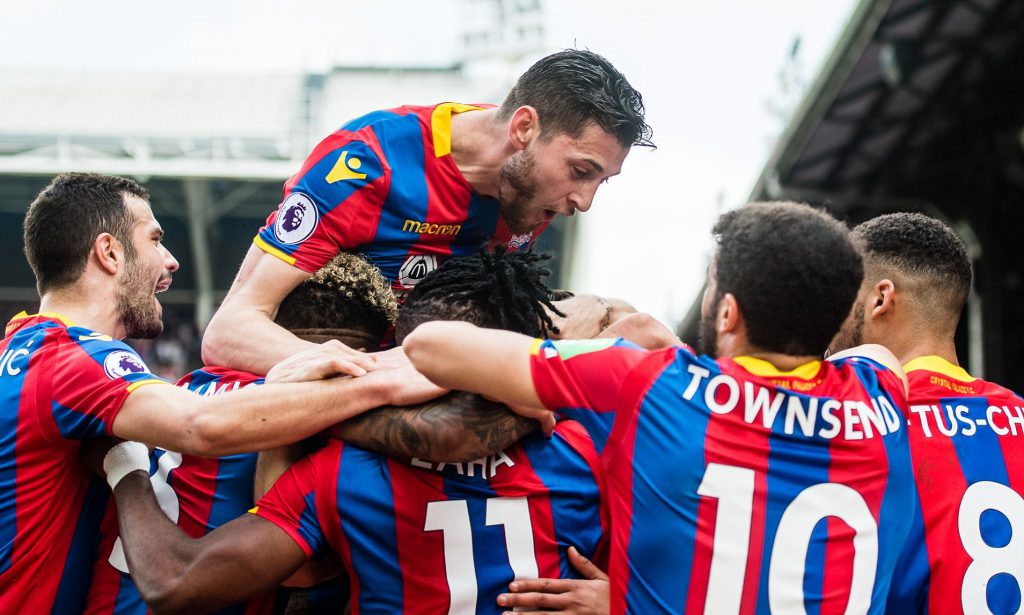 Crystal celebrates Wilfried Zaha's first league brace on the road to three invaluable points.
---
3 in 4 – Jay Rodriguez latched onto a Matic failed clearance and headed the ball home for his third goal in his last four league games. The shock Baggies victory over United, 1-0, meant that City won the title as Pep Guardiola played golf and the side continued to lick its wounds from a pretty rough two weeks, even with the victory that sealed it Saturday. By the way, it was the third win in their last 5 visits to Old Trafford for the Baggies, with a draw and a loss in the other two.
6 – Fiorentina won six straight matches after the tragic death of their captain Davide Astori, their best run since 1964. They had to settle for a 0-0 draw with SPAL Sunday, though stretching the unbeaten run to seven.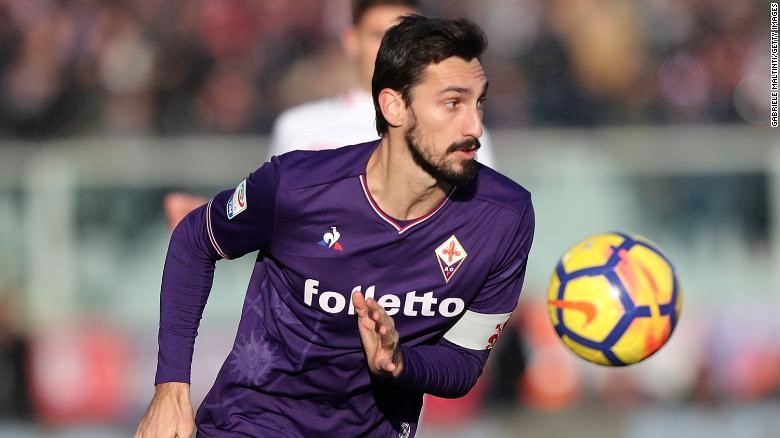 David Astori's tragic death has inspired his side to a seven-game unbeaten run.
---
8 – Minutes that might well have cost Southampton survival while maybe awakening Chelsea from their long winter hibernation.  The Saints were up 2-0 as the clock turned to 70 minutes, before a Giroud header, a Hazard goal from close in and a cut shot from about 10 yards out by Giroud won it for the Blues. Southampton are now 5 points from safety.
9 – Points in the first two games for Boston Bruin 21-year-old phenom David Pastrnak, tying Phil Esposito for most ever in two games. He also joined six others with six points in a game (3 Goals, 3 assists) beating Gretzky to become the youngest ever to accomplish that feat. Boston leads Toronto 2-1. He was without a point in the Game 3 loss.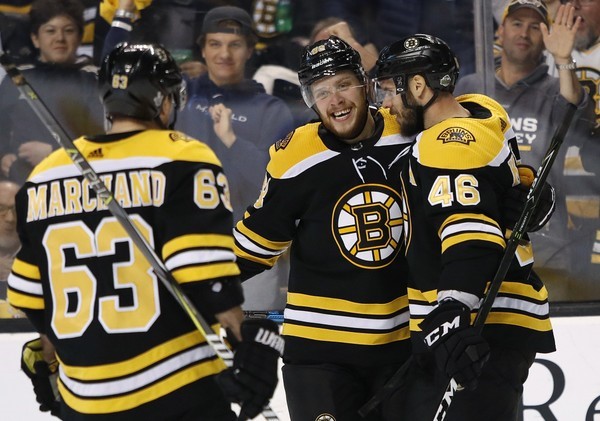 Pastrnak celebrates historic his hat trick with teammates.
---
10-6-6 – Wenger record against Rafa Benitez going into their matchup at Newcastle, where Arsenal had won 10 in a row.  After a pathetic display that included two goals Cech really should have saved, that streak is over. In fact, the 2-1 loss was their fifth road defeat in a row, the first time that has occurred since 1984. And it was their ninth away defeat, with only 13 points to show for their travels this season.
12-2 – The New York Mets had the best record in baseball until losing their second game of the season Saturday to the Brewers 5-1. The Red Sox are the only team in the majors with a better winning percentage (.867 to .857). The Mets? Seriously. Meanwhile, the Yankees (7-7), Nationals (7-9), Cubs (7-7) and, particularly, the Dodgers (5-9) continue to have mediocre starts to the new campaign.
34 – Years since Roma has reached the semifinals of the top European competition (the European Cup back then). Goals from Edin Dzeko (6'), De Rossi (58') and defender Manolas ('82) were the difference as they overturned the aforementioned 4-1 first leg deficit at Barça. They, rather than Juve, will be the Italian representative in the final 4 this season.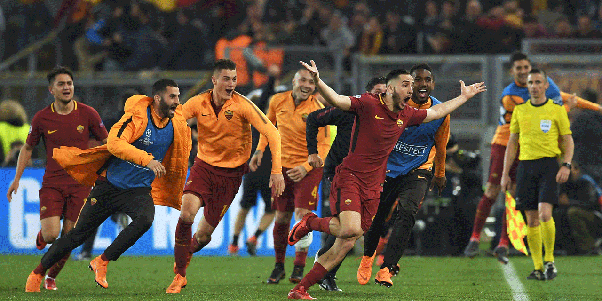 Roma celebrate a victory for the ages, coming all the way back from 4-1 down in the first leg.
---
40 – Mo Salah scored the opening goal for Liverpool in the second leg of their Champions League tie with Man City, settling their nerves on the way to a 2-1 win, just as he has scored in their other two victories over arguably the best team in England at present. With 40 goals in all comps this season, could Salah be the man to help Liverpool become only the third team to break the Real Madrid/Barcelona juggernaut control over the UCL over the past decade? Don't count him out, with potentially three matches to the most coveted trophy in Europe. He scored again Saturday as Liverpool cruised past Bournemouth 2-0.
98th – Minute for Real to finally secure yet another Champions League semifinal berth, after Juve came all the way back from a 3-0 home defeat in the first leg to draw even at the Bernenbau. Ronaldo stepped up and secured the victory from the spot after a contentious 93rd minute penalty and red card for Gigi Buffon in his last UCL appearance. It was the 11th straight game in the competition in which the Portuguese star has scored and took his tally this season to 15, the third highest total ever with three games to play (he also holds first and second place in that list, with 17 and 16 respectively).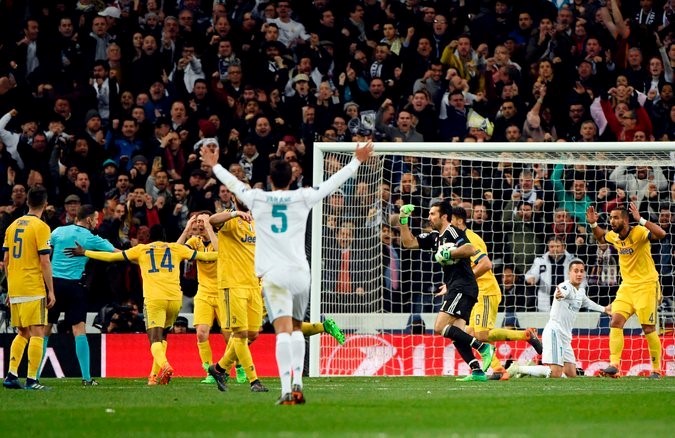 The late penalty call will be debated for years, but it was the right call.
---
98 – German midfielder Tony Kroos completed an incredible 98 percent of his passes (93 in total) Wednesday.  Real actually dominated possession but it was Juve that converted their chances, until the game deciding penalty.
2015 – Luis Suarez has had an off-season by his standards, even as Barça could well go undefeated in the league and end the season with a double. But his away form in the Champions League has to be a concern, as he hasn't scored a solitary goal away since the group stage against Roma, two and a half years ago. He did score Saturday, as Barcelona set the record for unbeaten streak in La Liga, at 38 games, beating back a Sevilla rally to win 2-1.
---
Check back in at the same bat time, same bat channel next week for the subsequent round of fixtures …