The EPL was back last weekend after an international and FA Cup hiatus, with a few other games peppered in over the past few weeks. Man City now stand on the precipice of securing the title, with the chance to win it against United next weekend. Chelsea suffered a hammer-blow 3-1 home loss to Tottenham that seemed to all but end their chance of the Top 4, meaning United, Liverpool and Spurs are likely to take the other three spots. Arsenal sit even further back, even after their fourth win on the bounce, 3-0 over Stoke Sunday.
At the other end of the table, a 3-0 thrashing of Southampton by West Ham puts the Saints in serious trouble with a game in hand against Swansea, but Arsenal, City, Chelsea and Leicester City on the horizon in their other games. The only good news for them? A semifinal FA Cup matchup with Chelsea  in three weeks. West Brom seems certain of the drop after a 2-1 loss to Burnley Saturday, though their fate has been all but certain for a while now. Stoke is sandwiched between the two, with games against Spurs and Liverpool still to come, though they also face Swansea, Crystal, Burnley and West Ham, and thus know staying up is within their grasp. The three sides just above the drop are Crystal, Huddersfield and Swansea (also with the aforementioned game in hand). By the way, the other FA Cup semi pits United against Tottenham, with the latter looking for their first trophy in a decade.
Across Europe, Barça have a nine-point lead with eight to play after coming back for a 2-2 draw last weekend, while Atlético, Real and illanalencia are now securely in the other UCL places. In Germany, Bayern continue to cruise, with a 6-0 demolition of Dortmund Saturday and then a 2-1 road leg victory over Sevilla Tuesday. Schalke, Dortmund and Leipzig currently sit in the Champions League places, though Bayer Leverkusen are hot on their heels. Napoli had a chance to close on Juve, but settled for a 1-1 draw at Sassuolo that, with Juve's 3-1 win over Milan, stretched the lead back to four points with eight to play. Roma and Inter sit in third and fourth. Finally, in France, PSG is 17 points above Monaco, with Marseille four points further back and Lyon securely in fourth.
European football was also on tap again this week, with Real cruising past Juve 3-0, Liverpool crushing City by the same score, Bayern benefitting from an own goal as they came back to win 2-1 at Sevilla, and Barça offing Roma 4-1.
In other news, March Madness ended two and a half truly crazy weeks with a second Championship for Villanova in three years, baseball is back and a few teams are still struggling to sneak into the playoffs in the NHL and NBA, while others are trying to hold on for the postseason. And Anthony Joshua won a big fight last week, now the unified heavyweight champion with the IBF, WBA, WBA and IBO belts.
On to the numbers, with a few nibbles from around the sports world …
---
Match Week 30 By the Numbers
1 – Win, and a paltry 8 Points, in 18 games for Allan Pardew at West Brom this season. He left the club Monday via mutual consent for his second failed stint in one season. West Brom look certain to drop to the championship in May with Crystal Palace hanging on just above the drop zone at present.
1-135 – The first 135 times a #16 seed went up against a #1, they lost. That all changed two weeks ago Friday night as the University of Maryland-Baltimore County pulled off the most shocking upset in NCAA tournament history, demolishing Virginia 74-54. Not only was Virginia a #1 seed, but the #1 seed of the entire tournament. It was one of several big upsets in the opening weekend, as Arizona, Michigan State, Xavier, North Carolina and Cincinnati all fell before the Sweet 16.
3-0 – West Ham were looking more and more like a Championship side over the past few months, but a 3-0 victory over Southampton Saturday gave them a little breathing room in the race for survival. Joao Mario gave the Hammers the lead with his first goal for the club, followed by a brace for the uneven but immensely talented Marko Arnautovic, who screamed at his ex-manager Mark Hughes after his first goal.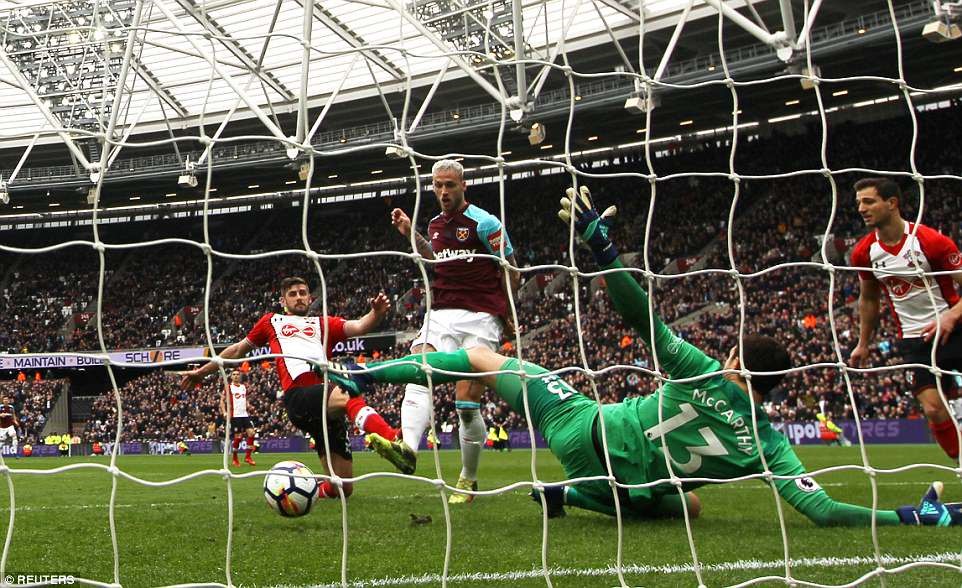 Arnautovic's goal in the 17th minute all but secured victory against the goal-shy Saints.
---
4-3 – Not a bad introduction to Tinsel Town for Zlatan Ibrahimovic, as he scored the final two goals for the LA Galaxy, as they recovered from a 3-0 deficit to win 4-3 over new rival LAFC. His first was a master class, placing the ball just out of reach of the goalkeeper from 40 yards out, before an injury-time headed winner. He always seemed a perfect match for the Hollywood glimmer.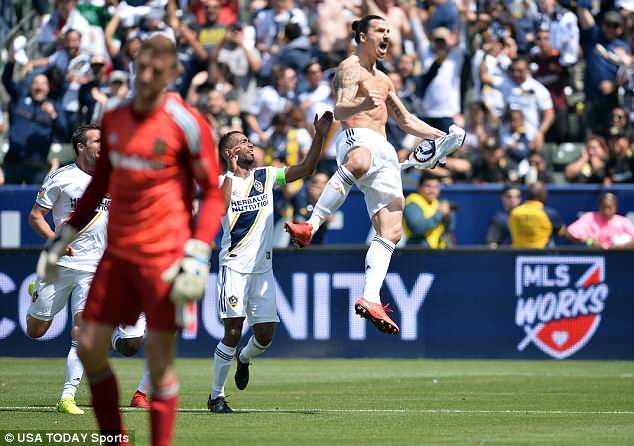 Zlatan celebrates his first goal in LA, only 6 minutes after entering the game.
---
5 – Goals for Aubameyong, along with an assist, in his first 6 league games for Arsenal. Worth the money? You bet. His successful penalty gave the Gunners the lead after 70+ minutes of uninspired play then wrapped it up with a second in the 86th. Lacazette added his tenth league goal from the spot a few minutes later to gloss a close match.
5 – Straight Coupe de la Ligue for preemptive league winners PSG, after they beat Monaco 3-0 in the Final last weekend. Cavani sandwiched goals between di Maria in the relatively easy win, offering some salve after yet another early exit from the Champions League. Neymar who?
7-6-1 – Jurgen Klopp's record against Pep Guardiola after Liverpool stunned the imminent Premier League champs 3-0 in the first leg of their Champions League quarterfinal match. Salah, who else, was on the scoresheet first, followed by Ox with a screamer from 25-yards and Mane, all in the first half. The Reds held on for dear life and now have one foot in the final 4. Klopp has managed to beat City twice this season already, a feat only accomplished by three other sides – Shakhtar in a meaningless final Group Stage game, Wigan in the FA Cup and Basel in the second leg of the Round of 16 (after City won the first leg 4-0 at Basel).
7 – Points clear of the drop zone for Newcastle after a late goal from Ayoze Perez secured all three points against Huddersfield. That makes it three straight home wins for Benitez's side, with three clean sheets, justifying his style of play with a side that arguably lacks the talent for the top division.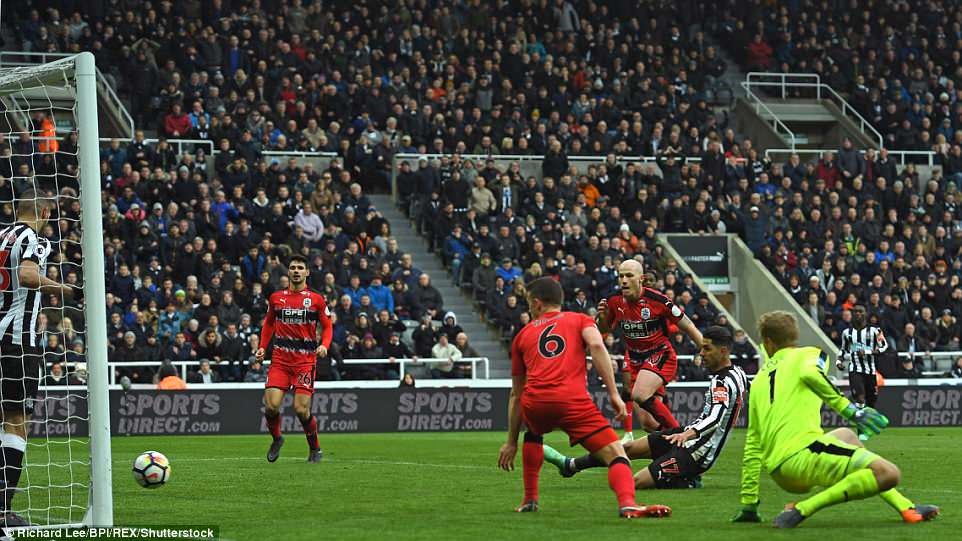 Perez slides it home after some excellent work from Kennedy, with what could be the goal of the season for Newcastle, if they do stay up.
---
7 – Straight NCAA semifinal wins for Michigan, including their 69-57 win over upstart Loyola Chicago Saturday. They were down 29-22 at halftime, but outscored LCHI 47-35 in the second half, with Wagner the difference – becoming the first player to score 20+ and get at least 15 rebounds since Akeem Olajuwon in 1983 (and one of only 3 in 40 years with the other being Larry Legend in 1978). The win for Michigan made it 26 Big Ten teams in Finals, itself a record for a conference. Unfortunately, they met one of the most dominant tournament teams in several decades Monday and lost 79-62, making it four straight finals losses for the Wolverines in a row.
7 in 32 – Alvaro Morata scored the opener against the Spurs Sunday with a fine header, ending a seven-game scoreless streak in the league, and adding only his seventh in last 32 in all comps after a fine start. It wasn't enough as Spurs came back to win 3-1 and all but secure Champions League football for next season.
9 – Goals by Peter Crouch against Arsenal, third most all-time behind only Rooney and Fowler. He couldn't help them Sunday as Arsenal ultimately cruised 3-0 after an abject performance for the first 60+ of the afternoon.
10 – Straight Champions League games with at least a goal for Ronaldo. He has also scored as many goals in the quarterfinals of the competition (22) as the entire Juve side in their history. And he has scored in all six games against the Italian side, a total of 10, against one of the best defensive teams of the modern era. Ronaldo just keeps setting records and rising like a Phoenix from all-too-premature proclamations of his imminent demise. His performance in the money end of season, and in the Champions League in particular, continues to defy the experts and bring into question whether he, and not Messi, is the greatest active player in the world. His second goal in Real's 3-0 thrashing of Juve Tuesday, was arguably the greatest goal ever scored in the competition and actually had fans of the losing side up from their seats and cheering the effort.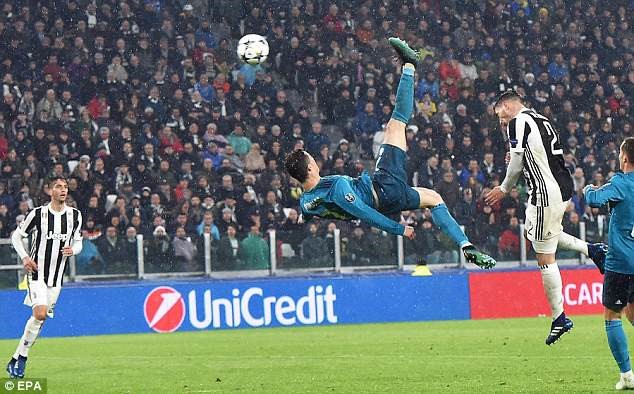 Ronaldo's wonder goal Tuesday was as close to perfection as anything you'll ever see on a football pitch.
---
12th – Best record in the league for Chelsea since Boxing Day, moving from 2nd to 5th, with chances of finishing in the Top 4 seriously dented after the aforementioned loss to Spurs. It was the first Spurs win at Stamford Bridge ever in the Premier League and first away win at Chelsea since 1990 (30 matches in all comps).
16 – Straight wins at home for Arsenal against Stoke after their 3-0 victory Sunday. That streak goes back to 1981, but might need to wait a bit for revival as the Potters look likely to face relegation after conceding the most goals of any side with 6 games to go (61)
22 – Point deficit overcome by Nevada in the last 11 minutes to stun second seed Cincinnati 75-73 in the second round. That was the second biggest comeback in NCAA tourney history.
31 – Points off the bench for Donte DiVincenzo, the sixth player of the year, as Villanova cruised to their second title in three years 79-62 victory over Michigan. It was the most points off the bench in a title game ever. It also wrapped up a tournament to remember, as Villanova averaged a 17.7-point margin of victory (fifth best ever) and absolutely cruised in their last two games.
37 – Barcelona's unbeaten streak after their 2-0 win over Athletics Balboa a couple of weeks ago and 2-2 come-from-behind draw at Sevilla Saturday, with who else but Messi scoring the equalizer. An undefeated season in La Liga moves closer to reality each week.
58 – Baseball has certainly changed in recent years, with a bigger focus on the long ball and more acceptance of strikeouts, but the Cubs are pushing their fan's patience after fanning 58 times in their first 5 games, a MLB record. Maybe they could become a viable alternative energy source if they keep producing that much unproductive wind.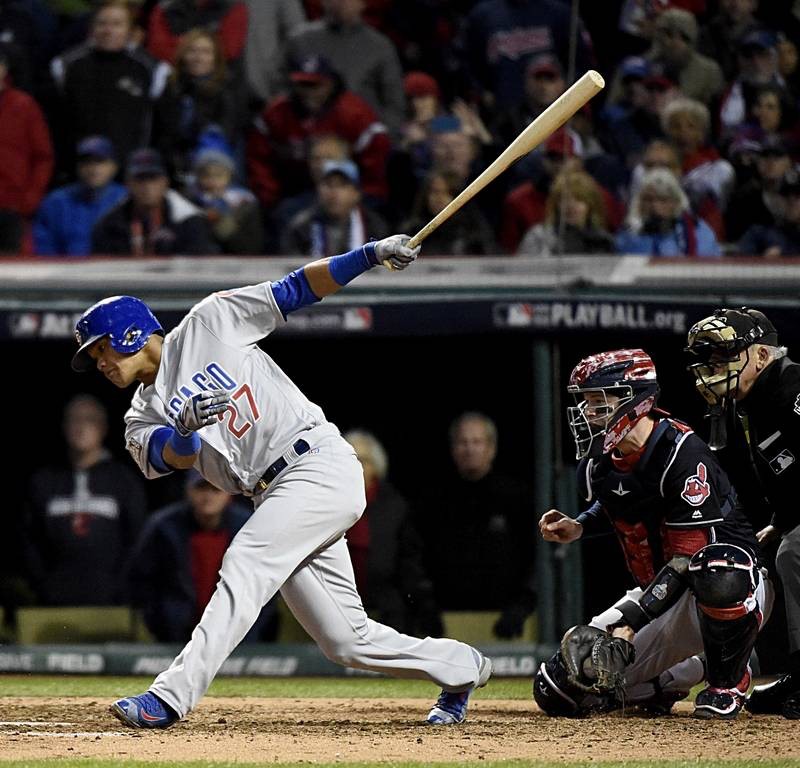 Whoops we whiffed it again!
---
82 – Juan Mata had to watch from the bench before being subbed on as United fell out of the Champions League in the Round of 16 a few weeks back, losing 2-1 on aggregate to Sevilla. It was an odd omission from Mourinho, who has won 82 percent of the matches Mata has started in, including the 2-1 win over Liverpool the weekend before, and only 47 percent when he doesn't.
117.3 – The exit velocity as Giancarlo Stanton homered in his first at-bat with the Yankees on Opening Day. He went through a bit of a slump afterward, including a 5K night last weekend, but hit a dinger Wednesday, as the Yanks cruised by the Rays.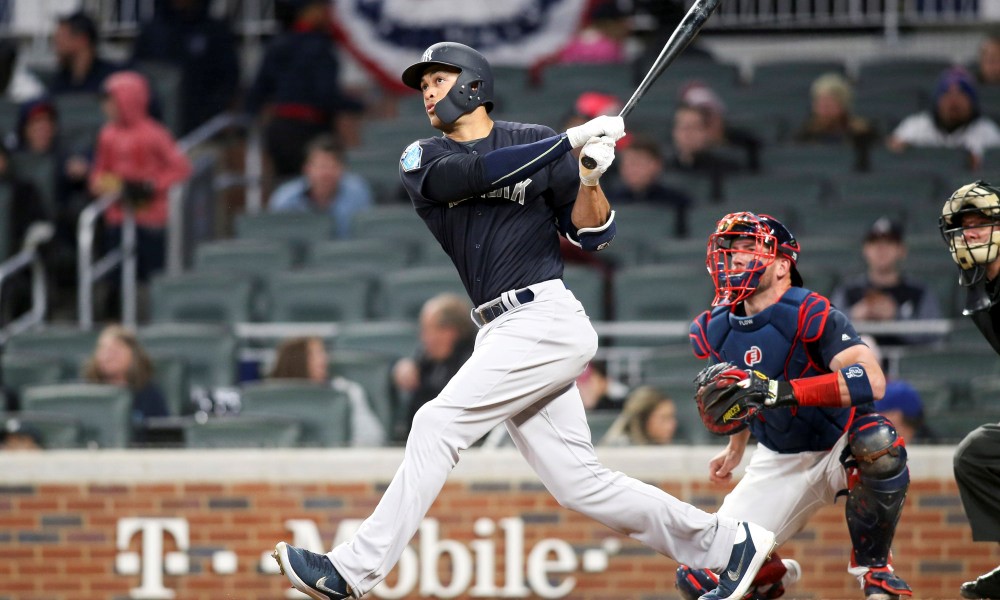 The Yankees might well have a new "Murderer's Row" with Stanton, Judge and Sanchez.
---
247 – Alexis Sanchez finally got his second goal for United last weekend, after a tepid start to his time at United, including losing the ball 247 times in his first 10 appearances alone. Overall, he is third in the league having lost it 582 times, though the two above him are not having bad seasons: Christian Ericksen (603) and possible player of the year Kevin De Bruyne (664). But the stats don't lie and comparing his time at Arsenal to United yields some troubling stats: .42 to .17 goals per 90, 3.05 to 1.53 chances created per 90, 4.12 to 2.21 shots per 90 and .18 to 0 assists per 90. He does have more passes (53.49 to 52.08) and touches (81.17 to 76.32) per 90 since the move, but is obviously doing less with them.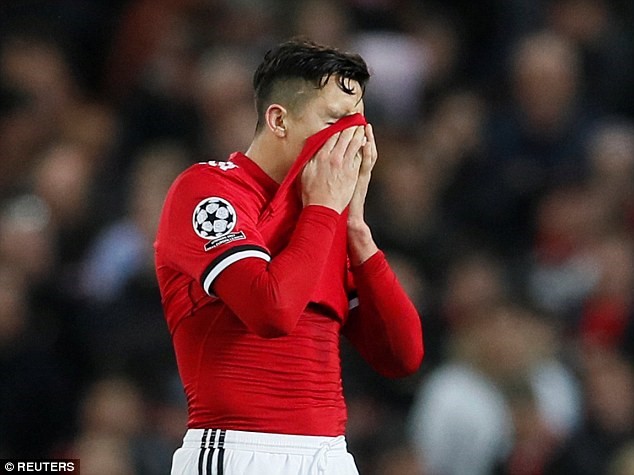 Sanchez must have thought he would have more success at United, but he might just have to settle for a much fatter paycheck.
---
400 – In his 400th appearance with Real Madrid, Kareem Benzema scored to move to seventh on the all-time goal list for Los Blancos, as they eased past Las Palmas to all but secure a top 4 finish. Gareth Bale scored his 10th in the win, though it wasn't enough to get him into the starting lineup against Juve Tuesday. Benzema has had a poor season by his standard and the rumours of Lewandowski making the shift South could mean the end for the Frenchman this summer.
464 – In the first half of their semifinal win over Kansas, Villanova set the record for most made threes in a season. 10 of their first 12 field goals were from 3 to build a 17-point lead, and they ended it at 50% (13-26) with only 7 shots from inside the arc and a 15-point lead. By halftime, they had set the record for most threes in any tourney and tied the record for most threes in a Final Four game (broken early in 2nd). They went on to win easily, finishing with 18 treys. They added another 10 in the Championship win.
---
Check back in at the same bat time, same bat channel next week for the subsequent round of fixtures …