Back in action after the latest international break, it was a good weekend for most of the Top 6 yet again, though Tottenham's title ambitions took a serious hit with a 2-0 loss to Arsenal, assisted by some suspect refereeing a couple of weeks after the Gunners suffered their own double officiating error in a 3-1 loss to City. Another manager joined the ranks of the sacked, Tony Pulis, and a couple of others are now on the hot seat. The three newly promoted sides continue to outperform expectations, taking up the 9th to 11th slots in the table. And new boss David Moyes continued his struggles since leaving Everton, losing 2-0 in his first game since taking over the top job with West Ham.
Meanwhile, only a few months after experts predicted a tough season, Barcelona now have a 10-point lead over a stumbling Real Madrid and have yet to lose a match since the preseason Spanish Supercopa. Valencia are the surprise story in Spain, though, having risen like a Phoenix from their struggles over the past several years to sit only four points behind Barça (with a game against them next weekend); reminding us that many pundits (aka Gary Neville) are much better at critiquing others than actually succeeding in management. In Italy, Juve have dropped to third place, four points behind Napoli, who have yet to lose in the league this season (11 wins, 2 draws), and two behind Inter Milan, who look to have finally turned their fortunes around after huge transfer outlays. The country is in collective mourning, though, after missing out for the World Cup for the first time in 60 years. PSG, as one would expect after their even more impressive (or outrageous, depending on your perspective) outlay, are already six points clear of last year's title holders, Monaco, and have the best goal difference in the Champions League. Finally, to Germany where, after some early season struggles that cost Ancelotti his job, Bayern Munich now sit six points above Schalke and Leipzig (on 23 points each), while Dortmund have dropped to fifth, on 20 points.
Around the rest of the sports world, several NFL playoff teams from last year look likely to be on the outside looking in, as Buffalo look set to stretch their playoff-less run to 18 years (though the struggles across the conference mean that is not a foregone conclusion). A few surprise teams in the league continue to far outstrip predictions, including Jacksonville and the Los Angeles Rams. In the NBA, the surprise story is, of course, the Boston Celtics, who upped their winning streak to 16 straight, while Golden State, not at all surprisingly, continues to dominate the West, with Boston coming out the winner in the first meeting of the season between the two sides. Cleveland continues their early season struggles with some wondering if this might be the year to end LeBron's Finals streak (don't count him out yet … or ever, really). On to the numbers.
---
Match week 12 by the numbers …
0 – Goals for Harry Kane in the Spurs 2-0 loss in the North London Derby Saturday, ending a hot streak that has seen him score 20 in his first 24 matches between the bitter rivals; already more than Thierry Henry managed in five more games. In fact, he is currently on pace to surpass Henry's 228 league goals, and some suggest he could even go after Alan Shearer's all-time record of 260. He still has some ways to go, of course, as he currently sits on 86, and this all assumes he actually stays in England …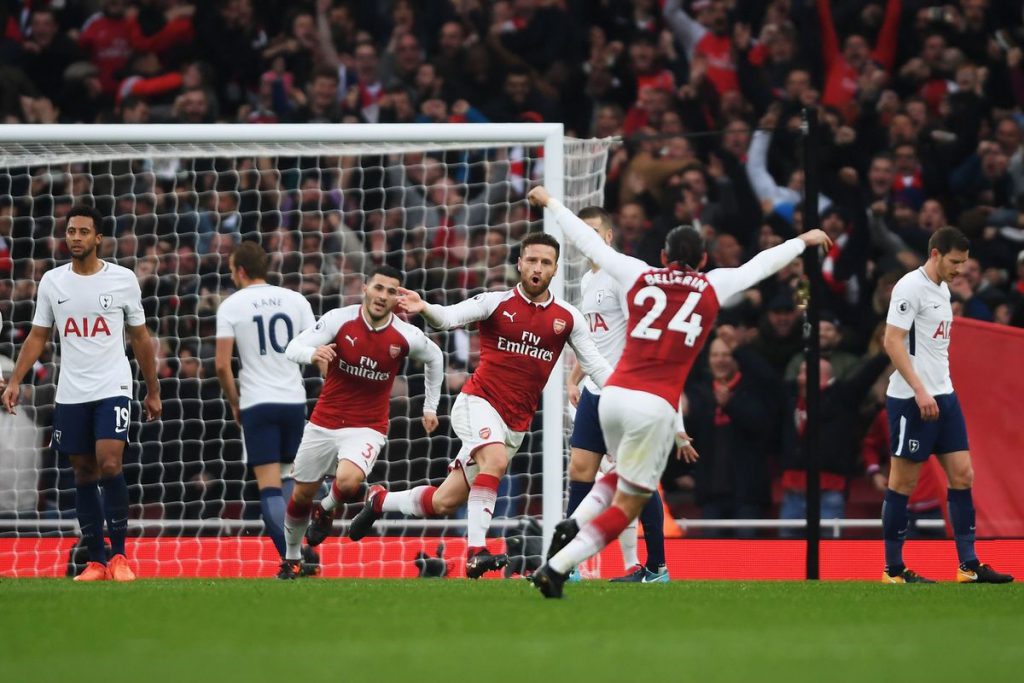 Mustafi scored the opener and then Sanchez made it 2-0.
1-6-10 – It now looks unlikely the Spurs will win the title this season and adding to the stat from a previous post, the major reason why is this record on the road against the rest of the "big six" since Mauricio Pochettino took over. Poch had gotten a point at the Emirates in each of his first three league trips here, but the defeat Saturday certainly begs the question of "what shift in power was that again?
1-55 – With one league goal out of 55 shots, Cristiano Ronaldo now has the worst conversion rate of any striker in the major football leagues of Europe (for players with at least one goal). Benzema has not been much better, scoring his only goal in the same game Ronaldo did. However, both were rampant against APOEL Tuesday, with a brace each, taking Ronaldo to 100 European goals in his career. Already 10 points behind Barça, the Champions League and Copa del Rey might be their only realistic chances for silverware at this point (beyond the Club World Cup they should win next month).
2-0 – David Moyes could do little to stop the rot this quickly, after just taking over from Bilic this week. But the 2-0 loss at Watford did show the first signs of a team with more discipline and effort across the pitch, even as they still sit mired in the drop zone, on 9 points after 12 games. 
2-2 – Everton's struggles continued, as they had to settle for a 2-2 draw with bottom-dwelling Crystal Palace. They did come back from a goal down twice, but were ultimately undone by another goal from the hot Wilfred Zaha, who gave the Eagles the lead in the 35th minute, before Niasse equalized in extra time of the first half. Niasse, by the way, just became the first player ever charged for simulation by VAR (video replay), Monday.

Niasse is the guinea pig, after video replay seemed to prove Crystal's claims of diving.
2-2 – Brighton came back twice to ultimately draw 2-2 with Stoke Monday evening. The draw left Brighton in ninth, with the other two newly promoted teams, Huddersfield and Newcastle, right behind them in 10th and 11th. Stoke sit in 15th, which is not bad, but it puts some pressure on Mark Hughes, as four of the five managers for clubs below him are now gone. 
3 – Blowout losses for the Dallas Cowboys already this season, after their 37-9 drubbing by the Eagles Sunday night. In five of his seven years in charge, coach Garrison has only suffered one such loss, and never more than two. After the loss Sunday, the Cowboys playoff hopes are hanging by a thread, right along with several other playoff teams from last season who could well miss out, including the Raiders, Houston, Miami, Seattle, Green Bay and Detroit. 
3-3 – Is any lead safe for this Liverpool side? Less than two years after they blew a 2-0 in the finals of the Europa League, they went a step further Tuesday, blowing a 3-0 first half lead to settle for a 3-3 draw with Sevilla. Klopp's offense is impressive, with Firmino on the double, but they are just not good enough defensively. After the draw, the Reds could miss out on the knockout stage altogether after seeming certain to go through.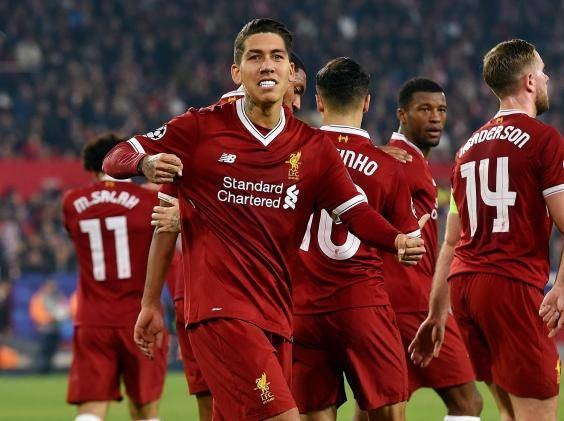 Joy turns to dismay as Liverpool blow it again.
4-0 – Chelsea continued their recent surge with a 4-0 destruction of West Brom that cost Tony Pulis his job. Morata was again on the scoresheet, adding his 8th league goal (9th overall) and fourth assist. Hazard also scored and assisted Morata, taking his tally to 5 goals and 5 assists in all comps this season.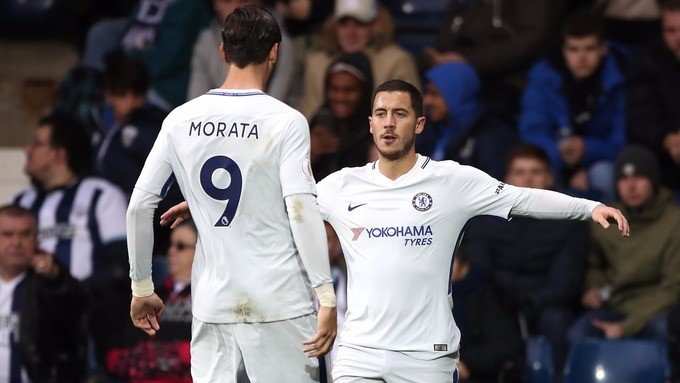 Hazard and Morata are forming a deadly partnership as Chelsea surges.
4-0 – Bournemouth won by the same score, dismantling Huddersfield at home to move up to 13th on 13 points, though still three places behind their opponent and minus 3 on goal difference. 
4-1 – The return of Paul Pogba to the starting lineup seemed to wake up the soporific United attack, and the suddenly ice cold Lukaku, as they cruised to a 4-1 win over Newcastle, with Martial again on the scoresheet together with Pogba, Lukaku and Smalling. United needed the victory just to stay in breathing distance of City. 
8 – Point lead for Man City after their 2-0 victory at Leicester Saturday. The Citizens are undefeated this season, with only the 1-1 draw with Everton back in August marring what would be a perfect season so far. Since then, they are 16-0 in all competitions! Money matters, as they are the most expensively assembled team in all of Europe, but Guardiola must be given his fair share of credit as well.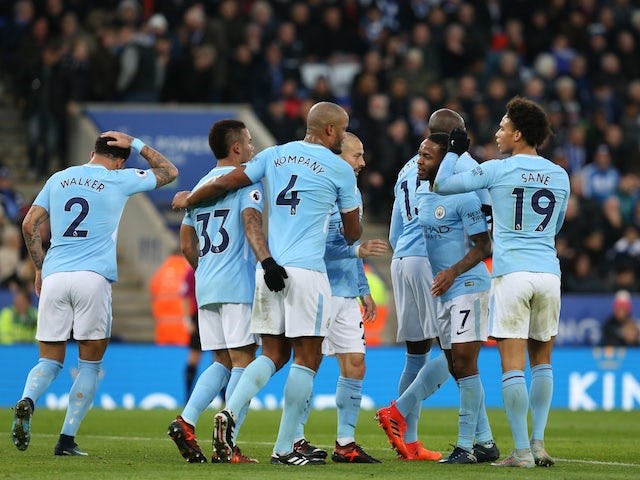 Jesus congratulated after continuing prolific start to City career.
11 – Straight wins for Arsenal at the Emirates (their longest streak since moving from Highbury), ending a painful three and a half years since they last tasted victory in the North London Derby. 
11 – Completions for Buffalo Bills rookie Nathan Peterman in his first, and maybe only, start replacing Tyrod Taylor. Unfortunately, 5 of those 11 were to the Bill's opponent. Though it's not really my thing, his fantasy score of -6.96 was the worst single-game performance since Broadway Joe in 1976. The Bills lost 54-24 to the San Diego Chargers who, at 4-6, still have an outside shot at the playoffs in an AFC where most teams not from New England and Pittsburgh are struggling for consistency.

Peterman throws his fifth interception, of the first half …
13 – Mohamed Salah is quickly staking his claim as the signing of the season, as he scored his 13th and 14th goals in Liverpool's 3-0 win over Southampton Saturday. Those 14 goals (9 in the league) have come in only 16 appearances, combined with 3 assists. He is the first Red ever to hit nine goals in his first 12 games (sort of an obscure record, I must admit, but impressive nonetheless), breaking a record Robbie Fowler record since 1993.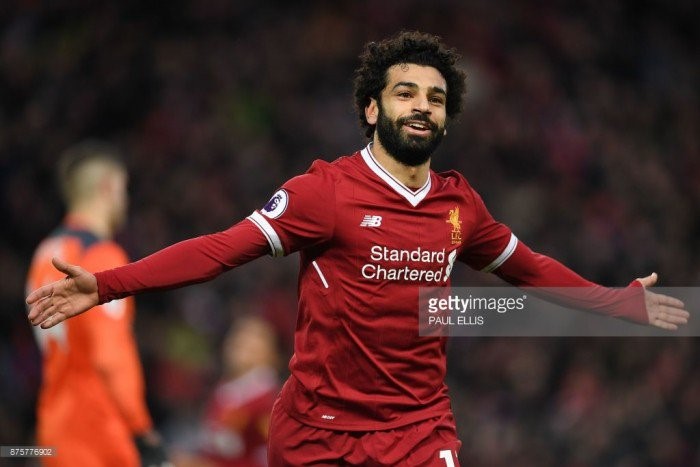 Salah's hot start shows no signs of abating.
15:03:31: This will probably be the only time swimming makes this list, at least until the summer Olympics, but superstar Kate Ledecky broke her own American record in the 1,600 freestyle with that time at a meet last week.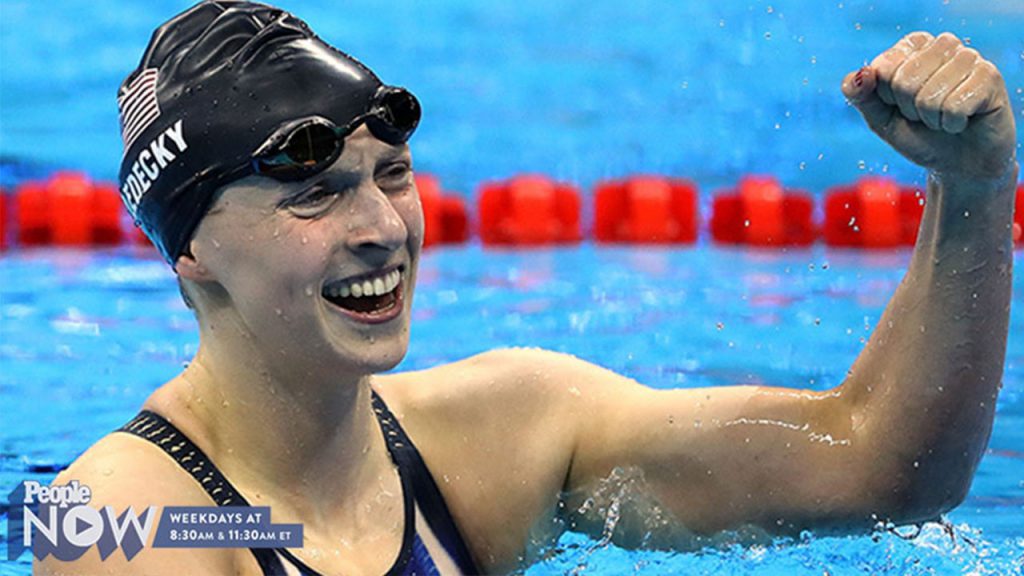 Ledecky celebrates another win, and another record.
16 – Straight wins for the Boston Celtics, after they again came back from a double-digit lead, again in the fourth quarter (8 of their 16 wins have required overcoming a 4Q deficit) to the Dallas Mavericks, to win110-102 in OT. Kyrie Irving had 47, on the back of a stellar performance in the comeback over the Golden State Warriors last Thursday, continuing the dual conversation of whether Brad Stevens is in the upper echelon of league coaches yet (a Championship will be necessary to solidify that position) and whether anyone even remembers that guy Gordon Hayward they thought would move Boston to the next level after finally snatching him up last summer. 
22 – Burnley sits in seventh place, though tied on 22 points with Liverpool and Arsenal above them, after their 2-0 victory over Swansea City Saturday. Sean Dyche continues to seriously impress given the resources and talent at his disposal. Could a move upward be in the cards for the highest placed English manager in the table?
30 – In his first two seasons in charge of the Michigan Wolverines, Jim Harbaugh was piling up the Google Trends ratings, hitting 100 right after being hired and he has approached that a few more times over his first two seasons in charge. This year? 30 is the top he has reached and he is often in single digits. Why, you might ask? Well less antics from the sideline has certainly played a role, but his worsening record against other teams in the Top 25, and his direct rivals in the Big 10, are probably the biggest reasons. The 24-10 loss to Wisconsin Saturday means Michigan, 8-3, are officially out of the National Playoff conversation, though few considered them in it this season. Onward … and downward, it appears.
31.3% – Could those paternal proclamations of transcending Kobe have been just a tad premature? Well, Lonzo Ball is certainly in the news (as is his younger brother for even worse reasons), but mainly for his disappointing, historically bad shooting so far. He is 31.3% from the field (up slightly from the bottom-dwelling 29 a week ago), 46.2% from the free throw line (on only 1.5 attempts a game), 22.8 percent from the three-point line, and has an effective (or should it be "ineffective") field goal percent of 35.9. Don't believe the hype!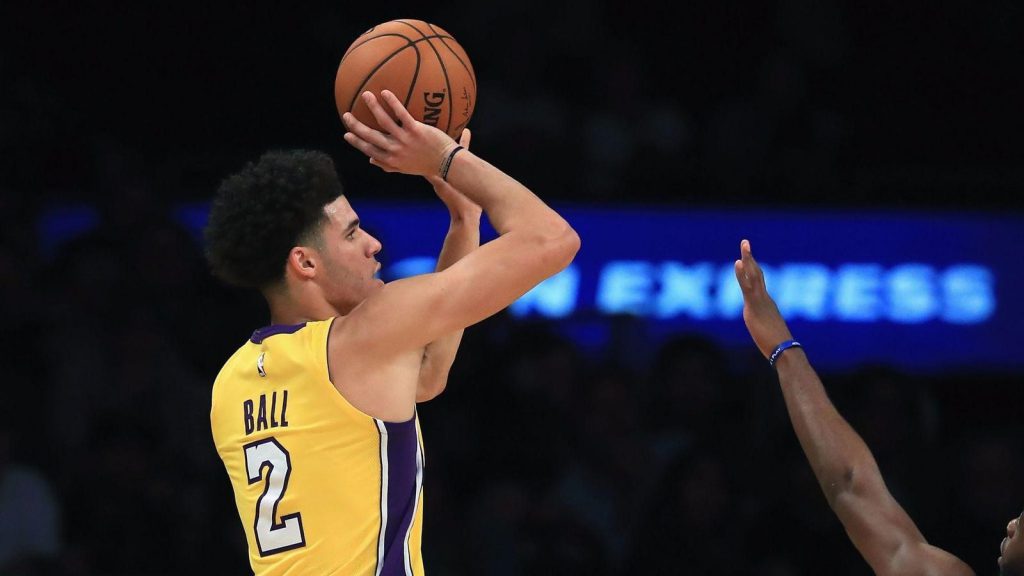 Things that make me go "clank."
50 – Kevin De Bruyne is the fastest ever to contribute 50 goals in the league, accomplishing that feat in 76 games, including 16 goals and an impressive 34 assists. He hit the mark with his score in the 2-0 victory at Leicester Saturday. In the crazy world of football valuation, he is $55 million well spent by City.
99.7% – Chance of beating the Saints for the Washington Redskins with about six minutes left in regulation Sunday. The Saints had just a 0.2 percent chance of victory with 4:42 into the fourth quarter. Probability only gets you so far, though, and Washington blew not only their 15-point lead and lost 34-31 in overtime, but probably their season as well. 
143 – Good ole Mr. Reliable, Peter Crouch, has now set a record for most substitute appearances in league history (at 143), surpassing Shola Ameobi, who racked up his 142 between 2000 and 2015. Crouchy has been quite effective off the bench over the years, tallying a goal every 162 minutes, compared to every 271 as a starter (and 15 of his 107 in total), with 8 of his last 18 goals coming from the bench. This season he already has three goals as a sub, matching his in any season, with plenty of chances, one assumes, to break that record.
---
Check back in to the same bat time, same bat channel next week for the subsequent round of fixtures … Happy Turkey Day!