It was a double week of fixtures as we embark on the busy festive period, with Arsenal hopping into the Top 4 with a 5-1 victory over Huddersfield, then flopping back out after a statistically bizarre 3-1 loss to United (see below). City found themselves behind in two straight games, but won both in the last seven minutes of regular time to up their streak to 13 straight in the league and push their lead back up to eight points over United, with the Manchester Derby next week increasingly looking like it could be an early coronation for City if they snatch all three points. Chelsea have been hot themselves of late, as they are undefeated in their last six in all comps, with five wins and a 1-1 draw at Anfield, leaving them in third place, though 11 points behind City. After blowing two leads in a row, Liverpool bounced back with a 3-0 win over reeling Stoke and a 5-1 victory at Brighton, to move back into the Top 4 (a point above Arsenal). And Tottenham continued their recent struggles, having won only one of their last five, a 2-1 victory over Dortmund in the Champions League, while losing 2-1 to Leicester Tuesday and drawing 1-1 with Watford Saturday. They currently sit in sixth place, even on points with Burnley.
Around the horn, Crystal experienced their first spark of hope of staying up, as they moved from the basement to 18th, following two nil-nil draws, versus Brighton and West Brom, on the back of the 2-1 victory over Stoke and 2-2 draw with Everton. The new resident at the bottom of the table is Swansea, who have been truly abject, with only two wins and three draws all season, having scored 8 and conceded 18 in 15 games. Right above them is West Ham, who continue to struggle in their new home, though they had a shot at scalping City Sunday with a 1-0 lead before the league leaders came back to win late yet again. And Everton's recovery is in full swing, as they started life under Big Sam with a 2-0 victory over Huddersfield, on the back of a Wednesday 4-0 thumping of West Ham. The two victories in a row pushed them all the way up to 10th place. 
Across Europe, Real had an opportunity to cut into Barça's lead after the leaders drew 2-2 with Celta Vigo, but instead played out a 0-0 draw at Athletic Bilbao. That leaves them in fourth place, with Barcelona on top with 36 points, Valencia five points behind (after losing 1-0 at Getafe), Atlético Madrid in third on 30 (they came back to beat Real Sociedad 2-1) and Real Madrid still eight points behind and maybe already all but out of the league race. Bayern has stretched their lead to six points in the Bundesliga, over Leipzig, with Dortmund's struggles sending them to sixth, 10 points behind their rivals. In Italy, Inter Milan jumped Napoli into first, by a point, after Juve beat the previous leaders 1-0 while Inter crushed Chievo 5-0. Juve sit a further point behind and must be feeling comfortable of keeping their title run going before all is said and done for the season. Finally, PSG is already 9 points clear at the top of Ligue 1, with a goal difference of +36, while Lyon, Monaco and Marseille are all tied on 32 points. 
On to the numbers, with a few nibbles from around the sports world …
---
Match Week 14-15, by the numbers …
-8 – If you happen to have missed the sports page, twitter, ESPN, Facebook or the local news (in other words, were hiding under a rock) since Thursday, Tiger Woods is back and finished the Hero World Challenge at an impressive -8, with three rounds in the 60s (69-68-75-68). Could another major be in his sights for 2018? Not as long of a long shot as one would have thought a week ago …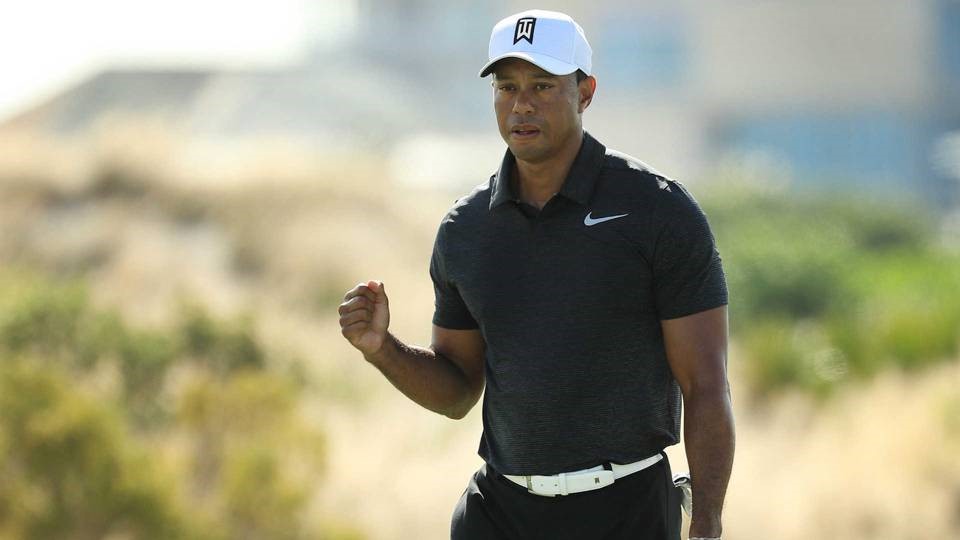 Tiger bounced back after a +3 Saturday to get in the red for the third time in four days Sunday.
0 – Goals for Southampton striker Shane Long in 13 league appearances this season, the most inept of all the strikers who have played regularly (at least half the 15 games). Long, in fact, hasn't scored since a February 11 goal against Sunderland last season. Five others have 9 starts without a goal, including Benik Afobe (Bournemouth), Christian Benteke (Crystal Palace), Iheanacho (Leicester City), Slimani (Leicester City) and Llorente (Tottenham). And two others are on eight, Solanke for Liverpool and Andy Carroll for West Ham. Given the relative positions of the sides who employ these players, one might reasonably conclude that goals matter.
0.0% – Congratulations to the following NFL teams, who are now all officially eliminated from the playoffs, meaning they can dial it in for the last four weeks of the season – Chicago Bears (3-9), Tampa Bay Bucs (4-8), San Francisco 49ers (2-10), Cleveland Browns (0-16, oh sorry, thinking ahead … 0-12), Indianapolis Colts (3-9), Houston Texans (4-8) and Denver Broncos (3-9). Oh, and the New York Giants (2-10) too, who should soon lose their head coach soon, after allowing starter Eli Manning's consecutive starts streak to end at 210. It is a nice round number, at least, and within the ideal weight for someone 6'6" or taller.
1 – Away victories for Mourinho against the Top 6 since 2014. That came as United won at the Emirates 3-1 against the run of play Saturday. Arsenal will feel aggrieved after a pretty clear penalty on Danny Welbeck was not called (and a push on Lacazette earlier that was suspect as well), coming on the back of two goals by City in another 3-1 loss that should have been disallowed. On the other hand, Arsenal were shambolic defensively in the first 14 minutes and wasted chance after chance the rest of the way (75% possession, 33 shots (15 on target) to 8 (4) for United)
2 – Red Cards for Paul Pogba in his career, the second coming with United up 3-1 against Arsenal Saturday. This means he will be absent for the Manchester Derby. United have scored 24 when he is in and only 11 without him, in 7 and 8 games, respectively.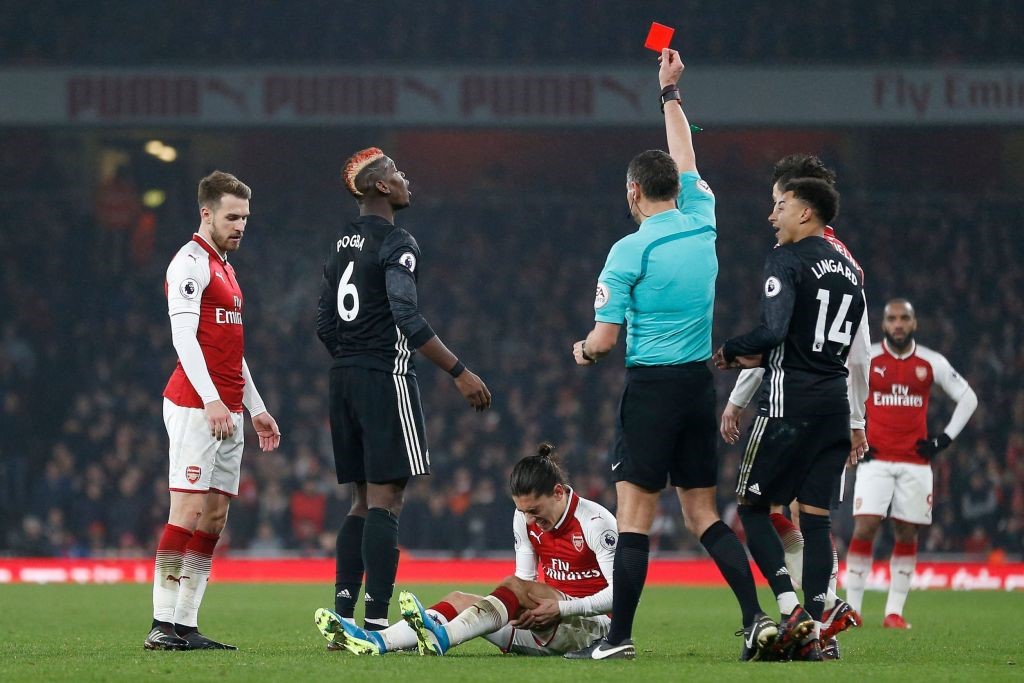 Pogba's otherwise great game was sullied as his second half red could prove costly for United in the Manchester Derby next weekend.
2-1– In a feel good story, of sorts, the Chapecoense football team from Brazilian that saw its entire team killed in a crash heading to the 2017 Copa Libertadores last year will be back in the tournament for 2018, after finishing eighth in the Brazilian league with the 2-1 victory over Coritba. Quite the rebuilding project, there, and good for them.
2 in 27 – Wins for David Moyes with Sunderland and West Ham in his last 27 matches in all comps. And that was sandwiched by a meager 12 wins in 42 in Spain with Real Sociedad and the less than stellar performance with United (27-9-15) that now looks downright laudable by comparison to what he's done since. Don't cry for me, Evertonians!
3 – Touchdowns taken away from the New York Jets this season. The first two cost them games, as a bizarre call against the Patriots not only took away a touchdown but gave the ball to the Patriots on a touchback. The second, last week, was a clear catch that the New York replay crew overruled. And Sunday, a very clear touchdown with an overhead shot showing McCown well over the line was not overturned by said replay officials. Conspiracy? Maybe. I mean, the Jets have generally been doing it to themselves since the miracle back in 69; do their opponents really need the help? By the way, they did hold on to win 38-31 over the collapsing Chiefs Sunday. KC still leads the AFC West, though they are now tied with the Chargers and Raiders. They statistically have the best chance of making the playoffs out of the division (57%), but do you really trust a side that has lost 5 of 6 since a 5-0 start?
3 – Straight games in which Raheem Sterling hit the winner for City in the 84th minute or later, including victories over Feyenoord, Huddersfield and Southampton. On Sunday, it was David Silva and the 83rd minute, as City came from behind yet again, to beat West Ham 2-1 and resolidify their eight-point cushion at the top. Are the Invincibles sweating yet? I certainly am as it is hard to see this side losing a game at the moment.
6 – Years between hat tricks for Wayne Rooney, a league record. His latest came last Wednesday, as he helped Everton to a 4-0 victory over West Ham. The last hat trick for Rooney was back in September 2011 against Bolton. This one included what could become the goal of the season, a 59.7 yard, 45.2 mile per hour shot from his own end that took 2.7 seconds to beat Hart.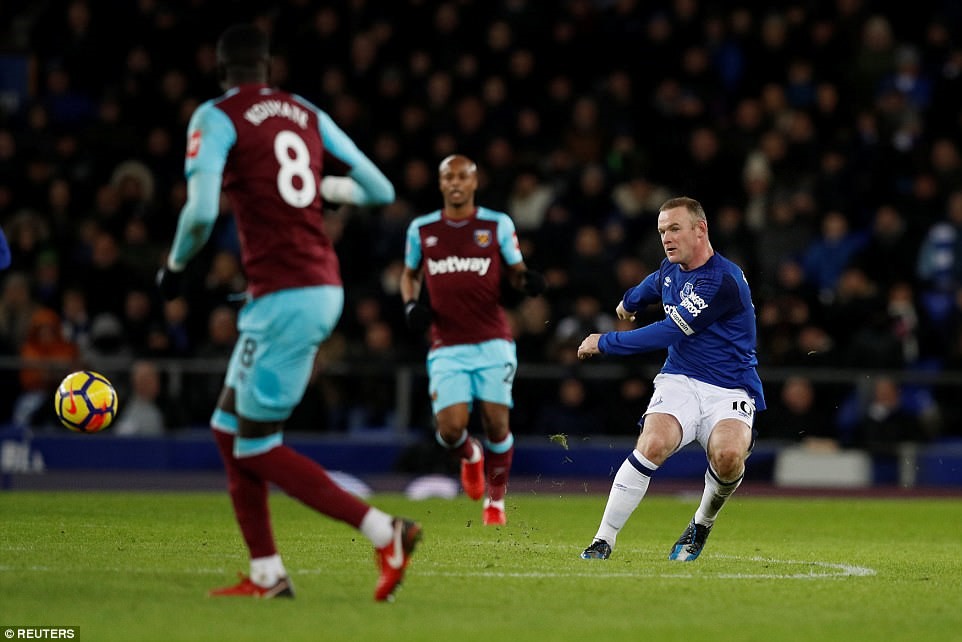 Rooney turns back the clock with a nearly 60-yard strike.
8 – A little under the radar, Liverpool are unbeaten in their last eight in all competitions after their 4-1 drubbing by Tottenham on October 22. That stretch does include blown leads against Chelsea and Sevilla, but also a 4-1 thrashing of Brighton Saturday, a 3-0 win over Stoke midweek, a 3-0 victory over Southampton, a 4-1 win over West Ham and a 3-0 victory over Huddersfield. That record has propelled them back into the Top 4, at least for a week. The main reason? Arguably the play of Salah, who just keeps on scoring (12 goals and 3 assists in the league and four more in the UCL).
14 – Saves by De Gea against Arsenal, a Premier League Record, tying Tim Kroll and Vito Mannone. The Opta Expected Goals for Arsenal in the game was 5.01 and United 1.82. Of course, when you make two defensive mistakes in the first 14 minutes and miss one chance after another, you end up losing a game you dominated 3-1. Wenger now has earned three points against Tottenham, drew with Chelsea and lost to Liverpool, City and United by a combined score of 10-2. The more things change … the more Wenger remains the same.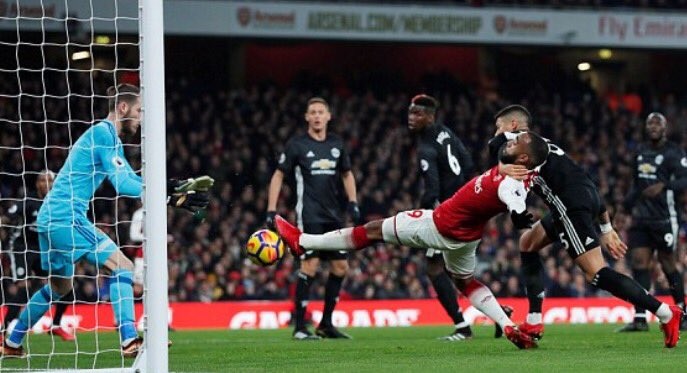 That's one way to defend, Rojo … but De Gea was imperious in a game the Gunners could well have earned two penalties.
15-15 – Deshaun Watson's replacement Kelly Bryant bested his predecessor's record by completing his first 15 passes Saturday night, as Clemson cruised into the College Football Playoff with a 38-3 victory over a Miami side that had only lost once all season. The ACC Champions remain at number one and will face a rematch with Alabama after the Crimson Tide beat out Ohio State to claim the fourth spot, even as the Buckeyes held off previously undefeated Wisconsin 27-21 in the Big 10 Championship. They are joined by Oklahoma and Georgia. 
19 – Real Madrid's Sergio Ramos set an all-time mark for red cards in La Liga with his sending off Saturday in the 0-0 draw with Balboa. He has 24 in total for Los Blancos, though his timely goals over the years, including the one at the death to force extra time and a Champions League crown a few years ago over Atletico Madrid, might more than balance the books in the end. A repeat as league champions is looking even less likely after the scoreless draw, as Ronaldo and Benzema continued to struggle in front of goal, a week after they momentarily silenced the critics. 
23 in 25 – Goals for Southampton over that stretch of matches. Charlie Austin has had three of them over the past 8 days, begging the question of why he hasn't started more frequently. His goal Sunday helped Southampton to a 1-1 draw with Bournemouth, assisted by Nathan Redmond (of Pep Guardiola choking fame). They are 1-1-1 over that stretch, having lost to a late goal from City midweek after beating Everton 4-1 last weekend.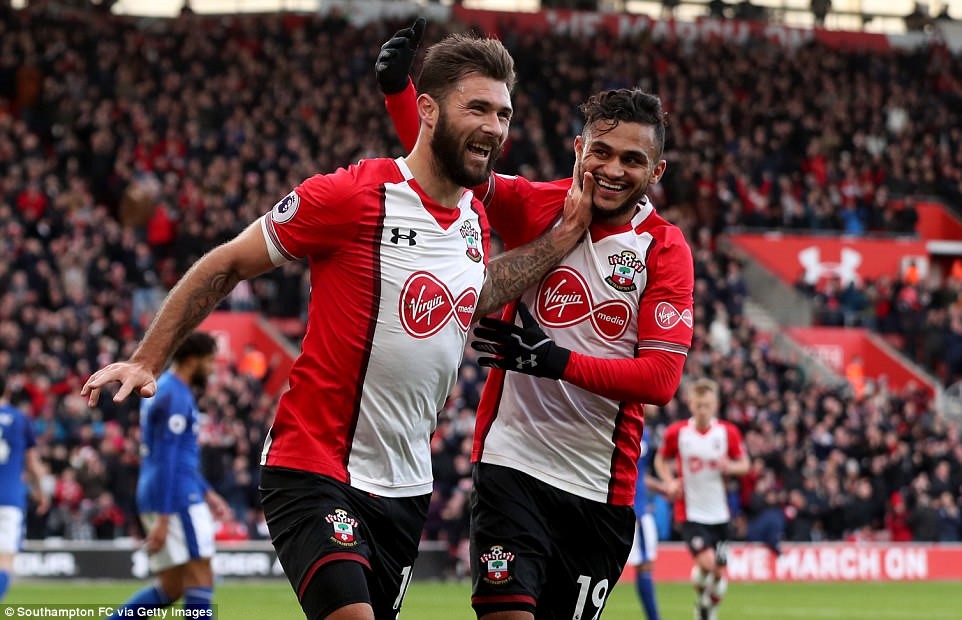 Austin followed up his brace last week with the equalizer Sunday.
+54 – The Houston Rockets' point differential with Chris Paul on the court without James Harden. The sample size is small, at 70 minutes, but they are playing well together as well (with 118 points per 100 possessions), to the tune of an overall record of 17-4. 
63.2 – Celtic rookie Jayson Tatum's shooting percentage in clutch time (score within 5 points in final 5 minutes of game), good for best in the league. He is tied for ninth in in clutch points (33) and is averaging 4.4 in the fourth quarter, only behind new Celtic "money time" Kyrie Irving (7). Their antics late in games are a big reason the Celtics are up to 20-4, the best record in the league, without that guy who was going to take them to the next level (Gordon Hayward, for the uninitiated). 
64-63 – Losing on a buzzer beater is bad enough, but Georgia Tech put a unique spin on it Saturday, tipping the ball into their own net with 6.5 second left to lose to Grambling 64-63. The Yellow Jackets had erased a 16-point deficit to lead 61-60, before the inopportune bounce of the ball. It was the first win in 64 for Grambling against teams from the Power 6 conference, losing the previous 63 games by an average of 34.7 points!
74% – Chances of host Russia getting through their group and into the knockout stage of new summer's World Cup. This is based on either luck or doping of the selection balls, as they ended up with an average ELO rating 97.8 points lower than the Cup average, the lowest since 1986. The other three sides with Russia in Group A, you ask? Saudi Arabia, Egypt and Uruguay.
$89 Million – It's hard to not see the recent agreement by the NFL to pledge that amount over the next seven years to projects dealing with criminal justice reform, law enforcement/community relations and education as a victory for Colin Kaepernick. Kaep might never play in the league again, but his legacy might now overshadow more than a few QBs who had much longer, and more successful, careers. Good for him.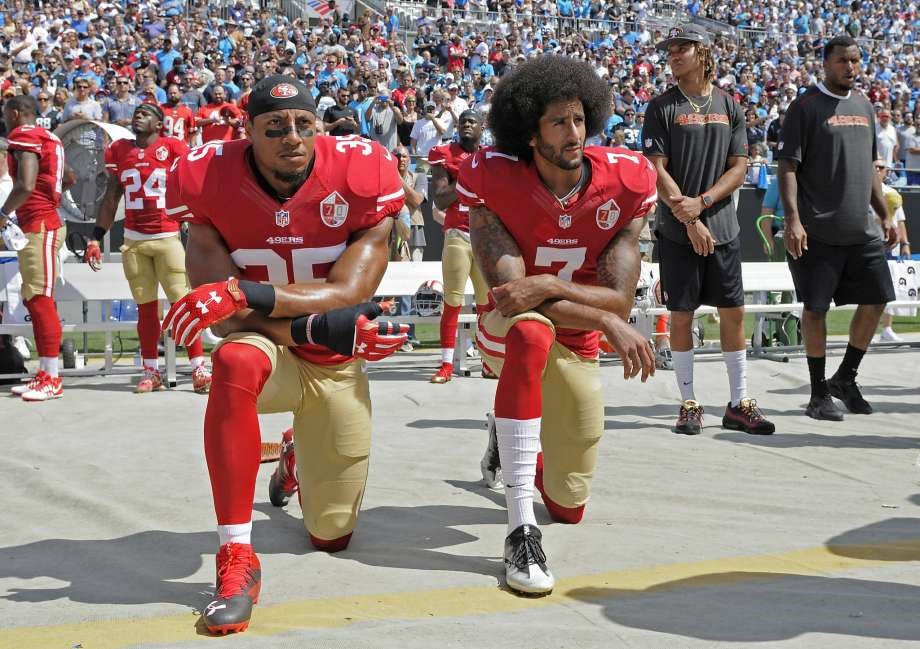 Kaepernick the winner in the end?
+133 – One combo that has bettered Paul/Harding of late are the Cavs LeBron James and Kyle Korver, who have posted a ridiculous +133, while the team as a whole is only +54 for the whole season. Their late game heroics have helped the Cavs bounce back from a slow start to sit only 3.5 games behind the Celtics.
1999 – The last time the Buffalo Bills were in the playoffs, the longest streak in the league. After their 23-3 home loss to the Patriots Sunday, their chances of making the playoffs has fallen to 11.7%, from 36.4% last week. Over that 18-year stretch, the Patriots have done as much as anyone to keep the Bills warm in front of the fire come late December and into January, having won 30 of the last 35 between the sides.
Billion Pound Game – The United-Arsenal game Saturday was the first "billion-pound game" ever, with the sides combining for revenues of 1.05 billon pounds (424 for the Gunners and 581 for United). 
---
Check back in at the same bat time, same bat channel next week for the subsequent round of fixtures …