And then there were none … league matches for the 2018-18 season, that is. It was a largely anti-climactic conclusion to a barnstorming season, the relegation battle already over, armistice all but reached for the top four spots, and the best title race in history down to a struggling Brighton finding a point against City to stop them from lifting the winner's trophy for the second season in a row.
For a moment, and I do mean a moment, it looked like Brighton might just pull it off, scoring the opener Sunday, but that lead was quickly erased and City on top less than 12 minutes later, even as Liverpool did do their job, winning 2-0 over Wolves. So congratulations to City on another title and congratulations to Liverpool for having another great league season with no trophies to show for it (though more on this below). One might note here that though it is an incredible achievement for Pep Guardiola and his side, they are one of the richest in the world now and spent their way to the top … with money that is at the root of our current global climate crisis. But I digress. Liverpool fans will forever remember a valiant effort, but also losing to City in the end after a couple of mistakes (this time midway through the season) cost them a seven-point lead and, ultimately, their first title in 29 years. 30 is a nice round number though, isn't it? Or maybe 32? Agüero will have to retire or move on at some point, anyway, right? They do of course have the small matter of a second straight Champions League Final to contest next month and, being honest, nothing less than victory over Tottenham will save this season from being a huge disappointment.
A little further down the table, Arsenal will be cursing their form over the past month after they won their final match at Burnley 3-1 while Chelsea and Tottenham both settled for draws, the former 0-0 at Leicester and the latter 2-2 with Everton. Two points would have got them past Tottenham and three past Chelsea, with losses to Everton, Leicester, Wolves and Crystal Palace since April 7 and the disastrous draw with Brighton last weekend the difference between third and fifth place. An embittered Gooner might also mention VAR, holding all else equal, would have left Arsenal in fourth and Tottenham in fifth, given the missed offsides on the penalty that earned Spurs a point in a swing that would have given Arsenal two more points and Tottenham one less (though Aubameyang had a chance to make that point moot and missed a late penalty).To end their own disappointing season, Manchester United lost to a bottom-dweller again, 2-0 to Cardiff at Old Trafford this time around, and the hiring of Ole Gunnar Solksjaer now looks like one of the worst moves in several seasons of bad moves by the brass at the club. 
Looking at the other side of those two draws, it is clear that both Everton and Leicester will be looking to improve next season after strong finishes to this season. Brendan Rodgers certainly appears happy to be back in the league, even after a trophy-laden spell with Celtic, while the Toffee's late form probably kept Marco Silva in his job. Speaking of happy managers, Newcastle themselves had a strong finish, closing their season out with a 4-0 win at relegated Fulham to finish in a repeatable 13th place, after relegation looked like a real possibility for much of the season. And while Fulham had a final match to forget in a season to forget, Huddersfield were able to eke out a 1-1 draw with Southampton and Cardiff a 2-0 win at Old Trafford to take back with them into the Championship next season.
Across Europe, Bayern's lead is down to two points with one to play after they had to settle for a goalless draw at Leipzig while Dortmund beat 10-man Fortuna 3-2. Dortmund will have to beat Monchengladbach on Saturday and hope Bayern lose at home to Eintracht, given the latter's far superior goal difference. In Spain, Barça bounced back from their shock UCL exit with a 2-0 win over Getafe while Real Madrid lost again, 3-1 at Real Sociedad, and Atlético and Sevilla shared the spoils 1-1. Barça, of course, already has the title locked up and the only remaining question in the final match of the season is whether Valencia (currently in fourth on 58 points with +1 goal difference advantage), Getafe (also on 58 points) or Sevilla (on 56 points) will secure fourth place and Champions League football for next season. At the bottom of La Liga, Celta Vigo would have to lose, Girona win and a swing of six goals between the sides necessary to keep the latter from relegation, with Rayo Vallecano and Huesca already guaranteed to return to Liga 2 next season. In Italy, there are two matches to go and AC Milan is in real danger of missing out on the Champions League, after being as high as third place quite recently. They will now need to win out and hope Atalanta drops at least four points, as they have a +13 advantage in goal difference, with Napoli guaranteed of a spot and Inter essentially two points from returning to the UCL. Finally, in France, Lyon and Lille are guaranteed to join PSG in the Champions League, with St. Etienne in the driver's seat to take fourth, though Montpellier is still in with a shout.
Meanwhile, Ajax can lick their wounds for their own late collapse last week, as their 4-1 win at De Graafschap means they have essentially won the Eredivisie, as they have a three-point lead and +15 goal difference advantage with one match to play. Digging into the lower leagues a little more, Benfica has a two-point lead over Porto with one to play, Gatassaray has risen back to the summit of the Turkish league with two matches to play, though only on goal difference over upstart Istanbul Basaksehir, and Zenit St. Petersburg has already wrapped up the Russia title with two matches to play.
In the NBA playoffs, there were two Game 7s Sunday, with Portland coming back to beat the second seed Denver Nuggets 100-96 and Toronto winning on a last second shot from Kawhi Leonard to oust the Sixers and join Milwaukee in the Eastern Conference Finals. Portland, of course, face a Golden State side that will start the series without Cousins and Durant, but have a ton of momentum after closing out Houston in 6. And that momentum continued in their absence, the Warriors cruising to a 116-94 victory in Game 1, with the Eastern Conference Finals starting tonight. Meanwhile, in the NHL, Boston has built a 3-0 lead over Carolina in the East while San Jose and the Blues are knotted at a game apiece with Game 3 tonight. The Blues are trying to get back to the Stanley Cup Finals for the first time since they were swept in three straight from 1968 to 1970.
On to the numbers, with a few nibbles from around the sports world …
---
Match Week 38
0 – Road clean sheets for Arsenal in their last four matches in all comps, after they did so in two straight matches against Watford and, more impressively, Napoli. Sunday, it was yet another Mustafi error that gifted Burnley their goal. At home, Arsenal were third in the league, with 45 points, having scored 42 and allowed 16. On the road, they are eighth, with only 25 points, having scored 31 and conceded 35. For those who don't know how the EPL works, that is in the same number of matches, against the exact same teams!
1 – One piece of good news for the Gunners – youngster Eddie Nketiah finally got his first league goal, in the 94th minute of the final game. It ended up being the final kick of the league season for the Gunners, who just missed out on the Top 4. One to look out for in the future, after a fallow period in limited play since his famous double to beat Norwich in the League Cup in October 2017.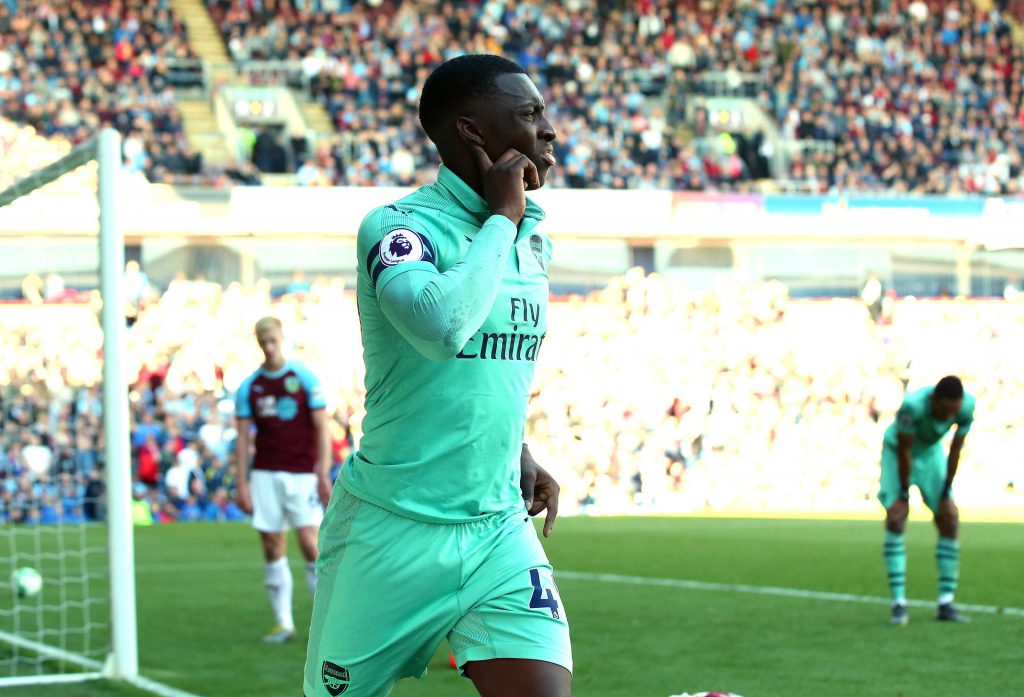 Not a bad way to finish the season for the youngster who is looking to live up to earlier hype. Aubameyang, in the background, fell one goal short of holding the Golden Boot alone.
---
1 in 94 – Right now, one in every 94 plate appearances ends in a batter getting hit by a pitch, worse than last season, which itself was the most since 1900. This season it is projected 25 percent more batters will get drilled than they did 20 years back. It's the young relievers who pack heat that are the most dangerous: starting pitchers hit batters one out of every 109 plate appearances, while relievers hit them one out of every 78. This is largely the result of an increase in inside pitches – for example, in 2008, 29 percent of pitches were thrown on the inner part of the plate, but today it is 32.5 percent of pitches, leading to an additional 25,000 inside pitches per season in total.
2.28 – Goals per match in the Premier League this season, the most ever. In Matchweek 15, for the first time in 8 years, all 20 teams scored at least one goal. It is good for the sport and, though troubling for defenses, certainly makes the matches more exciting for the fans. 
5 – Drake senior Nicole Newman pitched her fifth perfect game of the season Friday to set the single-season NCAA record in a 7-0 win over Bradley in the Missouri Valley Conference softball tournament in Peoria, Illinois. Impressive, though that means others have had four in previous seasons. Just a different level from my post-college softball matchups with a keg on second base, I suppose.
6 – Peter Crouch has made a habit of scoring on the final day of the season, having done so six times. He also had a decent scoring record against Arsenal. Sunday, he came on in the 75th minute for Burnley and might have done so again, but for a fellow player blocking his goal-bound header. Arsenal ultimately won 3-1, as previously mentioned. Crouchy is considering retirement now, though he has already made a foray into journalism that could become his second career.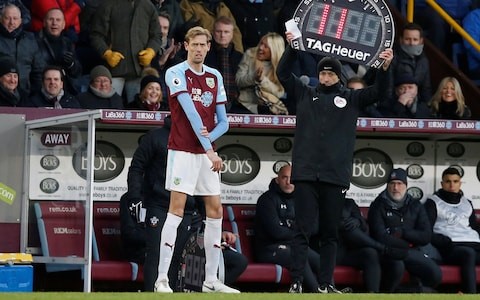 Crouch did not have a huge impact after arriving at Burnley back in February, but he did earn them their first penalty in 68 league matches in his first appearance, as they snatched a valuable point with the last kick of the game. However, no goals and no assists across the other five have him seriously contemplating an end to a storied career.
---
9 – In case the pundits didn't get the rebuke from Steph Curry after an inauspicious start to these playoffs ended with his heroics in Game 6 against Houston, he followed it up with 36 points, 7 assists and 6 rebounds in the Game 1 victory over Portland, knifing home 9 treys en route.
11 – Best finish ever for Watford, who also have an FA Cup Final against City to look forward to, trying to stop a side that won the domestic double last season from adding a domestic treble this time around. Guardiola keeps adding to his trophy case, but one has to assume another Champions League trophy is the one he most wants now.
13 – Goals conceded in three losses to the Bruins to start the Eastern Conference Final, after those same Carolina Hurricanes only allowing 5 goals in 4 games to the Islanders in the last round. They did hold Boston to only two goals in Game 3, but only scored one themselves (after 5 and 6 in the first two), and the Bruins are now in the driver seat to return to the Stanley Cup Finals for the first time since 2013. On the other side, San Jose exploded for six goals themselves, as they took Game 1 6-3 over the Blues only to be pegged back in Game 2 4-2.  
14 – The dark arts are still a part of football, though diving has maybe surpassed surreptitious fouling in recent seasons. In any case, the most Yellow Cards for the season were accrued by Watford's Etienne Capoue, with 14, while Pierre-Emile Hojbjerg of Southampton and Wes Morgan of Leicester City shared the spoils for most Red Cards, with two apiece. In total, there were 22 reds doled out this season.
14 – I mentioned Leeds United last week for having blown automatic promotion as the only side to go from first place at Christmas to the playoff. And now they have blown that as well, their 1-0 road lead from the first leg, and a 1-0 lead in the home return match were not enough, as they ultimately lost 4-2 to Derby, a side they beat the first three times they played. The 14? A 14 minute period during which Derby scored three and turned the ties around, much as Tottenham and Liverpool did last week in the UCL. This all means Frank Lampard has a decent shot at promotion in his very first season in charge; assuming they can beat Aston Villa at Wembley.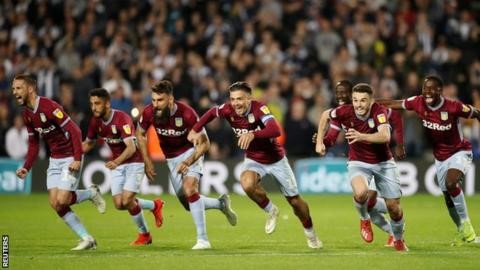 Aston Villa and their star Jack Grealish celebrate their win yesterday, joined by Derby today after the Leeds curse struck again.
---
15 – Assists for Chelsea's Eden Hazard this season, the most in the league, earning him the "Playmaker Trophy" Sunday. He also chipped in with 16 goals in his 37 Premier League appearances, though he has no goals in his last 9 in all comps and has only scored in three of his last 20 matches. The drop in scoring has not hurt his stock if recent reports are to be believed, with Real Madrid slated to buy him after the Europa League final for 100 million euros. Second in the league, by the way, was Ryan Fraser, who I've discussed in previous posts this season.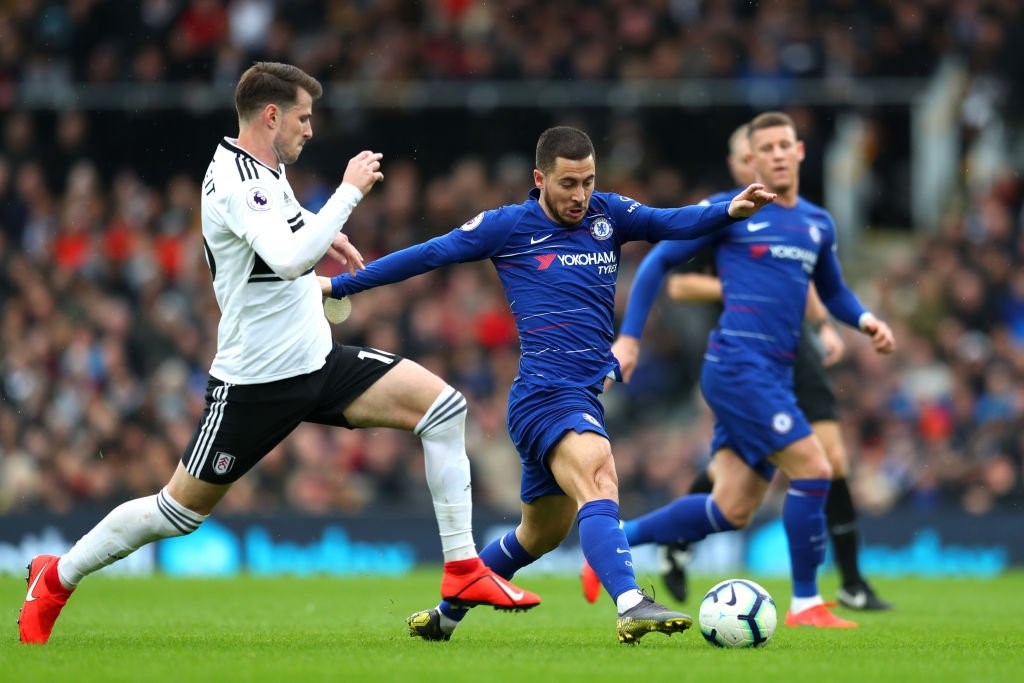 Hazard's goal output declined dramatically toward the end of the season, though he continued to contribute with chances and assists as one of the best in Europe this season.
---
23 – Aubameyang's goal tally for the season, after his brace Sunday, good enough to share the golden boot with Salah and Mane from Liverpool. One could argue that Auba should have held that title alone, having scorned far too many clear chances this term, but one might instead look at it from the other side and wonder where Arsenal would be without his prolific scoring in the league and Europa League this season.
44 – Both Manchester City and Liverpool earned 44 points on the road this season in 19 matches, with City going 14-2-3 and the Reds 13-5-1. At home, City were just that single point better, earning 54 points (18-0-1) to Liverpool's 53 (17-2-0). Unbelievably, Liverpool lost only one match all season, to City, and still lost the title, their 7 draws one too many.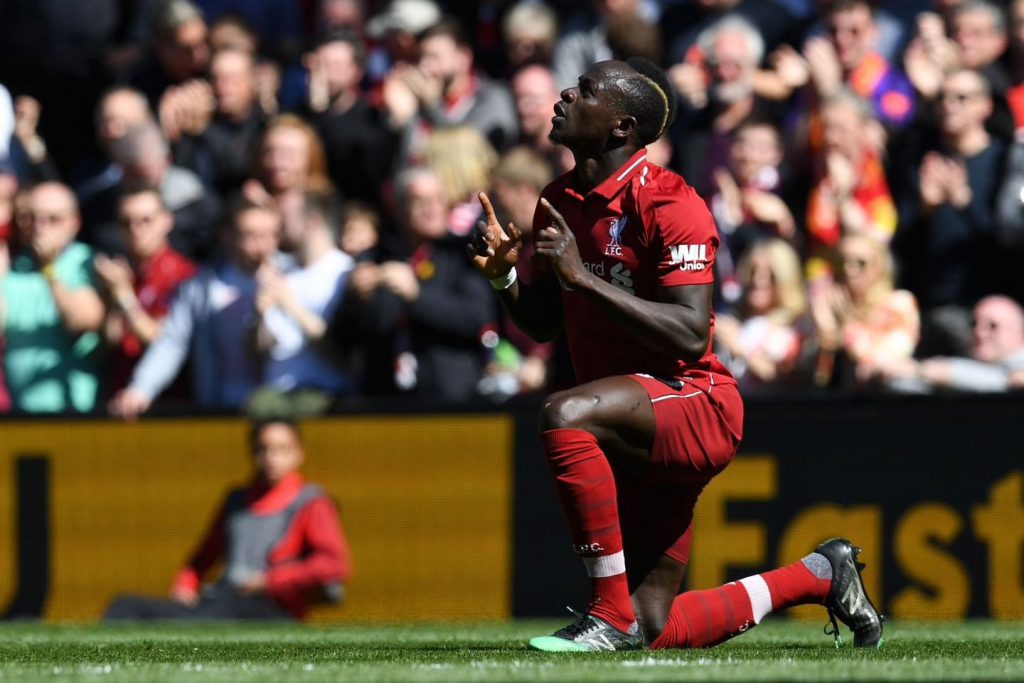 Sadio Mane finished the season with a double in the victory over Wolves, to be crowned co-winner of the Golden Boot, but his prayers of a City slip-up fell short.
---
83 – About how long, in seconds, Man City fans were suffering heart palpitations and Liverpudians gasping in disbelief. Brighton scored first Sunday to take a lead over City Sunday, but the visitors equalized less than two minutes later and were ahead 10 minutes after that. The scorer of the equalizer? Who else but Agüero, a player who has meant more to his side over the past 8 seasons than any other in the league – helping them earn four titles, an FA Cup (back in 2010-11 to start their renaissance), two Community Shields and four League Cups.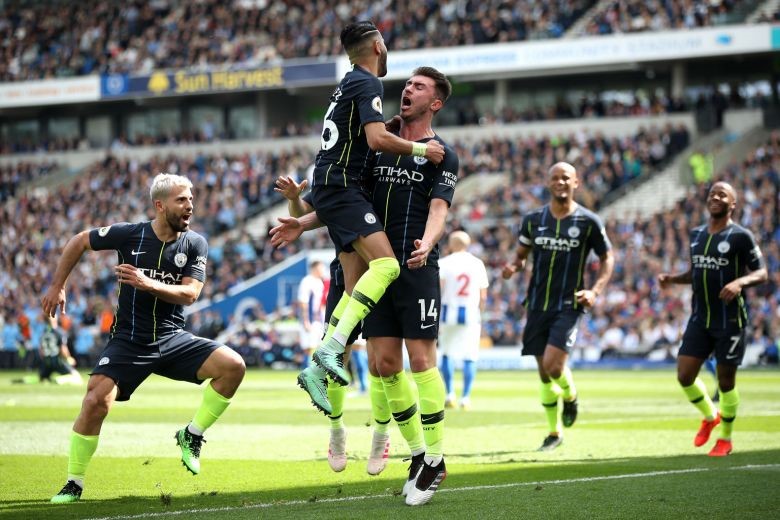 LaPorte, of all people, scored the winner Sunday as City took a 2-1 lead over Brighton. Agüero, who scored the equalizer, appears to be doing his version of an Irish jig.
---
95 versus 22 – City scored the most goals in the league for a second season running, with 95, six more than Liverpool. However, Liverpool had the top defense, conceding only 22 in 38 matches versus City's 23. To put those numbers in perspective, the next highest goal scoring side was Arsenal with a respectable 73 and the next best in goal allowed are Chelsea and Tottenham, with 39 apiece.
1905 – Pablo Sandoval of the San Francisco Giants became the first Major League player in over 100 years to hit a home run, steal a base and post a scoreless inning in the same game, as his side lost to the Reds 12-4 a little over a week ago. The only other player to ever accomplish the feat was another Giant – Christy Mathewson – who is now in the Hall of Fame. Oddly, it was the first stolen base for Sandoval since way back in 2012, though not surprising if you've ever seen the husky fella play.
1974 – The last time Burnley beat Arsenal in the league, and a year earlier at home. Sunday, they had a real shot, before a poor pass was pounced on by Aubameyang to give Arsenal the lead. Burnley fought back to 2-1 in the second half, but ultimately lost 3-1, though the match was tight until a goal at the death glittered a little gold dust on the outcome.
2001 – Best finish for a newly promoted team in 18 seasons, as Wolves finished in seventh place, while the other two promoted sides – Fulham and Cardiff, of course – went right back down to the Championship.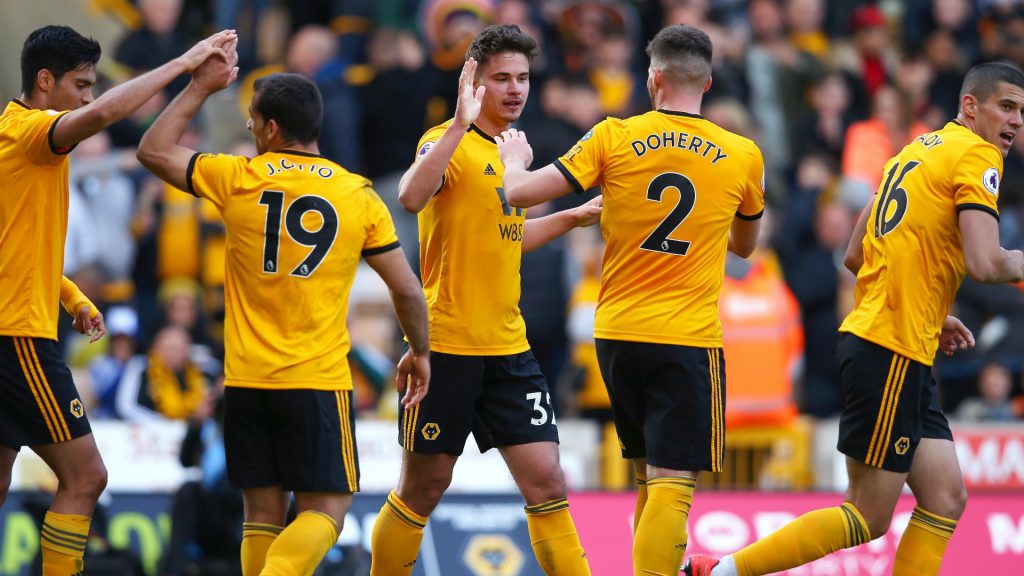 Wolves midfielder Leander Dendoncker scored their final goal of the season, a week ago, as they earned the three points at Fulham that ultimately saw them finish in seventh, even as they lost the finale 2-0 at Anfield.
---
2,500 – Seattle Mariners veteran Felix Hernandez became the 36th major league pitcher with 2,500 career strikeouts, reaching the milestone in the second inning of last Saturday's 9-5 loss to the Boston Red Sox.
3,118 – Who had the most completed passes this season? Jorge Luiz Frello Filho of Chelsea. Again, who? Oh, that's Jorginho! Must maligned, but that is an impressive tally. The next eight are all defenders before Arsenal makes the list with Granit Xhaka, who arguably cost them a Top 4 spot in the penultimate weekend.
3,420 – The most minutes played this season went to the Wolves Conor Coady along with 11 other keepers, including David De Gea. The most clean sheets were garnered, not surprisingly, by Alisson of Liverpool (an impressive 21) and Ederson of City (20), with De Gea tied with several others in ninth place on only 7. Joe Hart had the fewest (4), but only on 19 appearances for Burnley this season. Remember when Guardiola was criticized for sending him out to pasture? Yeah, me neither.
---
And that wraps things up for another season of EPL by the Numbers. There are still four matches of note involving English sides you might still want to watch: 1. FA Cup Final: Man City vs. Watford (5/18), 2. Championship Playoff Final: Aston Villa vs. Derby County (5/27), Europa League Final (5/29) and The Champions League Final (6/1). Enjoy your summer.