The third round of the League Cup was played this week and most of the expected sides won, with Arsenal 3-1 victors over Brentford, Man City beating Oxford 3-0, Fulham getting past Millwall 3-1 and Tottenham squeaking past Watford 4-2 on penalties (after a 2-2 draw). However, there were a few surprises. Chelsea won 2-1 at Anfield to continue their hot start to the season, West Ham absolutely obliterated Macclesfield Town 8-0. And United lost to Derby County in a penalty shootout 8-7 (after a 2-2 draw).
United then kicked off the weekend at West Ham and continued their struggles, losing 3-1 to put more pressure on Mourinho, as West Ham continued their resurgence.  Arsenal, Tottenham and City all won 2-0, before the marquee matchup of the weekend – Chelsea vs. Liverpool. Chelsea took the lead into the 80th minute, but a late Daniel Sturridge strike led to a 1-1 draw. The result moved Man City top, on goal difference, with Chelsea in third (two points back) and Spurs and Arsenal tied four points back in fourth and fifth, respectively.
At the bottom of the table, it was more of the same for the bottom three. Newcastle lost 2-0 at home to Leicester City, who jumped all the way to seventh place. Cardiff and Huddersfield also lost, 2-1 to Burnley and 0-2 to Tottenham, respectively. Rafa Benitez might be able to conjure some magic and keep Newcastle up, but Huddersfield and Cardiff certainly look like relegation material, with 2 points from 7 and goal differences already of -12 and -13.
Across Europe, Juve extended their lead at the top of Serie A with a 3-1 win over Napoli, the second place team in three of past six seasons (Roma has that spot in the other 3 but find themselves 10 full points back after only 7 matches). In France, PSG has built an 8-point lead after only 8 matches, with Neymar leading the way with a brace in a 3-0 win at Nice Saturday. Real failed to capitalize on a Barca draw Saturday settling for a scoreless point with Atletico, who have climbed back to fourth after a horror start, the two giants of Spain now equal on points, though Barca have the superior goal difference. And in Germany one finds a huge surprise, as Dortmund jumped Bayern into first place by a point after they came back from 2-0 down at Leverkusen to win 4-2 while Bayern lost a derby to Hertha Berlin 2-0.
The baseball regular season came to an end in bizarre fashion, with both the National League Central and National League West having two-way ties for the lead, between the Cubs and Brewers and Dodgers and Rockies. The duos faced off in one-game tiebreakers Monday, with the Brewers beating the Cubs 2-1 and the Dodgers 5-2 winners over the Rockies. The Brewers will now play the Cubs-Rockies winner and the Dodgers face off against the Braves. In the American League, the Yankees will host the Athletics in the Wild Card game, with the winner playing the Red Sox while the Astros and Indians are matched up in the other ALDS.
On to the numbers, with a few nibbles from around the sports world …
---
Match Week 7
0 – Captain's picks points for the U.S. in Ryder Cup. Some iffy decisions overall for Jim Furyk, for example excluding the hot Tony Finau in the afternoon session Saturday and including some odd pairings throughout the first two days. But the players ultimately win or lose the matches, and the Americans were crushed 17 1/2 to 10 1/2. Regarding the captain's picks, Tiger went 0-4, Dechambeau 0-2 and Mickelson set the record for losses, at 22, with his two losses.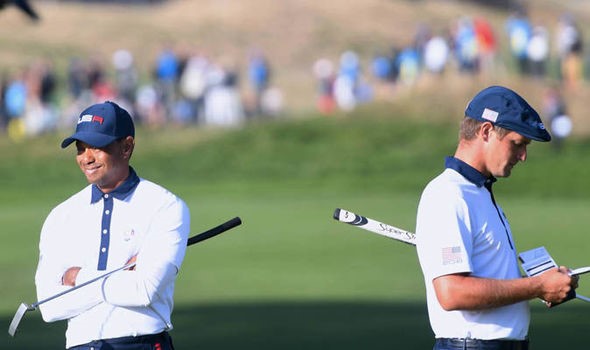 Tiger's struggles continued in doubles play, but then he lost a singles match that seemed to stem American momentum Sunday.
---
0 – Neal Warnock has had a good career as a manager in the Championship. The Premier League? Not so much. He has been relegated twice and sacked twice midseason. His Cardiff side look likely to continue that trend either way after a 2-1 loss to Burnley that kept them stuck on two points.
0-5-17 – Brighton are winless in their last 17 away games in the league. The latest was a 2-0 loss to Man City, with Aguero continuing his hit start, scoring the second after Sterling opened the scoring. That away record is a recipe for relegation if I've ever seen one.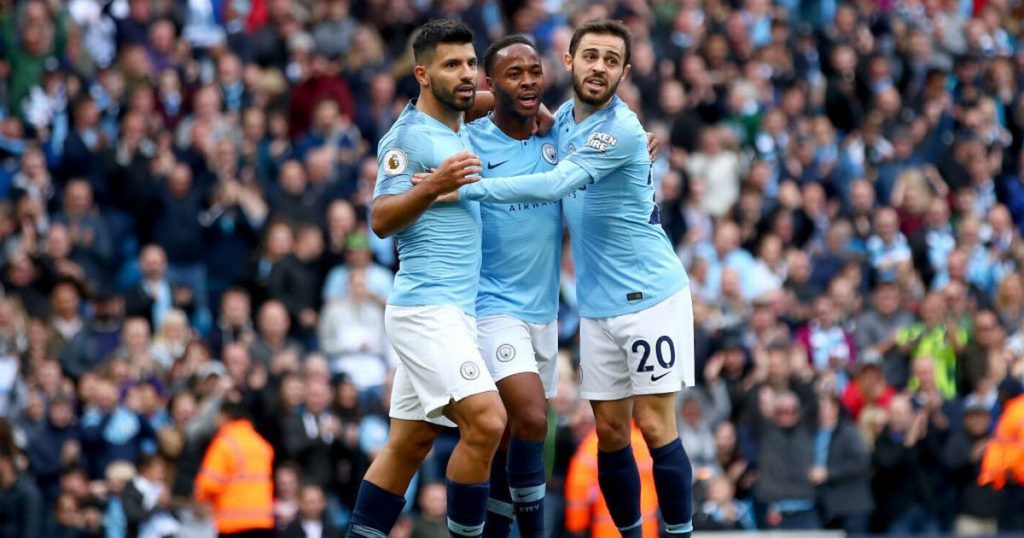 Man City are back on top in the Premier League, though only on goal difference. Aguero and Sterling did the damage Saturday.
---
0-6 – Record in Ryder and Presidents Cup singles for Justin Spieth, who was hot coming into his singles match Sunday with a 3-1 overall record, before being crushed by Thorbjorn Oleson (who?). His good friend and partner in the team sessions Justin Thomas, on the other hand, became the first American to win four points in a Ryder Cup since Raymond Floyd.
2 – Gylfi Sigurðsson scored a brace as Everton finally secured their second win of the season, 3-0 over Fulham. Possession was relatively even at 52-48%, but the Toffees outshot Fulham 19 to 6. Gun-shy Fulham are down to 17th in the table, stuck on 5 points after 7 matches.
4 – Maybe not what Juve was expecting, but Ronaldo actually leads Serie A with 4 assists, after 2 in their 3-1 victory over rival Napoli, that stretched their lead to six points at the top.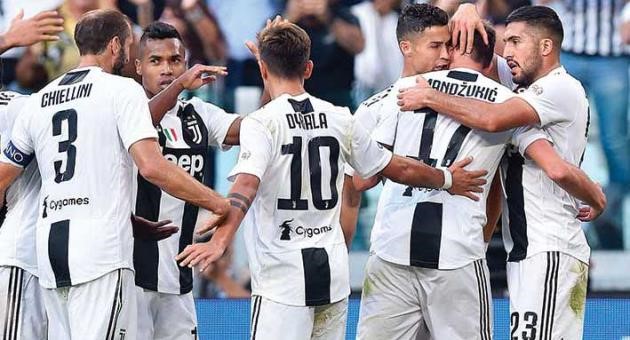 Ronaldo celebrates with his new side as they put further distance between themselves and the rest of the league.
---
4-0 – Fleetwood and Molinari became only the second duo ever to win all four of their team matches in the Ryder Cup. They played a big part in Europe's 10-6 lead going into singles Sunday. Molinari then became the first European, and only fourth ever, to go 5-0, as he aptly secured the Cup for Europe Sunday.
4-0 – After only four weeks of the NFL season, a mere two teams remain undefeated – the Los Angeles Rams and Kansas City Chiefs, and only one is without a win – the Arizona Cardinals. The Rams won a tight game 38-31 over the Vikings last Thursday and the Chiefs came back from a 10-point fourth quarter to get past the Broncos 27-23. Mahomes only had one touchdown pass Monday but has yet to throw an interception and was instrumental in the comeback, finishing 28 of 45 for 304 yards and a QBR of 83.7.
6 – Goals for Eden Hazard this season in seven league games. It took him 18 to hit that mark last term. He scored the opener against Liverpool after scoring the winner against them in the League Cup Tuesday. The Reds did score late to secure a point (see below).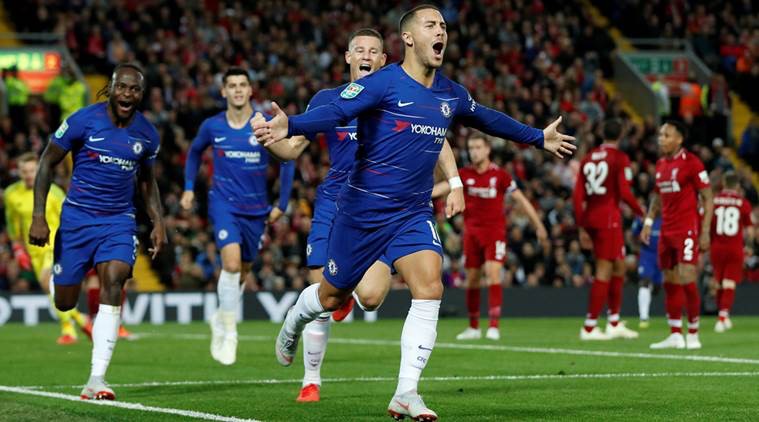 Hazard scored twice against Liverpool in a week, the first ending their perfect start to the season, the second displacing them in first place (though Liverpool still sit two points above Chelsea).
---
7 – It wasn't always easy, and Arsenal were lucky that Watford's finishing was woeful, but they made it seven on the bounce in all comps with a 2-0 win at the Emirates. Arsenal took a full 80 minutes to get on the board, with a Watford own goal giving them the lead before they made it 2-0 two minutes later, with Ozil finishing off a slick move. It was their second league clean sheet in a row.
8 minutes and 15 seconds – The amount of time wasted waiting for Sean Morrison to take his long throws during the Cardiff – Burnley match Sunday. Cardiff lost 2-1 and might consider whether spending almost 10 percent of regulation on preparing for these throws is a good use of time when they are behind.
10 – United has matched their worst start to a Premier League season after their 3-1 loss at West Ham Saturday; stuck on a measly 10 points after 7 matches. It was the third time they have conceded 3 goals already this season – which sounds nothing like a Mourinho side. The loss dropped them to 10th in the table.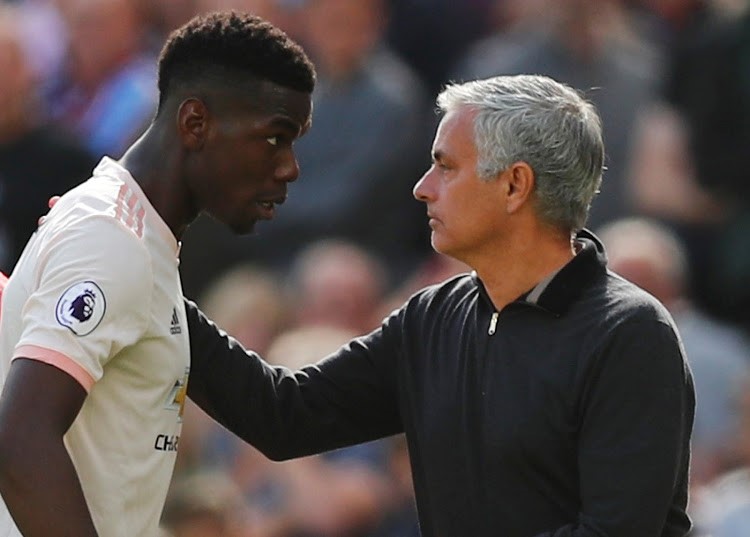 Mourinho and Pogba's relationship seems to be worsening by the week, as rumors of the French World Cup winner's imminent departure only accelerate. Yet who will go first?
---
13-0 – In a statistical oddity, West Ham had 13 corners to Macclesfield Town's zero in their League Cup matchup. The Hammers bossed possession to the tune of 76% and outshot their 4th tier opponents 21 to 5 en route to an 8-0 thrashing. West Ham continued their resurgence with the win over United Saturday, on the back of the impressive 0-0 draw with Chelsea last weekend.
14 for 14 – The Philadelphia Eagles have scored all 14 times they have been in the Red Zone this season, including a field goal in OT Sunday … However, the Carolina Panthers passed up a long field goal attempt to tie it and instead scored a touchdown with seconds remaining to win it 26-23, avoiding a third tie of the young season. The Eagles are now 2-2; the Panthers 3-1.
25.5 – Points for Sergio Garcia in his 9 Ryder Cup appearances, a record tally for either side. America continued its struggles in Europe, where it hasn't won since 1993. Some, ironically, questioned including the Spaniard in the team, after he missed the cut in all four majors for the first time in his career.
50 – Goals for Daniel Sturridge with Liverpool after scoring a stunning equalizer in the 86th minute, soon after coming on against Chelsea. He is the second fastest, in minutes played, to reach the half century for Liverpool, behind only Fernando Torres.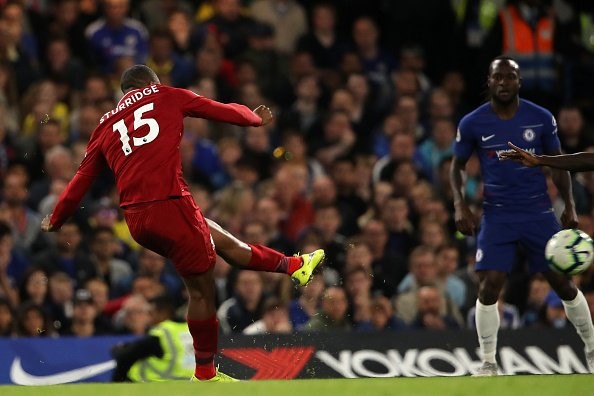 Sturridge's equalizer was arguably the goal of the season so far, perfectly placed high and across goal beyond the outstretched arms of the most expensive goalkeeper ever.
---
60 – Minutes in when Aaron Ramsey was lifted for Alex Iwobi, who was instrumental in the opening goal for Arsenal and their ultimate 2-0 victory. Ramsey? Had the fewest touches (19) in the first half, even behind Pete Cech (25), and was a non-factor in 15 second half minutes as well. Could he be on his way out either next summer when his contract expires or maybe even in January?  
100 – It was a lucky 100 for Sam Vokes of Burnley, who scored his 15th goal in that many appearances for the club, to give Burnley a 2-1 lead at Cardiff. It was only his second goal in his last 30 Premier League appearances, but proved to be the winner and gave Burnley its first away win in nine in all comps.
240 – A personal best combined yards for Ezekiel Elliot as a pro, with 152 yards rushing on 24 carries and another 88 on 4 catches, including the one that led to the game-winning field goal as the Cowboys won 26-24 over the Lions. Dak Prescott also had a game that might quiet his critics, at least for a week, going 18 of 28 for 255 yards and 2 touchdowns.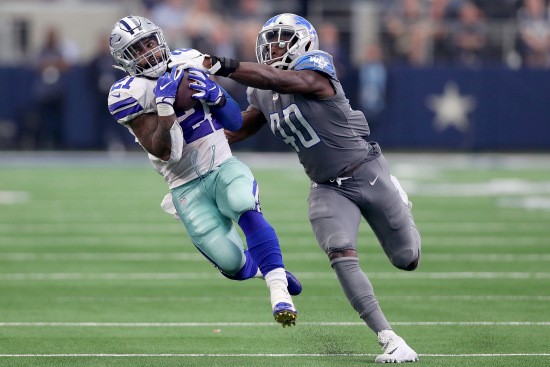 Elliott's catch proved the difference, as the Cowboys moved to 2-2, while the Lions fell to 1-3.
---
.247 – For the fourth year running, the most consistent hitter in baseball history, the Oakland A's Khris Davis, has kept up his relative mediocrity. Four years in a row at exactly .247. That's downright weird!
267- The New York Yankees set a Major League record for most home runs in a season with 266. They did it the same night they became the third team in the American League to reach 100 wins, joining the Red Sox, who they beat, and the reigning Champion Astros. Luke Voit added one more in a season ending 10-2 loss to the Sox. If the Yankees can win their one-game playoff against Oakland Wednesday, they will face the Sox in the playoffs for the first time since the epic 2004 Boston comeback that led them on the road to ending the curse of the Bambino.
---
Check back in at the same bat time, same bat channel next week for the subsequent round of fixtures …