As has been the case for several weeks now, the weekend kicked off Friday night, with a hot Leicester hosting a Newcastle side that was still in the relegation fight. And "was" is probably the right verb tense here, as Newcastle won 1-0 to put 10 points between themselves and Cardiff, even as the latter has a game in hand. Leicester stayed in seventh, however, with Everton, Wolves and Watford all losing over the weekend.
Saturday commenced with Tottenham crushing Huddersfield 4-0 to make it three on the bounce at their new stadium and move back into third place. United then won a game they arguably should have lost, 2-1 over West Ham, while Fulham showed up to end a hot streak for Everton 2-0. At the bottom of the table, there were some huge results. Burnley brushed past a fighting Cardiff 2-0, Brighton were pummeled by Bournemouth 5-0 and Southampton beat Wolves 3-1. Those results probably mean it is down to Cardiff and Brighton for the final relegation spot, with five points separating the two sides and Brighton hosting Cardiff Tuesday in a match that could spell doom for the Bluebirds if they don't snatch all three points (as Brighton also has a game in hand).
On Sunday, Man City took care of a side that has given them trouble in recent seasons, beating Crystal Palace at Selhurst Park 3-1 on the back of a Sterling brace. The marquee matchup of the season then followed with Liverpool certainly nervous after a scoreless first half against Chelsea. But Mane finished a beautiful Henderson cross to give them the lead and Salah doubles it 2 minutes and 22 seconds later with one of the goals of the season, ultimately winning it 2-0 to rise back to the top in the most topsy-turvy title race in a couple of decades. Arsenal concluded the weekend on Monday for the second time in two weeks – a bit irritating with the Europa League quarterfinals sandwiched around those matches. The Gunners won a tough match 1-0, even as they were up a man for 79 minutes plus extra time in the first and second half. 
Meanwhile, around Europe, most sides moved closer to securing their domestic crowns. Juve had a chance to wrap up Serie A, but lost to SPAL 2-1 while Napoli, Milan and Inter all won. The Turin side are still only one point from securing the title yet again. The same is true of PSG, who are 17 points up with a game in hand and 7 to play. In Germany, Bayern won 4-1 at Fortuna while Dortmund beat Mainz 2-1, to keep the gap at one point – the title race shaping up very similarly to the Premier League over the past few months. Finally, in Spain, Barcelona was kept scoreless at Huesca, but the home side couldn't break through either and, coupled with Atlético's 2-0 victory over Celtic Vigo, means their lead is down to nine points, with only six matches to play. Real slipped up yet again, settling for a 1-1 draw at Leganés and are now 13 points behind the presumptive champions. Interestingly, Man City beat Liverpool in January and could win the title by a solitary point, Bayern crushed Dortmund and might do the same and Barça recently beat Atlético to essentially end that race, barring a Lionel Messi kidnapping.
The NHL and NBA playoffs also commenced last week and weekend, with a few surprises already surfacing. The Tampa Bay Lightning were the best team in the league this season, but find themselves in a 3-0 hole to a Columbus side that only made the playoffs in the final days of the regular season. The Islanders have put the sword to a Penguin team that won two Stanley Cups in a row leading into last season, up 3-0 after their 4-1 win Sunday. Boston came back to level their series only to lose Game 3 to fall behind 2-1.  Columbus bounced back to win Game 3 against the defending champion Capitals, but still trail 2-1, while the Golden Knights are up 2-1 on the Sharks, the Blues 2-1 on the Jets, Nashville 2-1 on Dallas and Colorado 2-1 on the Flames.
The NBA playoffs started with the Brooklyn Nets surprise victors over a Sixers team that many were picking to go all the way to the Finals, Orlando then upsetting Toronto 104-101 and San Antonio made it a hat trick of road wins with a victory over a Denver side that pushed the Warriors for the Western Conference crown most of the season. The Clips couldn't match the others, falling to the Warriors 121-104. On Sunday, all four higher seeds held serve with Boston outpacing the Pacers 84-74, Portland ousting OKC 104-99, Milwaukee dominating Detroit 121-86 and Houston blowing out Utah 122-90. Monday the Sixers knotted up their series with Brooklyn with a 145-123 win and then the Clips shocked the Warriors 135-131 after being down 23 at halftime, continuing to defy the conventional wisdom with their star-less, team-first approach.
Oh, and you might have heard something about an old guy with a bad back winning a golf tournament. Not sure what they're talking about specifically, but sounds like a nice story …
On to the numbers, with a few nibble from around the sports world …
---
Match Week 33-34
#1 – Who is the number one creator of chances in the top 5 leagues in Europe? Lionel Messi seems like a safe bet? But, nope. It's got to be Eden Hazard then? Wrong again. It is a youngster from Leicester City named James Maddison, who can't seem to find his way onto the English squad but is likely to move onto greener pastures next season unless Rodgers can find the combination of magic words that keep him midtable for another season.
1 – Sadio Mane has an impressive 18 league goals (and three more in the UCL) this campaign, including the winner Sunday, but only one assist in all comps, which seems odd for a winger who had 8 in all comps last season and 7 the season before. Liverpool will not complain if City drop points and they win out from here …
1 – Lucas Moura scored his first hat trick in a Spurs shirt, helping Tottenham to ease past Huddersfield 4-0 in their first game without Harry Kane, Dele Ali and Son all season. It made them 3-0 at their new home and that late move from Wembley could well keep them in the Top 4 for another season, after a pretty rough patch that ended with a visit from Crystal Palace a fortnight ago. Oddly, Tottenham have won every match without Kane in the league this season … overrated? Just kidding.
2 – Kisses from Ashley Barnes on the nose of Joe Bennett. Mike Dean did dole out a yellow card but, more importantly, we are waiting with bated breath to hear if a proposal is in the offing.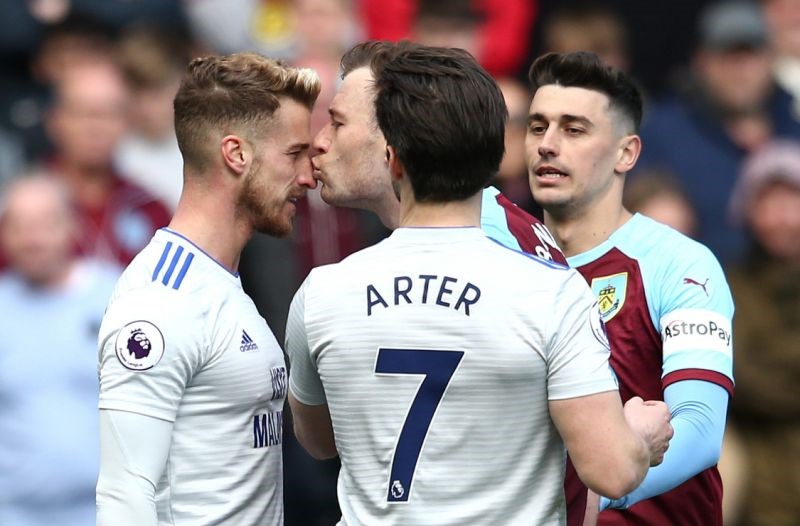 There is no crying in baseball … can we add no kissing in football, for heaven's sake?
2 – Saturday brought only the second matchup ever between Burnley and Cardiff, an oddity for any two sides in English football. Burnley won the first on the road 2-1 and the second 2-0 at home, putting Cardiff in further jeopardy of a return to the Championship after only a season up. Meanwhile, Burnley looked like they could be headed toward relegation themselves after a pretty poor season, but three wins on the bounce pushed them to 14th and probably means they will be back in the Premier League for another season.
4 of 6 – United only lost 1 of their first 17 under Ole Solskjaer, but they have cooled off considerably of late, losing four of their last six. Saturday, they stayed the slump, at least for a day, with a 2-1 win over West Ham that included a questionable offside goal ruled out for West Ham early, a beautiful shot by Antonio that bounced off the upright and a brilliant save by De Gea, as well as two penalties on the Hammers. But a win is a win and three points is three points.
5 – of his last ten Majors rounds were bogie free for Francisco Molinari, the exemplar of consistency for the past year or so (you might remember him on this list a couple of weeks ago for his streak of match play wins), heading into Sunday at the Masters. He was also 19 of 19 scrambling for the week when he finally bogied the 7th hole to end that impressive run and his bogie-free streak at 49 – the best in Masters' history. He added a double on the 12th to put him even with Tiger then found the water for a second time at the 15th on his way to a second double bogey as he fell three behind Tiger and was unable to recover.
9 – Straight wins for Man City in the league, though they obviously lost to Tottenham in the Champions League last week. The latest win, 3-1 over Crystal, included another offsides goal to seal it, which is really getting tiresome, on top of the aforementioned wrongly offsides West Ham goal. However, if City can navigate past Tottenham at home next weekend and then beat United at Old Trafford, they will probably win the league in a season Liverpool has been almost flawless (the Reds only loss was to City when they could have stretched their lead to 10, lest us forget).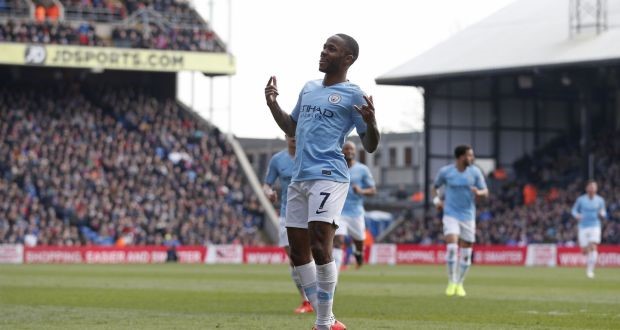 Raheem Sterling has gone from a player who missed far too many chances to one of the better finishers in the league – even as he missed a sitter early Sunday before his brace.
11 – Troy Deeney's claim that Arsenal lacked "cajones" after his winning goal last season was not without foundation, but the brazen nature of it has seemed to haunt the Watford forward ever since. He missed a penalty in the subsequent fixture with the Gunners and was gone after 11 minutes Monday, as Watford had to play a man down, and a goal down after a startling error by Ben Foster a minute earlier was capitalized on by poacher-extraordinaire Aubameyang. Arsenal had to hold on for dear life, unable to score a second and just avoiding what seemed an almost preordained equalizer. The narrow win did stop the bleeding on their awful away form and pushed them above Chelsea and back into fourth. If they can hold their nerve from here, they are guaranteed Champions League football for the first time in three seasons next term. 
13 – Felipe Anderson went 13 games without a goal, but the slump ended at Old Trafford as he put the ball in the net for a second time to equalize Saturday, after the first was waved off for offsides (arguably incorrectly). Did I mention no week seems to go by without a bad call that costs a team points? Yeah, I think I did! It was two this weekend.
13 – Paul Pogba scored from the spot twice Saturday to hit 13 league goals, a team high. In the process, he avoided a record I'm sure no one wants to hold – missing four penalties in one season.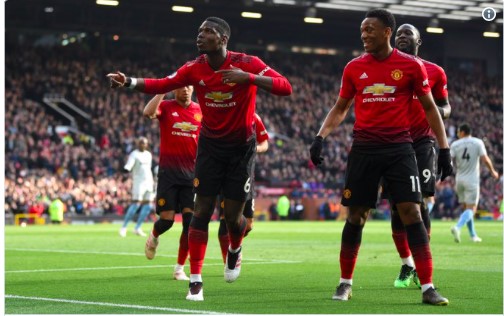 Pogba has now scored 7 penalties this season, only one from the United record of 8, by Ruud van Nistelrooy in 2002-3.
14 – Of Newcastle's 38 points this season, 14 have come in their last 9 matches, with 4 wins and 2 draws over that stretch. With four matches to go, they only need two points to the magic 40-point threshold, though it looks like 38 is probably already good enough to keep Benitez's side in the top flight.
15 – I did some more research and that old guy's name is Tiger Woods, the tournament was the Masters and he now has 15 majors, only three short of the record held by Jack Nicklaus. On a serious note, this is one of the greatest comebacks in the history of sports, two years after he said he might never play again, 11 years after his last (tying a record for longest gap between majors) and his first at Augusta National in 14 years (he is now alone in second place all time with 5). And, pretty incredibly, this is the first time he has ever won a major without leading heading into the final day. One wonders if his lifelong goal of beating Jack's record is back on.
19 – The Golden Boot race is hotting up, with Agüero and Salah tied at 19 and Aubameyang and Mane one behind, while Raheem Sterling and Harry Kane sit on 17. I'm going to make a bold prediction and say Harry Kane will not win it this year! Just kidding, I'll go with my Gunner Aubameyang to win it with 23.
26 – In 29 league matches this season, Raheem Sterling has contributed 17 goals and 9 assists, after a brace Sunday helped City to a 3-1 over Crystal Palace and back to the summit – a pretty impressive return for a player who was a little goal shy a few seasons back. Eden Hazard leads the way with 28 (see what he does Sunday#), but Sterling is now tied with teammate Sergio Aguero for second, with Mo Salah. Hazard should have added to his tally with two great chances in quick succession that he just missed.
30 – Ashley Young gave the ball away 30 times last week as United lost the first leg of their quarterfinal tie with a subpar Barça 1-0. United dominated the game for much of the first half, but an own goal by Luke Shaw proved the difference in the end. The entire side was giving the ball away Saturday, but they had just enough to earn three invaluable points in their quest to return to the Top 4.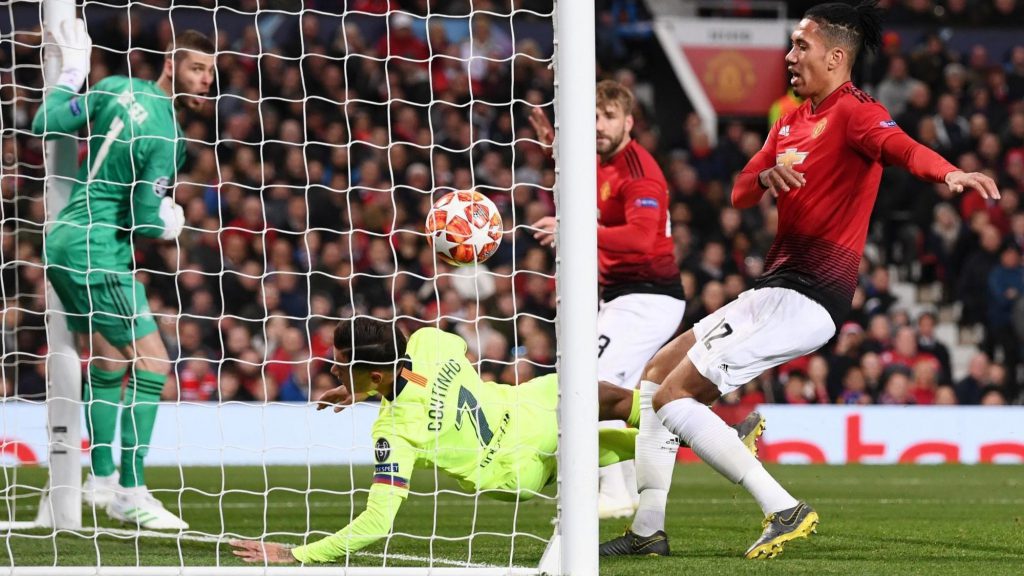 Shaw, Smalling and De Gea watch Luke Shaw's own goal cross the line Wednesday. It was the only goal of the night as Barca head home for the second leg Tuesday.
44 – Goals conceded by David De Gea this term, the most in his career, with five matches still to play. He did have a key save against West Ham when the Hammers were in the ascendancy, before Pogba put United back ahead for good and had no chance on the Felipe Anderson equalizer, but can we stop with "best in the world" now?
51 – The Sixers were shocked in Game 1 by the Brooklyn Nets and only leading by one at halftime of Game 2, but exploded in the third quarter with a playoff record 51 points en route to a 145-123 win to knot the series at 1.
54 – Chris Davis' record slump finally ended Saturday, in his 55th non-walk at bat. He hit a single in the right field gap that scored two and finished the day 3-5 with 4 ribbies as the Orioles beat the Red Sox 9-5. Whether this will turn around a troubling reduction in productivity over the past couple of seasons remains to be seen but Crash Davis was back for a day at least.
65 – The largest weekend slate of players in Masters history. And then Sunday, because of weather, they all went out early in threesomes, on both the first and tenth tees to try to beat the weather. They collectively set a single day scoring record and the best golfer in history won a thriller, where five players were tied at the top with a few holes to play.
81 – The other record Tiger has been chasing is most PGA Titles in history. With the Master's win, he is only one behind Sam Snead's record of 82.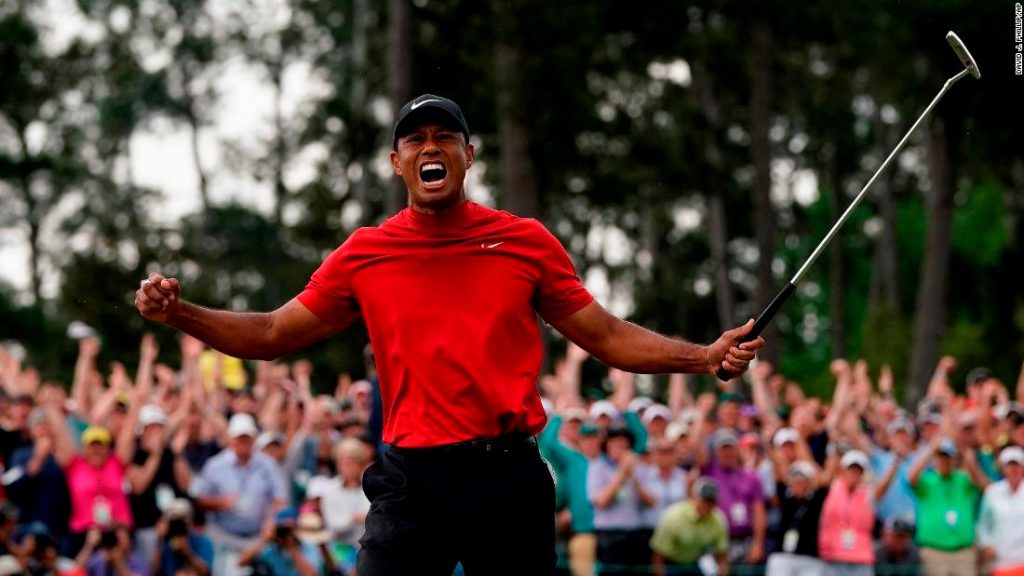 Tiger back in Sunday red apparently earned Nike a cool $22 million in free ad time with his victory Sunday.
85 – The Clippers found themselves down a game and 23 points at halftime (and 31 at one point) before a second half explosion of 85 points led them to a four-point victory over a shocked Warriors side. Golden State scored 73 in the first half and then only 58 in the second, after a hot streak to start the third period that made it 15 full minutes of game time without a miss (20-20). Kevin Durant fouled out of the game after being ejected from Game 1 down the stretch – the halftime comeback was the second biggest in history and the 31 points is the best ever in the NBA playoffs!
98-148 – Luke Walton followed Magic out of the Lakers organization Friday after three seasons with no playoff appearances and fifty more losses than wins managing the second best organization in the history of basketball. Hard to believe the Lakers still can't get it right after six years in the hinterland. That stretch without a playoff berth, which goes back to a First-Round loss in 2013, is only "bettered" by the Knicks (also 6 seasons), the Suns (9) and the Kings (13). One day later, Walton was signed by those same Kings, which makes sense in some netherworld calculation by arguably the worst franchise in sports.
1961 – Fulham were on their worst run since way back in 1961, but finally showed up at Craven Cottage Saturday, beating back an Everton side that has been imperious defensively. Oddly, Everton have shut out Arsenal, West Ham, Chelsea and Liverpool in their last six, but shipped three to Newcastle and two to Fulham over that same stretch.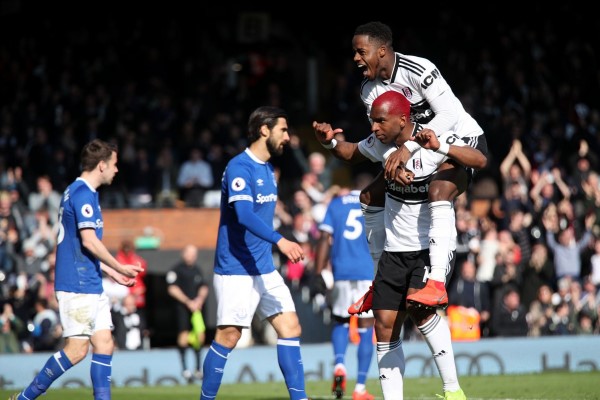 Tom Cairney and Ryan Babel were on target as Fulham won only their fifth match of the season in their 34th attempt.
---
Check back in at the same bat time, same bat channel next week for the next round of fixtures …