As we enter December, the matches come fast and furious, as they did with two round of fixtures from last Tuesday to Monday. In the midweek matches, all of Man City, Tottenham and Liverpool won while United and Arsenal split the spoils at Old Trafford Wednesday and Chelsea were shock losers to a Wolverhampton side they led 1-0 and that had lost 5 of their last 6 coming in. And Ranieri got some revenge on his former club his new side Fulham were able to snatch a point 1-1, though from the jaws of victory.
In Round 16, Tottenham, United and Liverpool all won easily, The Spurs 2-0 at Leicester, United 4-1 over hapless Fulham at Old Trafford and Liverpool 4-0 at Bournemouth. When Chelsea surprised City with a 2-0 victory later Saturday, Liverpool were top of the table and Chelsea back ahead of Arsenal in fourth, though only on goal difference (+20 to +15). In the weekend capper Monday, Everton had to settle for a 2-2 home draw with a previously struggling Watford, and thus allowed United to overtake them into sixth in the table by two points.
At the other end of the table, Huddersfield, Southampton and Fulham are in the bottom three spots, in that order, with Southampton yet to get a bump from their new manager, losing to Tottenham 3-1 and then, more importantly, 1-0 at Cardiff Saturday. Huddersfield did not appear to take any momentum from their 1-1 draw at West Ham and 2-0 victory at Wolves a couple weeks back, losing 2-1 at home to Brighton last Saturday, 2-1 at Bournemouth Tuesday and 1-0 at Arsenal Saturday. And Fulham look almost certain to drop, unless Ranieri can conjure further magic, as they have already conceded 40 goals this season, on pace to close in on 100. Moving a little further up the table, Cardiff (14), Newcastle (13), Crystal Palace (12) and Burnley (12) are all within five points of Fulham (9).
In Spain, Barça have stretched their lead at the top of La Liga to three points, over Sevilla and Atlético, after Messi scored two free kicks on the back of his Ballon d'Or snub in a 4-0 cruise at Espanyol. Real Madrid is back in fourth and five points behind the leader (after a hard fought 1-0 victory at Huesca). In Germany, Dortmund maintained their seven-point lead at the top of the Bundesliga after a hard-fought 2-1 victory at Schalke. Bayern kept within 9 by beating Nurnberg 3-0 at home. And Juve (8 points) and PSG (13 points) continue to dominate Serie A and Ligue Un, respectively.
On to the numbers, with a few nibbles from around the sports world …
---
Match Week 15-16
0-5 – Bournemouth's record against the Top 6 so far this season, with a match against Tottenham on Boxing Day their only chance to salvage even a point against the big boys this half of the season after being smashed 4-0 by Liverpool Saturday. The Cherries are still comfortably positioned at eighth in the table, though.
:07 – Seconds left when Miami ran a last play that included laterals, cutbacks and an improbable touchdown to give them a 35-33 victory over the Patriots that could have huge implications for postseason home field advantage. And who doesn't love a heartbreaking Pats loss? Tom Brady is 25-2 on the road in December in his career against everyone except the Dolphins; while only 1-6 when he travels to sunny Florida.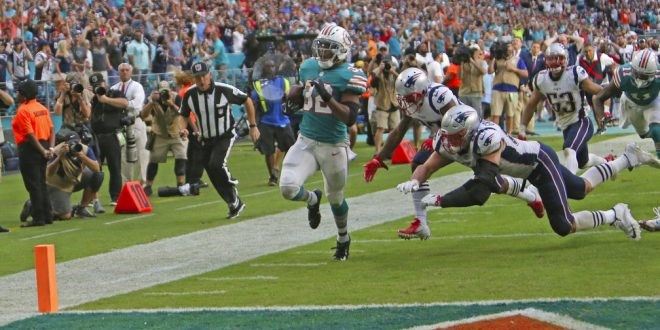 Kenyan Drake brushes past the final two Patriots defenders on his way to one of the most improbable game-winning touchdowns ever, right up there with Cals 1982 TD against Stanford and the Vikings shock playoff TD last season against the Saints.
---
1 – Liverpool are now the only remaining undefeated side in the league, after three wins in 7 days helped them to rise to the top of the table. The incredible part for their fans is, after winning 13 and drawing 3 in their first 16, they are only one solitary point above City, who lost their first of the season Saturday. Tottenham are having their best start since their double of 1961, by the way, but are six points off the top.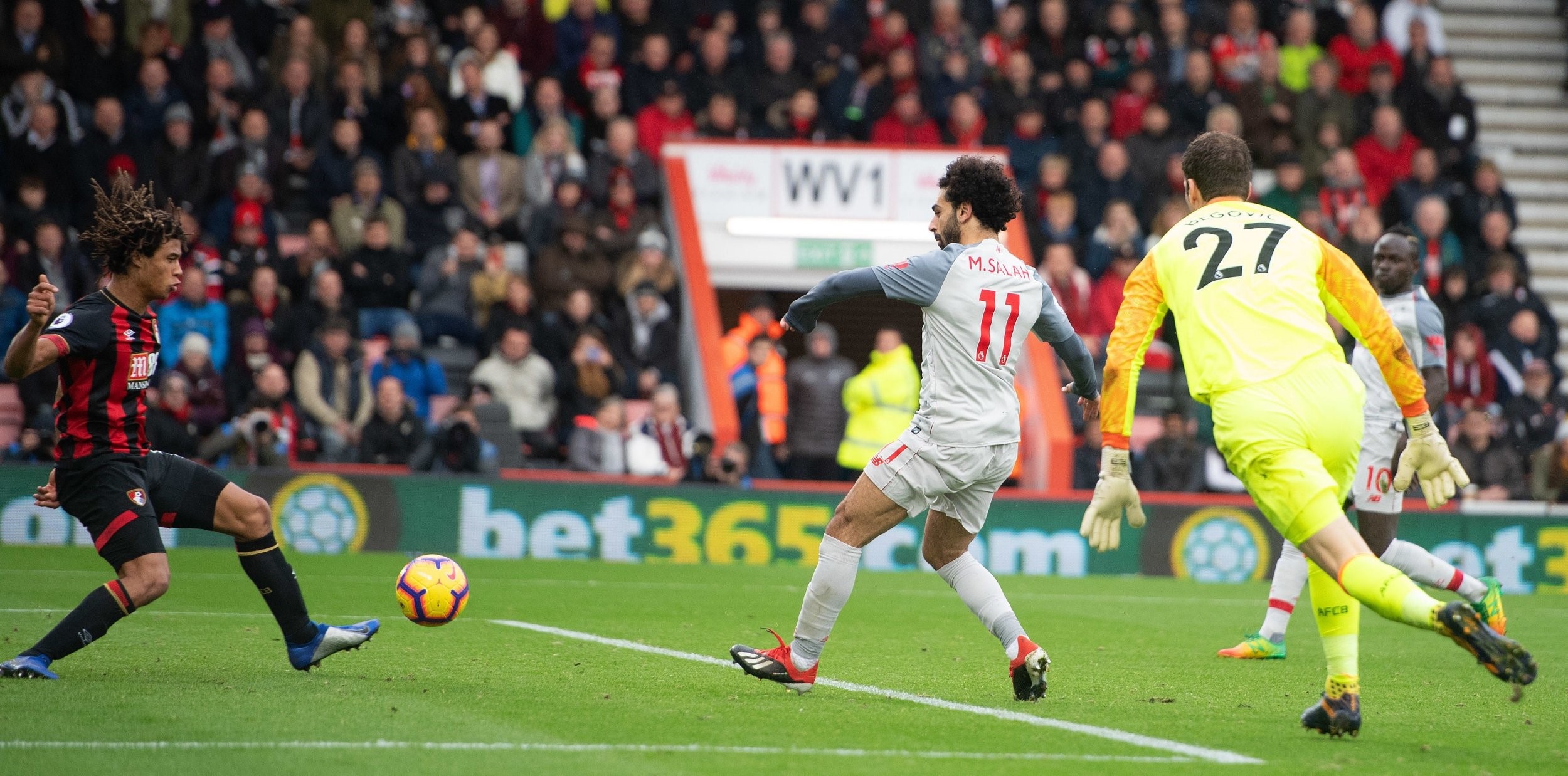 Salah is returning to his imperious form from last season, also helping the Reds advance to the Champions league knockout stage with the only goal Tuesday.
---
3 – West Ham were down 1-0 and in real trouble against Crystal Palace, given all the players out injured at the moment. But they came back with three straight goals and ultimately won 3-2, to make it three victories on the bounce. Crystal Palace, on the other hand, are in a slump, having won only 1 of their last 11. They have fallen to 16th in the table, only two points off the relegation zone, while West Ham have risen all the way to 10th and have won three in a row while scoring three or more goals for the first time since way back in 1982 (who keeps these stats?).
3 – Offsides goals just last Wednesday. The first was in the Spurs match, when the corner that resulted in a goal should never have happened, as Lucas Moura was clearly offsides before he forced said corner. Then United equalized against Arsenal after Herrera crossed softly to allow Martial to score. The problem? He was offsides on the original free kick and was the first to touch it. Finally, back at Wembley, Charlie Austin was offsides in the buildup to his own goal, though it didn't matter as Tottenham won 3-1. However, one could argue the equalizer helped United to the ultimate 2-2 draw they squeaked out at Old Trafford. And then an Arsenal goal was wrongly waved off Saturday for offsides. When are we going to get VAR, for god's sake? It really is time.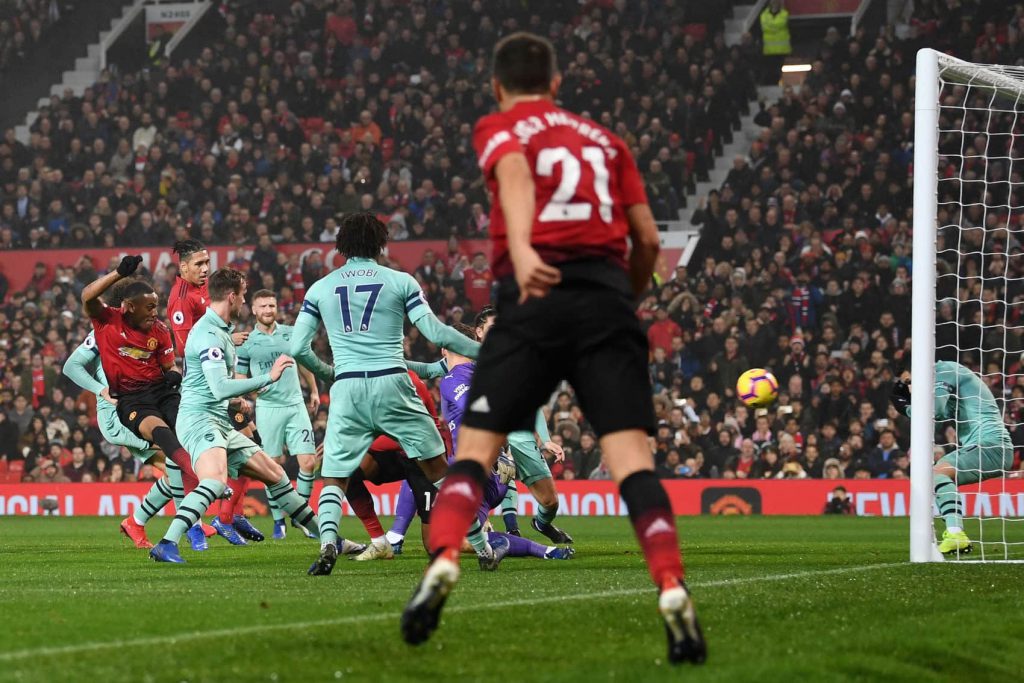 Herrera was clearly offsides with the cross that allowed Martial to equalize the match 1-1. It is time to end the torture for fans and make VAR a part of the Premier League.
---
4 – Manchester United had only won that many of their last 11 at Old Trafford after their 2-2 draw with Arsenal Wednesday and only 3 of their last 10 in all comps. But a welcome 4-1 win over visiting Fulham saw Lukaku score his second goal in his last three and the side move into sixth. Nonetheless, they are still eight points off the top 4 (and Arsenal in fifth) and have only a +2 goal difference after 16 matches. With every passing season, one appreciates the incredible sustained success of Sir Ferguson more and more … even an old Gooner like me.
8 – Assists for Eden Hazard this season in the league, the most by any player. The two most recent came Saturday, as he set up both goals for Chelsea in their huge win over City at Stamford Bridge. He has also scored 7 goals, and his combined contribution of 15 league goals is the most of any player, one ahead of the 14 each for Salah (10 and 4) and Sterling (8 and 6). Callum Wilson has an impressive 13 himself, with 8 goals and 5 assists for Bournemouth, as does Aubameyang for Arsenal (10 and 3).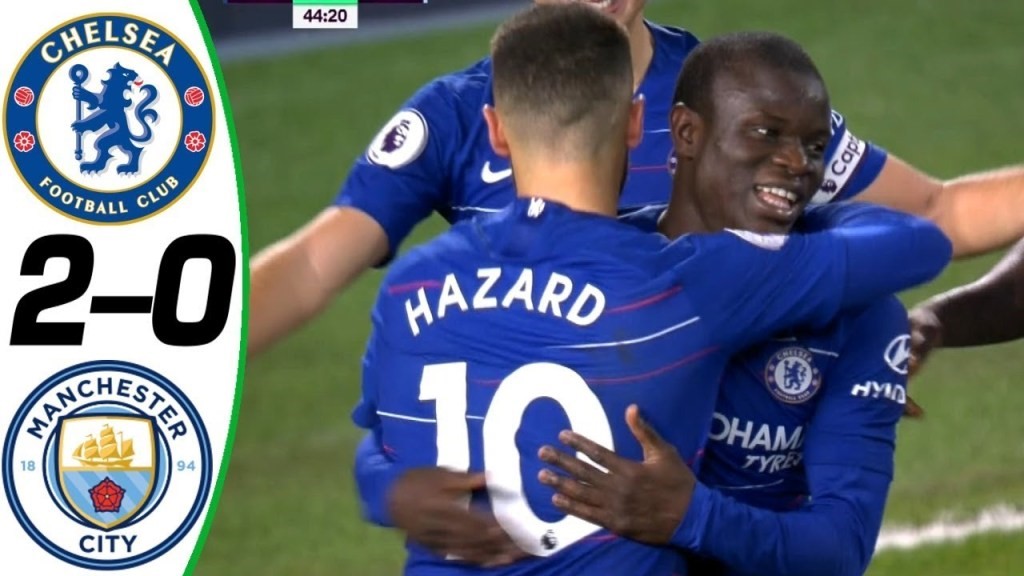 Hazard celebrates with Kante after setting up his opening goal. Hazard's record againt the Top 6 is rather insane, with 5 goals and 5 assists against United, 5 and 3 against Tottenham, 5 and 3 against Arsenal, 5 and 2 against Liverpool and 4 and 7 facing City. Wow!
---
10 – League Goals for Mo Salah this season, after his hat trick Saturday helped Liverpool to cruise past the Cherries 4-0.  Did I mention they are now in first? Salah became the third fastest to 40 league goals, in 52 matches, only behind Alan Shearer and Andy Cole (45 each). And only a fella you might have heard of by the name of Lionel Messi has scored more goals than Salah since the beginning of last season.
21 – Arsenal hit the magic 21 matches unbeaten in all comps, winning 16 and drawing 5 over that stretch (oddly, many in the press keep lowering the count by one). As mentioned above, that included a 2-2 draw at Old Trafford and a nail biting 1-0 win over Huddersfield Saturday, which required an 84th minute winner from Torreira to garner all three points.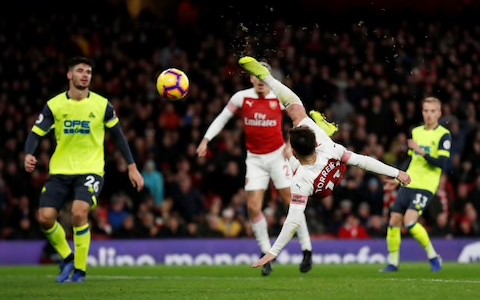 Torreira scored in the winner in style, with a scissor kick, for his second Arsenal goal.
---
26 – Goals conceded by United in the league in their first 15 matches; the worst defensive record in their history! Remember when Mourinho was a defensive genius who many complained played "boring" football? I wonder if some of those United fans wish that "park the bus" style would return. Incredibly, the 26 goals were equal to the total of City, Liverpool and Chelsea, combined heading into the weekend! United's clean sheet Saturday restored some sanity, but one wonders if United have any hope of returning to the Champions League next season at this point.
40/4000 – Patrick Mahomes is only the third quarterback in NFL history to hit at least 40 TDs and 4,000 yards in his first or second season, joining HOFers Dan Marino and Kurt Warner. He has already earned KC a playoffs spot and they have the inside track to home field advantage throughout the playoffs after a 24-17 win over the Ravens Sunday.
49% – Javier Hernandez has scored 49% of his Premier League goals for Manchester United and West Ham from inside the box. The percentage is only topped by one player – Tim Cahill, formerly of Everton. Chicharito has started the last three matches for West Ham, and scored three goals over those three matches. He has 4 league goals in total this season in 5 starts and 7 sub appearances and 1 additional goal in the League Cup (in 2 starts). Across his career, he has scored 149 goals in 393 appearances in all comps and another 50 for Mexico in 105 appearances. Not too shabby!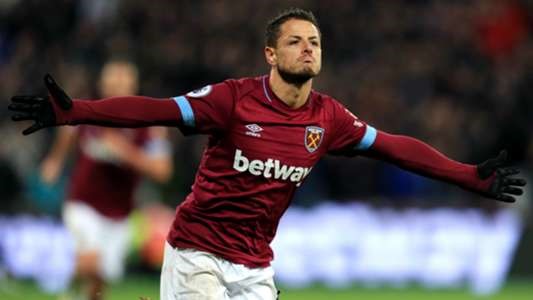 Chicharito scored the second as West Ham won 3-2 over Crystal Palace, the two sides going in opposite directions of late.
---
155-839-6 – It appears there is a new computer chess champion, as AlphaZero from Google crushed what was considered one of the strongest chess engines, Stockfish, winning 155 games, drawing 839 and losing only 6 in a 1,000 match standoff. And you might have heard Magnus Carlsen, the best human in the world, retained his chess title a couple of weeks ago, having now held that title for five years. He has the highest score ever recorded (2882 in 2014) and is the first player to hold the World Chess Championship, World Rapid Championship and World Blitz Championship at the same time.
217 – Amare Cooper is a big reason the Cowboys have won five straight and he was particularly decisive Sunday in their 29-23 OT win over the Eagles with that many yards and 3 TDs, including the winner off a deflected pass. It was career bests in yards and TDs in a game for the trade of the season so far. And Dak Prescott set a franchise record with 42 completions, helping to offset his two costly interceptions and fumble.
.289 – Over his 22-year career, Harold Baines hit for that average. He had 2,866 hits, 384 homers and 1,628 RBIs. Those are not bad numbers, but don't stack up against the best of his peers in his era. Nonetheless, after never earning more than 6.1% of the vote in his 5 times on the official ballot (you need 75%), he was just elected to the Baseball Hall of Fame by the "Today's Game Era Committee," which included two close allies. He was as surprised as anyone that he got the needed 12 votes (out of 16) but outrage has ensued online, though less for their other pick, the reliever Lee Smith, who held the record for saves when he retired. In America today, almost anything even minutely controversial can be expected to piss off some subset of the population that will voice their indignation as loudly as possible. It does beg the question of whether a tweet read by no one makes a sound? How about one read by millions in the forest? 
300 – Theo Walcott hit 300 Premier League matches in the 2-2 draw with Watford Monday, a nice milestone for a player who never really reached the heights his early performances seemed to promise. He has managed 70 goals in those 300 matches (though he has never scored a penalty or free kick in league play), converting 12.39% of his shots (44% were on target) and adding 48 assists. His average of 16.26 passes a match is rather mediocre, as is the less than three crosses a match (883) he managed and the 71 big chances missed (notice that is one more than the goals he actually converted). A couple other stats for the Walcott fans: he never earned a red card in the league and only 8 yellows (maybe not aggressive enough????), managed 187 tackles, 126 blocked shots, 128 interceptions and 78 clearances over those 300 games. And his sides have won 158 (52.7%) of those matches, drawing 69 and losing 73.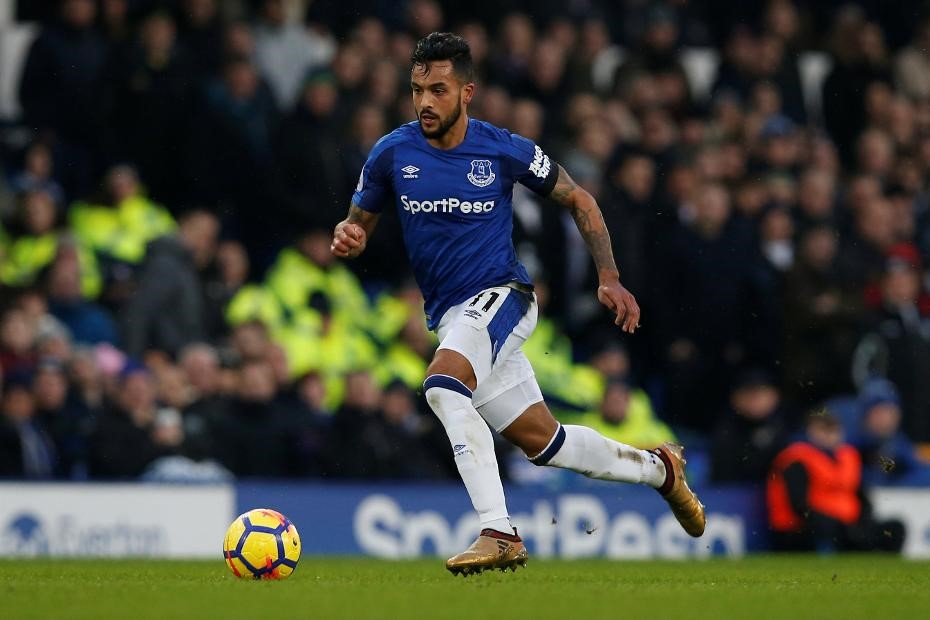 Walcott has had a decent career, but there will always be the sense he could have done so much more.
---
368 – Consecutive passes without an interception for Aaron Rodgers, who passed Tom Brady for the NFL record in the third quarter of the Packers 34-20 victory over the Atlanta Falcons. It is probably too little too late for the Pack though, as they sit at 5-7-1. 
806% – Ex-Manchester City player Jadon Sancho's transfer value increase since the beginning of the season. He scored the winner against Schalke Saturday and now has 5 goals and 6 assists for the side in 14 league appearances and another goal in the 5 Champions League appearances.
1,400 – Or more receiving yards for Julio Jones for a fifth season in a row, an NFL record.  Unfortunately, the record came in a 34-20 loss to the Packers that guarantees a losing record and begs the question of whether their chance to avenge their Super Bowl collapse is gone, baby, gone.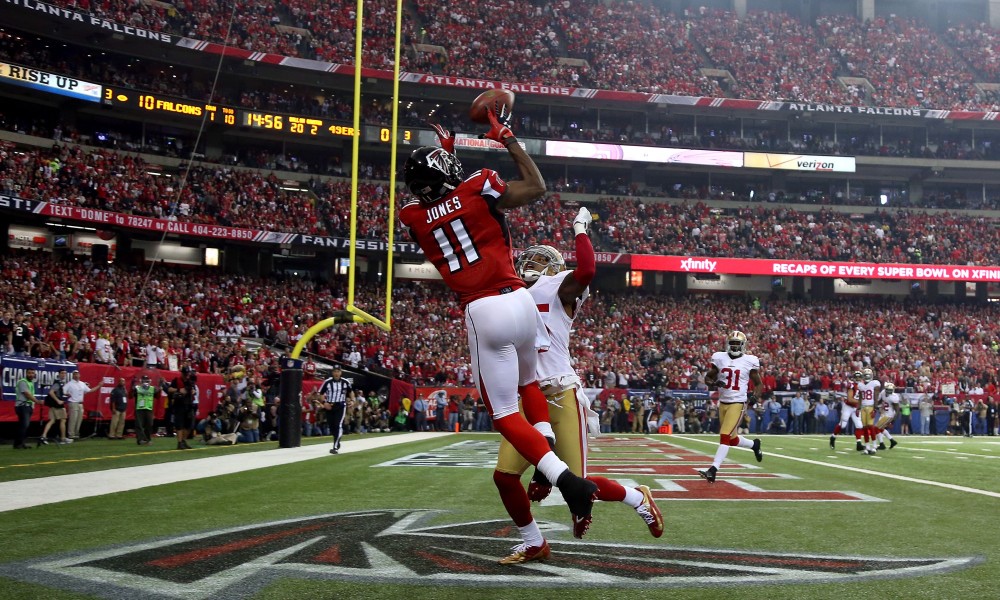 Julio Jones is one of the finest receivers of his generation, but he might be best remembered for being part of a team that blew the biggest lead to be ceded in Super Bowl history.
---
September 2006 – The last time Arsenal won at Old Trafford in the league. They led twice last Wednesday before settling for the 2-2 draw. There is always next season …
January 2017 – The last time City lost a game by two or more goals. Back then it was 4-0 to Everton and Saturday it was 2-0 to Chelsea. In some ways, a record as impressive as many of the others they have set over the last season and a half of dominance.
---
Check back in at the same bat time, same bat channel next weeks for the subsequent round of fixtures …