The gulf between Manchester City and United came into full repose Sunday, as City cruised past United 3-1. Liverpool won 2-0 over an awful Fulham side, Tottenham won another close match 1-0 at Selhurst Park while both Chelsea (0-0 with Everton) and Arsenal (1-1 with Wolves) had to settle for draws. Man City's lead now stands at two points over Liverpool, with Chelsea a further two points back, Tottenham five and Arsenal eight behind the reigning champs.
Saturday, at the other end of the table, the world turned upside down. First, Cardiff took advantage of a red card and stoppage-time winner to beat Brighton 2-1. Then Newcastle scored two, yes two, goals in the first half against Bournemouth with both by Salomon Rondon, and no, that's not a typo either (his first two of the season). And it didn't stop there. Southampton took a 1-0 lead over Watford and Huddersfield led by the same score over West Ham at the half. In other words, the bottom four teams in the league had either won or taken a lead into the second half. And then Newcastle conceded late in extra time of the first half to make it 2-1, and both Huddersfield and Southampton conceded second half goals to settle for draws, though Newcastle did hold on for the win. After those results, the bottom three is now comprised of Cardiff, Huddersfield and Fulham, in that order, with Newcastle up to 14th and Southampton in 17th, though only by a solitary goal.
In the Champions League, order was restored in most quarters while other presumptive knockout stage participants will have to work a little harder to make it through. Those include Tottenham, currently third in the "Group of Death," and PSG, behind Napoli and Liverpool, though only by a point. The big upsets of the week were Liverpool losing to Red Star Belgrade 2-0, who are unbeaten in their last 29 home matches in Europe, and United winning 2-1 at Juve. Atletico won the marquee matchup of the week, 2-0 over a hot Dortmund. City kept cruising with a 6-0 victory over Shakhtar Donesk and Real crushed Plzen 5-0 on the road, while Barca had to settle for a 1-1 draw with Inter and Napoli and PSG played out a stalemate in the last big match of the round. 
On to the numbers, with a few nibbles from around the sports world …
---
Match Week 12
0 – Manchester United finished second last season and seemed to be on an upward trajectory. But as has so often happened to Mourinho during his recent stays, there seems to be a self-constructed circus followed by mediocre to poor results in season three. United's season has been up and down, but maybe most surprising, given that Mourinho is still in charge, is that United have been outrun in every single match they have played this season! Every one!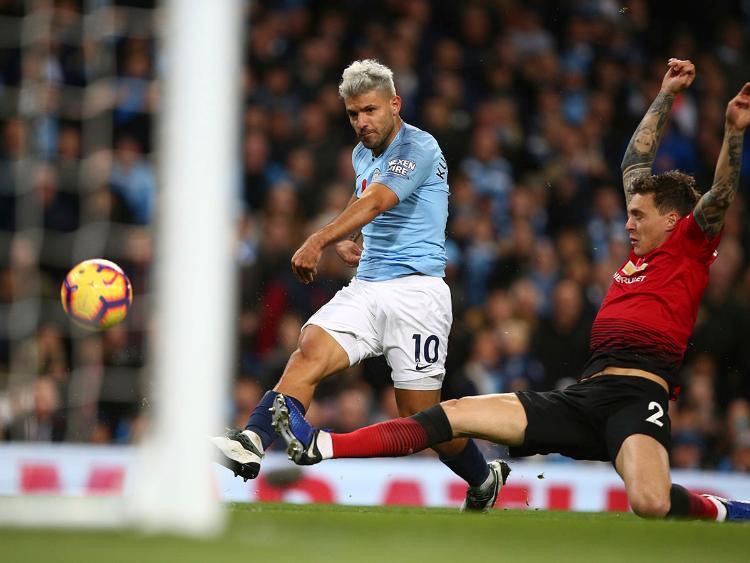 Agüero scored the second as City cruised past United 3-1 to restore their two-point lead at the top of the table.
---
1 – Point lead for Barcelona in La Liga after they were shocked by Real Betis 4-3 at the Nou Camp last weekend. Sevilla (2-1 winners over Espanyol), Atlético Madrid (3-2 over Balboa), and Alavés (2-1 winner over Huesca) are within a point and Real Madrid are within 4 after they beat Celta Vigo 4-2 to make it four straight in all comps since Lopetegui left. It is looking like there will be no run-away winner this season and that several sides might well have a shot, as remote as it may seem, to displace the two-team juggernaut that has only been denied the title once in the past 14 seasons (Valencia won two of three before that run that started in 2004-05 and Atletico is the only won to win during that 14-season stretch).
1 – Three sides have only one win this season, including Southampton in 17th, Huddersfield in 19th and hapless Fulham in 20th. Fulham has that solitary victory, 2 draws and 9 losses in their first 12 with a whopping -20 goal difference. The salve for a rough season back in the top flight is a huge influx of cash to try to get back up after, what one assumes, is a quick trip back to the Championship awaiting them in May. But you never do know …
2 – Within 15 minutes of watching two games, two receivers were hit by snapped balls to cause turnovers. The first was by Michigan State at their own two, which led to an Ohio State touchdown that essentially ended the game. The second was by Penn State, giving Wisconsin a glimmer of a chance with less than two minutes left, though they did nothing with that opportunity. Weird …
3 – The Cleveland Browns secured their third win of the season Sunday, 28-16 over the Falcons, to go with a draw earlier against the Steelers. That is one win away from their total over the past three SEASONS combined! And rookie Baker Mayfield's record is up to 3-5, having recorded a perfect passer rating in the first half of their victory.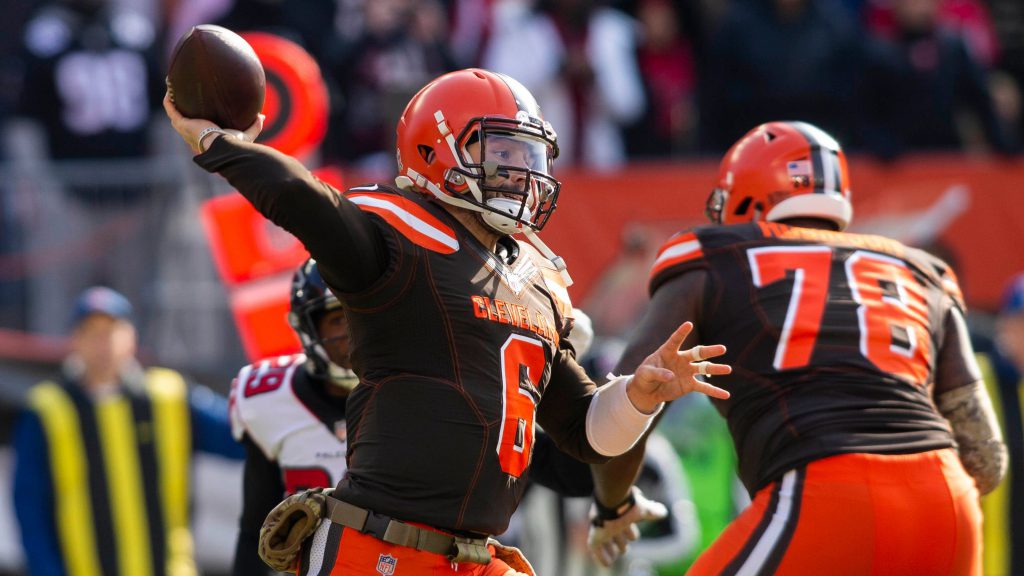 Baker Mayfield continues to provide a strong case at being the best so far among the freshman class of rookies and is slowly helping to restore hope to the city's beleaguered fanbase.
---
3-2 – Marco Reus and Robert Lewandowski both scored braces before Paco Alcacer found the winner as Borussia Dortmund's impressive start to the season continued with a win over Bayern Munich. That stretched the lead to 7 points for Dortmund over their main Bundesliga rivals, though only four over second place Gladbach.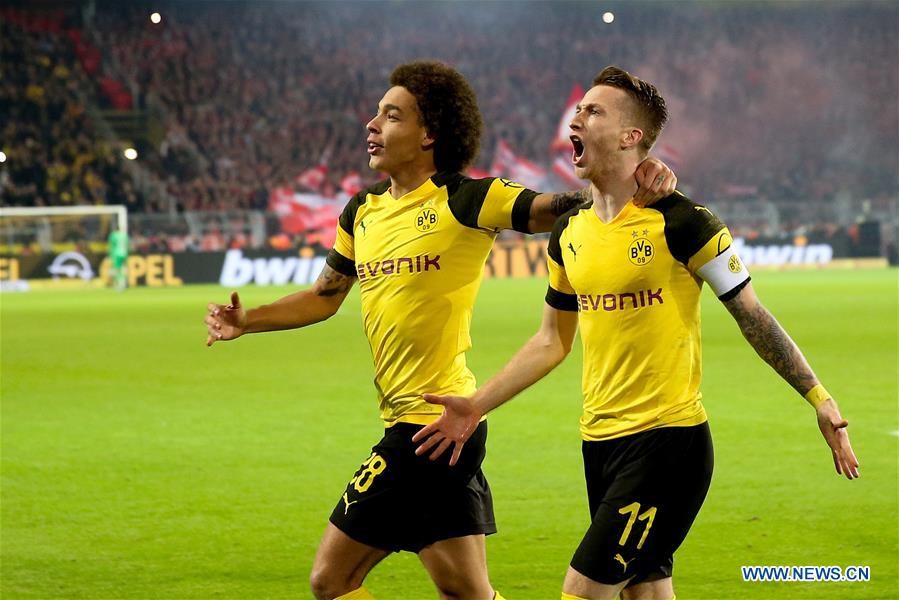 Marco Reus scored twice as Dortmund stretched their lead atop the Bundesliga. Could the Bayern monopoly be coming to an end, at least for a season?
---
4 of 5 – Arsenal and are still undefeated over their last 16, but have now drawn four of their last five and three straight in the league, with the only victory over that stretch in the League Cup, after starting that run with 11 straight wins. 
4-3-3 – Liverpool have hit an uneven patch over their last 10 in all comps that is challenging their title run, already has them out of the League Cup and in a position to miss out on the knockout stage of the Champions League. It all started with a 2-1 loss to Chelsea in the League Cup at home and, besides three straight wins against inferior competition (1-0 at Huddersfield, 4-0 over Red Star Belgrade, and 4-1 over Cardiff) in the middle of this run, indicates a team that seems to be moving backwards at the moment. The worst of the results was the 2-0 loss to Red Star Belgrave last Tuesday that puts advancement in the UCL in serious jeopardy. They did beat Fulham 2-0 Sunday to stop the rot a little and, to be fair, are only two points behind City in the league.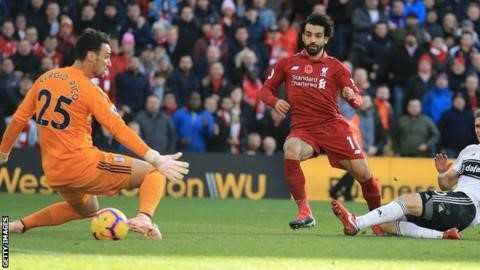 Mo Salah has not been as prolific as last season, but added his sixth league goal of 2018-19, in addition to 3 assists and two more in the Champions League. Liverpool will need him to return to top form as they try to keep up with City.
---
6 – Punts inside the 10-yard line for Ohio State punter Drue Chrisman, who helped Ohio State to 9 straight points on the road in a 26-6 victory over Michigan State. Ironically, he set the record for the shortest punt in Ohio State history at 4 yards on his first kick of the game.
8th – No one can be too heavily criticized for losing to a stacked Man City side, but Manchester United's 3-1 loss Sunday leaves them in 8th place, behind Bournemouth and Watford, with a -1 goal difference, the only side in the top half with that ignominious record. United have already lost four matches and drawn another two and find themselves 7 points out of the Top 4 after 12 matches. Will Mourinho survive the mediocrity until the end of the season? The win over Juve midweek certainly helps his case.
10>11 – Math can sometimes get confusing in the world of football and such was the case last Wednesday, as Lyon found themselves on the wrong side of that equation. Let me explain – Lyon was up 2-0 when they found themselves up a man as well, after a 51st minute red card to Hoffenheim's Kasim Nuhu. So they cruised to victory, right? Well, as you can probably guess by now, not at all. Instead, Hoffenheim scored in the 65th minute and then equalized two minutes into extra time to earn a point. Lyon still sits three points above the Germans in Group F, but could have just about sewn up a place in the knockout stage if they had held on for the win.
12 – Maurizio Sarri has just set the Premier League record for longest unbeaten streak to start a career, as Chelsea settled for a home 0-0 draw with Everton Sunday that left them in third place. After last season and waiting so long to officially get their man, as well as limited summer transfer business, Chelsea's start continues to defy expectations.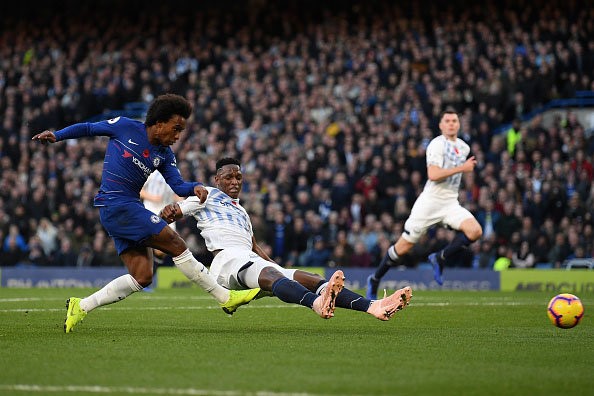 Chelsea remained unbeaten, but Willian was among many to miss chances to earn all three points Sunday.
---
16 – Monaco is on a historic run of futility that new manager Thierry Henry has yet to stall, having failed to win since the opening league match of the season (3-1 over Nantes) way back on August 11. Since then, they have drawn five and lost 11, including a 4-0 home loss to Club Brugge in the Champions League Tuesday and a 4-0 loss to PSG Sunday, also at home.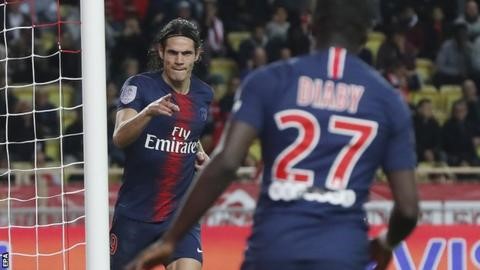 Edison Cavani seems nonplussed by playing with two of the best in the world, as his hat trick Sunday made it 8 goals in 8 league matches, helping PSG to a 13-point lead in Ligue Un.
---
31 – Patrick Mahomes threw his 31st TD pass of the season to break the Chief's single-single record, previously held by Len Dawson, from way back in 1964. He had two touchdown throws in total and helped KC reach a 9-1 record as they get ready for a face-off with the Rams, also 9-1, next weekend. They are joined by the Saints, who also reached 9-1 by blowing out the Bengals 51-14. 
43 – The Wolves were unbeaten in their last 43 matches when they score first. They scored first at the Emirates Sunday, after yet another loose pass from Granit Xhaka in his own half. They ceded late, but the streak hit 44 with the 1-1 draw nonetheless.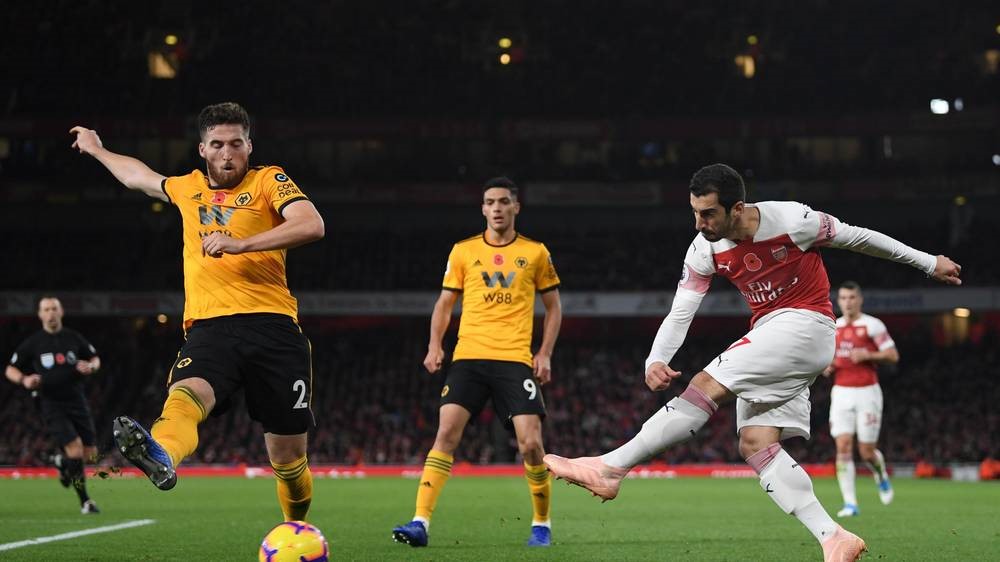 Henrikh Mkhitaryan struck late to extend Unai Emery's unbeaten run, but Wolves will be happy with yet another draw against a member of the "Big Six," their third!
---
78 – With 12 minutes plus stoppage time remaining in their Tuesday home Champions League match with PSV, Tottenham's campaign in Europe looked moribund, having ceded the lead to a 2nd minute strike from Luuk de Jong. In the 78th minute, Harry Kane equalized and 11 minutes later an own goal by PSV's Trent Sainsbury saved the Spurs and, coupled with a 1-1 draw between Napoli and PSG, gives them a glimmer of a hope though they will have to beat Inter, maybe Barca, and hope other results go their way. 
1954 – The last time an NFL team went their first nine games without experiencing a lead change. That has now happened to the Washington Redskins, who are also 6-0 when they score first. Might this be an indication to other teams of what to do when winning the coin toss moving forward? Just saying …
---
Check back in at the same bat time, same bat channel in two weeks for the subsequent round of fixtures, after the last international break of 2018 …