And then there were three … teams that have taken maximum points after four games, that is – including Liverpool, Chelsea and Watford. Nope, that's not a typo, Watford is four for four with their come-from-behind win over previously perfect Tottenham last weekend. Liverpool were 2-1 winners over Brighton and Chelsea saw off Bournemouth 2-0. A little further down the table, Arsenal made it two on the bounce with a victory over Cardiff and United rebounded from their two-match losing streak to draw even with the Gunners on 6 points, placing them in ninth and tenth, respectively.
On the other end of the table, Huddersfield and Cardiff sit just outside the bottom three on two points, with Newcastle and Burnley on a single point and West Ham, of course, in the cellar. Southampton sit on 4 points in 12th place after their 2-0 win at Crystal Palace, with Fulham and Brighton on the same tally and Crystal a point behind.
The other interlopers in the Top 7 are Bournemouth, on 7 points even after their loss to Chelsea, and Everton on 6, though the three draws clenched from the jaws of victory must be worrying for the new owners after another huge summer outlay. 
On to the numbers, with a few nibbles from around the sports world …
---
Match Week 4
1 – Liverpool finally conceded a goal, after Alisson tried to dribble out of trouble and was caught out, but still held on for a 2-1 victory over Brighton.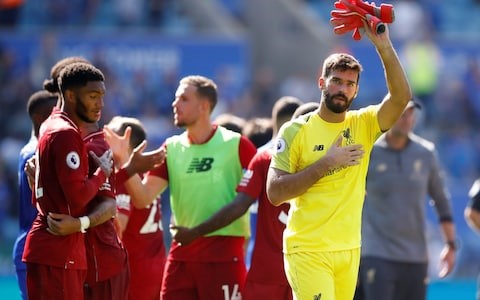 Alisson was grateful his mistake did not cost Liverpool points against Leicester, but might be the missing piece that lead the Reds to their first title in decades.
---
1 – Everton took four matches, but they finally scored the final goal. Unfortunately, they were down 1-0 to Huddersfield and had to share the spoils at home for their third draw in four.
1-1-8 – Arsenal's record in their past 10 away games in the league, heading to Cardiff Sunday. Mustafi scored in the 11th minute to calm their nerves, though they needed two more goals to avoid another poor road result.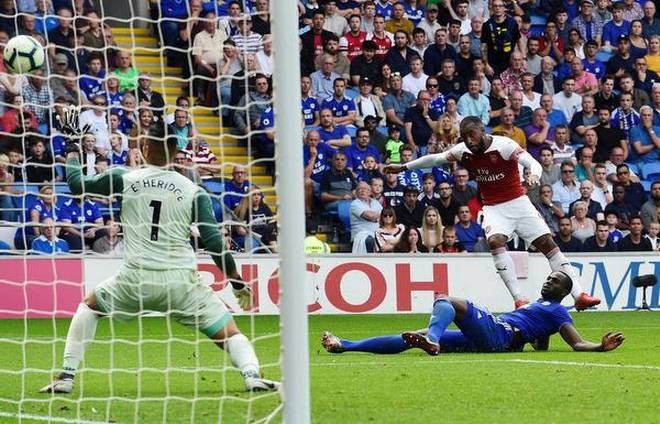 Lacazette scored from an acute angle to give the Gunners a much-needed road win Sunday.
---
1 in 18 – Goals for Morata since Boxing Day last season, as he has another blank before being pulled. Chelsea did win, 2-0 over Bournemouth, with the hot Alonso contributing to both to continue his hot start to the season.
2-2 – Mitrovic scores yet again to make it 4 in 4 this season, as Fulham built a two goals lead, but Brighton pulled one back and then the softest of penalties, on Mitrovic for a handball in the box, meant they had to settle for a point.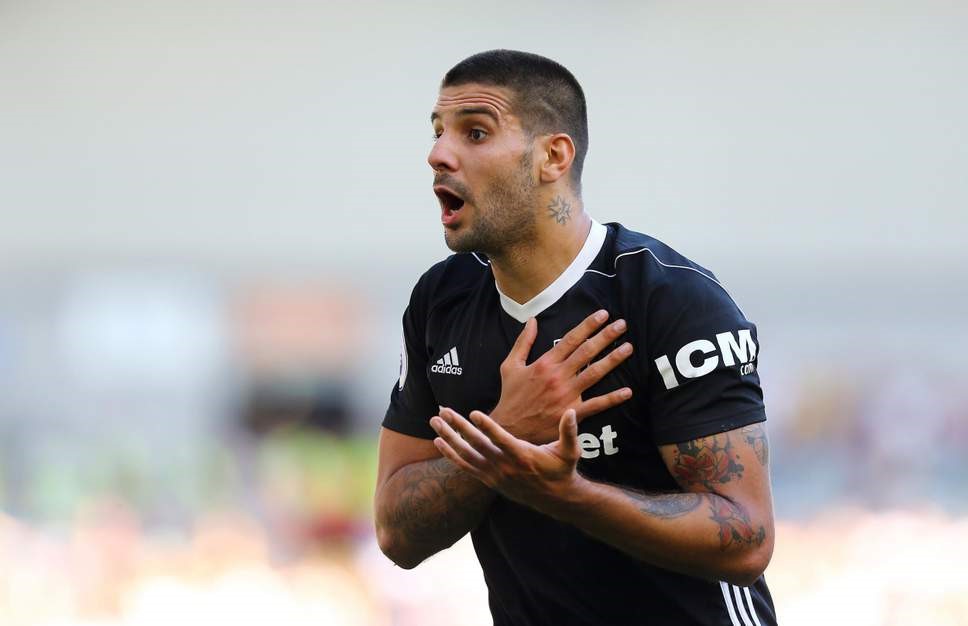 Mitrovic was apoplectic after being called for a pretty harsh handball that cost Fulham two points.
---
2.57 – Harry Kane is still scoring 0.79 goals a match over his last 19, but a troubling statistic has emerged since his latest ankle injury last March. His shots per match fell from almost 6 a game to the current 2.57. While he is still scoring at a similar clip, one doubts he can maintain his current rate unless the shots go back up. Something to watch for Spurs fans still waiting for a trophy for all their progress in recent seasons.
3.5 – It took three and a half matches, but Cardiff finally scored, capitalizing on a Xhaka error in first half extra time to equalize. They did it again in the second half, but ultimately lost 3-2. They were the last side in the top four English leagues to get a goal.
4 – Times Aubamayeng and Lacazette have started together. Over that period, they have conjured 7 goals, including one apiece Sunday, the first for each this season.
4 to 0 – Cristiano Ronaldo Jr. has out-tallied his dad at Juve so far, scoring four goals in an under-9 game while his $29 million a year father has failed to find the net in three matches. However, any talk of a brewing crisis seems rather premature, particularly as he started last season slowly as well, before leading Real to another Champions League final and more respectable finish in the league.
4 in 3 – Goals for Benzema in league matches so far. Real is a perfect three for three to start their first season in 8 without Ronaldo, who has failed to score for Juve yet.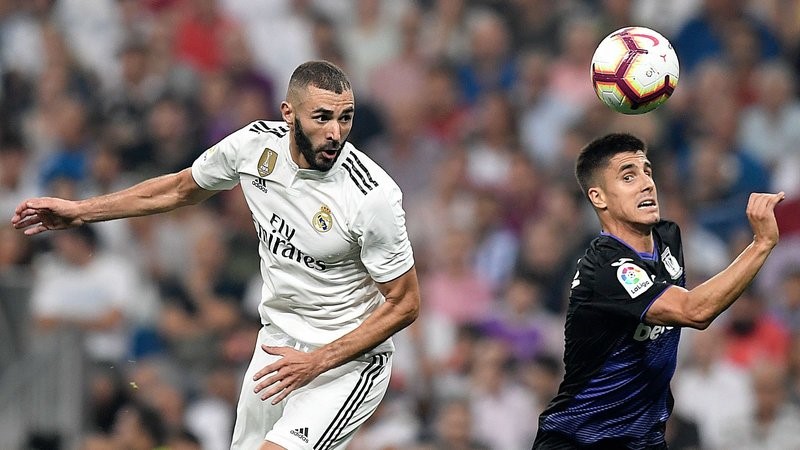 Ronaldo who? Benzema scored a brace as Real stayed perfect Sunday, winning 4-1 over Leganes.
---
8-5-0 – Arsenal's record against Cardiff, going all the way back to 1961. They continued the trend with their win Sunday.
12 – Goals for Sergio Agüero in his last 7 against Newcastle, with 8 in his last 2 heading into their matchup Saturday. He failed to score, but City still won 2-1.
13 – Unlucky 13 for Steven Gerrard as he lost his first Old Firm 1-0, though with plenty of controversy. The buildup to the Celtic goal included a foul and there was a kick out that probably should have seen red. But Gerrard has Rangers back in Europe and looking like they can compete for the Scottish title. It did ease pressure on his old boss Rodgers, who has to settle for the Europa League after a loss to? last week and losing two of his best players in the summer window.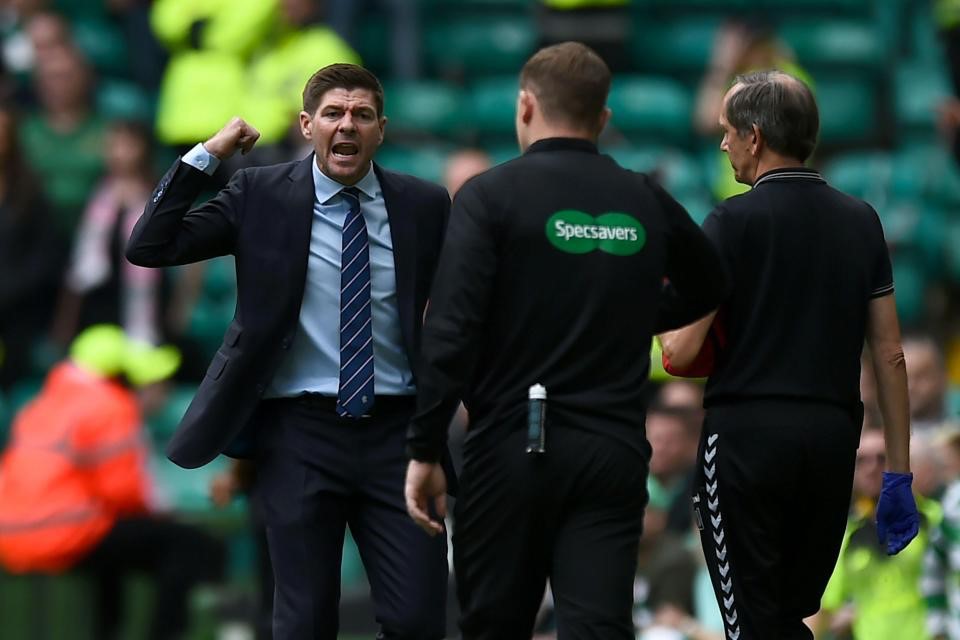 Gerrard was less than impressed with officials as he was hit by unlucky 13 in his first loss with Rangers.
---
12 – Points for Watford after they came back to beat Spurs 2-1 Sunday. That makes them one of the three unbeaten teams after four matches and two points ahead of City. Name anyone in the world outside of Hertfordshire who predicted that one. Actually, anyone period!
14 – Even though Arsenal bossed 72 percent possession Sunday, they gave up 14 shots (3 on target) to Cardiff who had failed to score in their first three league games of the season. The Gunners have allowed 68 shots (27 on target) in their four matches this season and conceded 8. Maybe that explains why they have only managed four clean sheets in their last 24? 
55 – Heat and age got the better of Roger Federer Monday night as he followed Maria Sharapova (23-0 at night until her loss to Carla Suarez Navarro earlier) out of the U.S. Open. The loss to 55th ranked journeyman John Milliman, included the loss of the second set after serving 40-15 for set, 77 unforced errors and 10 double faults, is one of the biggest upsets in the 50-year history of the event. Federer has never lost to a player ranked outside the top 50 in the world in a Grand Slam and some were clamoring to call this the beginning of the end. Of course, they were doing that for a few years before his 2017 resurgence. What might have been the biggest factor in the loss, however, was global warming, which is starting to influence sports across the globe more and more.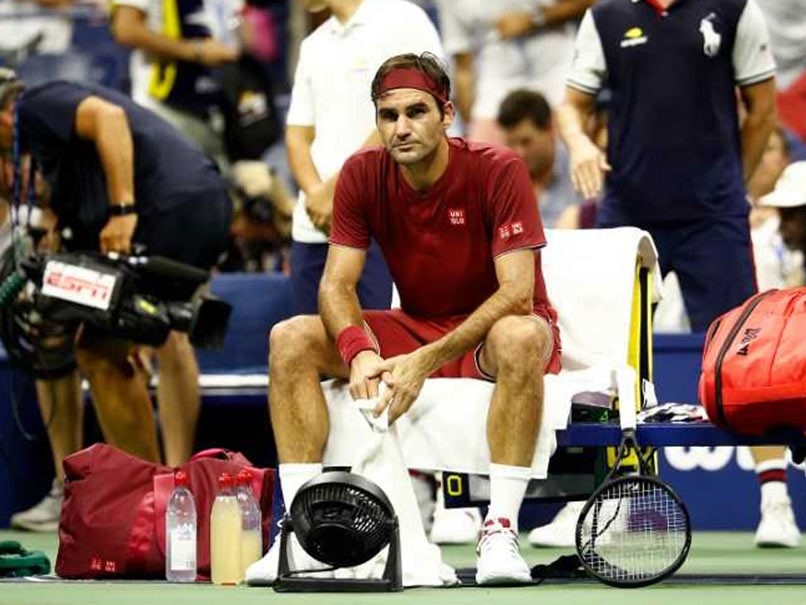 Federer looked lost throughout his surprise Round of 16 loss, admitting afterwards that he had trouble breathing at times. Is father time finally knocking on the door of his stellar career?
---
93 – It looked like West Ham were going to earn their first point of the season, but a concession in the final minute of extra time to Wolves means four played and four losses for the Hammers.  If they are thinking of firing Pellegrini, however, they will have to shell out 15 million pounds, as they forgot to include an early exit (aka sacking) clause.
111 – How many matches Kyle Walker went between goals, before scoring the winner Saturday as Newcastle couldn't hold on for the draw for a second match in a row against the Top 6.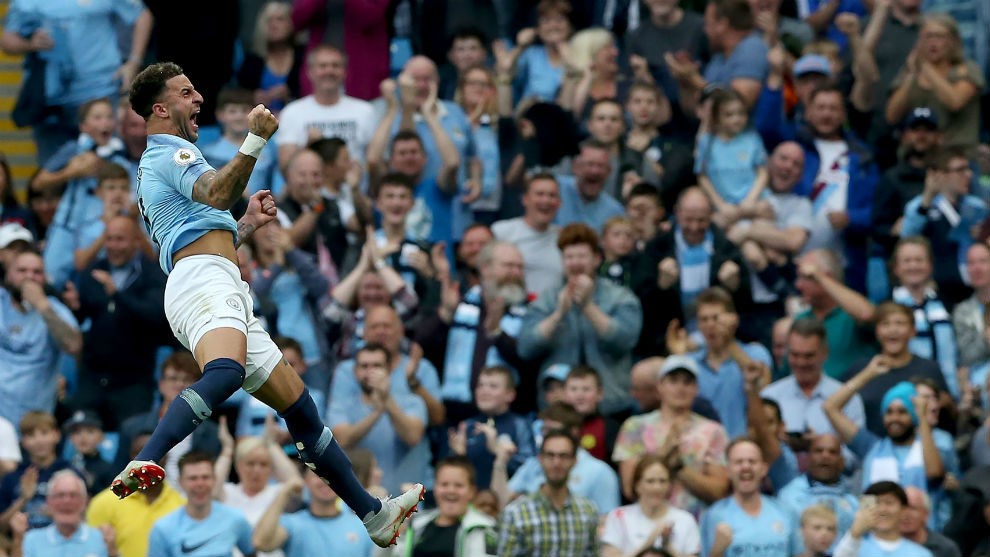 Walker celebrates his stunning winner against Newcastle.
---
1.47 billion – Pounds spent by Manchester City since 2010, tops in European Football. Chelsea (1.31b), United (1.1b) and Liverpool (1.07b) are also in the one billion club, as are Barca (1.25), PSG (1.24) and Juve (1.08). Clearly, money DOES matter in football. Real Madrid has spent 912 million over that stretch, winning the league and four of the last five Champions Leagues, but if looking at domestic titles, money clearly plays the biggest role, though Liverpool still have to find a trophy to align with their outlay. Rounding out the top ten, by the way, are Roma (809m) and Atletico Madrid (764m). The one outlier on the list may be Bayern Munich, who are 19th at 554m but perennial winners of the Bundesliga and Monaco who won a title in Ligue Un and reached the Champions League semis (706m, 11th place). 
---
We are on the first international break of the season, but check back in at the same bat time, same bat channel in two weeks for the subsequent round of fixtures …