Happy 2019! Another year of the Trump presidency under our belt, the good news is there might only be two more of them (or less, if things really go the country's way). On to football … Spurs were starting to look like a real threat to challenge for the title after finding ways to win even the matches they played poorly in, so when they took a 1-0 lead over Wolves at "home," it seemed like a three-point banker. But Wolves are not only having a great first season back in the top flight, but a great season against the top 6 and that continued Saturday, as they scored three in the last 18 minutes plus extra time to win it 3-1. When Liverpool beat Arsenal 5-1 later the same day, the Reds has stretched their lead at the top to 9 points. Man City did win Sunday 3-1 to cut the lead back to 7, but Liverpool are certainly in the driver's seat to win their first title in 28 years (stay away, Stevie, at least until May, please!). United and Chelsea also won Sunday, to maintain their positions in fourth and sixth, respectively, while the Blues squeezed Arsenal further from the top four.
At the bottom of the table, Huddersfield have supplanted Fulham, a measly 10 points to show from their first 20 matches. Fulham have hit 14 points, though only 2 away from home in 10. And completing the bottom three is Burnley, who have the same 14 points as Southampton but a worse goal difference. Just above them are Cardiff and Newcastle on 18 points and goal-shy Crystal Palace on 19. The relegation battle looks likely to include those seven sides, unless another team above goes on a really poor run.
In case you didn't hear (but care), the NFL regular season came to a close last weekend, with some of the 12 playoff sides and seedlings still up in the air. Kansas City won to maintain top seed in the AFC, pushing the Chargers, who also won, down to fifth, even with the same record as the #1 seed. The Patriots did move up to second with their victory, Houston to third by winning their division, Baltimore secured fourth seed and pushed the Steelers out of the playoffs completely, and Indianapolis beat the Titans in a memorable season capper to snatch the last spot from them. The Chargers will go to Baltimore and Indy to Houston next weekend.  In the NFC, the Saints kept the top seed, the Rams took second (with the same record as New Orleans), a dangerous Chicago Bears slid into third and the Cowboys won the NFC East to snatch the fourth seed. The two wild cards went to Seattle, who play Dallas next weekend, and last year's Super Bowl champs, who will face off against Chicago after they won and the Vikings lost Sunday. A bunch of coaches were also fired including those in Tampa Bay, New York and, finally, Cincinnati.  
Meanwhile, in College football, Nick Saban, who seems to me like a coach who swallowed a squirrel right before most interviews, really likes squirrel, but is trying to hide that fact because, let's be honest, humans eating squirrels is a little strange, led favorites Alabama over a game Oklahoma to reach the title game yet again. He will have the chance to become the NCAA football coach with the most national championships ever if he can win round 4 with Clemson, who absolutely crushed Notre Dame in a much-hyped contest that failed to live up to the hype (why does that sound familiar?).
On to the numbers, with a few nibbles from around the sports world …
---
Match Week 18-20
1 – Cardiff finally have their first away win in the league, more than halfway through the season. It took a stunning shot in the 92nd minute from Victor Camarasa to give them the 1-0 victory over Leicester – that side that just pulled off a huge upset of City a few days earlier. Yup, it all makes sense to me as well.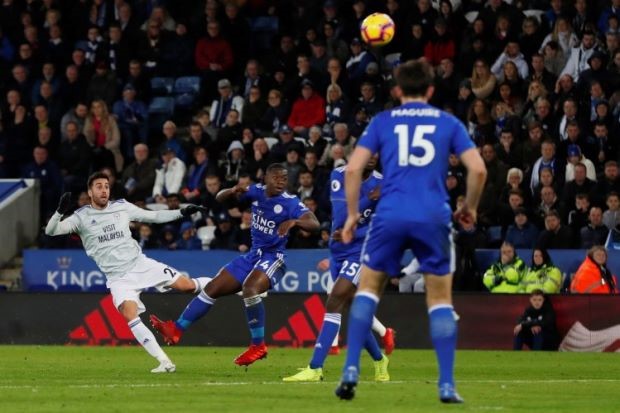 Camarasa finally got Cardiff an away win, that moved them out of the bottom three. Could Neil Warnock finally make it through a season in the top flight and escape the drop?
---
1 – Maitland-Niles scored his first senior goal for Arsenal to give them a 1-0 lead early at Anfield Sunday, before Arsenal's shambolic defending allowed Firmino to score his first and then second goals at Anfield this season within less than two minutes. All this happened within the first 16 minutes. The match ended 5-1.
1-9 – The Michigan Wolverine's record against sides in the Top 10 under Jim Harbaugh after they were blown out in the Chick-fil-a Peach Bowl by #10 Florida 41-15. No wonder the Jets are so excited about trying to lure him back to the NFL …
3 – Ole Gunnar Solskjær won his third straight match with United Sunday, 4-1 over Bournemouth, to become the third manager with United to win his first three in charge, joining Sir Matt Busby and, um, Jose Mourinho. Huh … They are only three points behind a suddenly struggling Arsenal in fifth.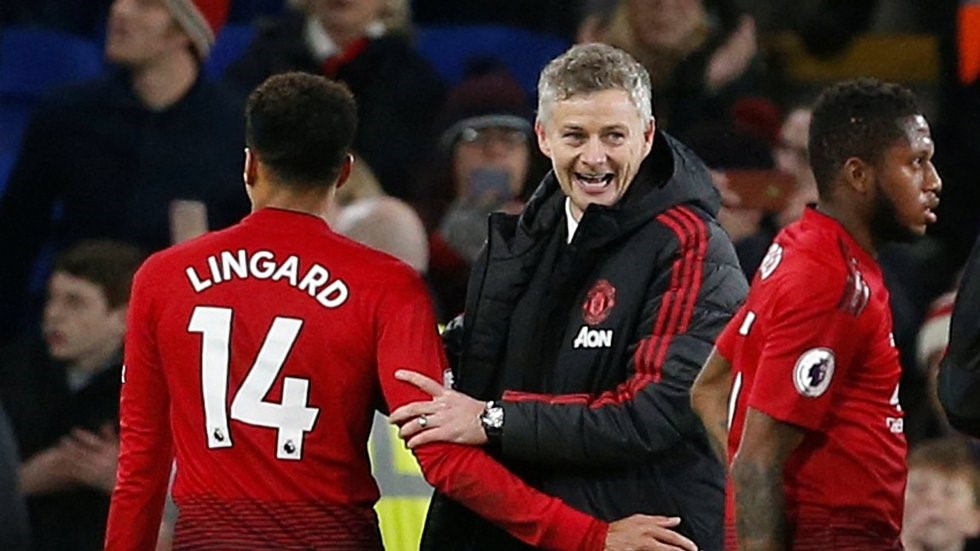 The "Ole" effect seems to have emboldened United and some of its struggling stars, but the question is whether it is a permanent change or simply a jump after the rocky Mourinho tenure.
---
3 – Dallas Cowboys tight end Blake Jarwin went his first 16 games as a pro without a single touchdown catch. In the season finale, he scored three as the Cowboys took a 21-10 lead. But Gallman Jr. scored his first for the Giants to give them a 25-21 lead. It went back and forth until Dak hit Beasley for a stunning TD on 4th and 15 and, with a two-point conversion, won it 36-35 to move to 10-6 on the season. The Cowboys are now 9-3 in games of 8 points or fewer and take big momentum into the playoffs.
3 – The Indianapolis Colts became only the third side ever to start 1-5 and make the playoffs. The other two were the 2015 Chiefs and the 1970 Bengals. They played a win or die game against the Titans to end the regular season, and won it 33-17. Andrew Luck, who didn't take a snap last season and wondered if he would ever play again, led the way with 39 TD passes (only topped by Mahomes 50) and over 4,000 passing yards.
4-2 – You might remember that the Gunners started December with a huge win over Tottenham 4-2. Since then? Very uneven, as they blew a lead against United to settle for a 2-2 draw, barely beat Huddersfield 1-0 and won their final Europa League match by the same score before their unbeaten streak finally came to an end in a 3-2 loss to Southampton. That was followed by a 2-0 home loss to the Spurs in the League Cup, a 3-1 win over Burnley, a disappointing 1-1 draw with Brighton and the pummeling by Liverpool. In total, that is 4-2-3, and five points outside the top 4.
5 – Measly goals in 20 halves of football for Crystal Palace at Selhurst Park this season. They had only conceded 9 though, the least total goals scored (14) in any stadium (not surprisingly, City leads the way in total goals scored, with 44 at the Etihad in 10). Ironically, it was N'Golo Kante who finally broke the deadlock for Chelsea Sunday at Selhurst with his third of the season in the 50th minute as the Blues moved five points above Arsenal with their 1-0 win. Kante, by the way, has now matches his goal total from the previous three seasons combined, showing that Sarri might know what he's doing taking, arguably, the best defensive midfielder in the world and moving him to a more attacking role.
7 – Do you think Paul Pogba might be happy to see the back of Mourinho? In the three matches since the Portuguese manager was sacked on 12/18, Pogba has 4 goals and 3 assists. In his previous 22 appearances in all comps, he had 5 goals and 5 assists. He is also completing 30 more passes a game at a higher accuracy rate (86 vs. 82%). Is the diminishing return of trophies that come with his particular brand of poison really worth the cost of the three or so years you get of his traveling circus?

Pogba appears to be enjoying his football again. Is there a bigger kill joy in the world than Jose Mourinho at the moment? Oh, yeah, lest us forget our Commander and Thief.
---
7 – Leicester City will be forever remembered as the most unlikely champions in football league history, but 2018 has them topping another list – most ill-disciplined with 7 red cards, two more than the next highest tally of Southampton.
11 – The Jets have now lost 11 or more games for three straight seasons, the first time that has happened to them since 1975-77. They are also 8 years without a playoff appearance and just fired their coach, who oversaw one of the worst three-year periods in the sad franchise's history. At least we have Super Bowl III to look back on fondly, or something … call me a conspiracy theorist, but I sometimes think that Joe Namath has created a secret cabal to maintain his legacy by ensuring the Jets suck in perpetuity.
16 – Speaking of underachieving coaches, Marvin Lewis is finally out in Cincinnati after 16 seasons and exactly zero playoff wins (0-7). His overall record was a respectable 131-122-3, but the mystery of why ownership stuck with this level of mediocrity for so long is hard to unravel. Lewis is a nice guy, no doubt, and the fans stuck with him for longer than one imagined they would, but when they finally turned on him, you knew his fate was sealed. He was also 8-26 against the hated rival Pittsburgh Steelers as well …
25 – Nick Foles hit that many straight pass completions leading the Eagles to a must win that ultimately, together with the Vikings 24-10 loss to Chicago, secured a return to the playoffs. Is Foles becoming the best backup in NFL history? A return to the Super Bowl would certainly seal the deal, but many are choosing their opponents next weekend, the Bears, as the most likely surprise side to come out of the NFC.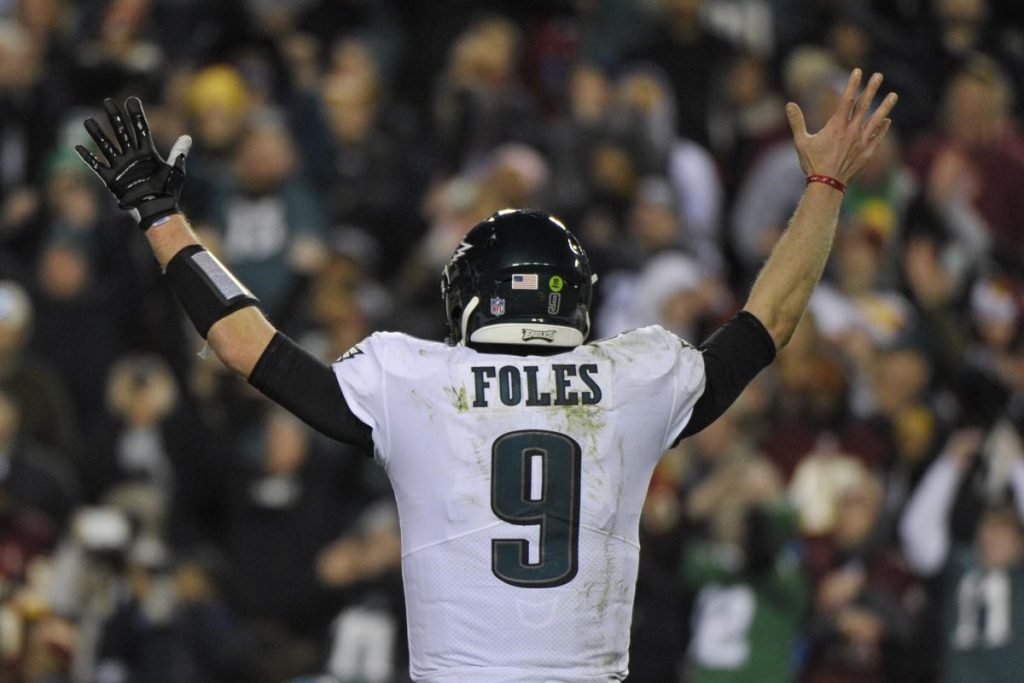 Nick Foles is a slightly above average quarterback for his career (or maybe simply mediocre is more accurate), but seems to shine when the pressure is on, again leading the Eagles to the playoffs with impressive displays after franchise QB Carson Wentz went down with injury for the second season running.
---
25 – UCF's winning streak was finally put to rest Tuesday, as they lost 40-32 to LSU in the PlayStation Fiesta Bowl. It was an impressive run, but affirms those who argue the school's strength of schedule makes it an impossible inclusion in the National Championship group of 4. Last season's Peach Bowl win over Auburn 34-27 certainly raised some eyebrows, but this loss restores some credence to the narrative, though they came back several times to make the game competitive.
27 – Baker Mayfield now holds the record for most TD passes by a rookie, putting three on the board Sunday against the NFL's top ranked defense, the Baltimore Ravens. It was ultimately a losing effort, but Mayfield broke the record for rookie QB TDs previously shared by Peyton Manning and Russell Wilson … in only 13 games. He has thrown at least one TD in every one of those starts to go within one of the Browns record for consecutive games with a TD and hit multiple TDS in 9, a rookie record for the Browns and the most by any of their QBs since 2007. The Browns finished a respectable 7-8-1 and will look to build on that next season. It does re-raise the question of whether Hue Jackson was the worst head coach in NFL history and … of course … was just recommended for the top spot at Cincy by perpetual underachiever.
28 – It will surprise no one to hear that Mo Salah has the most league goals for 2018 with 28, but he is not the most clinical – an honor that goes to Arsenal's Pierre Aubameyang, who scored his 23 league goals in 2018 on only 79 shots (29.1% conversion rate). Lukaku is also in the top five, above everyone from City and Liverpool as is teammate Martial. The most unlikely name in the top 10 is Luka Milivojevic of Crystal Palace who has scored   12 from 55 – pretty impressive for a defensive midfielder on a side that has trouble finding the back of the net.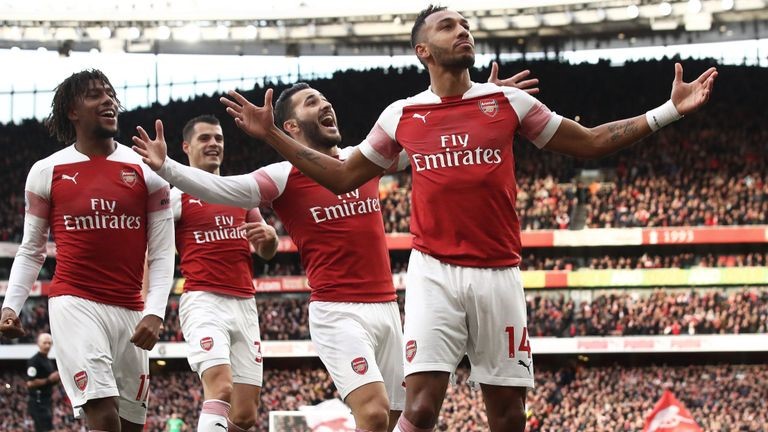 Aubameyang has arguably been the top striker in the league this season, having hit 14 after a goal Tuesday.
---
36 – Mikaela Shiffrin might have had a somewhat disappointing Winter Olympics this year (a gold and a silver when some thought she might win five golds, though she did tie for the most career medals by an American Olympic alpine skier), but she just concluded the best year of her career, notching her 36th victory in the slalom to set a world record for women in the 52-year history of the World Cup. She finally overtook idol Marlies Schild, who won her 35th title before retiring in 2014. Shiffrin is now only 4 behind Swedish great Ingmar Stenmark's 40 for the best ever in the sport.
66 – Eddie Howe has rightfully been credited for his sides attractive attacking football and verve, as well as keeping Bournemouth in the top flight after a precipitous rise from the fourth tier, but their defending has been more than suspect. It is thus not that surprising they find themselves as the top side in conceded goals for calendar year 2018. Maybe more surprising is Southampton in second, a few seasons after some stout defending saw them finish in the top 7.
88 – Manchester City and Liverpool tied for the most points earned in the calendar year 2018. City, of course, cruised to the title last term while Liverpool currently lead by 7 points, though a showdown with City looms Thursday. The two lost only 8 of a combined 74 matches in 2018!
99 – City set records last season for scoring, surpassing the century mark of league goals. This season, production is slightly down so far and they thus fell one goal short of 100 in 2018. That was still best in the league.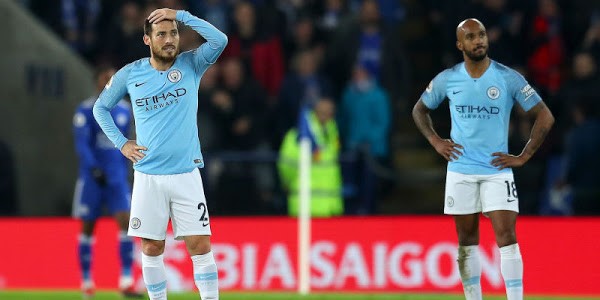 City struggled in late December to fall briefly to third in the league, though they rebounded with a 3-1 win at 10-man Southampton last Sunday. They are still scoring goals in droves, but have only one clean sheet in their last 10 and gave up three goals to less-than-prolific Crystal Palace and two to Leicester City over five days.
---
408 – James Harden's tally over the past 10 games, joining Kobe Bryant and Michael Jordan as only the third player to amass 400 points in any 10-game stretch. He also joined Russell Westbrook (from two seasons ago) as the only player ever to score over 40 points in four straight games. His scoring prowess has improved Houston from 14th place and out of the playoffs to 4th in less than three weeks. Harden might be the greatest scorer of his generation, or at least top 5, but his legacy might ultimately be judged by whether he can continue those exploits in the playoffs and finally get Houston back to the Finals and a championship.
496 – Austin Seibert of Oklahoma set the all-time FBS scoring record in the second National Championship semifinal Saturday night. It was an odd moment to break the record with OU deep in Bama territory on a 4th and 6, the field goal making it an 18-point game. The game finished 45-34 to set up a fourth showdown between Bama and Clemson in four years. Go anyway playing Bama!
---
Check back in at the same bat time, same bat channel next week for the next round of fixtures (and yes, Paris rocked, for those who were wondering) …