The weekend kicked off last Friday night as Cardiff City won their second in their last three 2-1 over a Wolverhampton side that is in a serious skid, having lost five of their last six (with only a 1-1 draw with Arsenal over that stretch). Saturday, United took another step backwards, with a 2-2 draw against struggling Southampton while Man City ultimately cruised past Bournemouth 3-1, after a bit of a scare heading into the second period 1-1. Sunday, Arsenal and Tottenham faced off in the first North London Derby of the season, with Arsenal winning an instant classic 4-2. Chelsea had easily beaten Fulham earlier 2-0 and the third derby of the day saw Liverpool score a miracle last second winner to sneak past Everton 1-0 and keep pace with league leader City. At the bottom, Cardiff's big win took them out of the bottom three, replaced by struggling Burnley, alongside the other two from last week, Southampton and Fulham.
The Champions League completed Match Day 5 last week and solidified matters for most of the groups. In Group A, Atlético and Dortmund are through, though top spot is still up for grabs. Club Brugge is guaranteed of Europa League football. In Group B, Barça is through as winners, but Tottenham and Inter are tied on 7 points, though the latter has a much easier sixth match, at least on paper. Napoli now leads Group C with 9 points, with PSG currently in second on 8 and Liverpool in third on 6 (after losing at PSG 2-1 Wednesday). Liverpool will have to win their final match against Napoli either 1-0 or by two goals to progress. Group D has Porto as the winner and Schalke as guaranteed second, with the other two sides still vying for the Europa League (or maybe to avoid it, who knows?). Bayern Munich are doing better in Europe than in the league, but while guaranteed passage to the knockout state, still have to compete with Ajax to win Group E, as the latter have an impressive 11 points from 5 matches (and are guaranteed passage themselves). Man City and Lyon are through in Group F, with City only needing a point to guarantee first place next match day. Finally, United guaranteed their own passage with a last gasp equalizer from Fellaini over Young Boys Tuesday and will be joined by Juve, though the winner of the group is still up in the air.
And Europe continued to offer up some surprises, with Dortmund's overall lead up to 7 points in the Bundesliga and still nine over Bayern and Barça, though back in first, only by a solitary point over Sevilla and three over Atlético. Even Real, after a pretty tepid start, are only five points off the pace with an El Clásico still on the table for the second half. Things are more stable in France and Italy, with PSG holding a 14-point lead over second place Lille in the former and Juve up 8 on Napoli in the latter. And maybe most surprising in all of Europe, Kilmarnock is currently leading the Scottish Premiership over both Celtic and Rangers, though the two sides are both a mere point behind.
On to the numbers, with a few nibbles from around the sports world …
---
Match Week 14
1 – Dive by Heung-min Son, which gave the Spurs the penalty that gave them a 2-1 lead in the first North London Derby of the season. And their first goal looked offside as well. But Arsenal got a deserved penalty to open scoring and Vertonghen a deserved second yellow late on, so Mike Dean and the dive did not determine the outcome. Whew, given how Dean has cost Arsenal points over the years.
1 – Callum Wilson of Bournemouth became the first player all season to score a league goal from open play against Man City. The goal, right before halftime, after a couple of good chances, equalized the match 1-1. Bournemouth ultimately lost 3-1, with Man City having now conceded only 6 goals in their first 14 matches.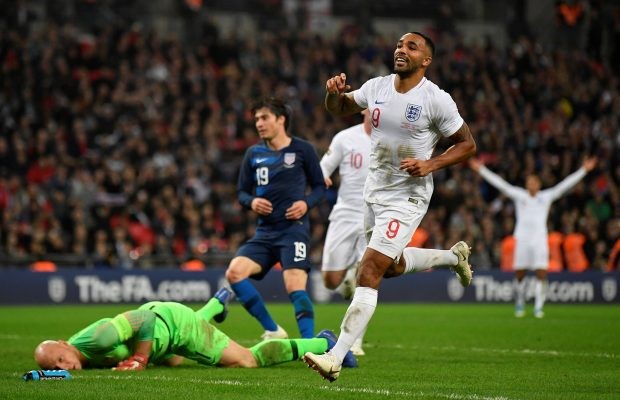 His goal Saturday was his second "first" in the past few weeks, as he scored his first international goal for England against the United States November 15, as the home side cruised 3-0.
---
3 – Anthony Lynn is only the third running back to become an NFL head coach, following Alex Webster (1969-73 with the Giants) and Dan Reeves (1981-2003 with three teams). Lynn is 18-6 with Chargers over his last 24, including a 33-30 come-from-behind win over the Steelers Sunday night. And though I forgot to mention it last week, Philip Rivers set a record for accuracy in a 45-10 win over the Cardinals a week earlier, completing 28 of the 29 passes while throwing for 259 yards and 3 TDs. Overall, he is completing close to 70 percent of his passes (69.7%) this season for 3,418 with 28 TDs and only 6 INTs – leading the Chargers to a 9-3 record overall. Some are even picking Lynn and his Chargers to meet their new LA rivals the Rams in the Super Bowl …
3 – Wins for Mark Hughes in 22 matches with Southampton, and only 1 in 14 this term. Ironically, it was a 2-2 draw with United that the board decided was the last straw and they sacked him Monday. During his stay, he did lead them to safety with a win over Swansea in the final weekend and a semifinal berth in the FA Cup, but they are currently in the relegation zone and have only 12 goals in 14 league matches this season.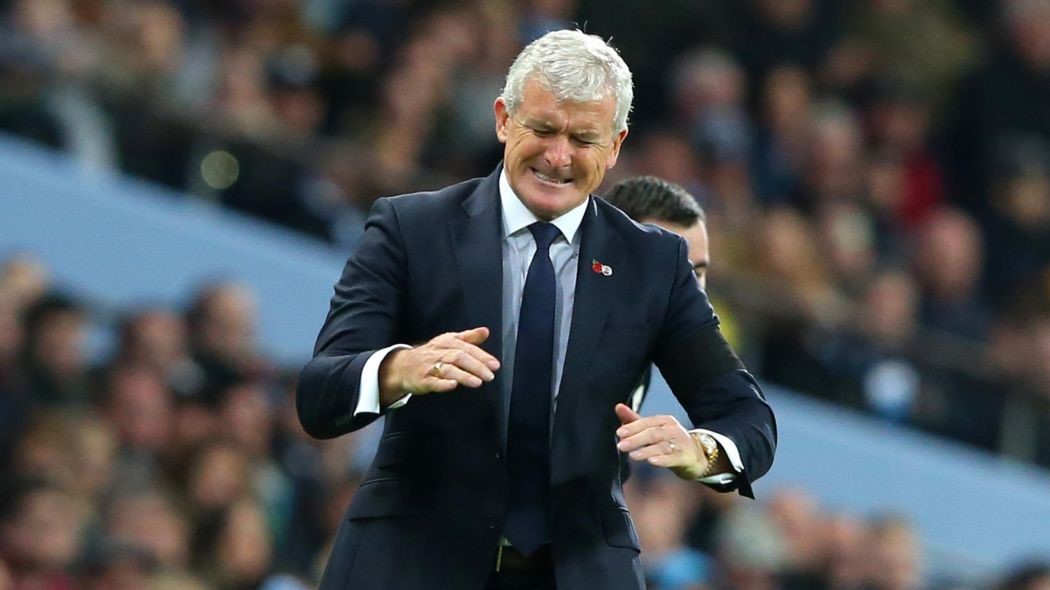 One wonders who will hire Mark Hughes next. His overall management record in the Premier League? 466 matches played, 158 wins, 127 draws and 181 losses with 572 goals for and 643 against. Hmm …
---
8 – Harry Kane continued his hot streak against the Gunners, with his eighth goal in eight derbies, giving Tottenham a 2-1 lead from the spot. As mentioned above, however, it wasn't enough as Arsenal came back to win 4-2 in a game they dominated for all but a few minutes (including the four when Tottenham scored their two goals).
8 1/2 Years – Since an English manager has won a match at the Etihad, the last being Harry Redknapp while in charge of Tottenham. Bournemouth did equalize, as mentioned above, but few thought they would go on to win it. The Citizens are undefeated for 23 straight in the league and have only lost twice in their past 52 league matches!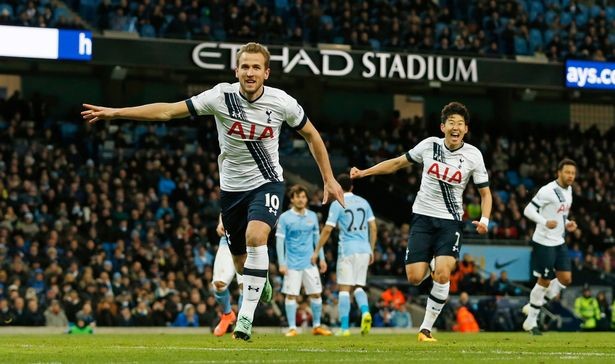 While English managers have struggled at the Etihad, others have won there in recent seasons, including Tottenham when they appeared ready to take the title from ultimate winner Leicester City after a 2-1 win over City in Matchweek 21 of the 2016-17 season
---
10 – Pierre-Emerick Aubameyang now leads the league with 10 goals this season, including a brace against Spurs that equalized the game 2-2. The best striker signing at Arsenal since, well, Lacazette, who scored the winner! Aubameyang also leads the league with only 104 minutes per goal at present, a little under a goal a match.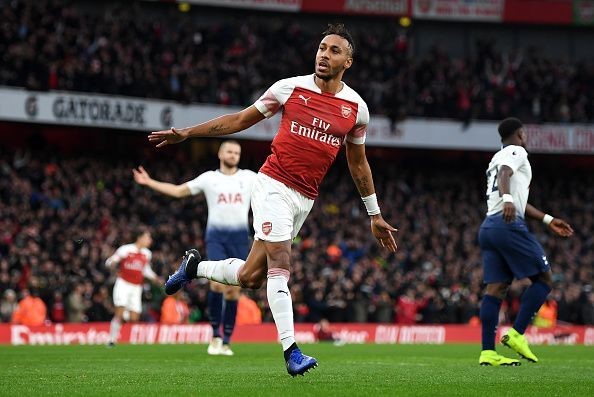 Aubameyang put two past the Spurs in a huge win for the Gunners.
---
10 – The Saints set or were close to all sorts of records last Thursday, but none of them very good, as their 10-game winning streak was brought to a close in a 13-10 loss to the Cowboys. Brees, who is having one of the best seasons ever for a QB in NFL history was 18 of 28 for a mere 127 yards with a touchdown and an awful interception late that killed a chance at a comeback. The Saints were averaging 37.2 points per game, but gained only 176 total yards Thursday, the fewest since way back in 2001. Brees started the game 0-4 game for the first time in his 18-year career and the Saints were shut out in the first half (when they gained a stunning 59 yards) for the first time in 71 games. The 10-game streak was the second best in their history, by the way, with the best (13-0) also broken by Dallas. That season, the Saints won their one and only Super Bowl.
10 – Goals for Raheem Sterling in 8 matches against Bournemouth, including the one that restored their lead Saturday. They ultimately won 3-1, as Gundogan scored the third. Sterling has an impressive 8 goals and 6 assists in 12 Premier League matches this season.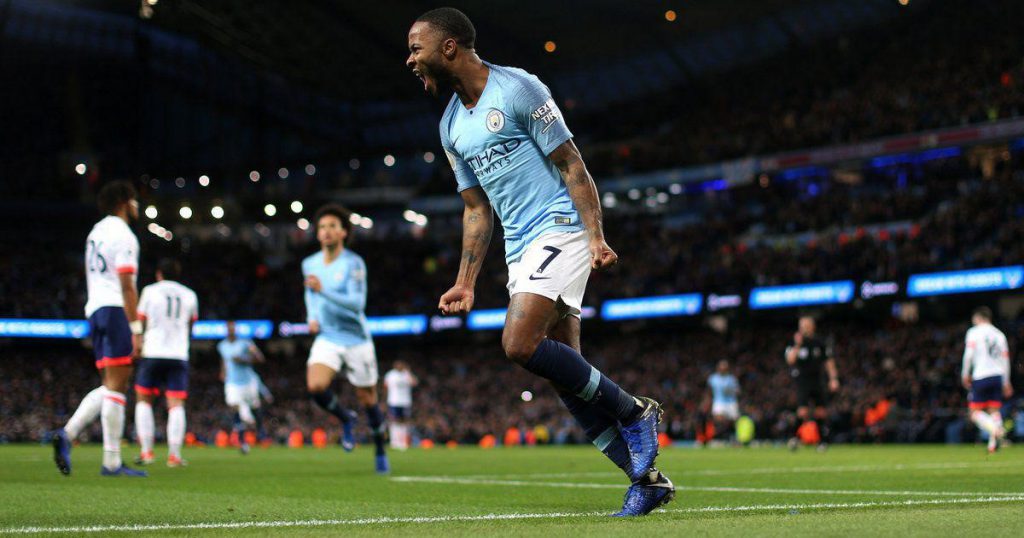 Sterling's goal made him the first player in Premier League history to score in each of his first six appearances against one team.
---
10 – And one last 10 … in the 5 years of the new College Football Playoff format, 10 teams have appeared in total, of the 20 available spots, with Alabama the only one to make it all five years. Clemson is next with four and Oklahoma with three. Those are the first three teams in this year's playoff, together with newcomer Notre Dame. The Big 10 was left out for a second year running, and one loss Ohio State is probably wondering why, though that 49-20 blowout loss at the hands of Indiana probably made the difference. And those arguing for a two loss Georgia should look at basic math before continuing that conversation. Finally is UCF, who arguably legitimated themselves last season with a Bowl win over Auburn 34-27. They have won 25 straight, but the 104th ranked strength of schedule is killing them.   
13 – PSV started the season with 13 straight wins and might have been on the comeback trail Sunday against Feyenoord, but the fans decided to intervene by throwing a second ball into play just as PSV looked like having a great chance to score. They ultimately lost 2-1 and now sit only two points above Ajax, who have also had a strong start to their Eredivisie season.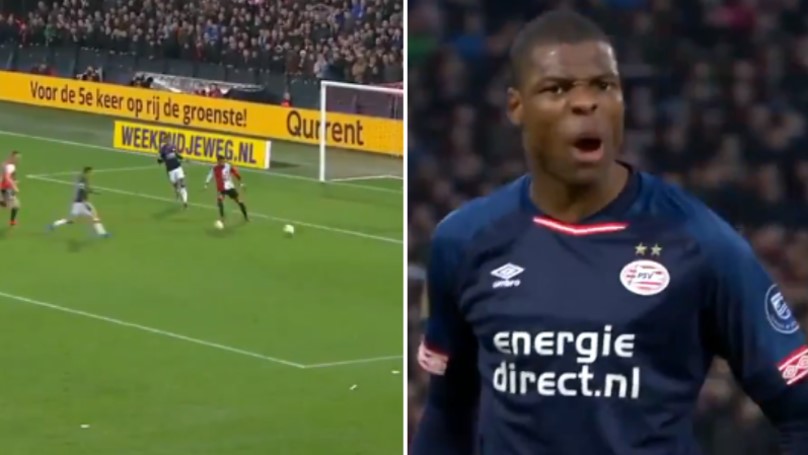 World football might have to figure out a fair punishment if fans again intervene with a second ball as a side appears on the cusp of scoring. It's actually surprising it doesn't happen more often.
---
14 – There is growing evidence that the "special" in Mourinho's moniker might need a serious rethink, even as he still has an impressive haul of silverware in the not so far off past and an impressive streak of 14 qualifications for the knockout stage of the UCL in 14 attempts, as United's narrow 1-0 victory over Young Boys secured their passage yet again.
15 – The number of missed field goals the Chargers have had since the beginning of last season. They also have 12 missed extra points and 7 kickers in total. Not surprisingly, those are all the most by any team in the NFL over that stretch. Their rookie kicker Bagley missed one early and missed the one that would have won the game … then got a second chance and … it was blocked … but the Steelers were offsides again. His third chance? He finally got it through (the Steelers were offsides a third time, but it was declined) and the Chargers won 33-30.
15.8 – NFL ratings are up 5 percent this season following a two-year period where the league was struggling. Games averaged 15.8 million viewers in the first 12 weeks of play, up from 14.9 million on average last season. It's still off the 17.9 million average of 2015, but it's clear many have gotten over the fact they are watching grown men play a game that is likely to cause permanent damage to their bodies and minds (and likely cut their lives short). One thing that might have helped – the 8,502 points and 980 touchdowns scored through those 12 weeks are the highest ever at that point in a season.
>16 – It was more than 16 hours on the pitch since Lukaku's last goal for United before scoring the first as United recovered from a 2-0 deficit at Saint Mary's to equalize 2-2. That's how it finished, and United have now won just 3 of their last 9. Lukaku went 12 matches (some as a sub) without a solitary goal for United.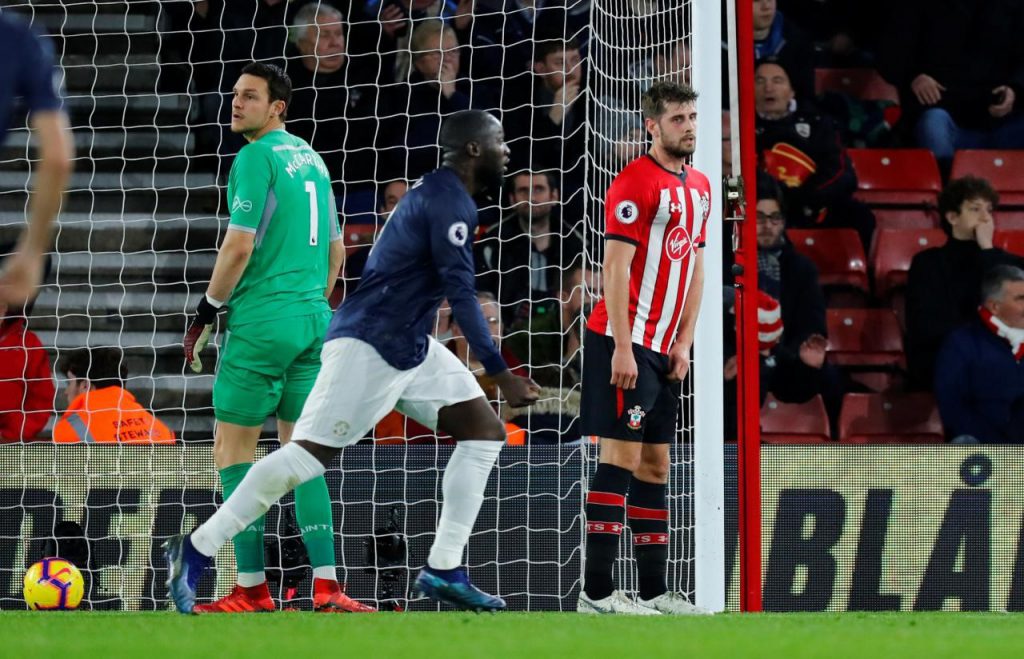 Lukaku understandably celebrates his first goal since September 19th, but the 2-2 result at struggling Southampton has to feel like lost points to the Red Devils.
---
17 – Todd Bowles has lost that many of his last 22 NFL games and, from last week's loss to the Pats, is certain to miss out on the playoffs again. This could be his swan song as the Jets coach and, like a microcosm of Marvin Lewis' career at the Bengals, might be a decision a little late in coming. I like Bowles, but some of his decisions are real head scratchers, including giving Tom Brady an extra shot last week and going super conservative after building a lead they ultimately lost to the Titans Sunday.
18 – Years since Everton last won at Anfield. That streak continues in heartbreaking fashion (see below). It could have been different but for two misses from Walcott, who, as an announcer put it back in September – plays a good game 1 in 10. I've always like Theo, but am really glad he is no longer Arsenal's problem.
20 – One of the major reasons Mark Hughes is gone is the fact that Southampton have lost 20 points from winning positions during his eight-month stint, including 10 this season alone. The latest was the aforementioned draw with United, where their 2-0 lead after 19 minutes was wiped out before halftime. The next closest over that stretch was Huddersfield with 12, followed by Chelsea with 9.
31 – Game winning goals by Liverpool in extra time in Premier League history, the most by any side. The latest came in the nightcap to the weekend Sunday in the most bizarre of circumstances. Virgil Van Dijk completely mishit a shot from outside the box in the 96th minute. The ball flies toward the goal and Jordan Pickford loses his mind and hits the ball back into play when he could have just tipped it over. Origi kept playing when everyone had given up, and heads it in for the winner in his first minutes in the league this season.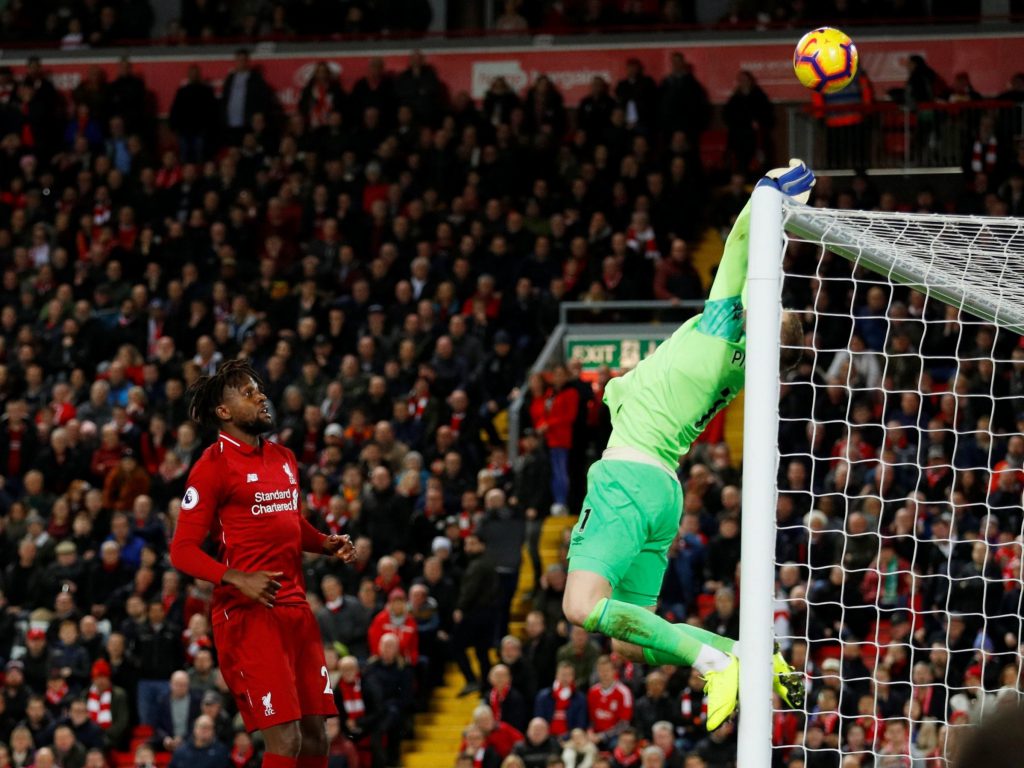 Pickford attempted to tip the ball over as Origi looks on expectantly, only to hit his fingers on the crossbar and then watch helplessly as the Belgian headed in the winner.
---
31 – Neymar became the top scoring Brazilian in the Champions League by scoring his 31st goal in 52 appearances, as he added the second in PSG's 2-1 win Wednesday. The victory guaranteed progression for the Paris outfit.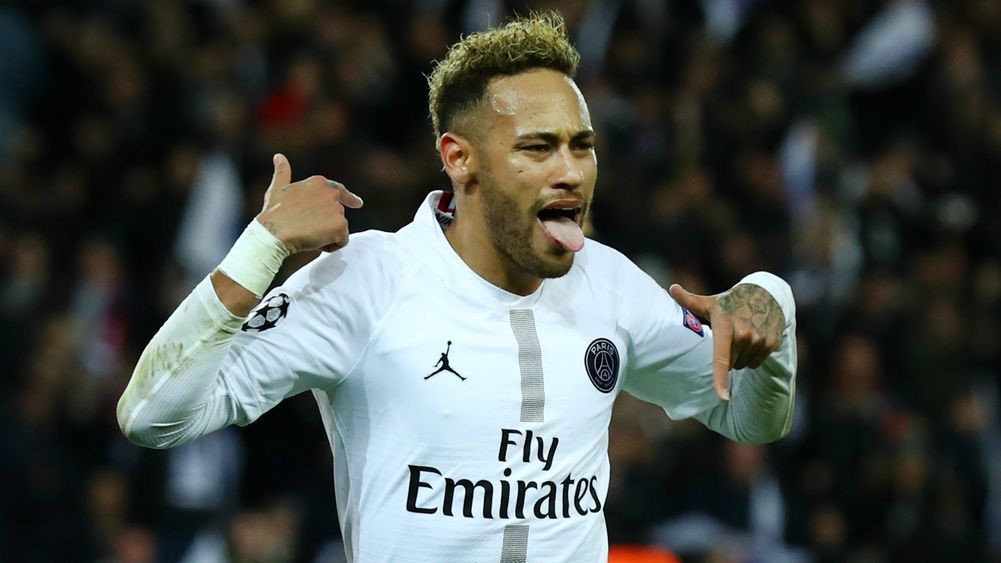 Neymar's antics turn off many football pundits, but his talent is unquestionable.
---
77 – Wins for Arsenal in the North London Derby to 57 for Spurs. The latest was particularly sweet Sunday after several seasons of dominance by the Spurs, including ending St. Tottenham Day two seasons ago. It was the physicality, the resiliency and finishing the match that impressed me most. The Emery era was truly launched as Arsenal took their unbeaten streak to 19.
115 – And done. Chicago Bulls coach Holberg has exactly 115 wins with Iowa State and that many with the Bulls, who fired him Monday. The difference? He had only 56 losses to go with that win total while at Iowa State while racking up 155 with the Bulls. This season the Bulls are 5-19 and scoring 103.4 points per game (28th in the NBA), which would have been great in the Eastern Conference a few seasons back but just isn't good enough at present, as they are being outscored by almost 10 points a game on average.
400 – It took Guardiola 543 matches to reach that number of wins, as he continues to rack up victories, titles and trophies. The two questions I think some will ask about his legacy if he continues on this trajectory is could he win without the best team in the league, which he had in Spain, Germany and now England, and should he have won more Champions League Crowns. Of course, there's still time to address the former and he can add to his tally with this team maybe even this season …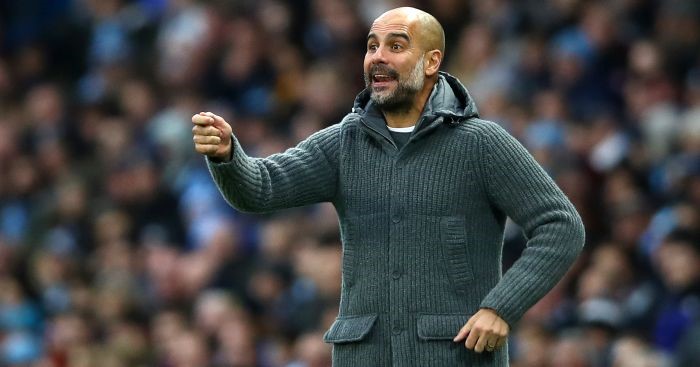 Guardiola has gotten more casual with his sartorial choices over the years, but his winning record as both a player and manager is almost nonpareil in the history of world football.
---
1949 – The last time the Cardinals beat the Packers at Lambeau Field, until last Sunday. The 20-17 loss was the last straw for the Packers and head coach Mike McCarthy is gone. He had an impressive 125-77-2 record over 13 seasons, a Super Bowl ring and 8 seasons of at least 10 seasons. But he hasn't gotten them back to the Super Bowl in eight years, they are going to miss the playoffs for the second year running and he has, arguably, the best quarterback in the league. Since the Super Bowl triumph, he has been 5-6 in the playoffs, though it should be noted they made the postseason in every season he coached except his first and the last two. He shouldn't be long without a job, if he doesn't mind moving a family that has been in Wisconsin since 2006, though the many fans that have wanted him, and his conservative offensive approach, gone for a few seasons now, are rejoicing.
---
Check back in at the same bat time, same bat channel next weeks for the subsequent round of fixtures …