The table in England is starting to look as many would have predicted, with the "big six" occupying six of the top 7 spots; Everton the only remaining interloper, one point above United after a 1-0 win over Cardiff City while United settled for another drab 0-0 home draw with Crystal Palace. City and Liverpool both won easily, the former 4-0 over West Ham and Liverpool, a man down, 3-0 at Watford. The big matchup of the weekend pitted a hot Chelsea against a cooling Spurs, so, of course, Tottenham ended Chelsea's unbeaten start to the season to jump them into third in the table (3-1). Finally was Arsenal, who had to restore a lead they lost to win 2-1 at Bournemouth and get within a point of Chelsea in fourth.
At the bottom of the table, Fulham won a huge six-pointer 3-2 over a truly awful Southampton, Huddersfield were shock 2-0 winners at Wolves and Newcastle beat Burnley 2-1 to make it three wins on the bounce. As previously mentioned, Cardiff lost 1-0 at Everton while Crystal got a valuable point at United. Putting it all together, the bottom three is now comprised of Southampton, Cardiff and Fulham, in that order, all on eight points, with six sides within four points. Newcastle's three straight wins have moved them all the way to 12th place, but they are still among the six a mere four points from returning to the relegation zone. A tight race to the finish line appear in the offing at both sides of the table!
Around Europe, a couple of leagues continue to surprise, with Dortmund leading Bayern by an incredible nine points after 12 matches (and four over second place Monchgladbach) and Sevilla holding a point lead over Barça in Spain. Maybe most incredibly, both Bayern Munich, currently in fifth place in the Bundesliga, and Real Madrid, in sixth in La Liga, would both have to play in the Europa League next season if league play ended today! Real's mini winning streak ended with a 3-0 drubbing at 10th place Eibar and Bayern had to settle for a 3-3 home draw with 17th place Fortuna. Things are more status quo in France and Italy, with PSG continuing to dominate Ligue Un, having won all 14 of their league matches, while scoring 46, conceding only 7 and leading second-place Lyon by 15 points, and Juve having an eight-point lead over Napoli, nine over Inter and 14 over fourth place Lazio.
On to the numbers, with a few nibbles from around the sports world …
---
Match Week 13
-3 – Arsenal's goal difference in the first half of league matches this season, having scored 7 and conceded 10. The second halves? +15, with 21 scores (the most in the league) and only 6 conceded.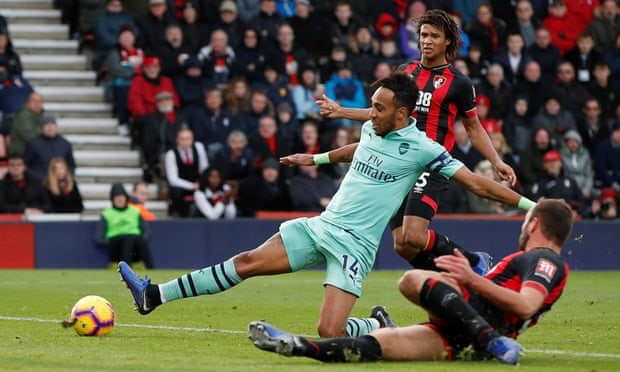 Aubameyang proved the difference, slotting in the winner from a fine Kolasinic cross, from an even finer Iwobi through ball. in the 67th minute.
---
0 – Speaking of that odd differential, Arsenal were seconds from their first halftime lead of the Premier League season when a Bournemouth counter finished with a King goal to equalize 1-1. They did ultimately win it 2-1, but are still the only side beside Cardiff to go this long without a halftime lead.
3-2 – Claudio Ranieri's departure from England was rather ignominious, given that he arguably led the most improbable title run in the history of English football and then was sacked before the following season had ended. His return last weekend reminded of that epic achievement as he led struggling Fulham to a 3-2 win over Southampton, only their second of the campaign. They are still at the foot of the table, but renewed hope abounds.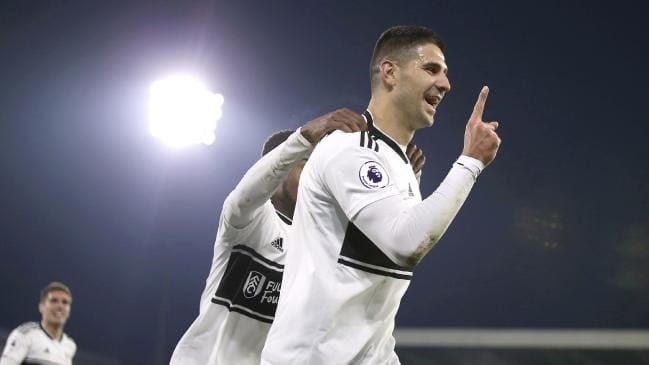 Fulham's Aleksandar Mitrovic celebrates after scoring Fulham's third goal. Teenage phenom Sessegnon set up two of the three Cottager goals.
---
4 – For the first time in the Steve Kerr/Steph Curry era, and first since March 2013, the Golden State Warriors lost four straight games. That is a stretch of 450 games between such slumps, the third longest in NBA history. Of course, Steph is absent at the moment, and the team scores 119.6 per possession with him and only 107.3 without. They were 2-5 while he was out with a groin injury, though they have since won three straight. Future plans for the rest of the league … Sweep the leg, anyone?
6 – Patriot TE Rob Gronkowski went six games between touchdowns before scoring a play after the Jets, inexplicably (aka stupidly), gave Brady another shot by taking a penalty instead of fourth and 2. The Patriots moved to 11-1 after a loss of 20+ points under Belichick and the Jets lost their fifth in a row as another season went down the drain in a lifetime of seasons that mostly "go Drano." The game also had another interesting stat, the second oldest QB matchup in NFL history, at 80 years and 258 days, as Brady and McCown matched up. And the Jets set a franchise record by hitting their fifth game without a single takeaway.
8 – Pierre-Emerick Aubameyang is now joint leader in goals in the EPL with Aguero, having scored the aforementioned winner as Arsenal made it 17 unbeaten in all comps (and 11 in the league). Six others, including Harry Kane, Hazard, Mitrovic, Mo Salah, Raheem Sterling and Glenn Murray of Brighton (wow!) are all tied on 7.
9 – players have been sent off in 33 matches managed by Claude Puel at Leicester, including four this season, twice as many as any other side. The latest was James Maddison in the 28th minute for a dive that elicited his second yellow and an early shower. Leicester nonetheless earned a point in a 1-1 draw at Brighton & Albion.
10 – Huddersfield had gone that many matches without an away win, the most in the top flight, but their 2-0 victory over Wolves Sunday ended that streak. Wolves, on the other hand, after a nice start to the season, have lost four of their last five, though they still sit in 11th place in the table on 16 points from 13.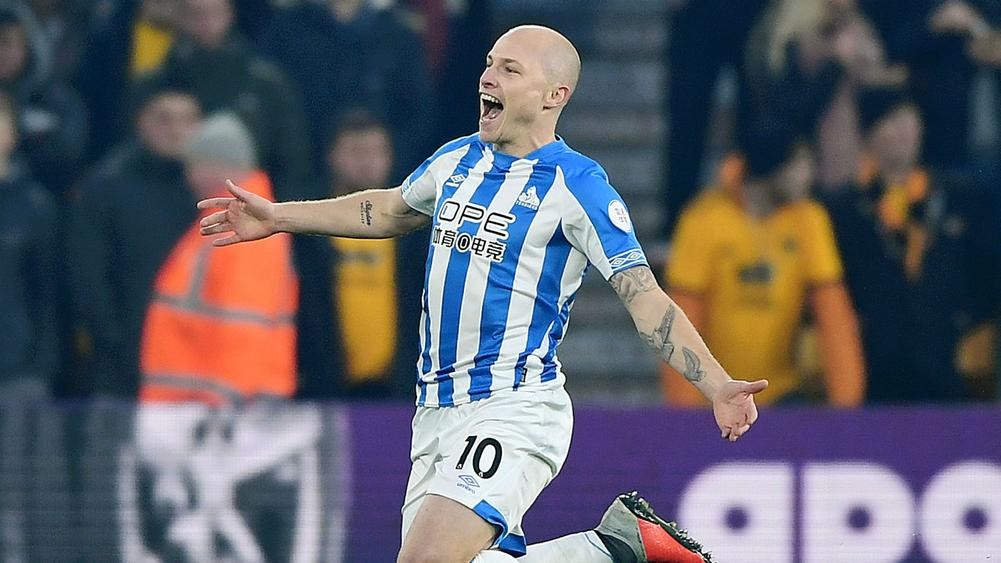 Australian Aaron Mooy was the hero as Huddersfield jumped out of the bottom three with only their second win of the season, to go with four draws.
---
18 – Diego Costa went 18 matches without a goal for Atlético Madrid before scoring the opener against Barcelona Saturday. Dembele came on to equalize for Barca, but it was an important point for Atlético and allowed Sevilla to leapfrog both sides to the top with their win Sunday. Atlético currently sit only two points off the top, a mere point below Barcelona and four above crosstown rivals Real.
21 – Shots without a goal for "striker" Steve Mounie of Huddersfield, the most profligate in the league. He is a big reason Huddersfield, even with the win Sunday, still have the joint fewest goals in the league, with Crystal Palace, after leading the league in that category last season.
23 – However, for the first time 23 matches, Huddersfield scored two or more goals, with a brace from Aaron Mooy in their 2-0 win. It moved them all the way from the cellar to 15th place.
31 – Game winning field goals for Adam Vinatieri, who helped the Colts to their fifth straight win Sunday, 27-24 over Miami. It was his 576th field goals made, the most ever, and he also holds the record for points scored (2,561), OT field goals made (12) and most playoff points scored (234). On top of that, he is the only kicker to score more than 1,000 points with two different teams.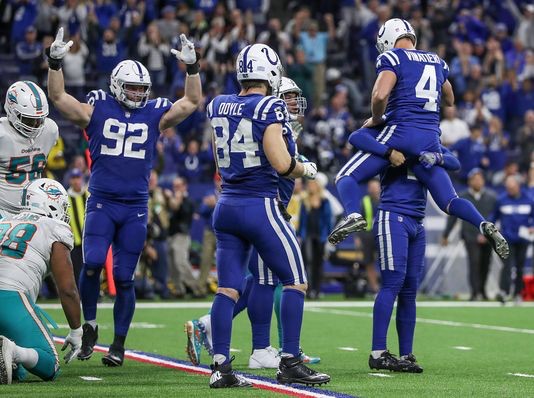 Adam Vinatieri celebrates his latest game winning field goal. Ironically, he had a horror miss earlier in the game, but made no mistake when it counted most.
---
40 – Man City have reached that number of goals in 13 league matches, a pace that would break their own record of 106 goals scored last season. Agüero leads the way with 8 (11 in all comps), of course, but six others have scored at least 5 goals in all comps this season. And even David Silva, known more as a provider, has eight in all comps, scoring in four straight matches including the 4-0 victory over West Ham Saturday.
51 – When is 51 points in the NFL not enough? The Chiefs answered that question a week ago Monday, becoming the first team in NFL history to do so, losing 54-51 to the LA Rams. Patrick Mahomes threw for 6 TDs but also had three picks, with two coming on the last two drives of the game. It was the highest-scoring Monday night game ever, after the highest over/under (64) in Vegas since at least the 80s, but only the third highest combined score. And 28 of those 105 points were scored by the defenses! Vegas took a seven-figure hit, as 69 percent of betters were on the right side of the over/under. Wow!
62 – Michigan had the number one defense in college football and all the momentum coming into their annual season-defining matchup. Ohio State had been struggling most of the year, though they had the number one offense statistically. So, as has become the norm over the past decade and a half, Michigan choked, Ohio State played unbelievably and became the first side to ever score more than 50 in "The Game," making it 14 of the last 15 and 7 in a row in the series and reminding us that Harbaugh is still having a hard time winning the big games since returning to his alma mater.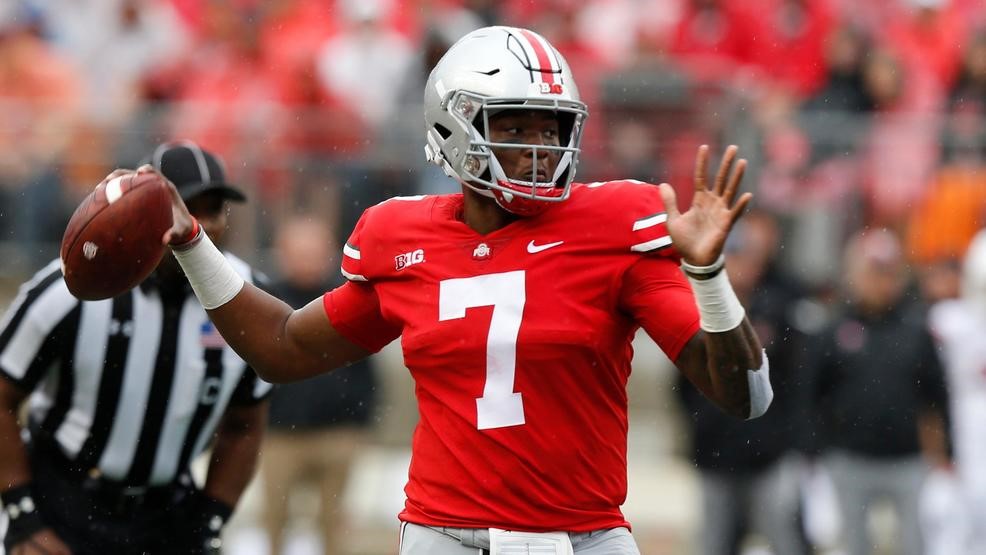 Dwayne Haskins of Ohio State schooled Michigan's vaunted defense to the tune of 396 yards and 6 touchdowns on a mere 20 completions. Oddly, Michigan dominated possession 35 to 24 minutes, but this was based largely on Ohio State completing big play after big play.
---
388 – Eddie Howe managed his 388th match for Bournemouth, having started 91st of 92 sides in the English top leagues and, after three promotions and three seasons in the EPL, has them in the top 10, just behind the "big six" and Everton. Unfortunately, the loss Sunday was their third in a row and they have five more against the Big Six coming up next month in all comps.
1976 – Florida State seemed to be back in the ascendancy just a few years ago, winning the National Championship as recently as 2014, but their loss Saturday to rivals Florida 41-14 means they will have their first losing season in 42 years. Where have you gone Bobby Bowden … or Jimbo Fisher for that matter …
---
Check back in at the same bat time, same bat channel next weeks for the subsequent round of fixtures …