The matches have been coming quick and fast, and it has thus been hard to find a point to stop and write this latest post. I decided after the Europa League semis was the best I could do. One must start with Liverpool, who could well win their final 9 matches, lose only one all season, and still get beat to the league title by a City side who have won 13 straight. However, in a miracle that reminds of what happened to Barça two short seasons ago, or of Istanbul in 2005, Liverpool came back from a 3-0 away deficit to Barcelona in the first leg to win 4-0 at Anfield Tuesday, the winning goal coming via a quick corner that caught Barça flat footed and meek. For a side that has one trophy in the past 13 years, the thoughts of a Champions League crown in a season they are likely to miss out on the league by a few meters here or there (see below) would be sweet recompense.
Then, a day after Liverpool's miracle, Tottenham almost one upped them, coming back from a 1-0 loss in the home leg and two more goals at Ajax, before they scored the final three from the 55th minute onward, the final one coming in the last minute of extra time. A day later, Arsenal almost blew a 3-1 first leg lead in their Europa League semifinal, before exploding for four goals, three by Aubameyang, to win 7-3 on aggregate. They were joined by Chelsea almost an hour later, after the Blues held on through 120 minutes 1-1 before coming back in the penalty shootout to join Liverpool, Tottenham and Arsenal in the four European Final slots.
Meanwhile, one must tip their hat at least a couple of inches downward for a City side that has held their nerve for months to carry them to the brink of the first back-to-back titles in their history, as Guardiola continues to collect league titles and domestic cups without even getting back to the final of the Champions League since leaving Barca. While Agüero will rightfully get a lot of the plaudits, it was Vincent Kompany who scored the only goal Monday, as they squeaked by a hot Leicester City 1-0. For those without a good long-term memory (read all conservatives and plenty of liberals to boot), Kompany scored the only goal against United in a 1-0 win that helped them along the way to their first Premier League title before Agüero's late game heroics against QPR made everyone forget that contribution. Kompany appears to be well past his prime after all the injuries he has suffered over the years, but has been an essential piece as Man City bullied their way to the top of the English game.
Now all but over, the race for the Top 4 was truly a war of attrition the past few weeks, with Arsenal putting a finish touch on the race to mediocrity by failing to beat lowly Brighton at home, ceding a second half penalty and then missing plenty of chances to restore their lead in the last 20 odd minutes. Manchester United had been eliminated earlier that same day, unable to beat even lowlier Huddersfield when they knew a victory left them with a shouting chance, particularly after Tottenham lost yet again on Saturday to Bournemouth 1-0. Only Chelsea were able to earn maximum points, 3-0 over Watford, and that has guaranteed them a place in the Top 4, while Spurs, limping home in rather pathetic fashion, are also guaranteed no worse than fourth, unless Arsenal can swing things eight goals on the final day. Both Arsenal and Chelsea will have a chance to finish their season with a trophy nonetheless, with the Gunners playing the higher stakes game, given it is their only realistic route into the Champions League now.
Further down the table, Cardiff blew a chance to earn a valuable point, as Fulham's Ryan Babel scored the winner in the 79th minute to put them on the brink of relegation. They finished the job a week later losing a tight contest 3-2 at Crystal Palace. Brighton had earned a point hosting Newcastle last Saturday and were already safe when they took the shock point at the Emirates. In the end, two of the three newly promoted sides are heading back down to the Championship, along with Huddersfield, while Wolves have secured seventh place and likely entry into Europa League qualification next season.
Around Europe, Barcelona secured another title last weekend, before the "Anfield meltdown," while Real Madrid suffered another humiliating loss in a season to forget, the only positive the mildly regarded Club World Cup in December. Zidane certainly has work to do as he tries to rebuild the success he garnered in his first stint managing the club (less than a season ago, one should note). Juve and PSG basked in their titles, while Bayern extended their lead to four points over Dortmund with two to play, essentially wrapping things up after they won 3-1 over Hannover while Dortmund followed up their 4-2 loss to Schalke with a 2-2 draw with Werder. Meanwhile, Ajax sit in first place of the Eredivisie (on goal difference) with two to play, hoping to win their first title in five years as a partial salve for their late collapse against Spurs.
In the NBA playoffs, the Bucks punched their ticket to the Eastern Conference Finals winning four straight after dropping Game 1 to the Celtics and the Warriors beat the Rockets in an epic six-game series to return to the Western Conference Finals for the fifth straight year. Meanwhile, Portland v. Denver and Philly v. Toronto are both going to Game 7s this weekend. In the NHL, Boston faces upstart Carolina in the Eastern Conference Finals and won Game 1 5-2 on Thursday night, scoring the last 4 goals of the contest after trailing heading into the third period. Both the St. Louis Blues and the San Jose Sharks won tight Game 7s this week and face off starting Saturday in the Western Conference.  
On to the numbers, with a few nibble from around the sports world …
---
Match Week 35-7
1 – It was the first time in NBA history that all six games of a playoff series were decided by six points or less. Houston had their shot last year up 3-2 but will rue the way they gave away leads in the pasts two games of the series, lost Game 6 at home without having to face Durant and missed a great chance to steal Game 1. The Warriors could still lose in one of the next two rounds, but this felt like the de facto Finals and another big missed opportunity for Harden to shake off the sense that he tends to shrink when the pressure hits boiling point.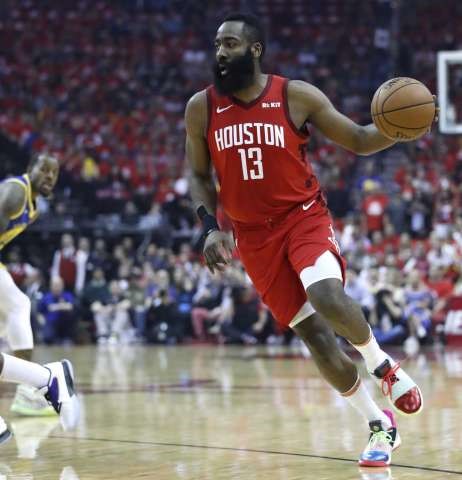 Harden was a scoring machine in the series, but seemed to largely disappear down the stretch as they lost Games 5 and 6. His declining efficiency in the playoffs only grows as the narrative of his career with each successive failure. 
---
1, 1 & 1 – Luis Suarez scored the opening goal, added an assist for the second and earned a yellow card in his first match against his old club Liverpool, in an odd semifinal first leg where Liverpool dominated the match for long stretches without finishing their chances, while Barcelona took theirs, including a sublime free kick from the magician Messi. The 3-0 victory at the Nou Camp seemed to mean a return to the finals was in the cards, but Liverpool had other ideas as they are now in pole position to earn their sixth European Cup.
1st – Two Sunday mornings ago was my birthday, and Arsenal decided it was the perfect time to lose a noontime start for the first time in the entire history of the club. Thanks a lot, guys!
2 – Speaking of my beloved, but bedeviling, Gunners, the 3-0 loss to Leicester means they have exactly two clean sheets in their last 28 away matches.
3 – Sometimes bad things also come in threes, so let's conclude this depressing period for Arsenal with a third damning stat (or series of stats, in this case). The North London side were in third place and looking likely to beat out Chelsea and United to the Top 4 only a few weeks ago, after a 1-1 draw with Spurs and 2-0 win over United. And then they lost 1-0 to Everton, barely beat Watford and have been on an impressive losing streak in the league since, shipping three goals to Crystal Palace, Wolves and Leicester in successive losses, before Xhaka's boneheaded foul in the box gave Brighton a penalty and league-killing equalizer. They will now most likely miss out on the Top 4 for the third season running – for only the second time in their history, and first since the early 80s.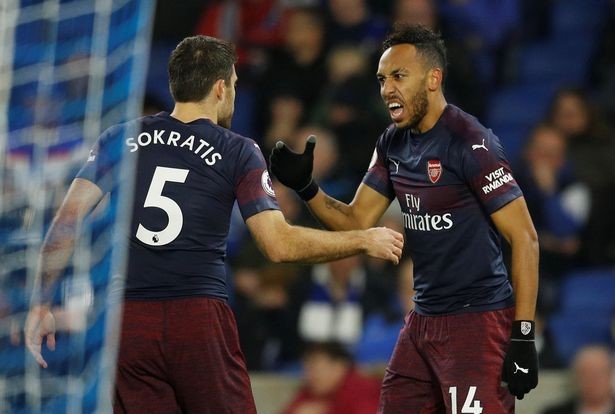 Aubameyang expertly took his penalty to give Arsenal the early lead, but both he and Lacazette spurned multiple chances to extend that lead before ultimately settling for a home draw.
---
3 – Three Game 7s in the NHL playoffs have already gone to OT this postseason. The latest saw the St. Louis Blues win 2-1 in double-OT after Ben Bishop has put on a goalkeeping clinic for their opposition, the Dallas Stars, keeping our 52 of the 53 shots on target before the winning rebound was pushed in to finally end it.
3-0 – This is generally a winning lead in a two-leg tie at any point. However, both semifinals of the Champions League saw those leads overturned. First was the incredible 4-0 Anfield win for Liverpool, to overturn a 3-0 loss at Camp Nou. Maybe equally incredible, Tottenham lost the first leg 1-0 at home, then ceded the first two Wednesday, falling 3-0 behind in aggregate on the road with only 60 odd minutes or so to go. They scored the next three, with the last coming in the final minute of extra time to join Liverpool in the Finals. Lucas Moura (3 goals), Divock Origi (2, including the winner) and Georginio Wijnaldum (2 middle goals) were three of the most unlikely heroes in football history. On the other hand, Origi has come up roses a few times this season alone, including last gasp goals against Everton and Newcastle to secure league wins for his side.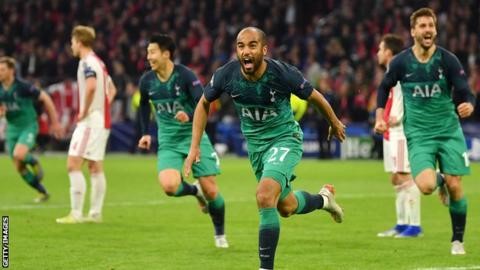 Lucas Moura was not a name that would easily slide off the tongue when predicting a Spurs hero this season, but, to be fair, he does have 10 gleague oals in only 24 starts this season and already had 2 in 7 in the Champions League before his miracle hat trick Wednesday.
---
7 – Leeds United losses since Christmas, which saw them become the first side ever to lead the Championship at Noel and not go on to automatic promotion. Sheffield United took their spot, only losing twice in the second half and winning their match against Ipswich a week ago Saturday while Leeds settled for a 1-1 draw with Aston Villa. Leeds are now in the four horse Championship playoff, for one spot – one of the most brutal rewards for finishing in the Top 6 in sports. Damned United indeed!
8 – Titles in the past 11 seasons for Barcelona, with only two for Real Madrid and one for Atlético. I think it is fair to say Messi has been more responsible for this one than any other, with arguably the weakest supporting cast he's ever had at his disposal. He has accumulated 34 goals and 13 assists in the league this season, accounting for 55% of their goals and providing the decider in too many matches to count (at least for my lazy bones). But he couldn't find one in the miracle comeback by Liverpool Tuesday.
11 – Assists for Liverpool's Andrew Robertson this season in the league, the most ever for a defender. He has added two in the Champions League and two more in friendlies for Scotland and the Reds. Oddly, he has not found the back of the net even once himself in 58 appearances for club and country.

Andy Robertson has become, arguably, the finest crosser of the ball in all of Europe – at least among defenders.
---
20+ – Sergio Agüero has only won the Golden Boot once in his City career, but last Sunday he hit 20 goals for the fifth season running. His goal in the 60th minute Sunday ending a deadlock with Burnley that had Liverpool fans dreaming of the title. It proved the only goal in the contest and barely got across the line before a clearance out (see below).
22 – James Vardy has scored that many goals against the Top 6 in his career, including the last two against Arsenal a week ago Monday. One might note that he was assisted by really questionable refereeing from John Oliver that gave Leicester City a man advantage for the entire second half, but Arsenal did give up the same three goals to Wolves and Crystal Palace without numerical disadvantages in the previous two matches …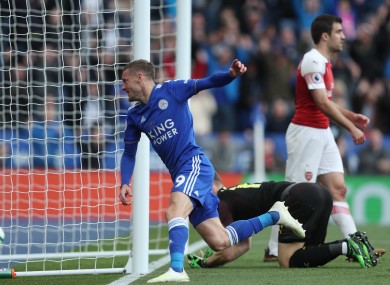 Vardy seemed moments from joining Arsenal a few seasons ago, but has been a thorn in their side ever since the snub – adding to their pain with a double as Arsenal's Top 4 ambitions collapsed.
---
25 for 83 – Kyrie Irving was the winningest player in NBA playoff history heading into their second-round matchup with the Bucks and helped the Boston Celtics to a Game 1 upset of the team with the best record in the NBA this season. And then he forgot how to shoot, going 30.1% from the field as the Celtics lost four straight to limp out of the playoffs in the second round. He could well leave this summer, possibly to joining Kevin Durant in New York City. As a Celtic fan, I would say good riddance, but as a Knicks fan, I would welcome him with open arms.
28 – Losses for Huddersfield in the league this season, the most in Europe's top 5 leagues. They have only won three all season, but earned their sixth draw against United last Sunday. A season to forget, one imagines, unless you are a Huddersfield fan, in which case you lived it in real time.
29.51 – Meters that may well be the difference between Liverpool's first title in 29 years and a fourth for City in the last eight, as that was how far across the line Aguero's goal was before it was cleared out last weekend against Burnley. Liverpool were even closer to scoring the equalizer against City way back in January, Mane's goal 1.12 centimeters from crossing the line.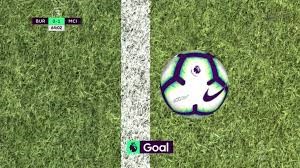 VAR would have changed countless results this season, including, arguably, pushing Arsenal past Tottenham into fourth, but the advent of goal line technology is central to City's title charge (assuming they win Sunday).
---
32 – Lead changes at the top of the table this season. Liverpool is hoping for only one more – City none. Liverpool's likely total of 97, which would be one short of City's 98 if they both win Sunday, would have been enough to win the league in every other of the 27 seasons in Premier League history except last year (when City accrued 100 points).
50 – Goals by Liverpool in the second half of matches this season, and 20 in the final fifteen minutes; both the most in the league. On Tuesday, they scored two in the second half against Barça, to go with one early, to equalize the tie at 3-3 and then won it in the 79th minute. With Firmino and Salah out, it was Origi (7' and 79') and Wijnaldum (54' and 56') who were the heroes.
52 – David De Gea has conceded 52 league goals this season, the most in his career, and only has 7 clean sheets, with 4 errors officially leading to goals, but arguably several others he would have saved in the past. Since the beginning of last summer's World Cup, in fact, his stock has been dropping rapidly. The three conceded before the equalizer by Huddersfield, were howlers and he wasn't much better in the other tournaments – particularly against Barca, where he could well have saved two of their goals.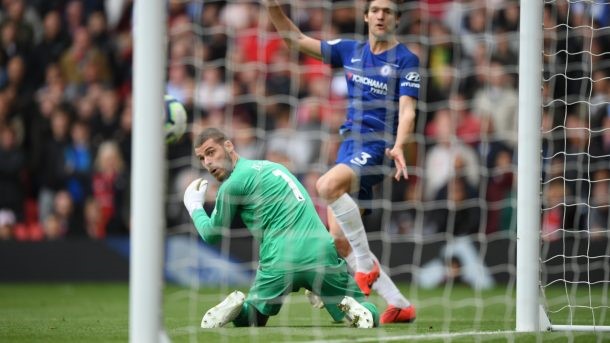 De Gea's form is troubling for United as they consider extending his contract – with this howler against Chelsea arguably the worst, and most costly, of the bunch.
---
76 – Straight free throws made by Steph Curry in the fourth quarter and OT in the playoffs. After a scoreless first half, Curry exploded in the second to lead Golden State to their fifth straight Western Conference Finals. He ended with 33 points as Houston blew a fourth quarter seven-point lead, with Curry matching the entire Rockets side with 16 over the last five minute. It was the most points he has scored in a half, and in a quarter, in his playoff career.
200 – Glen Murray hit that mark of club goals with his equalizer for Brighton against Arsenal Sunday, a goal that did nothing for Brighton but ended the Gunners shot at automatic qualification for the Champions League next season. Luckily, Aubameyang, who missed several great chances to score a second Sunday, had a hat trick Thursday to put the Gunners on the brink of alternative qualification by winning the Europa League, with only hated Chelsea standing in their way.
600 – In one of the most extraordinary personal rivalries in all sports, Messi and Ronaldo just keep one upping each other. Ronaldo hit 600 club goals last week as he rounds out his first season at Juve. A few days later, Messi's brace gave him the same total. He did it in less matches, of course, but still has failed to win a Champions League since 2015, even as he won yet another title with Barca. Will either slow down any time soon?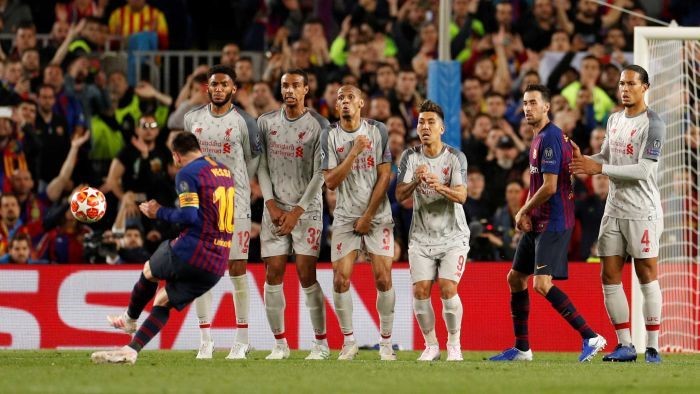 Anything you can do, I can do better …
---
2008 – The Champions League is the most prestigious football tournament in the world, even as the World Cup obviously has more cache. And it is a tournament that has generally been won by the giants of the sport, from Real Madrid and Manchester United to Liverpool, Barcelona and Milan. In line with that history, there are few newbies who even make it all the way to the Finals. Tottenham are the latest, and first since Chelsea way back in 2008. We know one thing for sure – one of the two managers in the finals this year will end a long trophy drought and whomever that is, the champions of Europe will be English for the first time since Chelsea in 2012.
---
Check back in at the same bat time, same bat channel next week for the final round of fixtures for the season, though we still have three "English" Finals to contest afterwards …