Liverpool are the last perfect team standing after Chelsea settled for a 0-0 draw with West Ham a day after the Reds made it six wins in six with a 3-0 thrashing of Southampton. Man City continued their unbeaten start as well, with a 5-0 win at Cardiff, and have already scored 19 goals while only conceding 3 (Liverpool have scored 14 but only conceded 2). Chelsea moved to third with that draw and Watford stays in fourth, though their 1-1 draw at Fulham together with the 2-1 loss to United last weekend makes one wonder how much longer they'll stay in the Champions League spot.
A little further down the table, Arsenal made it five wins on the bounce in all comps, after the 0-2 start, by continuing their dominance over Everton 2-0. Tottenham won a tight contest 2-1 at Brighton, with Kane getting off his mini scoring slump, but United were unable to get their second against Wolves and settled for a 1-1 draw that leaves them in seventh place, three behind Watford with a goal differential of zero (9 scored and 9 conceded in 6). That draw for Wolves, by the way, leaves them in 10th, on 9 points, an impressive start to life back in the top flight.
Bournemouth had a flying start to the season, with the 2-0 loss at Chelsea and a 2-2 draw with Everton the only blemishes in their first six games. Burnley had a horrific start to the season, with only 2 wins in their first 11 matches (including Europa League qualification) after their surprise seventh place finish last term. So, as expected, Burnley pummeled the Cherries 4-0. Go figure! The win pushed Burnley out of the bottom 3, now populated by three sides that have two draws and four losses a piece – Newcastle, Cardiff and Huddersfield.
In Europe, it was a mixed bag for the English sides, as Liverpool scored late to beat PSG 3-2, United cruised past Young Boys 3-0, Arsenal beat Vorskla 4-2 (conceding the last two) and Chelsea snuck past PAOK 1-0, while City were shock 2-1 losers to Lyon at the Etihad and Tottenham lost 2-1 at Inter Milan. Other noteworthy outcomes from match day 1 in the UCL included a 4-0 victory for Barca over PSV, a 2-1 win for Atletico Madrid at Monaco, a 0-0 draw between Napoli and Red Star Belgrade, a 2-0 victory for Bayern at Benfica and a 3-0 win for thrice defending champs Real over Roma. Juve lost Ronaldo to a questionable red card in the 29th minute, but still beat Valencia 2-0 on the road, with Pjanic scoring both from the spot.
On to the numbers, with a few nibbles from around the sports world …
---
Match Week 6
0 – Goals for Mario Balotelli in two starts for Nice this term, after a nice comeback season in 2017-18, with 18 league goals in 28 and another 8 in 10 in other comps (1 in the Champions League, one in the Coupe de la Ligue and an impressive 6 in 7 in the Europa League). His teammates Dante openly complained about his performance and fitness after they lost 1-0 to Montpellier. Balotelli was brought back into the Italian National team by old coach Mancini, however, and he repaid him with a goal in one of his two appearances. He still splits opinion at 28 years old and one wonders if he will ever fully realize his potential?
1 – As far as I know, this is the first time a retired NBA star has served as an analyst in world football history.  Steve Nash was among the cavalcade of analysts for TNT, as they entered the fray in the Champions League, once covered exclusively by Fox Sports. Hopefully he will also be the last. Ugh.
1 in 46 – Wins for Everton against the top 6 away including their 2-0 loss to Arsenal Sunday. After a relatively huge outlay, the Toffees have had a tough start to the season, with only one win, three draws and two straight losses. They have lost 29 straight against the top 6, by the way.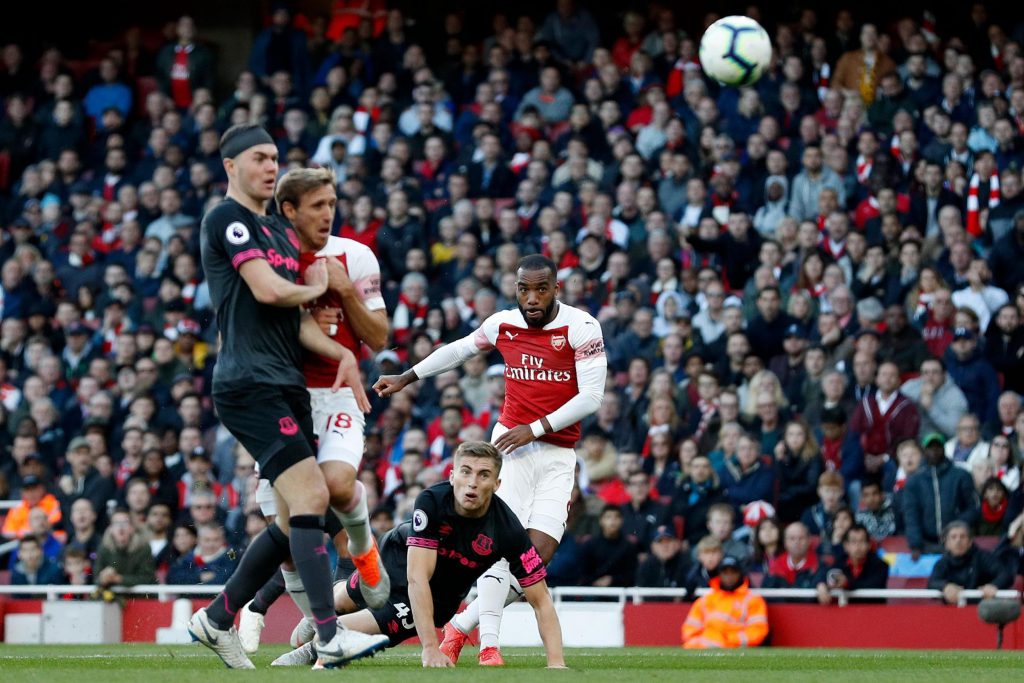 Everton had most of the first half chances, but it was Lacazette who opened the scoring for the home side.
---
2 – Points for Wolves against the Manchester sides, the latest coming Saturday at Old Trafford as they equalized for a 1-1 draw. Mourinho was clearly unhappy afterwards, though he rarely seems otherwise these days, and one wonders if their season is about to go off the rails in his third in charge, as is often the case in his career.
2 – Eric Lamela scored off the bench for the second league game in a row, taking a 1-0 nervy lead and doubling it Saturday. It proved decisive as Brighton scored an injury-time goal to make it 2-1.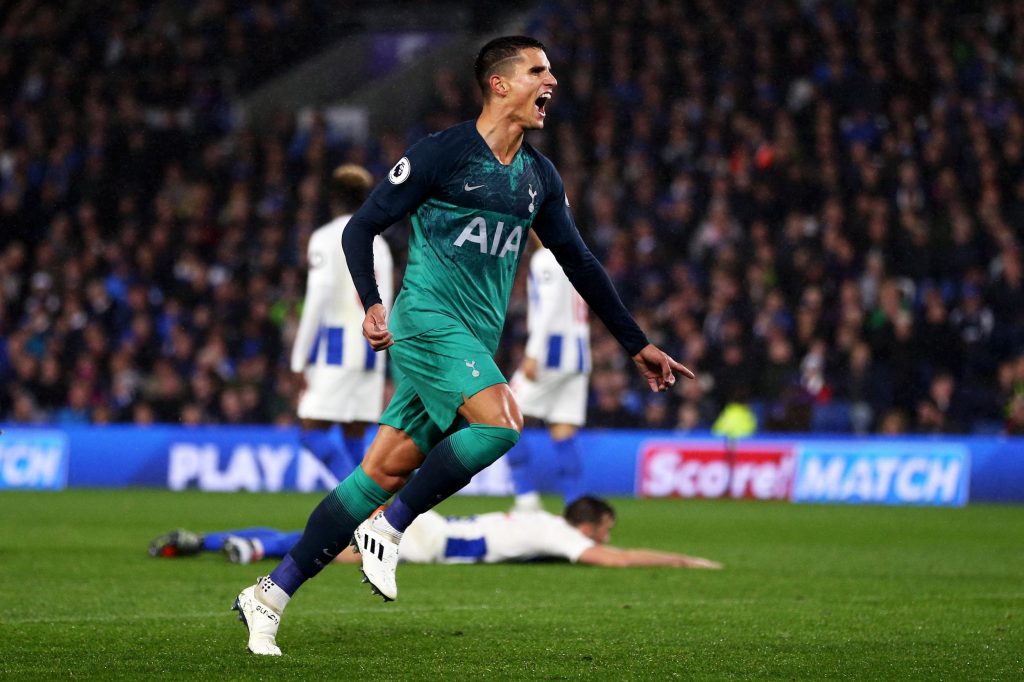 Lamela celebrates the goal that became the winner, as Tottenham rebounded with a 2-1 win over Brighton.
---
3 – Aubameyang had a slow start to the season, with only one goal in 5, but his three this week, two against Vorskla and another, albeit offsides, against Everton might jump start his season. Both he and Lacazette scored to give them two league goals apiece in 6 matches.
3-1 – Leicester City are becoming the cardiac kids, having come back from a goal down to beat hapless Huddersfield 3-1 Saturday. They were a goal down to Southampton before winning 2-1 and scored the last two, in a losing effort, down a man, to Bournemouth last weekend. They are currently in ninth place on nine points and through to the third round of the League Cup after beating Fleetwood 4-0 a few weeks ago.
4 – Newcastle have only scored four goals in six league matches so far this season, as they failed to break through against Crystal Palace, who are also stuck on the same tally. Palace's stingier defense, however, has conceded only 6 versus Newcastle's 8 and, together with more opportune scoring, has led them to 7 points and 11th place while the Toons are mired on two points and in 17th place. The only sides with fewer goals so far are Cardiff and Huddersfield, who have 3 each and, oddly, 14 conceded each, to take up their positions at the bottom of the table.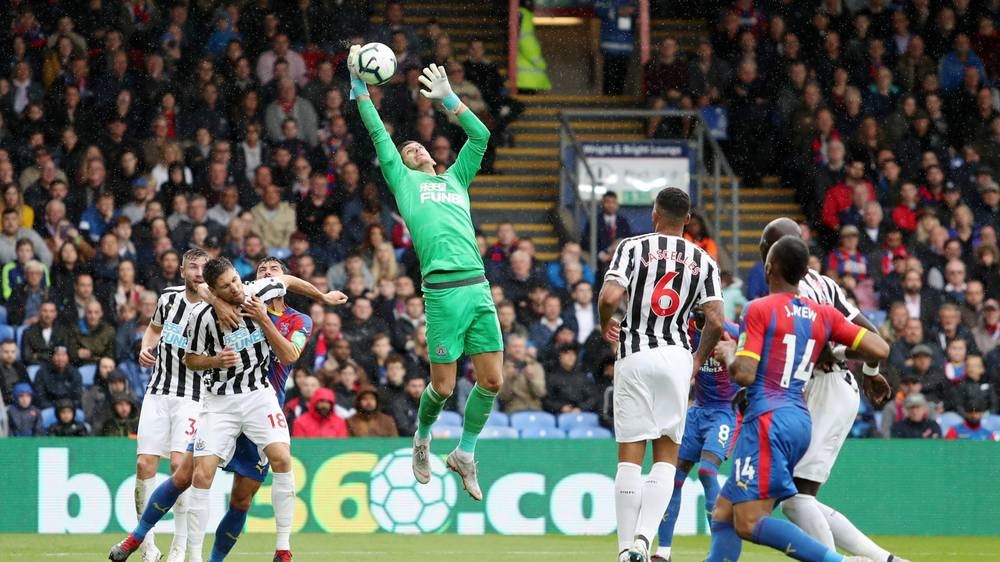 Chances were few and far between as Newcastle and Crystal Palace played out a 0-0 stalemate.
---
6 in 28 – Goals for Arsenal's Nacho Monreal in that number of starts, after 1 in his first 141. The first good chance of the match fell to Arsenal's left back Sunday, but he failed to convert. Arsenal won it with two second half goals.
8 – Most Goals in Europe so far this season, as Lionel Messi secured his 8th UCL hat trick to pass Ronaldo in that category, then followed it up with the opener in a disappointing 2-2 league draw with Girona Sunday. Ronaldo's start to his Champions League campaign was more dubious, as he was sent off in the first half, though Juve still found a way to win. Barcelona are now unbeaten in eight this season (including the 3-0 win over Boca Juniors in the Joan Gamper Trophy) and have outscored their opponents 25 to 6.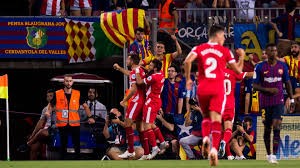 A brace from Girona's Stuani put an end to Barca's perfect start, though they are still first in La Liga, on goal difference alone, after the 2-2 draw Sunday.
---
8 – Straight clean sheets at Anfield for Liverpool, after beating Cardiff 3-0. The streak goes back to last February against West Ham. More importantly, they are perfect after six league and seven total matches this season. And Mo Salah ended a mini scoreless streak with his goal in extra time of the first half to cap the scoring in an easy win.
13 – Patrick Mahomes continues to justify the Chief's decision to let starter Alex Smith go to the Redskins after a great season last term. The second-year QB now has 13 touchdowns with no interceptions in three games, including 3 in a 38-27 win over the 49ers Sunday. Last week, he set a record for most touchdown passes in the first two weeks of a season, a point I forgot to mention in that post. Led by Mahomes, the Chiefs are averaging an incredible 39.3 points per game, but are dead last in yards allowed per game (474.0) and third worst in point allowed per game (30.7).
13s – Were wild as Tiger Woods hit a birdie from 13 feet on the 13th hole to go -13 under on the road to his first title in 5 years, winning the Tour Championship. A couple of missed opportunities by those around him left him one position short of capturing the Fed Ex Cup, as a birdie by Justin Rose on the 18th secured him the Cup and its $10 million prize.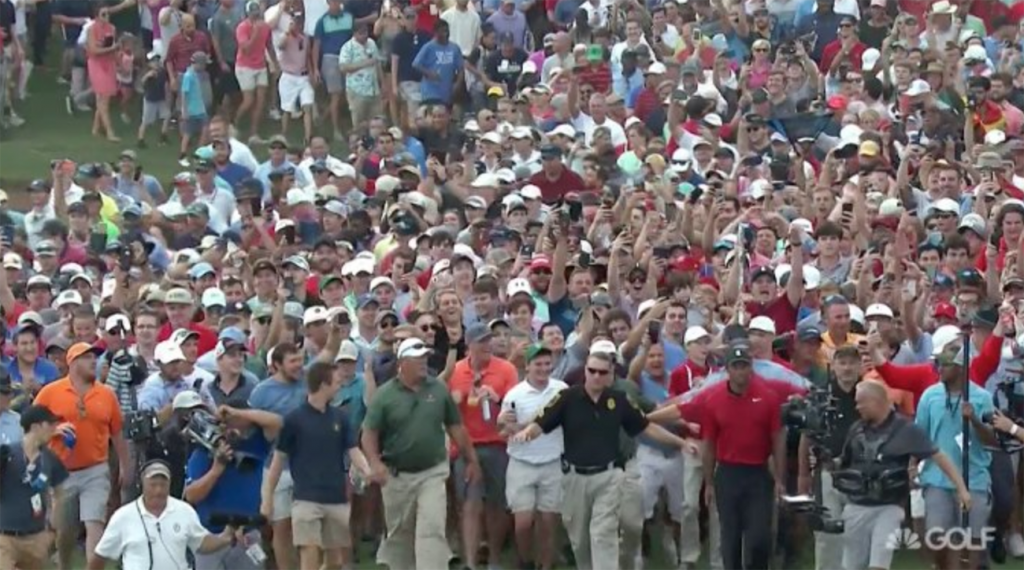 Tiger was swarmed by fans as he traversed the 18th hole toward the green. It was his 80th win on the PGA Tour, only two short of Sam Snead's record 82.
---
18 of last 19 – Number of the total available domestic trophies won by PSG in France, the only exception over that stretch the surprise league title for Monaco two seasons ago. However, they have yet to get beyond the quarters of the Champions League. Their loss to Liverpool Tuesday means they have now lost four in a row in the competition for the first time.
20 – One of the few bright spots in America's shambolic World Cup qualifying campaign, Christian Pulisic scored the winning goal in the 86th minute to secure victory for Borussia Dortmund 1-0 over Club Brugge in the UCL Group State opener. It was his 20th birthday. 
25 – Home unbeaten streak for Arsenal against Everton with 21 wins and only 4 draws. They've now won six straight, outscoring the Toffees 18 to 4 over that stretch. The last home loss to Everton was way back in January 1996. And Arsenal finally secured their first clean sheet of the season, though it was down to several fine saves from man of the match Petr Cech.
26 – As I mentioned above, Valencia played a man up for over 65 minutes but failed to breach the Juve goal. The match included 26 shots for the home side, with 6 on target, and 55% possession. They also had 10 corners, to 2 for Juve, but the winners of the last seven Scudetto's showed the defensive nous that have helped them find so much success since returning to the top flight of Italian football.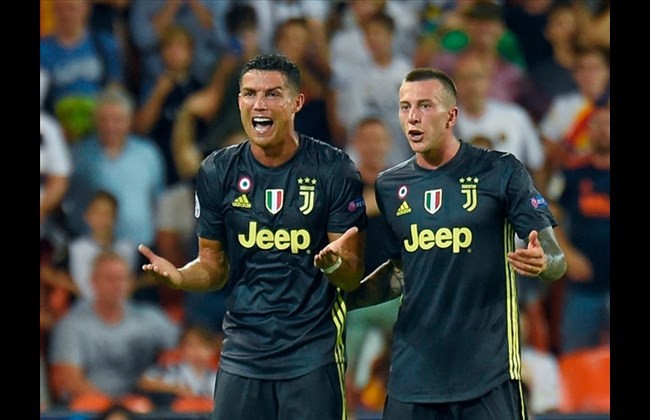 Ronaldo was apoplectic for what most pundits considered a pretty soft red card.
---
54 – In his first 54 minutes on the pitch this season, Daniel Sturbridge has scored two goals – one late against West Ham and the first for Liverpool as they beat PSG 3-2 in the Champions League. That tally was not enough to get him off the bench Saturday, as Liverpool won 3-0 over Southampton at Anfield.
153 – Sorry to keep harping on Arsenal v. Everton, but the 2-0 win for the Gunners set a record, as the two sides have now combined for the most goals in Premier League history, while facing each other, at 153. Unfortunately for Everton, Arsenal have scored the majority of those goals and have actually scored more goals against the Toffees than any side in the league.
635 – Days between wins for the Cleveland Browns, who ended that slump by coming back from 14-0 down to the New York Jets with rookie backup (and presumptive starter from here) Baker Mayfield leading them to scoring plays on 4 of his first five drives after Tyrod Taylor went down injured after a terrible start. The final score was 21-17 and ended the second longest losing streak since the 1970 NFL-AFL merger at 19 games. Mayfield finished 17 of 23 for 201 yards (94.9 QBR) while Sam Darnold, the QB the Browns passed on to pick Mayfield, had his worst day as a pro, going 15 for 31 for 169 yards, with two picks and no touchdowns (30.9 QBR).

Long suffering Browns fans celebrate with players on the road to victory.
---
1888 – Never in the history of the top flight of England have two sides started the campaign with six wins. That record continues, as Chelsea were unable to break through at West Ham, settling for a 0-0 draw that means Liverpool are the only side still on 100% for the season. Chelsea will try to end the Reds streak next weekend in their second matchup in a week (they are also playing each other in the third round of the League Cup Wednesday).
1936 – The 2018 Vuelta de Espana, which finished last weekend, had the youngest podium in a grand tour since the same race way back in 1936. Simon Yates won the 21-stage race by 1:46 over Enrique Mas, with Miguel Angel Lopez another :18 second behind in third. Yates is 26, Mas 23 and Lopez 24. Team Sky was shut out of the podium in a Grand Tour for the first time in recent memory, though they didn't send any of their leading riders and won the first two of the three this year.
---
Check back in at the same bat time, same bat channel next week for the subsequent round of fixtures …