Liverpool and Chelsea remained perfect after five, as the Reds won at Wembley against Tottenham 2-1 and Chelsea came back from a goal down to cruise past Cardiff 4-1 and move to the top of the league (on goal difference +10 to +9). City made easy work of Fulham at the Etihad, winning 3-0 while Arsenal made it three on the bounce with a 2-1 win at Newcastle, for their first back-to-back road wins since two seasons back. United played undefeated Watford in the Saturday late game and continued their dominance over the Hertfordshire club (won 14 of last 15), winning 2-1, though needing several quality saves from De Gea to earn all three points.
Bournemouth continue to impress, beating Leicester 4-2 to settle into fifth position in the table on 10 points, one ahead of both Spurs, United and Arsenal. Leicester, oddly, have been involved in three matches with a red card this season already, beating Wolves down a player, Southampton up a player and then losing to Bournemouth down a player, though they scored two late to make it respectable.
At the bottom of the table, some of the expected relegation suspects are assembled, including Newcastle (with a mere point from five), Huddersfield (with two draws and three losses to start their second season back in the Premier league), Cardiff (also on two, though they are showing signs of improvement), and, maybe most surprising of all, Burnley in the basement (also with one point from five).
Looking across Europe, Real Madrid dropped their first points since Ronaldo's departure, settling for a 1-1 draw at Bilboa that left them trailing still perfect Barcelona by two points after four. Further down the table, Atletico Madrid's disappointing start to the season continued with a 1-1 draw to Eibar, coming on the back of a loss to Celta Vigo and draw with Sevilla (for a paltry 5 points from 4 to start the season) that makes it look like a two-horse race for the title. In Italy, Ronaldo's new side Juve won 2-1 as he finally scored his first goal for the Italian outfit … and then his second. Juve already has a three-point lead over Napoli and five to third place, after only four games. PSG is even further ahead with a five point lead after five (5 for 5 so far), with Neymar scoring 4 and adding an assist in 4 appearances. Monaco, on the other hand, are suffering early, mired in 15th place with only 5 points from 5. Finally, in Germany, Bayern are perfect and two points ahead of five sides after three matches, including Dortmund and Wolfsburg.
On to the numbers, with a few nibbles from around the sports world …
---
Match Week 5
1 of 1 – Arsenal went the entire first half against Newcastle without a shot on target, with only one corner and one shot to show for the first 45. A foul outside the box by the Toons early in the second led to Arsenal's opening goal on their first shot on goal, as Xhaka placed the ball perfectly in the corner with a whipping free kick (49'). Özil scored the second seven minutes later and it held up, even as Newcastle got one back early in extra time.
2 – It took West Ham five matches to start new signing Andriy Yarmolenko. They must be wondering why, after he scored the first two goals in a 3-1 win over Everton. It was their first points of the young season but moved the Hammers out of the relegation zone and into 16th place.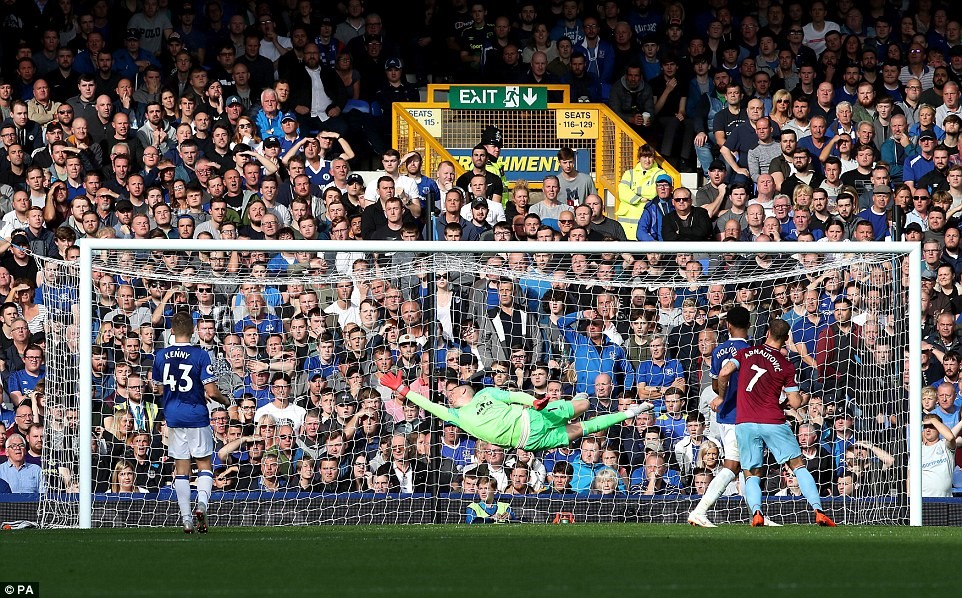 Yarmolenko's second was a gem, sent across goal from the left beyond the reach of Pickford.
---
2 – Draws are uncommon in the NFL over the past several decades, but we've just hit two in two weeks, as the Steelers-Browns 21-21 tie Week 1 was followed by a 29-29 tie between the Green Bay Packers and Minnesota Vikings. Both games featured missed field goals that would have won it in extra time, with the Vikings kicker Daniel Carlson missing all three attempts in the game to the right including the last kick of the afternoon. It is the first time there are two ties in the first two weeks of the NFL season since 1971. And the 29-29 score was the first ever recorded, becoming the 1,041st unique score. The 48-40 Tampa Bay v. New Orleans score last weekend was the 1,040th, by the way.
2:01:39 – We move closer and closer to the elusive dream of the sub 2-hour marathon after Kenyan Eliud Kipchoge set the new world record at the Berlin Marathon. He broke the old mark, which has stood up for 14 long years, by an impressive 78 seconds. Last year, in an unofficial mark set on a racetrack with multiple pacers organized by Nike, he actually just missed the two hour mile by 25 seconds. Kipchoge has won 11 of the 12 marathons he has run in and don't count him out to finally get us under 2 hours, which means running at an average clip of 4:35 a mile over 26.2 miles.
3 – Goals for Mesut Oil in nine months, sandwiched by a goal in each of the two away matches with Newcastle over that period. His latest came in his 200th appearance for Arsenal and turned out to be key, as the Gunners again conceded, making it five without a clean sheet and 9 conceded this season (tied for worst in the top 14 with Leicester).
3 in 22 – Goals for Alexis Sánchez in that many matches for Manchester United, since leaving Arsenal. It is a paltry return for the highest paid Red Devil and seems to indicate Arsenal got the better of their swap, though Mkhitaryan has not exactly lit up the Emirates either. United did end Watford's perfect start Saturday, making it two on the bounce and quieting some of the noise around Mourinho's imminent departure.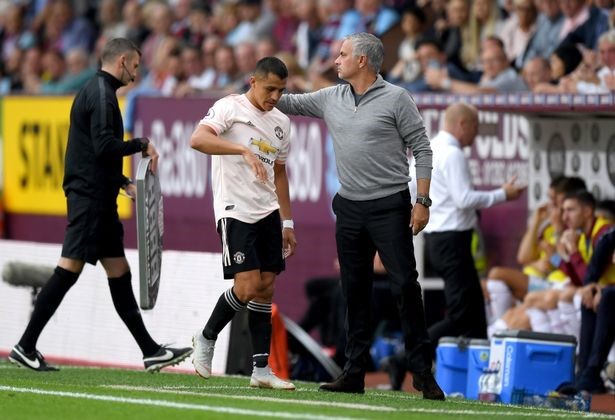 Sánchez was glum after being subbed against Burnley two weeks ago in the 61st minute. He lasted until the 81st Saturday, but is still waiting to rediscover the form that made him among the most productive scorers/providers in the league until last season's slump in form and transfer.
---
4 – Straight losses for Sean Dyche's Burnley after their 1-0 defeat to Wolves Sunday. Last season was brilliant for the Clarets, earning them a spot in Europa League qualifying, but they exited that competition 4-2 on aggregate to Olympiakos and have struggled ever since.
9th in 11 – Defeat for Newcastle, after the loss to Arsenal Saturday. The only win over that stretch was in the final match last season, against Chelsea when the Blues were in the midst of major upheaval regarding their now departed manager. 
10 – New starting quarterback Patrick Mahomes of the Kansas City Chiefs, has thrown 10 touchdowns and no interceptions in two starts this season, having only started one previous game in his young career. That success rate has led to wins over the Los Angeles Chargers (38-28) and the Pittsburgh Steelers (42-37).
10 – All of Arsenal's first 10 goals have come from different players as Lacazette and Aubameyang continue to look for their top form, with a solitary goal each in the first five matches. On the other hand, it's good that so many can chip in with a score so early in the season.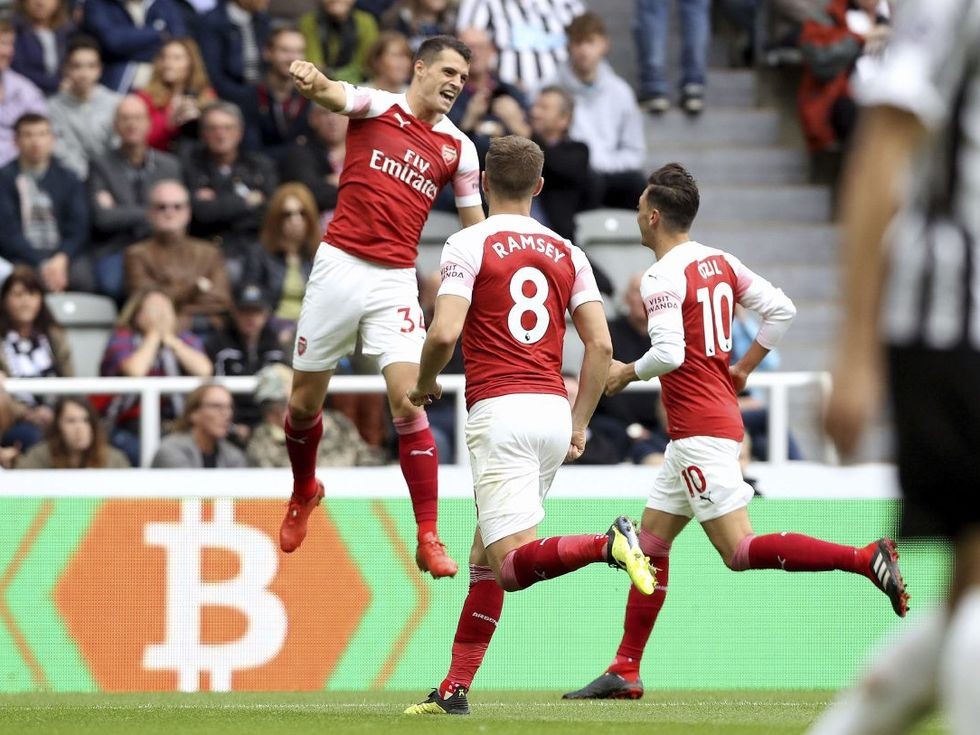 Xhaka celebrates his brilliant opening goal with Özil and Ramsey.
---
12 – An odd statistical anomaly for Everton's Oumar Niasse has him scoring 7 of his 12 league goals in 24 sub appearances, with only 5 goals in the same number of starts. He couldn't find the net against West Ham Sunday, though only denied by the inside of the bar, as West Ham won 3-1.
14 – Djokovic tied Pete Sampras on that number of Grand Slams by winning the U.S. Open last weekend over sentimental favorite Del Potro. With the $3.8 million prize, he also surpassed Federer's tally in prize money. At 31, I wouldn't yet count him out to potentially hit 21 and dethrone Federer, though he and Nadal will do their best to stop him.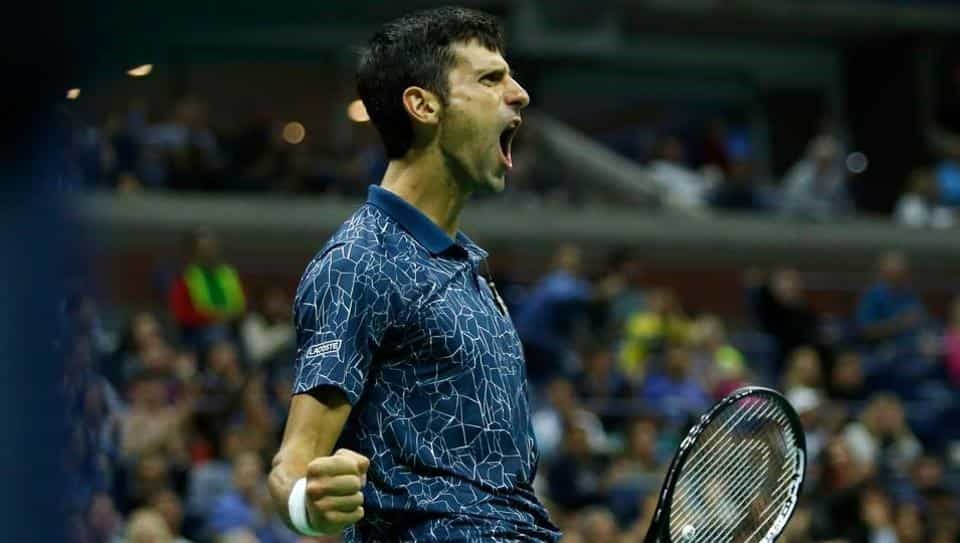 Djokovic won his third U.S. Open last weekend, making it two slams in a row after he went over two years without one. Before that slump, he held all four between Wimbledon 2015 and the 2016 French Open.
---
22 – Southampton just can't seem to win at home, with only 6 victories in their last 22 (dating back to February 2017), good for the second worst home record in the league last season and an 0-2-1 start to this term. The trend continued Monday as they blew a 2-0 lead against Brighton, conceding a late penalty to allow the equalizer.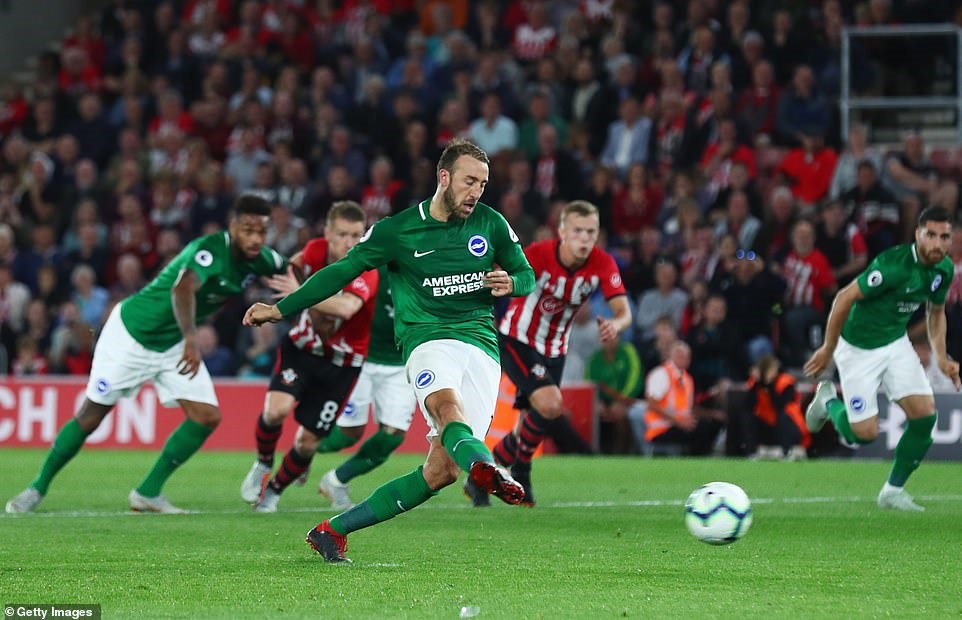 Glenn Murray provides the equalizer for Brighton from the spot in the 91st minute.
---
23 – Since Javi García took over at Watford, they have earned that many home points, even with the loss to United Saturday, which is one more than Liverpool and City and five more than Arsenal, United and Tottenham, all tied on 18. Wow!
28 – It took that many shots and three and a half matches for Ronaldo to get off the snide and score his first goal for Juve. Another followed that tap in 15 minutes later, as his new club won 2-1 over Sassuolo. Ironically, it was the same number of shots necessary for his first goal last season in La Liga! Ronaldo has now scored 575 goals in all competitions (in 767 appearances) and another 85 in 154 for Portugal for a total of 729.
You can only contain him for so long and Ronaldo has now scored in the top leagues in Portugal, Spain, England and Italy.
31% – Increase in sales for Nike over Labor Day weekend after they released their Colin Kaepernick "Just Do It" ad campaign. His NFL career may well be over, but he might just be the most important NFL players in decades.
46 – The Kansas Jayhawks are a powerhouse in College Basketball; not so much in football. Their 31-7 win over Central Michigan a week ago ended the second longest road losing streak in the history of NCAA Football. They blew out Rutgers 55-14 Saturday to move to 2-1.
50 – David Silva hit a half century of Premier League goals Saturday, in his 350th game, as Man City cruised past Fulham 3-0. The victory kept them as one of the four undefeated teams in the league (with Chelsea, Liverpool and Everton) and moved them above Watford and into third in the table.
58 – Road games it took for Georginio Wijjnaldum to score an away goal, courtesy of a Michael Vroom error (catching the ball in his goal) that gave Liverpool a 1-0 lead over Spurs. It was Wijjnaldum's 19th in total, the first 18 coming exclusively at St. James and Anfield. Vroom failed to snatch a rebound in the second half that was bundled in my Firmino to make it 2-0 and an injury time goal for Lamela wasn't enough as Tottenham lost for the second match on the bounce (2-1).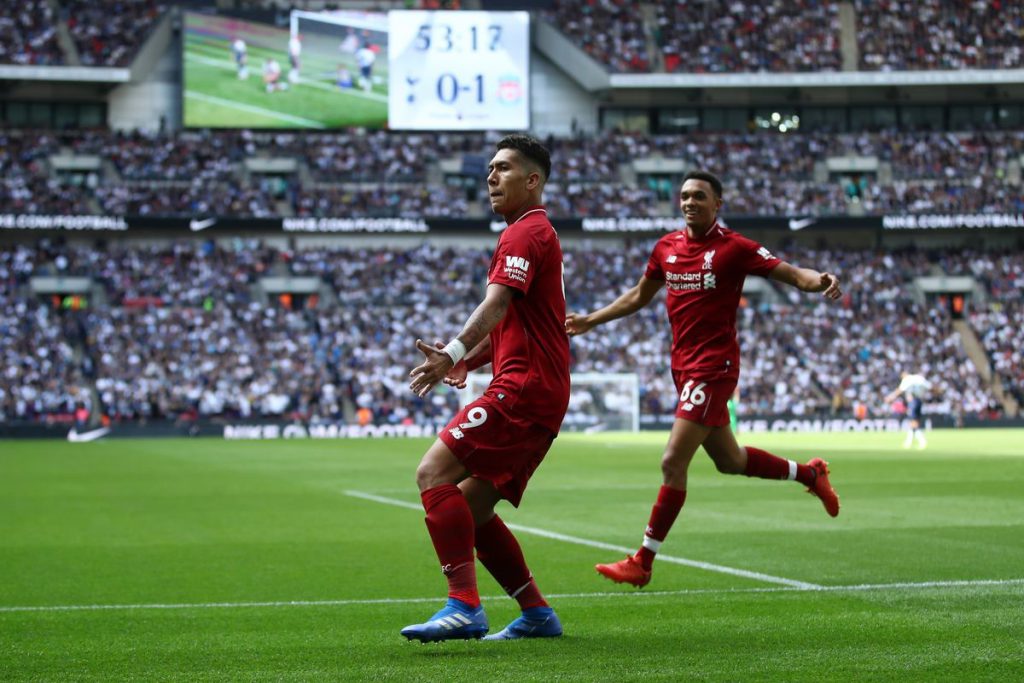 Firmino's tap-in proved the difference, though Tottenham had a pretty strong penalty shout rebuffed in extra time.
---
73 – Games between defensive touchdowns for the New York Jets, a stretch of five years, before Matthew Stafford's third interception became a pick-6 last Monday The Jets ultimately won 48-17 with rookie QB Sam Darnold recording a rating of 116.8 and an impressive QBR of 82.9, even after his own first NFL throw pick-6. The Jets returned to form in week 2, with three turnovers, being stopped at the one-inch mark as time ran out in the first half, throwing an interception in Miami's end zone, right after a turnover, and dropping several passes that could have prolonged drives. They lost 20-12.
80 – Jaws has terrified audiences for 43 years now, but it has been 80 since a shark attack actually killed anyone in Cape Cod, until Saturday when a Brazilian student died from injuries after an attack. RIP. Oddly, sharks only kill about 5 people a year, compared to 20 for horses, 22 for cows, hundreds by deer (through Lyme's disease) and hundreds of thousands by mosquitoes. 
106 – Alabama surpassed Ohio State for the most weeks as number one in the AP Poll, which was first published in 1936. Just another reason to hate the Crimson Tide and coach Nick Saban. There is still hope, with 9 of the top 10 and 15 of the top 25 undefeated after three weeks of football.
321 – Mark Noble featured in West Ham's win Sunday, extending his record for Premier League appearances for the Hammers. He has been a starter for West Ham since 2004 and has 379 appearances and 45 goals overall, including one of the better penalty conversion rates in Europe over that stretch.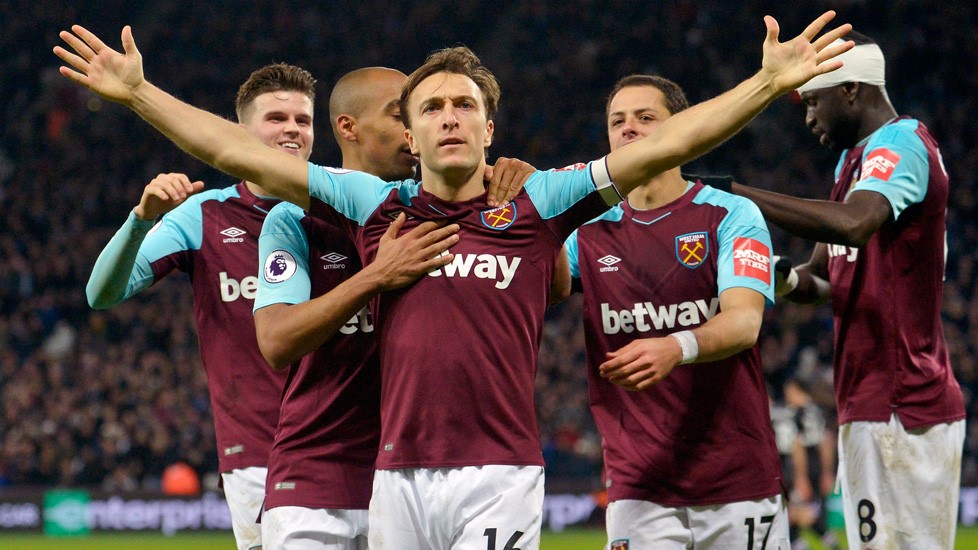 Noble has been a leader on and off the field for West Ham for well over a decade now.
---
.
500 – Famed poet and ne're-do-well Charles Bukowski once said that only the boring get bored. Zlatan Ibrahimovic will never fall into that category, for sure, at least while he is still lacing up his boots. For his 500th goal, he pulled off a trick I, personally, have never seen before. Check it out here (scroll down to video): Link.
535 – Saves in the Premier League for West Ham goalie Lucas Fabianski since the 2013-14 season, the most over that stretch. He only started one game for Arsenal that first season (5 saves), then spent the past four with Swansea before his summer transfer to West Ham. He already has 24 saves in 5 matches this season, including a couple of key ones in their first win of the season Sunday.
---
Check back in at the same bat time, same bat channel next week for the subsequent round of fixtures …