The big matchup of the weekend pitted Liverpool and Arsenal at the Emirates. The showdown didn't lack for entertainment though it only included two allowed goals to finish 1-1. The draw was arguably a better result for the Gunners, even as they were the home side, showing their growth since earlier in the season, while Liverpool can't really afford to drop any points if they are to maintain a challenge to Man City throughout the season. The rest of the Big 6 all won, allowing Tottenham to jump Arsenal into fourth and leaving Liverpool in third, behind Chelsea and City. Tottenham won a tight one at Wolves (3-2), City cruised past an awful Southampton side (6-1) and Chelsea beat Crystal at Stamford Bridge 3-1.
At the bottom of the table, Huddersfield and Fulham played a six pointer that Huddersfield won 1-0, moving them up to 17th and Fulham down to the cellar. This came on the back of Newcastle finally winning a match to move out of the bottom three, with Cardiff taking their place (ultimately in 18th). Looking at the bottom half of the table, there is a sense, at least to me, that it will probably be five teams vying to stave off relegation, with only two succeeding amongst Huddersfield, Newcastle, Fulham, Cardiff and Southampton, though Burnley and Crystal Palace could slide into the fray with a bad run.
In the Bundesliga, Dortmund won 1-0 at Wolfsburg while Bayern Munich settled for a 1-1 home draw with SC Freiburg that pushed Dortmund's lead back to four points and Munich to third in the table on goal difference. In Spain, Barça won 3-2 at Rayo Vallecano with Dembele scoring the winner late, Real Madrid finally ended their league slump with a 2-0 victory over Valladolid and both Sevilla (0-0 with Real Sociedad) and Atlético Madrid (1-1 at Leganes) settled for draws. The results stretched Barça's lead to 4 points after 11 matches. Both Napoli, 5-1 over Empoli, and Inter, 5-0 over Genoa, were big winners, but Juve kept their six-point lead with a 3-1 home victory over Cagliari. AC Milan has jumped all the way up to fourth place after a 1-0 victory at 10-man Udinese, but rumors have Wenger as a possible replacement for current manager Gattuso. Finally in France, yawn, PSG beat LOSC 2-1 and Montpellier beat Marseille 3-0 to leapfrog LOSC into second on goal difference, with PSG stretching their overall lead to 11 points.
On to the numbers, with a few nibbles from around the sports world …
---
Match Week 11
0 – Gareth Bale has gone seven matches without a goal during Real Madrid's recent struggles and was pulled for Vinicius Jr. Saturday. The Brazilian went on to score as Real finally won a league match. Bale was booed off the field, the fans tired of his endless injuries and uneven form, often forgetting his many game-winning goals in finals, including the UCL last season. His stats aren't that bad though in his four plus seasons with Real, having scored 58 league goals with 26 assists in 109 matches and adding another 9 goals in 35 Champions League matches and 3 in 4 Club World Cup matches.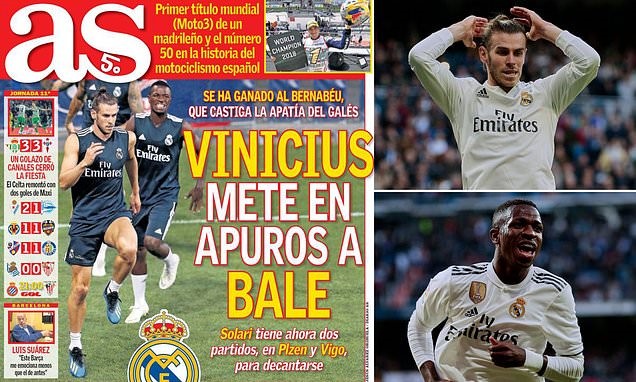 The short-term memory of the rarely satisfied Real Madrid fans has led to renewed enmity toward Bale.
---
Deuces Wild – The number 2 kept showing up in the match between Arsenal and Blackpool in the fourth round of the Caribou Cup. Emile Smith Rowe scored his second senior goal for Arsenal after a sublime pass from Matteo Guendouzi assisted the opener to Stephan Lichtsteiner in the 33rd minute. Then Guendouzi was sent off in the 56th minute and Maudie O'Connor scored for Blackpool to make it 2-1, before Maudie was sent off for a fail on Aubameyang himself in the 84th minute. So two goals, two reds, two goals for Smith Rowe, only two shots on target and a quarterfinal appearance for Arsenal in a Cup they reached the final of last season before getting crushed 3-0 by Man city.
2 – Speaking of twos, Tottenham held on for a 3-2 win at Molineux, but not before two penalties almost brought the Wolves back from a three-goal deficit. It was the second week in a row where a team got two penalties and converted both, following Crystal Palace last weekend. And both opponents were from North London.
4 – The renaissance of Alvaro Morata under Sarri, which is almost phoenix-like if one considers his form most of last season and into this one, continued with his fourth goal in his last four league matches as Chelsea cruised to a 4-0 victory over Burnley. That makes it 5 in 10 league matches with another in 2 Europa League matches for a very respectable goal every other match conversion rate. Before the current streak, he had 4 in 23 league matches! It continues the odd Chelsea trend of intermingling a good season with a relatively bad one. They are currently 2nd after finishing last season in a disappointing fifth. The season before, they won the league, the season before that they finished in 10th, and four seasons back they also won the league (2014-15). Weird …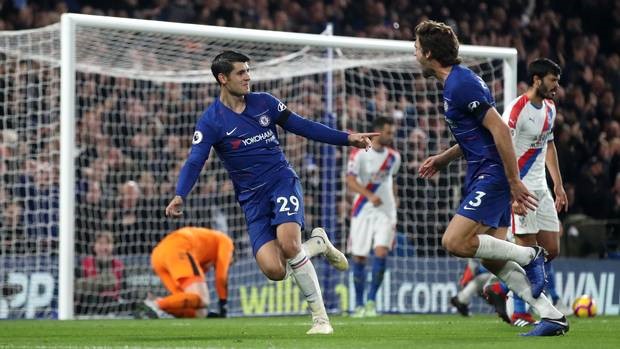 Many were writing Morata's obituary just a few short weeks ago, but the Spaniard's scoring boots have reawakened from a long slumber.
---
4 – Nigel Richards, you say? Who the hell is he? Well, at least in the "tournament era," the greatest Scrabble player of all time. The 51-year-old Malaysian-based New Zealander took his fourth English Scrabble world title in 11 years after beating the American Jesse Day 3-1. Richards is the only player to have won the title more than once, and he also took the French Scrabble title for the second time earlier this year. One highlight was the word "zonular" he used to start the final, worth a hefty 100 points. Don't miss the WC next year!
4 – The phenom Simon Biles also won her fourth world title, though in the World Gymnastics All Around. She fell on balance beam and vault, the first time in more than 60 WC and Olympic routines, but still won the title by her biggest margin ever. Here claim for GOAT grows with each new achievement.
5 – Arsenal have equalized from a losing position in five matches this season, going on to win two of those matches, draw another two and losing only to Chelsea, when they were the victims of a late winner from Marco Alonso. The only other dropped points from a winning position came when they allowed Crystal Palace to equalize from the spot quite late a little over a week ago. A further mark of a side that is growing in stature, maturity and drive to win.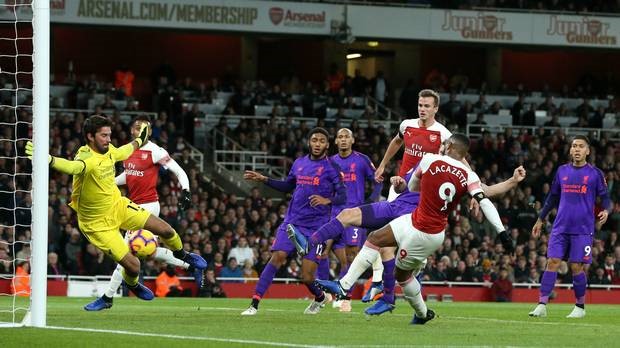 Lacazette's late equalizer showed his renewed confidence, pounding the ball through a small space between defender and goalkeeper.
---
5 in 33 – Wins against Top Six by Arsenal, including 0-3 for Emery. But the 1-1 draw with Liverpool Saturday, which was the fifth instance of them equalizing from behind mentioned just above, was definitely a step forward in his project of reshaping the club. The late equalizer by Lacazette was a thing of beauty in a game where the Gunners could have easily scored three (and, to be fair, conceded five). Lacazette is up to six goals and 3 assists in all comps this season (14 appearances, with 6 from the bench), his partnership with Aubameyang really starting to pay dividends for both.
11 – Newcastle finally got their first win of the season and it only took 11 matches. The victory certainly went against the run of play, with Watford bossing 59 percent of possession and out passing the home side 452 to 326 with 16 shots to 10. But the Toons made one count, with Ayoze Perez finding the winner in the 65th minute. The victory moved them out of the relegation zone, at least for a week. 
11 of 15 – Points for Klopp against Wenger before the Frenchman left the club at the end of last season. Against Emery, 1 of 3 so far. Hmm …
12-12 – Dak Prescott's rookie season he went 13-3. Since then? 12-12. The Cowboys are 0-5 when Dak has a turnover and he actually leads the league in multiple turnover games since last season. The Cowboys season is going south quickly after the 28-14 loss to the Titans Monday and one wonders if Coach Garrison might finally get the walking papers he's deserved for a couple of seasons now.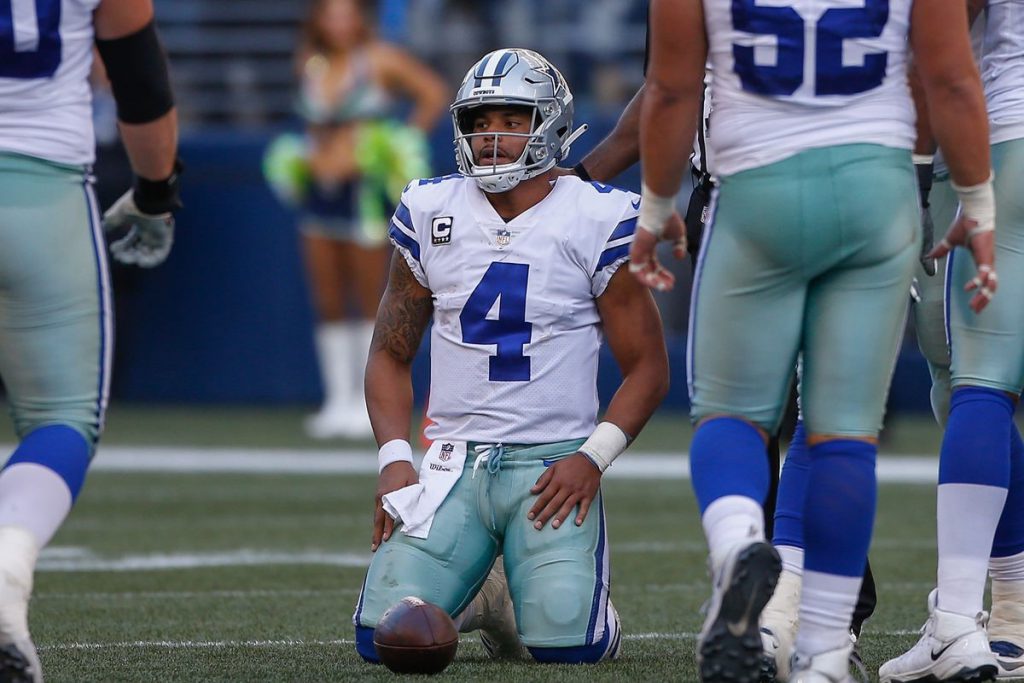 Prescott's promise as a rookie has been followed by a season and a half of disappointment. Do the Cowboys have to consider replacing the man they thought was their franchise QB for a decade or more a mere two seasons later?
---
14 – Straight unbeaten for Arsenal, though two draws in a row in the league, after 12 straight wins in all comps. The good news is Arsenal have improved against the top sides, with a tight 3-2 loss to Chelsea (their second and last of the season way back in August) and this hard-fought 1-1 draw that either side could have easily won, but one feels the old Arsenal would have almost certainly lost.
18 – How long it took for Man City to put three past Southampton. The first was an own goal by Wesley Hoedt in the sixth minute. The second, six minutes later, was by Aguero and, oddly, six minutes after that, David Silva was on the scoresheet.  A penalty allowed Southampton to get one back in the fifth multiple of 6. Sixes were no longer wild in the second minute of first half stoppage time, when Raheem Sterling made it 4-1.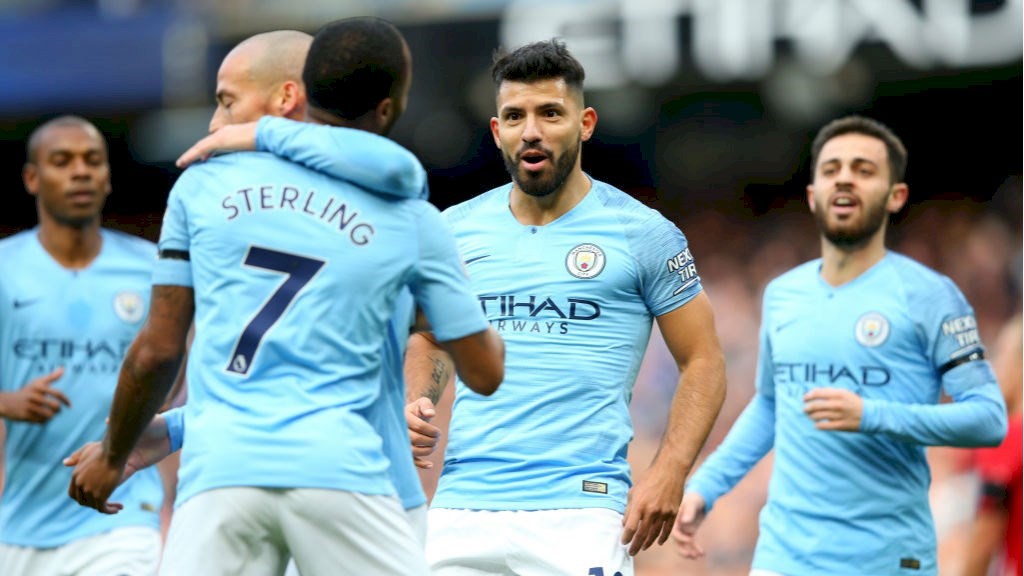 City are cruising again and one wonders if anyone can keep up for long in the league, particularly as Liverpool have been on a slight downslide over their last 9 matches.
---
19 of 25 – Goals after halftime for Arsenal this season. The latest was the fifth league goal for Lacazette in the 82nd minute, which gave the Gunners a point and kept the aforementioned unbeaten streak alive.
29 – Touchdown passes for Patrick Mahomes after 9 games, with only # interceptions. He is only one from the franchise record for an entire season and is on track to break the yardage mark as well. Maybe most impressively, he is one 300-yard game away from matching Drew Brees' record of 8 straight hitting that mark. Could he finally lead KC to only their second playoff win in 24 years?
50 – It seems a new player hits this Mark every week. The latest? James Milner, who scored the opener to make it 1-0 Saturday over Arsenal. It was his first goal from open play since March 15, with his last 10 from the spot.
92 – Rashford guided the ball into the net from a Pogba cross to give United the three points against Bournemouth, who led after 11, and allowed the side to avoid going 9 with only two wins. It was the third game running where United came back from a deficit to earn points. And Bournemouth's six-match unbeaten streak is over.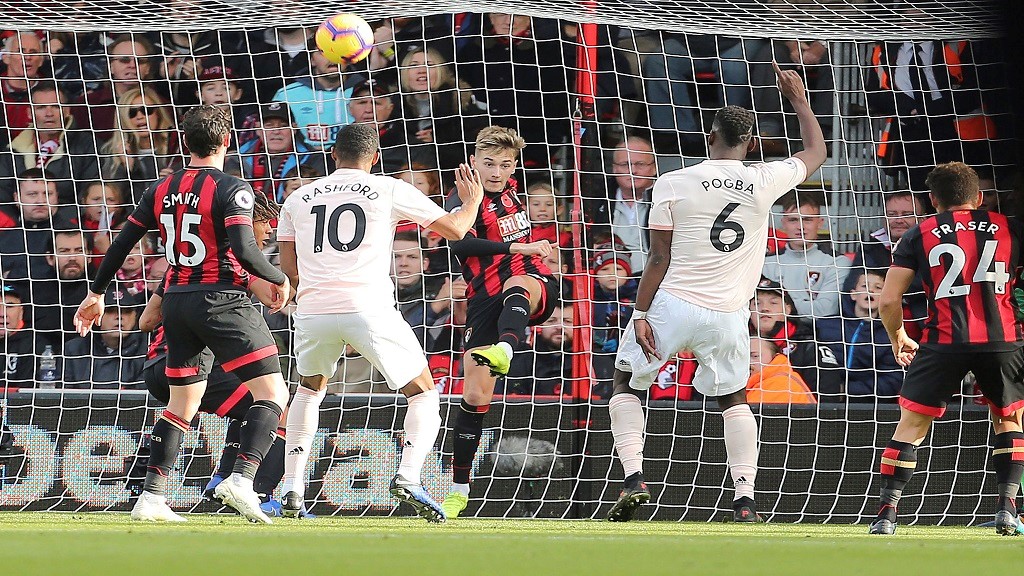 Bournemouth thought they had a valuable point, only for United to again score late. Is Fergie time coming back after a long break?
---
150 – To think, City were seriously considering replacing Sergio Aguero with Gabriel Jesus at central striker earlier this year. Jesus got injured, his form has declined and Aguero just hit the magic 150 league goals.
$2,500,000 – "Don't always believe the hype" appears to be a lesson that has come into acute repose over the past couple of years. The same might be said of Nike, who gained positive PR for their recent progressive ad campaigns only to find out that the founder, Phil Knight, gave by far the biggest contribution in the state to Knute Buehler, the Republican running for Governor of a state that has been among the most progressive in recent years.
---
Check back in at the same bat time, same bat channel next week for the subsequent round of fixtures …