Since the start of the EPL season last August, the Houston Astros won their first World Series, Caroline Wozniaki won her first Grand Slam, as did Simone Halep last Saturday, the Washington Capitals won their first Stanley Cup and the Philadelphia Eagles their first Super Bowl. On the other hand, the Golden State Warriors won their third NBA title in four years, Real Madrid their third Champions League in a row and fourth in five years and, of course, Man City their third title in the past seven seasons.
It ended up being one of the most anti-climactic final EPL weekends in memory, the results the Tuesday and Wednesday before "Championship Sunday" essentially settled matters regarding the Top 4 and the Bottom 3. Stoke City went out the weekend before, West Brom joined them that Tuesday and, for all intents and purposes, Swansea did a day later, as Huddersfield's point in a 1-1 draw at Stamford Bridge meant they were safe and the 9-goal difference advantage for Southampton meant their win over Swansea was enough to stay up, even after a 1-0 loss to the Champions Sunday.
The Huddersfield draw with Chelsea was also important for Liverpool and Tottenham, as it meant that Spurs could finish no worse than fourth and a point for Liverpool Sunday was enough to stay in the Top 4 after a late season fall off in the league. Sunday confirmed all of these eventualities and both Chelsea and Arsenal will have to make due in the Europa League next season. Arsenal, after a nice result last Sunday, again showed their road woes with a 3-1 loss to a Leicester side the has been flagging for months, courtesy of an early red card and a late penalty, though they did finish Wenger's reign with a 1-0 victory over a lively Huddersfield.
The final Sunday did include some interesting results, though nothing really changed. Chelsea didn't even show up for a game they needed to win to even have a chance at the Top 4, losing 3-0 to a Newcastle side that had lost four in a row. David Moyes got a win in what turned out to be his final game with West Ham, beating another manager who would get the boot in Sam Allardyce (3-1). United won a 1-0 snooze-fest over Watford, securing second place but continuing questions about whether Mourinho can really catch Guardiola in the near future. Man City won by the same score, with a last gasp winner, but their three points allowed them to hit the century in points, a total that might never be surpassed. And no one would call them boring. Finally, Tottenham and Leicester played out a nine-goal thriller that Harry Kane ultimately won for the Spurs.
Liverpool, of course, made it all the way to the Final of the Champions League on the back of a sea of goals, but some bad luck and the most unforgettably awful game you're likely to see from a goalkeeper in a big match led to a 3-1 loss to Real, who became the first team to win three Champions League Crowns in a row in the modern era (Madrid, Bayern Munich, and Ajax all won 3 European Cups in a row). The hero was Gareth Bale, who looks likely to leave Spain after going out with a bang, with 7 goals in his last 5 game, including the winner and insurance goal in the Final.
The NHL playoffs saw the Capitals finally get off the snide beating Pittsburgh 2-1 in OT, as Ovechkin provided the assist for the Kuznetsov winner. They then came back to beat Tampa Bay down 3-2 and then, after losing the first game to surprise finalist Vegas, won the next 4 to finally, finally give Ovi his coveted crown. In the NBA, as previously mentioned, the Warriors beat the Cavs (again), pushing LeBron's finals record to 3 and 6.
On to the numbers, with a few nibbles from around the sports world …
---
Match Week 37-8 & UCL By the Numbers
0 – As Wayne Rooney seems set to test the waters in the MLS, a rather damning statistic sums up the largely failed return to Everton. He has neither a goal or an assist in 2018; yes nil-nil. He did score the unlikely equalizer against City early in the season, managed a hat trick in December (including the memorable goal from across the midfield line) and does have 11 goals (10 league) in 36 appearances (31 in league), but his second half display is paltry to say the least. Another damning zero was in both tackles and interceptions in a 3-0 thrashing in the return fixture against City a couple of months ago. And he has given the ball away more than any other players at Everton this term, even as he is regularly subbed out. Everton finished the season with a 3-1 loss to West Ham in what was likely his last match with his boyhood club.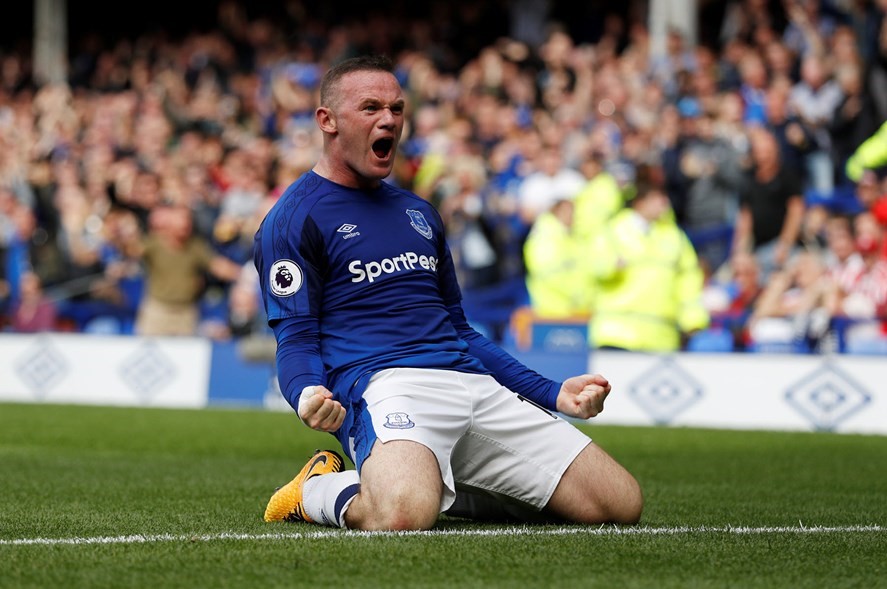 Rooney had some great moments in his two stints with Everton, but there were almost none in 2018.
---
0 – The most used lineup for the Cleveland Cavaliers in their first two series victories over the Pacers and Raptors, saw exactly 0 minutes together during the regular season. The Cavs, of course, revamped their entire roster about halfway through the season after the blockbuster Kyrie Irving trade with the Celtics failed to work out, but it's incredible to see George Hill, J.R. Smith, Kyle Korver, LeBron James and Kevin Love play so well after not a single regular-season game to work out the kinks. Maybe that guy named LeBron had something to do with it … until the Finals, of course.
0-3-6 – Swansea started life under Carlos Carvahal 5-2-2 to look like they might escape the drop. In their last nine, they had 3 draws and 6 losses as they fell back into the Championship. They were up 1-0 against Stoke but lost 2-1 (with Crouchie providing the winner). The match ended with 17 consecutive combined seasons in the Premier League down the drain.
1-nil – to the Arsenal. That was the common incantation before Wenger arrived at the club and, ironically, that is how his career ends after 22 years. The win was the first away from home for Arsenal in 2018!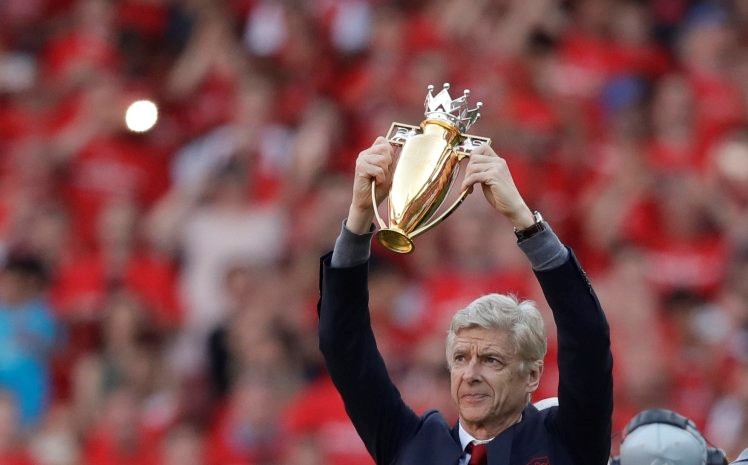 Wenger was given a proper send off in his final home match, including the trophy from the Invincibles season.
---
1-9 – Caps previous record in series-clinching games against the Penguins, the only exception to the run of misery being 1994. That all changed last Monday night as the Caps played a strong defensive game and won 2-1 in OT to take the series 4-2. It was the Caps third trip to the Eastern Conference Final and first since 1998.
2 – Huddersfield had one of the worst run-ins for a relegation-threatened side in recent memory but, after securing draws against City and Chelsea in four days, made the naysayers pay by guaranteeing their survival. Saturday, they lost a match they could easily have won, 1-0 to Arsenal, but will have a second season in the Premier League anyway.
2:02 – Gareth Bale must have been disappointed not to start in the Final after scoring in 5 straight to hit 19 for the season. It didn't matter, as he struck the goal of the season only two minutes after coming in to restore Real's lead and then sealed it in the 83rd minute as Karius made his second mistake of the night (though we later learned he had a concussion before the two gaffes). Bale became the first sub to score twice in a European Final and has the winner in two of Real's UCL trophies.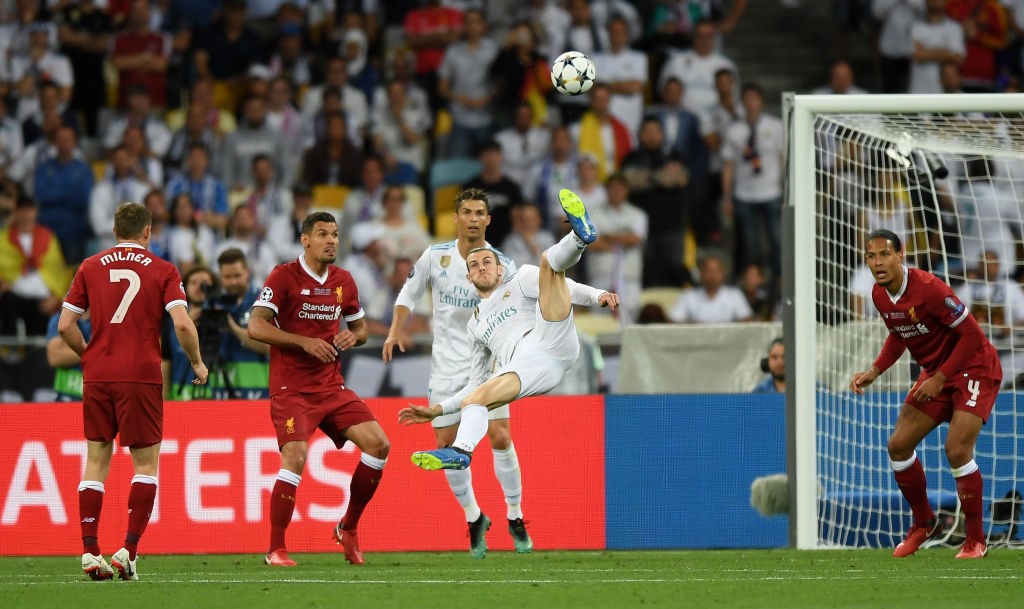 Bale scored one of the greatest goals of all time to break Liverpool's hearts yet again.
---
2 in 32 – Mistakes leading to goals by Karius heading into the Champions League Final. He had two in the game, as Real won 3-1. It means Juergen Klopp is now 1 and 7 in major Finals.
3 – When Sade Mane scored the equalizer in the second half of the UCL final, Liverpool became the first side with three double-digit scorers in one Champions League season – Mane, Salah and Firmino all with 10. Little solace, of course.
3 – Chelsea became the third straight Premier League Champion to finish outside the Top 4 the next year. They finished the season with a 3-0 loss to Newcastle in a game that could have mattered, had they not drawn with Huddersfield 1-1 the previous Wednesday and if Liverpool had lost Sunday. One assumes Conte is gone, though he did at least win the FA Cup to keep United without a trophy this season. That outside-the-top-4 streak would need a miracle collapse by City next season to continue …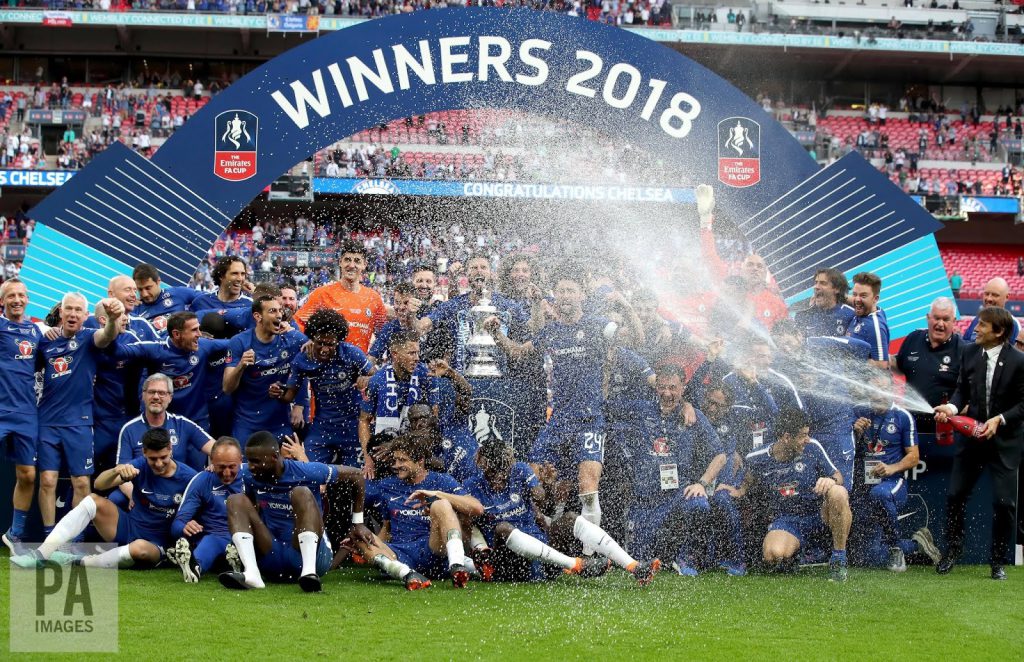 After a season to forget, Chelsea celebrated the solace of an FA Cup win over United.
---
4 – Marc-Andre Fleury registered 4 shutouts for the Vegas Golden Knights in his first 10 playoff games. Since 1979, there have been 14 goalie-seasons where they pitched four or more shutouts on the run … and 6 of those 14 have gone on to win the Stanley Cup. Fleury did not tally another and was actually pummeled by the Caps as his side lost in 5.
4-4-11 – If Wenger is laying in the sun this offseason wondering why he was forced out, he might look no further than his away form this season. In 18 games, they have a measly four wins; yes FOUR, along with 4 draws and an amazing 11 losses, including against Leicester last Wednesday. Their goal difference in those games is -11 (meaning a lot of one-goal losses) and they were 16th in the away table until Sunday's win moved them to 11. By the way, they are second in the table at home, with 47 points from 19 matches, only three behind City.
4-11 – The Caps all-time record in Game 7s heading into their encounter with Tampa Bay, the team with the best (5-2) in league history at that point. Most had the Lightning rebounding from their Game 6 loss in Washington to win the series, but the Caps defied the odds, and their recent history, to finally make it to the Stanley Cup Finals for the first time in the Ovechkin era (4-0).
5-4 – Barcelona was two games from the first 38-game unbeaten season in La Liga history, but for some reason they kept Messi off the roster and lost at Levante 5-4. It ended their unbeaten league run at 43. Coutinho had his first hat trick for his new team, but it wasn't enough as Levante held on. The last unbeaten season in La Liga was way back in 1911-12, for Real Madrid, but that was a mere 18-games. Barça went on to win their final match of the season …

Barça blew their undefeated league season with only one game to spare.
---
7 – Chris Froome became the seventh man to win all three grand tours when he won the Giro d'Italia last Sunday; and the third to hold all three at once. He has six in total, with his four Tour de France's, but a cloud hangs over the past two after his Vuelta win was marred by elevated salbutamol levels captured after the race. Dêja vu all over again? 
11th – After the worst start in EPL history, Crystal Palace found their stride and finish the season in 11th position, winning their final match 2-0 over already-relegated West Brom. It was a nice rebound for Roy Hodgson after the debacle that was his time in charge of England. David Moyes, even after his exit from West Ham, has also done some work to restore a reputation that has been on a downward spiral since his short stint with United.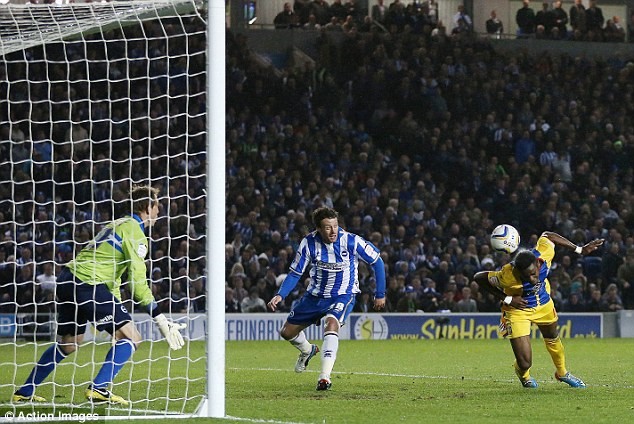 When Crystal Palace look back on their great escape after early season struggles, Zaha can shoulder a fair share of the credit.
---
11 – Rafael Nadal won an incredible 11th French Open title Sunday in straight sets over Dominic Thiem Sunday, taking his record in Paris to 86-2 overall. With the victory, he closed within three of Roger Federer's 20.
13 – Real Madrid has dusted the competition in the Champions League/European Cup over the years and added their 13th, third in a row and fourth in five seasons. Zidane became the first manager ever to win three European Cups in a row and also added two Supercopas, two UEFA Super Cup, the FIFA Club World Cup twice and a La Liga title. He surprised everyone by quitting a few days after his latest silverware.
o done some work to restore a reputation that has been on a downward spiral since his short stint with United.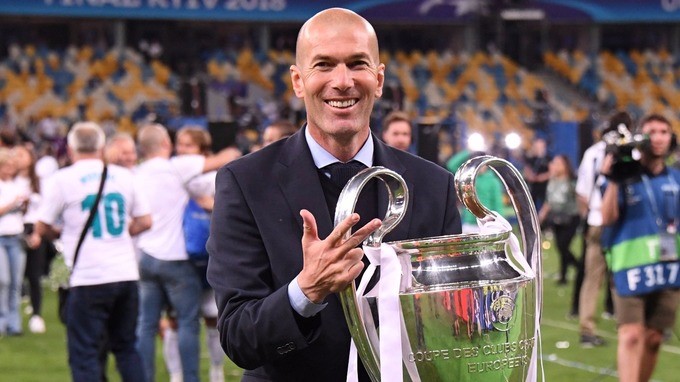 Does this look like a man about to quit? Appearances can be deceiving.
---
13 – The Caps are not the only ones to wait many years to finally get to a Conference Championship, CP3 has endured 13 years and three teams to finally accomplish it with the Rockets, putting up 41 in the decider, with 10 assists after a big game in the fourth game as well. Yet another untimely injury saw him miss Games 6 and 7 as the Warriors won both to return to the Final for the fourth straight year.
13 – Justify became the lucky 13th winner of the Triple Crown Saturday, leading from start to finish to join an exclusive club, becoming only the second horse to accomplish the feat in the past 40 years He also became the second horse to do so  undefeated and Bob Baffert only the second trainer to win the Triple Crown twice (he also trained American Pharaoh). Maybe most impressively, rider Mike Smith won his first triple crown at 52, the oldest in history.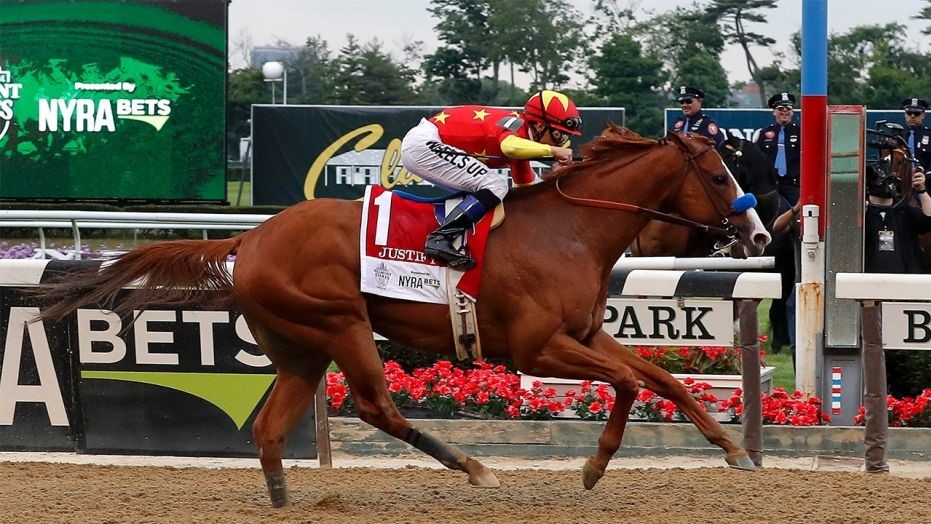 Justify has a nice future ahead, worth upward of $75 million in stud fees going forward.
---
18 – Hard to believe, really, but David De Gea has won his first Golden Glove with that number of clean sheets, two better than Ederson at City and three above Courtois for Chelsea. Hugo Lloris was in fourth with 15 for Spurs.
20 – In 22 years and 20 matches, Arsene Wenger had never lost to Leicester, including last second winners earlier this season and in Leicester's dream title run two years ago. Yet in his last face off, seemingly apropos for this season of away woes, the last was the first for the Foxes. Their 3-1 win made it seven straight away defeats in the league for the Gunners, together with the 1-0 away loss to Atletico a couple of weeks earlier.
22 – Straight missed three-pointers by James Harden, before he broke the slump with a trey with 2:30 left in the first quarter of Game 6 … though his struggles without Paul saw the Rockets fail with two attempts to send the Warriors home early.
23 – Remember James Vardy, the non-league player who became the striker of the most unlikely champion in English football history? Well, he quietly had a pretty good season, chipping in with 23 goals when all was said and done. It was enough to get him onto the 23-man squad for the World Cup, unlike Joe Hart, Jack Wilshere, Jonjo Shelvey, Adam Lallana, and a host of others who were hoping to make it to Russia this summer. In fact, it's the least experienced England squad sent to a World Cup since 1962.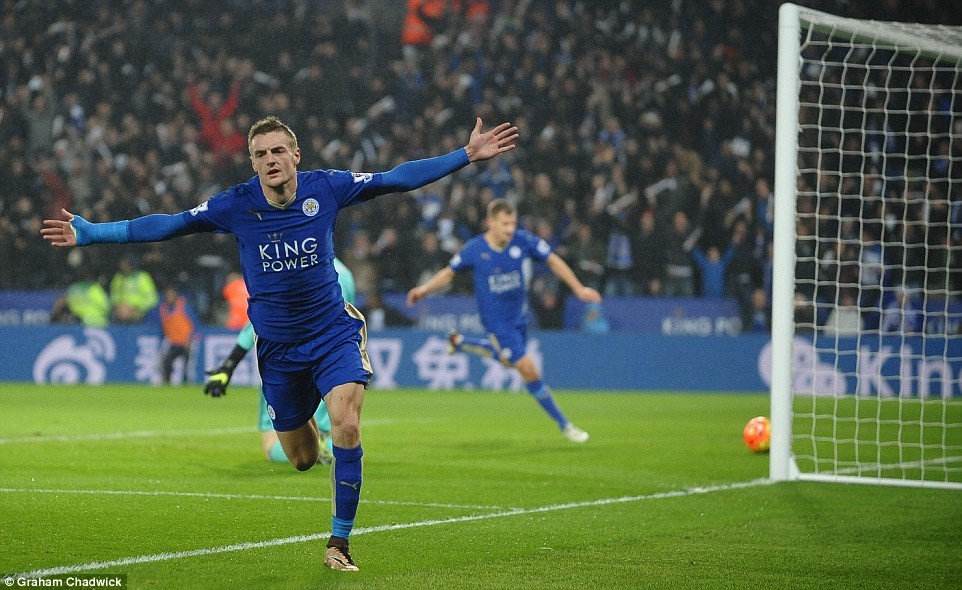 Vardy celebrates a goal in a win over Chelsea earlier in the season.
---
30 – Harry Kane set a personal record for goals in a league season, but was still short of Salah by two, as he scored a brace in a thrilling 5-4 win over Leicester that secured third for the Spurs. They have finished 5th-3rd-2nd-3rd under Pochettino, without a trophy, and the murmurs of missing their window might start to emerge if any of their stars move on.
32 – Mo Salah has broken the 38-Game record for most goals in an English top flight season, his 32nd giving Liverpool the lead in a must at least draw final game with Brighton (though Chelsea's loss meant it actually didn't matter at all). For the second straight season, the Reds needed a result in the last league match to secure the Top 4. For the second straight season, they've done it. Sarah's total in all comps is an insane 44. He set the records for most goals by a foreign player and most inside the box, though he needed a hat trick in the UCL final to match Fowler's all-comps record for the Reds, a possibility that was foiled by his first-half injury.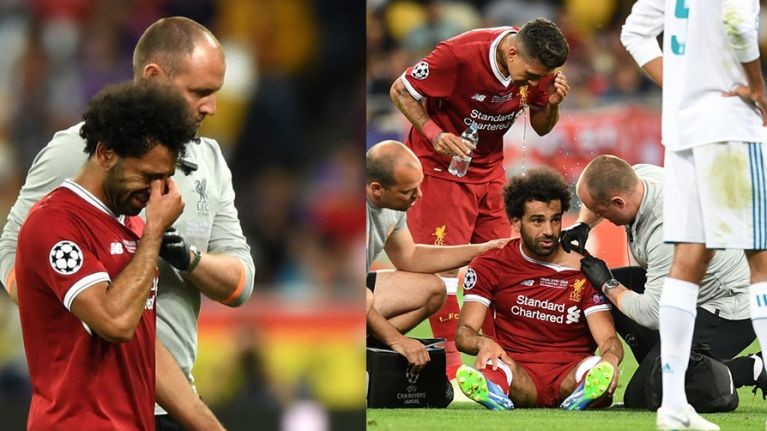 It was a disappointing end to a wonderful season for Salah, courtesy of Sergio Ramos, who apparently took out two Reds in one game, though the other stayed in to help Los Blancos win.
---
34.1/17.9% – Boston lost their first game on the road all playoffs in Game 7 of the Eastern Conference Championship, shooting awfully from the field and, particularly, the three-point line. Tatum (9/17 for 24 points) and Hortford (7/12 for 17) were the only Celtics who were effective on the offensive end, with Rozier (2/14), Brown (4/18) and Smart (1/10) combining for a paltry 16.67% from the field and 11.5% from three. It was still a great run for a side missing their two biggest stars, with Tatum establishing himself as a likely future All-Star in his rookie outing, only two years removed from High School.
37-0 – The Celtics record when up 2-0 in a playoff series, until the Cavs came back to beat them in seven. Could the Celtics have given the Warriors a better series? Hard to say, but they couldn't have done much worse …
44 – 14 years after he signed with the Caps, Ovechkin led Washington to their first Stanley Cup 44 years after they became a franchise, beating the best first season team in history 4-1. They became only the second team ever to win the Cup after trailing in every series, joining the 1991 Penguins and Ovechkin became only the second player in the past 20 years to score 15+ goals in a single playoff (joining Nemesis Sidney Crosby in 2009). Ovi can finally bury the playoff choker label for good and renew chasing Gretzky for most goals in history.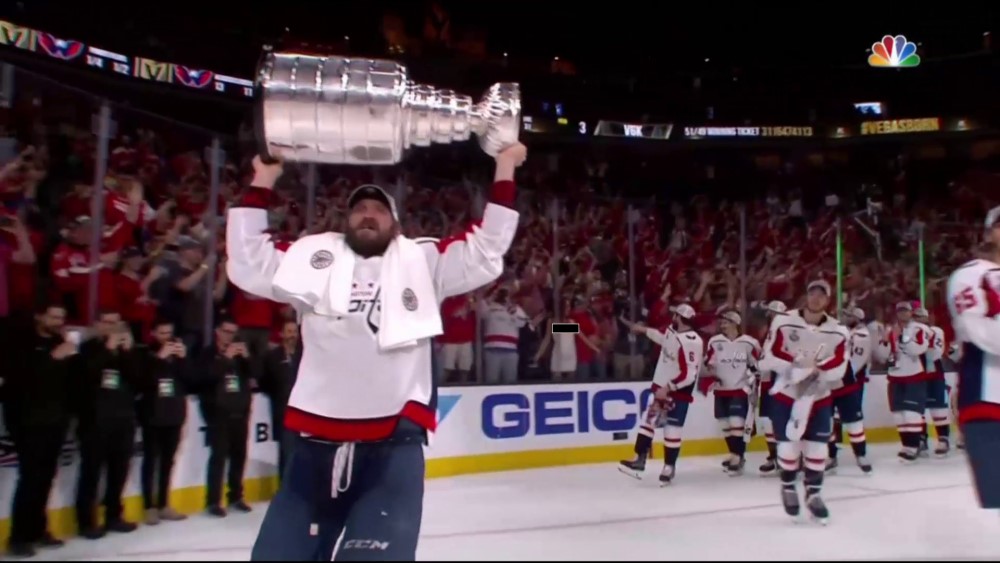 Ovi celebrates the solidifying of his legacy as his teammates wait for their chance to lift the Cup.
---
100 – Man City became the first side ever to accrue 100 points in an English league season, with their surprisingly tight 1-0 win at Southampton in the final match of the season. They also beat the record with a 19-point margin to second, set the record for goals in a season (106), goal difference (+79) and wins (32). I still Ike the Invincibles and many others mention 1999 United, but they have certainly staked their claim to best league side ever in England.
120 – Million pounds is the financial impetus to stay in the English Premier League. Stoke City was the first to lose that windfall, followed by West Brom a few days later and finally Swansea who needed a combined 9-goal differential to stay up the final weekend. They ended up losing 2-1.
1051 – One of the true class acts in world football, Gigi Buffon called time on his Juve career on Sunday May 20. He played 1,051 matches for the club, winning 9 league titles and 4 Coppa Italias, but failed to win the one trophy he coveted most – the Champions League – even as he was in three finals. Of course, one shouldn't forget he was also in goal in 2006 when Italy beat France to win the FIFA World Cup in Germany, which might well be his career highlight.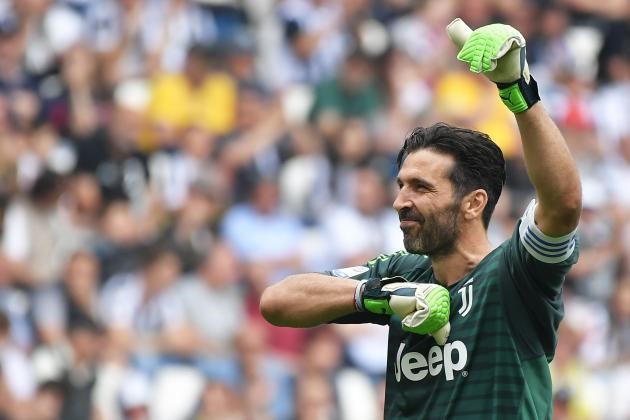 Buffon celebrates yet another title with Juve in his final game.
---
1561 – Goals by Arsenal in the Wenger Era, the last coming from Aubameyang to give the Gunners the win at Huddersfield. That was in 1,235 games.
1976 – Real became the first side in 42 years to lift the European Cup three seasons in a row after beating Liverpool 3-1 in the final.
1996 – Iceland has had a decent couple of years on the sports scene, with the epic win over England in the European Cup quarterfinals and now, after 22 years in the dark, they have returned to the top of the World's Strongest Man competition, with actor Hafthor Julius Bjornsson (of Game of Thrones fame) reclaiming the title for a country that won 8 of 11 contests in the late 80s and early 90s but none since '96.
14,612 – Days between Championships for Washington DC, with the Redskins the last to win one for the national capital in 1992 before the Caps ended the drought.
---
Check back in at the same bat time, same bat channel next season … but tune in to the World Cup starting this week!