It has been a big couple of weeks in the sports world, with plenty of league football and cup matches, the return of the Champions and Europa Leagues, teams continuing to vie for March Madness, the NBA All-Star week, the start of Spring baseball and, of course, the Winter Olympics. In England, last weekend, United lost 1-0 at Newcastle while City cruised 5-1 to stretch their lead at the top to 16 points. Chelsea bounced back after recent struggles to win 3-0 over bottom dwelling (and cab purloining) West Brom, Liverpool beat their farm team Southampton 2-0 and Tottenham all but ended Arsenal's top 4 aspirations with a 1-0 victory at Wembley.
The Round of 16 of the Champions League launched this week, with City cruising 4-0 at Basel, Tottenham scoring twice to equalize at Juve 2-2, Liverpool crushing Porto 5-0 on the road and Real scoring three straight to all but eliminate PSG 3-1. In the Europa League, most of the top remaining teams won, including Arsenal 3-0 over Osterlunds in frigid temperatures. As their league position makes finishing in the Top 4 less likely every week, Wenger appears ready to prioritize this competition, though they are only in the Round of 32 at this point. The only other salve for the struggling side is the possibility of a League Cup next weekend against Man City. Napoli was upset in the Europa League by Leipzig 3-1, Lokamotiv Moscow surprised Nice 3-2, and Real Sociedad and FC Salzburg drew 2-2, while AC Milan, Dortmund, Sporting CP, Marseille, Lyon, Atletico Madrid and Atletico Bilbao all won.
The Winter Olympics in Pyeongyang had a blistering start, with the U.S. winning four snowboarding golds, though Norway has dominated the proceedings so far with 28 medals in total (including 11 gold), Germany in second with 20 (10 golds), Canada in third with 17 (6 golds) and the U.S. in sixth with 10 (5 golds). Mikaela Shiffrin got her gold in the giant slalom, but failed to medal in her signature event (slalom), falling to fourth in an event she had won in all the major competitions she had entered to that point (including the 2014 Olympics and the 13, 15 and 17 world championships (and 5 of 7 this season). Shaun White needed a big hit in his final run and nailed it to win his third gold in the men's snowboard halfpipe after heartbreak four years ago. Jamie Anderson won the women's snowboard slopestyle in terrible conditions, Red Gerard added a gold in the men's event, 17-year-old Chloe Kim lived up to the hype with her gold in women's snowboard halfpipe. Nick Goepper added a silver in men's freestyle skiing slopestyle, the U.S. skating team won a bronze in the team event won by Canada, John-Henry Krueger was shocked to win Silver in the 1,000 meter short skate and Chris Mazder became the first American to win a medal in men's luge. Finally, Arielle Gold added a Bronze in Women's snowboard halfpipe, with plenty of medals still on the line.
On to the numbers, with some nibbles from around the sports world …
---
Match Week 27 By the Numbers
1-0 – Dreams of the quadruple are now gone for Manchester City, after they were beaten 1-0 by Wigan in the FA Cup; the same score that Wigan beat them in the 2013 FA Cup final. Will Grigg secured the winner in the 79th minute as the League One outfit stifled one of the most potent offenses in world football, helped by a first half stoppage time red for Fabian Delph. 
2-2 – Tottenham were flying high after their 1-0 North London Derby win last weekend, moving them a point behind Chelsea in fourth, and their come-from-behind 2-2 draw at Juve midweek, but were brought back down to earth by the Rochdale, the bottom team in League One, who scored in the last 20 seconds of extra time to earn a replay, after Harry Kane had given the Spurs the lead with an 88th minute penalty.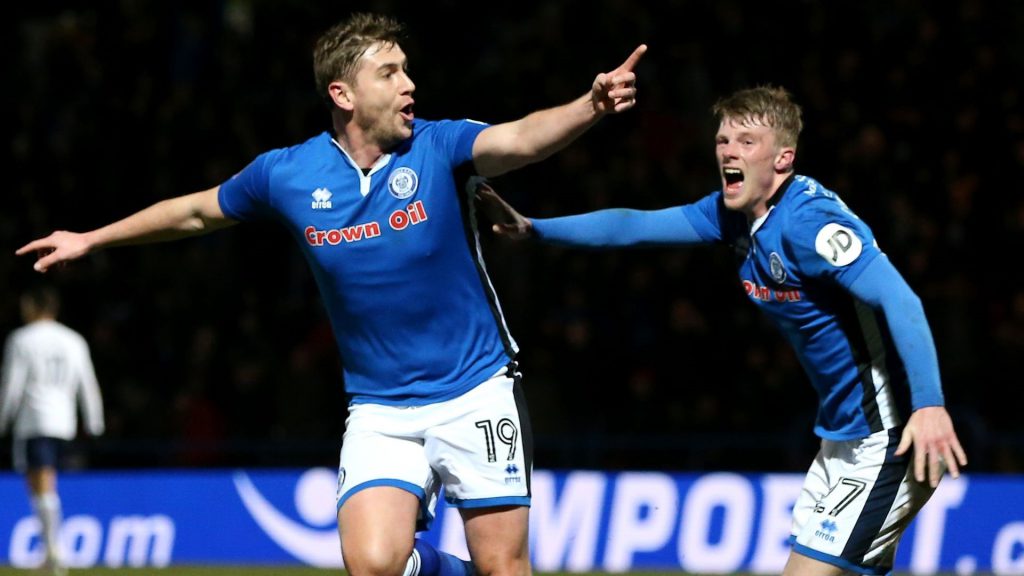 Rochdale's Steve Davies celebrates late, late equalizer in FA Cup 2-2 draw with Spurs.
---
2 of 11 – Great Britain is one of only two countries, alongside Switzerland, to have competed in every Winter Olympics since they started in 1924. However, GB only has 11 golds over that long stretch. After a second consecutive gold in Women's skull, Lizzie Yarnold has 18 percent of them, while her teammate Laura Deas took the bronze in the same event.  
4 – Joselu leads Newcastle with that meager total of goals for the season. It was Matt Richie, with his first of the season (on his 44th shot), who gave the Toons the lead against United that they would hold onto for a surprise 1-0 victory. It was the third straight game Paul Pogba did not finish as trouble appears to be brewing with Mourinho as to his best position and general form.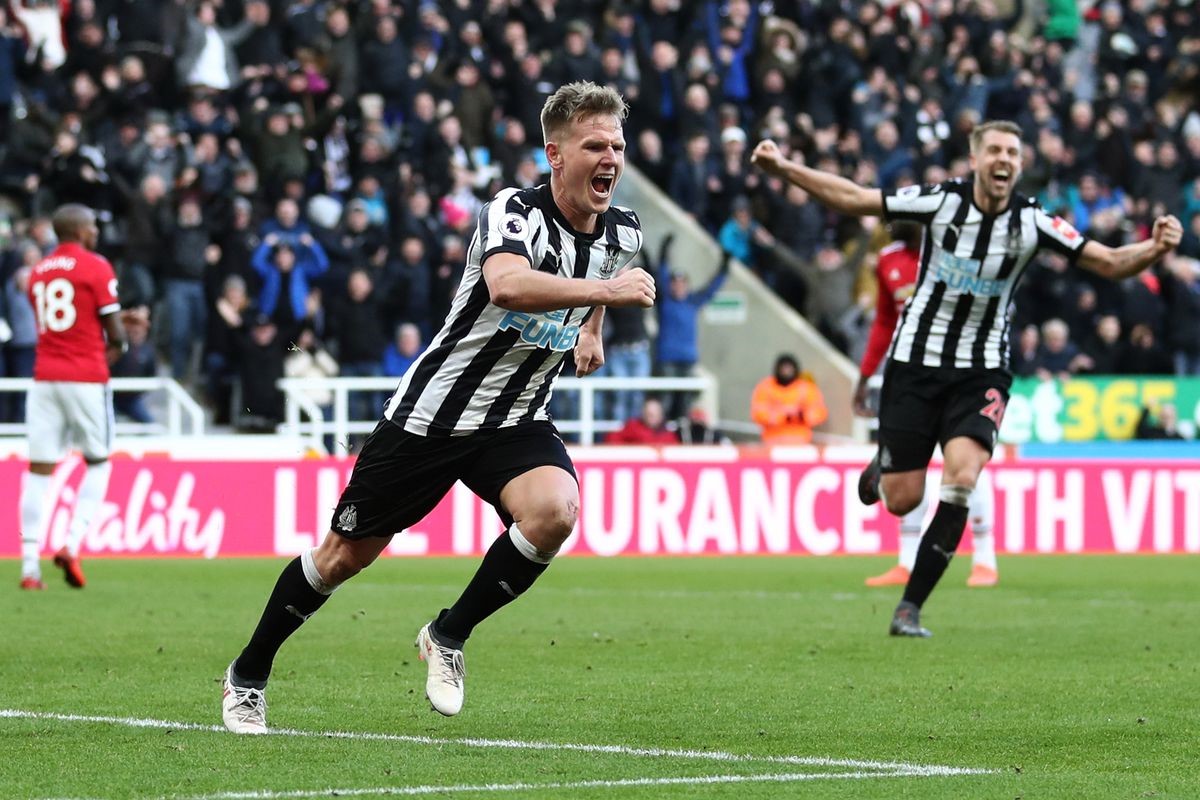 Matt Richie celebrates his first goal of the season, after the most shots without one in the league up to that point.
---
4-1 – Huddersfield has dropped from midtable to the bottom three over the past couple of months, but escaped the relegation zone with a comprehensive takedown of a recently hot Bournemouth. 
5 – Michy Batshuay was frustrated at Chelsea, where he found it hard to get much time on the pitch, even as he scored at a decent rate when included. Chelsea sent him out on loan to Dortmund, to replace Auba after his move to Arsenal, and has been red hot since arriving, with 5 goals in 3 appearances. Might Chelsea regret giving him up for the second half?

Batshuayi gets some love from his teammates after scoring a double last week.
---
5 – Nathan Chen had a short program that was embarrassing, eliminating any chance of the gold he was among the favorites to win. But in his long program, he became the first skater to successfully land five quads, just missing credit for a sixth. The performance moved him up from 15th to 5th.
5 in 45 – Wins for Newcastle against Man United in EPL history, though Jose Mourinho was without a win in all his trips to St. James Park, with Chelsea. Something had to give and, as noted above, it was not Mourinho's history of futility in the Northwestern home of the Toons.
7 – Spurs took that many points against United, Liverpool and Arsenal in the past few weeks to move back into the Top 4, at least for a couple of days, before Chelsea jumped back ahead of them by a point with their 3-0 win last Monday evening.
7 – Straight games without conceding a goal for Juve, all wins. Incredibly, Napoli continue to lead by a point, trying to end Juve's six-year monopoly of the Scudetto. They ceded that record in the Champions League, ceding a 2-0 lead against Tottenham to settle for a 2-2 draw in the home leg, but were back at it with a 1-0 road win over Torino Saturday. Napoli again kept pace with a 1-0 victory over SPAL, a few days after a surprise 3-1 loss to RB Leipzig in the Europa League.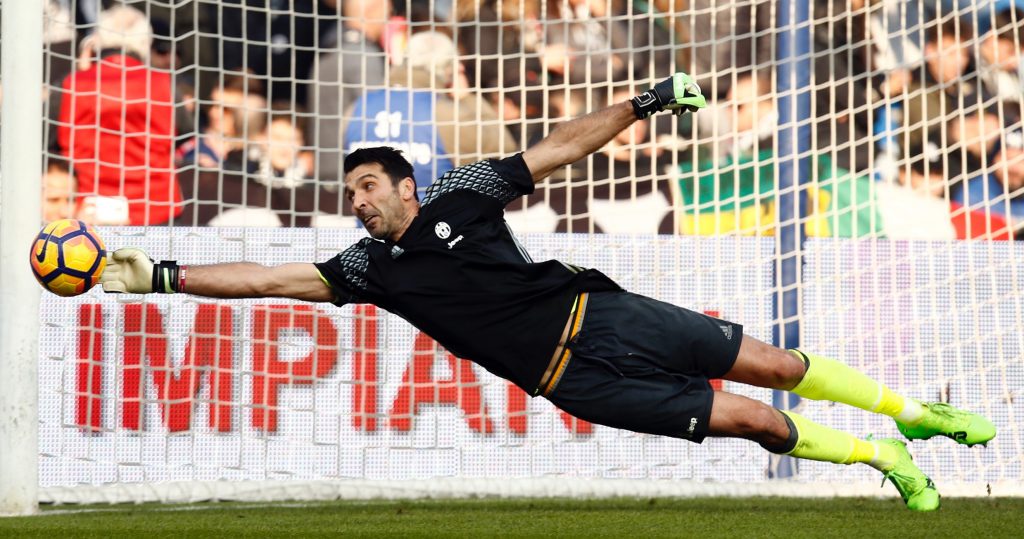 Buffon has been defying his age, and gravity, as Juve continue to be a defensive stalwart.
---
7-7 – Goals for Harry Kane in that many North London derbies, only behind Adebayor's 8. His latest was the difference in a 1-0 win for Tottenham over Arsenal. He has scored 7 of the last nine for the Spurs against their hated rivals.
8 – Goals and Yellow Cards in an epic 5-3 win for Real Madrid over Real Betis Sunday. That makes it 13 goals for Los Blancos in their last three, including a big 3-1 win over PSG in the Champions League midweek, and 10 in his last 6 games for Ronaldo, returning to form at the right end of the season. Marco Asensio scored the first, to become the second leading scorer for Real, even as he has had a hard time getting into the starting lineup, with Benzema scoring the last to end a long stretch without a league goal.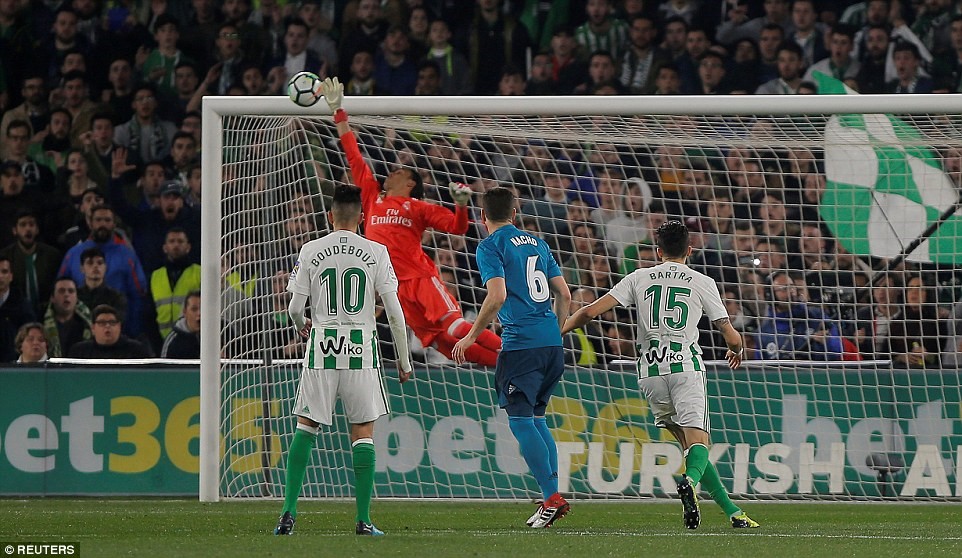 Real's Keylor Navas pulls off yet another astonishing save against Betis in the first half.
---
9 – Straight wins for Arsenal at Wembley heading into the only league North London Derby that will be played there. There goes that streak. Next up – a League Cup final with Man City in a week. Wenger could finally add that trophy to his resume, though they sit 27 points behind the runaway leaders of the League, while only 25 points from the bottom and already lost to City 3-1 in the Fall.
9 – Points dropped by Arsenal in the last couple of months. They gave up a 1-0 lead to West Bromwich (2 points dropped), 1-0 lead against Chelsea (2 points dropped), 3-2 lead against Liverpool (2 points dropped) and 1-0 lead against Swansea (3 points dropped). Add those up and subtract a point each from Chelsea and Liverpool, and the Gunners would be in third.
11 – Ronaldo has struggled in La Liga this season, though he's picked up his production of late, but is putting together a Champions League campaign to remember. He has scored an incredible 11 goals in 7 games, became the first to score in all 6 group stage games, stretched his lead over Messi in the competition (119-100) and helped Real come back from a goal down with a brace that led them to a 3-1 win. And he scored one of the more memorable penalties you will ever see, stomping his foot on the turf so hard the ball jumped in the air before he blistered it past PSG's keeper (who guessed the right way).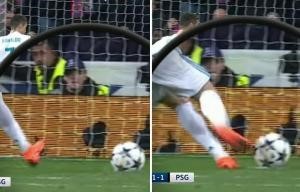 Ex-teammate Rio Ferdinand divulged that Ronaldo used to do this trick in United practice.
---
12 – Young Fulham sensation Ryan Sessegnon scored his 12th goal of the season in the 52nd minute against Aston Villa, moving the former EPL side into a playoff spot in the Championship. That makes it 7 in his last 8 for the protégé 17-year-old midfielder who has already been scouted by top sides. Fulham are unbeaten in 10 as they try to return to the top.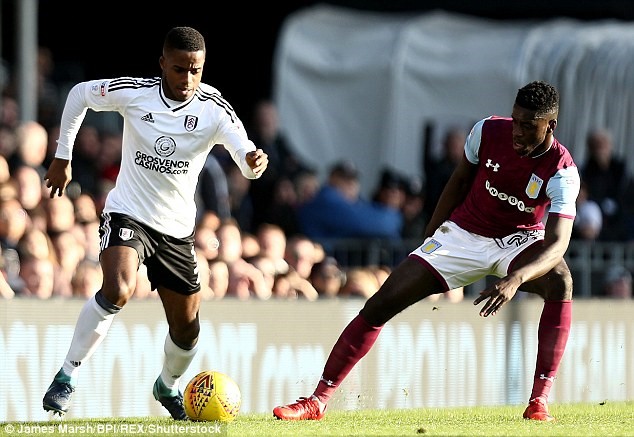 Sessegnon has 17 goals over the past two seasons; not bad for a 17-year-old midfielder!
---
13 – Winter Olympic medals for Norway's # Bjorkman after she anchored her nation to the gold in the 5k relay. That puts her joint first all-time with #.
13 – Points in 14 away league games for Arsenal this season after their latest loss to Spurs Saturday. As they look likely to finish outside the Top 4 for the second season running, this will be the reason.
14 – Goals for United in final 10 minutes of games or extra time this season. But they couldn't find their way through a resolute Newcastle, who won at home for the first time since October.
14 – Lionel Messi continues to stay in the conversation as the greatest ever, though a World Cup win would certainly cement his status, as he tears up the record books. He might be less satisfied with his latest entry, as he has now struck the post or crossbar a record 14 times this La Liga season. Barcelona still beat Eibar 2-0 to stretch their unbeaten La Liga run to 24 games. Messi has 20 league goals in those 24 games, but is now five without a goal.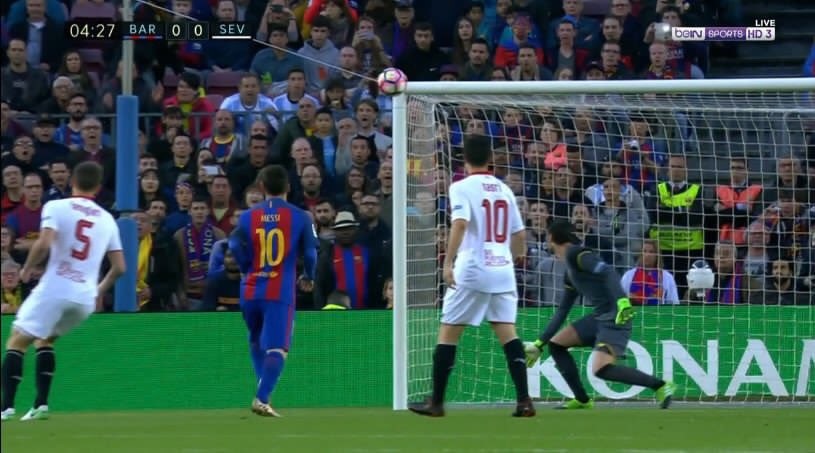 Donk! Another off the woodwork for Lionel Messi.
---
20 – Liverpool's Firmino hit the mark in the sixth minute Sunday against Southampton, his twelfth in the league. The prolific Salah turned provider to knot his his # assist of the season.
26 – Super G winner Ester Ledeska was competing in a sport that isn't even her specialty and one she only did once this season. The snowboarder skied 26th, upsetting the presumptive repeat winner from four years ago and becoming the highest numbered skier to win in * years
29.6 – While Alpine skiing often looks relatively easy on television, that percentage of athletes do not finish their runs in the Olympics. Skeleton seems the much more dangerous sport, but only 0.6 percent of athletes fail to finish their runs.
36 – Roger Federer became the oldest world number one in history after beating Robin Hasse in the quarterfinals of the Rotterdam quarterfinals last week. The old record was held by Andre Agassi, who was a spry 33 when he last reached the mark. With the ascendancy, Federer has now held the mark for a record 302 weeks, last achieving these heights in 2012, after his Wimbledon win over Murray. If he can ride that position to the end of the season, he would equal another record – holding the #1 at the end of six seasons (currently held by Pete Sampras).

Federer celebrates another achievement in his storied career, a few weeks after hitting 20 grand slams.
---
45 – Noriaki Kasai of Japan has a few years on Roger Federer, competing in his seventh Winter Olympics games in the long jump. One might think this would be his last, but he wants to participate in not one but two more games, putting him into his fifties. His first games was way back in 1992.
83.67 – Virtue/Moir, on the cusp of setting a record for most decorated skaters ever, set the record for the short skate in Dance Skating. They won the Silver four years ago and Gold eight years back, as well as two team medals. Monday, they
95.4 – Percent of the golds won by the Netherlands in the Winter Olympics (42 in total), which were garnered in speed skating. 94.2 percent of their total medals (121) are also in speed skating. That makes them the top one-trick pony in the Olympics with more on the line as the event heads into its last week.
178 – The number of athletes in the Winter Olympics not playing for the country they actually live in, with 37 of them American interlopers to other nations. That is 6 percent of the total athletes at the Olympics in South Korea this year.
507 – As of last weekend, Eden Hazard had been fouled 507 times since joining the Blues in 2012, with Raheem Sterling in second with a measly 362 and Wilfried Zaha in third at 327. Not surprisingly, Alexis Sanchez sits fourth at 263, though he does have the record for most in a game (7), in the game against Huddersfield a couple of weeks back. Hazard has won 55 free kicks this season, though Richarlison of Watford has 77. Ouch!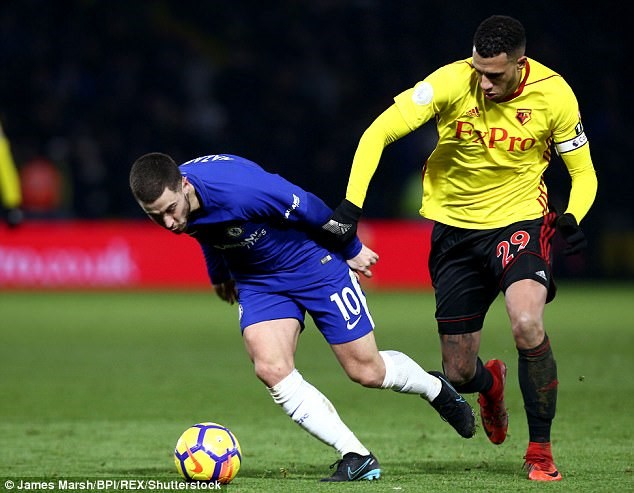 Hazard gets fouled again. His compact, muscular body might be the only thing keeping him from long stretches on the sideline.
---
777 – For those complaining that Manchester City has bought the title this season, they may have a point! City have spent an astounding 777 million pounds to assemble this squad, with PSG in second, United in third, Barcelona in fourth, Chelsea in fifth and, to some surprise, Madrid in sixth. Money isn't everything, though, as Everton (323 million) has outspent Bayern (321) and Napoli, currently leading Serie A, are only 21st (180m), way short of the 396m spent by Juve. Arsenal are in ninth, by the way, while Tottenham are back in 11th.
1982 – The last time Virginia was #1 in the country in College Basketball. That is until last week, when a series of upsets vaulted them to the number one spot, even as they were one of those upset victims (to Virginia Tech). They have been doing it with extraordinary defense, though some doubt whether that will translate into success in the Tournament.
---
Check back in at the same bat time, same bat channel next week for the subsequent round of fixtures …