It was a good week for Arsenal, who have won two league games on the bounce, while winning their group in the Europa League, even as they lost 1-0 to Cologne Thursday. The late, late 1-0 victory over Burnley was the second extra time victory in two seasons against Burnley, as stout defending was undone by a clear foul on Ramsey, who could well have buried the header if not pushed from behind. Liverpool ceded a late lead themselves to share the spoils with Chelsea, who scored on a fortuitous cross turned shot from William. Tottenham continued to struggle at Wembley, settling for a 1-1 draw with a West Brom side that have been struggling mightily, while United scored late to earn a less-than-convincing 1-0 victory over Brighton at Old Trafford. City dominated the first half but found themselves down a goal to Huddersfield before completing a comeback in the second half to win 2-1 and up their winning streak to 18 in all comps and 11 in the league. Meanwhile, at the other end of the table, Crystal Palace picked up only their second win of the season, beating Stoke 2-1
Around the rest of the world of sports, the Boston Celtics bounced back after their winning streak finally ended and still lead the Eastern Conference, the Dallas Cowboys absent Ezekiel Elliot were all but eliminated from the playoffs in a blowout loss to the surging Chargers on Thanksgiving Day, the Clippers rather predictable struggles endure in the absence of their ex-talisman Chris Paul and the Golden Knights (of Vegas) continue to impress in their first season in the NHL, on 31 points and in first place in the Pacific Division. College Football had the biggest upset of the season, with Auburn taking down Alabama and potentially leaving them on the outside looking in, unless results in the various league championships next weekend go their way. On to the numbers.
---
Match week 13, by the numbers …
0-3 – After a fine start, Newcastle have cooled considerable, losing four straight in the league with only a solitary goal over that stretch, including a 3-0 home loss to a Watford side that moved up to 8th with the victory. American DeAndre Yedlin scored the second in extra time of the first half and Andre Gray finished off the Toons in the 62nd. Each loss makes Ashley's negotiations to sell the team at the price he wants more unlikely.
1-1 – Friday night football was back this week, with Leicester and West Ham drawing 1-1. Marc Albrighton opened the scoring in the 8th minute, but the side was pegged back by a Kouyate equalizer right on the strike of halftime. It moved Leicester up to 12th, after flirting with relegation earlier this season, while the Hammers remained in the bottom three.
1-1 – Liverpool blew their second lead of the week, though this one was a little less dramatic than the 3-0 advantage they ceded in the second half against Sevilla Tuesday. Salah, who now has 10 league goals and 4 in the Champions League, with three assists, scored the opener in the 65th minute, assisted by Oxlade-Chamberlain, before Chelsea stole a point with an 85th minute goal from William about as fortuitous as you will see.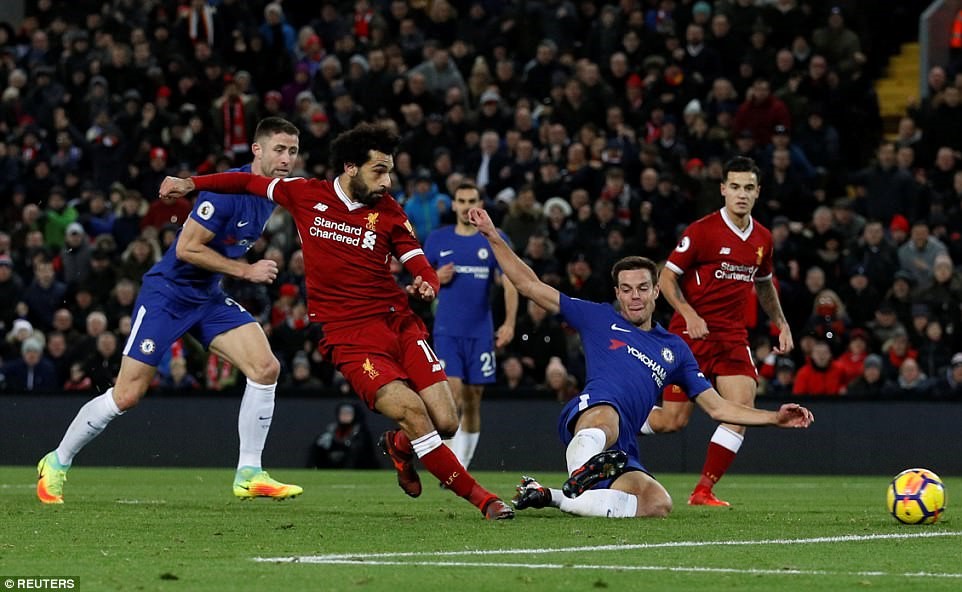 Salah makes a point against the side that let him go a few years ago (pun intended).
1-1 – Tottenham again relied on Harry Kane to save them, with his 9th league goal of the season, as they trailed West Brom for most of the match 1-0, after a 4th minute opener by Salmon Rondon. The Spurs have now dropped 9 points in 7 league games at Wembley, after taking 53 of 57 at White Hart Lane last season. The loss was a double blow, as it pushed them below Arsenal and out of the Top 4. The question of the power balance shift in North London looks even more suspect a week on.
2-1 – Crystal Palace came back from a goal down to garner only their second win of the season, with Mamadou Sakho scoring the winner in extra time after Ruben Loftus-Cheeks equalized soon after Stoke had taken the lead. Palace still sit in the cellar of the table, but wins like this can galvanize a side to a mini-run. Stoke, on the other hand, appear to be going in the wrong direction, having one win, two draws and three losses over their last six.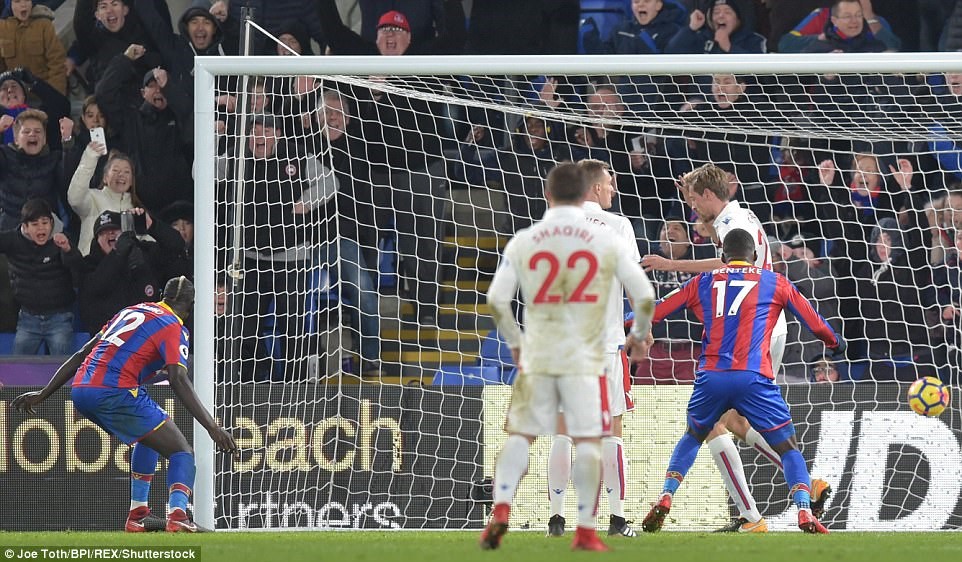 Sakho was strong at the back and didn't miss the open net to give the Eagles all three points.
3-2 – Real Madrid finally stopped the rot with a 6-0 thrashing of APOEL in the Champions League Tuesday and then a tight 3-2 victory over struggling Malaga Saturday. Ronald and Benzema got off the snide with a brace each in the UCL and a goal each in the league. It was only Ronaldo's second league goal of the season, coming after he snatched his own rebound after a missed penalty, though that proved the winner. The struggle to break down the 18th placed team in La Liga did little to allay concerns that the side has lost its edge.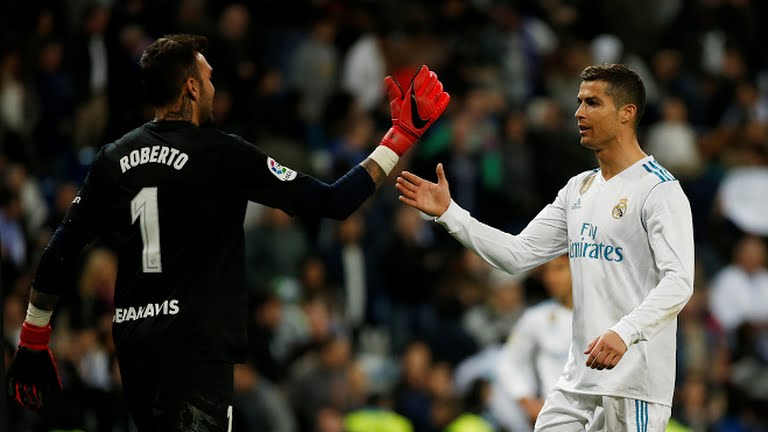 Ronaldo's wry smile says it all, as he finally gets back to scoring this week after a terrible run.
3 on 5 – In one of the more bizarre games in the history of NCAA Division I basketball, Alabama were forced to play more than 10 minutes of the second half with only three players … and almost came back to beat Minnesota from a double-digit lead. They did ultimately lose to the 14th ranked Gophers 89-84, but actually outscored them 26-16 at one point to cut the deficit to three. The game is available on Facebook and well worth a watch.
5 in 7 – Defeats for Everton in the league after they were thrashed by a Southampton side short on goals for the better part of a season and a half. This followed a 5-1 embarrassment against Atalanta in the Europa League midweek. In Charlie Austin's first start for the Saints, he scored his first league goal of the season to give the home side a 2-1, after Sigurdsson finally reminded the Toffees why they signed him with a fine equalizer. Austin added a second as the Saints cruised to a 4-1 win. Under interim manager David Unsworth, Everton have won one, drawn one and lost five, having scored 8 and conceded an astounding 20. They have conceded 28 goals in 13 in the league overall this season, their worst defensive performance since the 1950s. 
12 – Goals for Raheem Sterling already this term, more than he has scored in any previous season, with more than half a season to go. His 84th minute winner was his fourth goal in the final 10 minutes of a game this season, earning City an additional 7 points already. 
14 – Point deficit overcome by Ohio State at Michigan, the biggest in the history of the series for the visitors. OSU has now won 13 of the last 14 between the sides and all three since Harbaugh took over as head coach. Michigan has been downright awful against ranked teams since the ex-QB was appointed, including 0-4 this season. Time to start asking some questions? Having to use a QB like O'Korn after injuries to his starter and the previous replacement for that same O'Korn does have a lot to do with it this season, but it's been bad since he arrived.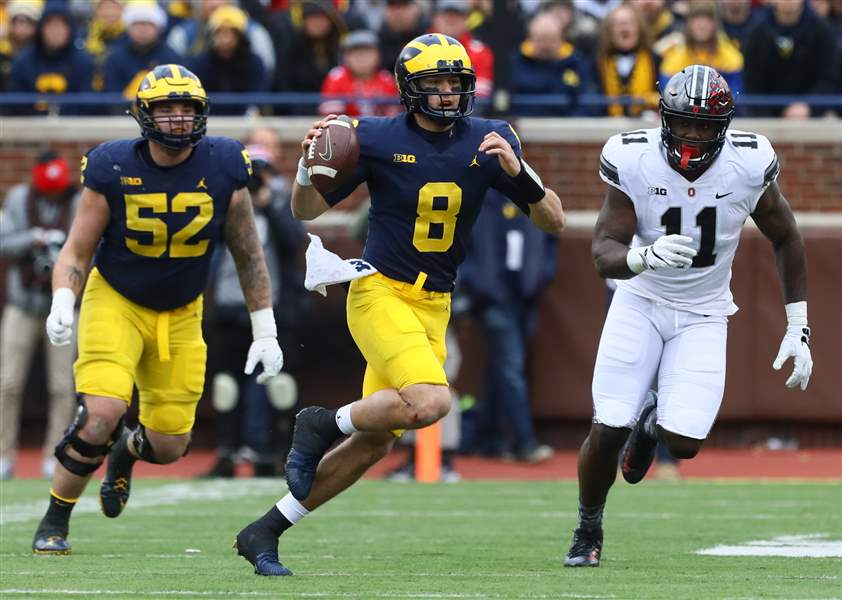 O'Korn continued his struggles against Ohio State.
15 versus 1 – Goals concedes by Arsenal with and without Mustafi at the back – in 6 games apiece heading into Burnley matchup. They garnered another clean sheet Sunday and it makes you wonder why in the world the Gunners would even countenance interest from Inter Milan last summer. Of course, it is the same Gunner organization that is about to let Sanchez and Ozil leave on a free, or reduced fee, either in January or May, having failed to learn their lesson with Fabergas, Nasri and Van Persie, among others.
18 – Months since Ashley Young last scored for Manchester United, before his winner in the 66th minute against Brighton, though some have credited it as an own goal against Dunk. The goal was doubly fortuitous, as United were wrongly awarded a corner after Lukaku was the last to touch the ball out at the byline. The 1-0 victory did little to allay critics, who claim United have become boring again, after a flying start, with Cantona the latest to chime in claiming Guardiola would have been a better fix for United.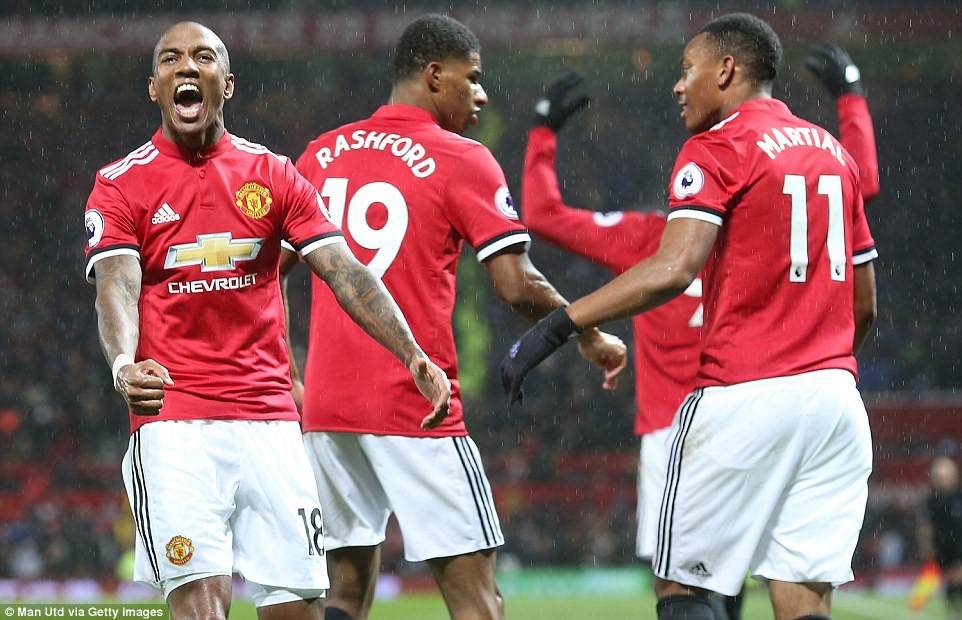 Ashley Young celebrates the winner Saturday.
24-14 – Miami was shocked by Pittsburgh 24-14 Saturday, dealing their playoff hopes an almost fatal blow, unless they can beat Clemson next weekend in the ACC Championship Game, hoping they can follow in the path of their opponents in that game, who were upset by these same Panthers last season, only to go on and upset Alabama in the Championship game.
26-14 – Miami wasn't the only team upset Saturday, as the Auburn Tigers sent college football fans and the playoff selection committee into a frenzy after defeating an Alabama Crimson Tide side that had yet to lose this year. The Tigers dominated both sides of the ball and won their second straight against a number one side, after dispatching Georgia 40-17 two weeks ago. The Bulldogs will get their chance at revenge next weekend in the SEC Championship game, though if Auburn pull the double, they are on to the playoffs with two losses, while likely guaranteeing Alabama is out. The Tide have no one to blame but themselves, after being outplayed throughout the game and imploding in the second half. Auburn coach Gus Malzahn was in the hot seat three short weeks ago, but is now in charge of the hottest team in college football, with all due respect to Wisconsin (who stayed undefeated with a 31-0 victory over Minnesota).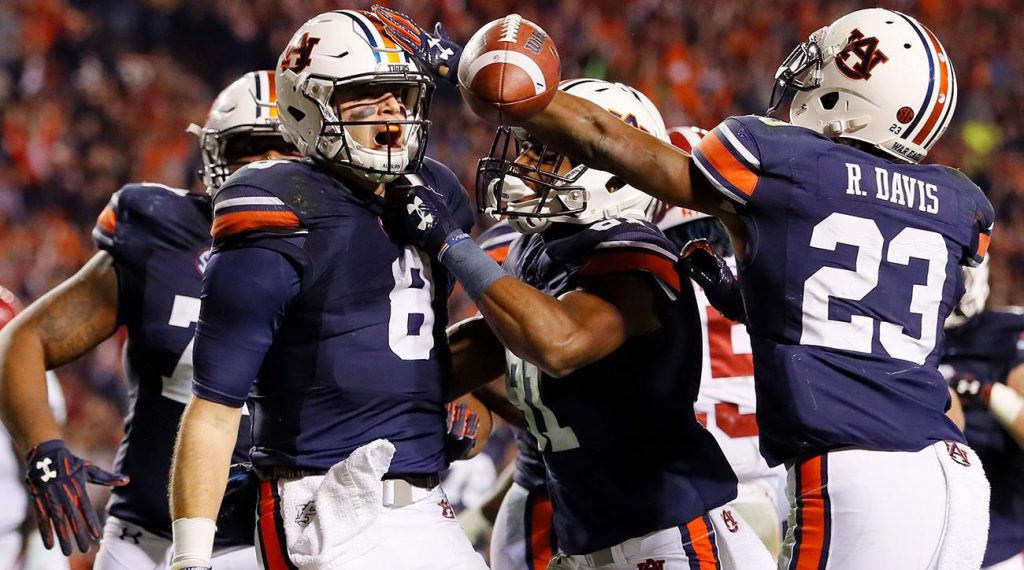 QB Stidham had a first Iron Bowl to remember, after transferring from Baylor.
27 – Drives by Cowboys without a touchdown, after scoring in second drive without Elliot two weeks ago against the Falcons. It has not been the lack of rushing success, really, but the complete absence of a passing attack. 154 snaps went by between TDs, as they finally scored against the Chargers in the fourth quarter, before a pick-six on the next drive ended the game, and have now only scored seven points in 2 of their last 29 possessions. The Cowboys had never gone 10 straight quarters without a TD until Thursday and since Elliot has been out, the Cowboys have scored 7, 9 and 6 points as they all but fell out of the playoff picture a year after they were a freak play from Aaron Rodgers from the NFC Championship game. 
31 – Goals for Belgium for Romelu Lukaku, according to their FA, which would make him the all-time leader for the country. Unfortunately, FIFA disagrees, having nullified a hat trick he scored in a friendly against Luxembourg in 2014, for making seven, rather than the allowed 6, substitutions in the game. It is probably only a matter of time for the United striker, though his club form has suffered a major drop-off after a historically hot start, with only one goal and two assists in his last 10 matches in all comps.
37 – Points for Manchester City after 13 league games, the most in history. They have won 18 straight in all competitions and 11 straight in the league, continuing to dominate in all competitions. The only team to hold them scoreless was the Wolves in the League Cup (City won on penalties) and the only team to get a point is Everton, who have been terrible since. Their 11 wins in a row is only two short of the record, held jointly by Chelsea (2016-17) and Arsenal (2001-02). And their goal difference of +34 after 13 is one would only expect to see at the top of La Liga in Spain or the Bundesliga in Germany. The next closest is United, at +22, with Chelsea at +13 in third.
45 – Swansea manager Paul Clement will feel aggrieved after two decisions went against him in a 0-0 draw with Bournemouth Saturday. The first, on the stroke of halftime, disallowed a goal by Bony, as a foul by Ayew was adjudged to have occurred before the shot. Referee Stuart Atwell, of "ghost goal" fame, then refused to call a penalty in extra time of the second half, as he claimed Tammy Abraham had slipped, rather than been clipped by Adam Smith, which replays showed was the case. The draw kept Swansea in 19th place, on 9 points, while Bournemouth sit in safety in 13th. A number of questionable calls across the league this weekend cost teams points, though anyone questioning the Arsenal penalty in the 91st minute, should watch the replay, as that was a clear penalty.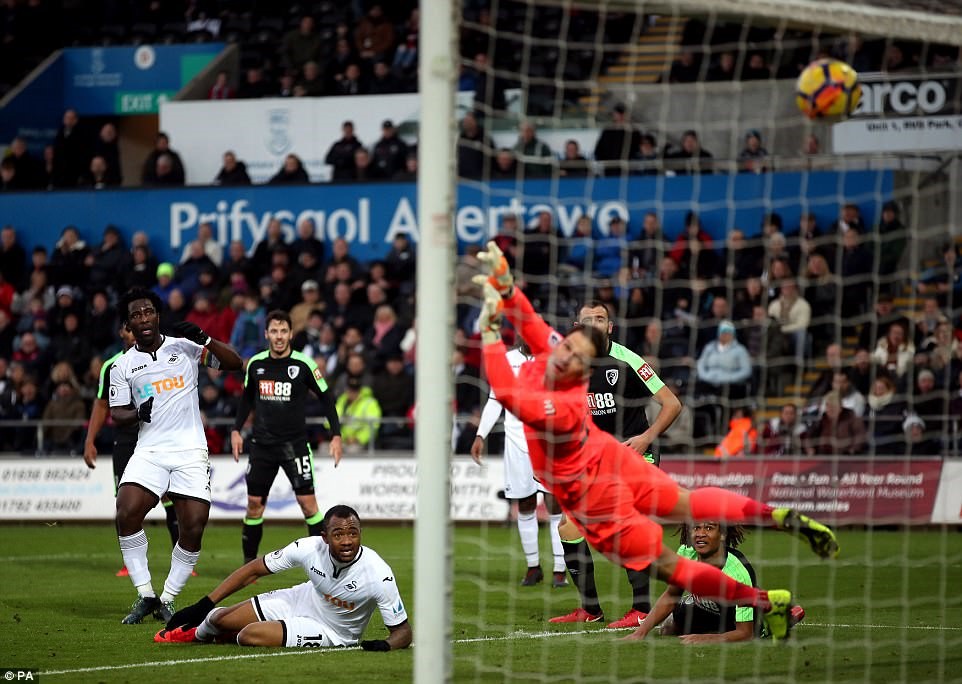 Bony's fine finish was ruled out just before halftime Saturday.
+57 – Houston Rockets reserve Luc Mbah a Moute's plus/minus for the 26 minutes he was on the floor in their 125-95 rout of the Denver Nuggets. It was the best positive differential in two decades, topping Joe Smith's +52 in a Minnesota Timberwolves' blowout victory over the Bulls in 2001.
77.8 – Adjusted games lost for starting quarterbacks in the NFL this season. Andrew Luck, Aaron Rodgers, Ryan Tannehill, Sam Bradford, Carson Palmer, Deshaun Watson, Jameis Winston, Derek Carr, Marcus Mariota, and Jay Cutler have all missed time in 2017, leading to the eighth highest AGL since 2000, with six weeks left to go.
80 – Million pound signing bonus for Lionel Messi as he finally put pen to paper on a contract that has been languishing since last summer. The entire city of Barcelona let out a loud sigh of relief, as the 500k pound a week contract runs through 2021, with a 626 million release clause (even City and PSG probably can't pull that cash out of their Arab-funded coffers).
90 – I forgot to include this last week, but the return of Chris Paul to the Houston Rockets led to a record-breaking half, as the side registered 90 points in the first half on the way to a 142-116 route of Phoenix. Paul had a double-double in 21 minutes of action, with 11 points and 10 assists. Houston currently lead the Western Division, with a 15-4 record, a half game above Golden State and three over the Spurs.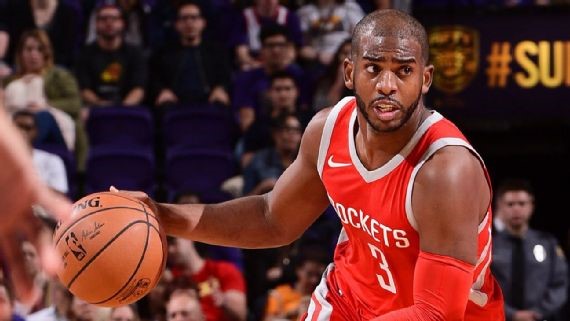 Clippers traitor Chris Paul returned from injury with a bang.
1974 – The last time Burnley beat Arsenal. However. Arsenal were 1-2-4 on the road this season heading into the Sunday matchup. Arsenal actually out-fouled Burnley 9-2 in first half, which translates to Lee Mason clearly watching a different game than the rest of us. However, with less than a minute left in extra time, Lee got it right, calling a penalty after a clear foul in the box on Ramsey. Alexis Sanchez, who had a terrible game to that point with one errant pass after another, just got the resulting penalty past Pope to give Arsenal only their second away win of the season. Even when average, he will be missed for his game-winning mentality, though the drop in effort and form this season certainly indicates his heart is already elsewhere.
April 1995 – The last time Manchester City came back to win a road game in the league when they trailed at halftime. They were down 1-0 to Huddersfield Sunday at the half, as the Terriers scored from a corner in extra time of the first half, the header from a corner bounding in off Otamendi's shoulder. They were equal within two minutes of the restart, after a foul in the box on Sterling led to an Aguero goal from the spot. They then completed the job in the 84th minute, as Sterling bundled home luckily to break the host's hearts.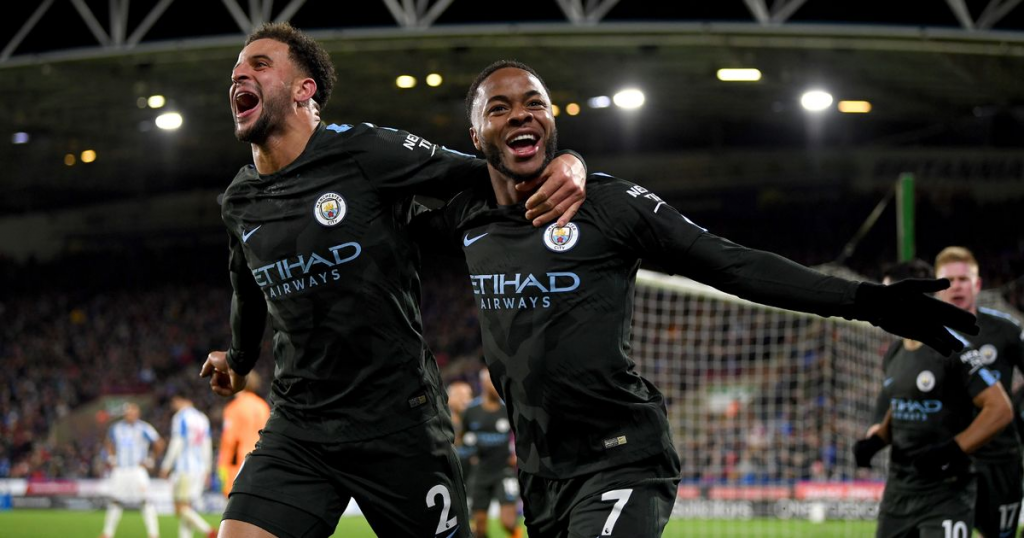 Sterling comes through with a late goal yet again.
---
Check back in at the same bat time, same bat channel next week for the subsequent round of fixtures …