It was a good week for Man City, Tottenham, Liverpool and Chelsea (at least in the league), while Arsenal's loss to City might well have ended any silly notions of winning the league. West Ham lost a manager, Liverpool won a couple games and the Spurs pulled off a major statement win over Real. Beyond the world of English football, there were multiple upsets in the world of college football, some surprising results in the NFL, continued struggles for the Cavs as the Celtics outpace expectations, a great World Series and an American woman winning the New York City marathon for the first time in four decades.
---
Match Week 11 by the numbers …
-56 – Point differential for the New York Jets in the fourth quarter heading into the final frame against Buffalo last Thursday. They were ahead 24-7 at that point and the Bills soon turned the ball over for the third time, matching their total for the season coming in. This on top of the fact the Bills two losses were by a combined 7 points and they were only allowing 80 yards rushing a game. The Jets ultimately won 34-21, rushing for 194 yards, though they were still outscored 14-10 in the fourth.
0-1 – Boring Newcastle looked set for a nil-nil draw at home after a relatively uninspired performance. But struggling Bournemouth took advantage of Benitez's defense first approach to steal all three in the second minute of extra time when Steve Cook headed home the winner from a corner. The win moved Bournemouth out of the relegation zone and into 17th place.
0-1 – Struggling Swansea dominated possession to the tune of 56% and outshot Brighton 10-5, but the visitors made one count, with Glenn Murray scoring the winner in the 29th minute. The Swans sit second from bottom after the loss, having only scored 7 goals all season. Brighton moved up to eighth.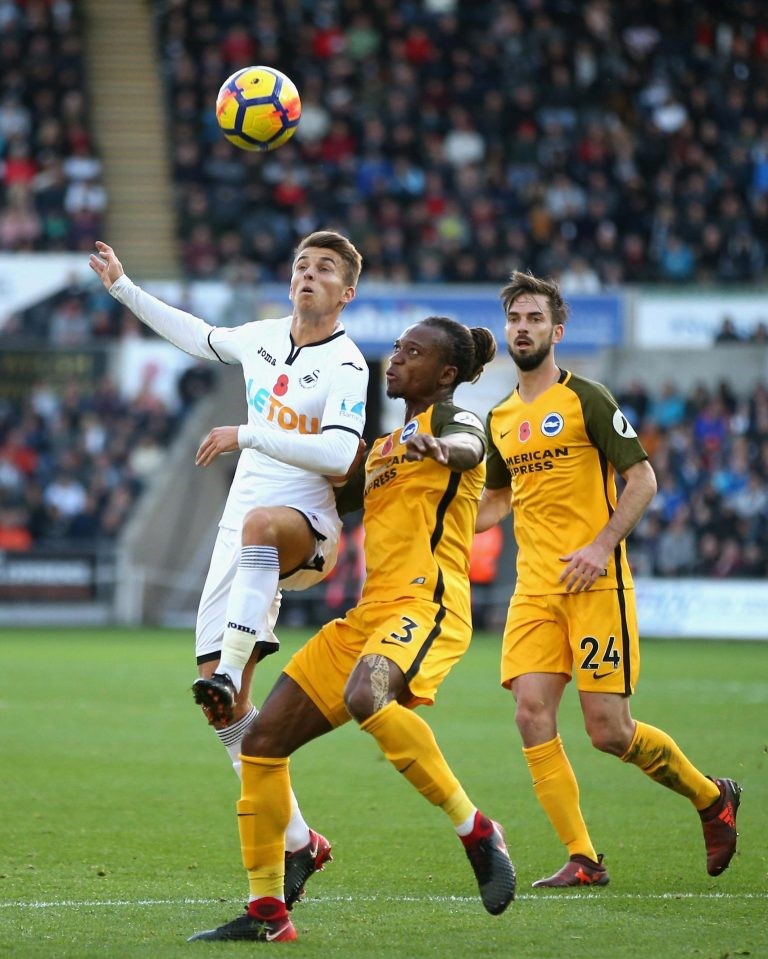 Tom Caroll goes up for a header
0-5 – Everton had lost their last five competitive matches, including a 3-0 trouncing by Lyon that saw them crash out of the Europa League after only 4 of their 6 matches. Then, down 2-0 to Watford in the second half, they scored three straight to take all three points, the last coming from the spot as Leighton Baines continued his impressive record on penalty conversions. Ex-Toffee Tom Cleverly had a chance to equalize from the spot himself late into 12 minutes of extra time, but sent it horribly wide. The win moves Everton out of the relegation zone and up to 15th. 
1 – Loss by Justin Verlander as a Houston Astro, with that loss coming in Game 6 of the World Series with a chance to clinch it. They did it a night later. He was bailed out in Game 2 as well, as the Dodgers took a lead into the 9th in that game. Still an essential piece for the Astros run to their first championship ever and tied the knot to supermodel girlfriend Kate Upton.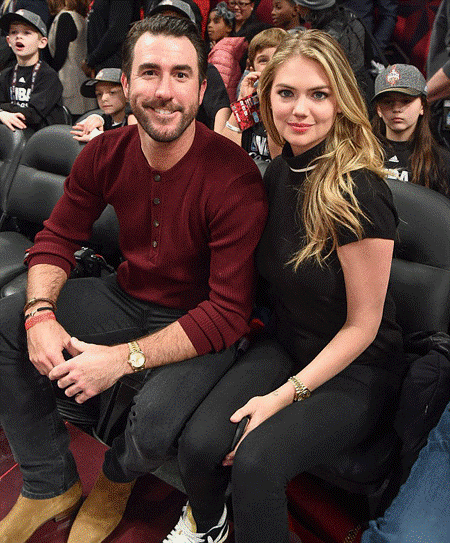 The lovely couple
1 – Alex Smith had gone 8 games and 3 quarters without throwing an interception, until there was 5:05 left in the fourth quarter Sunday against the Cowboys. That interception sealed the win for the Cowboys, who moved to 5-3. Surprisingly, with Dez Bryant, Cole Beasley and Terence Williams on the team, Dallas had their own more inauspicious record broken, of 14 games without a receiver reaching 100 yards. That too ended Sunday, as Terence Williams racked up 141 yards on 9 catches in the 28-17 win. 
1-0 – Burnley left it late until Sam Vokes turned hero, scoring the winner in the 81st minute, to end a five-game unbeaten streak for Southampton – a side still short on goals. Sean Dyche's team continued their impressive start to the season, now sitting in seventh even on points with Liverpool, who were 4-1 winners over West Ham, and Arsenal. The Hammers fell into the relegation zone and lost their manager.
1-0 – Tottenham made it two on the bounce at Wembley, first impressively dispatching Real Madrid 3-1 midweek in the Champions League and then beating Crystal Palace 1-0. The two wins come after a 3-2 loss to West Ham at Wembley in the League Cup and the 1-0 loss to United at Old Trafford last weekend.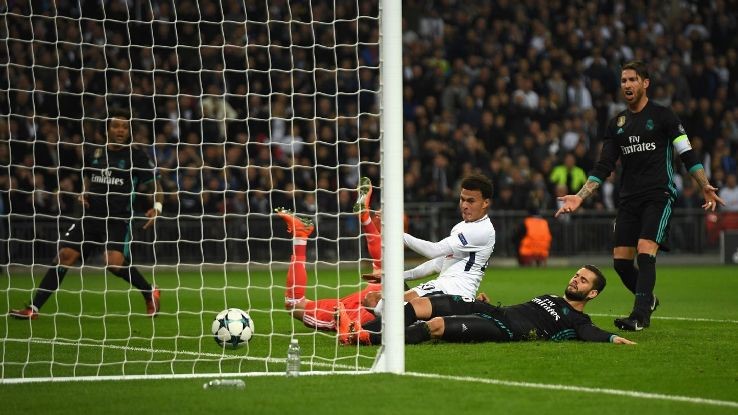 Dele Alli scores the opener in Spurs' 3-1 win over Madrid.
1 of 45 – Goals to shots for Cristiano Ronaldo this season, as both he and Karim Benzema continue to struggle in front of goal, leading to an 8-point deficit in the league and a probable second place finish in their UCL group. Ronaldo has gone 175 days since last scoring at the Bernabeu and Benzema 217 days. They did finally win a game Sunday, beating Las Palmas 3-0, as Casemiro, Asensio (with a sublime effort front distance) and Isco all got on the score sheet. All three have more goals than Ronaldo or Benzema, as do Ceballos and the oft-injured Bale. 
2 – In only his second relief appearance ever, Charlie Morton went the final 4 2/3rd innings to get the Game 7 win, giving the Astros their first World Series after 55 years of relative futility. His final numbers for the series were 10 1/3 innings, 5 hits, 2 earned runs, 11 strike outs and only one walk. He didn't allow the Dodgers a solitary baserunner over the final three innings Wednesday.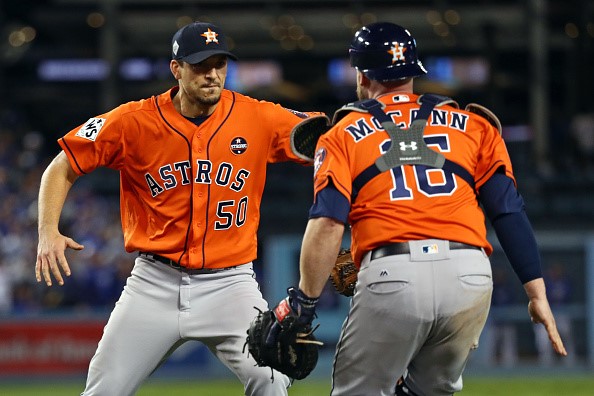 The celebration begins, or was it a second marriage proposal?
2 – 6-out saves for Kenley Jansen in his career, the first coming in the NLCS last season. He blew Game 2 asked to do that, lost Game 5 with a 10th inning hit by Bregman and then finally got his second in Game 6, pitching 17 of 18 strikes overall. Watson got his second win in that game and Jansen his second save of the series. He was good in an earlier than usual appearance in Game 7, but in vain. 
2-2 – Leicester seemed on the road to a much needed three points, until the ageless Peter Crouch came on to head home the equalizer in the '73 minute and earn Stoke a 2-2 draw. Leicester have already conceded 16 goals, only eclipsed by five sides, including Liverpool with 17.
2-2 – Joc Peterson came up twice against Astros' reliever Musgrove, the results being a three-run homer to help the Dodgers win Game 4 and a solo shot in the 7th to up the Dodgers lead to 3-1. He had no home runs to the opposite field during the regular season, but two of his three came that way in the World Series. He is only the third player ever to have an extra base hit in his first five World Series games. And he went from a 5-27 slump with no homers and 2 RBIs to go 5-14 with three HRs, 5 extra base hits and 5 ribbies. In Game 7, he went 1-4, scoring the only run of the night for the Dodgers, but struck out twice and left 5 runners on base.
4 – Hits batmen by Lance McCullers in 2 2/3rd innings, a postseason record. He also allowed three hits, but the Dodgers failed to take advantage and Yu Darvish got hit hard for the second time in the series, giving the Astros a 5-0 lead after two innings, they held (minus a run) until the end.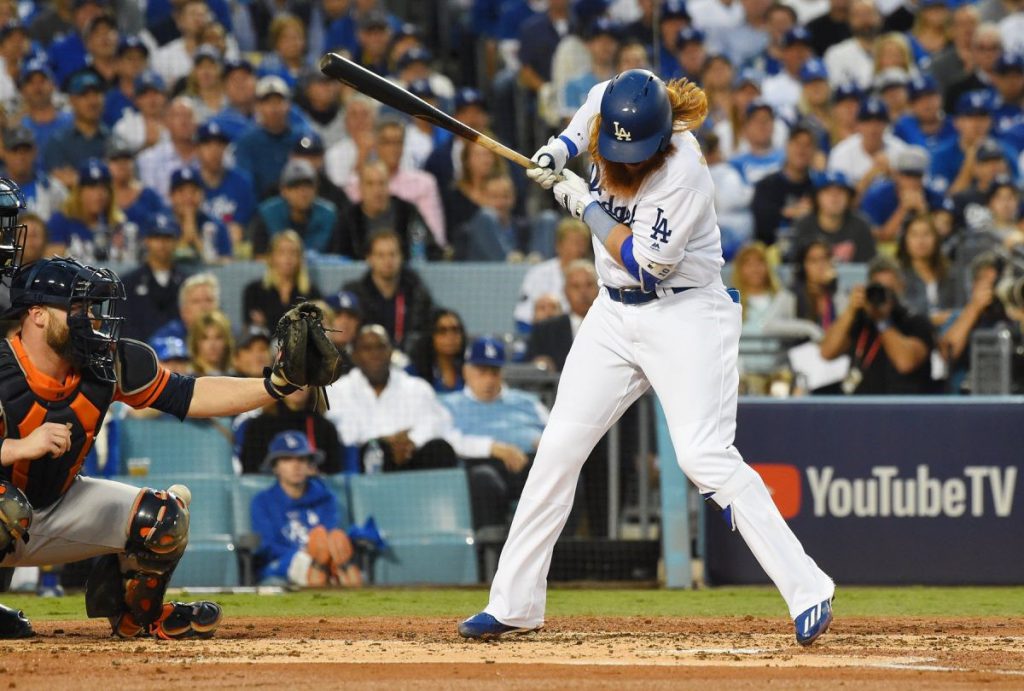 Turner was hit in his first two at-bats in Game 7.
5 – Times that Chelsea's Azpililcueta and Morata have combined for goals this season, including the winner Sunday against United. Might Madrid be wondering why they let him go at this point? The 1-0 victory means that United remain without a win in their last 15 trips to Stamford Bridge (5 draws and 10 losses). 
6th Inning – The Dodgers did much of their damage at home in the bottom of the 6th inning. In Game 1, Justin Turner hit a two-run homer that ultimately won the game 3-1. In Game 2, they scored 2 to take a 3-1 lead, though they would ultimately lose 7-6 as the bullpen collapsed for the first (but not last) time in the playoffs, giving up 6 runs in 4 innings. In Game 6, they scored two to turn a 1-0 deficit to a 2-1 lead. But that streak ended in Game 7, as they only got 1 across, their only run of the game. 
8-16 – Charlie Culbertson in the playoffs, after two hits all season for the Dodgers, including 3-5 in the World Series. He didn't get in to Game 7, inexplicably. 
10 – Rush TDs by the Cowboy's Dak Prescott in his career, the most by any QB since the beginning of 2016, as he ran it in right before halftime against the Chiefs. He also has twice the TD-INT ratio (4.63) of some of the greatest quarterbacks in history in his first two seasons, including Dan Marino and Brett Favre.
10 – League losses for Arsenal in 2017, with almost two months to go. It's been seven years since they hit that mark in a calendar year. One step forward, three back for about a decade now.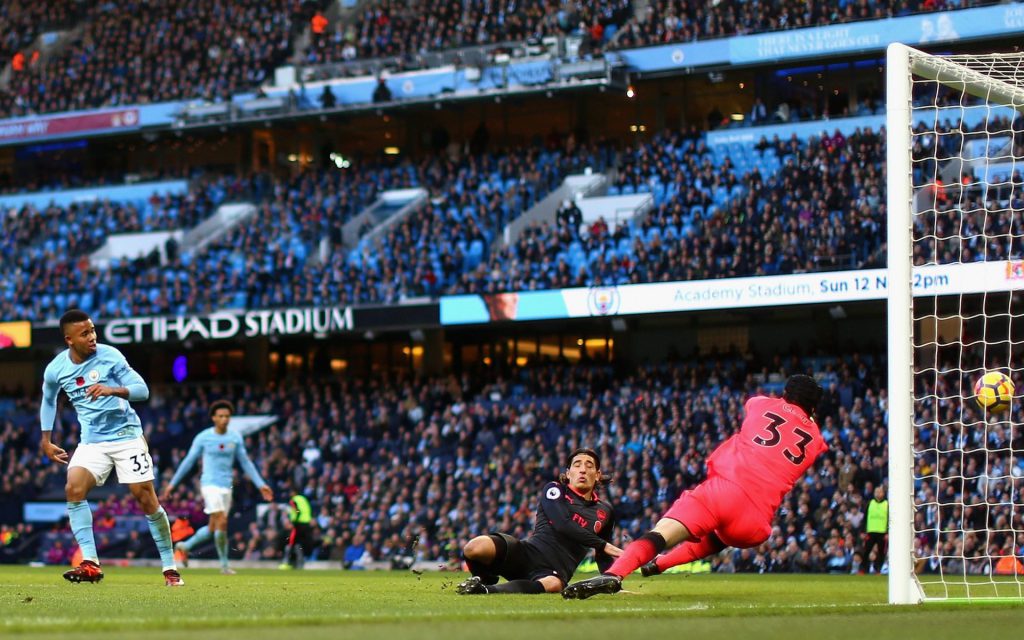 Cech beaten again. He also continued his streak of never stopping a penalty for the Gunners.
10th – Huddersfield's position in the table after a 1-0 victory over West Bromwich. The home team scored in extra time of the first half, as the usually disciplined Baggies appeared to be already dreaming of a nice halftime tea. Oddly, they have only scored 8 goals in 11 matches, while conceding 13, but have still accrued 15 points.
11 – Away games against Top Six without a win for Mourinho, getting held scoreless in 9 of those games, including Sunday at Chelsea. Too defensive? The numbers don't lie.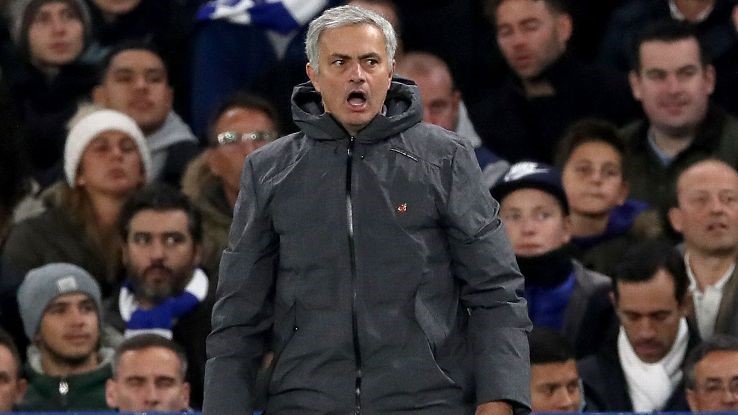 Mourinho's disbelief face.
11-54 – Dodgers with runners in scoring position in series, along with hitting .212 overall. Started 0-10 with RISP in Game 7 and left 10 on base. Puig came up three times with two men on, first getting hit in the first, then hitting the ball hard to center a few feet short of a game-changing homer before a weak liner to first. Bellanger was a rally killer in his first three at bats, leaving 6 on. Then, in the sixth, the longest serving Dodger, Ethier broke the voodoo with a single to make it 5-1. Taylor struck out and then Seager blew it again – for the second time. They went without a baserunner the last three. 
14th – All those fellow Duke-haters can take some pleasure from knowing that ESPN's preseason power index has the Blue Devils in 14th place. Let's hope they do even worse!
14-23 – Justin Turner with runners in scoring position in postseason career. But after the two-run homer in Game 1, he was ice cold. In Game 7, he was hit by a pitch the first two times up, with runners on both times, but he was otherwise 1-2, lining out to first in his last at bat. Overall, after the home run in Game 1 (his only hit that night), he went 4 for 17 with 4 walks, no RBIs and 3 runs. His batting average for the series was .160 and his OPS was .683, against his overall playoff resume of .321, 26 RBIs and an OPS of 1.017. 
15 – Straight wins for Man City. No English side had ever done so. That comes with 53 goals in 17 competitive matches, having only conceded 11. It is the best start to a season for Guardiola, who you might have heard managed Barcelona and Bayern to six league crowns. They also have 38 goals in their 11 league games, two better than that rampant 2008-09 Barca team. 
17 – United have only lost two of their last sixteen, with 13 wins and 2 draws, even with the loss Sunday. Mourinho and Guardiola are at it again, now in England, though the Spaniard has the upper hand on the Portuguese maestro at the moment – even as United have won more trophies over the past 15 months the two have been with their current clubs, 3 to 0.  In total, Mourinho has 20 major trophies, including 8 league titles while Guardiola has 22 and 6.
16 – Wins by Golden State Warriors when down 15 or more points over the last four seasons. That is tied for most with the Raptors. Their latest came against the Spurs last Thursday after trailing by 19 in the first quarter. The Warriors then outscored then 88-59 the rest of the way. It was the fourth straight loss for San Antonio. 
19/23 – City are unbeaten in their last 19 league games, with 16 wins (including their last 9), and 23 in all comps. They continued their dominance with a 3-1 win over Arsenal, though assisted by some terrible refereeing. They now have the best point haul after 11 matches ever (31) – though if we adjust from the old two points for a win system, Tottenham supplant them, going 11 for 11 in 1960-1. 
21.9 – Scoring through the first half of the NFL season this year, down from 22.8 in 2016. The major reason appears to be offensive lines that are much poorer than in the past few seasons, though injuries, some poor quarterback play and, possibly, better defending have all contributed.
27 – The Dodgers Chris Taylor reached base 27 times in the playoffs, a record for Dodgers, though he only got on base once in five trips to the plate in Game 7.
29 – Strikeouts by Cody Bellinger in the postseason – a major league record (do you think Taylor is jealous?). His performance in the World Series, with the exception of Game 4, is a big reason the Dodgers lost in 7. He was particularly poor in the decider, leaving four on base and striking out three times, including the second out in the seventh. Belanger stuck out four times twice in the series and one could argue his error in the top of the first cost the Dodgers at least one run, if not two.
40 – Years since an American won the New York City Marathon. That is, until Sunday, when Shalene Flanagan beat Kenyan three-time winner Mary Keitany in a huge upset. The time was 2:26:53 and it was her first major marathon victory, at 36! The men's race was won by Kenyan Geoffrey Kamworor in 2:10:53.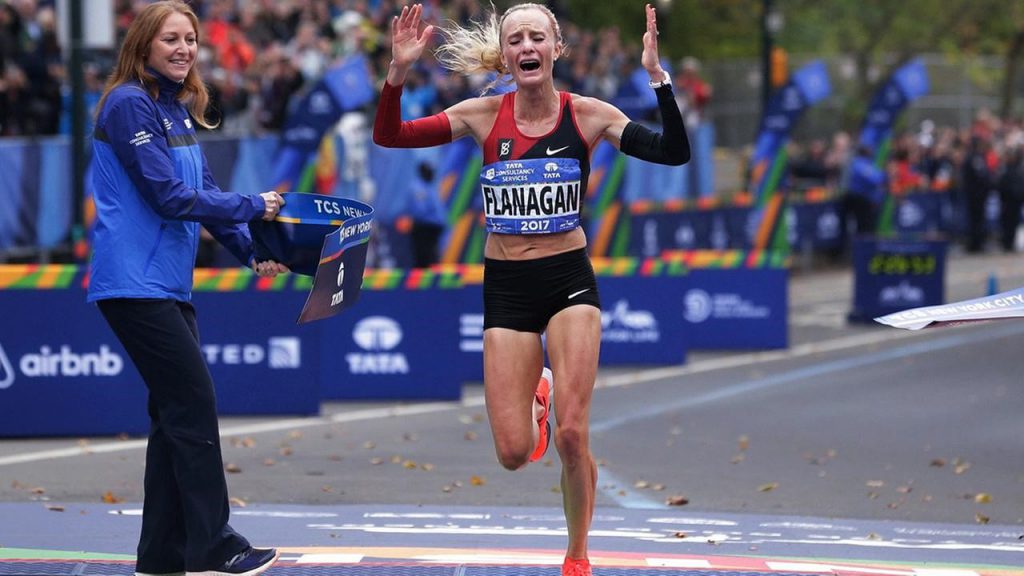 America first.
55-24 – Ohio State will not be in the college football playoff this year after a stunning blowout loss to Iowa, with the Buckeyes allowing the most points ever under Urban Meyer. Barrett threw four interceptions for the first time in his career and Iowa rushed for 243 yards. Penn State was also upset, by Michigan State, 27-24, on a last second field goal. It was the 10th opportunity for new coach James Franklin to beat a ranked opponent on the road … and they've lost all ten. Wisconsin now seems the only viable Big Ten team to be in the Final Four, and that could be a long shot. 
56 – Years that Dodgers Stadium has been home of the one-time Brooklyn Dodgers. In that time, they have been to 9 World Series, but have never hosted a Game 7 – until this year. A big question that will be asked of Manager Dave Roberts is why Kershaw didn't start the game as he came on for Darvish and pitched four scoreless innings, allowing only two hits – but with the Dodgers already down 5-0 
84 – It was not all bad news for Ronaldo Sunday, as he bested the mark of Raul, with 84 assists since joining Real. Not bad for a guy who has been known as selfish his entire career.
104 – Record number of home runs in this postseason, the last by Springer that gave the Astros a 5-0 and seemed to take the air out of the Dodgers. 
114 – In the highest scoring "Bedlam" games ever Oklahoma outlasted Oklahoma 62-52. Both teams came in 7-1, but Oklahoma now seems to have the only route to the playoff, particularly after both Penn State and Ohio State lost. Oklahoma QB Baker Mayfield threw for a school record 598 yards, with five TDs, making him one of the top Heisman trophy favorites. 
101-94 – Golden State was not the only team to pull off a big comeback this week, as the Celtics came back from a 55-37 halftime deficit to outscore OKC 64-39 in the second half. Carmelo Anthony was particularly bad for the losing side, going 3-17 from the field while Irving finished with 25, after going scoreless in the first half. It was the seventh straight win for Boston, who continue to impress in the absence of Hayward.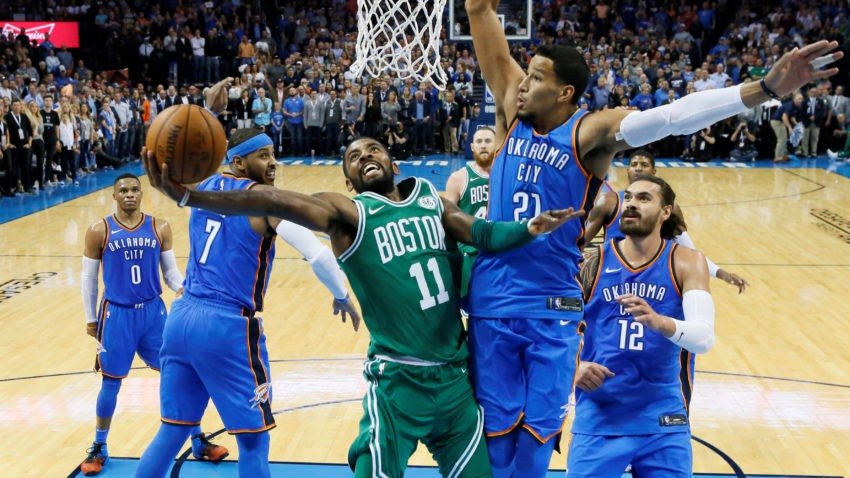 Kyrie Irving leading surprising Celtics to a strong start.
Kyrie Irving leading surprising Celtics to strong start
179 – It took a couple of games, but Sergio Aguero is now the all-time top goal scorer for Manchester City. He scored the third in City's 4-2 victory over Napoli, booking their place in the Knockout stage of the Champions League with two games to spare. He then added another from the spot after a dubious penalty against Monreal Sunday. 
+1000 – Days since Arsenal have beaten a Top Six rival on the road. Over that stretch, they've earned 6 points from a possible 45, the last win being at City 2-1. Sunday, some very questionable calls, including a clearly offsides third goal when Arsenal were in the ascendancy, helped City to a 3-1 win. 
29,000 – After his first 50-point game in close to three years, LeBron's 57 Friday night helped the Cavs break a four-game losing streak. He is the youngest player to 29k. It also tied him with Iverson for sixth on the all-time list, with 11 50-point games and he matched Kobe Bryant as the only two players in the last 50 years to score over 50 in their 15th season or later.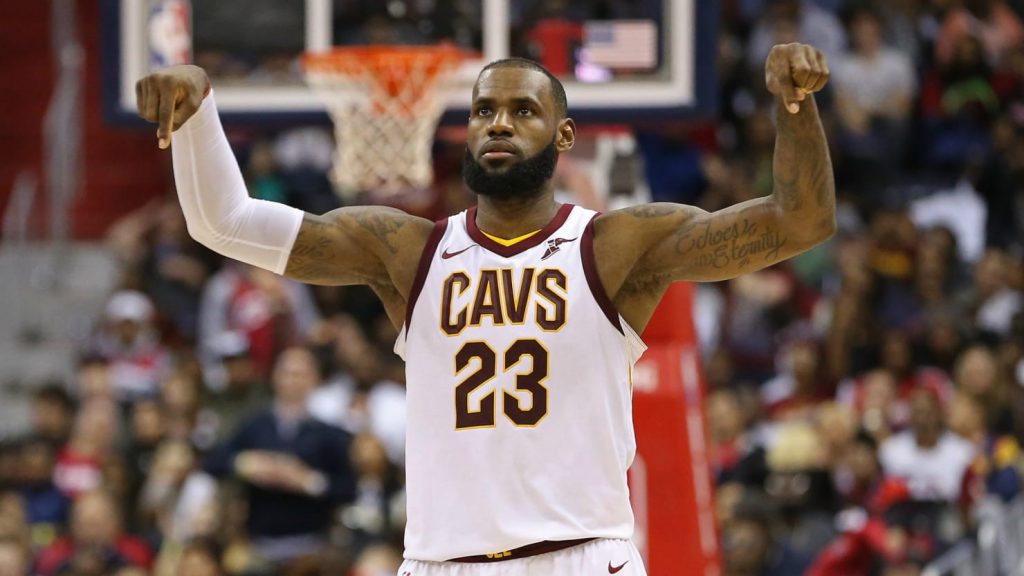 The King strikes again.
---
Check back in to the same bat time, same bat channel in two weeks after a brief international break…