Week 1 of the new English Premier League season is now in the books and what a weekend on offer!
It kicked off with a come-from-behind victory for Arsenal, 4-3, salvaging all three points after a defensive nightmare performance in the absence of Koscielny, Mertesacker and Mustafi, while Leicester looked much closer to the side that won their miracle title two seasons ago rather than the mid-table team of last season.
The Saturday slate saw goals flying into the net, with Liverpool settling for a 3-3 draw after an extra-time equalizer from Watford, Chelsea falling short in a second-half comeback losing 3-2 to Burnley at the Bridge, Everton nudging out Stoke 1-0, West Brom beating Bournemouth by the same score, Southampton and Swansea settling for a goalless draw and Man City finally breaking through a stout Brighton to earn a 2-0 victory.
Sunday gave us predictable wins for both United (4-0) and Tottenham (2-0 over 10-man Newcastle).
---
Everything you need to know about this past weekend, by the numbers…
Never – Mourinho has never lost a home match on Sunday in his entire managerial career, including the impressive 4-0 win in Match Day 1.  Numbers are unavailable, but unbelievable!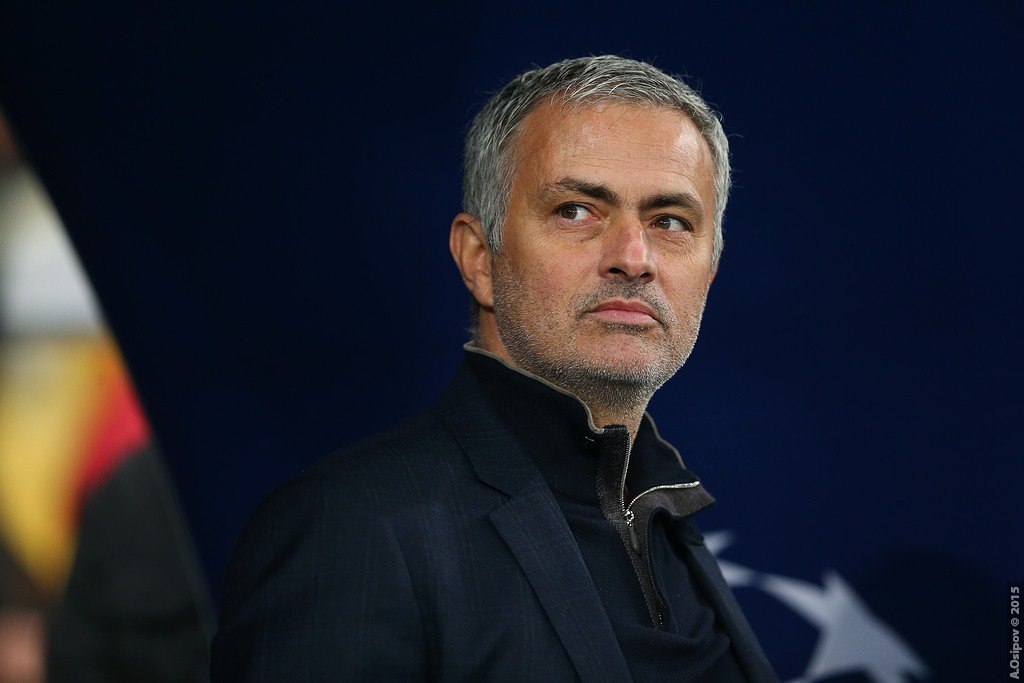 The Special One doesn't lose at home. Photo credit: Aleksandr Osipov (Flikr).
0-0/545 – Southampton and Swansea City played out the only goalless match of the weekend in an opening three days flush with goals. Yoshida missed a great chance to give the home side the win with a sumptuous opportunity he headed over, after an excellent save of a Tadic shot from distance. Southampton will be concerned, as they continued the struggles in front of goal that defined their 2016-17 season and stretched their scoreless streak at home to an astounding 545 minutes. Swansea, on the other hand, might be happy to register their first point of the season in their opening match, after just avoiding relegation with a late run last term.
1 – Burnley won exactly one league game away from home out of 19 last season while Chelsea lost only three in all competitions at Stamford Bridge. Of course, games are played on the pitch, not in the statistics books, as was the case with Burnley's surprise 3-2 victory over Chelsea. Even with Cahill gone in the 13th minute and Fabergas late, it was the upset of the weekend.
3 – Chelsea, in fact, have had at least one player receive a red card in their past three competitive matches (if we count the Community Shield as "competitive" – which I will, as any Chelsea-Arsenal matchup with something on the line should fall under that category) and four overall. They have lost all three games, blowing two trophies in the process. The one piece of good news from their opening loss was record signing Álvaro Morata scoring his first competitive goal for the side after his horror miss in the penalty shootout in the Community Shield a week earlier. Unfortunately, in trying to steal a goal from a teammate late on, while being marginally offsides, he might have cost them the draw.
3 (again) – Arsenal have beaten Chelsea in the past three matches with a trophy on the line, though two were the glorified friendly we call the Community Shield. The curtain raiser the weekend before last had the air of a competitive battle, even with several stars missing for each side.  Chelsea fans might be starting to worry after losing their talisman striker and bringing in fewer fresh faces than their tempestuous manager Antonio Conte would like. Their chances of repeating as Champions seem a stretch at the moment, but don't count them out yet, as they still boast arguably the best defensive unit in the league and just missed out on a valiant second-half comeback against a Burnley side that was pretty stout defensively last term.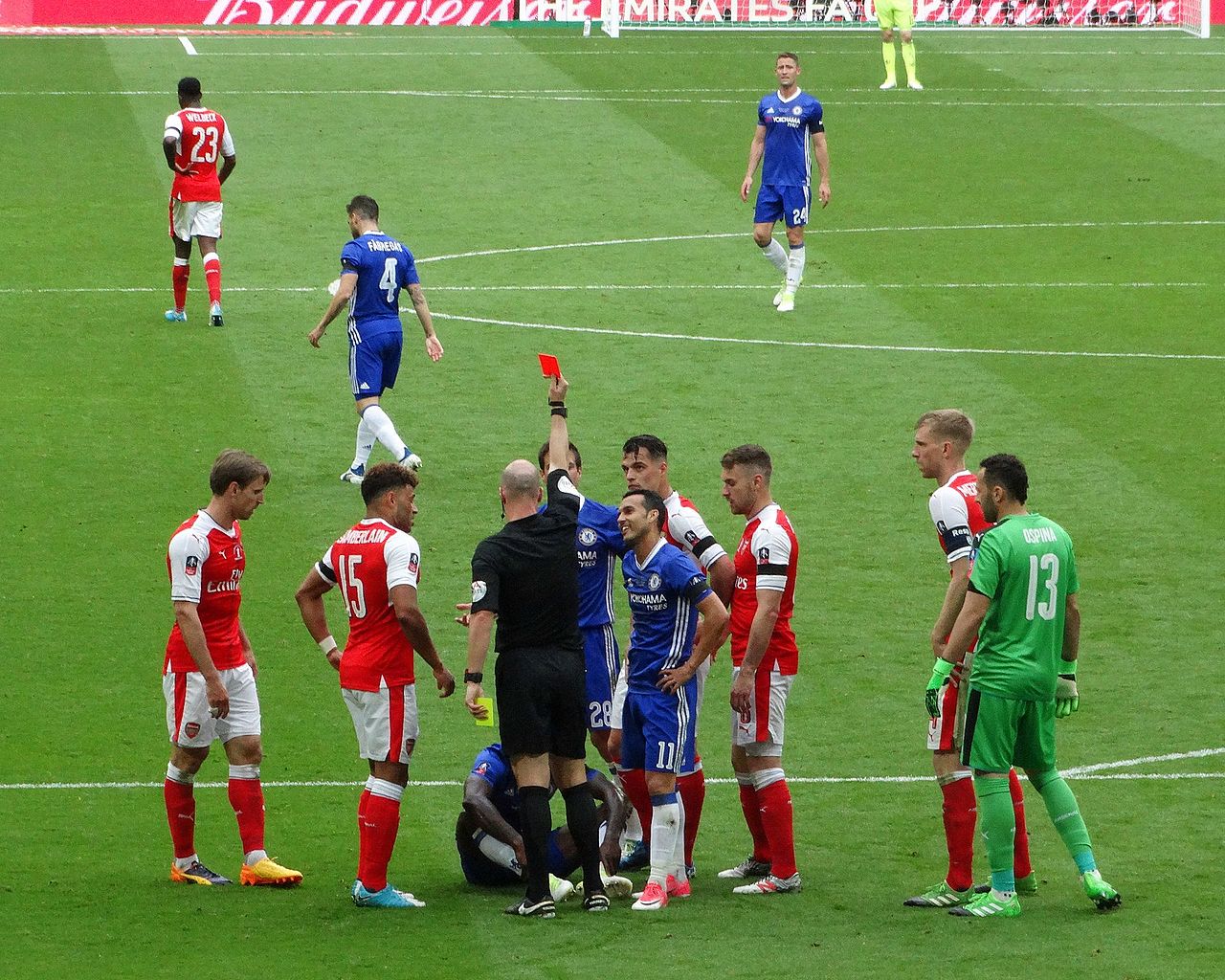 Things can get a bit bumpy at Arsenal v. Chelsea. Photo credit: @cfcunofficial (Flikr).
3/45 (even threes come in threes) – In 1926, Huddersfield became the first English team to win three consecutive titles, a feat only accomplished by three other sides (and never bested). Starting in the 1970s, the side fell on hard times, spending a long 45-year spell in the second, third and fourth tiers of English Football. They are finally back in the top division and celebrated their promotion with a 3-0 win at an awful Crystal Palace, raising them to top spot in the league on goal difference, before United surpassed them in the last game of the weekend. A rather inauspicious start for former Ajax and Inter manager Frank De Boer at Crystal, a pick some questioned the moment it was announced.
3-3 (and two more) – Liverpool looked like they had beaten back a valiant effort from Watford, only to blow a come-from-behind lead in extra time. It continues a troubling trend from last season, where the Reds played their best football against the rest of the Top 6 (the best record in the league last season) while struggling against lower sides in the table. Watford were just outside the drop zone last term and had neither of their two top scorers from the past few seasons, but found a way, scoring twice from corners, where Liverpool have struggled for a couple of seasons now. Mignolet had a couple of fine saves, but looked far less assured than he did in the latter part of the 2016-17 season. With Coutinho possibly moving to Barça before the end of August, these are troubling times at Anfield.
4 – Jonjo Shelvey is the sort of player who splits opinion, occasionally looking like he is on the cusp of becoming an excellent midfielder, even earning call-ups for England, other times seemingly lost. Given his erratic nature and temperament on the pitch, I was surprised to find that he has only earned 4 red cards in his seven-year career in football (he is entering his eighth season now). He's totalled 200 appearances, where he has scored 20 goals and added 26 assists, while also garnering 39 yellows. Unfortunately, that fourth red came Sunday, as he appeared to casually stomp on Alli's ankle, helping Tottenham to break a scoreless draw and ultimately win 2-0. Both team's fans are calling for additional signings, from Tottenham to get over the line and finally win the title (or any elusive trophy, for that matter), for Newcastle to stave off an immediate return to the Championship.
7 – Arsenal's Olivier Giroud has seven goals off the bench since the beginning of last season, including his neck-bending winner in the 4-3 opening day victory over Leicester Friday night. Arsenal made a habit of late winners/draws last season, and this could be a good omen for the season to come – particularly with Liverpool and Chelsea both dropping points in games they should have won. Giroud has announced he will be staying this season, even with starting opportunities likely to be limited after the impressive display of his replacement and fellow Frenchman Lacazette, who scored the fastest goal in an EPL opener, as we near the 25th anniversary of the rebranding.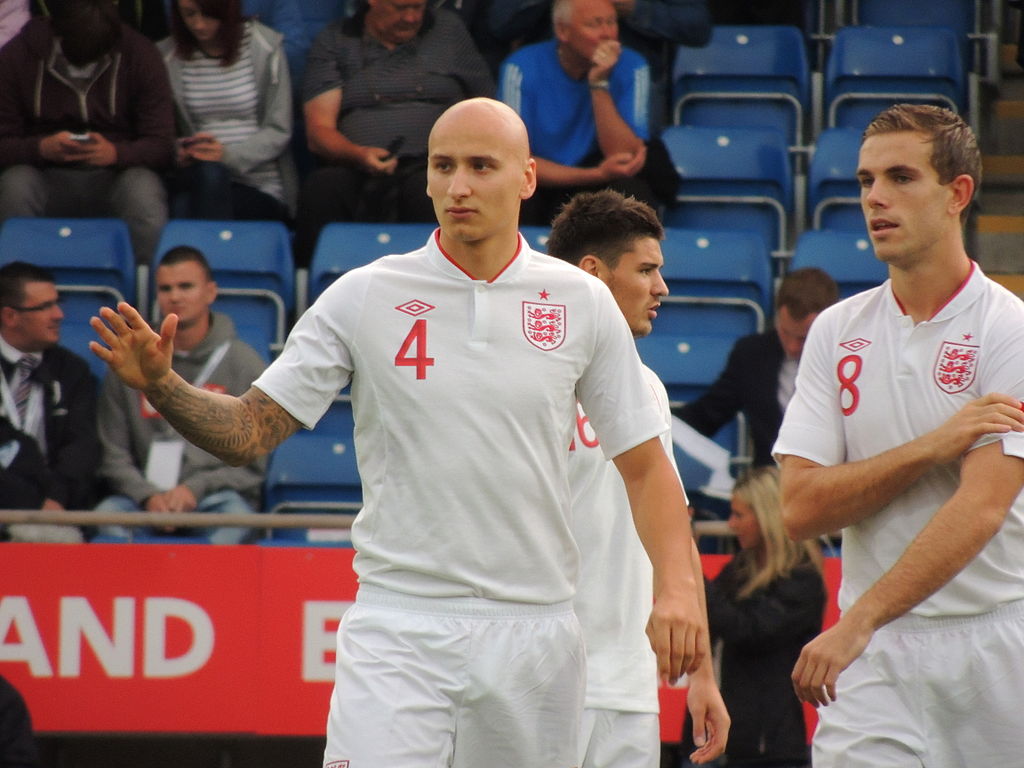 Things can get a bit bumpy at Arsenal v. Chelsea. Photo credit: Chris Barnes (Flikr).
15 in 16 – Lukaku's goal tally in the league across the end of last season and beginning of this one, with Everton and now Manchester United. In two competitive matches with his new side, he has three goals. The first came in the European Super Cup last week, where he deigned to miss a sitter before bringing United back into a game they ultimately lost 2-1. In the first half of their home fixture at Old Trafford, West Ham were holding United until the 33rd minute, when a perfectly weighted pass from Rashford setup Lukaku, who hit the post but saw the ball careen in. His second came on a powerful header from a free kick in the 53rd minute. Defying some predictions, the Belgian striker seems to be off to a flyer so far. And Chelsea can't be happy to have essentially lost out on the striker twice … though once by choice, by the very man who undercut their pursuit at the last second.
34/1 – Brighton & Hove Albion FC played their first game in the top flight in 34 years and first ever in the Premier League Saturday evening. The result, as expected, was a loss to the loaded, insanely expensive and title-favorite Manchester City 2-0. Brighton, however, held their own through a scoreless first half and another 20 plus minutes before Aguero's opener in the 69th minute. This is a side that almost fell out of football completely, just holding onto League status in both 1997 and 1998, after poor management edged them toward the cliff. They are certainly not back to the standard of the late 70s/early 80s, when they competed in the first division for four straight seasons and lost the FA Cup Final to Manchester United, but the fans certainly appreciated the return to the top, even in a loss.
56 – the number of years since Tottenham last won the title. It is 13 for Arsenal. It is 3,361 days (as of Monday) since Tottenham last won a trophy. It is a little more than a week for Arsenal, who have won three FA Cups and three Community Shields in the past four seasons. A shift in North London? That might be a little premature …
170 – Goals for Sergio Aguero in all competitions for Manchester City, after he scored the opener in the 2-0 victory over Brighton. Aguero's place is under serious threat from upstart Jesus, but Guardiola played the two side by side in the opener. Whether he will stick with that formation going forward is anyone's guess, but the scorer of the most iconic goal in EPL history, when he slammed home the extra time winner over QPR to steal the title from an already celebrating United in 2014, is still one of the most potent strikers in England. The goals record for City, by the way, is 177 by Eric Book, which has stood since 1939. Barring a major injury for Aguero, it should fall this season.  
5,235 – The number of days between competitive goals for Wayne Rooney at Everton. His last goal for the Toffees was April 13, 2004, in a 1-1 draw against Leeds United (remember them?), before his summer move to United. Just before halftime Saturday, Rooney reopened his Everton account with a charging header to give Everton a 1-0 lead against Stoke City, which they held onto for an opening day victory. In between, he had a "decent" 13 years, winning 16 trophies, becoming United's top scorer of all-time (253 in all comps), winning every honor available in English and Continental Club Football except the European Super Cup, and becoming the all-time leader in goals scored for the national team (53). Many saw Rooney as fading into the twilight after subpar performances the past two seasons, often sitting on the bench last term, but early signs are that the return to his childhood club might just rejuvenate his flagging career.