United and Tottenham both cruised to 4-0 victories in Saturday action, West Ham stole two points late against Swansea, Stoke saw off Southampton 2-1, West Brom and Watford shared the spoils (2-2), as did Bournemouth and Leicester (0-0) and Man City won 1-0 at Stamford Bridge. In the early game Sunday, Arsenal continued their resurgence with a 2-0 victory over Brighton, followed by a 1-0 victory for Burnley at Everton and Liverpool again slipped up against a lower side, drawing 1-1 at Newcastle. 
---
Everything you need to know about Match Week 7, by the numbers
0-0 – Leicester and Bournemouth played out a tepid 0-0 draw, leaving the Champions from two seasons ago in 17th place, on five points, with Bournemouth in 19th, on 4. Could Leicester finally live up to the predictions from two seasons ago and be relegated? Hard to fathom, but you never do know. 
0-4 – Tottenham continued the early season trend of being a much better side on the road, cruising past the previously stout defending of Huddersfield 4-0. The Spurs sit in third place, already five points behind the two Manchester sides.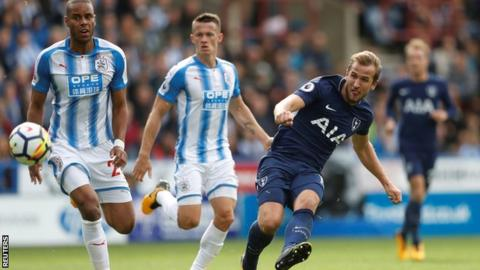 Kane fires Spurs into 3rd.
1-1 – Liverpool's struggles against teams they should beat continued, with a 1-1 draw at Newcastle. It was almost their downfall last season and they have already drawn with Watford (3-3), Burnley (1-1), Spartak Moscow midweek in the Champions League (1-1) and now Newcastle. Liverpool have fallen to seventh in the league, though only a point out of fourth, and are currently second in their UCL group, even on points with Spartak, though one assumes they will progress to the knockout stage, barring another slip-up. 
2-2 – Watford's 2-2 draw with West Brom, means they have only lost one of their first seven after a horrible start to the season last term. They have three wins and three draws and are tied with Liverpool on 12 points (good for 8th in the table). It is not stout defending that has led them to the strong start, as they have shipped 12 goals already, but better offense (1.57 goals a game compared to 1.05 last season). 
3-1-1 – Since an embarrassing 3-0 loss to Newcastle on August 26, that led to rumors of manager Bilić's sacking, West Ham have won three, drawn one and only lost to Tottenham (3-2). The latest win came Saturday, 1-0 over Swansea.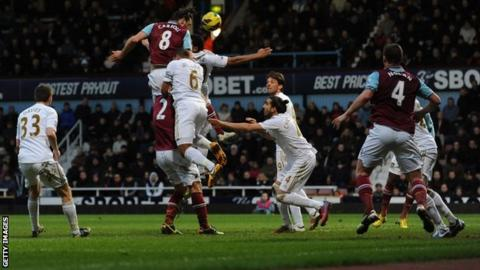 Hammers suddenly winning.
Sixth – After their 1-0 victory over Everton, Burnley has risen to sixth place in the table. They have lost only once in seven league matches (3-3-1) and that includes an opening 3-2 victory over Chelsea, a 1-1 draw at Spurs, a 1-1 draw with Liverpool and the 1-0 victory Sunday. Last season they finished in 16th place, on the magic 40 points, and lost 20 matches in 38. 
6 – Assists by David Silva this season, with Henrikh Mkhitaryan still stuck on 5 for the past four matches. Kevin De Bruyne might be their best all-around player in the early going this season, and have scored the winner in their impressive 1-0 victory over Chelsea Saturday, but he has two goals and four assists this season in all comps to Silva's eight assists (though he is still scoreless). Overall, City are undefeated this season in 10 competitive matches, with their only blip the 1-1 draw with Everton. Since then, they have outscored their opponents 28-2.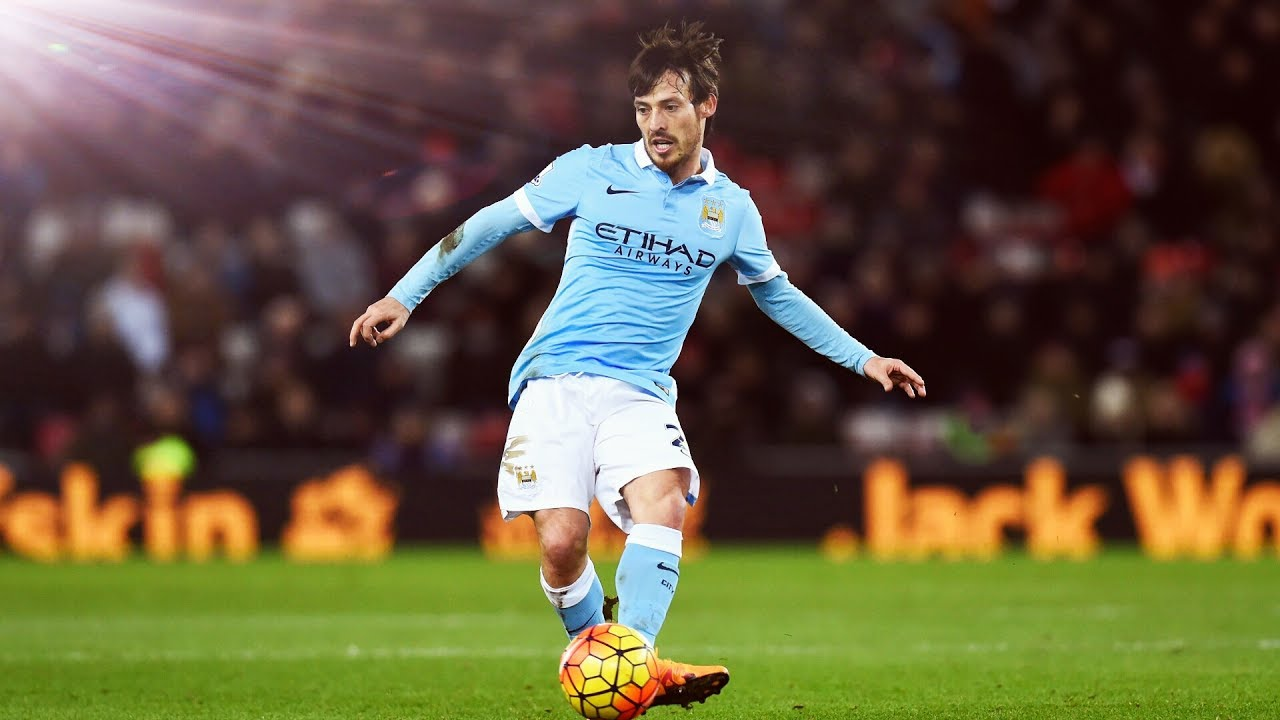 Pass, pass, pass, pass.
6-1-0 –  Best start ever for United in the League after seven games. They are unbeaten in all comps since losing the Supercopa to Madrid, outscoring their opponents 32-4 over that stretch. The only blip so far was the 2-2 draw at Stoke. And it is the first time they have kept five clean sheets at home in the league in eight years. The "second year" charm of Mourinho is in full display, though Guardiola and City might have something to say about anointing United Champions just yet. 
6-1-0 – Since their humiliating 4-0 loss to Liverpool, Arsenal are undefeated in seven in all competitions, with six wins, and have climbed to fifth in the table, even with Chelsea on points, but behind 3 in goal difference. Over that stretch, after the 2-0 victory over Brighton Sunday, Arsenal have outscored their opponents 15-3, with five clean sheets (the three goals coming with weakened sides in the Europa League). Arsenal have every chance to win their next six heading into their trip to the Etihad on November 5. 
6 of 11 – Manchester United have scored four plus goals in 6 of 11 matches this season. Last season, it was 6 of 63 matches in all competitions. This includes three for Martial and Fellaini, two for Pogba and Rashford and four others with a goal each.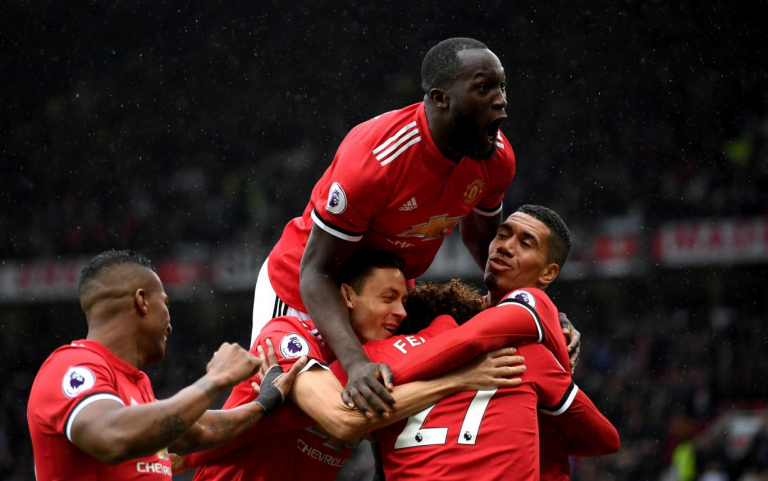 Scoring is fun!
11 in 10 – Of course, the biggest reason for United's offensive potency so far this season is the 11 goals by Lukaku in 10 competitive matches (and 7 in 7 in the league). He has 20 in his last 22 league games for United and Everton. Hot! 
15 – Crystal Palace joined exclusive company as only the fifth team ever to lose their first seven league matches of the season, with three of those sides "achieving" that level of futility before World War II. 
16th – Everton's place in the table after their 1-0 home loss to Burnley Sunday. Some sanguine pundits had the Toffees potentially sneaking into the Top 4 (or at least 6), but their continuing struggles remind us of the importance of a top tier striker, as the absence of Lukaku has been acutely felt. Since August 27th, Everton have been held scoreless five times, scoring seven goals in eight games, with only two goals in their last give league games.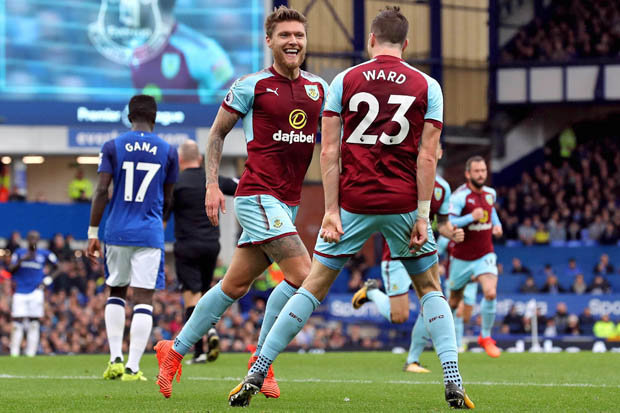 Oh, Everton. Losing again.
28 – Crystal Palace's Wayne Hennessey is second in the league with 28 saves, only topped by Swansea's Lukasz Fabianski (29). Poor defense means more save opportunities for your keeper, so not that surprising, but things could be even worse for Palace. They have been outscored 17-0 in their 7 league games, though they have won their first two in the Caribou Cup, 2-1 over Ipswich and 1-0 over Huddersfield. 
45 – One record Wenger now has over Sir Alex is the number of teams he has beaten in the EPL, which hit 45 with the 2-0 victory over Brighton Sunday. 
100 – Giroud finally got on the score sheet again to notch his century for Arsenal, in their 4-2 midweek win over BATE in the Europa league. It came from the spot after a dubious foul in the box against Mustafi, making the Frenchman the 19th Gunner to achieve that mark. He had been held scoreless since the season opener.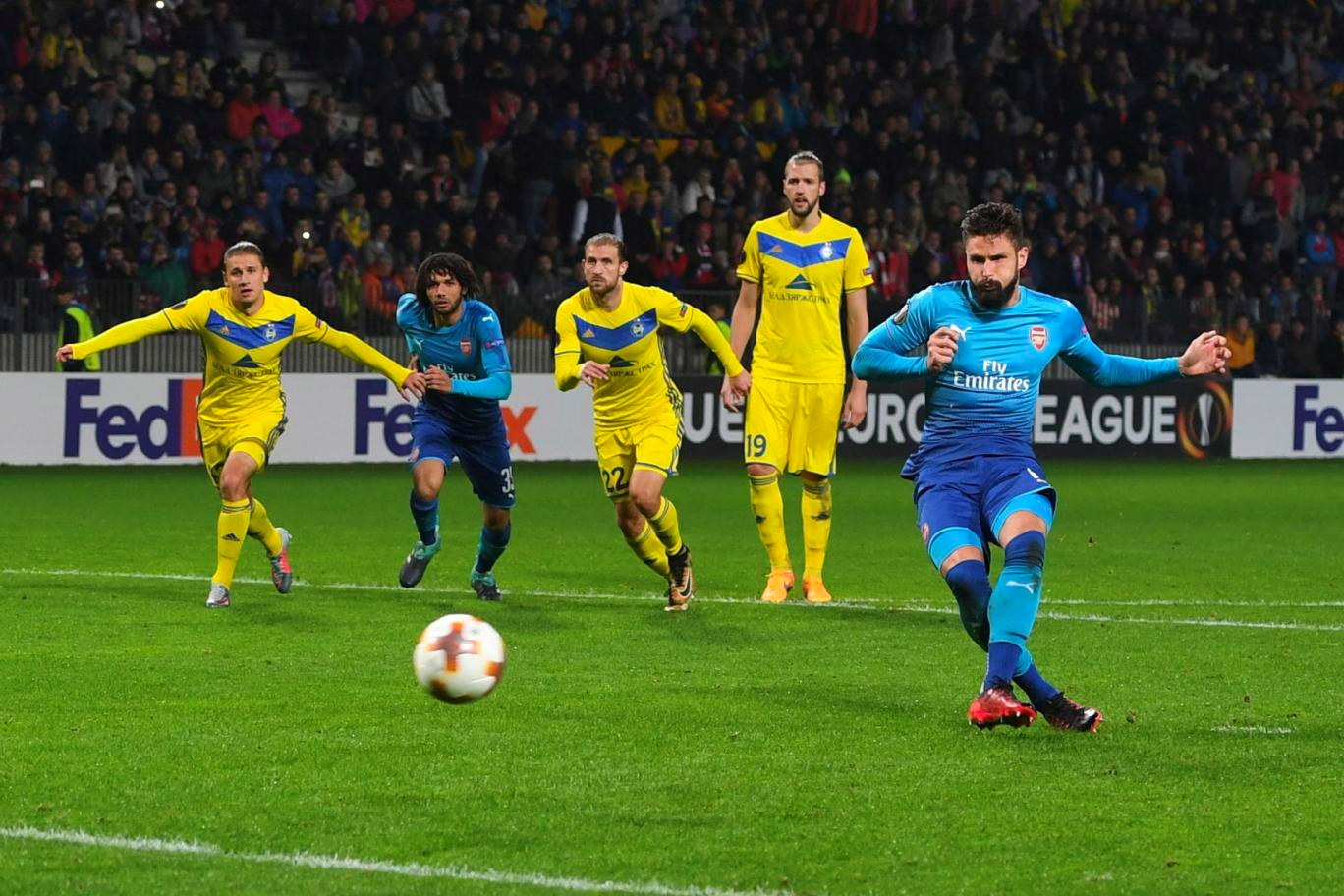 Cent! Giroud finally gets his century.
137 – League goals for Peter Crouch across 9 teams and 17 years. He scored the winner Saturday in a 2-1 victory over Southampton Saturday. 42 of those goals have come with Stoke, along with 4 in the FA Cup and 9 in the League Cup. He has 195 in all comps and already has three this year in the league and Caribou Cup (in 7 appearances, five off the bench). Timeless!
---
We are heading into the International Break and next round of World Cup qualifiers, so check back in two weeks for the next round of fixtures.