The festive period ended with a bang….and some fizzles, as Chelsea and Arsenal played out one of the best matches of the season so far, even as it was a "defending-optional" encounter that ended 2-2, with four lead changes. Manchester United bounced back with a win, while Liverpool turned three points into one only to regain those two points in extra time. And Tottenham's bounce back was arrested by a West Ham side that have done quite well against the Top 6 in recent weeks. 
The NFL playoffs also embarked with Buffalo's return to the playoffs a major disappointment, KC knocked out on the first try at home (yet again), Atlanta suddenly becoming the favorite of some to return to the Super Bowl after a largely mediocre season, and New Orleans outlasting Carolina in a nail biter. The NCAA Division I Championship game was Monday night as well, and Alabama haters, like me, were left ruing Georgia failing to put away the Crimson Tide, who earned Nick Saban his record-tying sixth national championship (with Paul "Bear" Bryant). And both college and pro basketball continued to excite as the New Year began. 
On to the numbers, with a few nibbles from around the sports world … 
---
Match Week 22, by the numbers
-3 – The Philadelphia Eagles opened as the first top seed underdogs in NFL playoffs history as Atlanta were giving those three points in early betting Sunday. The replacement of Injured MVP candidate Carson Wentz with Nick Foles is the main reason for the Falcons becoming the first sixth seed to be favored over a one seed (the shift to 12-team playoffs occurred in 1990). Last year's SB runners up are also playing some of the best football in the league over the second half of the season and into the postseason. 
0-0 – Chelsea will be forced into a replay with Norwich after finishing their Saturday match scoreless. It is the fifth time they have been held without a goal this season, compared to twice at the same point last season. One reason is Alvaro Morata who, after a strong start to life in West London, has scored only once in his last 19. His profligacy in front of goal is a big reason for the 2-2 draw with Arsenal last week as well.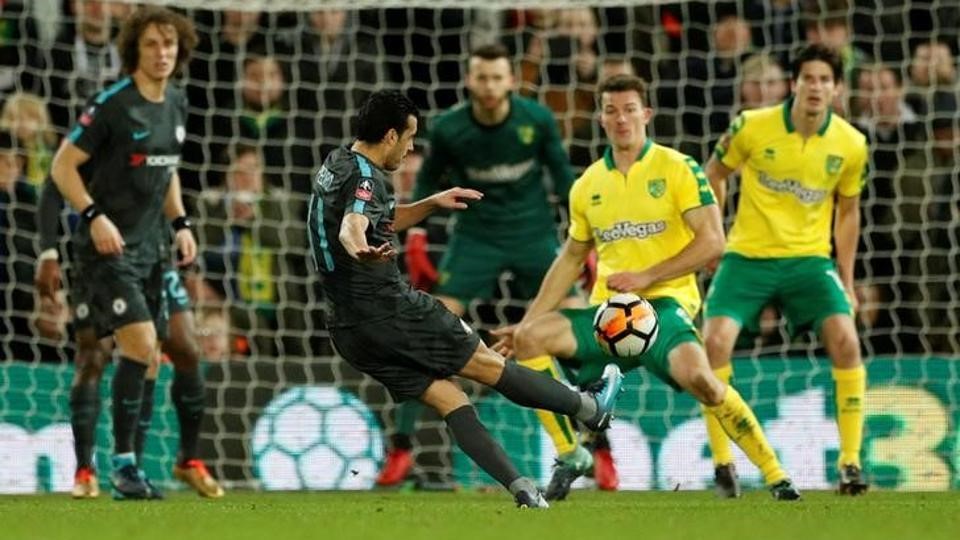 Chelsea could not break down a resolute Norwich defense.
---
0-12 – Sam Allardyce remained without a win against Mourinho, losing 2-0 at Goodison to goals from Martial and Lingard. Pogba was particularly impressive, setting up both goals and rampant across the pitch. It ended a four-game run without a win for United and was the second loss on the bounce for Everton after starting undefeated under "Big Sam."
0-14 – Cech had a chance to end his miserable record of never having saved a penalty since moving to Arsenal. But Hazard is a pretty good penalty taker (having succeeded on 39 of 45 (with one miss in a friendly). Cech went the wrong way and that made it two in two games and zero saves in 14 in total. Cech was otherwise excellent, saving several great chances for Chelsea, who could have scored 6 or 7 (as could Arsenal). It ended 2-2. 
1 – Clean sheet in last 20 for Stoke City as they lost 1-0 to Newcastle. Mark Hughes was teetering on the edge after his rotation last weekend did not pay off Monday, and was out after an FA Cup loss a few days later (see below). Newcastle moved up to 13th and Stoke fell into the relegation zone at 18th place. 

Ayoze Pérez was the hero for Newcastle, scoring only his second goal of the season.
---
2nd – Road team in NFL postseason history to win a game they trailed by 18 at the half. The last was way back in 1957 (the Lions). The second team is the Tennessee Titans, who were down 21-3 at halftime before winning 22-21 with the help of a blocked pass caught by Mariota for a TD. Mariota now leads the league, with five 4th quarter or overtime comeback victories this season. KC already had the record for consecutive home playoff losses – but added to it with a 6th – and are 1-11 in their last 12 overall. For the Titans, it was their first playoff win since 2003. 
2*2*2 – Arsenal have given up second half leads with penalties in two successive games, against West Brom to draw 1-1 and then against Chelsea to, ultimately, draw 2-2 (as well as giving up a late goal to Crystal Palace last week, though they held on 3-2). They also gave up a 3-2 lead against Liverpool 13 days earlier. Those three games have cost Arsenal six points and made getting back into the Top 4 that much more difficult, particularly realizing Arsenal have now drawn 5 of their last 8 to fall 5 points behind Liverpool, in fourth place. To be fair, they were behind 1-0 to Southampton, 2-0 to Liverpool and 2-1 the o Chelsea, drawing all three from behind and haven't lost since a 3-1 defeat to United over a month ago. 
2-1 – Stoke City's loss to League Two side Coventry Saturday in the FA Cup was the last straw for Mark Hughes, who has been in charge since 2013 and led the Potters to their highest EPL finish ever (9th in three straight seasons). He leaves them in the bottom 3 and in real danger of returning to the championship. 

Mark Hughes' sacking meant the EPL had let the most managers go in a decade.
---
2-1 – It looked like Liverpool had blown a lead late again as Burnley equalized just before full time, only to score on a free kick in the 94th minute to take back all three points. However, that goal looked marginally offsides – meaning the refs might have taken two points from Arsenal and given two to Liverpool within 24 hours. 
2 in 3 – Goals for Callum Wilson in Bournemouth's last three games, helping them to steal a point at Brighton in a 2-2 draw Monday. Bournemouth are undefeated over that three-game stretch, with a win and two draws, moving them to 14th, at the end of the day, though 16th when all the fixtures had been played. 
2 in 11 – Arsenal's Alexandre Lacazette is in the midst of a cold spell at the worst possible moment, having only scored in two of his last 11 games and none in his last 7. Over that stretch, Arsenal have won five, drawn five and lost one (ironically, he scored in that 3-1 loss to United). Wednesday, it was Hector Bellerin and Jack Wilshire both scoring their first league goals of the season to earn the point (for Wilshire, his first in 2 and 1/2 years). One positive note, Arsenal are 2-2-0 in their last four against Chelsea, winning the FA Cup and Community Shield before two league draws. That comes after a pretty terrible record against their London rivals. 

One of countless misses by Lacazette over the past two plus months.
---
3-0 – Riyad Mahrez appears to be back to his best as he scored the opener of three second half goals as Leicester cruised past Huddersfield Monday. Mahrez has 2 goals and 3 assists in his last 4 games and 7 goals and 7 assists for the season, in all comps. 
4 – Penalties conceded by Arsenal over the past three games – one against West Brom and Chelsea each and two against Nottingham Forrest, including a wrongly awarded successful penalty after a double hit. Biased? Maybe. But the Gunner's defending has been shambolic of late. Arsenal lost 4-2 Sunday, to lose at the first ask of the FA Cup for the first time under Wenger. So … out of top 4 for first time? Check! Out of the FA Cup in the third round for the first time? Check! Time to say goodbye?  … 
4 – Touchdowns for Bulldog running back Sony Michel in the National Championship semifinal, the last coming after his fumble in the fourth quarter gave Oklahoma the lead. He scored in the second OT to redeem himself and win the game for Georgia, as they outlasted the high-powered Oklahoma State offense 54-48.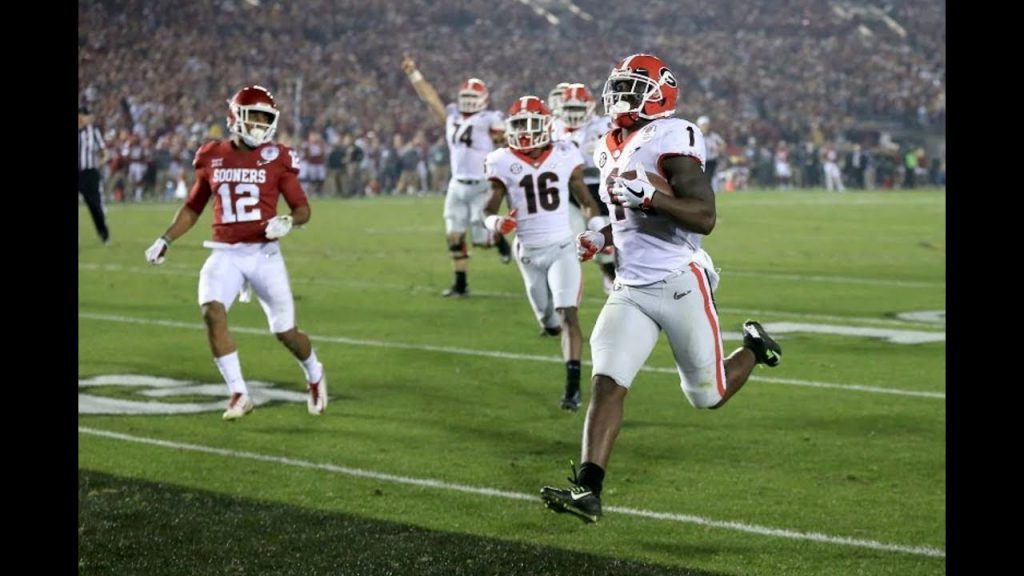 Sony Michel ends an epic battle between Georgia and Oklahoma at the Rose Bowl.
---
4+2 – Special teams turnovers for Los Angeles Rams in regular season and Saturday's Divisional Playoffs Game Saturday night, respectively. The Rams couldn't get much going against a Falcon's defense that has improved dramatically and ultimately lost 26-13 at home. 
6 – Goals for Chelsea defender Marco Alonso this season after scoring against Arsenal Wednesday to give Chelsea a 2-1 lead, though it ended 2-2, as mentioned earlier. He leads all defenders, is 17th in the EPL and only one goal behind Alexis Sanchez, who failed to score Wednesday. And his twelve since the beginning of last season are five more than any other defender. 
5-0 – Drew Brees and Sean Payton remained undefeated in the postseason at home, moving to 5-0 with a 31-26 victory over the Carolina Panthers Sunday. Brees did throw his first interception at the Superdome, though that comes with 12 touchdowns in those five games. The Saints looked like they were cruising until a late Panthers burst almost won them the game. Cam Newton fell to 3-4 in the playoffs with 10 TD and 7 INTs. He was sacked on the final offensive play of the game, with the Panthers in position to potentially take the lead. 
7 in 9 – Goals for Jesse Lingard in the league, his latest the second at Goodison Park Monday that sealed the three points for United against Everton 2-0. Adding the three goals and assist he has in two Caribou Cup appearances and Lingard is up to 10 goals and 5 assists in all comps, already double his goal haul from last season and equaling his best total ever – back in 2013-14 in the Championship with Birmingham and Brighton. But for his goals in the last several weeks, United would be out of the Top 4. 

Lingard is hot, scoring yet again against Everton en route to a 2-0 win.
---
7-1 – Big Ten in Bowl Games reinforcing those who think Ohio State should have beaten Alabama to the final playoff spot (though their rousing win Monday night made that point seem moot). Michigan was driving for a touchdown to take a 20-point lead when a fumble at the South Carolina 5 gave the. the ball and three touchdowns later, they were ahead 23-19. A third Michigan turnover in four possessions blew a chance to take the lead and they muffed the next punt return to give South Carolina a short field and three more points. Finally, another interception for Peters ended it on fourth and one (after turning it over on downs the possession before. It was the second year in a row Michigan blew a Bowl lead to lose, pushing Harbaugh's Bowl record to 2-3 overall and 1-2 at UM, as well as 1-5 against Michigan State and Ohio State (and no wins against teams with winning records all season). Harbaugh has a big season coming up if he wants to keep his job long term. 
Lucky 13 – Of the 1,690 Division I College hockey players, 13 of them are African American. One is Jordan Greenway at Boston University, who will become the first black player to represent Team U.S.A. at the Winter Olympics next month. Black College Hockey Player March, anyone?
19 of 153 – Touchdowns allowed in total possessions of opponents heading into the Rose Bowl for the Georgia Bulldogs defense. Against Baker Mayfield and the Oklahoma Sooners, they allowed touchdowns in four of the first six, with a punt and short field goal in the other two. Georgia found themselves down 31-17 at the half, the most points they have given up in the first 30 in 15 years. Things changed dramatically from the last 5 seconds of the half, though, as Georgia scored the next 24, stopping Oklahoma on 5 straight possessions including an interception, before Mayfield finally woke up to lead OSU to a tying score in the fourth quarter. They stopped them the next three possessions (two in OT) and then blocked a short FG attempt and won it 54-48 two plays later. 
72% – Drew Brees became the first QB in NFL history to complete that percent of his passes in the regular season and also hold three of the top four spots (and 4 of the top 10) on the all-time list. In the game Sunday, he was 23-33 (69.7%) for 376 yards with 2 TDs and an INT. Cam Newton threw for 349 yards himself, with 2 TDs and 0 INTs, but completed only 24 of 40 passes (60%), though, to be fair, there were some ugly drops by the Panthers receiving corps.  Brees, by the way, is also the most of accurate passer in NFL history (66.9%).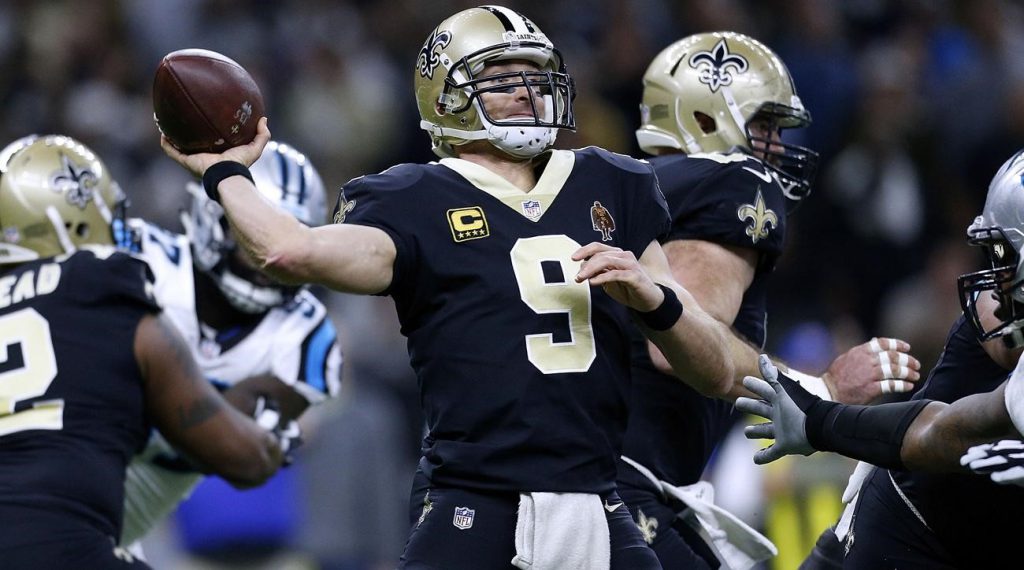 Drew Brees continues to prove that size doesn't always matter as he rewrites record books.
---
81 – Of the 100 top viewed television broadcasts for 2017 were sporting events! And even as the NFL has suffered viewership drops, it is still comparable to 10, 15 and 20 years ago. 
127-48 – Auburn has outscored opponents by that margin in the third quarter of games this season, including 14-7 in the Chick-fil-A Bowl last Monday to turn a 13-7 deficit into a 20-13 lead. Unfortunately, undefeated UCF then scored the next 21 to take a 34-20 lead on the way to a 34-27 victory. UCF thus finished the season as the only undefeated team in Division I (13-0).  
143 – Million Pounds paid by Barcelona to prise Liverpool's Philippe Coutinho to Camp Nou. He scored 54 goals in exactly 200 matches for the Meyerside club, but left without a single trophy. He will become the presumptive replacement for culé legend Andrés Iniesta in a side that seems all but certain to reclaim the La Liga this season, at minimum.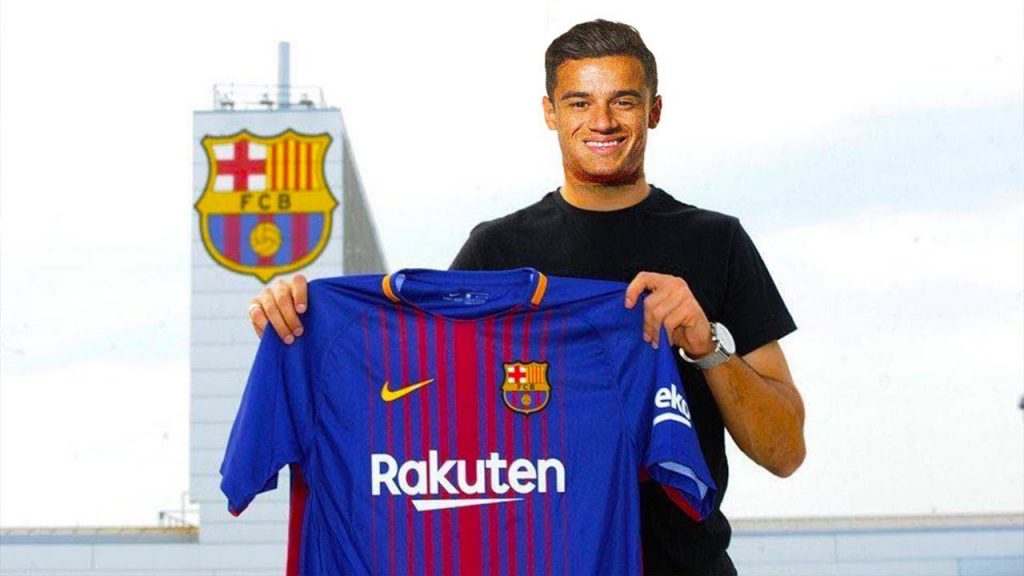 Coutinho finally gets his dream move to Barca … will Liverpool suffer his absence?
---
Perfect – Cleveland is certainly feeling better about itself since LeBron came back to town and delivered on his promise to bring a championship to the city. Football and baseball fans, of course, continue to suffer – but with good spirits, apparently. The Cleveland Browns 0-16 record led to a parade for their "perfect" season, which thousands attended, even in freezing temperatures. What are the chances they were Trump voters?
---
Check back in at the same bat time, same bat channel next week for the subsequent round of fixtures …