The weekend, after an international break to remember (more on this below), kicked off with the always entertaining battle between United and Liverpool, the two winningest sides in the history of English football. Of course, I'm being facetious as they have now played out three draws in a row as Mourinho put on the breaks to secure the away draw, shutting down what had been a rampant offense this season. Both Chelsea and Arsenal were then upset while Tottenham finally got a win at Wembley. Read more about those games and the rest of the weekend results below. 
In deference to a memorable week across the sports world, I've expanded beyond the EPL this week to cover some noteworthy numbers beyond the pitch in college football, baseball, World Cup qualifying and the NFL. 
---
Match Week 8, by the numbers …
0-3 – Lacazette has scored in his first three Arsenal home games but is still scoreless on the road. Welbeck also has three goals this season, one more than he managed all of last year. Neither added to their tally Saturday as the relative dearth of goals by Arsenal this season (# in #) cost them dearly. 
0-12 – After failing to stop Troy Deeney's penalty kick Saturday, Petr Cech is now zero for 12 in that category since joining Arsenal. Cech is still a fine keeper, but certainly not at the level he was with Chelsea. On the other hand, he is head and shoulders above his understudy, David Ospina, who helped to contribute to Alexis Sanchez and Chile missing out on the World Cup with his late flub.
1-0 – Spurs finally got their first home win of the season, 1-0, over a struggling Bournemouth. Could the hoodoo that Wembley do to Tottenham finally be fading? Might be too early to say. One who quietly impressed for the Spurs was Davinson Sanchez, who completed 104 accurate passes, with half in the attacking half of the pitch.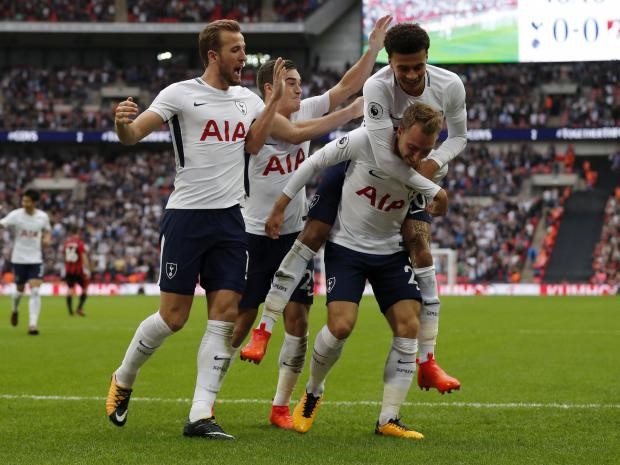 Is the Wembley Curse over?
1-1 – Burnley left it late, but finally equalized to share the spoils with West Ham, who were up a goal but down a man, Andy Carroll, for the majority of the match. 
2-0 – Swansea took care of business with a 2-0 victory over Huddersfield, continuing manager Paul Clement defying the naysayers by shoring up their defense and righting a ship that was listing terribly before his arrival, though it was their first win in four. Huddersfield have now gone four without a goal, after an impressive start to life in the top flight, though they still sit in 11th after 8. Leon Britton came in for the disappointing record signing Sam Clucas and assisted on one of the two goals. The 35 year-old has been something of a lucky charm of late, with Swansea having only lost one of the last 11 games he has played (6-3-1).
2-1 – For not the first time, Watford came back to beat the Gunners from behind (see January 2017). This time the comeback started with a horrible penalty call against Bellerin moments after Ozil should have wrapped up the match one on one with Gomez. Instead, Deeney equalized from the spot and then Cleverly gave the side all three points in extra time. Watford now sit in fourth, above Arsenal, who could have leaped Chelsea by simply holding their lead. With the reversal, Arsenal are still yet to register a road win this season. The title already looks beyond them and it will be a fight to get back into the Top 4. Should the Wenger out chants start again in earnest?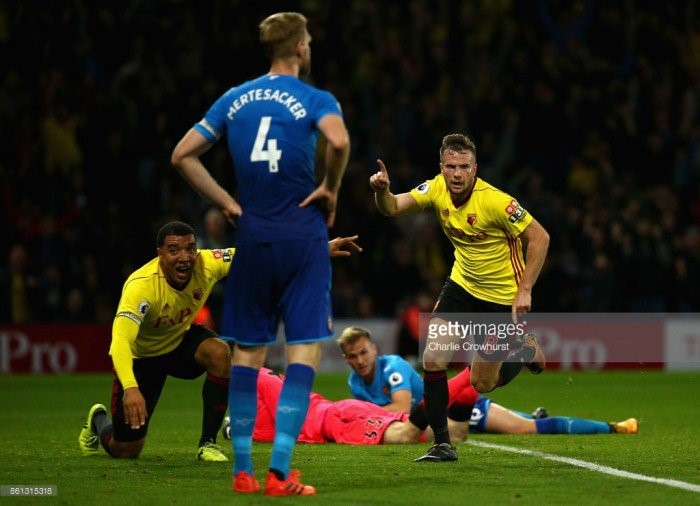 No longer world-class defense
2-2 – Southampton and Newcastle shared the spoils at St. Mary's as the Toons blew the lead twice, or the Saints fought back valiantly from a goal deficit two times, depending on your perspective. It leaves Newcastle in 9th and Southampton two spots back. Southampton should feel happy simply for scoring twice, as they had only one goal in their last nine HOME games!
4 & 1 – goals and assists for Mo Salah in 8 league games for Liverpool this season. However, he and the entire side missed one chance after another as they settled for a 0-0 draw with a United side that Mourinho set up for that very result after a scintillating start to the season.  To be fair, the draw allowed the Portuguese manager to equal the record for best haul after eight games of a Premier League season. That won't stop me from agreeing with the critics … Jose Yawn.
7 – straight postseason games where the Yankees struck out at least 10 times, after their 2-1 ninth inning loss against Houston Sunday to fall behind 2-0 in the series. In those games, Bird has been thrown out at home, Gardner trying to stretch a double to a triple and Houston won game 2 on a play at the plate where the ball beat Altuve but Sanchez dropped it. Verlander threw a gem of a complete game, allowing only five hits and a run, striking out 13, walking one and throwing strikes on over 70 percent of his pitches. He is 8-0 in 8 appearances since being traded from the Tigers. Sanchez and Judge are 1-14 combined in the series so far, Altuve and Correa 8-15.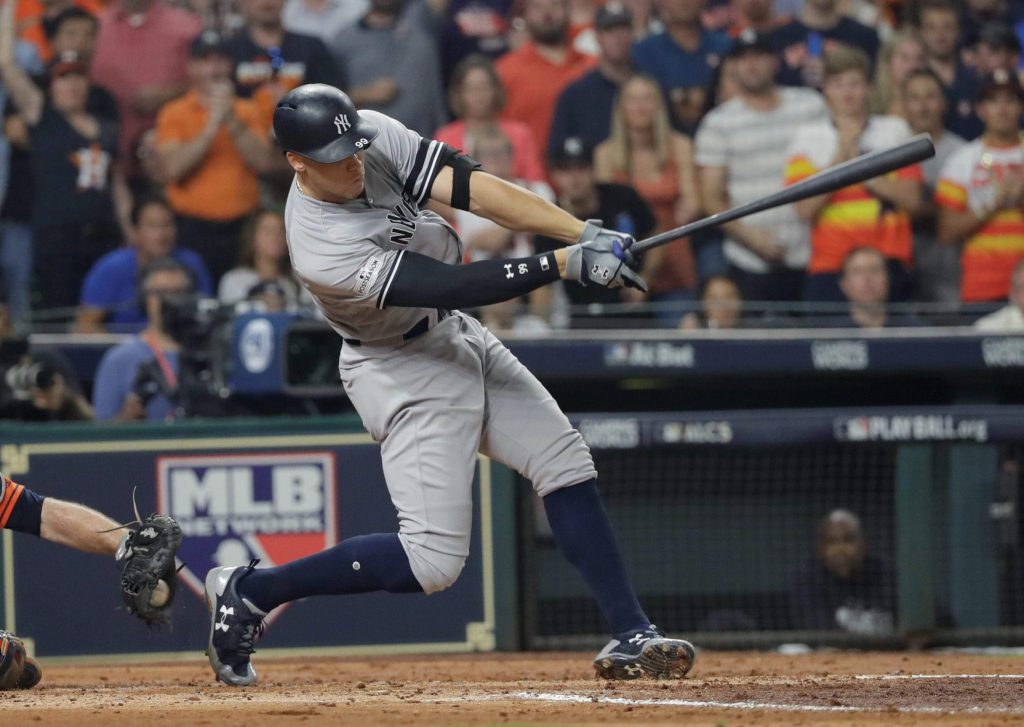 Whifffffff!
7-2 – "Don't annoy Man City" appears to be the lesson imposed on Stoke after they crawled back from a 3-0 deficit to 3-2. City piled it on from there to ultimately win by that margin. De Bruyne continued his impressive early season form, contributing to four of the seven goals.
7 in 8 – clean sheets for United this term. The one Saturday was down to Mourinho's negative tactics, a couple of great De Gea saves and poor finishing from the Reds.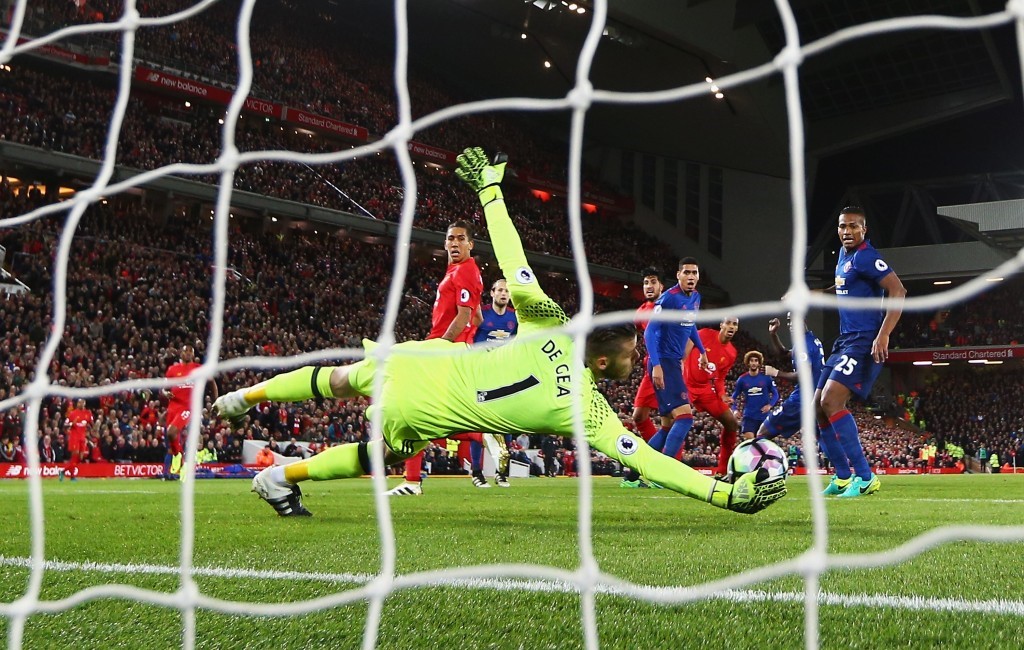 Single-handedly saving United
8 – Appearances off the bench for Olivier Giroud this season, having failed to start a single league game. In fact, he has only started 11 of the past 46 games for Arsenal. He came on in the 68th minute Saturday and seemed to undermine the chemistry of the team, giving the ball away the first 8 times he touched it (by my count). After a nice start to the season, Giroud appears to be stuck in mud.
16 – Penalties by the University of Michigan Saturday, in a 27-20 OT win over Indiana, to avoid two upset losses in a row. It was a Michigan school record, but not enough for Indiana to end a losing streak that stretches back to 1987 (52 wins for Michigan out of 61 all time). 
16th – Everton's position in the table after another disappointing 1-1 draw at Brighton Sunday. Of course, it would have been worse but for a late converted penalty by Rooney. The loss of Lukaku continues to be felt acutely by a side that spent over 150 million pounds but didn't buy a true striker among a healthy handful of signings. 
18th – Leicester might be jealous of Everton at the moment, as they fell into the bottom three after weekend results and stayed there after a 1-1 draw with West Brom Monday. The result sees the steady Tony Pulis raise his side to 11th position, though the 80th minute equalizer from Inter target Mahrez cost him a spot in the Top 10, only a point behind Arsenal, Liverpool and Chelsea. Even with the draw, they are only three points behind all three after 8.
23-10 – The Vikings beat the Packers by that score, after a late/cheap shot on Aaron Rodgers knocked him not only for the game but, potentially, for the season. The dynamics of the NFC have suddenly changed rather dramatically, with the surprising Philadelphia Eagles the leaders as the only team at 5-1.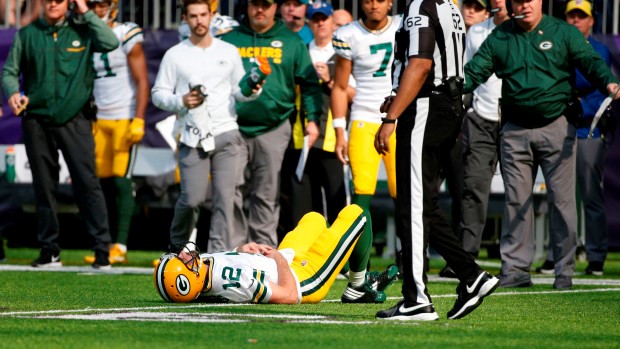 Packers down. Probably out.
23-15 – Rafael Nadal's lead in the career head to head with Roger Federer. However, after besting him in the final of the Shanghai Masters Sunday, Fed has won the last five, including their only meeting in a Grand Slam this season, in the Australian Open Final. They have split the slams this year, with two apiece, leaving Federer with 19 and Nadal with 16 and the two the only viable candidates to end the season #1. 2007, anyone?
25 – Games without a goal for the once, at least slightly more, prolific Shane Long. He has gone eight months now without scoring for club or country. The "Torres yips?" (I have already copyrighted this, so hands off).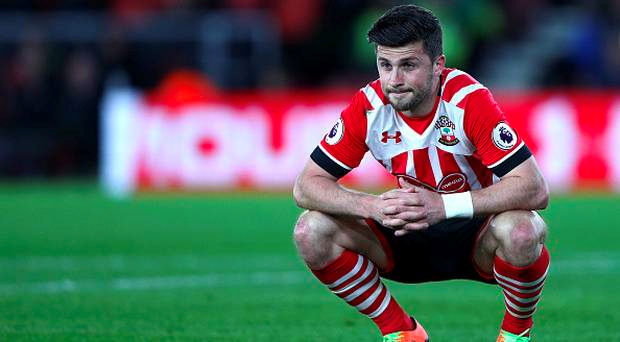 Long time since he scored.
27-24 – Syracuse stunned #2 ranked and reigning NCAA Football champions Clemson by that score, to make Alabama the clear favorites to win coach Sagan another title, which would be his sixth. 
28 – Goals conceded from set pieces by Liverpool since Klopp took over. But they held United and the hot Lukaku scoreless in the Saturday opener. 
70 – After blowing a 2-0 lead against the Yankees and losing in a home Game 5 with the presumptive Cy Young winner on the mound, the longest streak without a title now hits 70 years (the Yanks become only the seventh team to ever accomplish that task in a five-game series, a feat they have achieved twice). At least the Cavs ended Cleveland's misery, with Atlanta and DC now battling it out for most miserable sports fans in the U.S. 
89 – Points for both Mourinho and Klopp after Saturday's fixture at Anfield, since the former moved to United. On top of that, Mourinho has only beaten a Klopp-led team once and lost a UCL semi to Dortmund while at Real. Klopp continued his impressive record against the other top teams in Europe, though his side really should have taken all three from a largely abject United.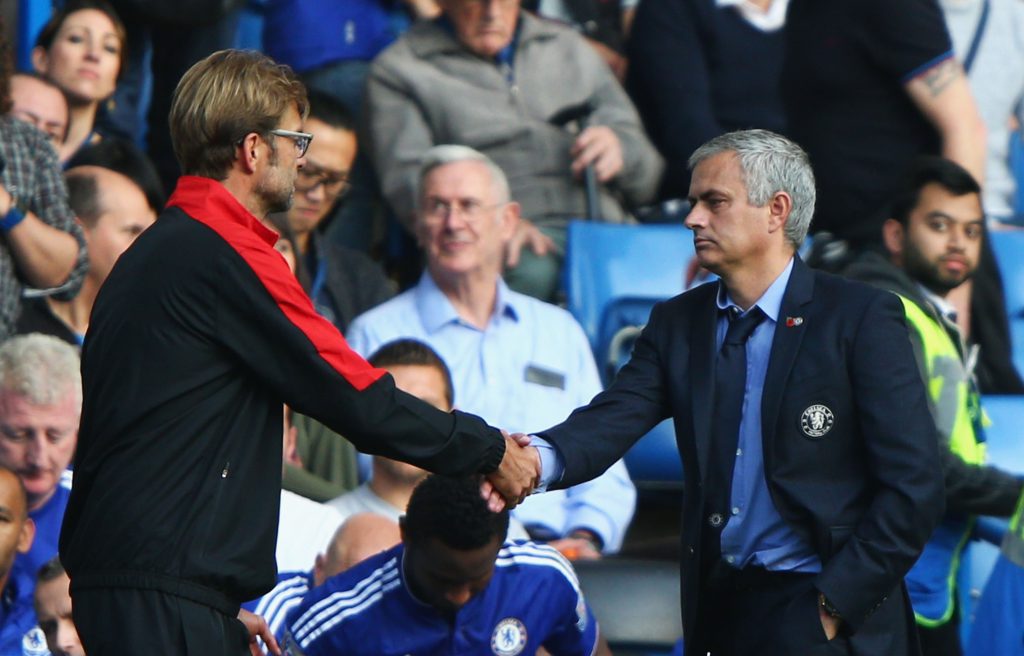 The third tie running.
96 – Years since there were three straight draws between United and Liverpool. Let's call this the "Mourinho Effect."
>100 – The number of sprints by which Watford outnumbered the Gunners in their come-from-behind victory. Hector Bellerin (65) and Alex Iwobi (53) were the only Gunners to surpass 50, while Watford had three players over 60, topped by Abdoulaye Doucore's 76. Lack of hunger and passion, anyone? What was that about Wenger out above?
532 – Days since Mertesacker started for Arsenal. Was excellent defensively and opened the scoring with a powerful header from a Gunner corner in the 38th minute. 868 days between goals, as well, the last coming against Aston Villa in the FA Cup. But he couldn't stop Watford from stealing the game with two late goals.
641 – The number of minutes Crystal Palace went scoreless to start the season before a rather fortuitous opener against Chelsea in the 12th minute. The lead lasted 6 1/2 minutes before Bakayoko equalized with his first league goal. Later he would get his first yellow for the Blues, which the side might have been singing after the game as, right before halftime, Zaha scored Crystal's second, having just returned from a two-month knee injury layoff. 2-1 was the final score and Crystal are thus off their weekly spot in the zeroes. Particularly poor for Chelsea in this game was Willian, who gave up the ball 14 times in 65 minutes, before being rightfully pulled.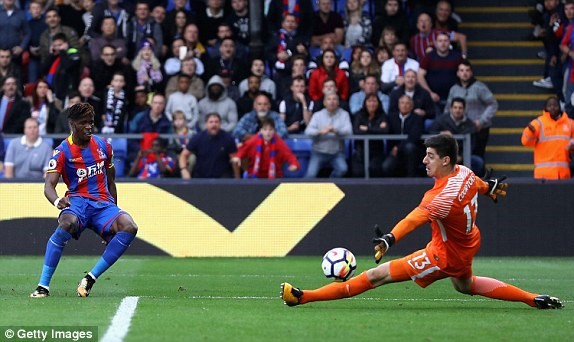 Palace scores again!
1949 – Biggest comeback win by LSU against an SEC opponent, down 20-0 against Auburn, in 68 years, as they ultimately prevailed 27-23. Auburn were one of four top ten teams to lose this past weekend, with the aforementioned Clemson loss the biggest shocker, Washington State getting crushed by Cal (37-3) and Washington losing to Arizona State (13-7).  
1986 – The last time the US failed to qualify for the World Cup before their embarrassing 2-1 loss to the 99th ranked team in the world, Trinidad and Tobago. T&T got a little revenge for the US knocking them out in 1989. So did Panama, who came back to win their game and thus qualify at the US's expense, reversing roles from four years ago. Other surprising sides around the world sitting Russia 18 out include Holland (finalists and semifinalists in the last two cycles), Wales (who made the semis of the Euros a summer ago) and Chile (who have won the last two Copa America's and finalists in the Confederation Cup last summer).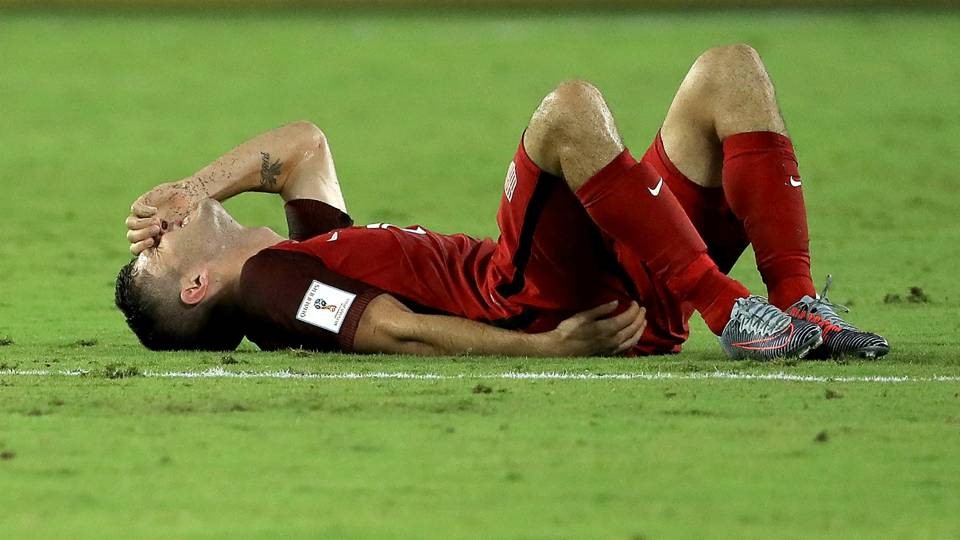 Wonder Boy Pulisic not enough to keep the US from an embarassing failure.
Check back in to the same bat time, same bat channel next week for the subsequent round of fixtures …