City continue to cruise, Liverpool and United slipped up, Tottenham kept pace and Arsenal moved up to fifth place, equal on points with Chelsea, who came back late to claim all three points. On the opposite end of the table, both Everton and Leicester both said adieu to their managers this week, with Bilic at West Ham also on the hot seat.
And it was another action-packed week across the world of sports, and so I included some of the most fascinating stats from baseball, basketball and football.
---
Match Week 9, by the numbers …
0-3 – While Tottenham continue to show signs of washing away the Wembley curse, that is not the case for Koop yet, as he lost a Champions League final there with Dortmund, a Cup final with Liverpool and now his first league visit after Liverpool were throttled 4-1 by Tottenham. After the loss, the Reds sit 12 points behind Man City after 9 games. They look the most likely of the Top 6 to fall out of Top 4 at the moment, with the distinct possibility that it will be between Chelsea and Arsenal for that coveted fourth spot.  But plenty of games to go …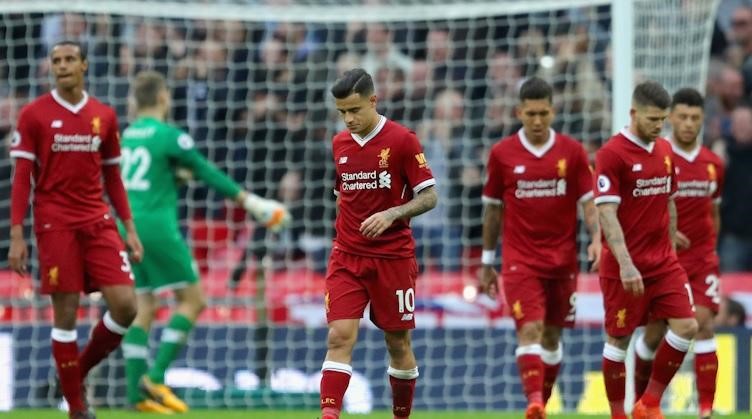 Dejected Reds
0-20 – Brian McCann started the playoffs with an 0fer in 20 at bats before coming up with three huge hits in the final two games to help beat the Astros beat the Yankees in seven games, including an incredible tag to punch Bird out at the plate – the second time that happened in this series. In fact, e Yankees was thrown out three times at home or third, while New York catcher Sanchez dropped two balls that beat the runner – one costing them Game 2 and the other costing them valuable runs in Game 7.
.168 – Cubs batting average in the 2017 postseason, the lowest in history (of teams who played at least 8 games). They still won their first round matchup with the hapless Nationals 3-2, but then followed that somewhat lucky victory with the second lowest batting average ever in an LCS, at .164. On top of this, the bullpen issued 27 walks in the postseason, blowing two games in the NLCS alone. Over the first three games against the Dodgers, they were 0-24 from the 6th inning on, before a single by Rizzo in Game 3, and 0-11 with runners in scoring position overall, only scoring four runs. The bats came alive to avoid the sweep with a 3-2 win but then started their winter slumber again to see them ousted 11-1 in five by the team with the best record in the majors this season. Any goat owners feeling aggrieved again in the Windy City?
1-11 – First win in last 11 at St. Mary's for Southampton, after the goal of the season by super sub Boufal, who dribble around at least 5 West Bromwich defenders and then finished coolly to the far corner to help his side win an otherwise dull game 1-0. The game had three penalty appeals that went unheeded, two for the Baggies, though the home side did dominate possession to the tune of 66 percent. With their upcoming scheduling, Tony Pulis and his side, who haven't won since August, might start feeling some relegation pressure.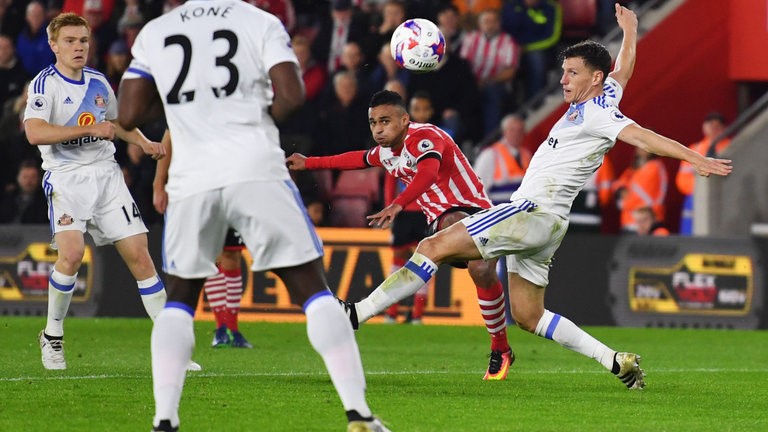 Early candidate for goal of the season
1.115 – The Dodgers' Justin Turner OPS in the postseason, good for third on the all-time list, behind two guys you might have heard of: Lou Gehrig (1.214) and Babe Ruth (1.214). Turner's walk off homer in Game 2 of the NLCS gave the Dodgers a 2-0 lead, their first game ending homer since the iconic Kirk Gibson helped them win their last World Series in 1988. The Dodgers won six straight to start the playoffs (helped by the bullpen holding the Cubs scoreless for those three games) and then closed it out in style with Kershaw on the mound and utility man Hernandez lifting three over the fence. The Cubs will not repeat as Major League champs but the Dodgers could end almost 30 years of suffering if they continue this mastery in the Fall classic starting Tuesday night.
3-2-1 – Leicester will soon have their third manager in less than a year, after Shakespeare was sacked following their loss last Monday. Without a manager and on an awful run, they finally came alive beating Swansea 2-1 in Wales Saturday.
3-0 – Man City picked up more points on their crosstown rivals with a 3-0 cruise over Burnley. They are still undefeated this season, with one draw to mar an otherwise perfect start. And they have outscored opponents 32 to 4 in the league and 42 to 6 in all comps. Is it the Guardiola effect? Sure, but also the most expensively assembled side in EPL history. Just saying …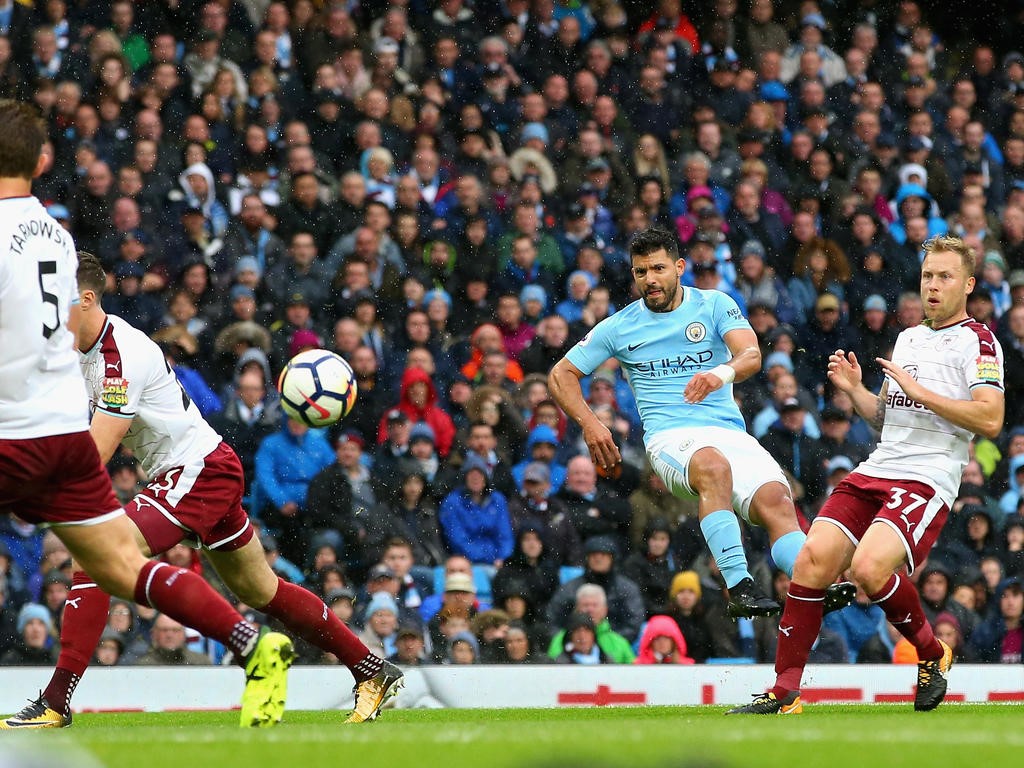 Sergio Aguero, all-time leading scorer for City
3:35 – The average length of a MLB playoff game this year, up 10 minutes from last year and 21 from two years ago. The time between pitches, endless catcher trips to the mound, stretching of bullpens, replays and offensive potency (though it slowed somewhat in the ALCS) all contributed to challenging football for the sport begging the longest time commitment in an age of the three-second attention span. Reform, anyone?
4-2 – Watford was looking for a second scalping in a row coming back from 1-0 down to take a 2-1 lead at Stamford Bridge. But the Blues found a fighting spirit missing from Arsenal last weekend and ultimately scored three late, in the 71st, 87th and 95th minutes, to win 4-2.
9-0 – Seconds before the trade deadline, Houston convinced Justin Verlander to leave the team he has called home for all of his Hall of Fame career (as an almost sure first-ballot inductee). He was having an off season, but has gone 9-0 since joining the Astros, including winning two games and the MVP in the ALCS. The Yankees had all the momentum going into Game 6, but scored only one run in the last two games. By the way, Verlander is 4-1 with an ERA under 1.0 in knockout games in his career.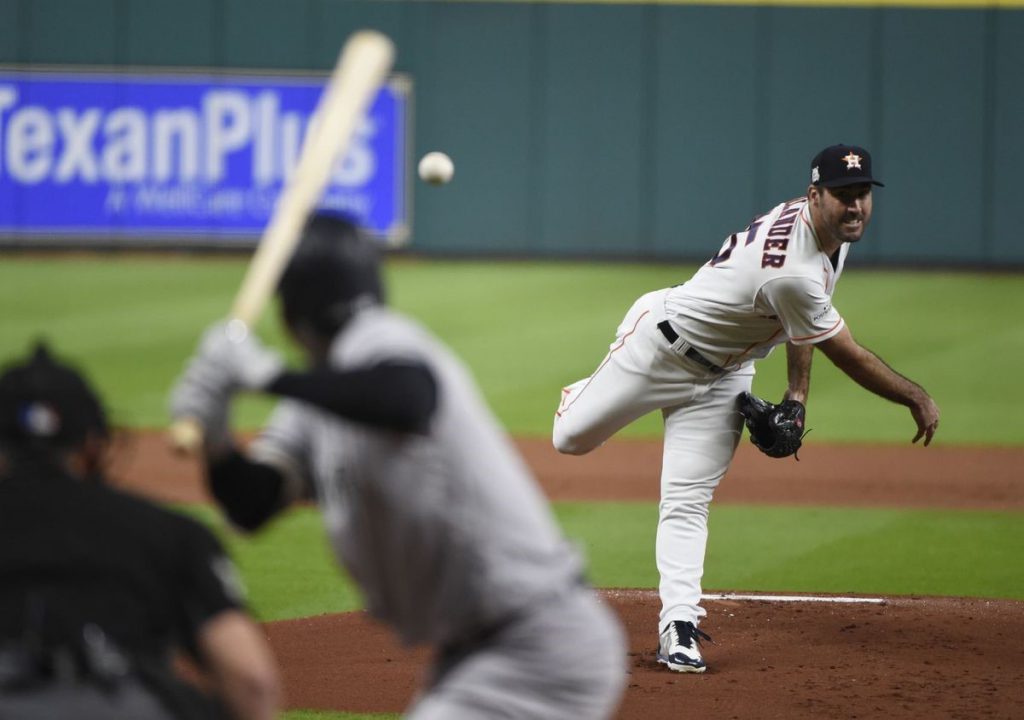 Verlander whiffed 8 Yankees in 7 innings in Game 6 win
10 – More points for Tottenham than any other side over the past two full seasons, though no title to show for it, as Leicester and then Chelsea each pipped them in the end. After their comprehensive takedown of Liverpool 4-1 Sunday, they sit in third place equal with United on points and five behind the rampant City.
15 – Goals for Wayne Rooney against Arsenal after his opener in the matchup Sunday. Unfortunately for the returning star, it was not enough, as Arsenal piled it on, particularly after a red card left the Toffees with 10 men, ultimately winning 5-2.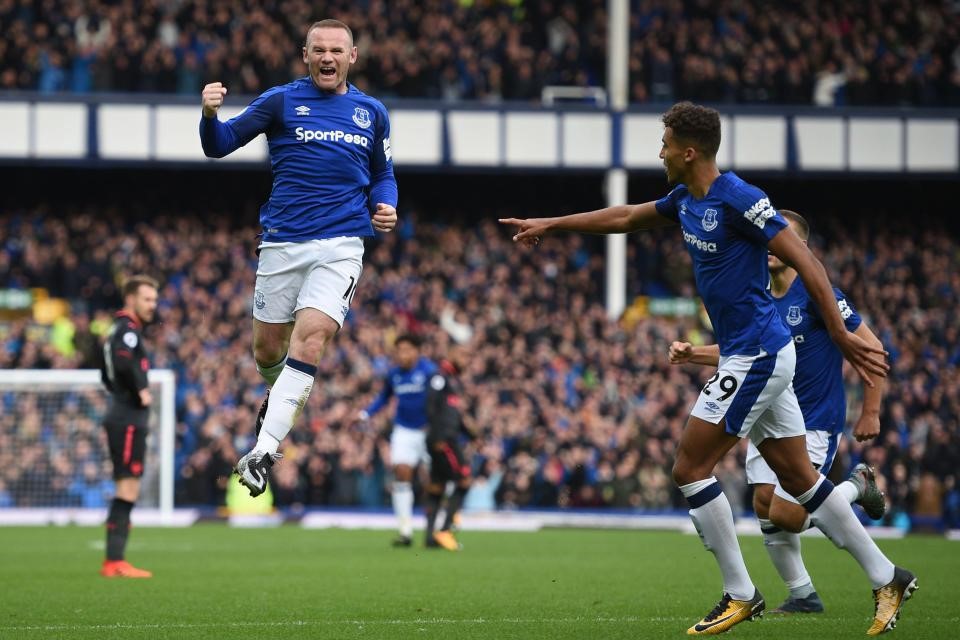 Rooney's 15th goal against Arsenal, but his joy was short-lived
16 – Goals conceded by Liverpool in their first 9 league matches. That is their leakiest defense for the 19-time English champions in 53 years. Hard to finish in the Top 4 when you have to outscore every opponent, as Klopp opined after the 4-1 loss Sunday. But who should be blamed when they failed to strengthen in the area that has been costing them points since his arrival in English football?
17 – Last Thursday gave us our 17th "sports equinox," the rare occasion when all four major professional sports leagues in the U.S. have games on the same day (NHL, NBA, NFL & MLB). The last before Thursday was October 30, 2016 and the earliest October 17, 1971. Sports widows' mourning will only accelerate as seasons begin earlier and earlier and drag on later and later …
18th – Everton' position in the table after the 5-2 loss. Early promise has been supplanted by a Koeman sacking Monday, as the manager recently touted to have a shot of taking over at Barca tinkered his way into an early exit. Some big names, like Ancelotti, are now being considered, though Ryan Giggs has also thrown his hat in the ring. The early favorite is Sean Dyche, who is currently being considered by Leicester as well, though his Burnley currently sit in an impressive eighth place.
19-3 – Yankees record in their last 22 games at Yankee Stadium as they took the lead in the series with Houston 3-2 after a home sweep. They exploded in Game 3 and came back from 4-0 down to win 6-4 in Game 4, before a complete effort in Game Five led them to a game away from their first trip to the World Series since 2009. But they lost those two games, as Houston pitching completely dominated them, going 1-6 on the road in the postseason and thus will have to wait at least another year to get back to the Fall Classic.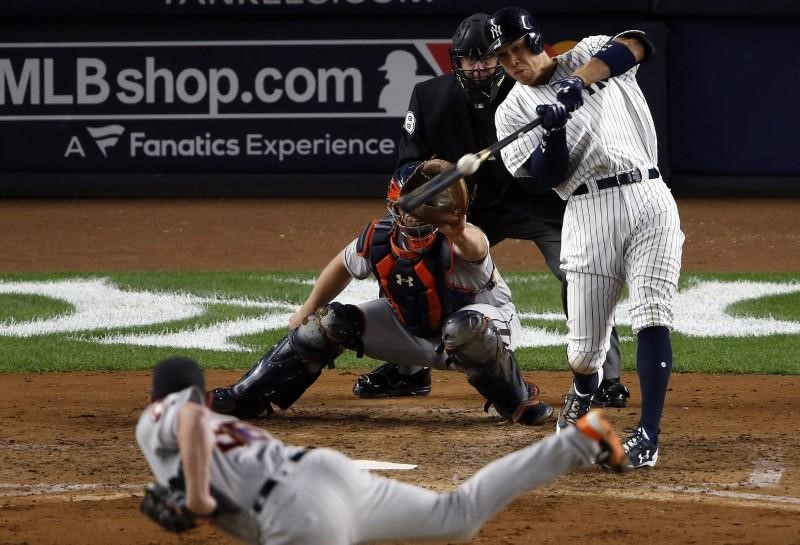 Judge goes deep again
20.8 – Points per 100 with which the 3-0 Houston Rockets have been outscored when Chris Paul is on the court, versus outscoring opponents by 13.3 points per 100 without him. Of course, it's a pretty small sample size of 33 minutes, and Paul is out for 2-4 weeks with a sore knee. One assumes he and Harden can work out the kinks over the course of the season, though some pundits doubt they can ever truly complement each other enough to supplant Golden State.
29 – Goals for Harry Kane in 2017, after his brace Sunday, leaving him behind only Lionel Messi's 36 among the top five leagues in Europe. Lewandowski is third (27), while the sometimes maligned Cavani at PSG, Dortmund's Aibameyang and Inter's Immobile's all tied at 25 a piece.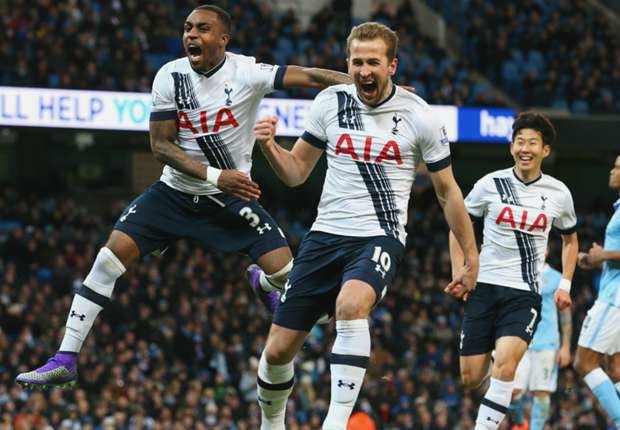 Kane staking claim as one of the best strikers in Europe
31 – Wins for Arsenal over Everton, the most against any team in their long history, after their 5-2 victory Sunday. They also have the most points and goals (100) against the other team in Liverpool. The win pushed Arsenal to fifth in the table, equal on points with Chelsea, as they chase a return to the Top 4.
65 – Years since Huddersfield beat Manchester United, until a rainy Saturday when the hosts jumped out to a 2-0 lead and held on for dear life. United suffered their first defeat of the season and dropped points for the second game running. They have only scored one goal in their last two after 21 in their first seven. United had 78% possession on the road but only three shots on goal (out of nine in total). Huddersfield, on the other hand, made their shots count, scoring on 2 of their 5.
71 – Career receiving touchdowns for Dez Bryant, tying a Dallas Cowboys record. He scored the record tying TD in the midst of a blowout of San Francisco at Candlestick (40-10). The Niners had lost five straight by a total of 13 points, an all-time NFL record, but less nail biting for the Bay Area fans Sunday.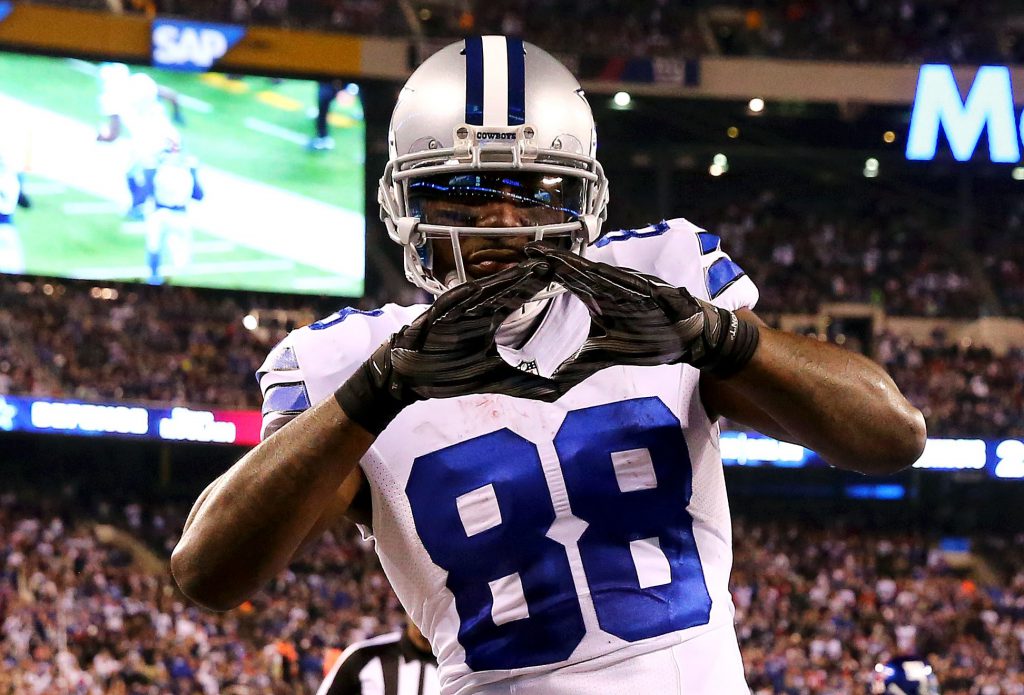 Dez celebrates another TD
1,504 – Goals scored by Arsenal under Wenger.
1992 – Last time Denver were shut out. That is until Sunday when the Chargers, of all teams, pulled the feat courtesy of three turnovers, constant QB pressure and five sacks. The 21-0 victory was the first in eight home games for the Bolts. By the way, the only NFL team to overcome an 0-4 start and make the playoffs was … the Chargers … in 1992.
1995 – The last time the New York Jets blew a 14-point lead in the fourth quarter. Until Sunday, when one of the stupidest throws you'll ever see was thrown by Josh "the clown" McCown with 47 seconds on the clock. It was intercepted and the Jets lost 31-28. Let Hackenberg have his shot, please!!!!!!   
2013 – The last time United have come back from a halftime deficit to win a league game. That's 26 in a row. Missing Fergie time, anyone …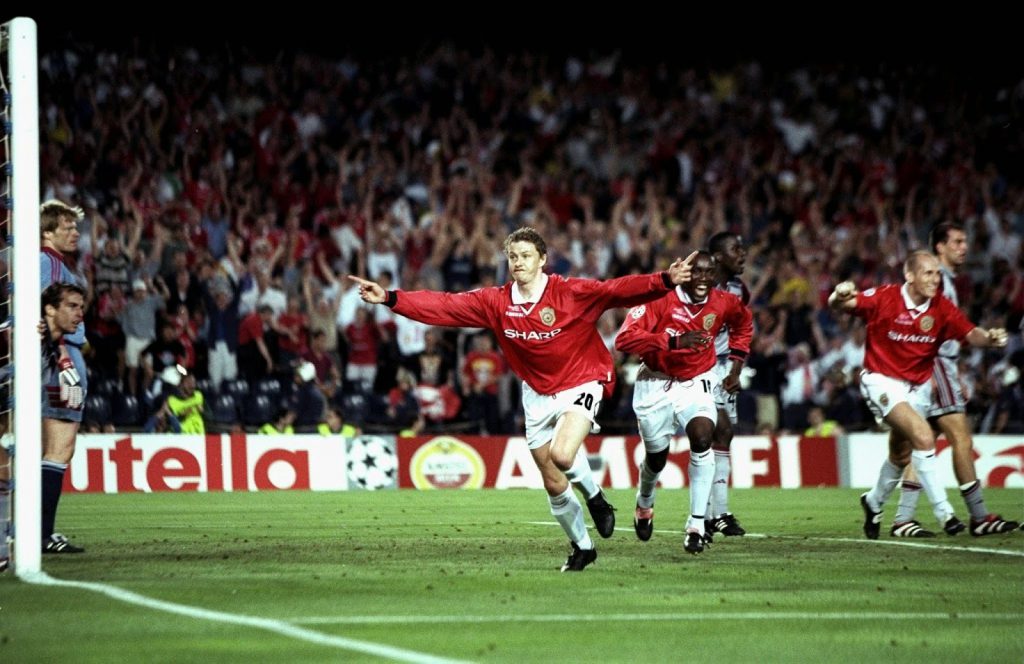 The most famous Fergie-time goal, leading United to their Champions League triumph over Bayern in 1999
---
Check back in to the same bat time, same bat channel next week for the subsequent round of fixtures …