With the late Chris Smalling winner, United guaranteed their place in the top 4 while ensuring Arsenal's slim, slim chances of their own return to the Champions League places was eliminated. It was a valiant effort from a team of youngsters for the Gunners, but now all resides on the return leg in Madrid Thursday if Wenger is to salvage anything from his final season at the helm. The task would have been a lot easier if his side took better advantage of a man advantage for over 80 minutes. Instead they failed to convert enough of their chances and then, late on, allowed Griezman through after an error from Koscielny, some bad luck, Ospina going to ground too soon and Mustafi slipping when he might have cleared off the line. At 1-1, Arsenal's hopes seem slight, particularly given how parsimonious Atletico is at home this season.
Liverpool will face Real Madrid in the Champion League final next month, with 17 European Cups between them, but have to sweat out their spot in the Top 4 after a surprise nil-nil draw with Stoke at Anfield Saturday. They also had to sweat out the end of the second leg to get to the final, as two late Roma goals put them within another of going to extra time. What is it with Italian sides seemingly dead in the water after the first leg this season? The point for Stoke last weekend has them dreaming of escaping the drop with two to play, as do the once seemingly moribund Southampton and West Brom. Liverpool face Chelsea, who beat Swansea 1-0 to pull within six points of the Reds (having played one less match), this coming weekend and could find themselves on the outside looking in next season if they're not careful. Tottenham, having played the same number of matches as Chelsea, gained some breathing room by breezing past Watford 2-0 Monday. And City continued their march toward rewriting the Premier League record books, crushing West Ham 4-1, to keep the Hammers in danger of the drop themselves.
At the bottom of the table, things have gotten considerably more interesting, as West Brom remain undefeated under caretaker manager Darren Moore, beating a previously hot Newcastle 1-0, to remain mathematically in it to survive, though they need some seriously help. Stoke are only three points from safety, though those above them have a game in hand. And Southampton beat Bournemouth 2-1 to move within a point of safety, with Swansea getting sucked back into the mix in a serious way after their latest loss. Huddersfield could also be sucked down late, after a 2-0 home loss to Everton. Meanwhile, Crystal Palace seem certain to stay up after their 5-0 pounding of a Leicester City side that has gone cold as ice of late.
The last race among the Big 5 European leagues appears to have ended rather suddenly only a week after it seemed poised to drag toward the final weekend, after Juve won late and Napoli imploded to stretch the gap to seven points. Barca has already wrapped up La Liga, as have Bayern in the Bundesliga, PSG in France and Man City in England.
The NBA and NHL playoffs are also into the second round. In the NBA, the defending champ Golden State Warriors have a 2-0 lead over the New Orleans Pelicans, the Celtics are 1-0 up on the Sixers, the Cavs 1-0 up on Toronto (both road sides that have shifted home court advantage) and the Rockets and Utah knotted at 1 apiece. In the NHL, the Caps have a surprising 2-1 lead over the Pens (though they just lost star Tom Wilson to a three-game suspension), the Jets and Nashville are tied at 2-2, the Golden Knights and Sharks are tied at 2 games apiece and the Lightning lead the Bruins by a 2 games to 1 margin.  
On to the numbers, with a few nibbles from around the sports world …
---
Match Week 35-6 By the Numbers
1st – Mkhitaryan became the first player in EPL history to score for and against Manchester United in the same season, though a late Smalling rebound won it for United late in Wenger's final visit to Old Trafford and final bout against Mourinho with Arsenal.
2-1 – Could this finally be the year that the Ovechkin-led Capitals get past the Penguins and move beyond the second round of the playoffs? It's a little early to predict that, but their 4-3 win, with Ovechkin scoring with only 1:08 left on the clock, on Tuesday, gave them back home ice advantage and an injury-depleted Pittsburgh must be feeling a little nervous in what seems like a must-win home game Thursday. The Caps lead the series 2-1 after taking the last two.
2 of 12 – Leicester City have gone cold of late, with only two wins in their last 12 league games, including a 5-0 slaughter at the hands of Crystal Palace, who look all but certain to stay up after the win. Zaha had a goal and an assist, Benteke scored and a red card for Albrighton only added to the misery. The Champions of three season ago are in ninth and European football, once on the cards, is all but gone at this point.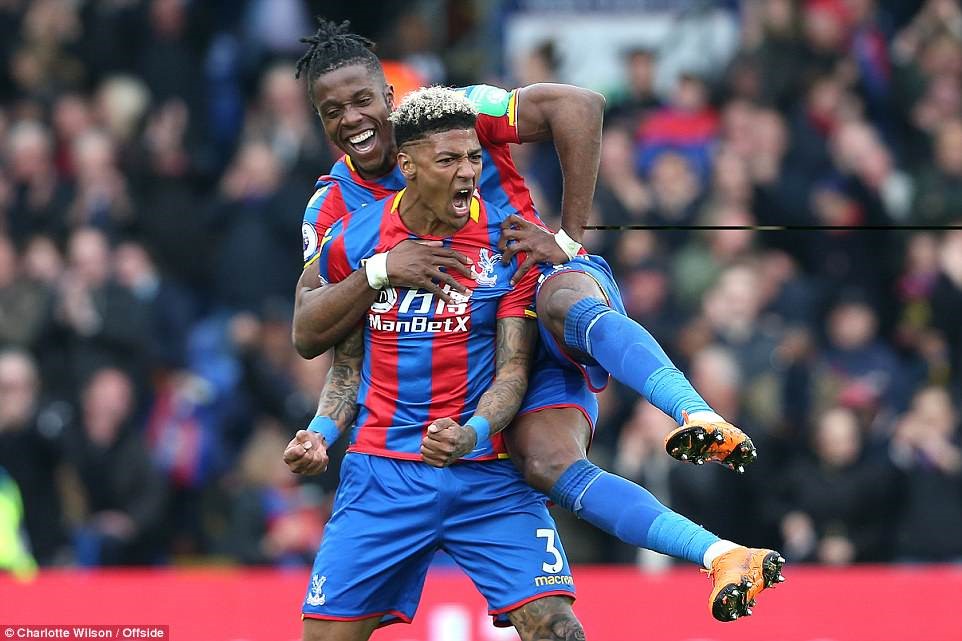 Zaha and van Aanholt celebrate the final goal in a win that all but guarantees another season in the top flight.
---
4 – Questions still remain about who will be the starter in goal for England at the World Cup this summer but one damning stat indicates that Joe Hart should probably not be the man between the sticks. He already has four errors this season that have led directly to goals, including one that allowed Stoke to earn a point a couple of weeks ago. Those four are as many as all the other English goalkeepers combine (a list of 10), with Fraser Foster and the only other with more than 1, and Jordan Pickford and Ben Foster among the 7 with none. Say it ain't so Joe!
8 – The oft-maligned Keylor Navas set a record for saves in a Champions League knockout match versus Bayern Munich as Real Madrid held on for a 4-3 aggregate victory to return to the final for the third straight season and fourth in the last five. His counterpart for Bayern, Sven Ulreich, on the other hand, misjudged a backpass and allowed Benzema to secure his brace, helping his side to the 2-2 draw that saw them through by the slimmest of margins. For Ronaldo, it was a second game in succession without a goal, after 11 straight going back to last season.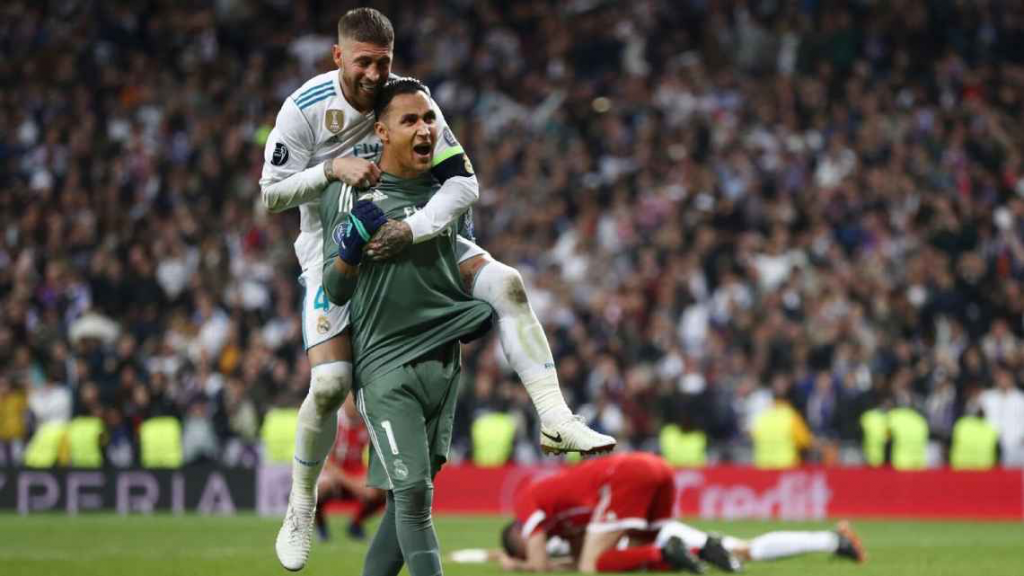 Navas celebrates with Ramos as Bayern lose in the UCL semis for the fourth time in five seasons.
---
10 of 11 – Yankee wins after a mediocre start to the season after they finally won a game at Houston, after 7 straight losses, including all four in last season's ALCS. Justin Verlander was pitching a gem, with a personal best tying 14 Ks and only allowing 3 hits in 8. Closer Ken Giles came in in the ninth but gave up a go-ahead three-run homer to Gary Sanchez, who has 7 homers and 24 RBIs in his last 17, after starting the season 2-36. The Yankees used 7 pitchers but finally got one over the Astros, ultimately winning 4-0, for their first shutout of the season.
29-26-28 – The Celtics won Game 1 117-101 over the Sixers on the back of those numbers from Rozier (11.3 ppg regular season), Hartford (12.9) and Tatum (13.9). They did the same with 26, 26 and 20 in the Game 7 win over the Bucks. Tatum became the first Celtic rookie to score 28 since Larry Bird in 1980.
30-1 – Heading into the fourth quarter of Game 1, that was the Raptor's record when they led after three quarters at home. But after a cold fourth and OT, including missing three shots that could have won it in regulation, Cleveland has a 1-0 lead in the series. It was an off night for LeBron, who went cold late himself and an even worse evening for Kevin Love, but the Cavs will feel good about their chances with a Toronto team that has a tendency to choke in the playoffs.
34.86 – Points per game for LeBron James in Game 7s in his career, the most of any player in history by a decent margin. He posted 45 points, 9 rebounds and 7 assists as he helped the Cavs scrape by a tough Indiana Pacers side Sunday to win the series 4-3 and move on to face Toronto, who were favorite among the pundits but lost Game 1 in OT to the Cavs to lose home court advantage. Even with the upset, whether LeBron can drag these deeply flawed Cavs back to the Championship series remains a big question.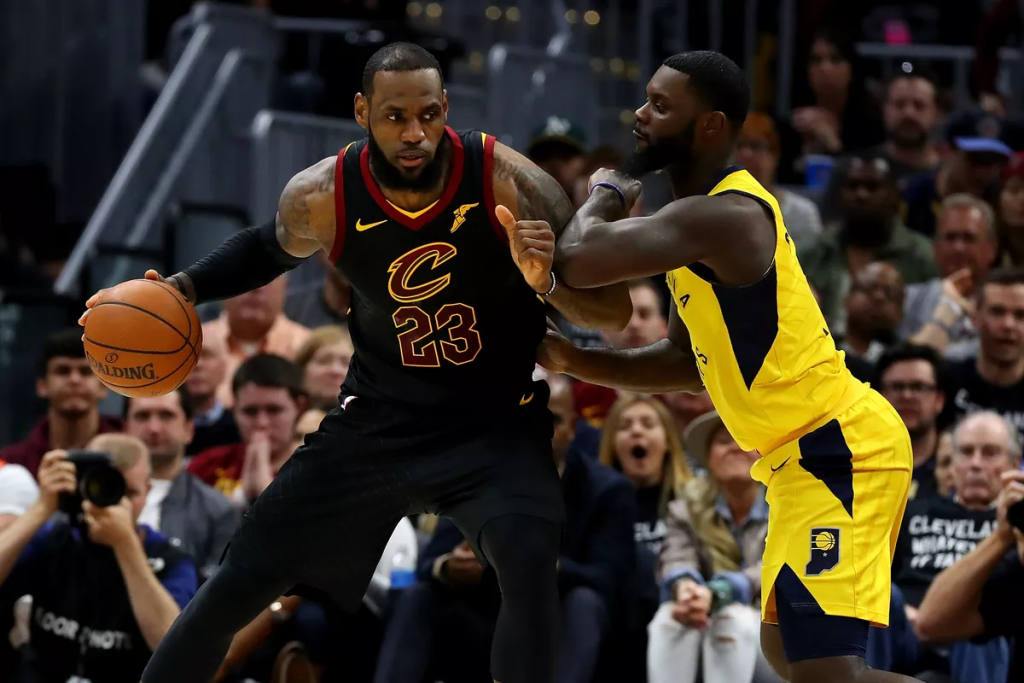 King James might have to pull off the miracle of his incredible career if he is to return to the Finals for the eighth year running, the Cavs counting on him more than ever so far in the postseason.
---
50 – It's hard to believe, but Cesc Fabergas finally secured his 50th Premier League goal, with the decider in a 1-0 win over Swansea that keeps Chelsea's hopes of a Top 4 finish alive. It was his 15th with Chelsea after 35 with Arsenal, though one might have thought he would have more by now. The Spanish maestro is second all-time in assists, though, with 111, only behind Ryan Gigg's insane 162.
80 Foot – Wave ridden by Rodrigo Koxa of Brazil in Portugal back in November 2017 has been certified, meaning he takes over the record (by two feet) over the previous record-holder, American Garrett McNamara in 2011. Cowabunga, dude!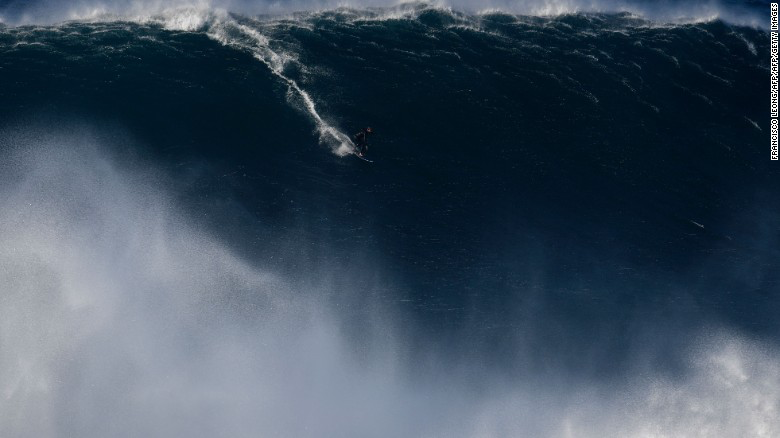 Now that is some wave.
---
87th – Minute when Juve was potentially looking at losing the Scudetto they have owned for six long seasons, as they trailed Inter 2-1, even though they were up a man, with a slim one-point lead over Napoli in second. And then two goals came in two minutes (the first an own-goal by Inter, followed by Higuaín's winner) and they had all three points, a day before Napoli essentially ceded the title with a 3-0 drubbing by a still revitalized Fiorentina.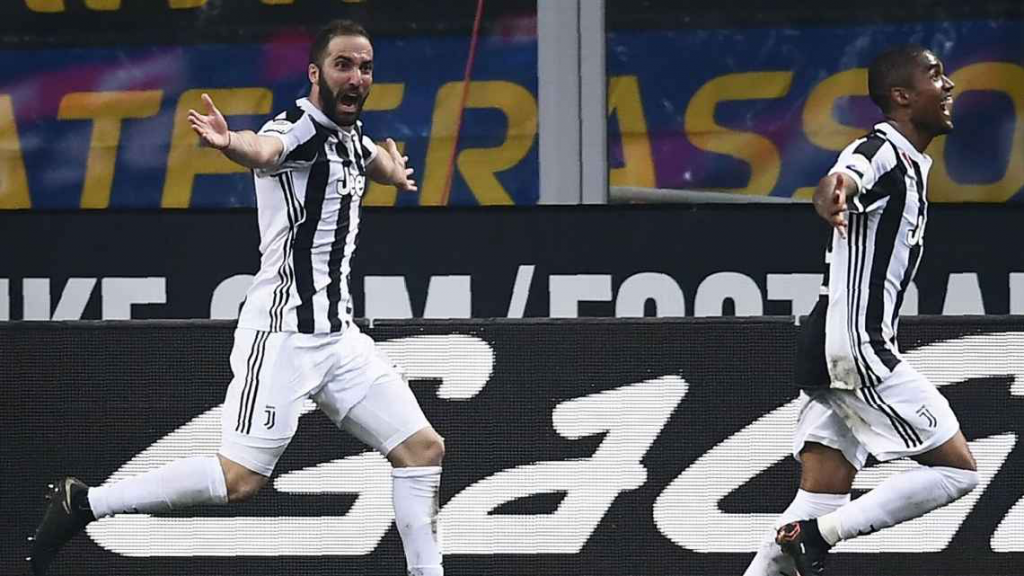 Higuaín celebrates the 89th minute winner that will likely give Juve the title again, over his old club. The irony!
---
236 – The one-and-done trend continues to dominate college basketball with a record 236 early-entry players already declaring for the NBA draft. Some might return if not picked, though once they sign an agent they are committed to ending their college career. Talks are already underway to eliminate the age restriction that has had so many play one year of college hoops before entering the draft.
636 – Number of The Simpsons episodes that have aired, surpassing Gunsmoke and making it the longest running scripted show in history.
1.4 Billion – The amount, in pounds, that Manchester City have spent over the past decade, which is the most spent by any club in the world. Barcelona are in second (1.05b), PSG in third (1.014b), Chelsea in fourth (1b) and Manchester United in fifth (898m). It's not surprising that these teams have won the most titles in their respective leagues, with City securing three in the past decade. Juve, who have dominated Serie A for seven years now, are in eighth (811 million pounds), while the one outlier regarding trophies and results is Liverpool (820m) in seventh, though they could add another European crown in June if they can unseat Madrid.
---
Check back in at the same bat time, same bat channel next week for the subsequent round of fixtures …