Match Week 5 saw the two Manchester sides run rampant as they ultimately occupied the top two spots in the league, Tottenham and Liverpool disappoint, Arsenal play out an impressive 0-0 draw at Chelsea, Newcastle continue their recent hot streak, Crystal Palace continue their epically poor form, Huddersfield persist in exceeding expectations and West Ham and West Brom play out one of three 0-0 draws for the weekend. 
---
Everything you need to know about this past weekend, by the numbers
Bagel – A new manager but still no goals and no points for a Crystal Palace side that has gone 5 matches with absolutely nothing to show for it. One has to add that Roy Hodgson doesn't exactly inspire confidence he can turn it around after his humiliating performance as England manager. Slow and steady might win the race (at least against a hare), but dull and creaky is less successful in football.
1 – Loss in 5 league games for newly promoted Huddersfield after a 1-1 draw with Leicester Saturday, putting them in 6th place on eight points. It could have been three points but for a questionable offsides call on a header that could well have provided the winning margin. Not bad for a side many predicted would be heading right back to the Championship come season's end.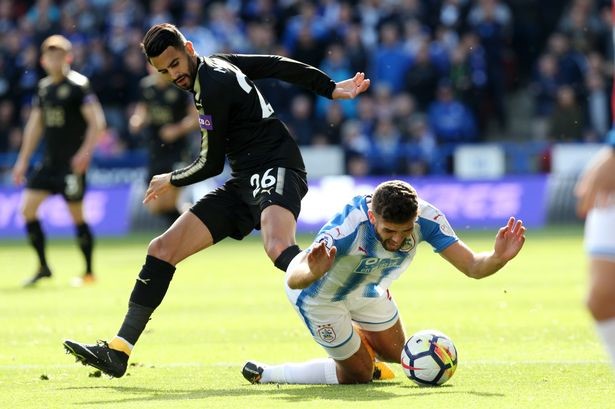 Huddersfield: shockingly in 6th place after 5 matches..
2 – Points in 3 games for Tottenham at their temporary home at Wembley after a 0-0 draw with Swansea. At least they didn't lose points late as they did in the loss to Chelsea and the draw with Burnley. They bossed 75 percent possession and somehow failed to score with 26 shots, 8 of which were on target. Sure, they won midweek in the Champions League 3-1 over Dortmund in their temporary home, but the curse of Wembley still has legs. 
3 – New super sub in chief as Martial has three off the bench this season as the goals have dried up for Giroud since he opening match of the new season (still stuck on 99 for Arsenal)
3 – Number of wins on the bounce for Benitez's Newcastle, after their 2-1 victory over Stoke completed the triptych. The victory rose the Toons over Benitez's old side Liverpool, at least for a week, and into fourth place Saturday on ten points.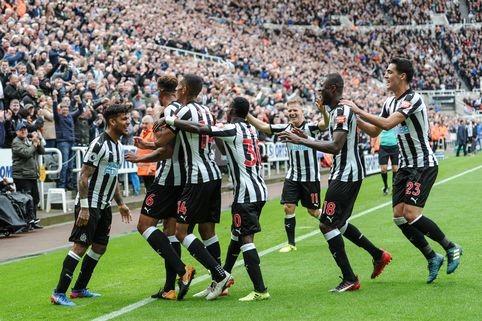 Bouncing to Rafa's Toon.
5 – Fellaini and Lukaku moved from Everton to United, Schneiderlin and Michael Keane the other way and Rooney, of course, back and forth. Who got the better end of those deals? Hmmm … well, 5 in 5 in the league for Lukaku and 7 in 7 in all competitions certainly provides a powerful hint, even as Rooney did score the winner in the opening match upon his return to the Toffees.  
7/10 – Joint least shots on goal in the league, shared by Everton and Swansea, heading into Toffees' match with United Sunday. Everton added three more, even as they were again held scoreless in a 4-0 thrashing by United, and now have a couple more shots on goal than yellows (10 to 8). 
9-14 – Losses away from home in the league for Arsenal heading into their Sunday encounter with Chelsea. But Wenger appears to have Conte's number at the moment, as he added a draw to three wins and a sole defeat, in the midst of their second half collapse last season. Arsenal really should have taken all three points, but for a poor Welbeck header, Ramsey shot that clattered the post and a missed rebound by Lacazette. It was the first point for Arsenal at the Bridge in six years. 
12-0 – Combined score of Everton's last four outings, all losses to avoid any confusion. After an impressive start to the season in the wake of over 140 million pounds spent, the goals have dried up at the same time the defense has collapsed. The absence of Lukaku is clearly being felt, but it is hard to remember an Everton side that has been so poor at the back. They actually acquitted themselves well in the middle of the game, after conceding early, but were overrun seeking an equalizer as the second half wore on, as United piled on the misery late as they have in previous matches in the early season.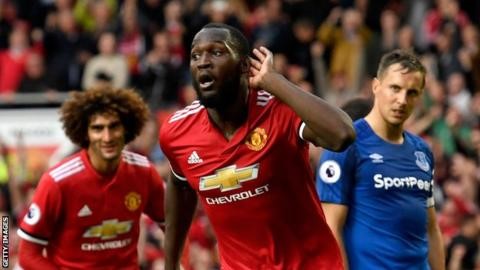 Manchester United, the latest beneficiary of Everton's generosity.
15-0 – Combined score in City's last three games as the preseason title favorites are starting to show their dominance. They followed up their 5-0 thrashing of Liverpool with a midweek 4-0 takedown of Dutch champs Feyenoord 4-0 in the UCL and then a 6-0 breeze over Watford Saturday. Watford didn't even play that poorly; they were merely overrun by a much better side. Even with their imperious form, United is but a single goal difference margin away from the top. 
16 – Games without a road win against the rest of the top 6 for Arsenal after that impressive stalemate Sunday. After a couple of seasons where they were among the best in the league on the road, Arsenal have one point from their travels (3 matches) this season so far. They will have to do better if they are to make their way back to the Top 4 this season. 
April 20 – The last time Swansea conceded an away goal, at Old Trafford late last season. Clement took over after the Swans had concede 18 in their last six, but has shored up their defense to keep them up and now on track to potentially repeat that feat again, even after losing their best player. They held Tottenham to a nil-nil away draw three days after the Spurs beat Dortmund 3-1 in impressive fashion.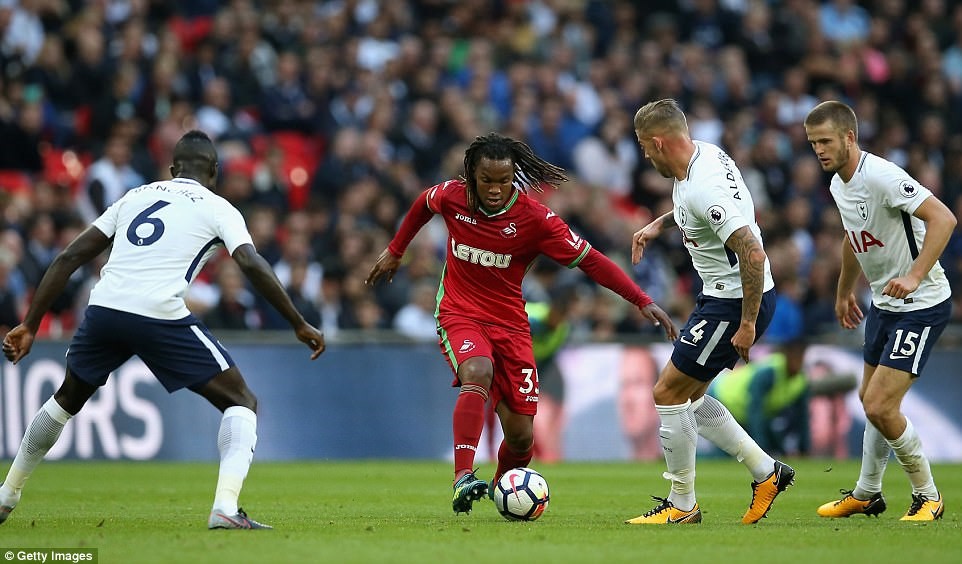 Swansea with yet another clean sheet.
35(9) – Liverpool total shots (and on goal) in an all too familiar poor result against a bottom half side. Burnley opened the scoring before Salah equalized, but that's how it ended in another frustrating night for the Reds, whose early promise seems to be fading rather quickly. 
88.82 – Best minutes-per-goal in the history of the EPL, for players with 10 or more goals. That record belongs to Gabriel Jesus, well ahead of his striking partner Sergio Aguero (108.44). Current or former City players actually take up the top three spots, with Kelechi Iheanacho in third (113.92). Impressively, Harry Kane is in fourth (119.53) and the player many consider the greatest in Premier League history sits at fifth (Thierry Henry), though he chipped in more assists than any other in the top 10.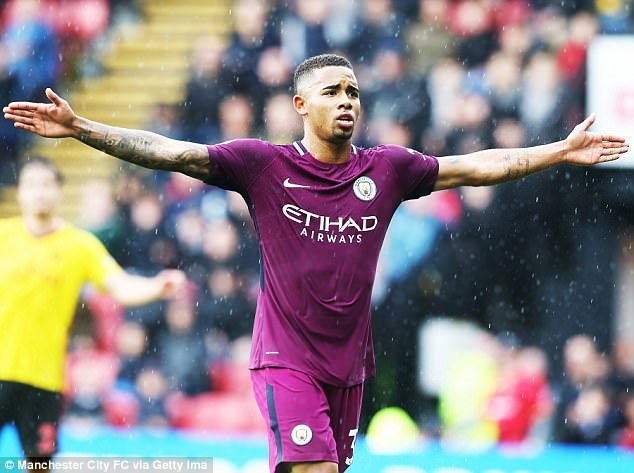 Give yourself to Jesus.
175 – Jesus, however, has a long way to go to catch up with Aguero's total, after yet another hat trick in City's 6-0 victory Saturday. The Argentine now stands a mere two goals from tying Eric Brook's longstanding City record, held since 1939. He will do so in less than half the games (currently 220 to 491) and should now be in the conversation for greatest striker in the history of the Premier League, alongside Henry, Ruud van Nistelrooy and Alan Shearer. Jesus, by the way, has 11 goals in total!
---
Stay tuned, I'll be back on the same bat channel after the next round of matches.