Match week 4 saw the last side with a perfect record, Manchester United, foiled by Mark Hughes and Stoke (2-2).  In addition, City crushed Liverpool's momentum with a 5-0 thrashing, Tottenham cruised past Everton (3-0), Arsenal rebounded 3-0 over hapless Bournemouth, and West Ham got off the snide with a 2-0 victory over previously unbeaten Huddersfield. Newcastle made it two wins on the bounce, beating Swansea 1-0, Watford took all three points at Southampton (2-0), Chelsea took it to three straight with a 2-1 win over Leicester, newly promoted side Brighton knocked out West Brom 3-1 and Burnley piled it on Crystal Palace with a 1-0 victory that looks to be leading the always exciting Roy Hodgson back to the dugout. 
---
Everything you need to know about this past weekend, by the numbers
0 – Goals for the ageless Bournemouth striker Jermain Defoe at the Emirates. He almost got off the snide Saturday, though his header early in the second half hit off the post. In his career with Sunderland, Tottenham, West Ham, and Bournemouth, he has played against Arsenal 24 times in the league, winning 4, losing 12 and drawing 8, and he has only scored three times in those 24 games (1 each at home for West Ham, Tottenham, and Sunderland). He is also scoreless in four league cup matchups.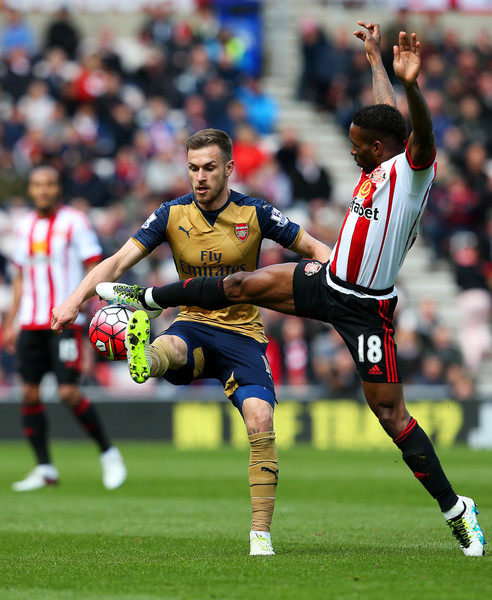 Defoe, still kicking.
0 – Points and (even) goals for the hapless Crystal Palace this season, who have that number of managers after a league record low of four games in charge for Frank de Boer, though his 77 days in charge is only good for third (after lasting 85 days at Inter Milan last season).
1st – It took three and a half matches for Brighton to score, but three against West Brom led to their first three points, in a 3-1 win over the previously unbeaten West Midlanders. The scorer of their first two Premier goals in their history was 3-million-pound man Pascal Gross, a 26-year-old who only cost 194 million pounds less than Neymar. It was the first win for Brighton in the top flight of English football since 1983.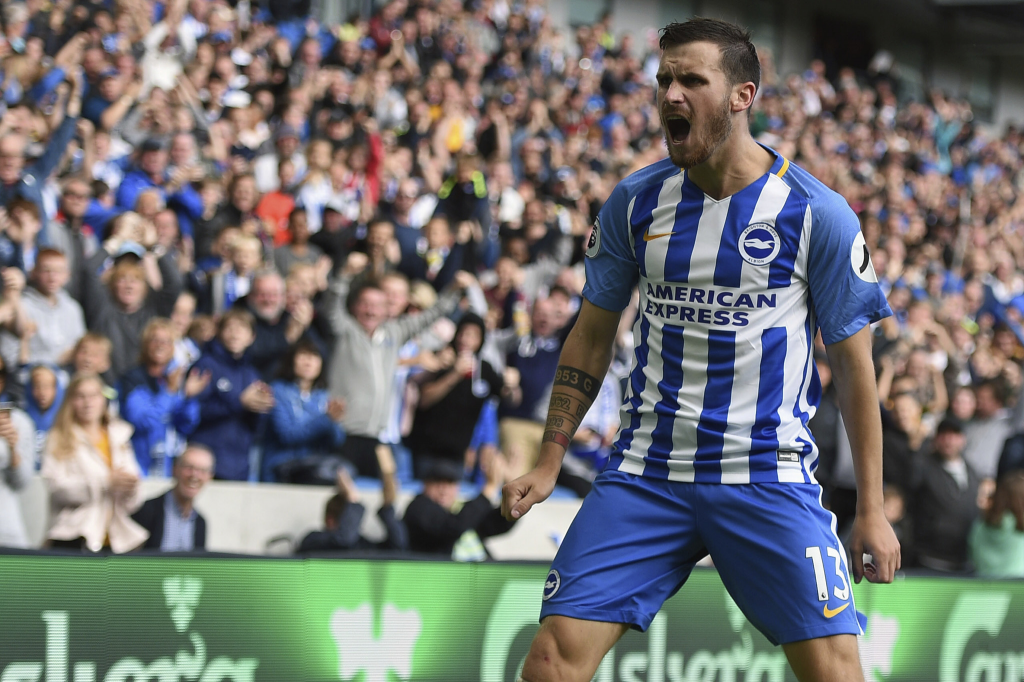 Gross, not a bad bargain at £3M.
2 in 2 – Lacazette's goal return for Arsenal, after scoring 37 in all comps last season in France. Makes you wonder why he didn't start against Liverpool. While we're at it – Kolasinac provided the assist for the opener (his second to Welbeck in three games), but he too started on the bench two weeks ago. Wenger madness? We're used to it.
>2 – Stoke manager Mark Hughes is the only manager to have won more than two HOME games against Jose Mourinho. Another impressive stat for the Portuguese maestro, who had to share the spoils with Hughes Saturday, in a 2-2 draw that led to the first dropped points for United this season, though they remain on top of the league. Hughes' side impressed again though, after beating Arsenal 1-0 in Match Week 2. As a side note, United have yet to win at the Brittania since Hughes took over (in five trips)!
3 in 4 – Lukaku has been getting the headlines for being money well spent, but Chelsea, after a shambolic opening day loss, have won three on the bounce, with Morata scoring in two of those victories, on top of a goal in the opening day 3-2 loss – all headers!
4 Points – Moving beyond the EPL for a moment, one should mention the 1-1 draw between Real and Levante, the second straight home stalemate for Madrid. With all the talk of their dominance (rightfully after the past two seasons included two Champions League crowns and a league title) and all the augurs of doom for Barça, the latter already has a four-point lead in La Liga after only 3 games. Barça won 5-0 over Espanyol to make it to three wins in three games with a +9 goal difference. Of course, Madrid already have the first trophy of the season, beating Barça in both legs of the Spanish Supercopa, and will play the Catalan side two more times, at least, this season.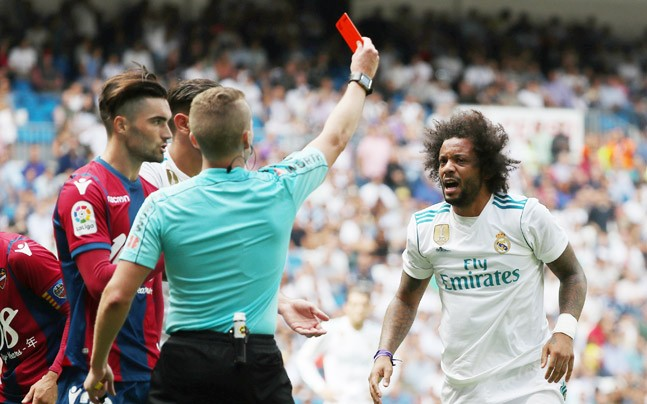 Not the start Marcelo and Real Madrid were planning.
4 of 5 – It's not quite Crystal Palace level futility, but Southampton have been shut out in 4 of their first five games in all comps (including a 2-0 home loss to Watford Saturday). They spent considerable time and energy keeping Virgil van Dijk, but may have been better served improving the quality on the other side of the pitch, after they were short of goals last season – under sacked Claude Puel. Mauricio Pellegrino might follow in his predecessor's footsteps if they don't find a way to put the ball in the back of the net more often. 
4 of 18 – West Ham entered their encounter with Huddersfield winless this season and having won only 3 of their last 17 league matches. Make that 4 of 18 as they gave manager Bilic a birthday gift with a 2-0 victory over the previously unbeaten side that came in with the stoutest defense in the league.
5 – Assists by Henrikh Mkhitaryan in his first three games, only the second player to ever accomplish that in the EPL. He should have had his sixth Saturday, but for a fine save of a Lukaku shot by Stoke's goalkeeper Butland. The Belgian collected the rebound himself and finished to give United a lead, though they would ultimately settle for a 2-2 draw at the Brittania.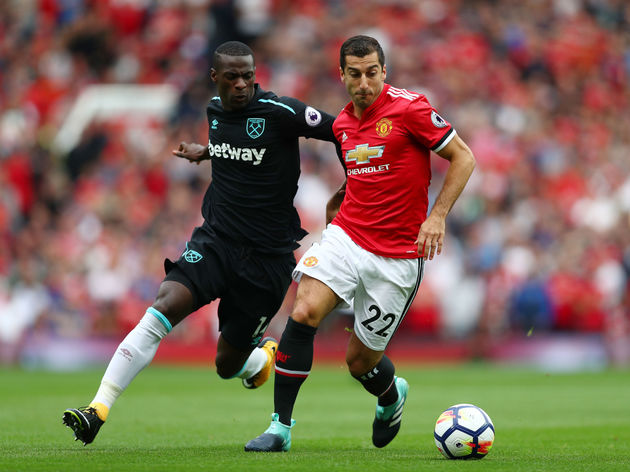 Captain Armenia.
5-0 – On the back of a convincing 4-0 thrashing of Arsenal, Liverpool decided to return the favor to City, though giving up a full quintet of goals. Four of those five came after Sadio Mane got confused and thought he was in a UFC contest with new City keeper Ederson, giving him a cleated kick to the face. Klopp complained about the red, but come on!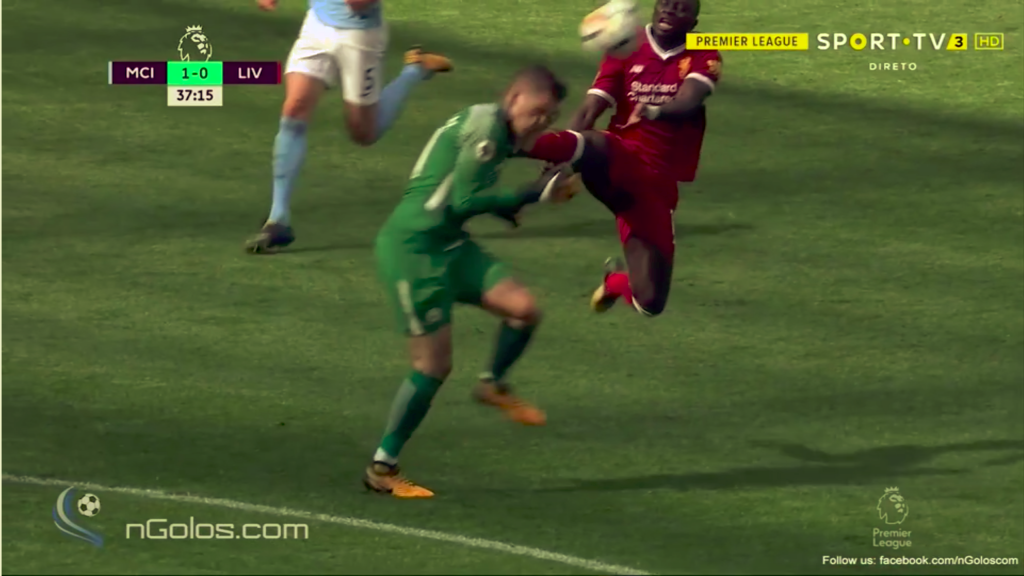 Mane getting not just a red card, but an ultra-red card.
6 in 6 – Heading to the Championship, Nottingham Forrest has conceded 6 set piece goals in 6 matches, which might make Liverpool feel a little better. Many might think of Arsenal, but they actually conceded only 6 goals from set pieces last season – the best in the league!
7 – Road wins for Tottenham in last 8, after a 3-0 thrashing of a toothless Everton. If only they were still at White Hart Lane, having already dropped four points at Wembley after going unbeaten at home last term. Kane was on the double while Erickson sandwiching his in between the brace, the former continuing to stake his claim as the best striker in English football.
10 – Gabriel Jesus, at 27 million pounds, might be among the best value for dollar bought in the past two, hugely inflated, transfer windows, with 10 goals and 4 assists in 12 starts (and 2 sub appearances). We can certainly look at the deadly attacks of Tottenham, Liverpool and Chelsea, but it's hard to argue against City having the most offensive threats of any side in the league.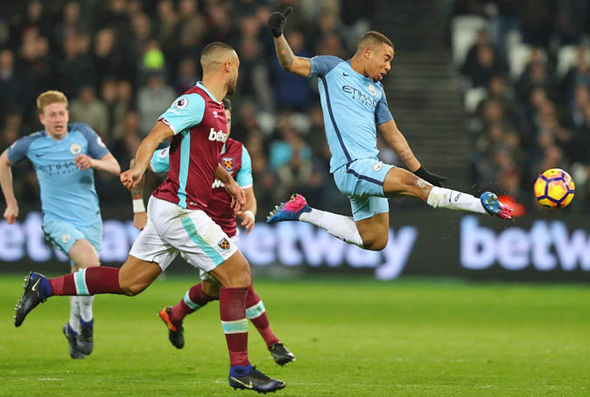 January signing Gabriel Jesus, 10 goals in 15 games played for City (all comps).
17 and 2 – Goals and assists for United/Everton striker Lukaku in his last 19 league games, including 4 in the league and 5 in all comps for United in 5 competitive matches. Think Everton miss him, after being shut out in their last two fixtures?
43% – Welbeck, after two forgettable games on the bounce where he missed 4-5 chance in the 1-0 loss to Stoke and was largely invisible in the Liverpool thrashing, came through with a goal and assist in the first half Saturday, then the third for Arsenal in the 51st minute with an inch-perfect finish across Begović to the far corner. That's 3 in 4 for the English international in the league, while also scoring for England during the international break. It was his first brace since December 13, 2013 (for United at Aston Villa). His three goals for Arsenal are 43% of their 7 total, only behind the 50% James Vardy has contributed to Leicester (3 in 6)
44/11/5 – Newcastle loanee Mikel Merino (via Dortmund) complete the most passes (44), won the most duels (11) and had the most successful tackles (5) of any Toon in their win, challenging the place of Jonjo Shelvey, just back from a suspension. 
51 – Headed goals in the league for Peter Crouch, a record. Unfortunately, he didn't get on the pitch during their 2-2 draw, thus unable to head in the winner, or recapture the glory of his finest career goal.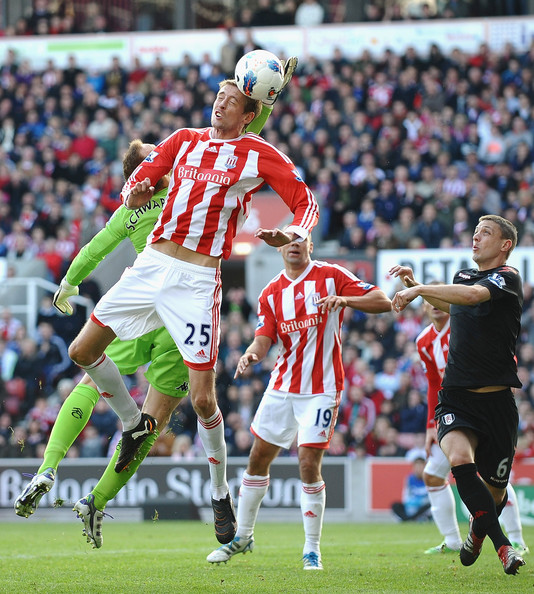 Crouchigol!
89 – Granit Xhaka is leading the league in total passes completed after four games, at a clip of 89 a game, with an 82 percent completion rate. He hasn't scored yet this season, but has chipped in with two assists in four. Not bad for a player criticized ceaselessly last season after his move from the "other" Borussia (Mönchengladbach).
91st – Bournemouth's position in English football when Eddie Howe took over. After two good seasons in the Premier league after the march upward, he is experiencing early trouble with his side, who have one goal and no points from four games. 
99 – Super sub Olivier Giroud has been stuck on 99 goals for three games now. 
100 – Wayne Rooney entered elite company once again, though this time for the dubious honor of being only the second player in league history to reach 100 cautions, alongside Gareth Barry. He already has three yellows in four games, after clattering Alli two minutes from time in the 3-0 loss to Tottenham. 
101 – Harry Kane goals for Spurs. The 100th was a cross that snuck in against Everton to give them a 1-0 lead. He scored the third as well in the 3-0 thrashing of Everton. 
115 – Aguero's opener in the 5-0 demolition of Liverpool makes him the highest scoring non- European in EPL history, with 115 goals, of his 172 in all comps for the side. Jesus may be challenging his place, but the two are combining well at present. In all competitions, across two teams and for the national side, Aguero has scored 183 in 304 games. Deadly sums it up pretty well.