In case you didn't hear, Manchester City lost for the first time in the league this season and only the second in all competitions since July. It was Liverpool that ended their chance to match the Invincibles of 2003-04, winning a scintillating match 4-3. Manchester United (3-0 over Stoke) and Tottenham (4-0 over Everton) both won as well, while Chelsea (a draw with Leicester) and Arsenal (a 2-1 loss at Bournemouth) both dropped points. City's lead over United has dropped to 12 points, with a further three back to Liverpool and Chelsea, while Tottenham sit three points outside the top four and Arsenal a stunning eight. At the other end of the table, Crystal Palace put further distance between themselves and the bottom 3 moving all the way up to 12th with their 1-0 victory over a Burnley side going backwards since late December. Swansea settled for a 1-1 draw with Newcastle while Stoke were the victims of a United throttling. The bottom three was rounded out by West Brom in 17th, moving up after a tidy 2-0 victory over Brighton.
Across Europe, Real Madrid lost at home yet again, falling an appalling 19 points behind Barcelona and holding onto the top 4 by a thread at the moment.  Zidane, a season after leading his side to a record five trophies, could well be gone at the end of the season (if not sooner); Madrid are not a club known for their patience. Barça are 9 points clear of Atlético Madrid and seem set to cruise to the title, with Valencia two points further back in third. Bayern have a comfortable 13-point cushion over Leipzig, with a resurgent Dortmund 15 points back but up to fourth. In Italy, Napoli continue to clasp onto their one point lead over Juve in what is shaping up as a two-horse race, with third place Inter 9 points back, Lazio 11 and Roma 12. Finally, in France, PSG continue to lead by 9 points over an impressive Monaco, who somehow have stayed close to the top after losing so many stars last summer.
The NFL playoffs continued into their second week with half the favorites doing their job (New England and Minnesota (barely)) and the other half being upset. The Eagles were the first home team #1 seed underdogs in league history, but they did have the best record in the NFC and their backup/current starting quarterback did have an excellent season a few years back. The Falcons had a shot from the red zone, but couldn't punch it in and lost a defensive battle better read about than watched. The other upset was one of the games of the season, with the Jaguars holding on to beat the Steelers for the second time this season, ultimately winning 45-42. And the Vikings came out on top over the Saints in one of the most exciting endings to an otherwise dull game ever, a miracle 61-yard reception the final play of the game (besides a kneel-down on an extra point). More on the games below.
On to the numbers, with a few nibbles from around the sports world … 
---
Match Week 23 By the Numbers
0-0 – Chelsea were held at home to an excellent Leicester, who were on the front foot until a soft second yellow that forced them to defend the last 25 minutes or so. It was the third consecutive scoreless draw for a Chelsea side who are suddenly bereft of goals. 
0-8 – Sloane Stevens won her first Grand Slam last September at the US Open. Since then? She is 0-8, including an upset loss in the first round of the Australian Open Sunday,2-6, 7-6 (2), 6-2 to Zhang Shui, after serving for the match in the second. 
1 – Bournemouth earned their first victory ever against Arsenal a year after they ceded a three-goal lead. Jordan Ibe scored his first goal for the Cherries. Bellerin scored in back to back League games for the first time in his career and Arsenal, in the first game after admitting Sanchez is leaving this window, is probably out of the race for the top four. The question for the board now is how low will you in go in the increasingly absurdist limbo game of allowing Wenger to hang around destroying his legacy and the club's present and future?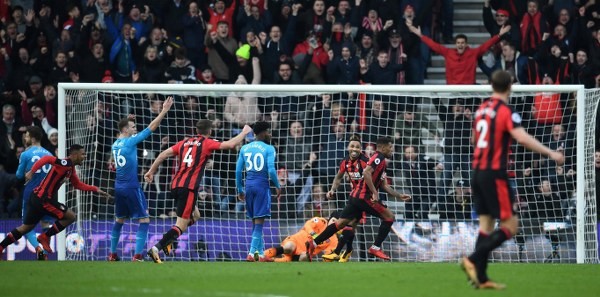 Ibe hits the winner as Cech really shows his age in letting in two that could well have been saved.
---
1-18 – Completes passes from Matt Ryan to Julio Jones in the end zone this season, after going 3 of 8 last season. The last of those misses cost the Falcons another shot at the Super Bowl on 4th and 2 in the final minute of a 15-10 loss to the Eagles. No redemption yet for the worst collapse in Super Bowl history. 
2 – Assists for Paul Pogba as United dominated a lackluster Stoke City 3-0 Monday night. Pogba now has 3 goals and 9 assists in the league (alongside one in the Champions League) as he has rebounded from a difficult first season to really show his class. The victory pushed United within 12 points of City and 3 ahead of their nearest chasers, while Stoke continued to wallow in 18th place, a point from safety but with the worst goal differential (-27) in the league.
2-0 – West Brom won for the first time since August, and the first under Alan Pardew, beating struggling Brighton 2-0, though they still sit in 19th place.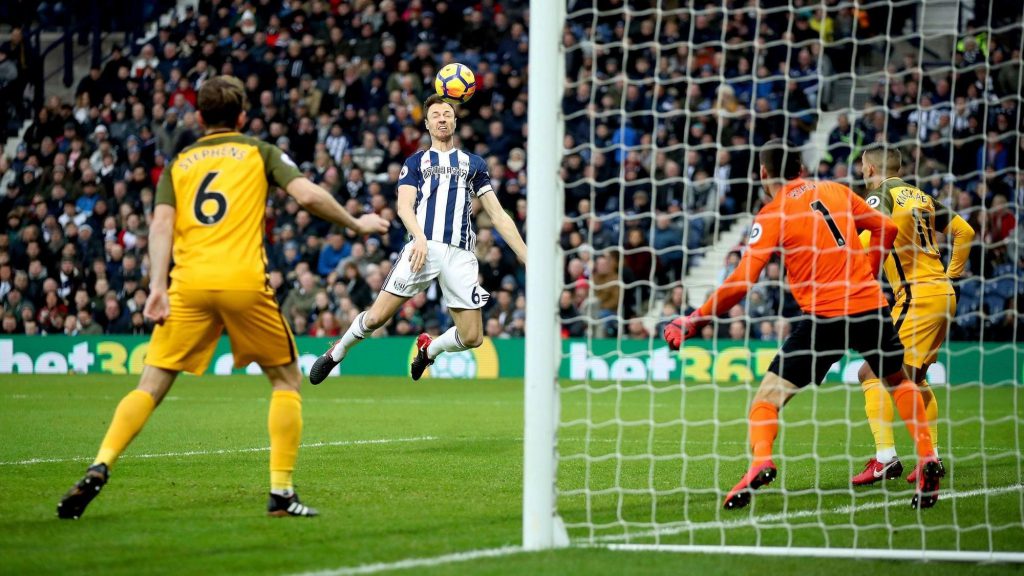 Evans scored the winner for West Brom, though he could soon be on the move.
---
2-1 – City were being held to a 1-1 draw with Bristol City in the Caribou Cup last week when Sergio Agüero stepped up and hit an injury-time winner to give them a slender lead heading into the second leg. They couldn't pull off the same feat Sunday, though two late goals certainly had the Anfield faithful praying for the final whistle, but they have been the cardiac kids of the league so far this season, with several late goals turning draws into wins.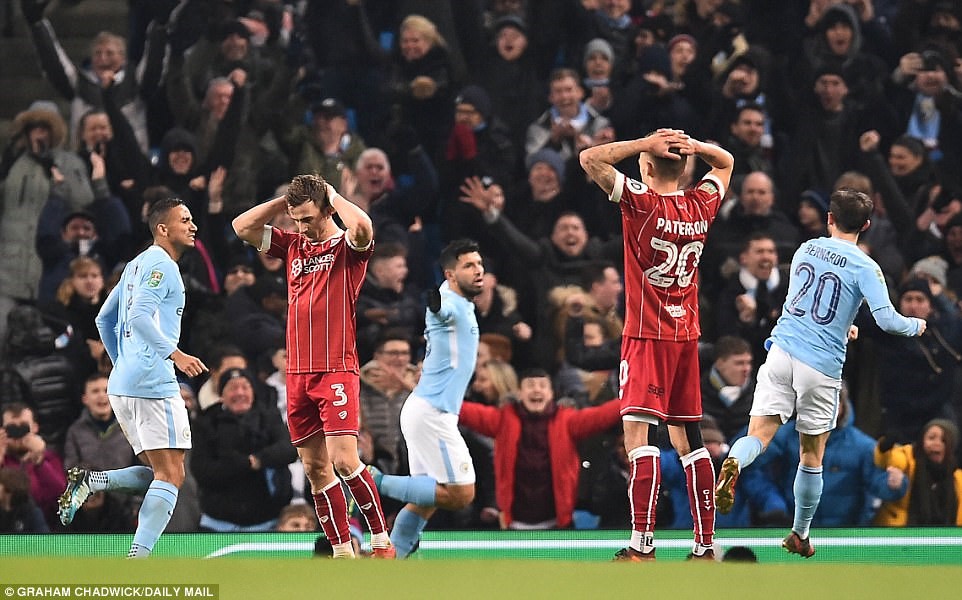 Bristol City still have a chance with their away goal, even with the 92nd minute Agüero winner.
---
2-2 – Southampton had a 2-0 lead at the half, but Watford came back to equalize – with the help of a clear handball goal that the refs missed, to find themselves with only a point, currently the one keeping them outside the bottom three. The refs have been deciding far too many games of late …
3:01 – Four lead changes in the last 3 minutes of the game between the Minnesota Vikings and New Orleans Saints, culminating in one of the craziest last plays in NFL playoff history, as Keenum threw it up on third and ten with 10 seconds left from his own 39, only for the Saints safety Marcus Williams to duck out of the way, allowing Diggs to storm to the end zone as time expired to win 29-24.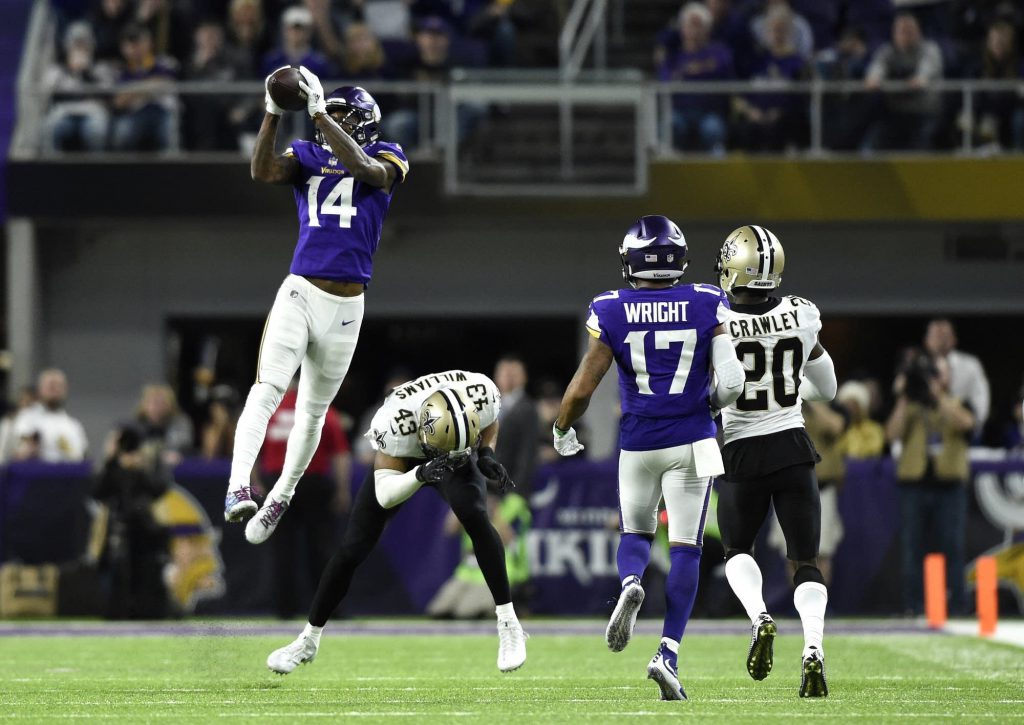 Diggs catch might well become the new "immaculate reception," as Williams does the "Ickey Shuffle."
---
4-3 – in arguably the game of the season, Liverpool exploded for three goals in eight minutes in the second half then held on to end Man City's unbeaten league run and give them only their second loss of the season in all comps. Ox opened the scoring for Liverpool with his third of the season (his best return) and was joined on the scoring sheet by Firmino, Mane and, who else, Salah. Coutinho who?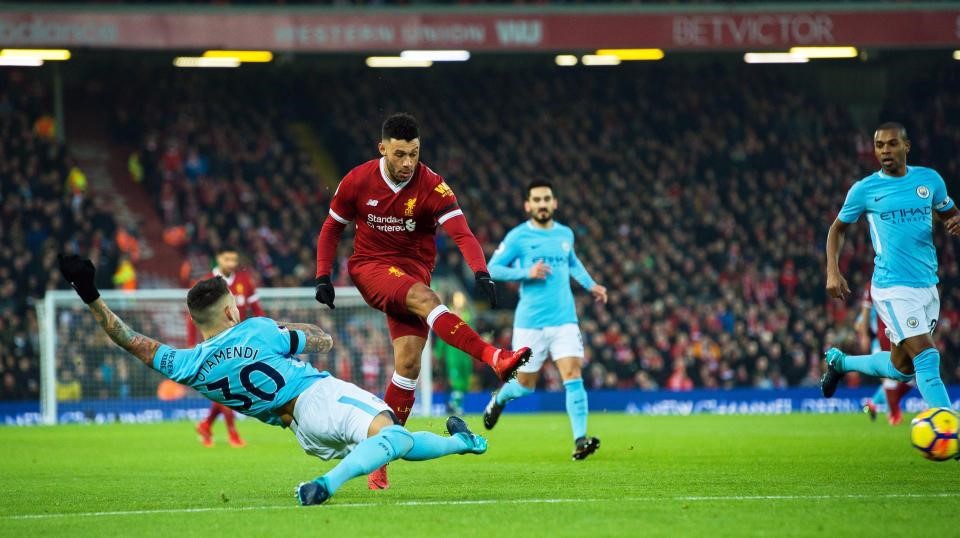 Ox scores opener, starting to justify his move from Arsenal.
---
5+5 – Son Heung-min scored in the 26th minute of the match with Everton Saturday, becoming the first Spur since Defoe to score in five straight home games. Everton went the fifth game in a row without registering a single first-half shot on target. Two minutes into the second half, Harry Kane tied Teddy Sherrington with 97 career Premier League goals (in 101 less matches) then broke it 12 minutes later as Tottenham cruised to a 4-0 victory over Everton. 
6 – Number of times Harry Kane has been named EPL Player of the Month, equaling the record previously held alone by Steven Gerrard. Kane scored 8 league goals in December alone, including a brace against Stoke and hat tricks against Burnley and Southampton, breaking the record for league goals in a calendar year (39), as previously mentioned. Remember those who thought Kane would be a one-year wonder? The question now is whether they can keep him in North London … alongside the growing concerns that manager Pochettino could be in line to replace Zidane at Real Madrid next summer. Trouble could be brewing for the Spurs as they prepare for life in a new stadium. Sound familiar?
6 in 7 – Marco Arnautović, who went his first 11 with no goals after moving to West Ham, has now scored 6 in 7, helping West Ham to a 4-1 victory over Huddersfield Saturday.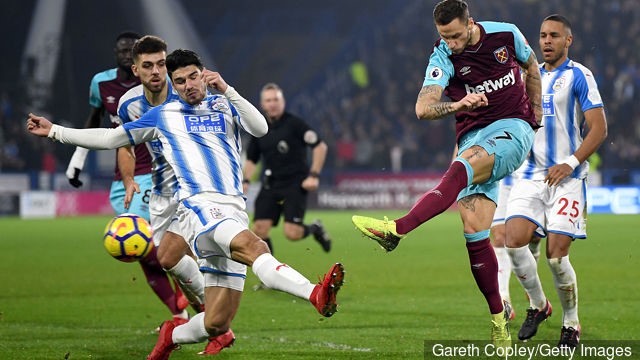 Arnautović is hot, after an inauspicious start to life in West London.
---
6 of 12 – With the victory over City Sunday, that is Klopp's win rate against Guardiola, (with two draws and four losses), the best among managers who have faced him at least 10 times. Nemesis? Guardiola is still crushing him in the more important trophy haul. 
7 – Managers have been sacked this season, a 10-year high, after Mark Hughes was given his walking papers last week. Every team that has changed managers, except West Brom, have had a bounce upon the change, though Everton are now on six games without a win (and four straight losses) after a renaissance under Big Sam. Stoke, as mentioned earlier, lost their first game since his dismissal, 3-0 to United.

Hughes helped Stoke rise to new heights, but struggles over the past two seasons finally caught up to him.
---
8 – Comebacks of 13+ points for the Celtics already this season, after their latest over the Sixers last Wednesday night, winning 114-103 after overcoming a 22-point deficit. 
15 – Years since an NFL team has replaced a coach who won a playoff game that season. The last was Steve Mariucci by the Niners way back in 2003 and the latest is the Titan's Mike Mularkey. To be fair, Tennessee offered him a deal to continue, with staff changes, but he turned them down. Mularkey ended a nine-year playoff drought and led them to a 22-21 road win over the Chiefs last week, finishing 21-22 overall. What a bunch of m … oh, sorry.
32 – Goals in 18 games for Real Madrid as they fell at Home again 1-0, to Villarreal, who are now only a point behind the Champions League winners. Madrid's season has fallen apart as they are now level on points with Sevilla and in real danger of missing out on the Champions League next season if they don't right the ship soon. The title is well gone as they are now 19 points behind Barça. And the tally of goals at this points in the season is their worst in 11 years. 

Real had 28 shots in the loss Saturday, more than any side in La Liga this year, but their struggles in front of goal continue to haunt them.
---
45-42 – Few gave the Jags a chance on the road against the Steelers, but they came out on top with only the third NFL game in history with that score. The Steelers stormed back from a 28-7 deficit with some incredible long TD passes, two on fourth down, but fell three points short as Bortles silenced his critics – at least for a week. Would have been the game of the weekend but for the thrilling finale to the Vikings-Saints game.
554 – Tom Brady total regular season and playoff touchdowns, moving past Brett Favre into second place after going 35 of 53 for 337 yards and three touchdowns in the Patriot's 35-14 shellacking of the Titans Saturday. He should pass Peyton Manning for top spot next season. The Titans scored first and then ceded 35 straight points before scoring a meaningless second TD. Funny to think 538 had an article just last week wondering if age was catching up with the presumptive MVP after a poor final five games of the regular season …
$14.5 Million – Might not be enough cash to keep the Pittsburgh Steeler's Le'Veon Bell from sitting out next season, or even retiring, if the Steelers fail to splash the cash with the money and years he wants in his next contract. Remember that guy Barry Sanders? You know, the one who retired when he was considered the best running back in the league and still in the prime of his career? Yeah, me neither. Bell is 25, by the way.
---
Check back in at the same bat time, same bat channel next week for the subsequent round of fixtures …