We are in the midst of the busy festive period, with three matches in a little over a week. Here I'll cover the first two, reviewing the rest next week. Man City finally had their win streak end at 18, as they were lucky to leave Selhurst Park with a point after a late saved penalty by Ederson, arguably the signing of the summer. They had squeaked by Newcastle 1-0 last Wednesday. Arsenal would have had two road wins in a row to end the year but for a terrible penalty awarded by Mike Dean (who apparently doesn't bother to read the rule book) Sunday that led to a 1-1 draw with West Brom (they beat Crystal Palace 3-2 on Thursday). Liverpool continued their unbeaten run with a 5-0 scalping of Stoke Tuesday and a 2-1 victory over Leicester Saturday. United, on the other hand, drew both their games this week, first 2-2 with Burnley Tuesday then 0-0 at Southampton Saturday (both at Old Trafford). That allowed Chelsea, who beat Brighton 2-0 on Tuesday and Stoke 5-0 Saturday to jump to second in the league. Finally, Tottenham beat Southampton 5-2 Tuesday, but will not catch up to the rest of the league until Thursday, as they visit Swansea Tuesday and then host West Ham Thursday. 
In Italy, the only other big 5 league operating at the moment, Napoli and Juve both won to stretch the gap over the rest of the pack, as Inter, Roma, and Lazio all drew, pushing them 7, 9, and 11 points behind leader Napoli, who are one point in front of Juve. It was also the final week of the NFL season, with the Eagles, Vikings, Rams, Saints, Panthers, Falcons and Rams making the playoffs in the NFC and the Patriots, Steelers, Jaguars, Chiefs, Titans and, yes, you're reading this right, Buffalo Bills in the AFC. 
On to the numbers, with a few nibbles from around the sports world … and Happy New Year to all!
---
Match Week 20-21 By the Numbers
0-0 – Three matches finished 0-0 Saturday, as one imagines tired players were feeling the festive period pileup. The most surprising of the bunch was United, who were held at Old Trafford by a Southampton side that was just plastered by Tottenham (United's third draw in a row, making it only 2 wins in their last 7). Newcastle settled for a point hosting Brighton and Burnley kept Huddersfield out to keep their momentum moving forward. Sunday, Man City and Crystal Palace added to the list and Arsenal and West From almost joined them before two late goals. 
0-6 – The NFL tried to get involved in the scoreless trend as well, with the Philadelphia Eagles and Dallas Cowboys going 47:41 before the Cowboys finally scored a TD to break the 0-0 stalemate. Dan Bailey, the second most accurate kicker in NFL history behind Justin Tucker (at the moment), missed his last four kicks of the season, two costly missed FG attempts last weekend that killed the Cowboys playoff hopes, a missed field goal from 24 yards at the end of the game Sunday and the second missed extra point of his entire career after the only score of the game. It was the first shutout posted by the Cowboys since 2010, the same game the Eagles were last held scoreless (24-0 Dallas).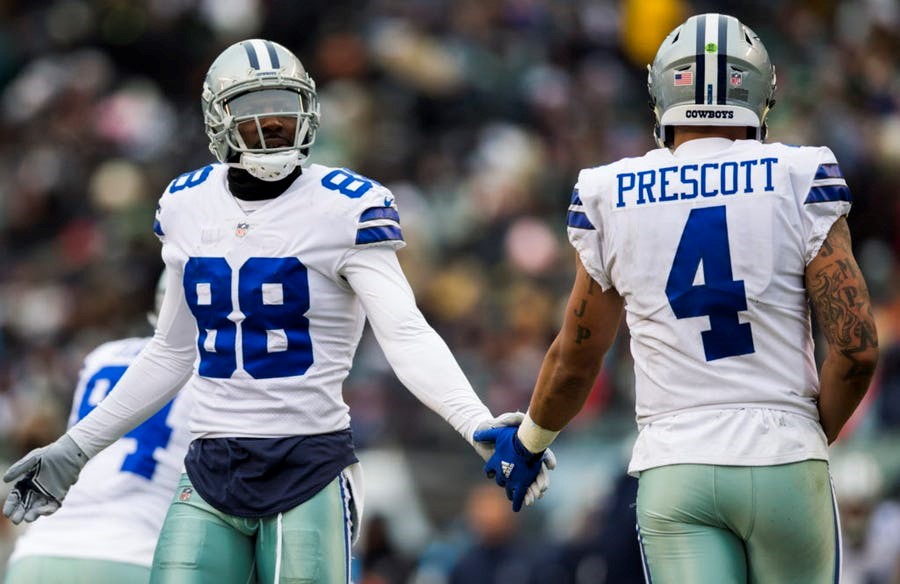 Prescott and Dez Bryant low five in the 2nd quarter Sunday. The drop-off in production from Dez is a big reason the Cowboys are sitting out the playoffs.
---
0-16 – Another NFL team that successfully completed an 0-fer was the Cleveland Browns, who become only the second team ever to go a 16-game season without a win, joining the Detroit Lions from 2008 (three others went without a win in less than 16 games, the most losses being 14). Cleveland was driving for a lead late in the fourth quarter against the Steelers but receiver Corey Coleman, the same guy who dropped a sure TD last month against the Bengals, let the ball go right through his arms on 4th and 2. That's 1 win in 32 games for a franchise that has been pretty awful for a decade now; their last winning season coming in 2007 (10-6, though they missed the playoffs). Their last playoff appearance came in 2002 and their last playoff win January 1, 1995 (a previous iteration of the team's win over the pre-Brady/Belichick Patriots 20-13)
2-1 – Swansea was down 1-0 at Watford before they took advantage of some lucky bounces late to win 2-1, giving new manager Carvalho his first victory in his first game in charge and moving Swansea from the basement to 19th Saturday, though only for a day.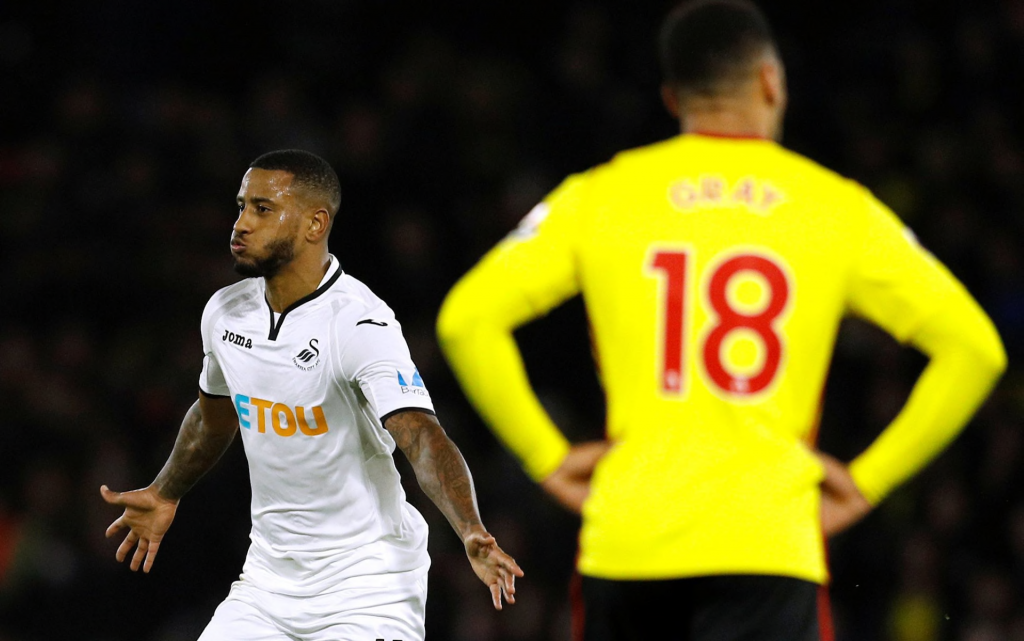 Swansea's Luciano Narsingh celebrates 90th minute winner against Watford.
---
4th & 12 – The Baltimore Ravens were that defensive stop away from the playoffs, as the Bengals were down three and stuck at midfield with less than a minute on the clock. Instead, Dalton completed the ball 35 yards downfield to Tyler Boyd, who ran it in with 44 seconds on the clock to give Cincy the lead. The late victory means the Buffalo Bills, who beat Miami 22-16, are in the playoffs for the first time in 17 years! They are joined by the Rams (12 years), Tennessee (9 years) and Jacksonville (9 years). Cleveland are now first among the worst, having gone 15 years since their last playoff appearance, followed by Tampa Bay at 10 and the Jets and Bears (7 apiece).
5-0 – The San Francisco 49ers record since Jimmy Garoppolo took over as starting QB. He finished 20 of 33 for 292 yards and 2 touchdowns in the season closer, a 34-13 win over the playoff-bound Rams. The season was already lost, but it's a case of what could have been if they had got him this summer, as they wanted. 
6 – New England Patriot's kicker Stephen Gostkowski was a mere two points from leading the league in points for the sixth time in his career, which would be a record. Belichick didn't allow him to try a 52-yard field goal with 13:38 left and the Patriots up 24-3. He didn't get another chance to score as the Pats secured the top seed in the AFC.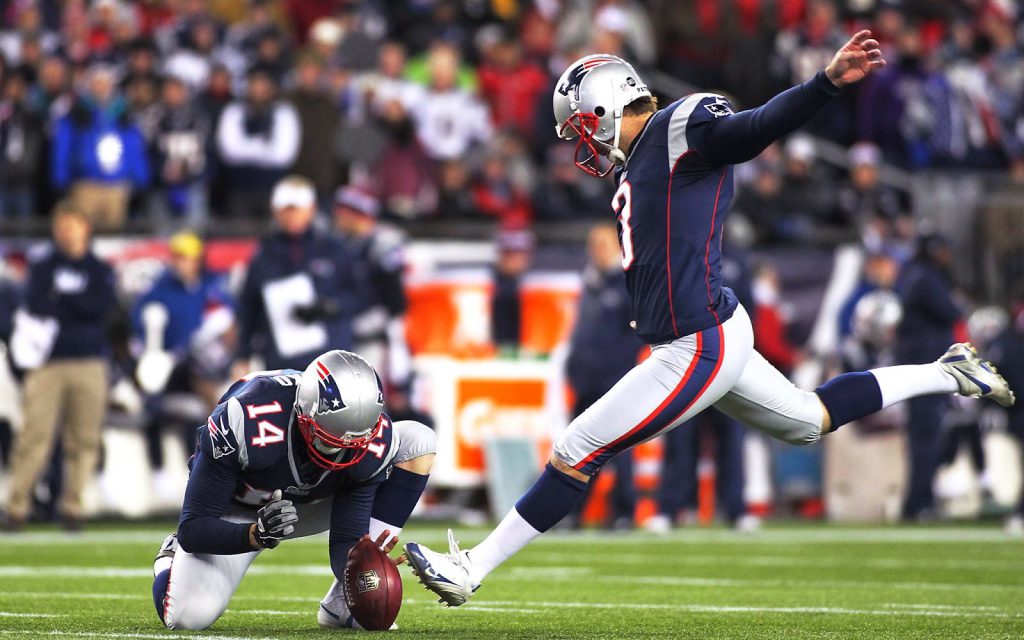 Gostkowski is third all-time in field goal percentage, at 87.597%.
---
7 – Six teams have changed managers this season so far, and all but West Brom have gotten a bounce from that change. The Baggies remain without a win in their first seven under new manager … having scored on 2 of 93 shots under Pardew, though the aforementioned late penalty did garner them a point against Arsenal Sunday. 
8 – Everton's unbeaten run under Allardyce ended Saturday as Ryan Fraser sandwiched a Gueye goal with a brace, including the deflected winner in the 89th minute. The three points moved the Cherries from the drop zone to 14th, as Everton left the week with only a point, after a 0-0 draw with West Brom last week. 
9 – Goals for Jesse Lingard, alongside 4 assists, in all comps for the Manchester United winger, having his best seasons so far, including a brace to save blushes Tuesday night, as United came back to draw 2-2 with Burnley, his second coming in injury time of the second half.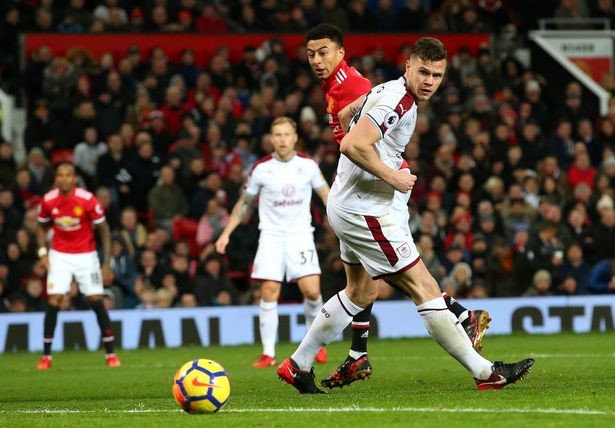 Lingard's first was a clever back heel before the late equalizer.
---
9-0 – Chelsea bettered their first stroll against Stoke (4-0) by smashing five past them Saturday. Rudiger, Drinkwater, Pedro, Willian and Zappacosta provided the goals (the first for Drinkwater and Zappacosta this term and only the second for Rudiger). Chelsea moved into second in the league, as Stoke manager Hughes made 6 changes from the midweek win, banking on the game Monday against fellow strugglers Newcastle. A loss there could be the end for the beleaguered Stoke manager. 
18 – Pep Guardiola will fall one game short of matching his own record of 19 straight wins, set at Bayern Munich, as Crystal Palace continued their resurgence with a 0-0 draw against the presumptive champions Sunday. Still undefeated on the season, City needed a last-minute penalty kick save from Ederson to preserve that streak. They did lose Gabriel Jesus for one to two months and De Bruyne was carted off as well. But the Invincibles are not safe yet …
23 – Goals by Mo Salah this season after a brace Saturday against Leicester as Liverpool came back to beat the former champions at Anfield 2-1. He is symptomatic of a theme – ex-Chelsea players now thriving with other clubs in the Top 6, including De Bruyne at City, Cech at Arsenal and Matic and Lukaku at United. Spurs appear to be the only side without a former Blue staring. It was their first come from behind victory of the season and makes it 15 unbeaten in all comps, their last loss coming against Tottenham way back on October 22.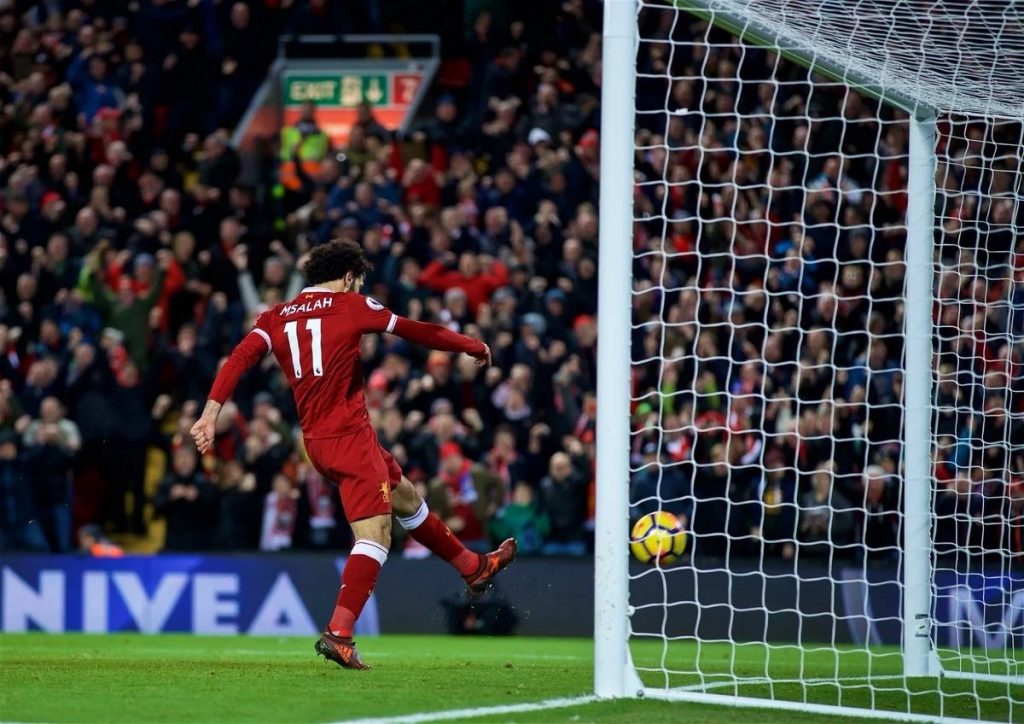 Salah is the most prolific winger in England by a long ways.
---
24 for 24 – Arsenal have scored in every EPL game against West Brom, the best 100% record in league history. It took a diverted free kick from Alexis Sanchez in the 83rd minute to break down a stout Baggies defense Sunday, but they ended up sharing the spoils as the Gunners road struggles continued. And that makes it 1 draw and two losses in last three at Hawthorne's. The Top 4 looks increasingly tenuous for Wenger, as the Gunners continue to cede valuable points (the second time they have lost a lead late in a week), but will he finally resign if he goes two seasons in a row without the Champions League? As an aside, the Gunners are scoring 1.8 goals per game through the first 20, down from 2.2 at the same stage last season. 
26 – Uruguayan striker Sebastian Abreu set a world record for number of clubs in a career, after joining his 26th at the age of 41 – Chile's Audax Italiano. Those 26 clubs have come in 23 years, across 11 countries, while playing for the National team 70 times. He has been part of 30 transfers in his career, scoring 130 goals across that stretch, with the highlight of his career probably the penalty kick he scored against Ghana to secure Uruguay's place in the 2010 World Cup semifinal (after the possibly more famous hand ball by Luis Suarez to save the game in extra time, before a missed penalty).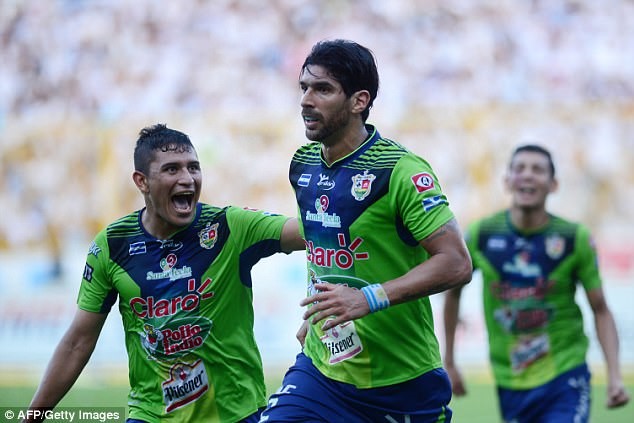 "El Loco," (Abreu) was most prolific in 2016, scoring 13 in 21 for Santa Tecia in El Salvador.
---
26-6 – Remember when the Jets were actually in the playoff hunt? Yeah, neither do I. After a decent start, the Jets won only 2 of their last 10 games, including four straight losses to end the season. The Patriots, on the other hand, have the top seed in the AFC yet again and their 26-6 win included a number of near records – their 7th 13-win season (2nd all time to the 49ers with 9), Bill Belichick's 250th win, tying Tom Landry for third all time, and Brady's 13th win as a QB after age 40, tying Brett Favre for most ever. If Brady plays another three years, all three of those records could well fall (though the last might in two weeks).   
29.9 – Points per game for the Los Angeles Rams this season, versus 14 ppg in 2016. They thus became the first team in NFL history to go from worst to first in scoring in one season. The Rams will face the Atlanta Falcons, who secured their spot in the postseason with a 22-10 victory over the Panthers, next weekend. The Falcons win knocked the Seahawks out of the playoffs, though they would have been out anyway after missing a potential game-winning field goal as time expired against the Arizona Cardinals. The Rams are led by Todd Gurley, who led the league with 2,093 yards from scrimmage while sitting out their Week 17 loss, and second-year QB Jared Goff. 
34 – Matches without a goal for Southampton's Shane Long, a streak that would have ended but for yet another exceptional save from De Gea in the 49th minute Saturday. The 0-0 draw continued United's recent struggles, though, as they fell to third place, lost their striker Lukaku for a couple of games and found out that Ibrahimović will be out for at least a month after more trouble in the same knee that kept him out for months. 
38 – Steph Curry was out for 11 games, so one wouldn't begrudge him for being a little rusty. Instead he scored 38, shooting 13 of 17 and 10 of 13 from behind the arc (the first player to hit double digits this season), as the Warriors beat Memphis 141-128 Saturday.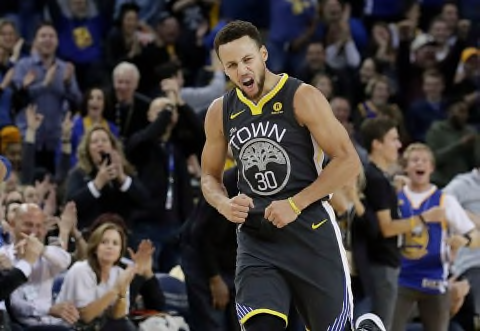 Curry was on fire Saturday night in his return.
---
39 – Goals by Harry Kane this calendar year, breaking Alan Shearer's record of 36, as he added his eighth hat trick of 2017 as Spurs routed Southampton 5-2 Tuesday. If he scores a third successive hat trick next Tuesday against Swansea, he will equal a record that goes back to 1946 (Jack Blamer of Liverpool hit three straight hat tricks that season, the last in English football to do so). 
50-50 Club – Louisville QB Lamar Jackson became only the third player in College Football Bowl Subdivision history to throw at least 50 touchdown passes and score 50 touchdown runs, alongside Tim Tebow and Colin Kaepernick. It was otherwise a rough day for the Heisman Trophy winner from 2016, going 13 of 31 for 171 yards with two TDs and four interceptions, alongside 6 sacks (though he did rush for 158 yards on 24 carries). His Louisville Cardinals lost the Taxslayer Bowl 31-27 to Mississippi State. 
75 – Million pounds paid by Liverpool for Southampton defender Van Dijk, finally getting their man. The price was a record for the Reds and a record for a defender. One wonders how much further up the table Liverpool would be if they got him last summer. But his addition could well mean they are now in pole position to join City and Chelsea in the Top 4, though rumors abound that Barca are going to seal the transfer of Coutinho next month, costing Liverpool additions to his 12 goals and 9 assists in the first half of the season. Stay tuned … 
103 – Man City are on track to beat Chelsea's record haul of goals in a campaign, though they have only scored 1 in their last 2, after averaging 3.15/game in their first 19. They are now on track for 110 by the end of the season.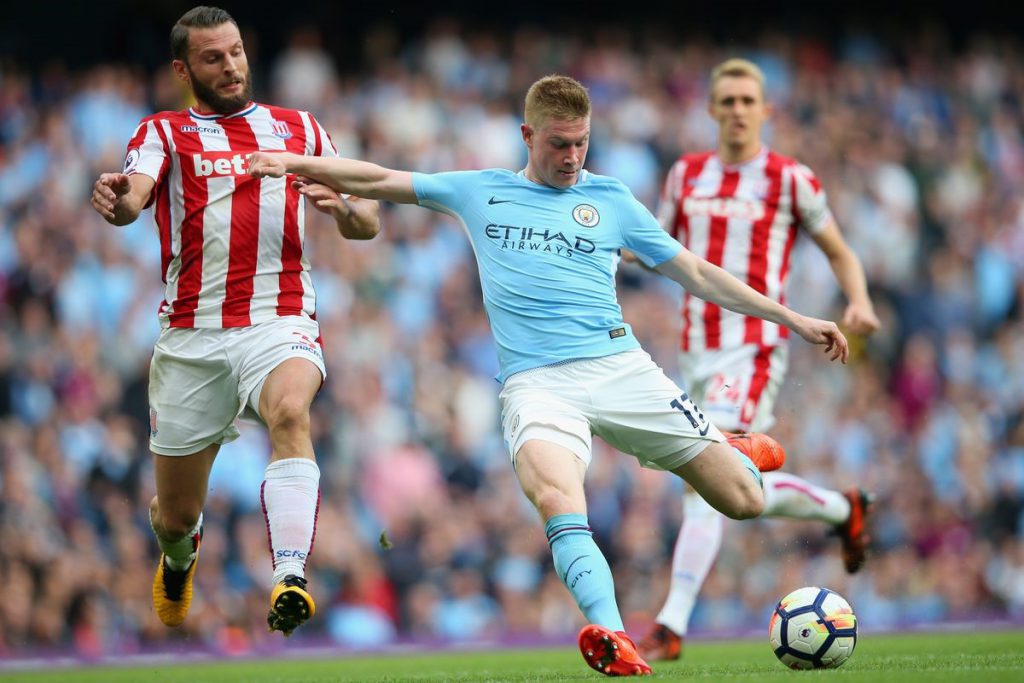 City were all but unstoppable until a two-game stretch in which they managed a solitary goal.
---
107.1 – Los Angeles Rams running back Todd Gurley's fantasy points total during the "fantasy postseason," the highest recorded total ever (the 8 touchdowns in 3 games helped a lot). It appears to be a two-horse race for the MVP between Gurley and ole reliable Tom Brady (whose numbers have been far less impressive in December). 
150k – Liverpool's Roberto Firmino earned a whopping 150,000 pounds for his two goals Tuesday night, in their 5-0 win over Stoke, as his heavily incentivized salary, means the first earned him 65k and the second 85k. His 16 goals already this season, surpass his 11 and 12 for his first two seasons, with almost half a season to go.
200 – Petr Cech almost became the first goalkeeper in history to hit that number of clean sheets until a ridiculous penalty call by Mike Dean, converted by Jay Rodriguez right before the end of regulation time left Arsenal with a 1-1 draw. The converted penalty means Cech has still failed to save one since moving across London to Arsenal.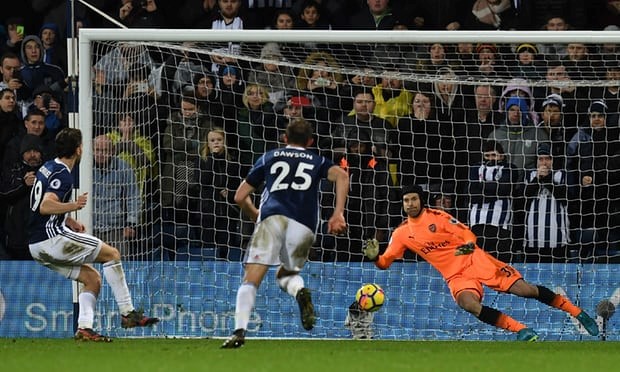 Jay Rodriguez went up the middle while Cech dove right to earn West Brom a point.
---
200 * 5 – San Diego State's Rashaad Penny tied an impressive record with his fifth straight game of over 200 yards rushing (221 total), though that and his four touchdowns were not enough to beat Army, who prevailed 42-35 in the Armed Forces Bowl. He set a school mark for rushing yards in a season with 2,248, and became only the fifth player to hit the double-century in five straight games.
811 – Premier League matches for Arsene Wenger, a record. He has managed one more game than Alex Ferguson as of Sunday, though he has won 10 less titles, 60 less games, conceded 79 more goals, scored 102 fewer, had 31 more defeats and 30 more draws and less points per game (1.98 versus 2.16). He has won more FA Cups (7 versus 5), however, Ferguson never finished lower than third in his 21 years in charge, while Wenger finished in the Top 4 in every season until last season's fifth. In total, Ferguson won 38 trophies during his 26 total years in charge of United, while Wenger has 16 (including Community Shields) – with Ferguson winning the Champions League twice to Wenger's zero. 
1948 – It has been at least that long since there was no undefeated team left in college basketball before the turn of the New Year. A bizarre Saturday saw #1 Villanova lose to Butler, #3 Arizona State lost to Arizona, #5 Texas A&M lost to Alabama and #10 TCU fell to Oklahoma and their star Trae Young (who had 39 points and 14 assists).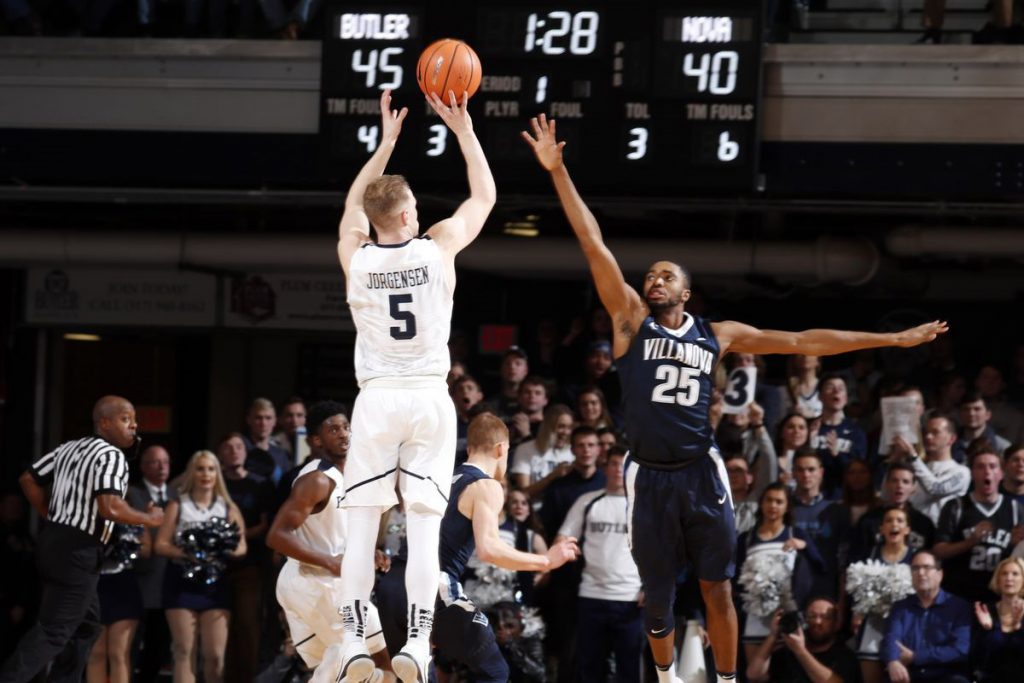 Butler were deadly behind the arc in beating #1 Villanova 101-93 Saturday.
---
1984 – Last time Arsenal conceded more league goals than they did in 2017. The last came in the 89th minute to cost them two points, though, to reiterate, it was after an awful call by Mike Dean, who clearly doesn't understand the rules on handball. It is a call that could cost Arsenal the Top 4. 
14,000 – Frank Gore became only the fifth player ever to traverse that many yards in a career, alongside Emmitt Smith, Walter Payton, Barry Sanders and Curtis Martin. His 1,200 yards from scrimmage in the fourth quarter, meaning an NFL-record 12 straight seasons crossing that threshold. His Colts won their final game of the season 22-13 over the Texans, though it was not enough to save the job of coach Chuck Pagano.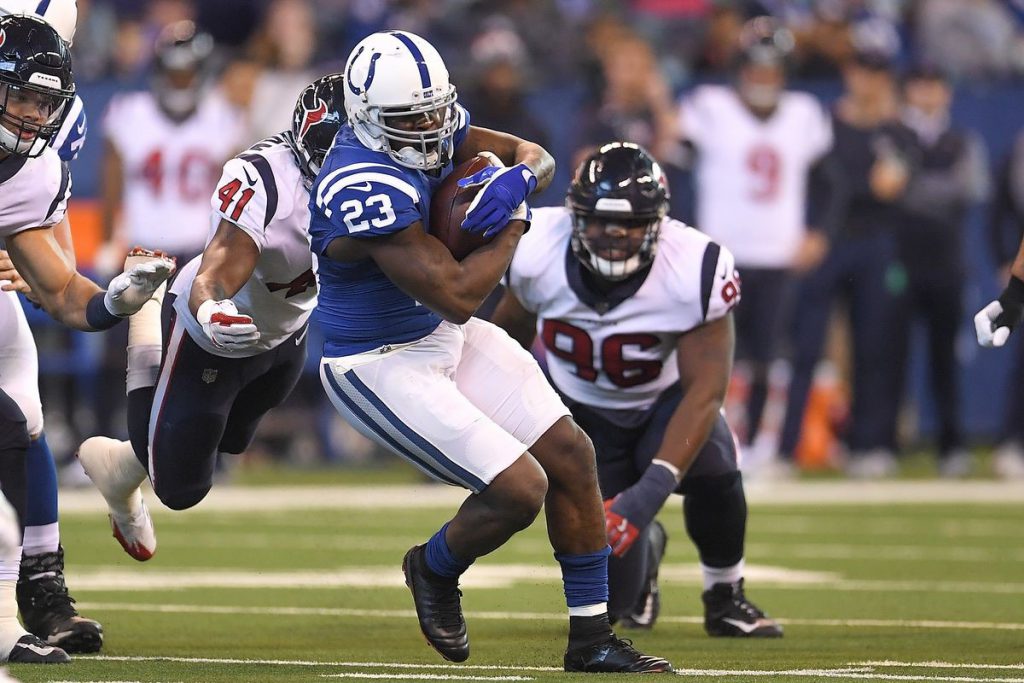 Gore continues to defy his age (32), passing 14,000 yards Sunday.
---
Check back in at the same bat time, same bat channel next week for the subsequent round of fixtures …