Four of the Top 6 (or should it be Top 5 at this point?) earned maximum points this week, with Tottenham held to a 1-1 draw with Southampton and Liverpool losing to lowly Swansea Monday evening. On the other end of the table, there are only four points separating 10th from 18th place, and 6 from 10th to 20th, with Southampton, West Brom and Swansea occupying the relegation spots at present.
In Spain, Real Madrid finally rebounded from a terrible stretch by dispatching Deportivo 7-1, while Barca's 5-0 win over Real Betis stretched their lead to 11 points, after Atlético Madrid settled for a home draw with Girona. Napoli continues to set the pace in Serie A, after beating Atlanta 1-0, while Juve snuck by Genoa 1-0 Monday. In France, Monaco beat 10-man Metz 3-1 while PSG was stunned 2-1, shrinking their lead at the top to 8 points. Finally, in Germany, Bayern won 4-2 over Werder while Dortmund were held to a 1-1 draw and Leipzig lost 2-1 to Freiburg, meaning an essentially unassailable 16-point lead for the perennial winner of the Bundesliga.
On to the numbers, with a few nibbles from around the sports world …
---
Match Week 24 By the Numbers
1-0 – Barcelona suffered their first loss of the season (not counting the preseason Supercopa), losing 1-0 to Espanyol, as Lionel Messi failed to score from the spot. The loss was in the first leg of the Copa del Rey quarterfinal and Barça rebounded with a 5-0 thrashing of Real Betis Sunday, to stretch their lead at the top of the table.
1-11 – Roy Hodgson's record in away London Derby's with Arsenal in his career, his one win coming 20 years ago. That didn't change Saturday, as his side, with the best recent form among teams in the bottom half, shellacking them 4-1.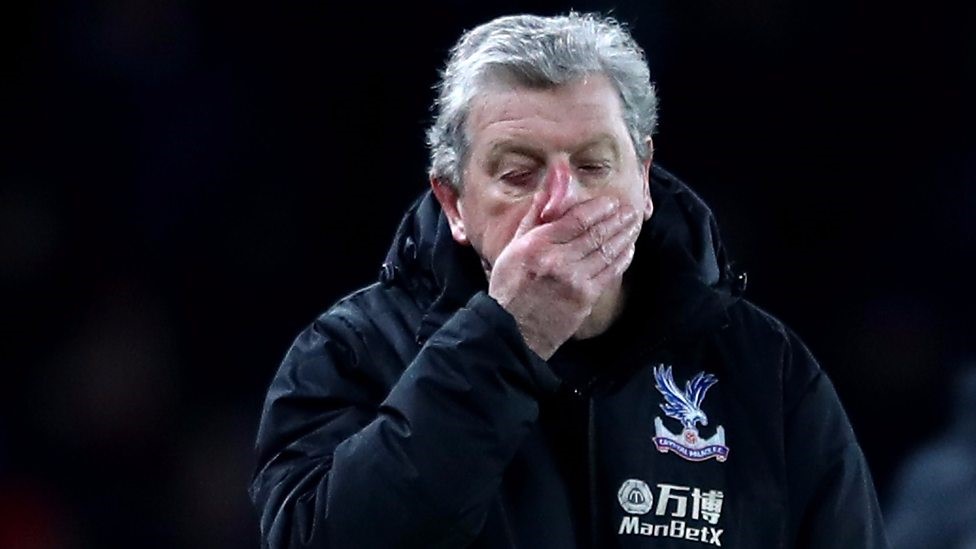 It's been a nice rebound for Hodgson after the England fiasco, but Saturday was a day to forget.
---
1-0 – 72 percent possession and 21 shots against the team at the bottom of the table (before the game) generally results in victory. But not for Liverpool Monday, as they were stunned by resolute Swansea defending and poor finishing to lose 1-0 and end their 18-game unbeaten strike. Hope abound for Spurs and Arsenal.
1-1 – Javier Hernandez came to the rescue for West Ham, scoring his first goal since October as they salvaged a 1-1 draw with Bournemouth Saturday. The Hammers are unbeaten in their last seven in all comps, though that includes four draws.
1-19 – Rumors were swirling for a day that Chelsea were considering signing Cristian Benteke from Crystal Palace. However, a side that had three straight draws of 0-0 might want someone who is a little more prolific than his one goal in his last 19.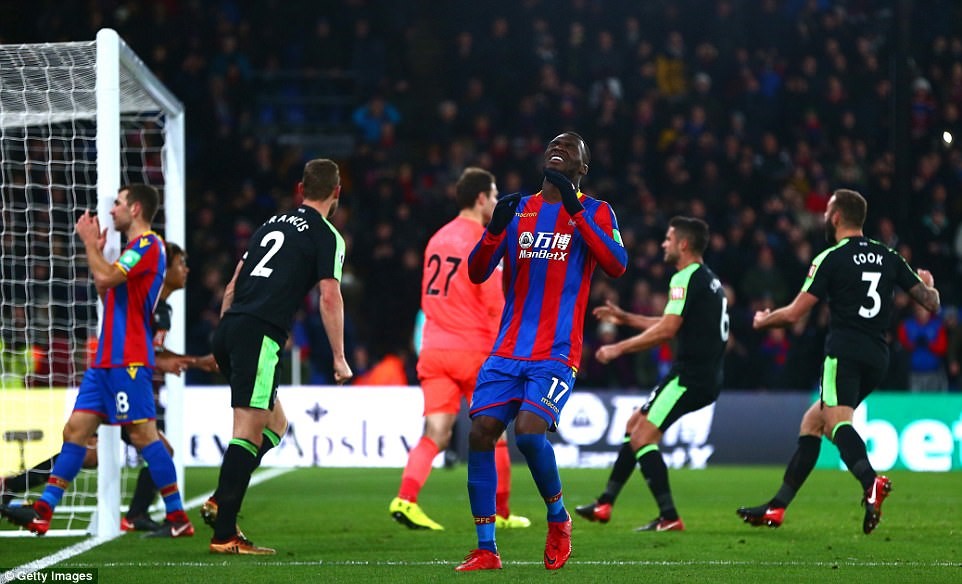 Benteke missing a stoppage time sitter against Bournemouth back in December.
---
1-23 – Man City have only lost once in their last 23 games against Newcastle, in the League Cup in 2014, with the latest victory coming Saturday as Sergio Aguero's hat trick saw them rebound from last week's loss to Liverpool, 3-1 over the Toons.
2-0 – Leicester City won by that score line over Huddersfield to move up to seventh in the table, continuing their impressive resurgence. A spot in the Europa League next season is in their sights if they can keep it up.
2-0 – Stoke City became the latest team to get a bounce under a new manager as Paul Lambert led his new team to a 2-0 victory over Huddersfield. They currently sit in 17th place, a point above Southampton, while Huddersfield dropped down to 14th, on a run of one win in their last seven.
3 – Goals for Nacho Monreal this season for Arsenal after scoring the opener in their 4-1 win over Crystal Palace. That doubles his tally in his five-year career with the club. Iwobi put in the second and Koscielny his first of the season to give them a 3-0 lead within the first 13 minutes. Lacazette scored the fourth.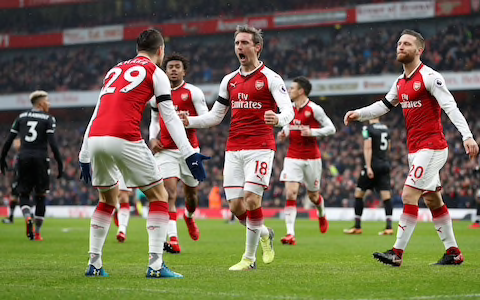 Monreal started an Arsenal barrage of 4 goals in the first 22 minutes.
---
3 – Oxlade Chamberlain has already scored 3 goals this season, his highest tally ever. In his time with Arsenal, he scored 2, 1, 2, 1, 1 and 2 goals over six seasons, never really living up to the potential some saw in him upon his arrival. His dribble rate (62.9%) is the best in his career and has already attempt 62, more than in half his seasons with the Gunners.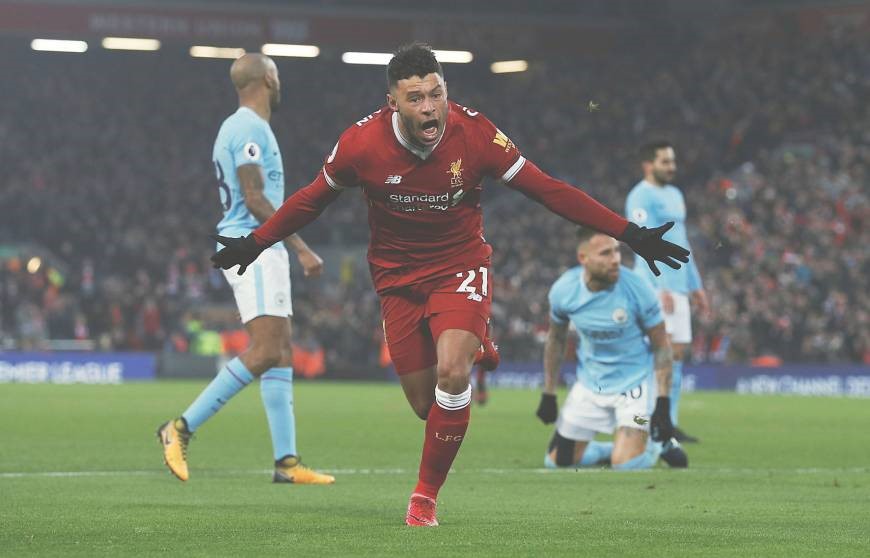 The Ox celebrating his opener against City last week. He was less sanguine Monday night.
---
4-0 – Chelsea finally got off the snide of a troubling scoring drought by putting four past a Brighton side that has been struggling after a bright start to life in the top division (with only two wins in their last 14). Hazard scored a brace, with Willian and Victor Moses contributing to the away rout.
5 – Straight clean sheets for Manchester United after they beat the reeling Burnley 1-0 Saturday. The scorer for United was Martial, who now has 9 goals and 7 assists in all competitions. One wonders where he fits in with Sanchez in the lineup and, even more worrying, what happens to Rashford for the remainder of the season.
9/16 – First goal for Real Madrid's Luca Modric since way back in September 2016 came in Real's 7-1 rout of Coruna Deportiva. Gareth Bale was on the double, meaning ex-Spurs accounted for three of the first four, while Ronaldo finally found his scoring touch late to increase his league tally by 50% (from 4 to 6), after missing several good chances. Defender Nacho also had a brace as Deportiva continued their poor run (currently in 18th in La Liga), while Real improved on a season where they only had nine second half goals in 18 games to start the season.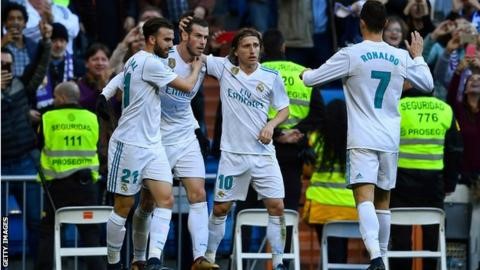 Real's offense finally woke up from a long slumber Sunday in a 7-1 rout of Deportivo.
---
15.8 – Points per game for the LA Clipper's starting guard Austin Rivers, alongside 3.6 assists a night. The much-maligned son of coach Doc Rivers is doing his part to silence the critics as he has helped the Clippers to a surprising sixth place in the West.
17 – Remember that Liverpool flop Mario Balotelli? He is on the cusp of a move to Juve after scoring an impressive 17 goals already for Lyon this season, and 35 in 51 appearances since arriving back in France. His total for the Reds? 3 in 23 …
17-0 – the Houston Rockets with Harden, Chris Paul and Clint Capela after they ended the Warriors record road winning streak 116-108. Paul had 33, Harding added 22 and Capela 18, as Houston won the season series 2-1. Could the Paul trade become the difference in shifting the balance of power in the West? A little early to say at this point …
20-10 – Jacksonville were up by that score in the fourth quarter with a chance to pull off a huge upset. Instead, as expected, the Pats defense buckled down, Bortles missed some open receivers and Brady threw for 138 yards and two touchdowns to win 24-20. What else is new … the Pats in the Super Bowl … yawn.

Brady led the Pats to the 54th comeback of his storied career and can add a sixth SB ring in a fortnight.
---
22 – Lacazette scored the fourth goal for the Gunners Saturday, in the 22nd minute, ending his longest scoring drought in five years, which had stretched to 9 games. Incoming reinforcements will hopefully up his performance in the second half (he's on 10 in the league for the season).
25 in 16 – Since the worst start in EPL history, Crystal Palace had accrued that many points in its last 16 games heading into their Saturday matchup, only one less than the 26 struggling Arsenal have earned over that stretch. But Wenger's side have been much better at home (only one loss) and cruised to the aforementioned 4-1 victory Saturday, to finally secure their first win of January and first since they beat the same opponent 3-2 on December 28.
56 – Oumar Niasse scored the fastest sub goal of the season, equalizing for Everton against West Brom less than a minute after entering the pitch. It was an otherwise forgettable 1,000th game in charge for Sam Allardyce, whose team have cooled considerably since a hot start upon his arrival. New signing Theo Walcott made an impact in his first game with the Toffees providing the assist for the 69th minute goal. Given the over 250 million pounds spent by the new owners, the dour football on display in recent weeks has the fans apoplectic.
99 – Harry Kane sits one away from a century of Premier League goals after he provided the equalizer against Southampton in a 1-1 draw Sunday. It kept Southampton winless in 11 in the league, while the Spurs fell further behind in the race for the Top 4, though assisted Monday by Liverpool's shock defeat.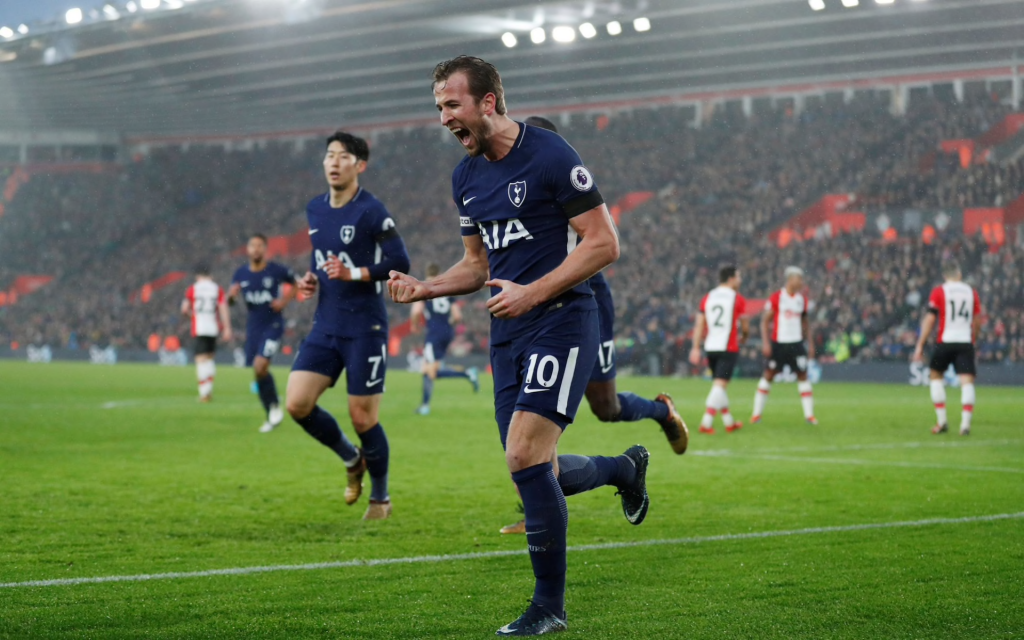 Kane celebrates the equalizer, but it was points dropped by Spurs Sunday.
---
141.4 – Remember those doubting that Nick Foles could perform on the biggest stage? Well, that was his QB Rating in the NFC Championship Game, a 38-7 blowout of the Vikings. Foles went 26-33 for 352 yards, with 3 TDs and 0 INTs. In the second half, he had a perfect passer rating (158.3) and a perfect QBR (99.9). Case Keenum, on the other hand, lived up to those expectations, with one TD, two interceptions, a lost fumble and an overall rating of 63.8. The Eagles will be looking for their first championship since 1960.
156 – Edinson Cavani became PSG's joint all-time record goal scorer, even with Ibrahimović on 156, after he scored in a midweek 8-0 thrashing of Dijon. Neymar had four in the game, but was booed for not allowing Cavani to make the record his own from the spot late in the rout.
199 – A lot of Gunners points from a Gooner this week, but the late goal from Milijovevic kept Petr Cech stuck on that total of clean sheets in his Premier League career, his last coming 12/16 over Newcastle. As with so many signings over recent seasons, Cech has been solid since arriving without being spectacular and seems to be regressing this season.
600k – The figure Manchester United are paying a week to prise Alexis Sanchez from his expected move to City. Arsenal received Mkhitarayan in return and now look set to add prolific scorer Pierre-Emerick Aubameyang from Dortmund. Sanchez has score 80 goals and added 34 assists in 166 appearances for Arsenal over the past three and a half years, but only 8 and 3, respectively, in 20 appearances in all comps this season, with 7 in 19 league appearances. He will earn 350k pounds a week in base salary, another 100k in image rights and 144k in sign on bonuses.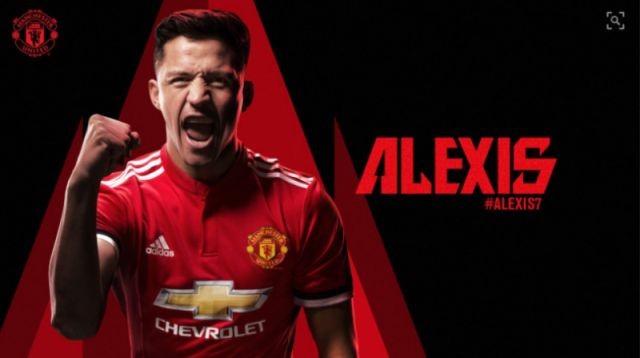 The title seems out of reach this season, barring a miracle, but could they be a year away now?
---
29,993 – LeBron James is now only seven points from becoming the youngest to eclipse 30k points in a career, just as he was the youngest to 10 and 20k. LeBron continues to tear up the record books, but has his enemies, as he was only the second-best vote getter among fellow players in all-star voting.
---
Check back in at the same bat time, same bat channel next week for the subsequent round of fixtures …