Wherein the math cave produces finely-tuned, highly scientific World Cup predictions and then throws up its hands at the random nature of single-elimination tournaments like the knockout stages.
We're surprised that math's even responding to our texts at this point.
One of the few great truisms of international soccer failed this year: the Germans are a Turniermannschaft, they go deep into tournaments, even when they kind of stink and in no way deserve to do so (see: Switzerland 1954, South Korea 2002). What's next, the English winning a penalty shootout?
Almost literally no one saw a group-stage elimination coming for the Germans. We had them as losing finalists, the FiveThirtyEight as the 3rd-most likely team to lift the cup, 90% to pass the group stage, South Korea was 18.5-to-1 against to win and 7.44-to-one against to tie against Germany in the game that knocked them out of the cup, Ed Feng's The Power Rank had them as 2nd-favorites, and FIFA ranked them World #1, favorites to retain the trophy.
So now what?
---
Reflections on the Group Stage
A wacko Group Stage hasn't left us with so many surprise entries in the last 16 (we got 14 of the 16 teams to qualify correct), but it has shuffled the hell out of the seeding, leaving an incredibly unbalanced bracket. On one side, Brazil, France, Argentina, Belgium, and Portugal all have to get through each other to make it to the final. On the other, we have Spain, England, Colombia, and a whole lot of teams that were forecasted to be mediocre at best. All three highly-rated teams on that side come with questions, as well. Spain has looked like a shadow of it's tiki-taka ball-hoarding self, turning the ball over left and right in midfield. Colombia might be without Bayern Munich playmaker James Rodriguez due to a thigh injury bad enough to need an MRI. His opponants, England, were shutout by the only decent team they faced (Belgium, in a final group game that was meaningless enough for both teams to bring out the subs.). They're also, well, England, not exactly known for lasting deep into the late stages of a tournament.
So, if there ever was a time for a dark horse team like Croatia or Switzerland to make run to the last four (à la Turkey in 2002), now is it. Croatia has certainly grabbed its share of the attention with the way Modric and Rakitic ran the Argentine midfield off the field, though one would still be hard-pressed to call them favorites over Spain in their (likely) quarterfinal matchup.
---
What we got right:

Egypt was awful without a healthy Mo Salah, and crashed out bottom of their group.
Belgium looks pretty darn good, even if their subs beating England's subs didn't really tell us that much about relative strength.
Our pre-tournament picks to take home the gold, France, took their foot off the gas at times, but pretty calmly dispatched with their group.
Russia, much derided before the tournament, found some form in a good-old home field advantage to get out of their group, though they've likely only earned themselves one more game.

What we got wrong:

Japan was a total shock to us. The guys wearing Samurai blue squeaked into the knockout round after beating 10-man Colombia and coming from behind to tie Senegal by virtue of having been whistled for fewer yellow cards than the West Africans. Still, we thought that they'd finish bottom of the group.
Poland was abysmal. Hell, let's just say we had no idea what happened in Group H (though neither did anyone else).
Did we mention that Germany may have underperformed a bit? Maybe?
---
Model performance in picking knockout stage teams
Knockout qualifier picks
Model
Correct
Should have picked
Instead of
Principally Uncertain
14/16
Mexico, Japan
Germany, Poland
The FiveThirtyEight
14/16
Mexico, Japan
Germany, Poland
The Betting Odds
14/16
Sweden, Japan
Germany, Poland
The Power Rank
13/16
Russia, Sweden, Japan
Egypt, Germany, Poland
FIFA
12/16
Russia, Denmark, Mexico, Japan
Egypt, Peru, Germany, Poland
---
The Knockout Predictions
We went with France before the tournament, and it looks like the math cave says to stick with it. So we're going to do that, stock up on beer, and close our eyes and pray to the penalty shootout gods.
Note: DRAW in the brackets below means a draw after 90 minutes, requiring either Extra Time or a shootout to decide. For predictions purposes, we consider those scenarios effectively coinflips, English penalty shootout superstitions notwithstanding.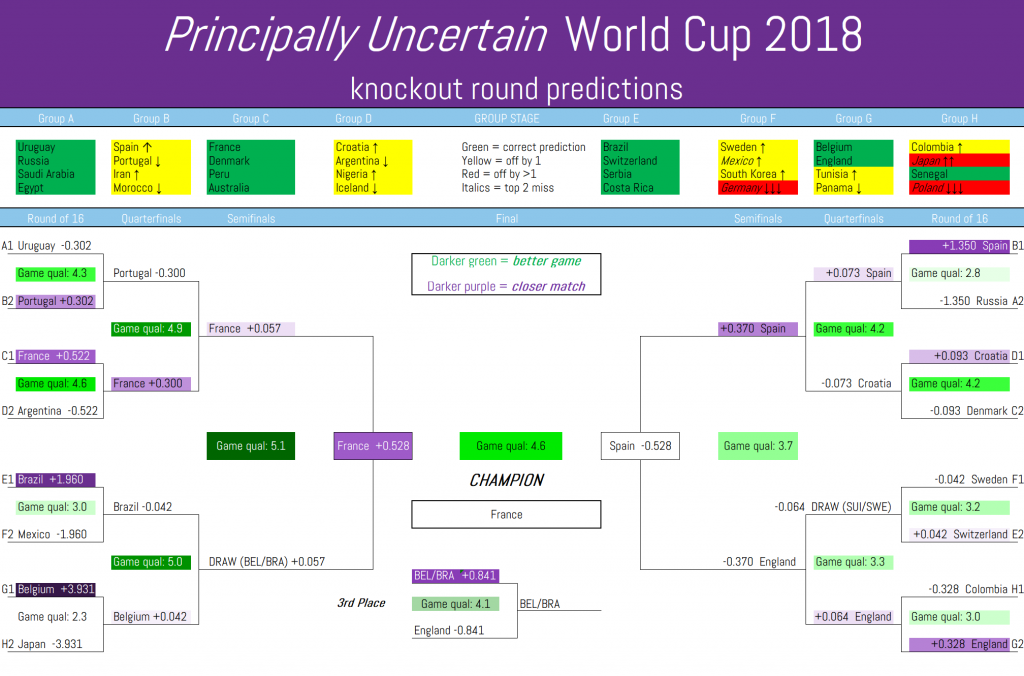 Since we conveniently have access to the detailed workings of our own model, we've included measures of game quality (basically, add up the ratings for both teams in the match) as well as how heavily each winner is favored. Darker green games should be higher quality, darker purple teams are heavy favorites.
So yes, your eyes are not deceiving you, keep an eye out for that Brazil v. Belgium quarterfinal and the semifinal between France and whomever survives that game. Should be doozies between evenly matched, extremely good teams.
---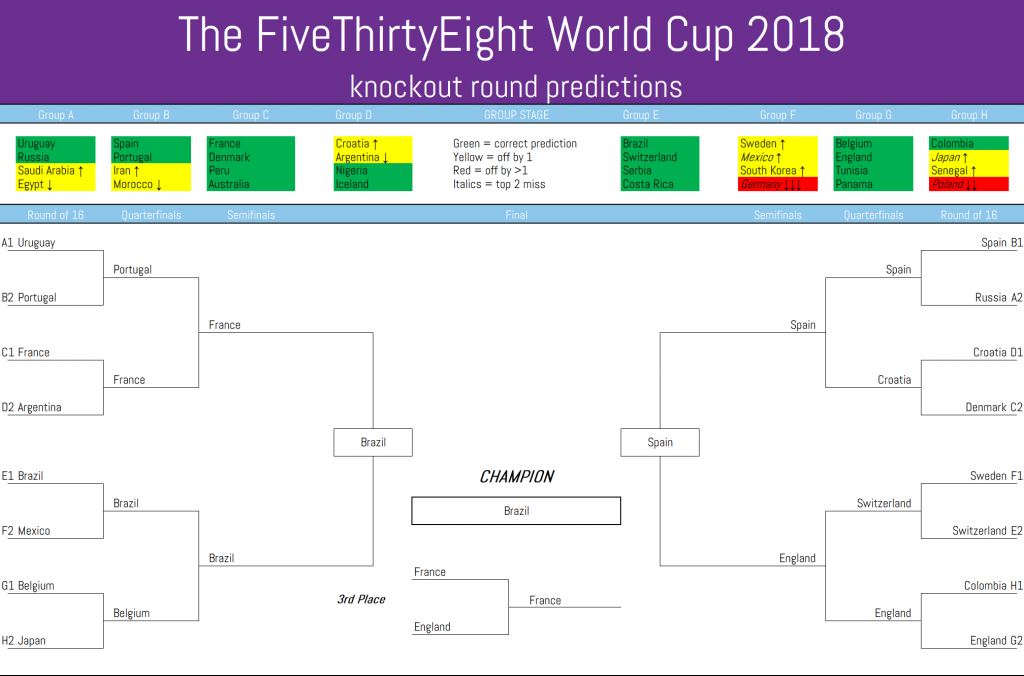 We extrapolated this based on the FiveThirtyEight's Soccer Power Index (SPI) for each team in each matchup before the start of the knockout stage. Group stage predictions are derived from their pre-tournament ratings. The only major difference in these is that they rate Brazil a smidge higher, which pushes them over the top past Belgium and France to take the title (with France taking 3rd).
---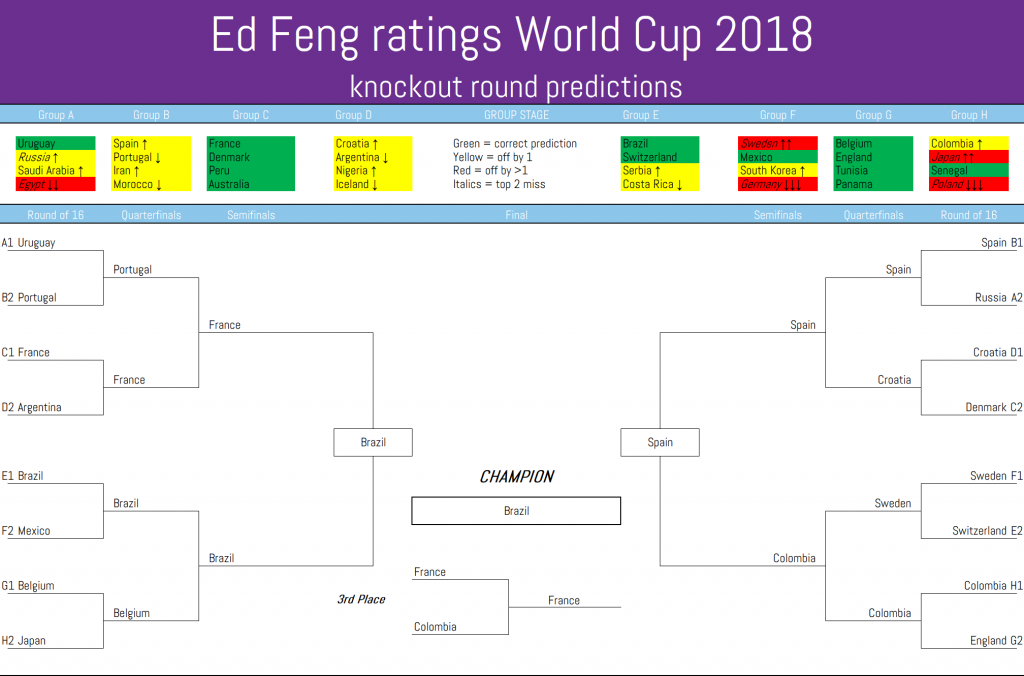 As with the FiveThirtyEight, we put this together based on Ed Feng's team rankings. His bracket looks very similar to FiveThirtyEight, with Colombia's run to the semifinals (rather than England) the primary exception.
---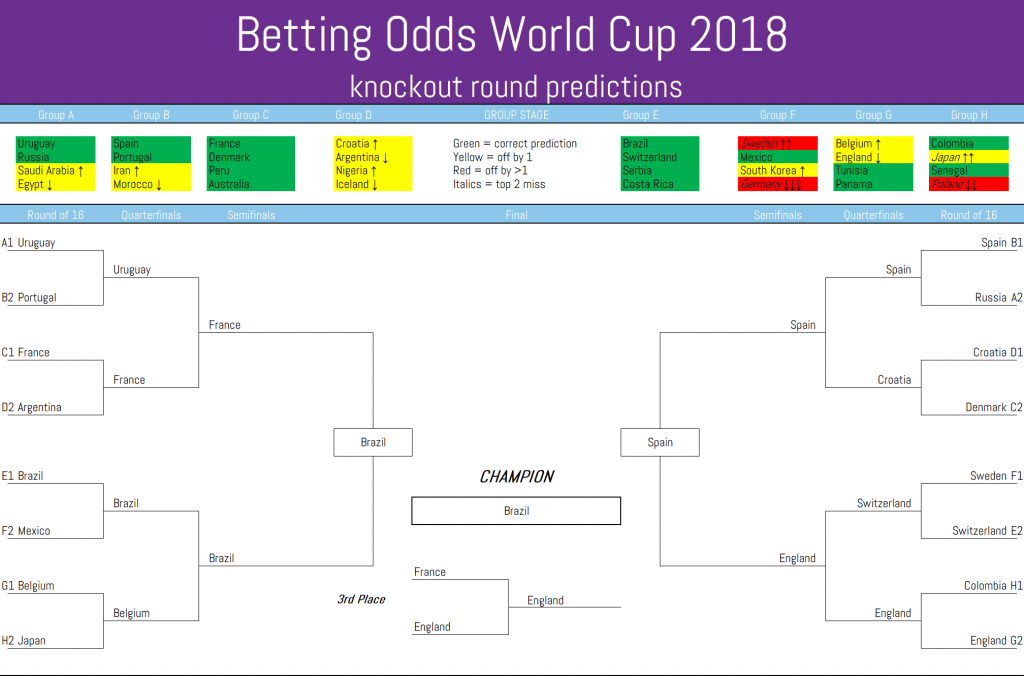 The significant difference in the meta-odds is that Uruguay is favored (very very slightly) over Portugal. The wisdom of the crowds, though, isn't taking any risks in going with Brazil to win their 6th cup.
---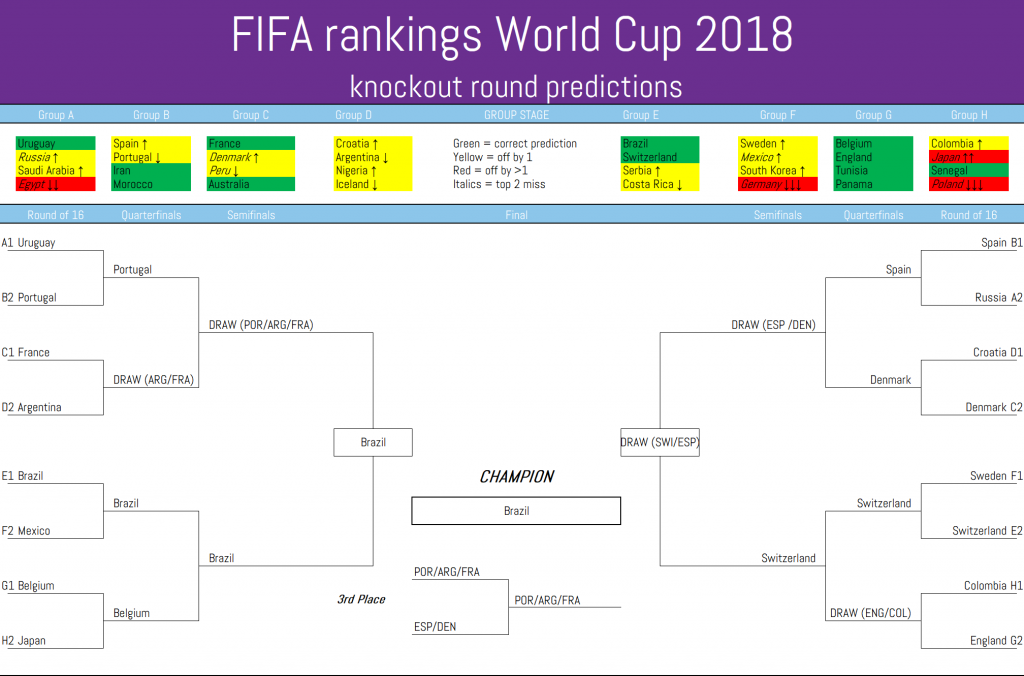 Ahhh, there's the variety. If our pre-tournament criteria of "any two teams within 150pts in the FIFA rankings" are predicted to tie, then FIFA has no idea what's going to happen, predicting no fewer than 5 matches to go to Extra Time or a shootout. A random crapshoot, indeed.
---
What's next?
See how it all plays out. We're the only ones who didn't pick Brazil over France in that semifinal, so if that actually happens, then we'll almost certainly look fantastic. If France flames out against a till-this-point-godawful Argentina, we'll look….less fantastic.
Or, maybe, something absurd is going to happen and we'll see a repeat of 2004 Greece or 1988 Denmark and the Infallible gól-o-mático will weep silent tears into a pile of empty beer cans.