Things fall apart
The center cannot hold. Mere anarchy is loosed upon the world.
The Trump Administration is in danger of burning through cabinet members faster than an impatient billionaire with a soccer team goes through head coaches. One is already down (Mike Flynn, National Security Advisor), and another is in serious hot water (Jeff Sessions, Attorney General). The rumors about internal rivalries, constant jockeying for the president's ear, and the persistent links between the Trump campaign and Russia have helped to contribute to the White House having spent the majority of its first 6 weeks in office careening from crisis to self-inflicted crisis. I can't decide if it's been terrifying, hilariously entertaining slapstick, or both (ok, it's the latter).
What's the obvious thing for a concerned citizen to do, then? Bingo. Mockery for fun and profit.
---
Known and suspected threats to White House serenity
I'd suggest a drinking game, but if things go that fast, it might be over before this article even gets published. Flynn gave us our free space in just 24 days. To recap, here's the current list of endangered appointees:
Known: Jeff Sessions may be in very hot water after he was not entirely truthful about past meetings with the Russian ambassador. At least. At most he perjured himself. It is rumored that Da Boss is pissed about his recusal from the Russia investigation.

Update: Trump keeps trying to push Sessions out, but as yet has not resigned or been fired.
Update 2 (2018-02-28): Trump continues to attack his own AG on Twitter for not pushing harder, personally, to investigate his predecessor's administration and its use of FISA warrants (regarding surveillance of Trump campaign staffer Carter Page).
Known: Sessions is OUT. Trump sat and waited for the midterms to be over to fire Sessions, in exactly the same manner as a 3-year old patiently and agreeably eating his 3 fava beans and 5 pieces of broccoli before he can throw it all out and go dig into a vat of ice cream. (Update 3 2018-11-07)

Known: Priebus is OUT. This didn't even show up on our "in trouble" radar in March. Scaramucci comes in over his objections, and Reince is shown (or opts for) the door. (Update 2017-07-28).
Rumored: Sean Spicer has been the object of constant ridicule for his doublethink acrobatics, including by (gasp!) a woman! Trump thought Melissa McCarthy's impression of Spicer made him look weak, and Trump is not a fan of weakness.

Spicey is OUT (Update 2017-07-21)
Scaramucci is OUT counted as "Replacement Spicer" on the game card. (Update 2017-07-31)

Rumored: Kellyanne Conway is rumored to have been marginalized after she (probably) broke the law by shilling for Ivanka Trump's line of products. One of the most visible early Trump mouthpieces has been hardly heard from since.

Update: As of end of July, Conway has more lives than an entire litter of cats. Still around, still giving interviews (though it'd be tough to call her a "favored" member of the cabinet).

Rumored: Rex Tillerson's State Department has been noticeably uninvolved as Trump has charted a largely "Wing it" diplomatic methodology over his first month and a half. When the Chief diplomat isn't even connected to the diplomacy, the odds on his longevity are dicey.

Update: Understaffed, often out of sync with the White House on policy issues. Still around, though.
Update: The long-rumored REXIT has finally happened! Tillerson is OUT, as Trump shakes up his foreign policy team (like you do) right before he tries to negotiate with the Democratic People's Republic of Korea.

Known: H.R. McMaster, Flynn's replacement as NSA instructed his staff to avoid the term "Radical Islamic terrorism" four days before Trump went before Congress and gave a speech with those words as the carefully enunciated highlight. We'll see if this split means anything.

Update: Trump doesn't seem to particularly listen to his advice, but no concrete evidence that he's about to get canned, either.
Update: McMaster rumored to be replaced soon. (Update 2018-03-16).
Update: McMaster is OUT on April 9 and will be replaced by ultra-hawk John Bolton, who Trump saw on TV. (Update 2018-03-22).

Rumored: Steve Bannon, Chief Strategist. Rumored to be out, the real power behind the throne, back in favor, and marginalized, sometimes simultaneously. We have no idea what to make of the Deep State-hating, Ultra White Nationalist former Brietbart head. Which is probably the way he likes it.

Update: Darth Bannon is OUT, returning to his home dimension, a realm of twisted reality and pure chaos. Or Brietbart News. He's basically declared war on the rest of the Trump Cabinet (particularly the Generals H.R. McMaster & possibly John Kelly), acting as sort of a right-wing enforcer of the nationalist agenda Trump campaigned on. Get yer popcorn! (Update 2017-08-19).

Rumored: Gary Cohn, Director of the National Economic Council, who publicly rebuked his boss for his soft response to the KKK and neo-Nazi rally in Charlottesville, VA. Trump probably sees this as a sign of disloyalty. (Update 2017-08-26).

Update: Cohn is OUT, having lost the battle with Trump's economic protectionism. After the announcement of imminent steel and aluminum tariffs, it was only a matter of time before he bailed. (Update 2017-03-06).

Known: Sebastian Gorka is OUT. Either forced out by new Chief of Staff John Kelly or resigning to continue to serve the President on the outside, this represents a pretty big setback for the economic nationalist portion of the administration (taken together with Bannon's departure). (Update 2017-08-25).
Known: Tom Price is OUT Coming totally out of the blue, Price quickly got in deep trouble with his boss over how badly his chartering of private jets on the government dime made The People mock Trump's "Drain the Swamp" chant. So Price got the axe.
Known: Elaine Duke is (going to be) OUT Duke, passed over for the Homeland Security post in favor of Kirstjen Nielsen, will step down from her Deputy DHS Secretary role in April. (Update 2018-02-23)
Known: Hope Hicks, Communications Director is OUT One of the few advisors to consistently stay on Trump's good side, Hicks' resignation comes a day after she admitted to the House Intelligence Committee that she has lied in her role as the President's spokeswoman The exact date of her departure is TBA. (Update 2018-02-28)
Known: Scott Pruitt, Administrator of the Environmental Protection Agency is OUT. One of the most effective executors of Trump's agenda, Pruitt's term as EPA head saw significant rollback of environmental regulations. That didn't insulate him from an avalanche of ethics scandals, which eventually resulted in his resignation, a kind of Independence Day present to the whole country. (Update 2018-07-05)
Known: John Kelly, Chief of Staff (v2.0), is OUT. Having lost the ear of the President, Kelly finally gave up the attempt to be the adult in the room as Chief of Staff.
Known: Ryan Zinke, Secretary of Interior, is OUT. Along with Pruitt, Zinke was one of the most effective of Trump's administrators in enacting the President's stated policy goal of deregulation and privatization of public lands. That doesn't mean that you are immune to scandals.
Known: Jim Mattis, Secretary of Defense, is OUT. After call between Turkish president Recep Erdogan and Trump leading to Trump's pulling American troops out of Syria, Mattis wrote a scathing resignation letter rejecting Trump's isolationist and simplistic worldview.
For those keeping score: 16 of the bingo tiles have been called (counting Flynn's free space). Yes, this is a record pace.
---
Sample card below. Click here for full size sample.
Follow this link or click the card below generate a random printable bingo card.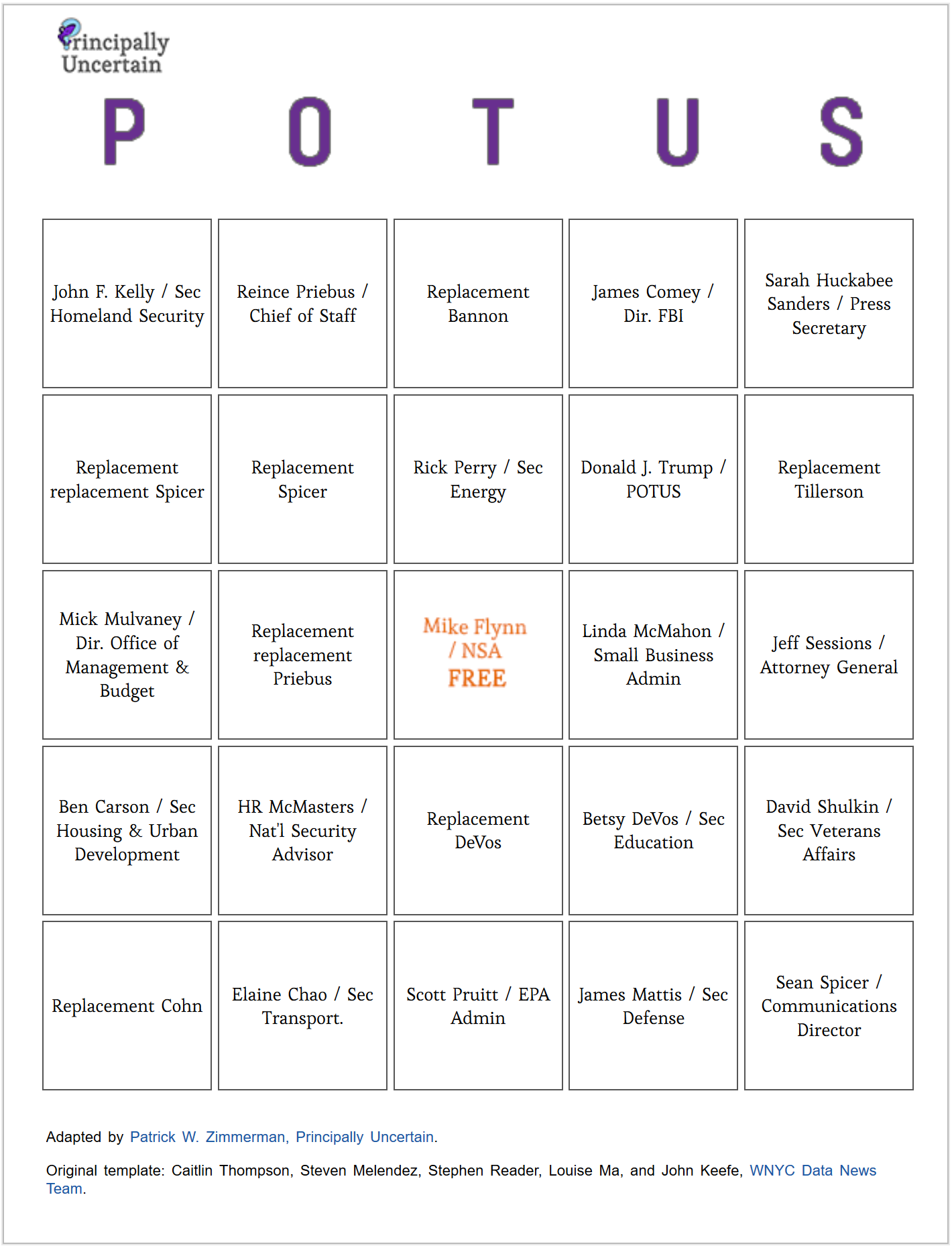 ---
Attentive readers will note that some of the squares will say "replacement." That square is meant to be crossed off if two people have left the same post. For example, if Jeff Sessions ends up resigning or being fired over his connections to Russia, and whomever replaces him is also fired at some point, then you would cross off "Replacement Sessions." The replacements are obviously a little harder to get, but potentially worth twice the laughs.
On second thought, if someone can figure out a good way to make this a well-calibrated drinking game so that it a) goes fast enough for people to actually get drunk and b) doesn't go so fast that we all die of alcohol poisoning when and if the first member of the Cabinet bails, pleasepleasepleaseplease with a maraschino cherry on top let me know in the comments.
Sure, this could all be for naught. The entire Trump Administration could turn constant turnover into strength-through-renovation. He could right the ship of state and Make America 1958 again.
But I doubt it.