By: Richard W. Sharp
Some things are private, some things you hold back, and there are some things that nobody wants to hear about. Don't get too excited, I'm talking about that harmless but less than wildly popular pastime you avoid mentioning because explaining it is more trouble than it's worth.1 John Waters fans, theremin enthusiasts, and amateur mycologists are probably familiar with the effect. The beauty of the niche is that the interest isn't idle, it's a passion. It's something you pursue despite the fact that the people you see in the course of the day just don't get it.2
Ashley's (@fullmetalashley) Anime culture article lays out a classic example of the niche interest,3 but it offers something more than pub trivia gems. It tempts us with the possibility that the fundamental shift in consumption in the internet age (thank you streaming video and sharing culture) may be driving the growth of personalized interests in general.4 The piece is a case study that begs the questions whether we have moved, not just technologically but socially, beyond the days of broadcast and into the days of personalization. A quick plot hints that the growth in popularity of Anime (at least in terms of paid subscribers) outpaces the growth of the internet in general and even Netflix membership (see Chart 1). Are we being swept along by the Rise of the Niche?
---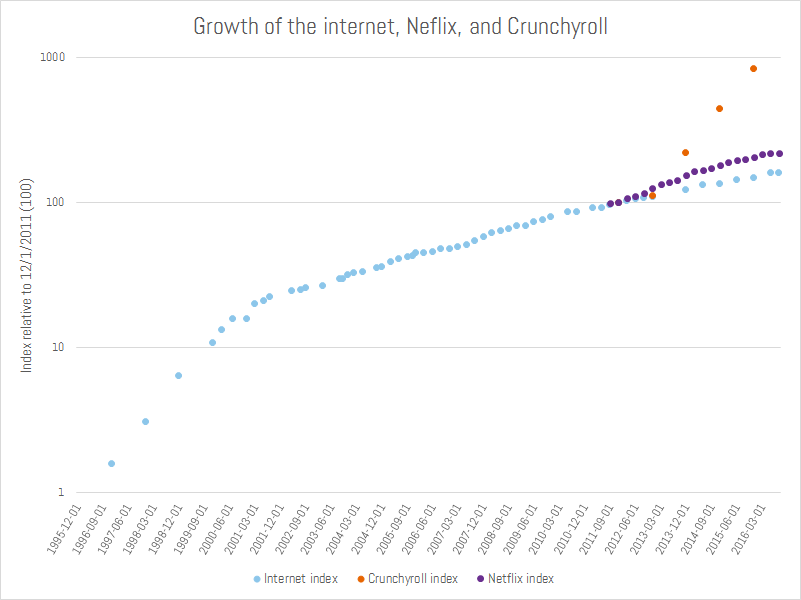 Crunchyroll data from Ashley's article. Internet data. Netflix growth data here and here.

Chart 1 shows the growth in subscribers of the internet as a whole, Netflix, and Crunchyroll. Crunchyroll and Netflix numbers have been scaled so that they appear similar in size to the total internet subscriber numbers. What we're really interested in here is growth rate: the slope of the lines. Are niche interests getting a boost from the personalization potential of the internet? The Crunchyroll numbers play along with that theme by growing faster than not only the internet in general, but also Netflix.
---
Well one chart with a convenient trend hardly makes the case (there're5 still those pesky knots, causality and generality, to untangle), but it does establish probable cause.6 So let's get started with the hypothesis: during the age of broadcast TV, anime lacked the mass market appeal necessary to be a significant presence in the market. Now, video streaming services mean that it can connect a geographically distant, but spiritually tight-knit (paying!) community of sufficient size to nurture the creation of more and novel material. Furthermore, this effect applies to a range of niche interests.
To explore the idea we'll need a working definition for the Niche. Let's propose a few guidelines:
Community: The audience for the interest lies in a Goldilocks Zone: not so many followers that it's just waiting to be picked up by the broadcast networks, but there are sufficient numbers of people (if they could be gathered together) to support a creative ecosystem. Individual interest is not enough. If you're the only person who's into it, that's either visionary or weirdo, not niche.
Independent: A small sub-community of a larger interest, e.g., fans of a particular team like the Seattle Seahawks. There may not be enough of them to warrant a national show dedicated to the team, but as part of the NFL they receive mass market support from the parent community. For example fans can watch the team every week on national broadcasts and recaps on ESPN. NFL revenue sharing and a publicly funded stadium mean that any fan and fellow travelers can sleep easy at night knowing that the support of the collective stands behind the team. The niche must stand on its own.7
It's often helpful to narrow the focus of projects like these just to make some initial progress, so let's begin by limiting ourselves to things that are delivered by the internet. That is, an experience that can be fully enjoyed with an internet connected device, and not activities that are predominantly offline experiences. Initially, taking anime as our guide, TV and film genres should make a good starting point.
So, from anime to zombies, which genre's have received a boost from personalization? Who's the next underappreciated genius who just needs a little crowd funding to break through? We'll start by putting together some examples of niche interests (of all kinds) and supporting data in order to test the idea that internet enabled personalization has allowed them to flourish.8
---
Next Steps
Reading (like anything interesting, somebody else has already thought about it).
Examples: Do you have any favorites oddball hobbies to add to the List of Niche?
Data: Potential sources include Google trends, streaming video data, reddit, radio/tv/film/podcast (like IMDB). Have a catalogue of zombie references in radio, tv, and film going back to the 40s? Let us know!
---
List of Niche
I played a lot of Flight Simulator as a kid, but in conversation it would face an inevitable current of mild criticism: "Why are you playing a game where nothing happens?"9 I loved that game because I love flying, and over the years I've come across some others who share that excitement.10
Minimalist music a la Philip Glass.
---
1 Either because the activity is unusual or because people have a hard time understanding why anyone would be interested.^
2 Or, you might just be really, REALLY niche.^
3 Or, at the very least something that USED to be considered niche but now might actually be pushing the mainstream.^
4 Considering the date this is being posted (11/1/2016), it's time for a hopeful future piece. The line for the apocalypse is too long right now: US election, hottest year on record, Syria, Brexit, child refugees in Calais (and that's just this week's headlines).^
5 The spell checker doesn't like this contraction, but I'm using it because it's entropically interesting.^
6 Dang, I was supposed to keep it hopeful, sorry about the investigation imagery during FBI disclosure week.^
7 To be fair, there are some niche interests that fail the shame test put forth in the opening paragraph. Interests that are both easy to understand in themselves and for the enthusiasm they elicit, but that are still niche because they're hard to pull off ("lovely, but all the time and effort – not to mention risk – just don't make it worth it"), for example, homebrewing.^
8 Any examples to the contrary, ideas that didn't catch on even though people can watch as much as they like on youtube, are more than welcome as well. The case of the frustrated construction is a special interest itself here at Principally Uncertain.^
9 Soccer / fútbol haters note: half the world disagrees with you. Almost literally half.^
10 I would like to direct the court's attention to the internet, specifically Google and Youtube results for terms like: 'plane spotting', '787 takeoff', and 'crosswind landing'.^