Reps abandon sinking ship: GOP retirements open a door, but are third parties ready to win?
By: Richard W. Sharp
"There's no putting lipstick on [it]." Republicans are headed for the exits as we close in on the 2018 midterm elections. While it's a standard tactic to chalk up unpleasant news to some sort of natural cycle, Republicans now admit in public that they're facing serious electoral headwinds.1 There are currently 49 House seats up for grabs without an incumbent in the race, and those are in Republican districts by a 2-1 margin. Whatever their individual reasons, Republican's en-masse seem to have a clear opinion about the House come 2019, and it's not a political future they want to be part of.
Of course, there's a big gap between Republican weakness and electoral wins by Democrats or third parties that would be open to forming an anti-Republican alliance. In earlier installments of this series we identified several districts with potential for the right third-party candidate. We searched for districts with voters who would never vote for a Democrat, but who weren't pleased with Republican offerings either. While we stand by the assertion that there's room for more voices in the political debate, third parties traditionally fare very poorly. Hey guys, as a political party you're looking to change the system from within, so you need to win. It's (past) time to close down the vanity projects, get down to fundamentals, and win some seats and relevance. 
---
Another one bites the dust
The number of candidates who will not seek reelection to the House is 44 and counting, and there are 49 races with no incumbent.2 We've blown past the 40 who chose to leave in 2016 and similar numbers in the cycles past. There's also a pretty clear skew among the 49: 34 Republicans to 15 Democrats.
One trend is clear since our last update in September, 2017, we've shifted from "seeking higher office" to "spending more time with my family" (and a few "spending more time with my lawyers"). 25 members are retiring outright, 18 are seeking higher office,  6 House members (including 2 Democrats – this one's bi-partisan) are exiting thanks to allegations of sexual misconduct, and Patrick Tiberi (R) resigned from Ohio's 12th this month to jump start his lobbying career.3 Reason's cited for leaving come from the standard grab bag and include include such time tested standards as "spend more time with my family" and "focus 100 percent on my final year as the chairman."4 Regardless, the fact is that every GOP retirement makes the Democratic path to a House majority a little easier, especially when big-name incumbents from swingy districts decide to leave (here's looking at you Darrell Issa, Ed Royce, Ileana Ros-Lehtinen, Martha McSally, David Trott, Frank LoBiondo, and Dave Reichert).
Here's the complete (as of January 16th) list of congressional districts that will not have an incumbent on the ballot along with some details about the current or most recent office holder. We've updated our assessments keeping in mind the same criteria as before: to be relevant, a third party must earn a valuable swing vote in a year the electorate is moving to the left. This means targeting districts that are out of reach of Democrats, but that not reflexively Republican.
Legend:
Green

= 3rd party targets.

Yellow

= The Big 8 (formerly the Big 4), obvious targets, but likely too obvious and out of 3rd party price range.

Orange

= Long shots, but worth keeping an eye on.
* = new entry since our September, 2017 update.
What's the difference between resignation and retirement? Quitting, for reasons other than heading for higher office, before the end of your term.
Let's also revisit the districts we selected in May as potential third party targets. They've all been pretty stable since we last looked. There have been no retirements from these districts, and the Cook ratings haven't changed since September.
---
Why not ride the wave?
The recent spate of GOP retirements has led a number of people to predict a Democratic wave in 2018. After all, the party in power tends to lose ground in the midterms, and retirements can be a leading indicator of what's to come. It's looking good for Democrats. So why are we obsessed with third parties, which have a reputation for playing spoiler, not kingmaker? Because representative government requires political competition, not collusion.5 For people to have their interests represented, "voters should choose their representatives, not the other way around."
Of course, it's also necessary to wrest the levers of power from those who would use them to replace the rule of law with one-party rule. Fixing the system, from within the system, means winning influence, that is, demonstrating to the opposition that you can win votes (repeatedly). Ideological purity may be noble, but it isn't influential: you're going to have to play well with others in the opposition (just ask Walter Modale, or Eugene V. Debs, or Leon Trotsky, or…).
Third parties have not done this effectively. Take the Green Party for a recent example. Most elected officials with a Green Party affiliation sit on city councils or school boards. The highest office holders are two representatives in the state of Maine's House of Representatives. Nevertheless, the bulk of the party's fundraising and spending goes toward its presidential campaigns. In 2016, the Green's spent 1000 times more money on Jill Stein's unwinnable campaign that on all its Senate and House efforts.6
1000 times more!
OK, OK, Presidential campaigns cost more. In fact, the major parties also spend 1000x more on a presidential campaign ($1B), than on a House race ($1M). Of course, they have a non-zero chance to win the White House, even when they run candidates like George McGovern. Third party resources have to be used strategically. If you can't compete for the single presidency or one the 100 Senate seats ($10M), at least make a serious run for one of the 435 House seats.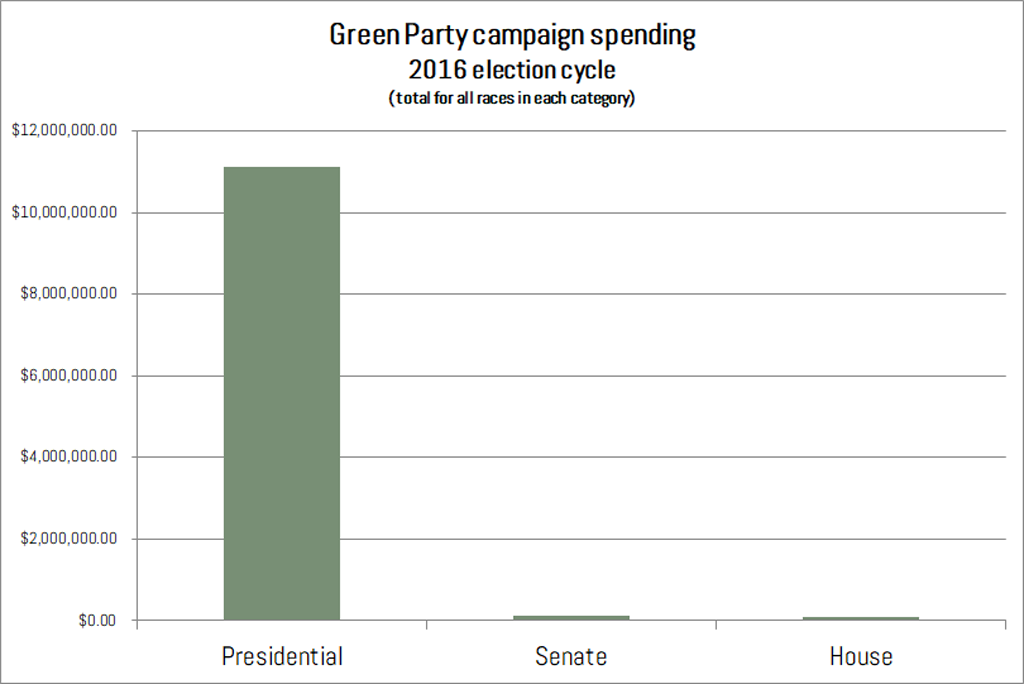 Yes, third parties face significant difficulties, for example, the right to appear on the ballot is a state-by-state battle against entrenched interests. A presidential campaign offers fundraising and publicity opportunities to counter these challenges, but even the most delusional campaign knows it isn't about winning the presidency, so it can't be where you sink all of your resources.
House seats are winnable for a third party candidate with a serious campaign. Consider Evan McMullin's independent presidential campaign in 2016. Although he lost, he posted significant results in UT-04, where he placed third in a three-way split 32% (Trump) / 29% (Clinton) / 22% (McMullin). So the right third party candidate can make up for lack of national exposure in a focused race. However, it takes more than charisma to win. In 2014, with Democrats in retreat, an open House seat in NY-21 was well contested by the Green's Matt Funiciello, who received 10.6% of the vote  (and 4.6% when he tried again in 2016). Nice showing, but Green Party spending in the 2014 race was only $35,000 according to the FEC (and $15,000 in 2016). Spending five figures on a House race isn't going to cut it in NY-21.
Winning one of these seats takes more than a well spoken candidate; it takes a professional campaign, and that takes money.
---
Conclusion
We're closing in on the end of congressional retirement season. By March 9 filing deadlines for 50% of house seats will have passed, and the number will hit 90% by the end of May. The strong anti-Republican current presents an opportunity. It's time to buckle down and do the hard work of opposition politics: uniting and representing the people the powerful have left behind.
Want serious candidates? Run serious campaigns. Play to win.
---
Notes:
1 Fortunately for Republicans, they've been working hard to make sure the election comes out the way they want it to by suppressing votes, gerrymandering, good ol' FUD and obfuscation, and just getting plain lucky draw in terms of the Senate seats that appear on the schedule this year.^
2 What's the difference between "will not seek reelection" and "no incumbent running"? Several members didn't choose to retire, they resigned, mainly in the face of allegations of sexual misconduct. We make the distinction because 44 is the number widely reported, and comparable to previous years, but for our argument, we're interested in all open seats. There were also some resignations for legitimate reasons, for example Tom Price left GA-06 to lead HHS for the illegitimate administration. These resignations mostly came early enough for a successor to be appointed, so these races do technically have an incumbent.^
3 "Today, it is with a humble and thankful heart that I announce I will not be seeking reelection. While I have not yet determined a final resignation date, I will be leaving Congress by January 31, 2018. I have been presented with an opportunity to lead the Ohio Business Roundtable that will allow me to continue to work on public policy issues impacting Ohioans while also spending more time with my family."^
4 Come to think of it, that sounds pretty sweet. I'd like a job where I can focus 50% while pulling in $174k a year.^
5 "That was in 2016, when the prevailing wisdom across the US was that partisan gerrymandering was one of the legitimate spoils of American politics."^
6 Sourced from FEC data on Green Party spending for President, Senate, and House campaigns.^