America's best beer cities: What small cities have the best brewery scene?
Beer is lovely. Beer is good.  But you best be picky; yes, you shouuuuulllldddd…..
To rephrase: Good beer is enjoyable. Great beer is sublime, and even bad beer has its place (cheap, in the woods or on a rec league field when it's a bazillion degrees out).  Mediocre beer, in contrast, can be a sad glass of disappointment and a lingering residue of failed expectations and shame in a mug.  Looking at you, PBR.
For a fashionable veneer of comically scientific precision, we can graph beer pleasure per ratings point. To the math cave!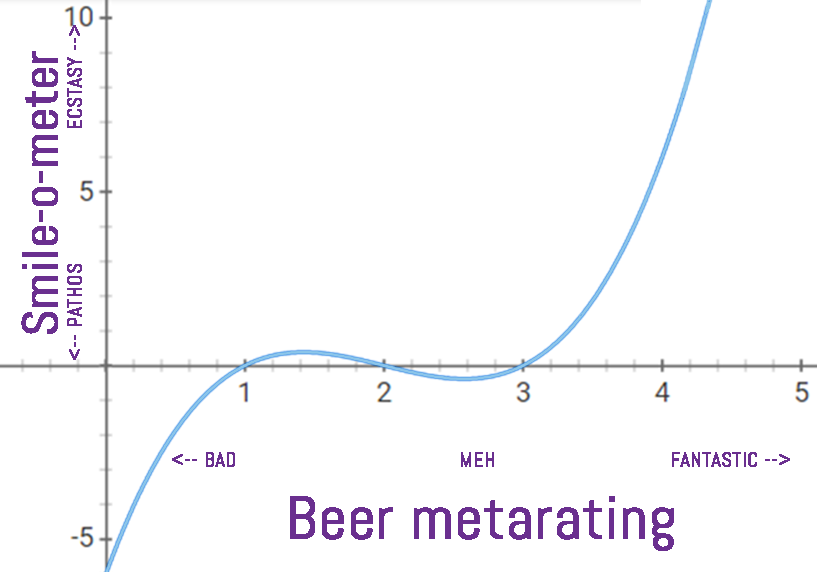 According to absolutely precise, 115% guaranteed-to-be-valid SCIENCE, beer follows the trinomial function f(x)=(x-1)(x-2)(x-3).
So, where can we find the elixirs of life, where should we direct our spiritual (or at least gastronomical) search for inner peace?
Glad you asked.  We've got a database for that.
---
The question
What small cities have the best brewery scenes?
We're dividing up our look at city brew scenes into three sections.  This week, we'll look at small cities (under 2 million in the metro area), next up, medium cities (2-4 million people), and big cities (4 million+).
Something for everyone!  You can pick the size of the city you feel most comfortable in, then find the ones with the best booze. 
---
Short-short version
If you like small cities and big brews, move to New England, because dayamn.
The usual suspects appeared on this list, but there were also some surprises.  We had no idea that Charleston, SC or Richmond, VA had such quality breweries.  This requires further investigation.  In-person "field research." 
Also, if breweries are your number-one priority in picking a living location (and, honestly, if you're reading this, that probably doesn't sound so ridiculous), small cities are the place to be.  They dominate the top of the list once we factor in brew/capita, taking the top 7 spots of our 52 metro area list.
---
How do we quantify brewery scenes?
(Yeah, yeah, we get it, some of you would rather just skip to the results. ::Presto! Instant gratification::!)
"Best" is a fluid term, but we are proceeding from the assumption that it is some form of quality+quantity. Others (like Russell Goldenberg, of the D3 visualization masters of pudding.cool) have their own secret sauce for this magical recipe.  Here's ours.
We take 52 metro areas (either individual urban populations or combined statistical areas). We're not entirely convinced that Santa Rosa, CA is that separate from the Greater San Francisco Bay Area, nor that Newark is distinguishable from New York in terms of what would be considered a local beer.

In practice, this means Combined Statistical Areas & cities above 500,000 people, with some special exceptions added in because of a high concentration of breweries (Burlington, Bend, Asheville).
Yeah, 50 is a nice round number, but there were just too many good small cities to fit under that limit. Are you going to justify keeping out Bend or Fort Collins? We thought not.

We marked off all breweries within a 50mi radius of city hall (or the center of the metro area, in the case of a binary system like DC-Baltimore). Exceptions: because of their unique geography, Anchorage and Honolulu were given credit for all of Alaska and Hawai'i, respectively.
Then we created a metarating by averaging the ratings for all of their beers on Beer Advocate (a more "professional" magazine) and Untappd (a socially-sourced rating system).

Minimum 5 beers must be rated to qualify.

We then took only breweries whose metaratings were 5/5 or better. We informally call this the Sam Adams Line, on the understanding that anything above that can generally be considered a craft beer without too much argument. 
We then calculated the percentage of breweries in a given area that were superlative (4/5 or better as an average of all their beers, which is quite hard to get).
To control for the effects of simply having more people, we did a rating per capita. For example, while New York has more breweries that meet the minimum standard (79) than Portland, ME (37), most people would concur that Portland has a vastly superior brewery scene.  This accounts for that.
We calculated an adjusted metarating for every metro area. Average metarating X (1+superlative brewery percentage)
Then, we divided the number of qualifying breweries by the metro area's population and multiplied by (1 + z-score) of its adjusted metarating (for the entire 54 area sample) and multiplied by 106 (for readability).
In plain English, Brewery score = quantity of breweries/person X quality of breweries X 100,000.
---
The top 5
1 – Burlington, Vermont (#1 overall) – Brewery score: 64.183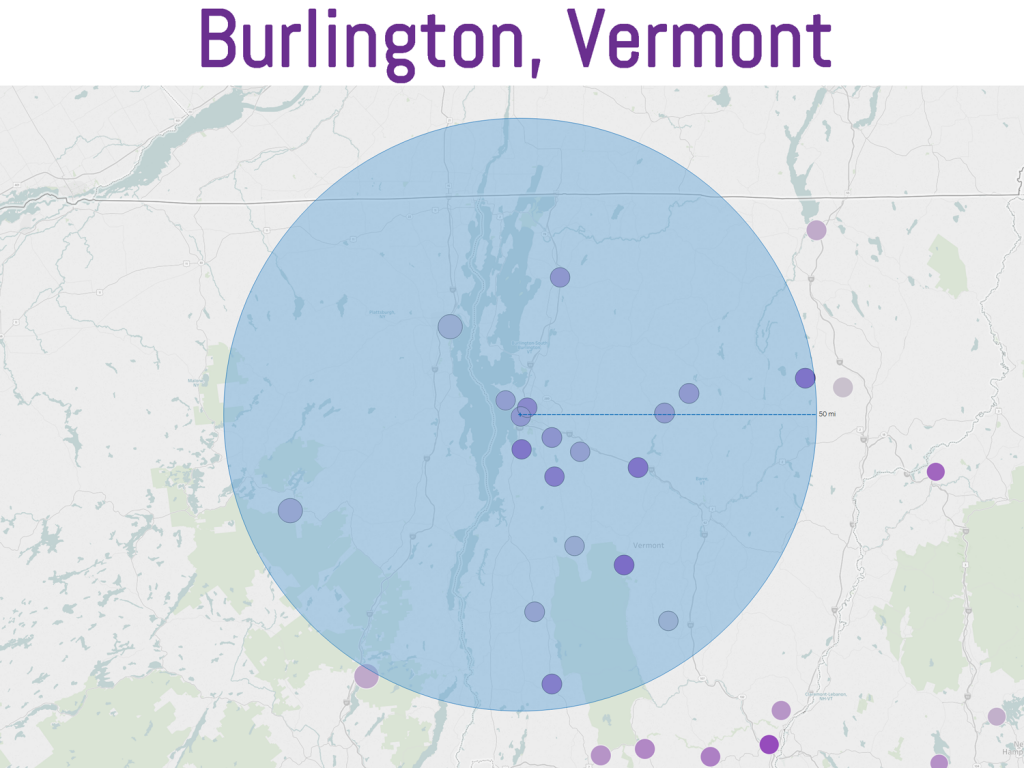 Behold! Astoundingly good brews are hiding in the Green Mountains, just waiting for you (yes, you, reading this) to go and find them.  Burlington wasn't only the best small city of our 50 metro area sample, it's the best brew city per capita in the country. 
Winner, winner, beer with dinner.
Number of good (3.5+) breweries: 32 (0.000149/person)
Superlative breweries: 9
Highest-rated brewery: The Alchemist (Stowe, VT) – 4.475 metarating

Highest-rated beer: Heady Topper (Double IPA)
---
2 – Portland, Maine (#2 overall) – Brewery score: 17.333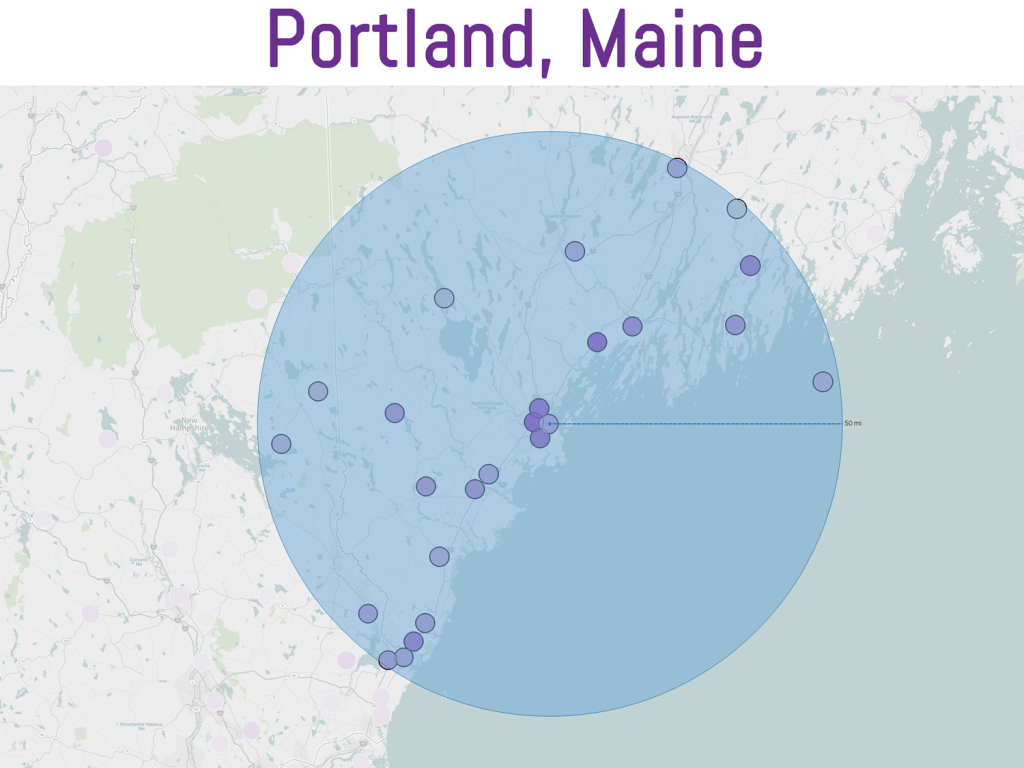 Told you New England was good.  Portland was an early favorite for the top of this list, and it didn't disappoint (though Burlington was a surprise at just how much it pulled away from everything else). 
Number of good (3.5+) breweries: 37 (0.000071/person)
Superlative breweries: 6
Highest-rated brewery: Bissel Brothers (Portland, ME) – 4.145 metarating

Highest-rated beer: Swish (Double IPA)
---
3 – Bend, Oregon (#3 overall) – Brewery score: 16.971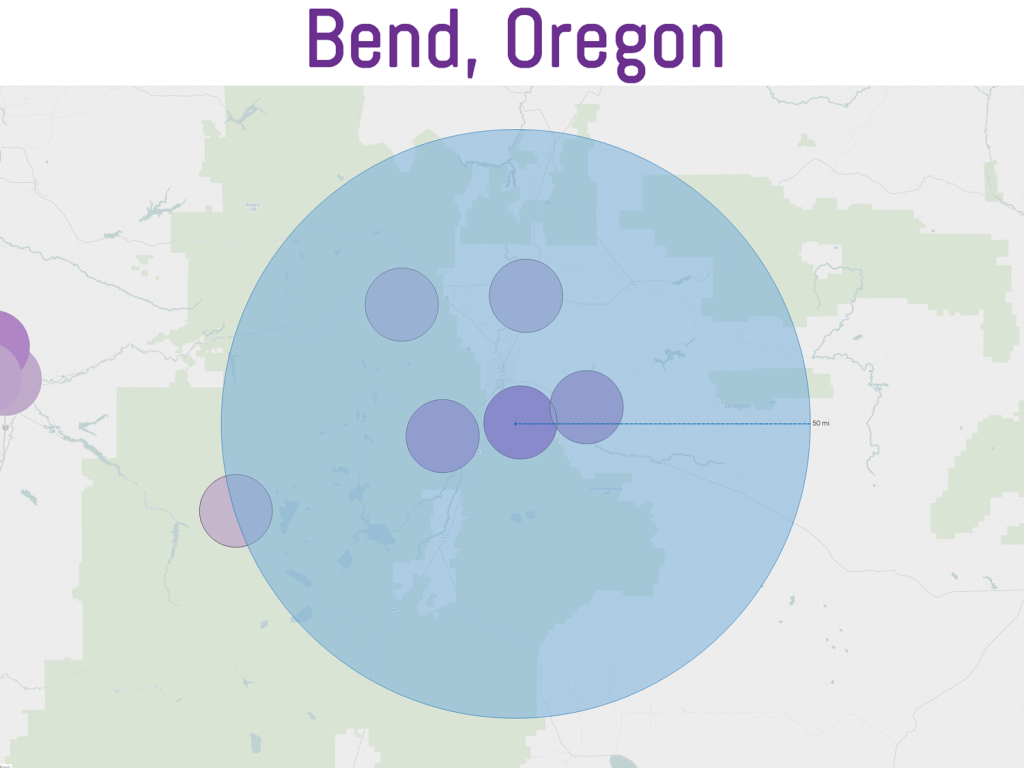 The Pacific Northwest's real craft beer capital. Portland (Oregon) isn't bad, but just a couple hours away is the High Desert logging oasis with ALL the beers. Good for fishing, hiking, lava tubes, and some of the best of the best beers. Bend: more than just Deschutes (though they're pretty good, too.)
Number of good (3.5+) breweries: 15 (0.000090/person)
Superlative breweries: 2
Highest-rated brewery: The Ale Apothecary (Bend, OR) – 4.245 metarating

Highest-rated beer: The Beer Formerly Known as La Tache (Sour)
---
4– Hartford, Connecticut (#4 overall) – Brewery score: 7.216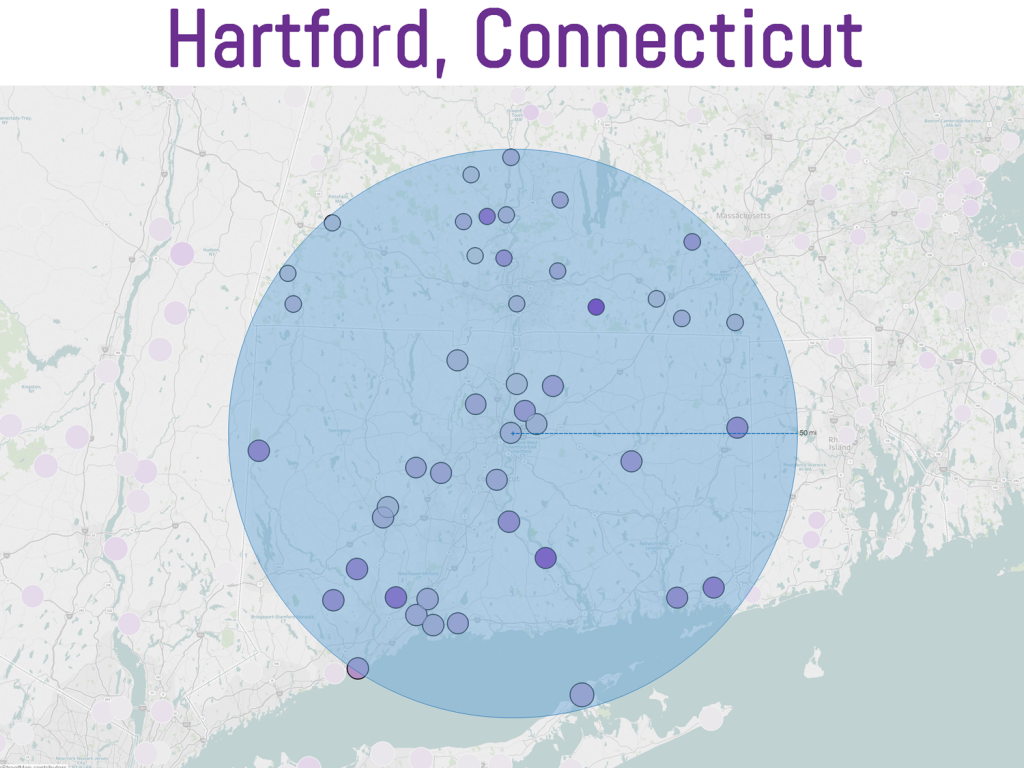 New England gets 3 of the top 5! We can hear the flame wars starting from here. The carnage will be beautiful. Though, seriously, this is another state that appears to be criminally under-hyped. Mystic Pizza and really highly rated craft beer. Thinking more people should stop to have a drink instead of just associating the state with getting caught in traffic between Boston & New York.
Number of good (3.5+) breweries: 56 (0.000046/person)
Superlative breweries: 5
Highest-rated brewery: Tree House (Monson, MA) – 4.425 metarating

Highest-rated beer: King Julius (Double IPA)
---
5– Fort Collins, Colorado (#5 overall) – Brewery score: 8.277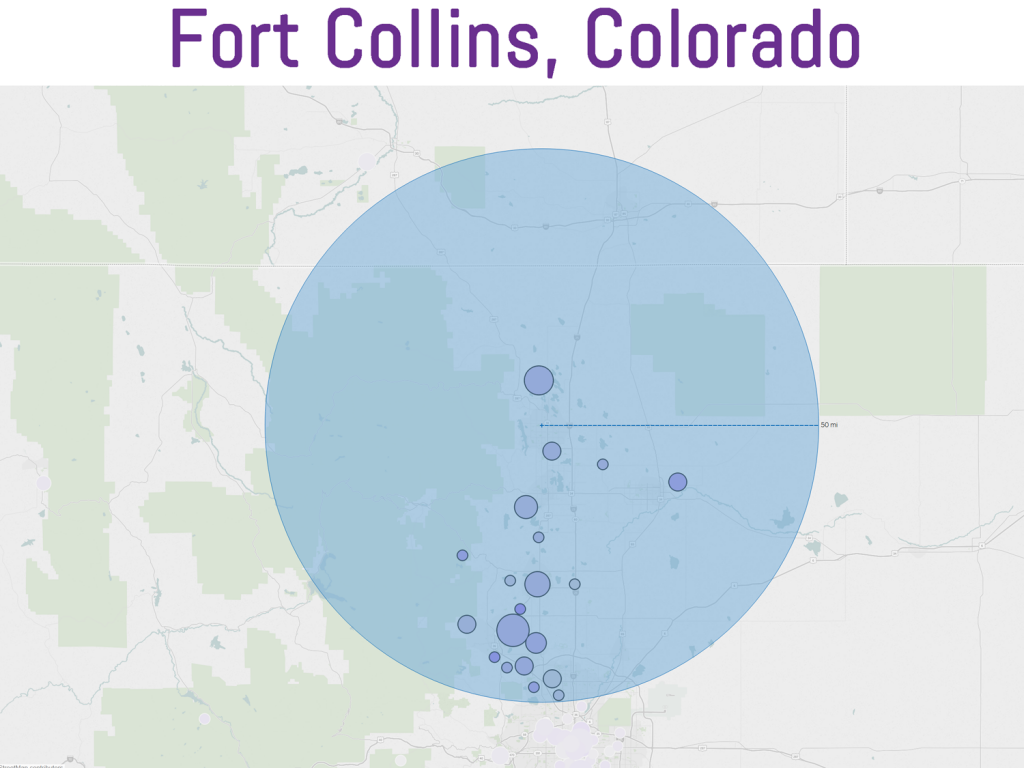 The Front Range is home to amazingly gorgeous mountains and a ridiculous concentration of good breweries. Fort Collins is a particularly good place to start your drunken meander Southwards along the face of the Rockies (Denver is thataway) because it's small, compact, easy to navigate, and most of the breweries are pretty close in to town. So much drinking, sans driving. Also, did I mention Rocky Mountain National Park is right there to go hike off that beer gut?
Number of good (3.5+) breweries: 58 (0.000187/person)
Superlative breweries: 1
Highest-rated brewery: WeldWerks (Greeley, CO) – 4.225 metarating

Highest-rated beer: Single Barrel Medianoche (Imperial Stout)
---
The full table
All 22 of our metro areas that were under the 2 million threshold, ranked by Brewery Score.
Small city brewery scenes

Rank (overall)
Metro area
Brewery score
Breweries
Superlative
Highest rated brewery
1 (1)
Burlington, VT
73.609
32
9
The Alchemist
2 (2)
Portland, ME
20.316
37
6
Bissel Brothers
3 (3)
Bend, OR
20.184
15
2
The Ale Apothecary
4 (4)
Hartford, CT
8.694
56
6
Tree House
5 (5)
Fort Collins, CO
8.057
58
1
WeldWerks
6 (6)
Asheville, NC
8.030
34
2
Zebulon Artisan Ales
7 (7)
Charleston, SC
4.758
10
2
Westbrook
8 (9)
Richmond, VA
3.027
18
2
The Answer Brewpub
9 (11)
Anchorage, AK (credit for state)
2.732
21
1
Anchorage Brewing Company
10 (16)
Nashville, TN
1.686
18
2
Southern Grist
11 (17)
Omaha, NE
1.654
11
1
Boiler
12 (20)
Raleigh, NC
1.187
29
1
Bond Brothers
13 (32)
Grand Rapids, MI
0.537
38
0
Bell's
14 (33)
Albuquerque, NM
0.514
18
0
La Cumbre
15 (35)
Madison, WI
0.339
23
0
New Glarus
16 (38)
New Orleans, LA
0.299
11
0
Second Line
17 (42)
Oklahoma City, OK
0.167
7
0
Roughtail
18 (44)
Milwaukee, WI
0.149
22
0
Raised Grain
19 (45)
Jacksonville, FL
0.139
12
0
Aardwolf
20 (49)
Las Vegas, NV
0.070
9
0
Lovelady
21 (51)
Virginia Beach / Norfolk, VA
0.044
17
0
Virginia Beer Company
22 (52)
Honolulu, HI (credit for state)
0.025
8
0
Lanikai
---
What's next?
Next, we'll look at medium-sized metro areas (between 2 and 4 million people). That's where you'll find such big-but-not-too-big places like San Diego, Portland, Pittsburgh, Minneapolis-St.Paul, and Charlotte. Which of them deserves your love?
To wrap up, we'll be finishing off with the biggest of the big. If you like your cities packed, and don't want to compromise on being in the center of everything while still surrounding yourself with the best suds, then this will be the list for you.