It's been a little over a month since the NBA and NHL playoffs ended, and while some might be feeding their sports appetites with Wimbledon, the Tour de France or (yawn) midseason baseball, I thought I would offer some thoughts on the playoffs just passed.
For those who skipped the two-month double pleasure of two of the better, longer, toughest, playoff tournaments in sports, the Pittsburgh Penguins became the first repeat Stanley Cup champions in 19 years (the last to accomplish the feat was the Detroit Red Wings in 1997 and 1998) and the Golden State Warriors exacted revenge on the Cleveland Cavaliers, who came back from a 3 game-to-1 deficit to beat them last year (after Golden State beat the Cavs in 6 the year before). As we await the Fall and the beginning of interesting sports again, a few thoughts on the postseason just passed …
---
1 – Pittsburgh's uneven performance was startling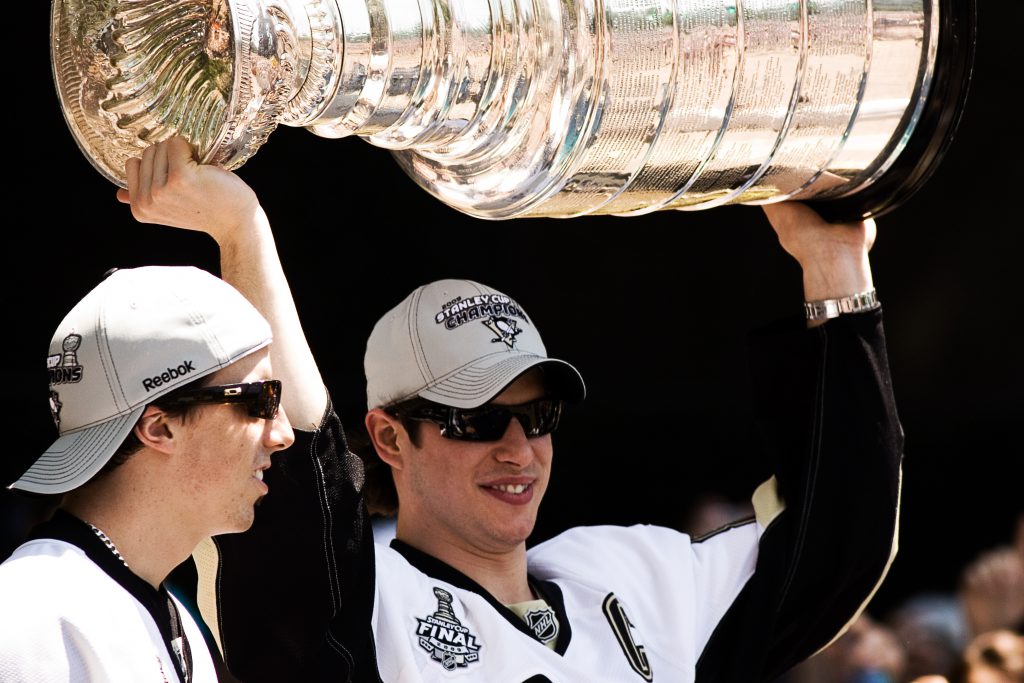 His giant trophy says your argument is invalid. Photo credit: Andy on Flickr.
The Penguins cruised 4-1 through what was supposed to be a tough first round series with the Columbia Blue Jackets, but were then pushed to the limit in their next two series and lucky not to be pushed to seven in the Finals. In the second round, they won two games against the Washington Capitals that they probably should have lost and then somehow survived a resilient comeback to dominate and ultimately win Game 7. The Caps had all the momentum and home ice going into the clincher, but Pittsburgh found a way with veteran backup netminder Marc-Andre Fleury delivering a momentous effort to shut them out 2-0.

In the Eastern Conference Finals, the Ottawa Senators were even closer to knocking off the defending champs, taking them to double overtime in Game 7 and having several chances to advance before Chris Kunitz played the hero after 25:09 of bonus hockey. In Game 3 of that series, Ottawa won 5-1, before losing the next two 3-2 and 7-0 to put Pittsburgh up 3 games-to-2. The series seemed over, but then Ottawa held onto a 2-1 lead in Game 6 and had their opportunities to take Game 7. Pittsburgh's veterans were the difference in the end, but it was the second series in a row they arguably should have lost.
In the Finals, home ice was king until the Game 6 clincher, with Nashville coming back to tie up Game 1 at 3 goals apiece before two goals from Pittsburgh ended that night 5-3. The second game was an easier turn, with the Penguins winning 4-1, but Nashville rode the home crowd to 5-1 and 4-1 wins that seemed to turn the tide of the series….until Pittsburgh got back home and absolutely steamrolled the Predators 6-0. Crosby was the hero, even without scoring, putting in three assists to take over the Finals scoring record from Penguins great Mario Lemieux (with 20 points, though only 4 goals to 16 assists) and goalie Matt Murray threw down a shutout of a Nashville team that was hot coming in. Malkin chipped in to continue his hot playoffs (he finished with 10 goals and 18 assists and a +/- of +9) and Crosby, the greatest player of his generational, added a third Stanley Cup to two Olympic Golds, a World Championship, Junior World Championship and a World Cup of Hockey (yes, Alex Ovechkin has an argument based on point shares during their simultaneous careers.  Ask anyone in Washington, or Ovi himself, if 3 World Championship, one World Juniors gold, zero Stanley Cup Finals appearances, and zero Olympic medals of any color holds up to Crosby's trophy case.  Or see point 4 below.).
Nashville played a tough Game 6, with several power plays that went wanting in the first two periods, only to give up the go-ahead goal with only 1:35 left in the game. The hero was former Predator Patric Hornqvist,     even as the goal had to withstand a challenge for goalkeeper interference. It was close, but Nashville had to pull Pekka Rinne and gave up an empty netter to ultimate lose the game 2-0, and a shot at a first Cup.
So, there were three series in a row that the Penguins could have easily lost, but for their veterans and youngsters performing when they needed to, contributions across the lineup, though Malkin, Kessel and Crosby dominated the statistics, finding ways to win with injuries piling up, and some excellent goalkeeping from "rookie" Matt Murray (who has two Stanley Cups at the ripe old age of 23 and set a record for playoff wins by a rookie) and veteran Marc-Andre Fleury.
The first team to win back-to-back Stanley Cups in two decades was impressive and largely cemented Crosby's stature as the best player in the world today. But it was their play in the clutch, a little luck, veteran wile and timely goalkeeping heroics that ultimately made the difference.
---
2 – The NBA playoffs were largely a yawn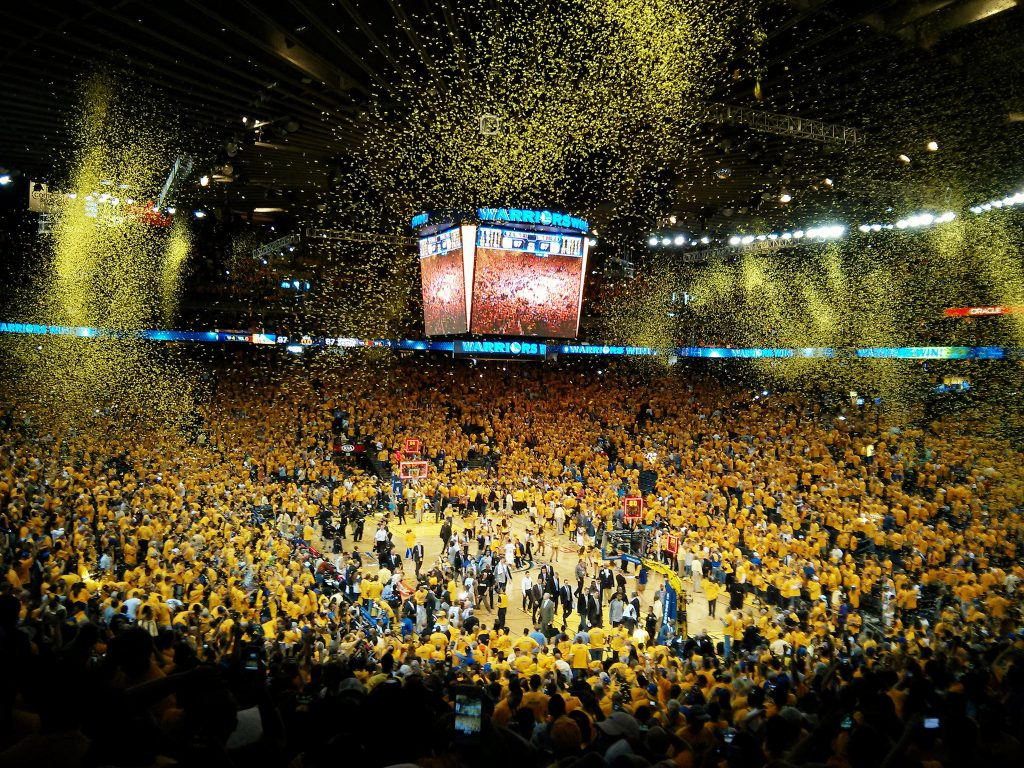 Shocking 0.001% of the population, Golden State dropped the confetti. Photo credit: Evan Blaser on Flickr.
Golden State finally lost a game (one!) after sweeping through the first three rounds of the playoffs and the first three games of the Finals.  While Cleveland could argue that they could, and should, have been knotted at two games apiece, they ultimately went down rather meekly in five games. The reality of these playoffs is that there were only three competitive and entertaining series – the Celtics-Washington seven gamer, the Houston-Spurs series (4-2) and a Clippers-Utah first rounder that also went the distance (even as LA had to play the latter part of that series without star Blake Griffin). Even in these series, there were a number of blowouts.
Aside from that, the playoffs were bereft of drama. Cleveland only lost once, to the Celtics, before the Finals and Golden State only lost once all postseason, while the Spurs overcame slow starts to close their two series' wins relatively efficiently.  There was little competitiveness in any series (only one went 7 games and 5 were sweeps), and the games themselves were more often than not blowouts.
Moving backwards from the Finals, let's look at the yawnfest in detail. With the exception of Game 3, when the Warriors roared back in the final 3:09 to steal the game, each of the other games was decided long before the final whistle. In the two conference finals, the Cavs and Warriors crushed their opponent, with Cleveland winning their four games by an average of 25.8 points (including a 44-point decimation in Game 2) and Golden State by an average of 16, including a 26-point comeback after San Antonio's Kawhi Leonard went down in Game 1. Moving to the Semifinals, Golden State swept by Utah in four easy wins (average margin: 15), the Spurs won four of the last five after getting blown out in Game 1, winning three of those games by a combined 75 points (with only the Game 5 OT win being close) and Cleveland made easy work of Toronto in a sweep with the average margin of victory 15.25. Only the Boston-Washington series was competitive, though even there merely two of those seven games came down to the wire (the Game 2 OT win for the Celtics (129-119 in the end) and the Wizards one-point win in Game 6). The first round was actually the most competitive of the entire playoffs, with the Celtics having to recover from an 0-2 home deficit to get past a Rondo-less Chicago, the Bucks and Raptors trading blows in the first three before Toronto ended it with three straight wins, Washington taken to 6 by a resilient Hawks side, the Spurs needing six to get by Memphis and the Clippers losing a tough seven-game series to Utah.
This all leads to a troubling question …
---
3 – The verdict is still out on whether Kevin Durant broke the NBA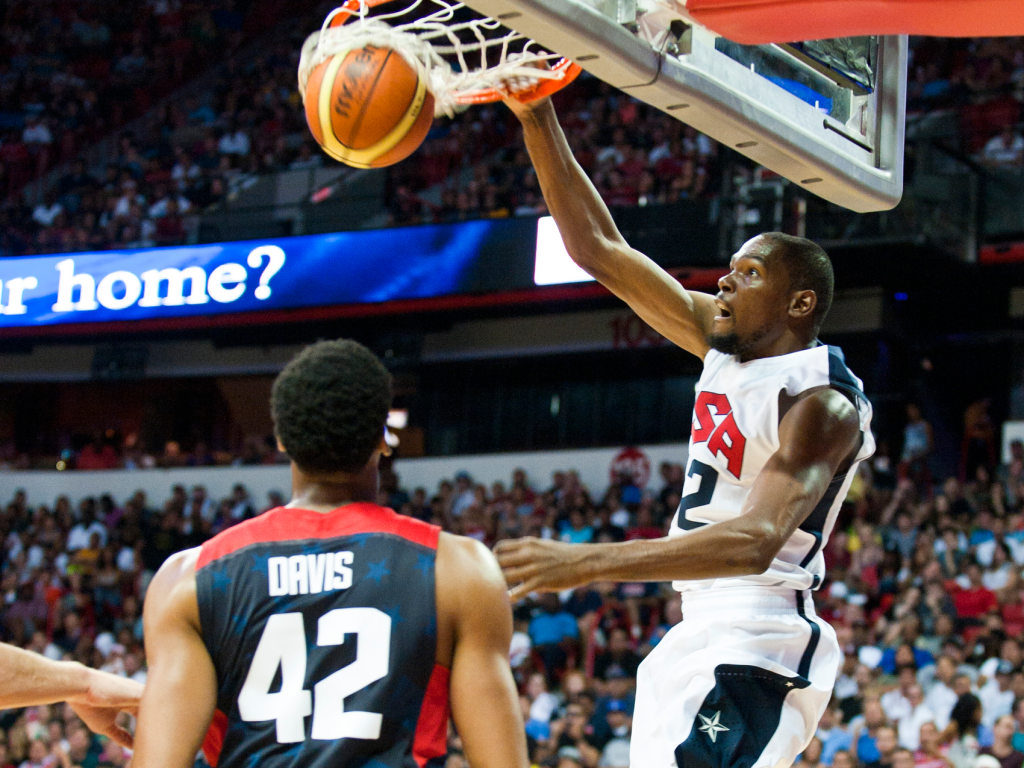 Superteams are only supposed to happen at the Olympics, guys. Photo credit: Thomas Spangler on Wikimedia.
Charles Barkley, Karl Malone, and John Stockton, to name three, might have chosen the same path as Kevin Durant if provided with the opportunity, but super teams used to be built from the ground up, with good drafts, smart trades (Kevin McHale and Robert Parrish for Joe Barry Caroll, anyone?) and strong team chemistry. Sure, the Lakers and Celtics seemed to stockpile talent during their long successful runs, but neither in my memory ever added a Top 3 talent to a side that had won a title two seasons previously or lost a close one the year before. Durant wants the ring(s) and can't be blamed for giving himself the best chance to do so, but could that victory be a little bittersweet, knowing he was never able to accomplish it with OKC, that his old side really should have beaten the team he joined in last year's playoffs and that other opportunities might have kept his cred more intact (say the Celtics?).
Blaming Durant himself, though, is beside the point. Hearkening back to point #2 above, the real problem is that a dynasty in the making added a tool that makes them all but unstoppable. Until the Game 4 defeat to the Cavs, Golden State had lost once since April, a stretch of 31 games. That is absurd and shows how top-heavy the league has become. No two teams had played each other in three straight finals in the history of the NBA until this year and one wouldn't be surprised to see these two going at it again next season yet again. Sure, Golden State lost the Finals in 7 games last year and figured they needed to improve to get past LeBron again, but taking one of the top three players in the league seems beyond the fold, particularly on the back of the best regular season in history.
The irony is LeBron can partially blame himself, helping to craft a new collective bargaining agreement that allowed a signing like this to happen in the first place. Remember a few years back when the league actually blocked the Lakers from signing CP3, forcing him to move on to the hapless Clippers instead? Look how that turned out … the Lakers have been one of the worst teams in the league the past three seasons and the Clips one of the better in the regular season, even as their playoff collapses and bad luck have become as predictable as a superhero sequel, prequel or reboot. In any case, barring some change in this series or the team over the next few years, a dynasty might well be in the making, but one built like never before and one that threatens to undermine the competitiveness of the entire league – along with its entertainment value (even as ratings were sky high this postseason). Of course, Houston and Minnesota might well be competing with the Warriors in the coming years and Cleveland still has a chance to find the pieces to upset the dynasty-in-the-making next year, but it is hard to bet against them at the moment. And that is thanks to arguably the biggest free agent pickup for an already-dominant team in league history.
---
4 – Ovechkin & the Capitals continue to under-perform in the playoffs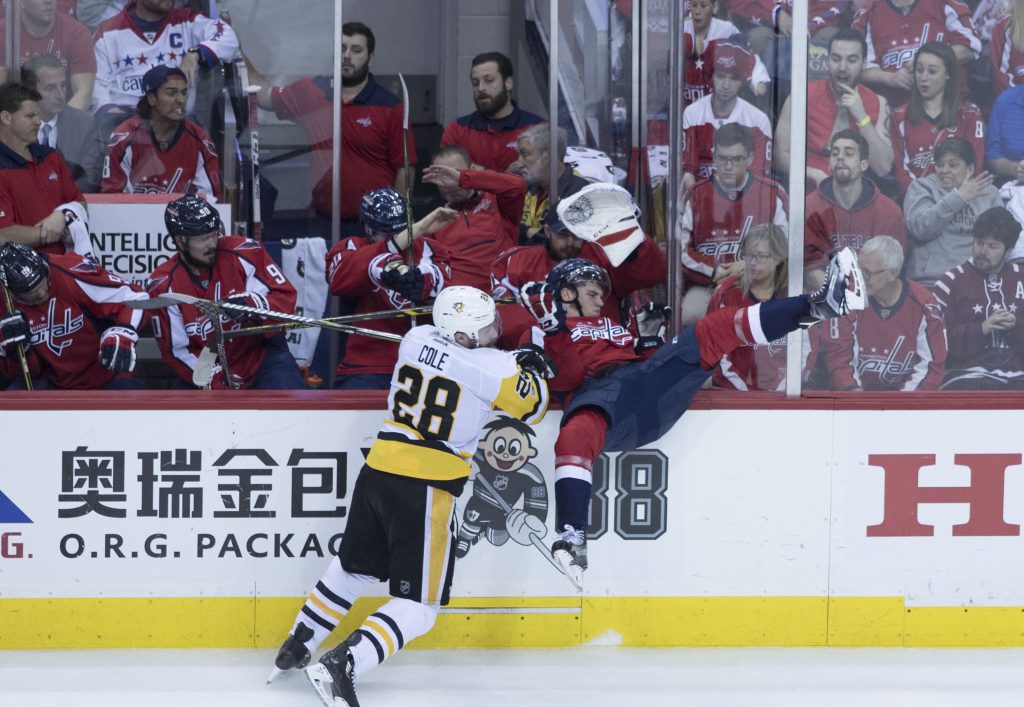 Losing to the Penguins has become a rite of Spring in Washington. Photo credit: Keith Allison on Flickr.
Alex Ovechkin could never get to the conference finals, much less win a Stanley Cup, and he would still retire having had an admirable and Hall of Fame worthy career. But his inability to perform in the playoffs will mar memories of his professional career if he fails to take that next step and lead his team to the Cup (or even to a finals appearance). After a poor start to the Pittsburgh series in Round 2, Ovechkin helped keep his team alive and actually brought the momentum into a Game 7 on home ice. Yet once the game got going, it became clear the Caps attack was well below par and Ovechkin, unlike Crosby, or other greats of the past, failed to lift his team to victory. In 12 seasons with largely quality regular seasons, Ovechkin has been unable to get his team two series wins in any playoffs so far.
The career playoff numbers aren't bad, with 90 points (46 goals and 44 assists) in 97 games, and a +/- of +5, along with 6 game-winning goals. However, this year, surrounded by probably the best supporting cast he has ever been offered, was far less impressive, with only 8 points in 13 games, including 5 goals and a measly 3 assists, a -4 plus/minus and no game-winning goals. In his NHL career, Ovechkin has scored more than a point a game (1,035 in 921 games, an average that puts him 17th all time), 554 goals (27th at present – though 5th all-time in goals per game (.626) and 20th in game winning goals (88). Some of the greats never do it in the playoffs and there is a chance Ovechkin might well join that group, though he still has some years to right that gaping hole in his resume. It might be with a new team, though, as rumors are swirling the Capitals might move on from their talisman of over a decade. Stay tuned for next season …
---
5 – No lead was safe in these NHL playoffs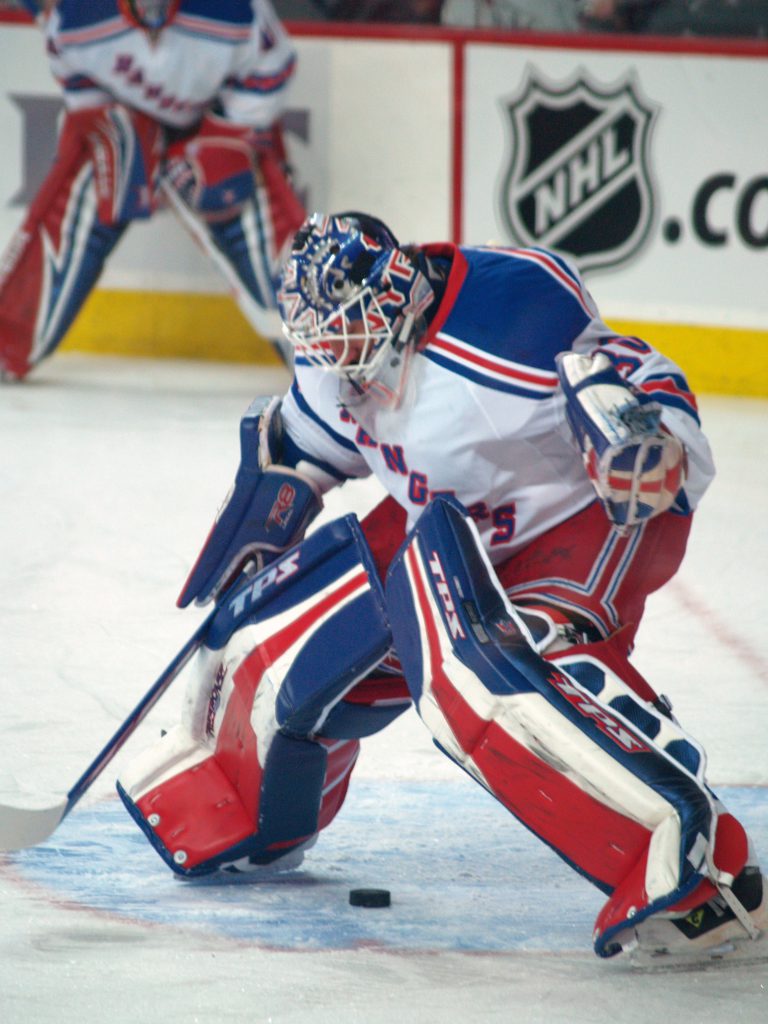 "Wait….I'm supposed to stop this thing from going in the net?" Photo credit: James Teterenko on Wikimedia.
While Ovechkin will be disappointed, alongside a host of others, the NHL playoffs have far outstripped those of the NBA this time around in terms of entertainment value. The Finals ended with a tight Game 6 that was only decided on a controversial goal with a minute and a half left in the third period, the Eastern Finals going to double OT to decide, and 11 series overall going at least six games and three the full seven.
What has been more impressive is the number of improbable comebacks, including these finals, where the Predators scored three straight to erase a Penguin lead early in the third, before Pittsburgh stormed back to win 5-3. The Rangers blew two leads in their series with Senators, but came back to win one, and two earlier in the playoffs. Anaheim scored three late to actually win a game outright and had several other impressive comebacks and Pittsburgh scored two in the last three minutes to force OT in a game they ultimately lost to the Caps. The result is no lead of less than four goals seemed completely safe and pulling the goalie reaped rewards far more often than in the past. Though the Finals was ultimately decided in six games, this was the best playoffs I've witnessed in many years, even with the more lopsided wins for both sides in the first five games of the Finals.
---
6 – LeBron is still building his case for GOAT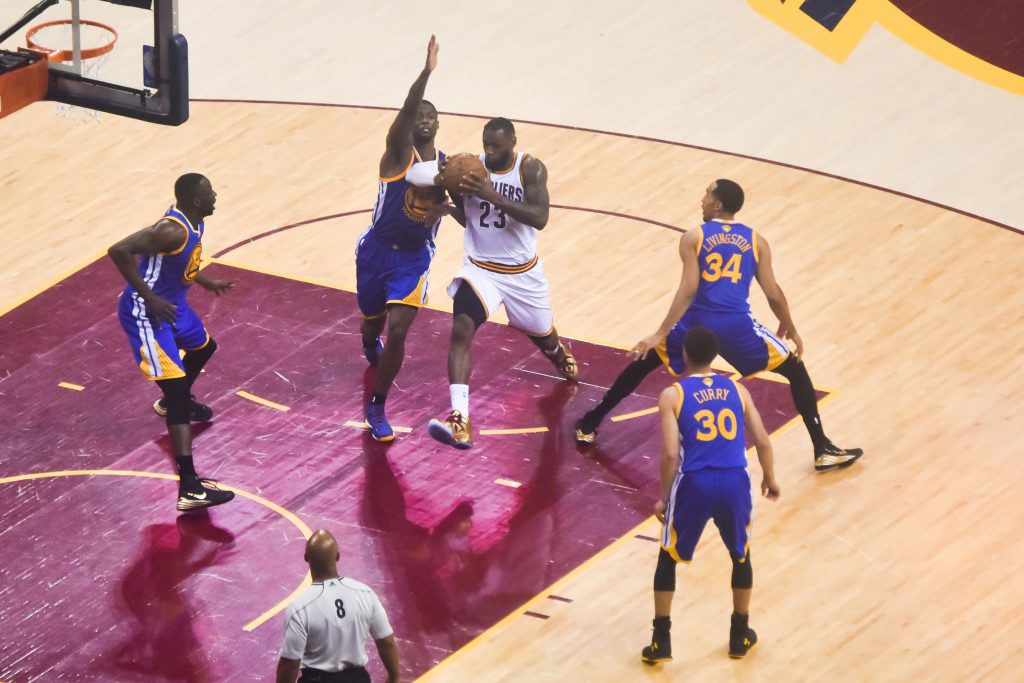 7th finals in a row. Photo credit: Eric Drost on Flickr.
Even as the Cavaliers fell in five games to the Warriors, and LeBron's Finals record fell to 3-5, he continues to rack up numbers and records that will keep the debate of Greatest of All Time filling the stale air of bars across the country for years to come. In Game 4 of the Finals, he moved to third on the all-time finals scoring list, behind only Kareem and Jerry West and surpassed Magic Johnson for the most triple-doubles in Finals history (9 to 8); with the next closest chasers all stuck on a measly two. He is already the leading scorer in playoff history (with 6,122 points) and seventh in all-time scoring, though still almost 10,000 behind the inimitable Kareem. He is the first player to go to seven straight finals and, over the past few seasons, seems to play his best when the season is on the line. In these finals, even with talented scorers like Kevin Love, Kyrie Irving and JR Smith, the Cavs have been dominated when LeBron is off the court. In Game 3, which turned on three misses down the stretch by the Cavs, as they went the final 3:09 without a single point, LeBron was +7 on the court, and before that game-ending 11-0 run by the Warriors, that was a +18. This has been true all season and was the case again in Game 4.
Many will point to that 3-5 record in Finals, even as we are just a year removed from the first team in NBA Finals history to come back from a 3-1 deficit, but his side were the underdog in all but two of their Finals and that was the case last year. The Cavaliers should have been tied 2-2 in this series, but for misses by Korver on an open three, Irving on a fade away and, to be fair, LeBron on a tough shot with the clock running down. In the Finals, LeBron averaged 33.6 points, 12 rebounds and 10 assists, adding 1.4 assists and 1 block per game. Only Durant had more points per game (35.2), no one had more rebounds (Love was second with 11.2 and Durant only had 8.2) and he also led in assists (Curry was second with 9.2 and Irving second on the Cavs with only 4.4). He dominated these Finals for the Cavs and willed them to their title last year. Ultimately, a player's career should not be defined by Finals wins alone, as can be attested to by a cadre of greats that includes Charles Barkley, Karl Malone, Wilt, and Jerry West himself.
Many will look at the 6-0 record of Michael Jordan in Finals and I still think there is a strong case to be made he is the best ever, but LeBron can play any position on the court, a feat only matched by Magic Johnson, who had much better teammates top to bottom throughout his career. In the end, the GOAT question is impossible to answer, given changes in the game, the difficulty in comparing different eras and the subjective nature of the questions itself. But those who refuse to field the question simply on the basis of number of Finals won fail to recognize the incredible performance of LeBron over all these years, the workload he sustains – which far surpasses any of the others in that conversation – and the pressure that has followed him throughout his career. GOAT? Maybe not yet, but add another Championship and he might close the book on that debate.
---
7 – The underperformance of Steph Curry was largely under the radar

The Finals: Not Curry's finest hour. Photo credit: Eric Drost on Flickr.
While LeBron continues to sparkle, even in defeat, Steph Curry has been far below his best in the Finals going back to Game 5 of last season. In last season's finals, Curry's numbers dropped precipitously, from 30.1 PPG during the regular season and 26.7 in the Western Conference playoffs, to 22.6 in the Finals. His assists per game dropped even more precipitously, from 6.7 to 6.1 to a measly 3.7, while his rebounding was also down (5.4, 5.9, then 4.9). The most troubling drop was in his shooting efficiency, though, as his overall field goal percentage dropped from 50.4 to 40.3 and his three-point efficiency from 45.4 to 40. Behind these numbers were some troubling trends, including attacking the basket much less frequently (with more pull-ups (48 vs. 43.7 percent) and less shots from within 10 feet (26.6 vs. 29.8 percent), throwing up more contested jumpers (54.8 vs. 47% of his shots were "defended tightly" in the Finals), dribbling too much and then the costly turnovers at the backend of the series, particularly in Game 7.
Moving forward to this season, Curry added a second Championship in three years, though it is hard to argue that Durant was not the clear MVP of the team, not only in numbers but in performance down the stretch of the two closer wins. Even as he had a strong Game 5, it is hard to ignore the drop-off in performance this series. He was actually shooting lights out from behind the arc (42.5 percent), but that percentage was higher than his overall FGP: 42.3 heading into the clincher. Game 6 moved those numbers, with a final FGP of 44 and 3PFGP of 38.8 (well below Durant's impressive 55.6/47.4 line). To put that in perspective, he shot 46.8/41.1 during the regular season. This decline was particularly noticeable in Game 4, where he shot 2-9 from behind the three-point line and 4-13 overall, though he did chip in with 10 assists and 5 rebounds. In fact, to be fair, he ended up far above his season average in assists (9.4 vs. 6.6) and rebounds (8 vs. 4.5) in the five games.
But there is a sense that he has become more of a defensive liability over the two games in Cleveland, that he is taking bad shots a little too often and that his overall efficiency has declined in maybe 7 of the last 9 Finals games. Some will disagree, and others will argue having Durant by his side means that his numbers are likely to decline. One could argue, on the other hand, that the addition of one of the best scorers in NBA history should actually lead to more open looks and thus better performance overall. Whatever the reason, it might become a minor storyline heading into next season, even as the Warriors remain the clear favorites to repeat and stake their claim for dynastic status.